The Best 'Bachelorette' Recap You'll Ever Read: Don't Listen To The Bargain Bin Lie Detector Test

Welcome back, Bachelor fans, to another Tuesday where we get to watch men who have at one point in their lives most definitely measured their penises with a ruler argue about who has more emotional maturity. I'm going to skip all the bullsh*t and just jump right into this week's recap because, and I say this begrudgingly, this week was actually pretty dramatic. I'll give you this one, Chris Harrison JoJo Fletcher! Just the one!
When we last left off, Bennett and Noah were facing off on the two-on-one date. Bennett had just gifted Noah with the equivalent of a humble pie straight out of The Help and was in the process of explaining to Tayshia how this elaborate insult wrapped in Anthropologie wrapping paper was actually a sign of his emotional maturity. *turns up volume* 

Look, all I'm going to say is this: If Tayshia sends Noah home I will riot. Then again, I would like for her to send SOMEONE home at this point since that rose ceremony looks more crowded than an American Idol audition auditorium. 
BENNETT: I'm not a mean guy, it's so easy to be misunderstood in this house.
TAYSHIA: So, what's in the box?
BENNETT: Um
HAHA. Yes, Bennett, I would love to hear you explain how just because you were the mastermind behind this grand gesture of pettiness, it doesn't actually make you petty. Tayshia asks Bennett if he's ever questioned her integrity on this show and he says he hasn't, he just doesn't trust Tayshia's judgment when it comes to Noah. Ummm, that's kind of the same thing, bro! 
Throughout this whole conversation I can't stop staring at Bennett's shoes. He's wearing white sneaks with this suit. Is that emotionally mature? Because it sure ain't age mature. Once you hit 35, the milky white skin of your ankles is officially something I never want to see on my television screen again. 
Noah is up next. If Bennett took the offensive route, Noah takes the defensive. He launches into an attack on Bennett's character, which will probably be the kiss of death for him. She just said she didn't want her time dominated by sh*t talking and drama. He says that Bennett is condescending and speaks to people like they're less than him. All valid points, and something I think they all should have foreseen after the 10th time Bennett name-dropped Harvard into casual conversation. 
Honestly, send them both home. I do not care about this fight. Send them both home and take me to some footage of Chris Harrison dropping his son off at college. Did he get the right Twin XL sheets at Bed Bath & Beyond? Tell me!!
It's time for Tayshia to make her choice, and she's still torn. On the one hand, she's really falling for Bennett and the bougie aesthetic he'll bring to her Instagram feed. On the other hand, she did already force Noah to shave his mustache and can that really be for naught? 
WHAT. SHE SENDS BENNETT HOME?! I was hoping for that, but still. Wow wow wow. I can't wait to hear how he spins this at the next alumni Zoom happy hour. 
View this post on Instagram
Even though Bennett is sent home, she still won't give Noah a rose. He'll have to wait for his dumping at the next rose ceremony just like everyone else. Well, I think she said something like, "I guess I'll see you later" which is the equivalent of "if you f*ck up this rose ceremony for me, you'll wish your mustache was the only thing I took from you." Good luck with that, Noah!
The Rose Ceremony
Noah explains to the men that, like my sanity this season, he is hanging on to Tayshia's good graces by a thread. You can tell the guys are suppressing their disgust with Tayshia's decision one passive-aggressive sip of their whiskey at a time. 
Tayshia tells us that Hometowns are around the corner and that's why she's done with all of this drama. Hold up, what? HOMETOWNS ARE AROUND THE CORNER?! She has 30 men left!! Is she massacring 15 of them tonight at the rose ceremony or something? Is this going to turn into The Purge? 
Okay, wow. The men are pulling out ALL the stops tonight. They're lavishing Tayshia with cutesy gifts straight-up bribes to up their chances for Hometowns: Riley bakes her a cake, Zac hands her a framed picture, Ben gives her a tour of the back of his throat. It's really sweet. 
Wait, there are only five roses up for grabs?! Damn, I was joking before but this really is turning into The Purge now. 
Here's who goes home: Ed, Damar, and Spencer, which means Noah somehow survived another rose ceremony by the budding hairs on his chinny chin chin. I swear this guy is like a cockroach. I wouldn't be surprised if at the final rose ceremony he walks out from stage left to propose and Tayshia is like "damn, I knew I meant to send him home before this."
Ben's One-On-One Date
Tayshia chooses Ben for the first one-on-one date of the week, and in theory I have nothing against this choice. He does touch his hair far too much for my liking, but fine. 
Okay, I would be pissed if JoJo was hosting my date. Chris Harrison is like the botoxed drunk uncle at Christmas who eviscerates your outfit and your life choices in between bottles of wine, but ultimately means well. JoJo is the competition. You don't see Chris Harrison running around in hot little crop tops with perfectly curled hair. What's your angle, JoJo??
JoJo sends them on an elaborate scavenger hunt that's not so elaborate because they're confined to the square footage of the La Quinta Inn. There are a confusing amount of piñatas that hold a singular clue and that concludes the date "activity." I think Ed might have searched harder to find Tayshia's rooms than the production team did in making this date. 
TAYSHIA: You seem too perfect
BEN: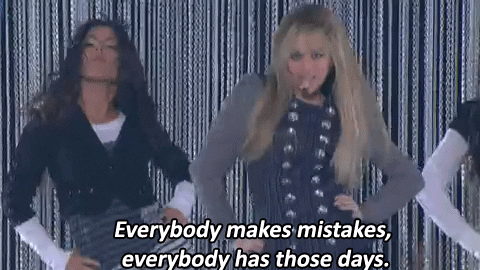 Okay, Ben. I'd take you more seriously if you didn't look like a freaking Ralph Lauren model. 
During the cocktail portion of the evening, Ben elaborates more on his past. He gives a harrowing account of failed suicide attempts in the past few years and his emotional struggles after leaving the military. I'm glad he's still here and is willing to tell his story on national television. That takes guts, and I know the audience back home appreciated his candidness. Tayshia seems to agree and gives Ben the date rose. 
View this post on Instagram
Sidenote: I think it's interesting that ABC keeps giving us these "real" moments from the contestants. ABC came under fire in recent years for being tone-deaf and glossing over traumatic backstories in favor of meaningless drama that upped ratings. I was actually one of those critics, but now I'm not sure I like this new format. 
For a while now I've wanted to see more realness in my reality TV: more diverse cast members, more bodies that aren't size two, more people with Instagram followings below 1k. And ABC has made great steps, don't get me wrong, but the heaviness of these contestants' stories feels strange and a little unsettling when juxtaposed with dates that involve the men fake orgasming over a microphone. I think for me it takes away from the authenticity of these guys and their stories. I know you can be both silly and have had traumatic things happen to you in your life, people are multifaceted after all, but the way ABC flip-flops between the two makes their pain seem gimmicky when I know it's not. If ABC is going to shake the show's foundation by bringing in more diverse contestants, then they need to change up the formatting too to match this new tone. IDK, maybe this is just a transition season and Matt James' season will feel more ironed out, but right now it's not working for me. 
The Group Date
This week, the guys are going to participate in a fun game of truth or dare, but minus the dare and with a lie detector test where their answers may or may not be presented in a court of law. See? Fun!!
Okay, they definitely got this lie detector at the clown store. Like, someone is for sure behind a curtain pressing red or green. Maybe not even a person, just ABC's least favorite intern. Or a monkey throwing feces at a color. Who can say!!
We learn some valuable intel from the Costco brand lie detector test. Things like Noah really misses his mustache and Brendan doesn't want to be within 10 feet of Tayshia's family and—this is just so casual—Riley's name isn't actually his name! I'm loving how shocked and upset Tayshia looks over what is obviously a fake lie detector test. Anyone who has listened to, like, one episode of any true crime podcast can tell you that lie detectors mean nothing. Especially not ones that ABC bought at the mall. 
Dear god, what is Tayshia wearing? Whatever it is, I think they sell it as a duvet cover at Anthropologie.
View this post on Instagram
If there's one thing this fake lie detector test has done, it's forced the men into being honest about their pasts with Tayshia. Ladies, take note. This is the dating version of Scared Straight. All of the men seem to be opening up about their past relationships. Zac talks about his promiscuous days at the Bowl-A-Rama, Riley admits that he changed his name because of its ties to some painful family history, and Noah gets to the bottom of his facial hair issues. Yeah, that seems like an even playing field for sure. 
View this post on Instagram
Like the ulcer I've been living with since the start of this pandemic, who should pop up when you least expect it but Bennett!! He's like "wow… that dress" and I can already tell he's regretting coming here. 
Bennett tells Tayshia he loves her and it's like, ooooh, buddy, this was a bad idea. Whichever producer convinced you to do this is a sadist. I love it. And on that note, I'm outtie! We'll have to wait until next week to see if Bennett can con his way back into Tayshia's heart the same way his parents conned his spot onto Harvard's "rowing team." Until then!
If you're someone who gets emotionally invested in the journey of The Bachelorette, you may also be sensitive to all the #hairbreak moments happening this season. We get it, it's stressful watching the lead get more split ends each week. But it's not as painful as your own hair suffering from heat damage, stress, and other causes of #hairbreak. Pantene's Daily Moisture, Repair & Protect, and Sheer Volume Collections will bring softness, hydration, body, strength, and overall health to your hair. So even though you can't keep Tayshia from giving the Final Rose to the wrong guy, you can stop #hairbreak. Click here to get the Pantene core collection and prevent up to 90% of future damage.
Images: ABC/Craig Sjodin; ABC; Giphy; @its_thesnatchelor, tvgoldtweets ,ginamodicamakeup / Instagram
The Best 'Bachelorette' Recap You'll Ever Read: Why Is It Always Nudity With These People?
Welcome back, friends, to another riveting week of watching Instagram's thirstiest talent gallivant around a La Quinta Inn & Suites! Serious question, guys: is this season ever going to end? We're now eight weeks into this hellscape built from Mike Fleiss's dark quarantine imagination, and Tayshia still has a small football field full of guys left. I worry that Chris Harrison's son will have graduated from college before this godforsaken season ends. *Heavy, dramatic sigh* I suppose that's why there's boxed wine. 
This week, Tayshia seems a little down, which is understandable, because at the end of all this she's supposed to choose one of these losers as a life companion. Lol. Good luck, girl! ABC decides to put some pep in Tayshia's step by setting up the world's saddest brunch and a visit from former Bachelorette JoJo Fletcher. Woooow, pulling out the big guns here. I guess they can't afford to have one more Bachelorette quit on them this season. 
I love that ABC is trying to pass off JoJo as a success story. Sure, she met a man through this show, but that man was also Jordan Rodgers and she's been engaged to him for longer than some of Gen-Z has been alive. So, should we really be taking her advice on love?
We learn that JoJo is not just here to sip on off-brand OJ and the Eggo waffles production stole from the hotel breakfast bar—she'll be playing Bachelorette host while Chris Harrison is moving his kid into college. This explains so much about Chris's sudden work ethic on this show. Mainly that he has one at all these days. He needs to earn that Christmas bonus if he wants to pay for college and keep his kid on the the "rowing team." 
JOJO WALKING ONTO SET LIKE: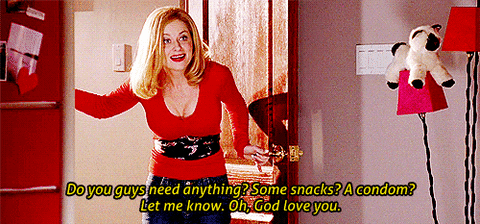 Zac's One-On-One Date
Zac gets the first one-on-one date of the week, and I wish I could be excited for this. It's not that I don't like Zac per se, but he's just so… delicate looking. It's off-putting for me. During their date, Tayshia and Zac must participate in a wedding photoshoot, which is fun because I only have to scroll through 1,000 of these on my IG feed daily. I can barely muster up some semblance of human emotion when it's my closest friends posting their third #tbt of the week of them nuzzling noses with their husbands. Must the insanity continue on my television screen??   
Okay, this just feels cruel. Tayshia just said she's having PTSD flashbacks from her first marriage, and ABC does this to her! What's next? Are they going to make them sit through a faux divorce hearing for funsies?
Zac says that Tayshia is "acting weird." Oh really? What threw you off, Zac? That she looks like she'd like rather chew off her own arm than be in this room right now? Your observational skills are astounding, buddy.
Okay, who is the creative director behind these outfits? Because they should be burned at the stake. If this is some sort of comeback for my arch nemesis and Bachelorette stylist Cary Fetmen, then I should go ahead and just blind myself now. 
View this post on Instagram
TAYSHIA: You were married for less than two years? I was married for less than two years!
ZAC: I love that we can share things like that!
Yes, because nothing says budding romantic future like "I know how to get the dog and the house in a divorce." Also, there are A LOT of divorcees in this group. I know ABC was looking for older, "more mature" men this season, but I didn't realize that every single guy over 30 is also divorced. The future is bleak, ladies. 
Later on in the date, Zac dives into some deep sh*t. He talks about how he had a brain tumor and how that experience messed him up, which led him to substance abuse, getting arrested, and eventually breaking up his first marriage. Once again, ABC is presenting us with fully formed people and their real-life struggles, not manufactured sob stories that are mostly aired to drum up ratings. I mean this is very dark, and ABC could have easily cut this stuff out or whittled it down to just the juiciest sound bites, but instead gave us the full thing. Again, is this progress?
Also, while I'm glad Zac feels brave enough to tell his story on national television, Tayshia did ask him why he was single earlier in the season and I think he gave some variation of a shrug, when actually THIS is why he's still single. The man has seen some sh*t. 
After a night full of soul baring, the two go on a romantic ferris wheel ride, a ride that I'm sure wasn't at all cobbled together by Chris Harrison before taking his leave earlier that day. Their date ends with Zac getting the date rose and (probably) Tayshia giving him an over-the-pants handie for his efforts.
The Group Date
The boys walk into the next group date and the first thing they see is an aging couple embracing in the nude. So… the group date is porn? Because that feels like the natural trajectory of this season.
We learn that the boys are going to be participating in a nude art class, which should be interesting because I'm pretty sure half these guys still openly giggle when they hear the word "penis." *cough* Blake *cough, cough* 
THE GUYS RN DRAWING THEIR FAMILY TRAUMAS: 

Christ. 
Next up on the art class agenda: the men have to create something out of clay that represents "their time with Tayshia." Oh, and they have to do it blindfolded. Considering the only creative bone in these guys' bodies is the linguistic gymnastics they perform when they get caught by a girlfriend for liking a Fashion Nova model's bikini pic on Instagram and need to avoid her wrath, this clay business should be fun.
I see that I'm proven right. Blake just sculpts a massive dick. Bennett uses his clay creation as a thinly veiled excuse to talk about his extravagant number of houses. Speaking of which, did y'all just hear that? I think at the mention of "Hamptons" you could almost hear the sound of his DMs exploding. 

Finally, the men are to create a self portrait. Ah, I see they're going to use the term "self portrait" here loosely. One guy just holds up an empty picture frame, Blake paints a turtledove, and Ivan crafts a makeshift puzzle. Meanwhile, Ben's face every time one of them bares their soul is absolutely priceless. Ben definitely just drew a stick figure and that's it.
He's watching these guys pull out these high-concept art pieces (seemingly out of their asses!!) based on their various childhood traumas, and I have a feeling that the worst thing that's ever happened to Ben was that one time he got turned away from Raya. I wonder how he'll translate "not famous-adjacent enough" into picture form?
Oh my god. What is he doing. OH MY GOD. WHAT IS HE DOING!!! Ben decides to take the self portrait thing literally by presenting himself! In the nude!!!! MY GOD, SHE SAID EXPRESS YOUR EMOTIONS, NOT TAKE YOUR CLOTHES OFF. 
BEN: This is only a small part of me.
Is that his trauma? That he has average dick?!

Even though Tayshia looks like she'd rather spend an evening in a padded cell than listen to one more second of this soul baring, there's still more to this date! We learn that Ben's getting naked was about more than just swinging his dick around. It's a symbolic gesture of body positivity since he's struggled with bulimia. I'm glad he's sharing his story since male eating disorders are hardly ever publicized, I'm just not used to The Bachelorette being so, like, real. 
Eazy's One-On-One Date
Eazy gets the second one-on-one date of the week, and I'm interested to see more of him. All I know is that he's beautiful and an alleged predator and that ABC has declined to comment about it. For the date, the two of them are going ghost hunting for everything but apparently the ghosts in Eazy's past. So, let me get this straight. In addition to being a Fear Factor set, an underground cage fighting ring, and the birth place of the esteemed Grown-Ass Man awards, La Quinta is also the grounds for supernatural energy? Wow, the branding here is all over the place. 
We learn that somewhere on hotel property, a lunatic billionaire died of mysterious circumstances. I'm pretty sure the only historic character this hotel actually has is those two aging nudists on their vacation, but sure, tell me more about this supposed ghost story. 
They go explore all of the "haunted" attractions, and I simply cannot take this date seriously. I think at one point Tayshia turns off a light and an ABC intern throws a doll on a chair. Oooh, scary. Tayshia, of course, lets out a horrific scream and it's like, please. I've seen scarier sh*t in my DMs. What's next? Juan Pablo popping out in a bedsheet as a ghost of Bachelors past?
The ghost storyline proves to be the least shocking part of this entire date, because Tayshia actually sends Eazy home after dinner. To be fair, Eazy did come out of left f*cking field with that love talk. He says that he's falling for Tayshia and that sometimes you can just feel these things in your bones. At the use of the "L" word, Tayshia sends Eazy home on the spot. So, somehow Ed is still on this show but Eazy is gone? Make it make sense. 
The La Quinta ghosts watching Tayshia's choice to send Eazy home #TheBachelorette pic.twitter.com/kAv69SiHxp

— Niki Bell (@nicoletteholly) December 2, 2020
The Two-On-One Date
Noah and Bennett are sent on the dreaded two-on-one date before tonight's rose ceremony. It's interesting that these two are the guys going head-to-head. On the one hand we have Bennett, who has multiple estates in tropical locales. On the other hand, we have Noah, a man who will at one point tonight try and give someone a wet willy. I can see how this choice could be debilitating for Tayshia. 
While waiting for Tayshia, you know, the whole reason these two are even allowed to breathe on our television screens, they exchange barbs that are surely making Harvard reevaluate its admission process. Bennett, being the egotistical dick that he is, decides to gift Noah with a little going away present:
View this post on Instagram
God, I can't wait for Taysha to find out what's in that box. Until next week, kids!
Don't miss out on anything happening in Bachelor Nation. Subscribe to our weekly newsletter here. 
Images: ABC/Craig Sjodin; @bachelorettewindmill /Instagram (1); @nicoletteholly /Twitter (1); ABC (3); Giphy (2); @bacheloretteabc /Instagram (1); @brettsvergara /Twitter (1)
Dear Betch: How Do I Get Over A Breakup While In Quarantine?
Need Jordana to answer your most pressing dating questions? Email us at [email protected] for a chance to have your dilemma featured on Dear Betch.
Dear Betch, 
I very recently went through a breakup with my boyfriend of ~3 years. We are both 27, living in NYC. 
We live very close to each other in the city; however, after a few weeks of city quarantining (and seeing each other often), we each left the city to quarantine with family in separate states. During this time, it seemed there was a shift in our relationship: less communication, less FaceTime, less attempts to see each other (on both our ends). Eventually this led to us deciding to go our separate ways, as it seemed we couldn't give each other what the other needed out of the relationship (wasn't the first time we discussed not meeting the other's needs). Nothing specifically happened, but I honestly felt like we just weren't the match for each other—and I had these thoughts before the pandemic but wasn't really forced to face them until our time apart.
My question is, how do we get over breakups during this time? There aren't as many usual distractions to help, and I worry even more so about having to relive/grieve the breakup once life is back to normal, and I'm forced to face the reality of my life without him in it. Even if I do think our breakup was for the best long-term, it doesn't stop it from being hard to go through, deal with, and worry about.
Any and all advice would be welcomed!
A socially distant single
Dear Socially Distant Single,
Socially distancing is tough enough without the added distress of going through a breakup, so I'll start by saying I'm really sorry you're going through this. I've been there, it sucks. Breakups are often even (ironically) tougher when things end semi-amicably and you can't villainize the person or blame the breakup on some horrendous event (like cheating or some other dramatic event). 
However, breaking up in the midst of a global pandemic has its own silver lining. In 2019 you might think you could fix your heartbreak with distractions like drunk brunch with friends and hooking up with random people, but you'd actually be wrong. When you use distractions to make you forget the pain you're in, you avoid feeling it and never really deal with it. The shortage of activities like parties, weddings, and festivals this year will ensure you don't bypass this important stage in the breakup grieving process: letting yourself feel sh*tty. I know we all want to avoid pain as much as possible, but like a nagging Slack from your boss, pain is something you will have to face eventually, either full-on in the beginning, or drawn out over the course of an even longer time period due to numbing it with your distraction of choice. 
Take advantage of quarantine by letting yourself feel bad for a while and reflect on the highs and lows of your relationship. What did the relationship with your ex teach you about what you want to do differently next time? What did it teach you about yourself, and your likes and your dislikes? What red flags will you look out for next time?  Using quarantine to let yourself feel everything will ensure that when things start to open up you can enter the world with a fresh, healed heart and be ready to go out and meet new people. You'll be able to actually have fun at the events that are happening instead of having to beat back the lingering sadness in the back of your mind. 
That's not to say that there aren't certain things you can do to help yourself in the meantime while you're grieving this breakup. First off, delete him from all social media, not because he's a bad person, but because constant updates about anyone will make it impossible to move on from them. There are probably days when you second guess your decision and the heightened feeling of socially distanced loneliness makes you want to reach out your ex. When this happens, text a designated friend about what you'd want to say to your ex, and she can remind you of all the reasons you broke up. Finally, break up your sadness by getting into something new, be it a new workout routine, podcast, really good book, or anything else that will make you feel like you're channeling your energy into something and growing as a person. This will make you remember that the rest of your life is ahead of you and there will be a ton of amazing people you'll get to date along the way. 
Best of luck, Betch!
Jordana
Need Jordana to answer your most pressing dating questions? Email us at [email protected] for a chance to have your dilemma featured on Dear Betch.
The Quarantine Dating App Lines Everybody Is Sick Of
Even before coronavirus was the only thing we had to talk about, everyone's dating app profiles were already pretty much the exact same. On any given profile, you'd be guaranteed to see a line about The Office, loving margaritas, or asking your opinion about pineapple on pizza. But the lack of originality is even worse than usual. We may all be living the exact same lives right now, but that doesn't mean we need to be making the same jokes about toilet paper, how we don't know what day it is, or if we'll ever leave our homes again. We all get enough of that coronavirus small talk on our Zoom meetings with our bosses. Here are all the quarantine dating app opening lines, bios, and prompt answers that no one ever wants to hear again.
"This year, I really want to…leave my apartment"

All this does is remind me that I had to cancel all of my summer trips and will instead be getting drunk on White Claws all by myself and inflating a mini pool in my living room just to feel something.
"Need some toilet paper?"

Not sure about everyone else, but I don't know a single person who has had trouble finding toilet paper in the last two months. The toilet paper jokes should have ended in March, just like any hope we had of having a real summer.
"Can't wait to hang out after quarantine"

The optimism here is nice, but given all the people playing the game of "how many drunk people can we cram into this public pool" in states outside of New York and California, it's looking like quarantine is literally never going to end. You're better off acknowledging that we're all probably going to be FaceTime dating until it's time for our Zoom weddings in 2023. 
"On day __ of quarantine…"

Just like every major event planned for 2020, jokes about wearing sweatpants every day, having conversations with your cat, and not remembering what day it is have been canceled. Once my Boomer parents start making jokes about it, that means it's officially time for the joke to retire (to Facebook, where your relatives share memes from six months ago).
"Ideal night out…going outside"

"F*ck, am I ever going to go to a crowded bar and pay for overpriced drinks and forget my purse in the bathroom because 'Mr. Brightside' came on and I needed to go scream-sing it with my friends ever again?" That's what this response makes me think of. Not exactly "swipe right" material.
"First round is on me if…Rona ever ends"

Then odds are, there won't ever be a "first round." Maybe you wrote this back in March when you thought the world would go into lockdown for a few weeks and then everything would go back to normal. In that case, maybe it's time for an update.
"I'd break quarantine for you."
Hmmm…. Pretty sure if you're breaking quarantine for me, you're also probably breaking it for every other girl you talk to. It may feel like it's been 84 years since I've felt a human's touch, but I'd still rather ride out the rest of the hellscape that is 2020 alone than get coronavirus from a guy whose entire profile consists of mirror selfies.
Corona/Quarantine puns

Puns are never effective even when the world isn't living out an episode of Black Mirror. And maybe we're lowering our standards a little bit right now (I'd swipe right on a Goldfish cracker if it meant I could talk to it), but not enough for me to change my mind about immediately unmatching with anyone who uses puns.
"If coronavirus doesn't take you out, can I?"
IDK if you've read the news lately, but 100,000 people have died. And if that isn't enough to convince you that this is a super f*cking insensitive thing to say, consider that eventually you will probably end up sending it to someone who has lost someone to Covid. 
"I love The Office!"

Because apparently, even in a global pandemic where we've all got nothing but time to stream new content, people still think being obsessed with a seven-year-old TV show is a personality trait.
Not only are none of these even that funny, they're also just a really f*cking boring way to start a conversation. Like, do you really want to talk about your quarantine routine with every person you match with? It seems like maybe we should all make a resolution to fix our dating app game before this is all over.
Images: Samantha Gades / Unsplash; Maddie Dean (9)
3 Reasons Quarantine Dating Doesn't Suck
Life under quarantine has been… an adjustment. Working from home is no longer just an excuse to book afternoon haircuts and manicures, eating and drinking occur at all hours of every day, weekends are a social construct filled with even more boredom than the work week, and bras are finally a thing of the past. But as a single woman who treats dating like a competitive sport and sex like an essential business, the biggest adjustment has been getting used to the new dating norms. Norms that can pretty much be summed up by this scene from the Emperor's New Groove: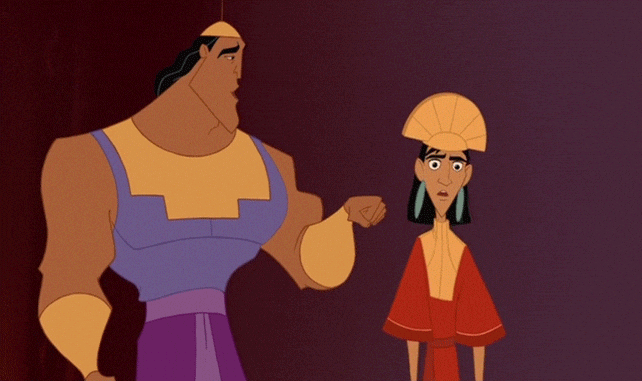 And surprisingly, I don't hate it. Sure, I'd kill for even a sh*tty first date right now that included a passing thigh touch or a graze of the fingertips as I pretended to reach for the check—I'm not a robot. But, this whole dating during quarantine thing has its up-sides, and dare I say, some real potential. And here's why:
Games Are Officially Canceled
Thoroughly disturbing and/or entirely unoriginal pandemic related pickup lines aside (see: "If COVID-19 doesn't take you out, can I?"), I've seen a significant improvement in the caliber of dating app conversations since quarantine began—and weeding out the fuckboys has never been easier. I don't know the exact cause because, just like everyone on Trump's council to re-open America, I am not a scientist, but perhaps it's because we have bigger things to worry about than coming off as too eager, too interested, or, god forbid, available. 
When someone asks me how I'm staying busy during quarantine: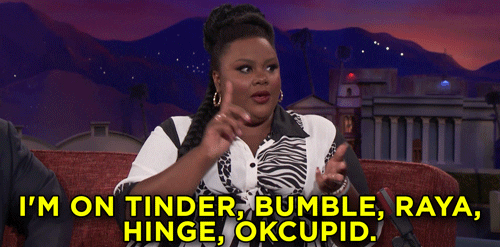 If a guy doesn't respond right away, we can't talk ourselves into believing he's busy or not looking at his phone. Everyone's screen time has increased by 200%—if he's not texting back, he's just not into you. Period. Sure, quarantine ghosting is a new level of pathetic, but my anxiety is already working overtime, so freeing it from the stress of analyzing every lull in conversation has been truly liberating. 
But when they do respond, boy, does being in the midst of a global existential crisis speed things along. The guy I'm quaran-dating and I have been "seeing" each other for less than two weeks, and we've already discussed our childhood traumas, relationship with God (or lack thereof), and if/when we want to start a family. If I were to bring up any of these topics within the first few MONTHS of dating someone pre-pandemic, I'd see a suitor turnover rate rivaled only by that of Trump's press secretaries.
"Dates" Are More Creative
Without the ability to "grab a drink" with someone whose height, occupation, and general creepiness level remains a mystery, we've been forced to think all the way back to kindergarten and remember what it was like to have an imagination. So far my dates have included: a simple FaceTime, because love is not in fact blind and one needs to verify that they look somewhat like the photo of them traveling from five years ago; Netflix Party, which is like Netflix and Chill but not a booty call; a homemade cookie drop-off; and a socially distanced neighborhood walk while sporting 2020's hottest fashion accessory, a face mask. 
There are honestly a lot of great options, and they all require more talking and texting than was typical of pre-pandemic dating life. I could see how this would be frustrating for people whose main personality trait is being hot, but I am thriving. Because I've always been better in writing, there's nothing better than a dating life that revolves around witty banter and making light of a global pandemic.
Sex Is Off The Table
We're all basically living in Too Hot To Handle right now, like it or not. I thought this would send me, in solidarity with our economy, into a Great Depression—but it's actually been quite therapeutic. Historically, my sense of self-worth has been toxically linked to actively getting laid, often leaving me to cling to physical relationships at the expense of my emotional well-being. Don't worry, like every good millennial, I'm working through this with my therapist. But quarantine dating has been more effective (and cheaper) than the hours I've spent dissecting my attachment and abandonment issues with a licensed professional. 
My quarantine boyfriend (which I realize is a stretch, but what else am I supposed to call him?) and I are not having sex, and it has nothing to do with me and everything to do with putting our health and safety first. I feel wanted because yes, he finds me attractive—but also because I'm smart, funny, and entertaining. I know he wants to sleep with me, because what else are single guys in quarantine thinking about? But by not actually having sex, I feel sexier and more confident than I have in quite some time. I am in no way supporting abstinence as an actual long-term choice. I will 100% be having sex (hopefully with quarantine boyfriend), the minute it is safe to do so. But I am thankful, at least right now, for the ability to separate sex from emotional connection, and my self-esteem. And vibrators, I'm also thankful for vibrators.
Don't get me wrong, this isn't a state of dating that I could maintain forever. If fall rolls in and I still haven't been touched by a man, the VR industry better speed the f*ck up and figure out a way for us to live in the Sims. But I do think regular life dating can learn a lot from quarantine dating, and even once we are able to "grab a drink" mere seconds after matching on Ship, I will never again be turned off by the idea of a phone call first. 
Images: Shutterstock