Dating App Red Flags You Shouldn't Ignore
Presented by Orbit
It can be tough to tell whether someone you encounter on a dating app is going to be cool or just a pile of red flags dressed in human clothing. While trying to find a good person online can often feel like one big game of Russian roulette (just with slightly lower stakes), there are actually some telltale signs that someone isn't in it for the right reasons. As a certified expert in identifying red flags (okay, I identify the red flags because I end up unwittingly dating them, and I declared myself an expert), I'm here to break down some dating app red flags that you shouldn't ignore.
He Only Has Shirtless Pictures
If you got it, flaunt it for sure, but if he's only flaunting it, that should send up some flags. As a general rule, I don't trust people with abs, because they think they're better than me. But all joking aside, someone who's leading with how "hot" their body is is probably only interested in your body. I know dating apps are by definition a face-first operation, but there's a line between being upfront about what you look like and communicating that you don't really care about what's going on upstairs.
Their Bio Contains Only Emojis
It's 2020, and anyone can message first on a dating app (well, most dating apps). So that means that we all need to make sure we are bringing our best in our profiles. And you know what's not bringing your best? Having a blank profile, or a profile that's just emojis. What information does that communicate about you? Yeah, we all like the "100" emoji; is there anything more to your personality? No? OK then. This is a red flag because if someone wants to genuinely get to know you, they will give you something to work with in their profile.
They Only Show Group Photos
This isn't Where's Waldo, and I'm not interested in playing a game of Guess Who? to figure out your identity. Nothing good can come from someone who is basically enlisting you to be your own personal P.I. before you've even spoken to them. Whatever they are clearly hiding—a sub-6-foot height, the fact that they do not own a dog—you definitely don't want to be a part of it.
You Ask Three Questions And They Only Answer One
There are some allowances to be made when having a rapid-fire texting conversation. You can't answer everything, and you don't want to have to send an MLA-formatted three-point outline every time you correspond with them. But if you notice they tend to dodge certain questions, or certain types of questions (like how long have you been single? When was your last relationship?), you should take stock of the topics they seem to be side-stepping, and ask yourself why. 
It's unfortunate, but there are a lot of dirty characters on dating apps. 53% of people lie on their profile, and 52% have received nudes (ew!), according to a survey conducted by Orbit. That's why Orbit is cleaning up your dating life and partnering with Chris Parnell (from SNL, ever heard of him?) to give dirty daters the come-to-Jesus talk they desperately need. To find out more about how to "Keep It Clean", check out @OrbitGum on Instagram, Twitter, Facebook, and YouTube.
Images: Tim Mossholder / Unsplash
How To Tell If You Really Like Him Or If You're Just Bored In Quarantine
Quarantine has been hard AF. As a single twentysomething who's been watching an endless Instagram reel of friends and acquaintances getting engaged, it's been especially hard. (Can I get an "AMEN?")
A month into quarantine, I met a guy at the dog park where I take my dog. Our dogs got along well with each other, and he seemed nice enough. He wasn't exactly my physical type, but he was one of the very, very, very few guys with whom I'd gotten the chance to interact in any way since the pandemic started. So after some friendly flirting and playing parents to our dogs, I gave him my number and texted him just a few days later, asking if he wanted to go hiking with me.
We started to hang out once a week, and once a week quickly turned into almost every day. It was easy to fall into this routine because, well, quarantine, and there wasn't much else to do.
There was a point, though, when our relationship began to feel less like "He's ~The One!~" and more like "he's just the one for now." Three months into dating, right after we'd made it official, we took a little getaway to an Airbnb in a Texas country town for a couple of nights.
A romantic getaway with just us two gave me space to ask myself some valuable questions that made me realize my quarantine boyfriend wasn't my forever guy. Here are those questions:
 Do you text him when you're bored, or are there personality traits of his that you genuinely like?
View this post on Instagram
If you have any of the following thoughts before you text him (or anything like these), you're probably just dating him because you're bored in quarantine:
I'm bored. What's he up to?
UGH, I need attention. Lemme hit him up.
I feel lonely, so I'll hit him up.
If there are things about him that you like, take note of those, either mentally or create a list. I know lists aren't the most romantic things, but they're super helpful!
After I dumped my quarantine boyfriend, I made a list of qualities that are important to me in a boyfriend. I keep it handy and I know it'll help me attract me a guy that's a better fit for me next time.
What kind of thoughts do you have about him when you're not together?
While I was dating my dude, I would sometimes tell myself: "I'm just dating him until I can find someone better." I actually caught myself having this exact thought while doing yoga on the porch of the Airbnb. It was a wake-up call. I know I'm not the only person in the world who's ever had this thought, either. 
The problem is that if you're having these thoughts about the person you're dating, it isn't fair to them—but it isn't fair to you, either. You're wasting their time, and you're wasting your time by spending time with them when you could be opening your heart up to someone else, or just feeding your own soul.
It takes a certain type of self-awareness to be able to figure out whether you're dating someone out of like, love, or loneliness. So pay close attention to your thoughts. And if you're feeling anxious, if your mind is racing at 100 miles a minute in quarantine—which is normal—then listen to your gut.
Close your eyes and take a few deep breaths. Can you see a future with this person? When the head can't sort things out, it's time to listen to the heart. Everyone has an intuition—and while some have stronger intuition than others, there are things you can practice to feel closer to yours, like meditating on it.
What do your friends think of him?
When my friends met my ex-boyfriend, they threw some challenging questions my way. They made good points: that I didn't seem super excited when I was around him, and that I looked more interested in the hot guys walking past us at the dinner table than the guy I was with.
At first, I resented my friends for giving me such, er, unfiltered advice. (But if they don't give you the realest advice, are they even your friends?)
After sleeping on their advice, though, I realized I resented it because it was true. And that maybe, just maybe, I had been in denial for months, lying to myself that this guy was, in fact, ~The One~, when my heart had been telling me all along that I was just using him to pass the toughest months of quarantine.
TL;DR: If you have to ask yourself if you should dump your quarantine boyfriend, the answer is probably a resounding yes. And when you do, you'll feel happier, freer, and able to give yourself the time and space to reflect on the following question: What kind of partner do I really need?
Image: Jonathan Borba / Unsplash; uuppod / Instagram (2)
'Too Hot To Handle' Star Harry Jowsey Told Us About His Dramatic Breakup
First comes Love Is Blind, then comes marriage, then comes yet another f*cking reality dating show. It's 2020, and most of us can relate to being isolated and isolated and sex-starved, but imagine this: you're champagne-wasted on a free beach resort vaca surrounded by super hot people…the catch is, you're literally not allowed to hook up with anyone unless you want to lose money. Harry Jowsey, the Australian hunk from Netflix's reality dating show Too Hot To Handle, has experienced this ~traumatic~ experience firsthand. On the most recent episode of the Let Me Finish podcast, Taylor Jackson and Abby Lloyd sat down with Harry to discuss his recent breakup, sex, and breakup sex. 
Harry and his THTH costar Francesca Farago, a Canadian model and Instagram personality, left the show together, broke up, then got engaged during the reunion special. But, in true influencer fashion, Francesca announced their second split via a YouTube video entitled "Our Break Up." According to Harry, he was totally blindsided by the video, since he and Francesca had actually filmed a joint video explaining their breakup. "Everything was going to be civil, but she posted her video and it kinda just had a whole bunch of fabricated stories to attack me," he said. "And I was like, I've got receipts and everything." (Screenshots, screenshots, screenshots, people.)
The dramatic breakup has, understandably, been pretty tough on Harry's mental health. In addition to anxiety attacks and a loss of appetite, he's been getting attacked by commenters on his Instagram and TikTok accounts. "I don't know what happened with me and Francesca because we had a great relationship, the breakup wasn't bad, we just didn't see eye-to-eye on a whole bunch of stuff," he said. "Then that video got posted and then she just kept sending this tirade of hate toward me and my friends and my family, and I was like, 'I don't know who she's talking to or who's in her corner, because this isn't the girl that I know." As if the heart-wrenching breakup weren't bad enough, Harry now has to call in his lawyers. "It's gotten to a point where it's affecting my brand…so I'm like okay, everything you're saying is a lie, so…" We're here for this passive aggression.
Francesca rebounded quickly, while Harry—who really is too hot to handle IRL, Abby confirms—has been easing back into the dating game. Just this weekend, he took a girl to dinner then to a party with a bunch of Gen Z TikTok stars (seems like a pretty sh*tty date idea, but that's just me). Turns out, his date had ~history~ with one of the other guys there and ended up leaving with him, so Harry ended the night, declaring, "Okay, I'm calling an Uber, I'm going home." I mean, we've all been there. On the bright side, this means that Harry is single….He reports that he's into tattoos, girls that text first, and post-breakup sex, so slide on into those DMs, ladies.
For more on Harry's love and sex life, listen to the full interview on the latest episode of the Let Me Finish podcast.
Images: harryjowsey / Instagram
Dear Betch: How Do I Get Over A Breakup While In Quarantine?
Need Jordana to answer your most pressing dating questions? Email us at [email protected] for a chance to have your dilemma featured on Dear Betch.
Dear Betch, 
I very recently went through a breakup with my boyfriend of ~3 years. We are both 27, living in NYC. 
We live very close to each other in the city; however, after a few weeks of city quarantining (and seeing each other often), we each left the city to quarantine with family in separate states. During this time, it seemed there was a shift in our relationship: less communication, less FaceTime, less attempts to see each other (on both our ends). Eventually this led to us deciding to go our separate ways, as it seemed we couldn't give each other what the other needed out of the relationship (wasn't the first time we discussed not meeting the other's needs). Nothing specifically happened, but I honestly felt like we just weren't the match for each other—and I had these thoughts before the pandemic but wasn't really forced to face them until our time apart.
My question is, how do we get over breakups during this time? There aren't as many usual distractions to help, and I worry even more so about having to relive/grieve the breakup once life is back to normal, and I'm forced to face the reality of my life without him in it. Even if I do think our breakup was for the best long-term, it doesn't stop it from being hard to go through, deal with, and worry about.
Any and all advice would be welcomed!
A socially distant single
Dear Socially Distant Single,
Socially distancing is tough enough without the added distress of going through a breakup, so I'll start by saying I'm really sorry you're going through this. I've been there, it sucks. Breakups are often even (ironically) tougher when things end semi-amicably and you can't villainize the person or blame the breakup on some horrendous event (like cheating or some other dramatic event). 
However, breaking up in the midst of a global pandemic has its own silver lining. In 2019 you might think you could fix your heartbreak with distractions like drunk brunch with friends and hooking up with random people, but you'd actually be wrong. When you use distractions to make you forget the pain you're in, you avoid feeling it and never really deal with it. The shortage of activities like parties, weddings, and festivals this year will ensure you don't bypass this important stage in the breakup grieving process: letting yourself feel sh*tty. I know we all want to avoid pain as much as possible, but like a nagging Slack from your boss, pain is something you will have to face eventually, either full-on in the beginning, or drawn out over the course of an even longer time period due to numbing it with your distraction of choice. 
Take advantage of quarantine by letting yourself feel bad for a while and reflect on the highs and lows of your relationship. What did the relationship with your ex teach you about what you want to do differently next time? What did it teach you about yourself, and your likes and your dislikes? What red flags will you look out for next time?  Using quarantine to let yourself feel everything will ensure that when things start to open up you can enter the world with a fresh, healed heart and be ready to go out and meet new people. You'll be able to actually have fun at the events that are happening instead of having to beat back the lingering sadness in the back of your mind. 
That's not to say that there aren't certain things you can do to help yourself in the meantime while you're grieving this breakup. First off, delete him from all social media, not because he's a bad person, but because constant updates about anyone will make it impossible to move on from them. There are probably days when you second guess your decision and the heightened feeling of socially distanced loneliness makes you want to reach out your ex. When this happens, text a designated friend about what you'd want to say to your ex, and she can remind you of all the reasons you broke up. Finally, break up your sadness by getting into something new, be it a new workout routine, podcast, really good book, or anything else that will make you feel like you're channeling your energy into something and growing as a person. This will make you remember that the rest of your life is ahead of you and there will be a ton of amazing people you'll get to date along the way. 
Best of luck, Betch!
Jordana
Need Jordana to answer your most pressing dating questions? Email us at [email protected] for a chance to have your dilemma featured on Dear Betch.
3 Reasons Quarantine Dating Doesn't Suck
Life under quarantine has been… an adjustment. Working from home is no longer just an excuse to book afternoon haircuts and manicures, eating and drinking occur at all hours of every day, weekends are a social construct filled with even more boredom than the work week, and bras are finally a thing of the past. But as a single woman who treats dating like a competitive sport and sex like an essential business, the biggest adjustment has been getting used to the new dating norms. Norms that can pretty much be summed up by this scene from the Emperor's New Groove: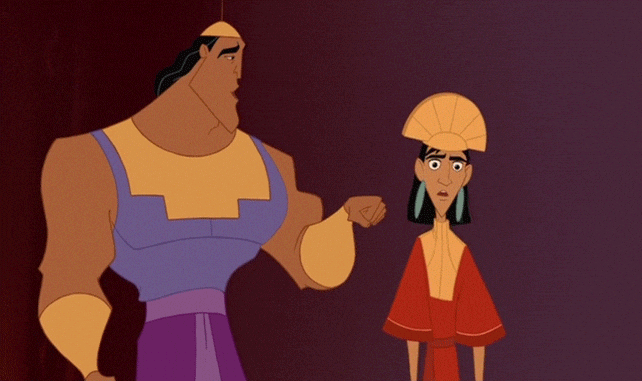 And surprisingly, I don't hate it. Sure, I'd kill for even a sh*tty first date right now that included a passing thigh touch or a graze of the fingertips as I pretended to reach for the check—I'm not a robot. But, this whole dating during quarantine thing has its up-sides, and dare I say, some real potential. And here's why:
Games Are Officially Canceled
Thoroughly disturbing and/or entirely unoriginal pandemic related pickup lines aside (see: "If COVID-19 doesn't take you out, can I?"), I've seen a significant improvement in the caliber of dating app conversations since quarantine began—and weeding out the fuckboys has never been easier. I don't know the exact cause because, just like everyone on Trump's council to re-open America, I am not a scientist, but perhaps it's because we have bigger things to worry about than coming off as too eager, too interested, or, god forbid, available. 
When someone asks me how I'm staying busy during quarantine: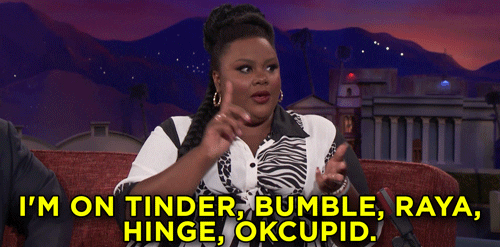 If a guy doesn't respond right away, we can't talk ourselves into believing he's busy or not looking at his phone. Everyone's screen time has increased by 200%—if he's not texting back, he's just not into you. Period. Sure, quarantine ghosting is a new level of pathetic, but my anxiety is already working overtime, so freeing it from the stress of analyzing every lull in conversation has been truly liberating. 
But when they do respond, boy, does being in the midst of a global existential crisis speed things along. The guy I'm quaran-dating and I have been "seeing" each other for less than two weeks, and we've already discussed our childhood traumas, relationship with God (or lack thereof), and if/when we want to start a family. If I were to bring up any of these topics within the first few MONTHS of dating someone pre-pandemic, I'd see a suitor turnover rate rivaled only by that of Trump's press secretaries.
"Dates" Are More Creative
Without the ability to "grab a drink" with someone whose height, occupation, and general creepiness level remains a mystery, we've been forced to think all the way back to kindergarten and remember what it was like to have an imagination. So far my dates have included: a simple FaceTime, because love is not in fact blind and one needs to verify that they look somewhat like the photo of them traveling from five years ago; Netflix Party, which is like Netflix and Chill but not a booty call; a homemade cookie drop-off; and a socially distanced neighborhood walk while sporting 2020's hottest fashion accessory, a face mask. 
There are honestly a lot of great options, and they all require more talking and texting than was typical of pre-pandemic dating life. I could see how this would be frustrating for people whose main personality trait is being hot, but I am thriving. Because I've always been better in writing, there's nothing better than a dating life that revolves around witty banter and making light of a global pandemic.
Sex Is Off The Table
We're all basically living in Too Hot To Handle right now, like it or not. I thought this would send me, in solidarity with our economy, into a Great Depression—but it's actually been quite therapeutic. Historically, my sense of self-worth has been toxically linked to actively getting laid, often leaving me to cling to physical relationships at the expense of my emotional well-being. Don't worry, like every good millennial, I'm working through this with my therapist. But quarantine dating has been more effective (and cheaper) than the hours I've spent dissecting my attachment and abandonment issues with a licensed professional. 
My quarantine boyfriend (which I realize is a stretch, but what else am I supposed to call him?) and I are not having sex, and it has nothing to do with me and everything to do with putting our health and safety first. I feel wanted because yes, he finds me attractive—but also because I'm smart, funny, and entertaining. I know he wants to sleep with me, because what else are single guys in quarantine thinking about? But by not actually having sex, I feel sexier and more confident than I have in quite some time. I am in no way supporting abstinence as an actual long-term choice. I will 100% be having sex (hopefully with quarantine boyfriend), the minute it is safe to do so. But I am thankful, at least right now, for the ability to separate sex from emotional connection, and my self-esteem. And vibrators, I'm also thankful for vibrators.
Don't get me wrong, this isn't a state of dating that I could maintain forever. If fall rolls in and I still haven't been touched by a man, the VR industry better speed the f*ck up and figure out a way for us to live in the Sims. But I do think regular life dating can learn a lot from quarantine dating, and even once we are able to "grab a drink" mere seconds after matching on Ship, I will never again be turned off by the idea of a phone call first. 
Images: Shutterstock
The Definitive Ranking Of 'Love Is Blind' Contestants
The Love is Blind finale dropped yesterday, and now we FINALLY know if love truly is blind, or if it just wants to sell you FabFitFun boxes on Instagram. Life's eternal question! What's also exciting about the fact that we now have all the Love is Blind episodes (Don't you EVER do this network TV staggered drop sh*t to me again, Netflix) is that we finally get the full picture of our contestants. I don't love when I'm on a contestant's side for a solid eight hours of TV, profess my love for them in an article that you all read, and then have them zip off their skin suit in the finale to reveal they were actually the devil himself all along, and then I have to take it back. Admitting I was wrong is so not my style. I'm a Taurus, people! So now that I've watched all the episodes, and have a full view of who these people are, I feel confident that I can bring you all my DEFINITIVE ranking of the Love is Blind contestants, ranging from "I wouldn't run away if I saw you in Duane Reade" to "I'm calling the police." And if they eventually zip off their skin suit on a reunion, I will be SO MAD. 
*Also, before you carry on, SPOILER ALERT. Do not keep reading if you haven't watched the finale yet! I don't want to hear about it in the comments, mmkay?*
Lauren Speed
Lauren is obviously the big winner in Love is Blind. She never seemed psycho, I mean, other than the fact that she got engaged on like, day four. She also realized she could still be herself, and advocate for what she believes in, despite the race of the person she married. I watched the finale episode with my mom, who had not seen any other episode, and she said of Lauren and her bridal party, "they're all cute" which is simultaneously the nicest and only printable comment she made the whole episode, which obviously means Lauren was impressive. Plus, I'm glad she and Cam got married because I feel like the show really needed one functioning relationship to take the plunge. And yes, she said dammit in her vows and that's when my love for her was truly cemented. Lauren, I'll see you at Duane Reade! 
Mark Cuevas
Mark was too pure for this world. Even though he was the 24-year-old in a relationship with a 34-year-old, he was the one that acted like the adult. Sure, I questioned his taste when he watched Jessica share a glass of wine with her dog and he didn't immediately call Animal Control, but we all have blindspots. I really do wish he had realized that Jessica didn't deserve him, and that he was the one to say no at the wedding, but if that had happened we wouldn't have gotten that sweet scene of Mark crying with his mom. *Insert heart eyes emoji*. Mark, I have a feeling you'll be just fine without Jessica. Definitely check your DMs today. 
Kenny Barnes
"Please stop recording, Jimmy" is my new catchphrase. When my boss asks me about an assignment that I most definitely did not do? Please stop recording, Jimmy. When my aunt asks me why I've showed up at yet another wedding single and alone? Please stop recording, Jimmy. And when my puppy judges me for another Saturday where I don't get out of bed until 1pm? Please stop recording, Jimmy. Thanks for the help, Kenny, I too felt "Sure, Jan" was getting a little tired. You deserved better! 
Cameron Hamilton
Let's be real, Cameron only ranks in the middle of the pack because he was smart enough to lock down Lauren. Well, that, and he has a house. The men I go out with usually Venmo request me after our date for the cost of my two glasses of wine they were kind enough to grab from the bartender at the dive bar they took me to. They might as well also Venmo request my dignity, because that sh*t is gone now too. Anyway, as my friend said to me at the beginning of this show, Cameron is the definition of milquetoast. Which I could not agree with more, and is also why I can't really seem to muster up feelings for this man either way. So I guess congrats, Cameron? You're one of very few men I don't want to run over with a car bought in cash that can't be traced back to me. Call it a win! 
Kelly Chase
Kelly, I really wanted to like you. Early on in the show when you, a woman with a normal, fit body, said that you felt like you weren't comfortable with how you looked, I could relate HARD. I wanted us to be friends. But then you picked Kenny, a pretty good dude, and then took it back. You should have just listened to your sister and married him! Take the risk! Half of marriages these days end in divorce. Why not? Being unsure certainly never stopped Kim Kardashian from getting married! This is the only time in my whole life where I've had to tell someone to be more like Kim Kardashian, and now I dislike you even more for that, Kelly. FOR SHAME. 
Matt Barnett
When this show first started, I could not fathom a world where Barnett was not last on my list of contestants. But then he grew on me. Frat dude jokes? Bad. Playing multiple women in the pods? Very bad. A real job? Good. Responsible with money? Very good. Not leading Jessica on even though she was clearly pursuing him after the pods? Very veryyyy good. BUT. He also said yes to a marriage that seems more toxic than the water in Newark, NJ, so here we are. Barnett, please take your "most improved" ribbon, and hang it on your wall in the sad one-bedroom apartment you lease after your marriage breaks up.
Damian Powers
Damian, you were one-half of my most hated relationship on this show, and the only thing you did right was not marrying Giannina. Things you did wrong include: calling yourself a gift, fighting with Gigi at a party with your friends, and constantly mentioning what Gigi was doing wrong in every single argument. Oh yeah, and apparently you f*cked her wrong too. But I'm just repeating what I heard, don't blame the messenger! 
Amber Pike
Amber doesn't live to work, she works to live. And that's the moment I knew I hated her. No one wants to work, Amber! But we do want to pay off our student debt! It appears Amber only wants to work to pay off her boob job. She is also the kind of person that will most definitely cut off Barnett's genitals and throw them in a field if he does something stupid, like telling his niece that she's the prettiest princess he ever saw. That bitch better not steal her man! 
Giannina Gibelli
Gigi is lucky that there was someone else on this show so heinous that she narrowly missed last place. Gigi was just really not self-aware. She treated Damian terribly, and then said things like, "I always treated you with kindness." She complained about him being on his phone, and then literally could not stop herself from checking her own phone. Also, it's pretty rude to tell someone on camera that they are not the best sex of your life. People can hear you, Gigi! That's what the big microphones above your head are for! And tbh, the rhyming wedding card she sent Damian is what really set me over the edge. Her only redeeming moment was when she metaphorically gave Damian his bow back. Even someone as self-centered as Gigi can recognize when someone else does something so horrifically embarrassing. 
Jessica Batten
I could literally write an entire thesis on Jessica, and I'm only not doing that because I'm in Florida and I'd rather go to the beach than relearn MLA citations for this article. First of all, Jessica cannot hold her liquor. I think we can all agree on that, considering at one point she was so drunk she told Mark that she thought Barnett was sexy, and then at the bachelorette party she attempted to order a drink and an appetizer from the performer on stage (fine, same). She claimed she wasn't pursuing Barnett, but she invited him for wine by the fire alone. 
And then, THE FINALE. First of all, Jessica, quoting It Takes Two will not get you into my good graces this late in the game. You've gone too far to the dark side to even win me over with the Olsen Twins. She also says, "You will always have a special place in my heart" about her FIANCÉ! That's literally what you say to your sh*tty first boss after you reveal you will be taking a new, higher-paying job. Not to the dude who still loved you after you bit his head off for admiring his mother. 
As she says ever so saltily after blowing up her own wedding, she will apologize to whoever she needs to apologize to. Great. I am waiting for my apology, Jessica. And I would like MLA citations. 
And that is the official ranking of the Love is Blind contestants! There better be a season two of this show, because it's truly the only thing that makes me feel better about being single. Let me know your own rankings in the comments!
Images: Netflix; need4lspeed, markanthonycuevas_, kennybarnes11, cameronreidhamilton, chaselifewithkelly, barnettisblind, damian_powers, atypicalamber, gianninagibelli, jessicabatten24/Instagram 
These Are The Worst Cities For Dating In The Country
Valentine's Day is almost here! And what does that mean? I'll be dressing up in my best pink dress, receiving roses at the office, and then heading out for a night on the town with my perfect man, Keanu Reeves. Oh sorry, that was just something I've been manifesting. More accurately, I will be sitting on my couch in my best PINK sweatpants, watching the sequel to To All The Boys I've Loved Before while sobbing lightly and going to sleep. But I hope you all have, like, such a fun night!

Thankfully, this year I have someone to blame other than myself for my singledom. And that "someone" is the hellscape that is New York City. That's right, the kind folks over at Apartment List have compiled a ranking of the best and worst cities for dating. And wouldn't you know, New York is ranked all the way down at NUMBER 50! So it turns out, I don't have "a personality not conducive to interaction with other humans," it's just that the city I live in is a dating dumpster fire. Thank you, Apartment List, for having my back, now can you please send this article to my mom? Let's take a look at how the rest of the cities ranked, and see if you all can blame the place you live on your terrible dating life, or if you'll have to look in the mirror tomorrow and admit you and your bad attitude just might be the problem. 
According to the data, Provo, Utah is the best place to date, with 47.5% of respondents reporting they are happy with the dating scene. Congrats, Provo! I mean that so sincerely! Apartment List says Provo is home to scenic views and great date spots, and that's why it's ranked so high. Sure… it's definitely that and not the fact that men can have multiple wives. I'm just saying, how could it be that hard to date when no one is ever actually off the market? You see it, you like it, you want it, you marry it, you move into a house with its three other wives. Simple as that. 

The top ten is rounded out with a bunch of cities I've never been to, including Raleigh, NC, Pittsburgh, Denver, Houston, and Grand Rapids, MI. And oddly enough, Bridgeport, CT is ranked fourth. I'm SO confused. Has anyone ever heard about the dating scene in a random Connecticut town? And, more importantly, is it close enough that I could still commute to NYC? I'm not opposed to getting out of the city if it helps me meet Keanu. Or literally any other man at this point. Even if they do wear pastel sweaters tied across their shoulders and spend their weekends on a boat named after Jordan Belfort. 
Now let's get to the bottom of this list, which I know you've all been waiting for. Three Florida metros round out the very end of the list, which makes sense because all the state's residents are either in the process of dying, or kicking swans in the head to practice karate. Not very dateable, unless you're into pre-serial killers, I guess. 

Hello, Florida dating pool 
Also included on the worst list is New Haven, CT (why don't they just scurry on over to Bridgeport, I hear the dating scene there is LIT). We also have Syracuse, NY, which I am very pleased about because my baby cousin goes to school there and I don't want her wasting her time with boys—she's supposed to be showing me how to use TikTok, and that will be VERY time-consuming. That, and obviously she can't get married before me or I'll actually rip her throat out with my bare hands. Love you, Erin! 
The list I find the most telling is the one that ranks what cities men think are best to date in vs. the cities that women think are best to date in. Men rank San Diego as the best place to date. SHOCKER! Men enjoy dating athletic, outdoorsy women who wear bikinis and go on beach dates, where the bodies are really showing. I have never been less surprised by anything in my entire life. In fact, men chose lots of cities where you can take a good long look at a woman's body, including Virginia Beach and Miami. Men: predictable since the year 100 BC. Women, on the other hand, rank Columbus, OH first. This also tracks, because we just want a man that's not checking out some other woman rollerblading by us in a bikini while we try to have a conversation. THAT IS LITERALLY ALL WE ASK. 
Now, it's time to talk about the biggest surprise on this list. As I touched on earlier, you've got to scroll pretty far down to find New York City, which is ranked 50th! Only 29% of men are satisfied with the dating scene in this rat trap masquerading as a city, and only 22% of women responded that they're satisfied. This is dismal. The MTA literally gets better approval ratings than this, and yesterday I had to fight a 9-year old who tried to steal my bagel on the J train. Normally, I don't condone interacting with children, but I paid for the expensive cream cheese! And we still like this situation better! For some added perspective, here are a few other things that have higher approval ratings than dating in New York City: Donald Trump, Boeing, American Dirt, guns, and Lori Loughlin. We in trouble now.

I advise all you fellow singles to take a close look at this list and seriously reconsider where you're living. I'm on Apartment List right now conducting a search for a new apartment in Provo, UT. I can't wait for NEXT Valentine's Day, which I will most definitely be enjoying with my new boyfriend and his many wives. Built in girlfriends! You can't beat it!
Images: @timberfoster / Unsplash; Giphy (4)
Will You Always Love Your First Love? An Unofficial Study
If you would have pulled bits and pieces of different boys out of different coming-of-age novels, that's who Adam* was. A true Judy f*cking Bloom character. He was beautiful, with his dark, curly hair and unsettling hazel eyes with a green speck right next to his left pupil. 
When I look back now, it almost feels like I wrote my first love story for some young adult audience, ready to be turned into a Netflix film starring Noah Centineo. The sepia-hued memories of us napping in fields, making out in the back row of the movie theater, writing long, embarrassing Myspace (yes, Myspace) posts for each and every one of our monthiversaries—we were the definition of a teenage cliche.
He was all wrong for me because, of course he was. Maybe that's what made him right? He would pull his hoodie over his head and sleep in the back row of class, waiting for the hangover from the senior party he went to the night before to wear off. He made out with girls two years older than him because they all thought he was hot enough to slum it with, his easy confidence and built arms from years of rowing crew luring them in. 
There was no reason for him to pay attention to me, and I had no reason to accept his advances. So, naturally, we fell grotesquely, painfully, horribly in love. 

From the note he passed in science class asking me on a date to our dramatic breakup (not the first one. Orrrr the second one. But the third one. That one) to the years-later, post-breakup, "let's pretend this didn't happen unless we're getting back together" hookup on the beach, my first love was the stuff of adolescent fantasies everywhere. And the best part? During it all, I felt like I was the only person in the world to feel that intensely, that strongly, that much. 
Turns out, almost every other failed first love story has the same premise. That falling. That unsteadiness. That "maybe I'll never get over it even though I'm actually totally over it" feeling. While some people say they feel nothing for their first loves, the rest of us who aren't lying can admit that just because it didn't work out, and just because you might not still be in love, there always seems to be ~something~ about your first love that you just can't shake.
As I typed that, I had a total Carrie Bradshaw moment and couldn't help but wonder: Why do we even care? For most of us, our first loves are LONG gone and out of our lives, so why do the ghosts of those relationships linger on and haunt us well beyond our final goodbyes?

In order to get to the bottom of my musings, I reached out to Judge Lauren Lake of Lauren Lake's Paternity Court, because if anyone is an expert on love and heartbreak, it's the woman who has made a career of educating those with broken hearts and helping them heal… not to mention punishing the assholes who hurt them.
According to Judge Lauren Lake, "First loves are usually so intense and often between two immature people, so, ultimately, they serve as the foundation for future relationships." (For better or for worse.)
Which means that no matter how your first meaningful relationship went down, your brain literally uses it as the baseboard for all future relationships because it's, to pull out a word from the 5th-grade science fair, the control. Which is why you might randomly have dreams about said ex or think of them from time to time, even years after things went to sh*t—which, thankfully, doesn't mean you're a psycho.
"It happens because you're human," Lake says. "Love doesn't just end when someone breaks your heart. It's very possible to have love for someone who isn't your Mr./Mrs. Right, especially if it was the first person you thought was going to be your lifelong partner."
Art Aron, a psychology professor at State University of New York at Stony Brook who specializes in close relationships, told The Washington Post, "Your first experience of something is going to be well remembered, more than later experiences, presumably there'd be more arousal and excitement, especially if it's somewhat scary."
And honestly? There are very few things scarier than falling in love. It's a nonstop anxiety trip of will they or won't they, do they or don't they. It's exhausting and panic-inducing, but that rush is so powerful that humans have been chasing it for centuries. "Even in a fully developed adult brain, the neurological response to being in love with someone is very strong," says Art. "It's the same as being on cocaine."
So, for the not fully-formed adolescent brain pumping weird thoughts into a body full of hormones and Mountain Dew, the feelings, responses, and the lasting effects of falling is love are completely magnified. 
"Love doesn't happen overnight," says Lake. "It doesn't end overnight, either. When you truly love someone, there will always be a part of you that still loves them, even if they did you wrong. It is still possible to have love for someone but know you have to move on from them."
Can u imagine getting married and having a family and staying in love until u die, then waiting in the afterlife for your wife to join you and she finally dies and ditches u for a dude she knew for three days on a boat instead?? Anyway I'd give Titanic a 9/10

— Saddington 2 ✈️🥺 (@2Saddington) November 12, 2019
Easier said than done, right? Still, if you have those lingering feelings, it might be important to take a closer look before they cause real damage to your current or future relationships. While things you learned from those firsts are important (like knowing that you don't have to stick your tongue in someone's mouth every time you kiss), there's a limit. While that first person might be part of your future foundation, there's a fine line between learning from those experiences and leaning on them.
According to Lake, "You have to be careful not to make your first love a figure in your future relationships. No one wants to hear about someone's ex all the time, even if it is a first love from years ago."
While most of us will still, subconsciously, refer back to lessons learned from our first loves in future relationships (or even do the occasional Instagram sweep out of curiosity), there's a big difference between your first love being a foundation and your first love being a figure in your life. How do you tell the difference? 
"Having love in your heart for someone and still pining for them are two very different things," says Lake. "It's important to evaluate whether or not you have an unhealthy attachment to your ex. Are you consistently and consciously comparing new people you're dating to them? Do you still fantasize about being in a relationship with them? Do you regularly look at their social media accounts? Do you still have all of their pictures in your phone? Did you save their texts? Do you drive by their house?"
While most of us (I hope) would realize that the ol' drive-by move is total You style stalking, some of the other unhealthy habits might be a little harder to not only detect, but also break. As stated before, love, and especially first love, is as addictive as cocaine. Which means that while it's fun and exciting and keeps you up all night and makes you feel insanely sexy, it can also be pretty effing unhealthy. While those little first love-related pastimes might feel harmless, they could be detrimental in the long run. 

According to Lake, "If you answered yes to any of those questions, you may need to admit that you're still hung up on or have attachment issues to your ex. If so, you NEED to spend time doing the work to heal yourself before you get into a relationship with someone new or to better move forward with the person you're with."
Naturally, the big question is "how the f*ck do you do that if you're so obsessed that you considered driving by their house when you were visiting your family for the holidays?"
"Stop romanticizing it! At the end of the day you left, or they left you. Let go of those unrealistic and unhealthy fantasies," says Lake. "You might have to just accept the fact that you may never truly get over this person completely. But you can definitely learn to live life without them."
While taking the steps to fully, finally, and healthily get over them means making pro/con lists, burning all of their sh*t that you still have in a box and then saging your apartment, or seeking professional help, know that "losing your first, or any, love isn't easy for anyone," says Lake, "but you can overcome it and access the limitless possibilities for love and happiness that are in your future. One of the most important relationship lessons to learn is that it takes more than love to sustain a great relationship."
You know, like communication, patience, and pretending that hearing him talk about his fantasy football team doesn't make your vagina totally dry up. See?! Healthy relationships!!!!!!
So, whether you're totally over him or still in the process, post your sloriest thirst-trap and say goodbye to past relationship hangups in 2020. The best gift of all? Knowing that no matter how good his life is now, there's a 100% chance he'll see your post and hate himself for f*cking things up with you. And THAT, my loves, is the ultimate cure for heartbreak. Well, that and seeing that he ends up on Lauren Lake's Paternity Court someday. Here's to hoping!
*name has been changed because, despite popular belief, I'm not a TOTAL psycho.