The New 'Dancing With The Stars' Cast Is Peak 2020
You never quite know what to expect when ABC reveals a new Dancing With The Stars cast. It's always a motley crew of has-been actors and musicians, athletes, and reality TV personalities, but some seasons are more intriguing than others. Last season brought us atrocious dancing from Lamar Odom and Sean Spicer, and Hannah Brown ended up winning it all. Meh. The cast for the upcoming 29th season (yes, 29, really) was revealed on Wednesday morning, and maybe the quarantine is ruining my brain, but I feel like it's a more iconic group of "stars" than usual.
Of course, this cast has its DWTS regulars—a former NFL player, a former NBA player, the third-most famous Backstreet Boy—but this cast has some special ingredients that almost make me want to watch. I probably still won't watch, but who knows, I'm pretty f*cking bored these days.
We've known for a while that Kaitlyn Bristowe would finally be getting her chance at DWTS this year, after Chris told her the spot was hers on her episode of Bachelor GOAT. I'm happy that she's happy, but this year, ABC knew exactly what new territory they needed to mine for "stars": Netflix docuseries participants. Netflix shows have been one of the only things getting us all through quarantine, and this season's cast features familiar faces from not one, not two, but THREE of Netflix's top trending shows of 2020.
First, we have Tiger King's Carole Baskin, who was rumored to be joining DWTS for a while, but I honestly thought it was a joke. Either ABC knows something we don't, or they're not too worried about having an accused murderer on their show (kidding!). I can't imagine Carole will make it past the first couple weeks, so I'm placing my bet now that she'll wear a tiger print dress and dance to "Roar" on the first episode. She knows her lane.
Next, we have Monica Aldama, better known as Coach Monica from Netflix's Cheer, which somehow came out in 2020. I would've preferred Jerry or cheerlebrity Gabi Butler, but Coach Monica is cool too. Monica is best known for her competitive spirit and for pushing kids to continue training while injured, so she should be stiff competition on the dance floor. I'm sure there will be many jokes about "making mat" when she does well, but if they put her in a cheerleading outfit for her first dance, I'm out.
But the Netflix star I'm most excited for is undoubtedly Selling Sunset's Chrishell Stause. Chrishell was a well-known soap actress for years before the show premiered, which makes her perfect Dancing With The Stars material. Chrishell is flawless and stunning, and I imagine she's probably a decent dancer, but I really want to know how angry the rest of the Selling Sunset cast is that they weren't chosen. I'm sure Christine Quinn is furious, and they better have tight security at the DWTS studio, because Davina will absolutely try to sneak in and sabotage Chrishell's performances.
Chrishell better be careful on Dancing with the Stars because Davina will probably try to put grease on the stage or something

— Betches (@betchesluvthis) September 2, 2020
Those three women are really the crown jewels in this cast, but there are a few other performers I'm excited to see. Figure skater Johnny Weir is in the mix, and frankly, I'm shocked it has taken this long for him to be cast on DWTS. Figure skaters usually do well on this show, and Johnny, who is known for his flamboyant style, will no doubt have the most fabulous costumes of anyone.
We also have Catfish host Nev Schulman, who doesn't strike me as a talented ballroom dancer, but I love him, and I'm ready to be surprised. He'll be competing alongside Jesse Metcalfe, aka John Tucker, aka yes he is still incredibly hot. Oh, and Nelly is on this season too, and I really just hope they let him dance to "Hot In Herre". Please, just give us one good thing this year.
I don't know that anyone reading this really cares about who wins Dancing With The Stars, but my personal prediction for the mirrorball trophy is Disney Channel star Skai Jackson. She's only 18 years old, but she's been performing for basically her whole life, and she seems way more mature than most people her age. And also, I'm still not over her iconic feud with Bhad Bhabie. Basically, we stan Skai Jackson in this house.
The new season of Dancing With The Stars premieres on September 14th, and I recommend watching the first episode, just because it will probably be the only time Carole Baskin dances before she's sent home. Lol.
Don't miss out on any pop culture or entertainment news. Subscribe to our weekly newsletter here. 
Images: Courtesy of Netflix; betchesluvthis / Twitter
Is Hannah B. Going To Be On Pilot Pete's Season Of 'The Bachelor'?
Like the roommate who started polluting your apartment with Hobby Lobby Christmas decorations before your Halloween hangover even subsided, ABC is also gearing up early for the holidays. But instead of gifting you with a fake Christmas tree that does nothing but partially block your view of the TV and give your dog diarrhea whenever she chews on it, ABC has gifted us with the gift that keeps on giving: the first official trailer for Peter's season of The Bachelor.
The first promo for the season dropped a little over a week ago and gave us more windmill green screen imagery than the PowerPoint deck for the Green New Deal. Like, we GET IT, he f*cked in a windmill. I figured the trailer would be much of the same. And for the most part it was: we got Chris Harrison delivering his first contractually obligated "most dramatic season ever" of the season, at least 10 frames of Peter standing shirtless next to a plane, and footage of girls who are way too hot for Peter pretending to be into Peter. Basically, the storyboard for the teaser trailer could have been crafted by someone who doesn't have working eyes or ears and only knows that Peter is a pilot (Chris Harrison's least favorite nephew-turned-ABC-intern, I am looking at YOU). But then, just as I'm tempted to exit out of the trailer entirely, who should pop up on my screen? None other than HANNAH MF BROWN. 
Before we go any further, here's the full trailer so you can watch it in its entirety: 
Not only does Hannah make an appearance during the season, but Peter actually asks her to stay AND THEN THEY ALMOST KISS. I mean, their body language alone has enough fire in it to burn ABC studios to the ground, and a still of their lips almost touching is certainly going to be my phone's new background photo. I want to believe in a world where Hannah B gets a second chance at love on The Bachelor, I really do. But that would also require me to believe that the Easter bunny exists and that I plan my spring vacations around a groundhog. All I'm saying is the trailer looks a little too good to be true. Like, so untrue it might be world-class production editing untrue.
For one, Hannah B. just won the Dancing With the Stars. It seems unlikely that she could be on two reality TV shows at the same time, especially considering they aren't filmed in the same city. Dancing With the Stars is filmed in Hollywood, CA, while The Bachelor takes up residence in Agoura Hills. According to Google Maps, that's like an hour plus commute each way, but you might as well add ten years to that when you factor in California traffic. 
Even if Hannah could do both shows, I don't think she would. Don't get me wrong, during her season's After The Final Rose, I saw sparks between her and Peter. She practically had her hand down his pants at one point, so I could see them happening. What I don't see happening is Hannah trying to compete for his attention with 20+ other women. She had her own season of The Bachelorette for god's sake, she's not going to go back to being on the other side of "can I steal you for a sec?"
And it's not like Hannah isn't single either. She recently confirmed that she's not dating her Dancing With the Stars dance partner, Alan Bersten, nor is she dating ex Tyler Cameron. But she also said that she has "trauma from dating" (same girl). Something tells me that she's not jumping back out into the dating world via bikini-clad group dates and drunken confessionals. Just a guess. 
Then there's the matter of video editing. This isn't the first time ABC has promised us a fire season only to deliver a throne of lies built off one juicy season trailer. Take Colton's infamous fence jump, for example. Production teased that happening from day one. They made it seem as if Colton's meltdown would happen early on and in front of multiple women, when in all actuality the fence jump heard 'round the world occurred during one of the last episodes of the season and in front of no one but Chris Harrison and a few shocked camera men. I wouldn't be surprised if Hannah whole "I'd do anything for love" line from the trailer wasn't taken completely out of context for the sole purpose of leading us. Nice try, ABC, but you aren't the first f*ckboy I've encountered, mmkay?
So, do I think Hannah is going to be on Pilot Pete's season of The Bachelor? The short answer is yes, but for less time than a commercial break. I'm not saying that Pilot Pete and Hannah are over for good (I will hold onto this torch until the end of time), but if anything happens between the two of them it won't be on our TV screens, but rather, over Instagram DMs like God intended. Only time will tell, I suppose. Either way see you betches in January for the new season!
Images: ABC (1); Youtube (1)
The New 'Dancing With The Stars' Cast Is Iconically Random
I'll be honest, it's been a long time since I sat down and watched Dancing With The Stars. Back when the show first started in 2005, I was too young to really know who most of the people were, and I'm not exactly a ballroom dance super fan. But still, over the years I've watched random episodes of DWTS, and there's a reason it's now going into its 28th season. 28 is an insane number, but there are apparently still plenty of celebs who are dying to compete for the mirrorball trophy. Case in point: today ABC announced the cast for the upcoming season, and it's…incredible?
Each of the 12 contestants on the new season is more random than the next, and I really have to applaud the casting team for digging up this prime bunch. Let's go through the contestants, while I ponder whether I might need to start watching? Tom Bergeron's jokes are bad, but I might suffer through just to see this circus.
Hannah Brown
It's no surprise that our sweet Bachelorette Hannah B is headed straight to Dancing With The Stars. This has been rumored for a while, and past Bachelor Nation members like Nick Viall and Melissa Rycroft have also competed on the show. Hey, if Hannah's not going to end up with Jed or Tyler, maybe she can find love in the arms of a hot Eastern European ballroom dancer? It's what she deserves. If she doesn't do a dance to the Alabama fight song within the first three episodes, I'll be shocked.
Karamo Brown
No relation to Hannah Brown, Karamo is the first of Queer Eye's Fab Five to compete on DWTS. Karamo's job on Queer Eye has never been completely clear to me, but maybe he's an amazing dancer. Or maybe he'll just skip the dancing and make straight men in the studio audience cry while teaching them important lessons about embracing their inner fabulousness. But he's probably also a good dancer.
Lauren Alaina
Lauren Alaina is one of the more random people on this list, because she was on a season of American Idol after everyone stopped watching. She's a country music artist, and has actually been pretty successful in that genre, so good for her. Among her career achievements is a headlining set at Stagecoach (!!!), where I'm willing to bet Blake Horstmann slid into her DMs.
Christie Brinkley
Christie Brinkley is definitely too good to be on this show, but she's a supermodel in her 60s, so I guess a gig is a gig. It pains me to say this, but if you're a young person, you might only recognize her as Jerry's wife Gail from Parks & Recreation. To be honest, I'm shocked she hasn't been on Dancing With The Stars before, but I guess there's a first time for everything.
Ray Lewis
You might recognize the name Ray Lewis, but you probably need a little more background to understand why he's important. He played for the Baltimore Ravens from 1996 t0 2012, but had to take a quick break in 2000, when he was indicted on murder charges. He copped a plea deal and didn't do prison time, and went on to become the Super Bowl MVP the next year. He also caused controversy in 2016 when he met with Donald Trump about the economy. When asked about Trump's history of racially insensitive behavior, Lewis said that "black or white is irrelevant." Let's hope he sticks to dancing and not politics on DWTS.
Mary Wilson
Mary Wilson is best known as the longest-running member of The Supremes, though she usually got overshadowed by Diana Ross in the group. She's 75 years old, so it's honestly just impressive that she's doing this. I mean, I'm in my 20s and I don't even like to get out of bed on the weekends, so you go girl.
Ally Brooke
Ally Brooke rose to fame as a part of Fifth Harmony, but her solo career hasn't blown up like Camila Cabello or Normani yet. Normani went on DWTS a couple years ago, and she's been doing great since then, so maybe the show will have the same effect for Ally. I've actually met her, and she's super nice, so I guess I'm rooting for her. And by "rooting for her," I mean that I'm not going to watch the show, but I'll probably notice on Instagram when she posts about getting sent home.
Kel Mitchell
Yeah, so Kel from Kenan & Kel is still alive, and he's going on Dancing With The Stars. Good stuff. I don't really have anything to say about Kel going on this show, except I hope he does a great job. Whatever.
James Van Der Beek
I never made it all the way through Dawson's Creek, but I absolutely love this for James Van Der Beek. Good for him. It's also funny, because I'm pretty sure when he played a fictionalized version of himself on Don't Trust The B In Apartment 23, he said that he would never go on Dancing With The Stars. Oh how the turn tables have…turned. Oh, and one more thing. In the official cast bios, they say that he has both four and five children, and I don't care enough to look the real answer up, but I really hope someone at ABC didn't just reveal a secret love child. (I looked it up. He has five kids. Kinda disappointed there's no love child.)
Kate Flannery
You might not recognize her name, but this is f*cking MEREDITH from The Office. I'm screaming. I will only accept this casting if she shows up in character, aka fully blackout and not wearing panties. I need some drama!! This is the exact kind of has-been I want them to cast on this show, because she both needs the paycheck, and will most likely bring the entertainment value.
Lamar Odom
HAHAHA. To be honest, I feel like it's touch and go if Lamar Odom is even like, alive and functioning these days, so good for him if he's really ready to be doing professional level ballroom dancing. He also just said that he's giving up watching porn to combat his sex addiction, so maybe dancing is just what he needs to take his mind off of…other things. I really hope Khloé Kardashian remembers to set up her DVR for the first episode, because I have a feeling he might not make it to week two.
Sean Spicer
And for the final, most insane glitch in the simulation—Sean Spicer. Literally what were they thinking? Is there anyone out there who wants to see Sean Spicer doing the rumba? I don't want to see Sean Spicer doing literally anything! I saw him on the street once in Midtown, and it ruined my entire day! Are people going to like, clap for him? Is Carrie Ann Inaba going to give him a charitable 8 because she can tell he's trying? I don't want any part of this! The only way this will be okay is if it's actually Melissa McCarthy in her Sean Spicer drag. That, I will allow.
Images: ABC; laurenalaina, mwilsonsupreme, iamkelmitchell, therealkateflannery, Seanmspicer / Instagram
The Most Bingeworthy TV Shows This Fall
As I sit in my flannel, jeans, and black ankle boots, I can happily confirm that the fall season is upon us. True, it's still mid-70s and I'm only dressed this way because there was a tick advisory for my workplace today (working in TV is all glamour, don't let anyone tell you otherwise). But I'm sure we can all agree that it feels like fall. In other words, it's time to curl up in front of your TV and forget the words "crop top" for another nine months. While you probably spent all summer bingeing Office reruns (same), fall is the time for new, highly anticipated TV. In order of when they come out, here are the new and returning TV shows that will dominate your life for the next few months. Please set your DVR accordingly.
'You' – September 9, Lifetime
I should qualify at the start of this list that not every show will be what's traditionally considered "good." For example, most of the dialogue in this particular show makes me want to throw myself through a window. But like, in the BEST way. This show is about Penn Badgley playing a stalker freak who becomes obsessed with a slightly vapid blond and immediately starts doing psycho sh*t like writing about her on an anonymous website breaking into her apartment and messing with her life. So basically, a dark yet accurate glimpse into Dan's future. (Extremely self-aware of Penn Badgley to take this role.) This is my new favorite guilty pleasure show, and if you're a fan of Lifetime at all, I can't recommend it enough.
The first of many red flags he displays in this show: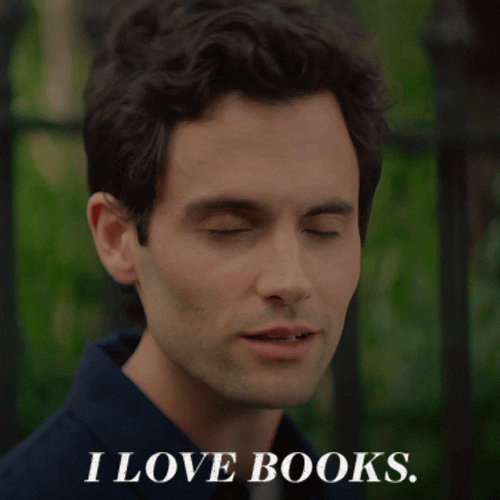 'Maniac' – September 21, Netflix
Okay so polar opposite of the last show, but also about mental health. Can't imagine why that's trendy right now when we have such a stable genius in the White House! Anyway. This whole season dropped on 9/21, and it stars Jonah Hill and Emma Stone. Even in this ~Golden Age~ of television, that's a pretty high-end cast. I won't tell you much about the plot beyond the fact that they both have a sh*t-ton of baggage and sign up for a pharmaceutical trial. The plot is less important than the vibe, which so far is like every episode of Black Mirror smushed into one world. This show is good for an all-day binge when you're up for actually thinking about what you're watching. Invite over your artiest friend so they force you to pay attention through the first 3 episodes, it's kind of slow to start up.
'Dancing With The Stars' – September 24, ABC
Have I ever watched this show before? No, and I probably won't again. But who could resist seeing Grocery Store Joe flit across the stage! I give you permission to stop watching as soon as he's cut.
'This Is Us' – September 25, NBC
You all know what this one is for. This is the show you come to when you need a really good cry, or when you want to ignore all your problems and pretend Mandy Moore is your mom for a while. Also, to get your weekly Sterling K. Brown fix, which is right up there in terms of importance with drinking water and getting enough sleep. It's just a fact of life. This season, we're going back to Jack and Rebecca's first date—and Randall's daughter, Tess, all grown up. Few things are as pure as my love for this show.
Anyone else need to watch this on repeat to cleanse from this week's news cycle?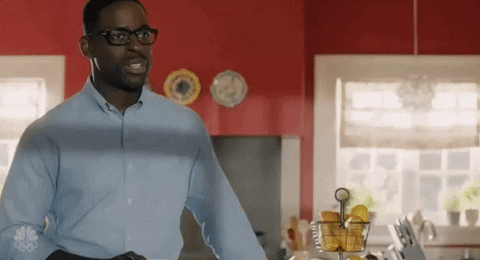 'Modern Family' – September 26, ABC
Did we all kind of get over Modern Family five years ago when it won every award? Yeah, maybe. But this is likely the final season, and they've been teasing a "significant death," so I'm planning on riding out the show until the end. It's the least you can do for something that gave you a few good years, like when you loyally wear your favorite black leggings until they're completely sheer in the crotch. Watch out of loyalty, watch because Phil is still funny AF, or watch because you're hungover and it comes on next on Hulu. Up to you.
'The Good Place' – September 27, NBC
Very few shows like The Good Place have come around in the past few years, and I'm deeply grateful when they do. It's from the creator of Parks & Rec, and has the same soothing effect of all your fave 25-minute comedies. Kristen Bell has spent the first two seasons figuring out that she's in (SPOILERS) Hell, aka the Bad Place. Season 3 opens up with her and her 3 companions having been redeposited on Earth to give things another try. Will they f*ck it up in a largely similar way to the first time? Probably, their memories were erased so IDK why they wouldn't. But it'll be fun to watch them try to fight their baser instincts for a while.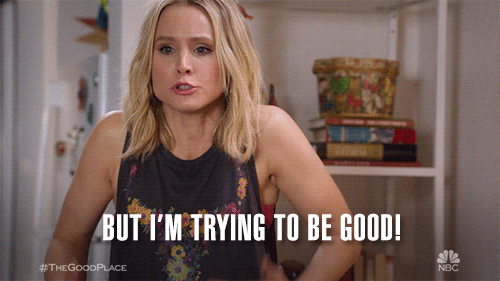 'How To Get Away With Murder' – September 27, ABC
This is another show that's sadly nowhere near as good as it used to be. But at its best it was so iconic that I still can't look away. No matter how ridiculous the rest of it gets, Annalise is still the epitome of boss b*tch goals, and Laurel still has an annoyingly good lingerie collection for someone with such a terrible personality.
'Riverdale' – October 10, CW
Of course the show I'm most excited for doesn't come back until October 10th. OF COURSE. Season 3 of Riverdale is about to be f*cking lit. We're dealing with the aftermath of Archie's arrest, an all-out war with Hiram, more screen time for Cheryl and Toni, and some weird cult stuff with Betty's sister. The promo shows Archie shirtless, more milkshakes at Pop's, and what appears to be a ritual sacrifice of two babies. Exactly what you'd expect and get more than you dared hope, in classic Riverdale fashion. And obviously we'll be recapping it.
Me all season:

The best part of these fall shows? Since they're all newly released, you're basically engaging in a cultural activity with every binge. Some people go to museums; you binge artful new storytelling techniques. Or at least that's what you'll tell yourself as you order Seamless the sixth time that week. Happy watching!
Images: The CW; Giphy (4)
Nick Viall Is Returning To ABC, Because We Can't Have Nice Things
Nick Viall will be returning to your television screen, but this time he won't be trying to get rejected find love. People reported on Monday that Nick will appear in season two of ABC's Speechless. ABC, of course, being the only network in the history of networks that has ever thought putting Nick Viall consistently on television was a good idea.
But don't worry! Nick is actually branching out a lot with his new role, where he will be playing a "hunky B-movie actor who takes his craft too seriously." See. That's sooooo different from Nick's real life as a hunky C-list TV personality who thinks reality dating is a really good way to meet someone. They're like, not even in the same ballpark. Nick will be acting alongside legit celebrities like Micah Fowler and Academy Award nominee Minnie Driver, which is probably the closest Nick has been to legit performers since Dancing With The Stars.

According to People, Nick's episode will shoot next week and air at the end of November, so he'll still have time to make a surprise cameo on Winter Games if the Bachelor audience isn't too sick of him by now that's something he wants to do.

So there you have it, folks. We finally have proof. Nick Viall only ever went on The Bachelor to become famous. At least he's like, really good at pretending to cry.

Nick Viall Is About To Get Humiliated On National TV Again
Bachelor Nation's fuzzy-headed Peter Pan aka Nick Viall hasn't really been kicking ass on this season's Dancing With The Stars, to say the least. In fact, much like the man himself, his scores have been largely unremarkable and middle-of-the-road.
Allegedly, Nick is planning a Rhumba to Ed Sheeran's "Shape of You" for Monday night's episode of DWTS. Rhumba is a type of dance by the way, You're thinking Roomba which is that magic robot vacuum thing. There's a difference.
Anyway, this is the Most Memorable Year episode of the season, in which, I guess, the contestants base a dance on something memorable to them. Since Nick's life has probably been catastrophically unremarkable apart from his 90 million Bachelor franchise appearances, he chose the highlight of his time on TV: that time he cried for 10 weeks straight his time as the Bachelor. So naturally he's dedicating "Shape of You" to Vanessa. Excuse me while I throw up in my mouth.

We all know Vanessa barely likes Nick and mostly stays with him to be famous, right? I feel like that fact is going to make Nick's heartfelt explanation of why he chose her as the topic of his dance super awkward for everyone. I can't with ABC anymore. Like, quit pushing this Nick and Vanessa happy couple fake news agenda on us.
When it's time for heartfelt explanations of why this is his "Most Memorable" dance, drink every time Nick lisps the word "amazing" in relation to his time on the show/his relationship with Vanessa. I have a feeling you're going to be drunk AF within the first three sentences. Go with wine instead of hard alcohol if you have work in the morning.
If Nick doesn't get 10s on this next dance, he could legit be going home—once again fulfilling his destiny of losing at everything and humiliating himself on national television. His parents must be so proud. To put it in perspective, Nick is worse at this competition than the Real Housewife who doesn't wear underwear. Just focus on that for a minute. This really could be the end of the road for him. Let's be honest, the only way Nick can get 10s is if they're tricked into hanging out with him after being promised Luke Pell. Heyo! 
Nick Viall Says It's Too Early To Marry Vanessa Even Though They're Already Engaged
Despite the fact that getting married is literally the point of the show, our least favorite couple in Bachelor history, Nick and Vanessa, aren't getting married anytime soon. A fact that should come as a surprise to exactly zero people given how much they look like they want to kill each other every time they make a public appearance/every time you rewatch old episodes from the past season. 
Yesterday, while backstage at Dancing With The Stars, Us magazine asked Nick if they were planning a wedding. Nick's response? "No, no… it's too early for us right now. We're still just doing a lot of new things together." I wonder if those "new things" include not being at each other's throats all the time? One can only hope. Honestly, good for them for trying to spare themselves a lifetime of misery by not rushing into marriage while all signs point to its inevitable demise.

"We're very open about the fact that we have a long way to go," Nick said, "and we're excited about that journey." Translation: We're calling this shit off the second Rachel's season of The Bachelorette starts and our contractual obligations are deemed null and void.
So what's next for the Bachelor couple? Well, Nick says they're focused on going back to Montreal to visit Vanessa's family, which is pretty funny considering the thought of Sunday dinners made him borderline suicidal on The Bachelor. Either way, we probably won't see a Viall wedding on ABC anytime soon, which, thank fucking god. It's enough already, although I'm honestly pretty surprised Nick would pass up an opportunity for screen time on his home planet network. So this must mean he's got something else up his sleeve. A cameo on Scandal, perhaps? Another stint on Paradise? I honestly wouldn't be surprised if Nick shows up as a last-minute contestant on Rachel's season of The Bachelorette. And then he comes in second place again. And they let him be the Bachelor again. And, oh god, I'm never going to be rid of Nick Viall, am I? 

Anyway, even though I may be on the verge of a mental breakdown over here, and Nick and Vanessa's relationship may be (is) a sham, we still cannot forget that Ben and Lauren haven't even set a wedding date yet—an exceedingly bad move considering their 15 mintues of relevance fame were up like, six months ago.
Nick Viall To Continue Whoring For Fame After 'Bachelor' Gig
Rounding out the list of hoes from this season of The Bachelor who ain't loyal is *drumroll please* none other than the Bachelor himself, Nick Vile Viall! That's right, yesterday it was announced that Nick Viall is competing on Dancing With The Stars season 24, which raises a few issues. Number one, how has this show been around for as many season as I've been alive? Number two, WHAT THE ACTUAL FUCK?
Seriously, Nick? It wasn't enough for you to be on TWO seasons of The Bachelorette, then one of Bachelor in Paradise, then steal the Bachelor gig from American hero and national treasure Luke Pell—NOW you have to go on Dancing With The Stars? How fame-hungry are you? I can't believe Taylor accused Corinne of being here for the wrong reasons when all along, the only person there for the wrong reasons was THE FUCKING BACHELOR. Why do I watch this show? I would like to personally petition Mike Fleiss to return the many hours of my life I have wasted watching this season of The Bachelor. 

What makes this even worse—aside from the fact that we'll all be forced to watch this lysping Walmart-brand Ryan Reynolds not only exist, but attempt to dance—is the potential double standard in play. One of Kaitlyn Bristowe's fans asked why she never did DWTS and her response had more shade than an average episode of Real Housewives Of Atlanta.
Actually I was offered it, had the contract & Mike Fliess told me I wasn't allowed.He said he didnt want people wanting fame after his show https://t.co/nSzricohi4

— Kaitlyn Bristowe (@kaitlynbristowe) February 27, 2017
Yes, thinking emoji face indeed. This is a strange reversal in position, to say the least. Betches has not reached out to Fleiss for comment, so I think it's within my bounds legally to wildly speculate as to how Kaitlyn wasn't allowed to compete on DWTS (sexism), while Nick is not only allowed to do so (sexism), but is celebrated for it (sexism again). So here are some conspiracy theories totally plausible explanations:
1. Nick Viall has footage of Mike Fleiss committing a brutal murder, and threatens to release the footage unless Fleiss gives him whatever he wants, in perpetuity.
2. Mike Fleiss has a big, lesbian crush on Nick.
3. We're all being punished for speaking ill of Nick.
4. This is all just a cover for Nick to actually show up on Rachel's season of The Bachelorette.
5. Sick of having to comfort these idiots season after season while they blatantly disregard the rules, Chris Harrison is purposefully sabotaging the Bachelor franchise in order to get out of his airtight contract. He has invented a mind control device and Mike Fleiss is unknowingly under Chris Harrison's spell, doing the exact opposite of what's in the best interest for his own show.
I could go further, but I think it's time to stop because I caught a glimpse of myself in the mirror and this is what I look like:

SIGN UP: Our Bachelor emails are the only thing more scandalous than the Fantasy Suite.
I didn't read any spoilers, I promise, but I think we all know Nick is probably going to pick Vanessa. Honestly, these two famewhores deserve each other. I wish them a lifetime of happiness and laxative tea sponsorships.
I think I speak for all of us when I say Nick should just go back to Chicago and leave us alone forever, because I did not leave the South Side for this.