7 Online Black Friday Fashion Deals You Can't Pass Up
You're either someone who THRIVES off of the adrenaline rush of scoring a deal on Black Friday or… a liar. Everyone's down to save a few bucks on the biggest shopping day of the year. And, not to brag or anything, but I'm one of those people who personally thrives on Black Friday because I'm unusually skilled at fighting through crowds. Just ask my ex-boyfriend about that one time we went to an Avicii concert together and I fought my way through general admission right up to the stage! Well, actually, I got up there but he didn't, so maybe don't ask him because that night didn't end well. Hey, he's an ex for a reason. ANYWAY, I say all that just to point out that you don't have to go beating yourself up right now if you're not a crowd ninja like myself. This is because, nowadays, it's easier than ever to shop Black Friday sales from the comfort of your own home. We've already talked about the best beauty deals to shop, so here are the Black Friday fashion sales that you need to get in on (from your bed).
1. Reformation

Everyone's favorite online retailer, Reformation, which very rarely has sales, will be offering a sitewide discount of 30% off starting at some point on Thanksgiving. We can all assume sizes will definitely go fast, so I'd recommend hitting up this sale first, before any of your other online stops. They currently have tons of amazing pieces that are perfect for all your holiday festivities and ideal for whether you're attending a business casual office party or a boozy holiday house soirée. And by "soirée" I just mean there will be nicer alcohol than Burnetts and Crown Russe, #adulting.
2. Good American

If you haven't tried Good American denim yet, then you're seriously missing out. I feel like people think I'm an ambassador for the brand at this point but sadly, I'm not—I just genuinely love their jeans that much. (Of course, if they are looking for brand ambassadors you know where to find me.) On Black Friday, Good American will be offering 25% off sitewide, so now's your chance to get yourself a high-quality, perfect-fitting pair of jeans that are somehow comfy too, at a discounted price. What a win.
3. For Love & Lemons

Whitney Faux Mohair Sweater, $162
I'm OBSESSED with For Love & Lemons. Unfortunately, when their basic lace thong averages around $50 a pop, it's not exactly my go-to spot for new clothes. However, Black Friday allows a peasant such as myself the opportunity to actually be able to afford their stuff, so you best believe I'll be taking full advantage. The coveted brand will be offering 30% off sitewide, so take advantage and get yourself a holiday must-have statement-making piece while you can.
4. Luv Aj

Double Ball Chain Necklace, $55
This celebrity favorite jewelry brand will be offering 40% off sitewide this Black Friday which is like, the deal of the century. They make great everyday jewelry essentials worth stocking up on, plus they're offering a phenomenal discount. You can finally get in on the cool girl Insta-blogger trend of layered necklaces, just without having to spend your entire paycheck now. Also, if you're feeling selfless, their delicate and timeless pieces make for universally great gifts that everyone is guaranteed to love.
5. DL1961

Hepburn High Rise Wide Leg, $199
Another one of my favorite denim brands, DL1961, will be offering 40% off sitewide, which is actually crazy for a premium denim brand. They make tons of different styles and fits, so if I were you I'd take full advantage and get yourself a trendy pair plus an everyday pair. At that steep discount, you'd actually be dumb not to.
6. Staud

Shirley Bag Tan Croc Embossed, $210
If you don't know the brand Staud, then Black Friday is the time and place to get yourself acquainted. Staud makes super cool clothes and accessories, and also happens to be another celebrity favorite brand. The brand is probably most recognized for their gorgeous handbags, which you'll be able to get for 25% off, along with everything else on their site, starting this Wednesday. So sweet of them to start their Black Friday promotion early knowing how busy I'll be ordering everything else on my list that day, so good looking out, Staud.
7. J.Crew

Silk Tie-Neck Blouse in Leopard, $148
Okay, so J.Crew isn't necessarily on-brand with my personal style, but I also don't work your average 9-to-5. Not to mention, my everyday style tends to gravitate toward denim so distressed that some may consider it to be shorts. However, regardless of my personal preferences, I'm a woman of the people and it is my civic duty to let you know about their unbelievable Black Friday deals. J. Crew will be doing 50% off full price items and 60% off sale. With that type of deal, I may just have to buy this leopard blouse to wear with my aforementioned aggressively distressed jeans. That's probably not the way J.Crew intended it to be worn, but whatevs.
So with all of these incredible deals coming up, I'd definitely start prepping your finances now. Or, maybe you're one of the lucky ones out there whose payday also happens to fall on Black Friday. In which case, I'm actually not sure if that is lucky or not since you will definitely be blowing the entire thing within 24 hours. But hey, eating ramen for a week straight will taste a whole lot better if you're doing so in your amazing new Reformation dress.
Images: Felipe Galvan / Unsplash; Reformation; Good American; For Love & Lemons; Luv Aj; DL1961; Staud; J.Crew
Betches may receive a portion of revenue if you click a link and purchase a product or service. The links are independently placed and do not influence editorial content.
The Best Cyber Monday Deals On Home Decor, Tech, & Fashion
Kim Kardashian and I are very different people, leading very different lives, but one thing we definitely have in common is that we spend an obscene amount of money on crap we don't need. The only slight difference between our spending is that she keeps on living her high-brow life and I wake up to "low funds" alerts from my bank. So my cute little financial compromise is that I'll only buy things I need (using the term "need" loosely here) if they're on sale. Enter Cyber Monday. 
Cyber Monday is the time for me to buy things I've had my eye on for a while, but don't want to drop money on when it is full price. Ya know? Read on for our top Cyber Monday picks in every area of your life, like home decor, tech, and fashion. One small caveat, there are no beauty sales listed below because I thought those sales deserved their own story. You're welcome. 
Home Decor

Truth be told, I own zero Ikea items because the idea of paying like, $300 for a sofa that I have to put together myself after dragging it on the Ferry from Red Hook, guided only by instructions which are 100% photos and 0% words, sounds like a truly miserable time. However, Ikea is obviously popular among more patient people, so they will be excited to know that a large selection of Ikea pieces are on super sale! Daybeds like the very minimalist chic Markerad are 20% off! Honestly, if my one bedroom that I share with another person was big enough, I'd be all over this daybed situation because I believe they are the true mark of sophistication. Also on sale—up to $200 off—are the Frigeten, Gronlid and Vimle sleeper sofas so that your weird cousin doesn't have to share your bed when she comes to visit. Is it just me or do all Ikea names sound like they could be characters on Game of Thrones?

Ruggable Vintage Daisy Bordered Fuschia Rug
One thing I really want, but don't want to shell out all of my money for, is a new rug, which is why I still have the nasty-ass one from my college apartment. Before I realized Ruggable was having a 20% off sale site-wide (with the code CM2019), I kind of just accepted sleeping in the same room as a rug I puked on in college. Yum! I am so excited to spend 97% of my Monday on Ruggable since they actually have limitless rugs. I have my eye on the Vintage Daisy Bordered one, but to each her own. One last thing about Ruggable is that when you order a rug, you get a pad too, and if you've ever eaten sh*t on the corner of a rug, you know how essential a pad is. Also, they're machine washable! 

Bekka Campbell Cactus Framed Art Print
I know I'll have made it when people ask what I do and I say, "I'm an art collector." However, today is not that day and the only art displayed in my home is a bunch of tiny framed prints from Society6. Tbh even though they are already pretty cheap, I will always take advantage of one of their massive sales, like the 50% off site-wide from November 30 through December 2. If you aren't at art collector status yet, but still want aesthetically pleasing pieces for your small, windowless box apartment, Society6 is the move. I have two prints, one of a pink Art Deco building with palm trees in front of it and one of eight illustrated cacti, leaning against the wall on my floating shelves. As long as you don't get a stupid print (like "Live, Laugh, Love" in gold lettering), all of the prints will look chic af. 
Fashion

I have a love-hate relationship with Reformation because sometimes it looks like Forever21 quality with an Intermix price tag and since I don't have money to waste, I'm just not about that. However, some of my favorite dresses that I've worn to every wedding I've ever attended are Reformation and I'm okay with that. One of the few reasons I like it is because the clothes are simple in both silhouette and color, which makes me more inclined to wear them all the time. For Cyber Monday, Reformation is shining down on us and offering 30% off site-wide. I mean, finally? Call me crazy, but Reformation doesn't have sales, like, ever, so this is a big deal. I may even get up a little earlier than usual because something tells me the clothes will go fast. 

Kensie Patchwork Sequin Long Sleeve Minidress
Misleading name aside, Dress the Population is a great brand for people who like to be a little extra when they go out. I say the name is misleading because outfitting the population (aka everyone) implies the brand is affordable, but, rest assured, it is quite expensive. Luckily, their clothes will be affordable for four whole days starting November 27th, with a 30% off the whole site code (CYBER2019)! I first learned of this brand through Rent the Runway, but it's sold at Nordstrom, Bloomingdale's, Amazon Fashion, etc. My point is, it's legit. In fact, I wore a long-sleeve mini dress with heavy beading to a wedding last weekend (giving my Reformation dress the day off) and I feel like more people complimented my dress than the bride's. Weird flex, I know, but just trying to make a point that this brand is great. 

N° 21 Leopard-Print Faux Fur Match Puffer
Saks Off 5th is an amazing store and makes a serious case for never buying anything full-price. It's like a nicer and less stressful Nordstrom Rack, and I have faithfully loved it since I found my prom dress there a decade ago. So for Cyber Monday, SO5 is having a 60% off outerwear sale. Do with that enormous discount what you will, but you can bet your bottom dollar I will be purchasing more than one coat. Normally, Amazon is my coat destination of choice, but this feels too good to pass up. 
Tech

Nespresso® by De'longhi VertuoPlus Coffee and Espresso Maker Bundle and Aeroccino Frother
Bed, Bath & Beyond is hands-down my favorite store. I mean, it literally sells everything. So, if you have Abi Abrams-type feelings toward BB&B, please reach out to me in the comments because I feel like we will get along. But also, be sure to snag yourself a very chic Nespresso® by De'longhi VertuoPlus Coffee and Espresso Maker Bundle and Aeroccino Frother for 35% off. I mean, you have not had a good cappuccino until you've made it using a frother. 

Beats Studio3 Wireless Noise-Canceling Headphones
The last time I was in a Best Buy, it was to get the Sims 3: Makin' Magic! However, I will definitely be paying a visit (to the website) on Monday to get the Beats Studio3 Wireless Noise-Canceling Headphones, which are regularly $350, but on Monday, are $200. Sold! I had the Solo 3 headphones, but lost them in the security line at La Guardia. That's right, someone behind me reached into my bag and snatched them and I didn't notice until I was on the plane trying to fall asleep to the sound of giant engines and screaming infants. RIP. All I have to say is, f*ck the person who stole my Beats! Anyway, I will finally be able to tune out my coworkers again when I order the new Beats on Monday, and I truly cannot wait. 

After my old roommate **curse her soul** broke our lease and moved out, she rubbed salt in the wound by taking her TV with her. I know what you're thinking: why would she leave it there? Well, because she bullied me into signing a two-year lease then moved out after seven months because she wanted a cuter apartment in the West Village. K. So, the least she could do after completely f*cking me over was leave her sh*tty TV. However, because she's an assh*le, I had to buy a new one, and I ended up with a Roku smart TV. For Cyber Monday, you can head to Walmart's website and get the same 50-inch Roku Smart LED TV with aggressively high HD for $148! Honestly, for a 50-incher, that's pretty cheap. The smart aspect is also pretty cool because it allows you to be supremely lazy and just yell "Great British Bake Off!" and it just flips to Channel 4. Ah, technology. 
Images: Ikea; Ruggable; Society6; Reformation; Dress the Population; Saks Off 5th; Bed, Bath & Beyond; Best Buy; Walmart; Unsplash
The Best Black Friday And Cyber Monday Deals On Beauty
Like many millennials with jobs, my beauty look is pretty consistent day-to-day, but that doesn't mean I don't have 82 tinted moisturizers, 41 mascaras, and about a million different facial mists. I like to mix it up, what can I say? If you, too, are an out-and-proud beauty junkie, welcome. It is my personal belief that the best time to buy beauty products is around Thanksgiving, because not only is everything cheap af, but everything is sold in sets. Yes. Please. Give me a million eyeshadows that have just slightly different undertones. Honestly, I love this holiday so much because we spend the whole day being grateful for all of the sh*t we have, but only until midnight when we'll fight each other to the f*cking death at Target to get that 30% off KitchenAid mixer. #America, right? So if you fully embrace this holiday as a day of gluttony, scoop up these beauty deals before your friends do. 
Ulta
Obviously, I have to start with the DSW of beauty because it just has so much stuff to basically give away this holiday season. Because they have about a thousand different sales going on during Thanksgiving weekend, I'm just going to name the few brands I'd personally recommend. Let's start with 25% off Macadamia Professional hair masques. If you've ever been in a drugstore, you've seen this brand's hair products. I have been using the Deep Repair Masque since high school, and it's never disappointed me. It's meant for people with damaged hair, but as a bitch with proudly virgin hair (hold applause), I love it because it takes my hair to the next level in softness. If you think delayed gratification is stupid, you'll love this masque because you'll feel its effects immediately. 

Macadamia Professional Nourishing Repair Masque
Next is the BECCA Volcano Goddess Eyeshadow Palette, which is 40% off, aka it's $27, aka it's free. Honestly, I don't really wear eyeshadow because I don't know how to put it on without looking like a toddler in drag, but the colors in this palette are pretty wearable. So if you stan an eyeshadow moment, this palette is for you. 

BECCA Volcano Goddess Eyeshadow Palette
And lastly, Ulta is offering 25% off a Chi 1-inch Ceramic Hairstyling Iron. I don't have the time or the skills to give myself Serena-van-der-Woodsen-circa-season-one waves, so I don't even try. However, every now and then after sleeping on wet hair for no reason at all, I wake up with a really unfortunate situation on my head, and this little hero can fix it within 10 minutes. I don't usually curl my whole head, but a few chunks of hair throughout gives me that tousled look that I'm really feeling these days. I know what you're thinking: wtf are you talking about, this is a hair straightener? To you, I say the most natural-looking waves come from flat irons! Twist your hair around the iron and gently pull the iron down the twist. I'm telling you, it's never failed me. 

Chi Original 1" Ceramic Hairstyling Iron
Glow Recipe
Not going to lie, I discovered Glow Recipe at Urban Outfitters, and have been obsessed ever since. The relatively new brand is offering 20% off every single product on their website, so if you haven't already added a slew of skin care to your cart, you're behind, girl. Anyway, if you are the kind of person who can be seduced into buying something simply because the packaging is irresistible, get ready to purchase literally every damn Glow Recipe product. I have the Watermelon Glow Sleeping Mask and am truly obsessed—mostly because it serves as a skin savior and decor on my dresser. Cute appearance aside, the mask itself is actually really good. It's really moisturizing, but has a gel-like quality to it, so it doesn't leave you feeling greasy and oily when you wake up. That ain't cute. 

Glow Recipe Watermelon Glow Sleeping Mask
Tatcha
This Japanese skin care brand is in pretty much every natural or ethical beauty store in the world and from November 28 through December, you can "play for a chance to get either 20% off your $100 purchase, 15% off your $75 purchase, or two free gifts with orders of $50 or more." All of their products are cute and purple, but one of their products is truly better than the rest. I'm talking about the Luminous Dewy Skin Mist. Before you judge me for spending more than I'd like to admit on what you'd call water, hear me out. It's made with botanical oils and humectants, which are responsible for the dew, and tbh it smells so damn good that I literally smile when I spray it, and I don't even smile at puppies walking by.

Tatcha Luminous Dewy Skin Mist
Also, I recently learned that your moisturizer absorbs way better when your skin is moist (get over it) than when it's bone dry. Think about it this way: your skin is like a sponge, and sponges don't work until they're damp, right? Another cult favorite from this brand is the Dewy Skin Cream, which I haven't had the pleasure of trying because I am low on funds, but maybe I'll hit the jackpot on their annoying Thanksgiving game and be able to afford it! 
Kevyn Aucoin
Get ready for the most niche Black Friday sale literally ever: Get 25% off your order and receive a free Exotique Diamond Eye Gloss in "Galaxy" when you spend $75 on November 29. Like, really? Only on November 29? Honestly, I'm sure I'll get an email on November 30 that says, "We're so nice and extending our sale!" The only reason I'm down for this annoyingly specific sale is because I'm so in love with my Neo Blush and feel like she needs friends. I've been dying to try the Sensual Skin Enhancer Concealer because it's a really thick cream (as opposed to a solid, like most concealers are) and comes in a cute little pot. Also, I feel like if I have this, I could just dab it where I need it (because it's thicc af and does its job) and not have to wear foundation or tinted moisturizer. 

Stila
Stila is offering 35% off site-wide plus free shipping on all orders of $50 or more from November 29 through December 1 with the promo code BF35. I own one product from Stila that has truly defined my going out look to a T, and it is the Stay All Day Waterproof Liquid Eye Liner. Executing the perfect cat eye is hard, but Stila's liner is actually really easy to use because it's just a long tapered pen. So all you have to do is angle it as you draw, so the line gets thinner, and that's pretty much it. Easy peazy. Anyway, Stila also has a pretty legit price point for a mid-level brand, so I fully support this sale. Another product I had and loved until I broke it by accident was the Aqua Glow Serum Foundation, because it was pretty full coverage but had the consistency of water, so it didn't feel heavy or caked. 

Stila Stay All Day Waterproof Liquid Eyeliner
Drybar
I am more in love with my six-year-old Buttercup hair dryer than I am with the guy I'm seeing. Seriously. I have a lot of thick hair, so making sure it dries without going rogue is very important to me, and that's why I have the Drybar one, the famous Josh Harry one, and, don't judge me, the Dyson Supersonic. Drybar is shining down on thee and giving you 20% off all products, tools, and kits from November 21 through December 1. The Buttercup was the cheapest and oldest of the three I have, but it's my OG and I use it every damn day. It weighs like, a pound, is pretty quiet, and does an excellent job. Generally, expensive hair dryers are better than drugstore ones because they use more power than they do heat, so they are less damaging to your hair. Cheaper hairdryers work in the opposite way, using more heat than watts, so you're essentially frying your hair for longer. I also have the Drybar heat protectant, which smells so good that I leave it on my hands for as long as I can before the New York City subway system forces me to wash them. Luckily, the smell lingers in my hair for the entire day. By the way, Harry Josh is also having a Dermstore sale for 30% all of his products with the promo code DSGIFT from November 28 through December 2. His hair dryer is def cuter than the Buttercup, so if that matters to you, you can get it for a little less this holiday season!

L'Occitane
L'Occitane (pronounced "lox- ee- tahn"—you're welcome) is giving us 20% off all full-size items with promo code CYBER from December 1 through 4, because they know no one is dragging their hungover asses to a store to buy their favorite hand cream. Speaking of which, I didn't realize this brand sold anything besides hand cream until my grandmother gave me a beautifully packaged perfume (technically an eau de toilette) that smells so good that I spray it on my pillow before I go to sleep. It's the Verbena scent, which is generally pretty clean with a hint of green tea. No complaints. 

L'Occitane Verbena Eau de Toilette
Images: Ulta; Glow Recipe; Tatcha; Kevyn Acoin; Stila; Drybar' L'Occitane; Eco Warrior Princess / Unsplash
Betches may receive a portion of revenue if you click a link and purchase a product or service. The links are independently placed and do not influence editorial content.
All The Cyber Monday Beauty Sales You Need To Know About
You've made it through the unofficial high school reunion at your local bar on Thanksgiving Eve, your annoying aunt asking you about your love life at the Thanksgiving dinner table, and the insane lines at the local outlets on Black Friday. So now, after everything you've endured over the past few days surrounding a holiday that is designed only to make you fatter (and I guess to make you realize how grateful you should be, but fatter nonetheless), your strength (and willpower to skip your second piece of pumpkin pie) is being rewarded with Cyber Monday beauty sales.
Whether your holiday shopping list is filled with people who have an adoration for beauty products, you need to purchase a few moisturizers to prep your skin for the harsh winter weather, or you just ate too much last Thursday and need some de-bloating pills for cheap, we've got the best Cyber Monday deals on your favorite beauty products. Get ready to stock up your beauty cabinet and spare your bank account.

Vita Liberata
Give your pasty winter skin a bronze glow for cheap on Cyber Monday with 25% off everything on Vita Liberata's website.
 Amazon
Even if you're not an Amazon Prime member (which, why the f*ck aren't you?), you can get free shipping on any Amazon purchases during Cyber Monday. There are bound to be a few more deals that roll out, but free shipping is the most notable as of right now.
Bliss
If you've ever been to a Bliss Spa or you're just a huge fan of Bliss products, you'll love their extended Cyber Monday sale. From Wednesday to Monday, you can shop 25% off everything on Bliss's website using the code "THANKS". If you plan on shopping online at Target for Cyber Monday, you can buy one Bliss product and get the second for 50% off. If Ulta is your go-to site, then you can cop some Bliss Body Butters for 40% off.
Target
On Black Friday, when you buy one of Target's holiday gift sets, you'll get a second set for 50% off its original retail price. While that is quite the steal, Tar-jay is bound to roll out even more Cyber Monday deals, so stay tuned.

Clarisonic
If you or someone on your shopping list loves using Clarisonic brushes to cleanse or moisturize, you'll need to check out their Cyber Monday sale. You can get all Clarisonic sets for 20% off.
Peter Thomas Roth
If your skin is in need of a major pick-me-up, you're in luck. Peter Thomas Roth is offering its Cucumber De-Tox Bouncy Hydrating Gel for $18 throughout Cyber Monday. You can also get their $254 value six-piece Mask Frenzy Kit for only $75.
Ardell
Ardell is offering 30% off their entire site on Cyber Monday. With your purchase, you'll even get a free Looks to Kill Sultry Night Out palette.
GlamSquad
If you have winter weddings coming up or a bougie friend on your shopping list who can't blow dry her own hair, check out GlamSquad's deals. From now until Tuesday you can get insane discounts on both their website and app. Take advantage of 20% off a two-pack of makeup applications, 30% off a three-pack of makeup applications, and 25% off a three-pack of makeup applications and lashes. For blowouts, you can get 25% off a three-pack, 30% off a five-pack, or 30% off a 10-pack.

Lime Crime
If you've never tried the highly pigmented and colorful products from Lime Crime, now's your chance. On Cyber Monday, you'll receive a free Beet It Velvetine liquid matte lipstick with every purchase from their site.
Urban Decay
Urban Decay is giving you 5% off their NAKED Heat Palette as of Cyber Monday. You can also sign up for their Cyber Week promotion and receive 10 days of deals.
Kérastase
If you're trying to tame that winter static or need some styling products for all of those upcoming holiday parties, then check out Kérastase's Cyber Monday deals. Until Tuesday, you can shop the brand's entire site for 20% off. You'll also receive a free sample of Elixir Ultime. Don't forget to snag that free shipping with the code "CYBM18".

Dollar Shave Club
If you're looking for a deal on a gift for a man in your life, Dollar Shave Club is offering 30% off of bundles from Black Friday until Cyber Monday.
Go Smile
If you want to get your teeth whitened, Go Smile is offering a discount on their White Box. On Cyber Monday you can purchase the box, which originally retails for $162, for just $99. The box contains a Dental Pro, 28 count stain erasers, whitening gel, and toothpaste.
Patchology
From Black Friday until Cyber Monday, grab some of your fav Patchology products in packaged Dusk Til Dawn Kit for 40% off.
Amika
Amika is having three different bomb-ass sales on Cyber Monday. To start off, you can get 20% off of any purchase of $75 or more using the code "CYBER".
If you spend a bit more, you can receive a travel kit with Amika's bestsellers including Perk Up Dry Shampoo, Velveteen Dream Smoothing Balm, Soulfood Nourishing Mask, and samples of Velveteen Dream Smoothing Shampoo and Conditioner using the code "BESTIES" with your purchase of $100 or more.
There's also a travel kit with Amika's bestselling curl products which includes Phantom Hydrating Dry Shampoo Foam, Nice Cream Cleansing Conditioner, The Kure Intense Repair Mask, samples of Curl Corps Enhancing Gel, and Curl Corps Defining Cream when you use the code "CURLS" with your purchase of $100 or more. Remember that you can only apply ONE of these codes to your purchase, so choose wisely.
Moroccanoil
If you spend $80 or more on Cyber Monday at Moroccanoil's website, you can grab a free 2018 hair and body mini set.
E.l.f. Cosmetics
When you shop at e.l.f's website this Cyber Monday, you'll receive a free holiday gift with any purchase of $25 or more. Valued at $25, the gift includes Need it Nude Eyeshadow Palette, Kohl Eyeliner, Beautifully Precise Smudge Brush, Moisturizing Lipstick in Bordeaux Beauty, and Baked Highlighter in Blush Gems.

The Beachwaver
From Black Friday until Cyber Monday, you can get 30% off everything on Beachwaver's website using the promo code "THANKS30". On Cyber Monday, Beachwaver will have their Second Chance Dry Shampoo on sale for just $5—an insane discount from its retail price of $24.
Stila
For $15 on Cyber Monday you can cop Stila Cosmetics' best sellers, HUGE Extreme Lash Mascara and Stay All Day Liquid Eye Liner. They are also providing free shipping on all orders over $50 with no codes needed. And, if you spend $60, you can get free shipping and a complimentary pouch stocked with five mini liquid lipsticks.
Ulta
While Ulta hasn't officially released its list of Cyber Monday deals, plenty of brands that are sold on Ulta have disclosed that they're offering discounts between 30% and 40% off. Just trust that this beauty giant will have some major deals going on come Cyber Monday.
Sephora
Just like Ulta, Sephora hasn't announced all of their Cyber Monday deals yet. Individual brands that are sold at Sephora have noted discounts to the tune of 25% to 40% off, so odds are, you'll be able to save a ton of your hard-earned cash at Sephora on Cyber Monday.
This Taiwanese skin care company was originally formulated for hypersensitive skin, but is legit good for everyone. On Cyber Monday, their Combo Skin Recovery set—which includes Cucumber Recovery Tonic, Cucumber Recovery Serum and a mini Day & Night Cream—will be 50% off. No promo code necessary.
Images: Giphy (5)
The 7 Items From Lord & Taylor's Cyber Monday Sale You Need To Add To Your Cart ASAP
I thought I hated myself on Thanksgiving morning when I was too hungover from my Thanksgiving Eve blackout to watch the Macy's Thanksgiving Day Parade with my little sister, but no. As usual, I've outdone myself. I realize my lack of self-control has truly got to me when it comes to Fireball owning a credit card, and I should probably never spend a dime again after this year's Black Friday. I say this, knowing it lasted approximately two days, aka until Cyber Monday. Every store is having ridiculous deals, but after you hit up the Shop Betches Cyber Monday sale (fucking duh), you need to check out Lord & Taylor's insane deals. The entire website is 25 percent off, with clearance up to an additional 75 percent off. Just use the code "CYBER" at checkout and the best part is, FREE MOTHERFUCKING SHIPPING. I'd tell you what I have in my cart, but then I'd have to kill you. It's overwhelming to go through everything, so here are seven things you should def add to your cart ASAP, so they don't sell out.
Holiday season is officially here, which means the parties will soon be endless. You'll need the perfect holiday party dress before you know it. Red and velvet are two of the biggest fashion staples for this time of year, so this dress is basically perfect for getting shitty at a holiday cocktail party. It's trendy, chic, classy, and the perfect red for matching with your Pinot Noir.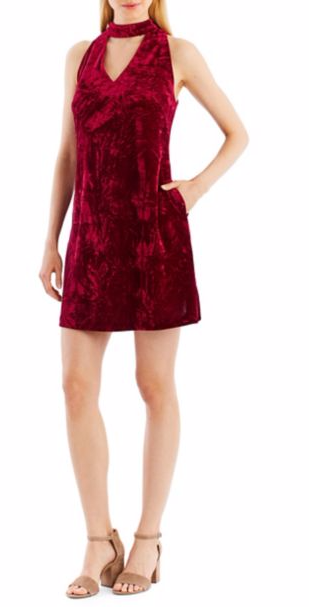 You're def way overdue for a new bag, nonetheless a new going-out crossbody. Rn would be like, the most ideal and smartest time to cop one that will last forever (or until next Cyber Monday). This all-black style (obvi) is accented in 18K gold hardware and comes with five pockets so you have more than enough room for all your shit.

Over-the-knee boot SZN is upon us, and I could not be any happier. Not only do they give us an excuse to buy new styles in literally every single color, but they also make our legs look like they go on for days. This boot is all suede and comes with a chunky heel to make long nights out totally bearable.

As the weather gets colder, our outfits are becoming lazier and lazier. When it's cold af outside, I am not thinking of an outfit I can still look work-appropriate in. I'm thinking of an outfit where I can get away with wearing leggings and somewhat of a business casual top, so my HR rep can see my effort instead of avoiding my eye contact at all costs. That's where a dressy oversize sweater comes in. This wool-blend peach sweater comes in a relaxed fit, with dramatic sleeves and accented shoulders, so you can look put-together at 8am, but also comfy and stylish.

I have been looking everywhere for a pair of these because they're what Kourtney Kardashian wears they're like, the perfect balance of cute and slutty. They make your legs look toned af, even if you can't remember the last time you hit the treadmill, and they're also v versatile, so you can def dress them up with a cute sweater. Most importantly, they're leggings and the limit for the amount of black leggings you can own does not exist.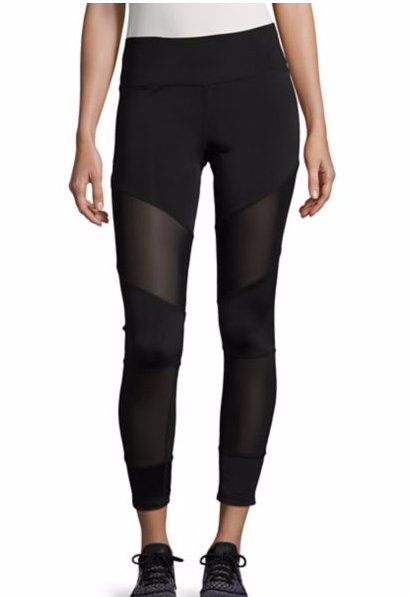 The weather outside is frightful, that's for damn sure. Winter is coming, and so help me God, I am not letting my skin look like a dry, flaky mess. For moisturized skin all season long, you'll def need this super soft cream to help you get through winter. It leaves you feeling like a soft glowing goddess for an entire full day after each use.

Um, did anyone know Lord & Taylor had their own makeup line? Good, because me neither, but I guess now's a good time to stock up. Their eyeshadow collection has a ton of palettes, ranging from nudes to smokey eyes to bronzers. This palette comes with a variety of pinks, reds, and neutral browns to help you achieve a killer "I woke up like this" look. For less than $10, IDK why you'd pass up on getting one for every betch in your fam, and of course, two for yourself.

The 10 Best Cyber Monday Deals For Workout Clothes & Classes
Whether you're the girl who knows every trainer at Barry's Bootcamp by name, or the girl who just wears Lululemon leggings to watch Netflix all day, we could all benefit from trendy athleisure and discounted fitness classes. Like, working out is about so much more than having a gym membership and a couple Nike sports bras. Whether you're shopping for your fit-fam-freak friend who spins before brunch or you're preparing yourself for your v realistic 2018 resolution, there's never been a better time than to make some online purchases. Here are 10 cyber Monday deals you don't want to miss:
SoulCycle would never have sales on their actual classes, but they're feeling super generous in their merch department this weekend, which is even more useful TBH. The clothes on the site are going to be up to 70% off through Tuesday, so if you need a new tank that says "Noon on Monday" your 8th pair of skull printed leggings, now's the time to get them. Like, are you actually planning on riding first row in your 2007 sorority philanthropy tee?

SoulCycle Sunset Crop Racerback Bra
2. Outdoor Voices
If you've seen your fave Instagram influencers wearing a hat that says "Doing Things" and you're lost AF. Meet Outdoor Voices, the trendy athleisure brand that is even more obsessed with social media influencers than you are. This brand is all over Instagram and their clothes are almost too cute to sweat in. Use their code STOCKUP through Monday for 20% off some quality shit.

Outdoor Voices Doing Things Hat
3. Bandier
Bandier has low-key become the Equinox of fitness wear. Like, if you're not sporting $180 leggings and a matching sports bra, you're not living in 2017. Luckily for you, their site is offering 20% off everything this Monday, so you can buy your rose gold APL's with a matching tank without even feeling that bad. You might even *consider* starting to exercise.

4. Body by Simone
If you don't watch Khloé Kardashian Revenge Body or you just DGAF about boutique fitness studios, you may have never heard of Body by Simone, so allow us to introduce you. Simone De La Rue is a celeb trainer with a killer dance-cardio abs-based workout routine, and her classes are in such high demand that she's started making DVD's for the less fortunate who can't attend. They're all gonna be on sale this Monday, so you can get LA's best workouts without even leaving your apartment all winter.

Body By Simone: The Signature Classes DVD
5. Classpass
If you don't already have Classpass, you're either anti-workout class or you just don't live in a major city (which I'll never understand, but we can discuss that later). Classpass is the best thing for people who get bored AF at the gym and want to mix up their routine and try every yoga class in a five-mile radius of your house. The company is offering a free month for new members and discounted 3, 5, or 10-class plans with the code CYBERCP.
6. Cyc Fitness
Cyc Fitness is like SoulCycle and Flywheel's younger sister who has major potential but hasn't really gotten the fame or attention to really flourish yet. The Cyc classes are actually really legit and the trainers are just as good as some of the better-known studios. They have a few locations around the city, and their single rides are gonna be 20% off from Monday through Wednesday. We saw you with that pumpkin pie. Book a bike and go see your Cycologist.
7. S'well
No fit betch can live without at least one S'well water bottle, so if you don't have one yet, it's your time now. And if you have friends that are still drinking out of plastic Poland Springs, you just found their Secret Santa gifts. S'well if offering 25% off their bottles on Monday, and their sister site Sip By S'well is also 20% off. Stop complaining that it's heavy. It's a necessity, so make the purchase and thank us later.

S'well Swarovski Radiance Grace
8. Adidas
Adidas is one of those brands that used to be a legit athletic company for soccer players that just needed gear, but over time it's literally become trendier than Lululemon. Last summer's Stan Smith revival was a bit over-the-top, but there are some dope new sweatshirts and sneakers out right now, so we're down to stock up. The brand's sale section is already 50% off, and the whole site is 30% off on Monday with the code CYBER2017.

9. Beyond Yoga
Beyond Yoga sounds like a support group for moms who love Vinyasa classes and gluten-free bake sales, but it's not. It's actually a really cool athleisure company that has the softest leggings and v trendy tanks and pullovers. Orders of $150 or more are 35% off on Monday, so it's the perfect time to buy that black mesh sweatshirt that you couldn't justify at full price. I mean, what you throw on after the workout is just as important, right?

10. Peloton
The Peloton bike has become the ultimate elitist at-home workout, and if you don't have the ability or time to make it to your fave fitness class, it's a game-changer for working out in your living room. Like, you literally never have to worry about waiting in the shower line or sharing germs with the people on the bike before you. It's life-changing. If you order the bike on Monday, the company is offering to throw in a free package of "The Works," which includes the weights, spin shoes, headphones, and foam roller you'll need when you start riding.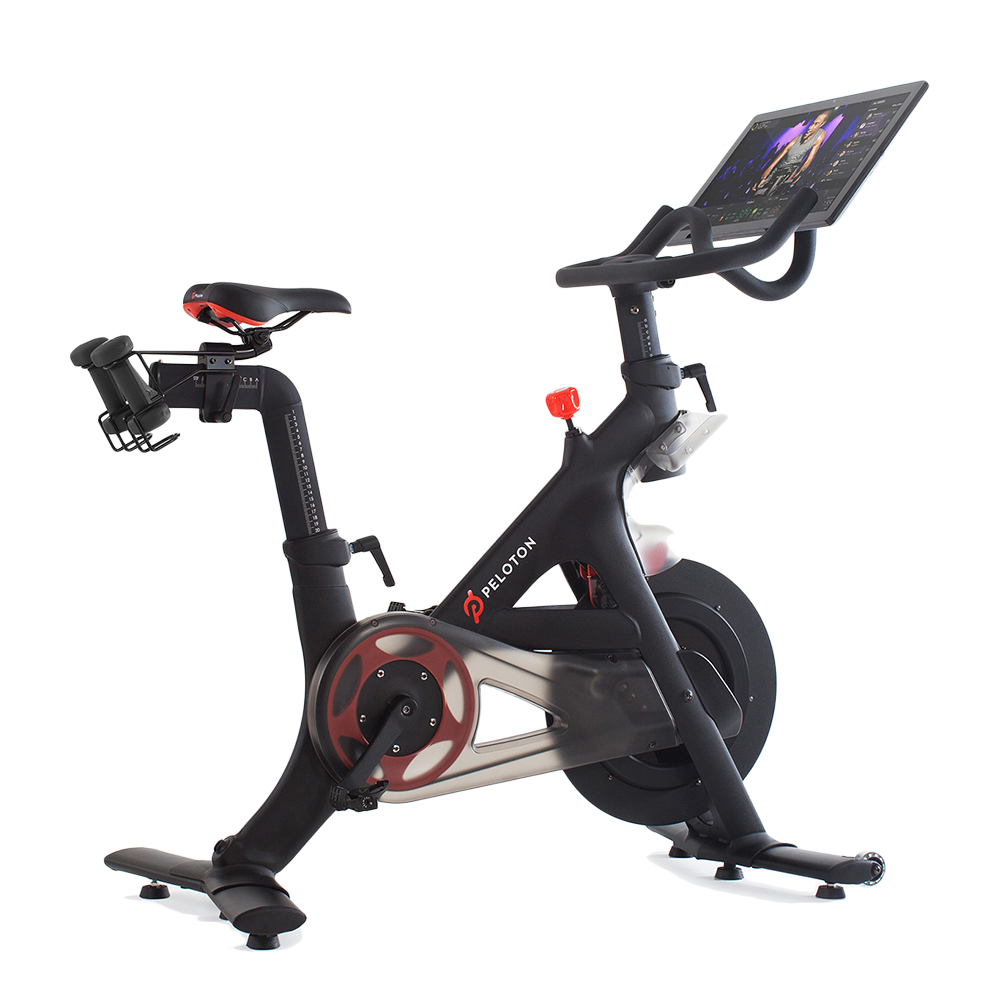 The Cyber Monday Deals You Need To Budget For Today
Thanksgiving is the official commencement of the holiday shopping purge season. Grab what you can, but no one's promising you won't get punched in the face when you run into Target on Black Friday. If you can survive Black Friday weekend without getting curb-stomped, the following Monday is the only Monday we'll say we're looking forward to, aka Cyber Monday. For the uninitiated, Cyber Monday is the sacred holiday day where we can finally max out our dad's card in joy, compared to the usual regret, guilt, and shame, because you were actually getting great deals. And the best part? You do it all in the comfort of your own home. Does anyone actually leave the house to go to the mall anymore, though? On Cyber Monday, you can use all the wifi, remove yourself from civilization, and like, snack on some Thanksgiving leftovers while you're banging out all of your Christmas shopping in one shot. I literally can't think of anything that sounds better. Bookmark this v helpful guide I've made for you, because you'll need to open several tabs if you want in on these deals. Happy holidays, everybody.
Our fave go-to will have 30 percent off of everything until super early Tuesday morning. Bless.

ASOS Petite Crop Top Ruffle Sleeve Mini Dress
2. 
For flattering jeans you don't have to dread shopping for, take 30 percent off of their site using the code "CYBERMONDAY."

The Insta-worthy beauty brand will have the entire site 20 percent off and offer free shipping. Amazing.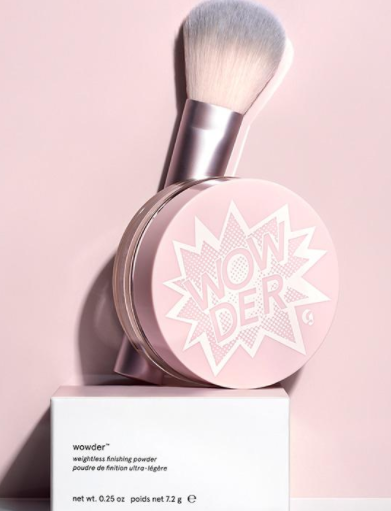 The entire website will be 30 percent off on Cyber Monday. Bless.

On Cyber Monday, take 20 percent off of any $30 purchase using the code "MONDAY20." They'll continue the holiday deals with free shipping and an exclusive IT Girl tote with beauty samples from November 28 to December 3.

The v high-quality department store has a bunch of deals, so you'll def be able to get something designer for like, so cheap. Using the code "CYBER," will get you an additional 40 percent off of sale shoes, 60 percent off of women's sweaters, and up to 50 percent off of jewelry.

Lord & Taylor Funnelneck Cashmere Sweater
This is huge, considering I shop at Lulus weekly for most of my going-out outfits. Starting on *Sunday*, take an additional 40 percent off sale apparel. BASICALLY, FREE SHIT.

Lulus Gift Of Love Black And Silver Backless Long Sleeve Bodycon Dress
Everything on their website will be up to 75 percent off, starting on Sunday—aka shit will start at $5, so there's no waiting on this one.

New York & Company Envelope Back Sweater
Our shoe addiction is totally unhealthy and unmanageable, but there's no stopping our impulse buys. On Cyber Monday, all footwear will be 60 percent off. Let's get some shoes, betch.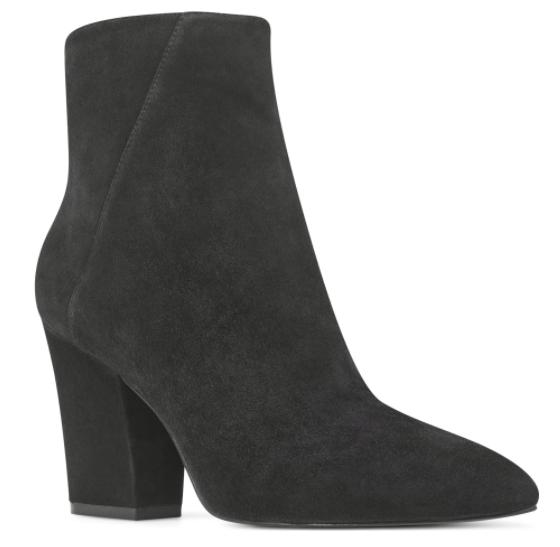 Take 30 percent off your entire order both online and in store, beginning November 24th.

Fucking finally. Through Black Friday weekend and on Monday, our fave site will be offering tiered deals such as spend $250, save 15 percent; spend $500, save 20 percent; and spend $1,000 (who is doing this?), save 25 percent.

After Market Off Shoulder Ruffle Sweater
Now is the time to get that palette you've been eyeing. Take off 25 percent on all products and get free shipping (HALLELUJAH) through Black Friday weekend. You're welcome.

Urban Decay Naked Heat Palette
Shopbop Has All The Winter Staples You Wanted On Sale For Black Friday & Cyber Monday
Remember when Black Friday was just a day for crazy people to stampede into Walmart for a giant television and Cyber Monday was like, a sale on Amazon? For better or worse, Black Friday and Cyber Monday have now morphed into an out-of-control, never-ending sale that every single store you've ever heard of participates in. It's basically the shopping version of that friend's birthday that last two weeks and requires you to spend hundreds of dollars on shit you don't actually need. Anyway, as overwhelming as it can be, there are actually some dope sales happening, like the one at Shopbop. It's called the "Buy More Save More" sale, which is definitely a personal attack on your checking account but a blessing for your wardrobe. Here's how it works, and some of the things you should definitely throw in your cart. (P.S., this sale does include the Shopbop's Designer Boutique, but there are some exclusions. To keep things easy, just look for the "More 17" label underneath each product.
Designer shades are frequently excluded from sales, but Shopbop totally hooked it up this time. Now you can actually have the Medusa head on you like you're Illuminati, but like, at a discount.

Designer backpacks are totally something that you always consider buying, but then decide not to. Like, even if you could really use it, you're financially irresponsible and would rather buy another outfit to go clubbing in (even though you never really go clubbing). This Kate Spade backpack is velour, like everything else you're obsessed with this season, so it's perfect.

Those Stuart Weitzman boots you've always wanted, but keep buying the Steve Madden rip-offs of instead, are on sale. Just saying.

In case you haven't noticed, puffer coats are so hot right now this season. Unfortunately, the Canada Goose coat that you've had bookmarked since last winter is excluded from the sale, but there's tons of other designer styles that are marked down.

You probably have a million pairs of faded black jeans you're still holding on to. 'Tis the season to get rid of them all and invest in a really good pair. (If this advice also coincidentally applies to your dating life, then do that, too.)