I Found an Alternative to the Sold-Out Viral Platform Uggs, And They're Under $100
Betches may receive a portion of revenue if you click a link and purchase a product or service. The links are independently placed and do not influence editorial content.
Name a brand that's had a stronger comeback than UGG—we'll wait. What once seemed like a uniform staple for basic girlies everywhere, has quickly morphed into one of fashion's must-have staples, especially the Ugg Classic Ultra Mini Platform Boots. First, fashion's lovechild Bella Hadid was spotted wearing the boots with crew socks and very cheeky shorts in the dead of summer, and then other "It girls" like Gigi Hadid, Elsa Hosk, and Keke Palmer quickly followed suit. But, with so much hype tied to these platform stompers, it's no surprise that they've been sold out for months, and re-stocks are easy to miss. So, naturally, I had to find a lookalike for you, because who has the patience to stay on the waitlist for a '2000s shoe?
One quick scroll through Amazon's endless amount of shopping pages led us to the Cushionaire Hippy Pull-On Platform Boots. These look nearly identical to the viral mini shoes and are nearly half the price. At just $79.99 you can have these iconic shoes at your doorstep in just two days (shoutout to Amazon Prime shipping).

When it comes to appearance, these check off every box you might be looking for in platform Uggs. They're thick, warm, have a sky-high bottom to add a few inches to your height, and are super comfy thanks to memory foam. And, unlike actual Uggs, however, these have a faux-fur lining on the inside, if sheepskin isn't your thing. You can wear these for a hungover morning run to the bagel shop (bacon, egg, and cheese PLS!) or to go spend money on things you don't need at Target—you know, the important things. Just pair them with your favorite leggings and you're good to go, unless you're channeling your inner Hadid sis and want to wear them with cheeky shorts—which is totally fine too.
And avid Amazon shoppers give these their stamp of approval too. These not-Uggs have a 4.6 rating on the site. Unsurprisingly, these are also a hit among TikTok fashion creators too.
So, the bottom line is that not only are these cheaper than a pair of Uggs that are nearly impossible to get your hands on, but they're just as comfortable and high-quality as the real deal. There are good reasons as to why these have an average 4.6-star rating on Amazon, and the positive reviews speak for themselves. Sure, winter might almost be over, but if Bella Hadid can wear these in all-year-round, so can you. What are you waiting for? Snag these Ugg lookalikes for $79.99 and channel your most basic vibes today.
Stylish Sneakers Made For Walking That Won't Make You Look Like A Soccer Mom
As a betch in New York City, the best and biggest pain-in-the-ass city in the USA, I have to do a lot of fucking walking. So much that by the time my lunch break comes around, I basically burned off the calories in my bagel and Starbucks order from earlier (or at least that's what I tell myself). Since this is my only form of exercise rn, this unverified fact comes as quite a perk and makes me feel slightly better about myself. However, with all that walking comes major outfit and shoe decision-making. Should I look just "alright" and resort to wearing my lame-ass Adidas so I can be comfortable? Or, should I dress like a Waldorf and wear my fave pumps so I can cry in pain by the time 2pm rolls around? I take the mantra "beauty is pain" with a grain of salt and a shot of tequila, so I usually settle for the first option. As a result, I feel like a fucking loser walking around in the world's fashion capital (NBD) looking like an idiot while also low-key writing about fashion rules. For my city betches high and low, I found a happy medium to our first-world problem. Here are 5 v stylish sneakers that are def made for walking and don't look fugly af.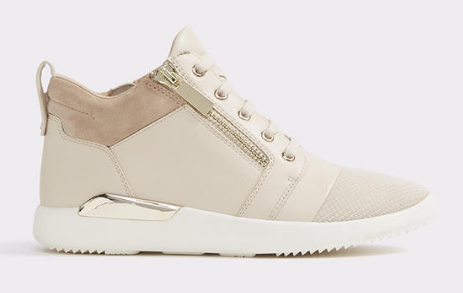 Make these neutral sneaks pop with a bold pattern or bright color. These are the definition of street chic with metallic and zipper detailing. Featuring a foam sole and a "walk-ready cushioned lining" (whatever that means), these are literally made for a long commute on your feet. Wear with a T-shirt dress to take these from office appropriate to happy hour hoe asap.

Choo has never let me down when it comes to my fave dependable Saturday night heels. Just like I fashionably stumble around every weekend, he doesn't fail to provide my hangover with the most comfortable and sophisticated kicks. This pair features two things every betch loves: a shit ton of glitter and a dark neutral color to go with everything else. Dress these up with a mini skirt or keep it chill with a dark pair of jeans, and you'll be finally be the only girl who isn't complaining about how bad her feet hurt.

IDK about you, but whenever I see someone wearing studded shoes, I immediately think that person is not to be fucked with. Not only would they actually do harm if you felt like kicking someone in the face (which is all the fucking time), but they make you look like a badass bitch regardless of how much your Spotify playlist says otherwise. Since they come with a leather lining, which apparently allows your feet to breathe oddly enough, you won't feel like they're suffocating and slowly fostering mold growth inside your shoe all day.

Similar to how we like our shots, waxing appointments, and hook-ups, these shoes are quick, easy, and painless. Whether you're running late for the third time this week or you need a pair of shoes to quickly change into, these slip-ons get the job done without looking like lame af Keds. They come in a color called "pink beige" which happens to also look exactly like the color you probs want for your next mani-pedi.

Naturally, I saved the best for last since it's all black and reminds me of the sneaker version of my worn-down combat boots. Designed to look fierce and feel as light as air, this sneaker features a low profile with removable contoured arch support. Except, the contour is not your face makeup. According to its short bio, it also has an American Podiatric Medical Association seal of acceptance, which sounds like something really official and probs hella good for your feet.