The Sexiest One Pieces That Will Still Hide Your Winter Weight
I never thought I'd see the day where one piece swimsuits would be considered must-haves. TBT to when they were only for moms, the body conscious, and those who went to swim team practice in the projection room above the auditorium. Plunging, strappy one pieces are taking over and to your advantage, they hide the three pounds you gained over winter hibernation. You no longer have to worry about whether the pink bikini bottom goes with the random blue bikini top you found in your closet. You won't have to pay twice as much for a set, because you're getting the only piece you'll need. Best of all, one pieces will hide all your bloat when you day drink on the beach.
Because I'm so nice, I've found styles for you that are 1,000 times better than a "free" boring lifeguard swimsuit. If you're one of those people who tried to get that stupid one piece from Sunny Co Clothing, I can guarantee you didn't miss out.
Here are some one piece wonders you needed to buy like, yesterday:

I don't usually go for stripes, but when they're in black and white, they flatter any body type. The vertical stripes elongate your figure making you look skinny, tall, and confident (YAY), so we'll forgive the obvious Beetlejuice vibes. The strappy detail on the back is to die for, especially if you're like me and like to see your tanning progress. That's usually the only time I feel like I accomplished something in my life. The cheeky fit will keep you and all that junk in the trunk cool and stylish all summer long.

Stay sexual with this plunging v-neck one piece. The bathing suit comes with padded cups if you feel like your girls need more support. This pale pink is one of the hottest colors of the summer so your tan (or burn) is bound to ~glow~ after a day of laying out.

There's no better color than a bright, crisp white in the summer. It's perfect for giving your skin a radiant glow when it's under the sun. The lace-up design pushes your boobs together so perfectly, you won't even have to push them together when you take a beach selfie. The finishing tassels add flair and say, "yes I'm fun, I can pretend to know how to play volleyball with those hot guys." Throw some jeans or denim shorts over this for an easy transition to brunch.

Be bold and go for an off the shoulder style. This suit comes with flattering high waisted bottoms and waist cutouts that show off your abs (or lack of). There's a little bit of street attitude with the accented gold zippers so basically, you're like, really cool. Maybe a hot guy will mistake you for a hot lifeguard and pretend to drown so you can perform CPR. This is clearly my wishful thinking.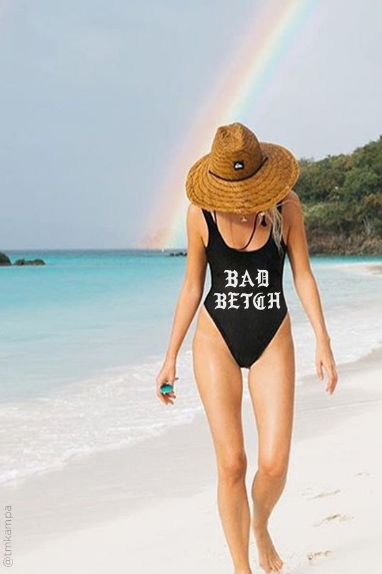 You are one bad and boujee betch, so why not remind everyone with this sexy swimsuit? Wear a graphic one piece with a fun saying because you just can't do that with a bikini. The suit comes in whatever color your little heart desires, but I know they're all irrelevant if black is an option. Feel free to get super creative and customize the suit with a saying of your choice. This one is better, though.

Floral prints and tropical chic patterns are always a good idea. This modern one piece comes in two different free-spirited prints and an intricate strappy design on the back. This is essential if you want to stand out (we do, always) and travel somewhere exotic this summer.