NXIVM Sex Cult Leader Keith Raniere Found Guilty
In "Justice Is Finally Served" News of the week, cult leader Keith Raniere was just found guilty and faces up to life in prison when he is sentenced on September 25th. The jury took less than half a day to decide this because, no sh*t, he's a piece of sh*t.
If you aren't familiar with NXIVM, it was a sex cult under the guise of being a "self-help" group that was extremely brutal and abusive to women. Pronounced like the heartburn medication Nexium (sorry, their public relations team), it was built on members recruiting new members to try and advance their "personal growth," and particularly in Hollywood, their careers. If you're interested in a full on deep-dive into their inner workings, and how Smallville is involved, I recommend our podcast Not Another True Crime Podcast's most recent episode that goes all into this. Listen below.
But, for the quick rundown, here's what happened with his trial: Raniere was found guilty of racketeering and sex trafficking after a six-week trial that exposed the disgusting and painful details of what he made his "members" go through.
As previously mentioned, NXIVM found a way to work itself into Hollywood and get some high-profile members to join, like Smallville actress Allison Mack and Seagram liquor heir Clare Bronfman, who were also found guilty on various other charges. The main sex cult aspect of the organization is actually a sub-group of NXIVM, known as D.O.S. (which translates from Latin to "Lord/Master of the Obedient Female Comapnions, cool) where Raniere would make women perform sex on him or other members of the cult and also brand them with a painful tattoo that ended up being the shape of Keith and Allison's initials.
Additionally, he would basically make them create blackmail for themselves—either with naked photos or videotaped confessions where they would say awful things about their family members and friends to hold over them if they tried to leave. One woman even went so far as to falsely report her dad for sexually abusing her to their local newspaper.
From there, he would have women starve themselves in order to get to the body type he found appealing, making them both too weak to fight or think about how unfairly they were treated. All around, he is an awful human who is getting the least of what he deserves. See ya in hell, Keith!!
Images: Keith Raniere Conversations / Youtube
The Weirdest And Most Fascinating Celebrity Cults
From watching pimple popping videos to watching the Vanderpump Rules cast self-destruct on national television, it's pretty obvious that we love watching f*cked up sh*t. The most f*cked up sh*t that we enjoy reading about? Cults. They're so creepy and horrific that obviously, we want to know more. And, of course, if celebrities are involved, that's even better. Here are some crazy celebrity cults that your favorite (or least favorite) famous figures have some involvement in. And if, after reading this, you still can't get enough of cults, listen to the newest Betches podcast, Not Another True Crime Podcast, where we talk cults, conspiracies, and crime.
Scientology
It wouldn't be a list of celebrity cults unless we included Scientology, which seems to attract a ton of celebrities. Maybe you've seen the documentaries. Or maybe you've fallen down the internet rabbit hole and learned all about dianetics and Sea Org. Then again, maybe you haven't. But you definitely remember when Tom Cruise went psycho when he was dating Katie Holmes and got into a fight with Matt Lauer over how psychiatry is B.S. because Scientology said so. Sure, in retrospect, Tom Cruise may not be as sh*tty of a person as Matt Lauer, but at the time, it was pretty crazy behavior.
Other celebs like Danny Masterson and Laura Prepon (surely you remember That 70's Show), Elisabeth Moss, Jenna Elfman, and John Travolta are part of the Scientology. Jax Taylor from Pump Rules even modeled for their brochures. Stassi said on her podcast that she and Jax went to some classes. Let's be real here: Stassi probably went just to hate-watch the meetings and Jax probs almost joined because he is, to put it politely, an idiot. Jerry Seinfeld and Jeffery Tambor have even dabbled in Scientology as well.
Luckily, celebrity former members like Leah Remini, Jason Lee, and director Paul Haggis left the Church. However, when Paul Haggis left, several women had accusations of sexual assault against him during the #MeToo movement, and Leah Remini said it was likely Scientology was trying to ruin his life and reputation. Then again, this is 2018, so I wouldn't be surprised if he was a creep. Leah has even said that Scientologists still come to her family's restaurant in San Francisco to harass them. Damn, this is creepier than anything I've ever heard of before. If you want a deep dive into Scientology and all the f*cked up stuff they do when someone tries to leave, listen to the Scientology episode of Not Another True Crime Podcast below.
The Illuminati
There are haters who say that The Illuminati is a myth. But honestly, I refuse to believe them because there seems to be some pretty legit proof that it exists. And also, I'm willing to blindly believe any gossip as long as it's interesting. The Illuminati dates back centuries, and allegedly boasts members from Stalin and Hitler to Hillary Clinton and JFK to celebrities we actually wanna hear gossip about, like Kanye, Beyoncé, Jay Z, and Rihanna. First off, I bet Donald Trump is pissed that he's not involved with The Illuminati, that he's not part of a club this exclusive but Crooked Hillary is. In any case, the Illuminati is a secret society that allegedly "controls the entire modern world." Okay, if it really controls the entire modern world, then why isn't Kris Jenner a part of it? Anyway, there are traces of Illuminati influence on ancient Egyptian pyramids—that's how far it dates back. It aims to establish a New World Order so that the elite will run the world. Again, why isn't Kris Jenner a member of this society? The Illuminati works hard, but Kris Jenner works harder.
NXIVM
Remember Smallville? Probably not really, because not many people watched it even though it lasted for so many seasons. But the only thing more disappointing than hottie Tom Welling being married is that one of the actresses on the show, Alison Mack, was involved in recruiting young women for a creepy cult called NXIVM. (Kristin Kreuk, another Smallville actress, was involved for a bit but claims she never helped recruit anybody.) NXIVM would recruit vulnerable women to a sex trafficking operation that involved some pretty crazy brainwashing tactics, including an insanely restrictive diet that would lower inhibitions, isolate members, and make them feel overall weaker.
Alison Mack would try to recruit other actresses from struggling ones to successful ones. She even tried to recruit Emma Watson to her crazy sex cult on Twitter! Yeah, because someone who went to Brown and is an outspoken proponent of feminism would really join a shady cult because some random b*tch tweeted at her about it.
Full Circle
When you watched 7th Heaven as a kid, did you really think one of the Camden kids would date a future cult leader? Probably not. When you watched 10 Things I Hate About You, did you think the douchebag whom Briana punched in the face was capable of leading a cult? Well, it's possible because high school kind of has a cultish hierarchy. Case in point:

But that doesn't mean we weren't shocked to learn that Andrew Keegan of 7th Heaven and 10 Things I Hate About You had become a cult leader as an adult. I mean, you're a failed actor whose career never took off. So if you think about it, the cult leader is the next best career for you (that's literally how the Buddhafield cult started, just saying). You get to use that charisma and those good looks of yours that never landed you a pilot, and you get an entire fanbase that worships you. That's why people become famous in the first place, right?
Andrew Keegan started a cult called Full Circle, which he contends is a "spiritual organization" instead (LOL sure, Jan). It was busted for selling illegal kombucha, which apparently is a thing. That's probably the biggest scandal that they've ever had, but it doesn't make the cult any less creepy. I mean, they have sing-a-longs and talk about yoga concepts like crystal healing and chakra alignment. It's basically like GOOP on non-GMO steroids. Is it harmless? Yes. But is it still creepy? Yes.
Hillsong Church
You've heard of Hillsong Church. Some say it's simply a church, some say it's one of the newer celebrity cults, but whatever you call it, it's where famous people like Justin Bieber, Selena Gomez, the Karjenners, Nick Jonas, and Hailey Baldwin flock to. The fact alone that the celebrities I just listed have all slept with each other has to make it some kind of cult, right?
View this post on Instagram
The star-studded church touts itself as a more modern version of evangelicalism. But it is shrouded with accusations that it is, in fact, cult-like. Unlike other churches, the pastors get paid $30,000 to $40,000 to speak and rake in hundreds of thousands of dollars a year (are they hiring?). There have also been accusations of sex scandals. One being an incident at a Hillsong summer camp where counselors had 13- and 14-year-old boys strip on the beach and run around naked while the counselors screamed at them that they needed to bulk up and go to the gym. That's not what happened at my summer camp, I'll tell you that much.
Those who left the church claim that the church takes advantage of celebs like the Biebs in order to rake in more dough and to make themselves more credible in order to cover up the fact that they're really shady. I'm getting major Scientology vibes. We'll be keeping our eyes on Hillsong Church to figure out if it's just a megachurch, or worse.
If you're fascinated with cults, listen to Not Another True Crime Podcast!
Images: Justin Bieber / Instagram; Netflix
The Most Bingeworthy TV Shows This Fall
As I sit in my flannel, jeans, and black ankle boots, I can happily confirm that the fall season is upon us. True, it's still mid-70s and I'm only dressed this way because there was a tick advisory for my workplace today (working in TV is all glamour, don't let anyone tell you otherwise). But I'm sure we can all agree that it feels like fall. In other words, it's time to curl up in front of your TV and forget the words "crop top" for another nine months. While you probably spent all summer bingeing Office reruns (same), fall is the time for new, highly anticipated TV. In order of when they come out, here are the new and returning TV shows that will dominate your life for the next few months. Please set your DVR accordingly.
'You' – September 9, Lifetime
I should qualify at the start of this list that not every show will be what's traditionally considered "good." For example, most of the dialogue in this particular show makes me want to throw myself through a window. But like, in the BEST way. This show is about Penn Badgley playing a stalker freak who becomes obsessed with a slightly vapid blond and immediately starts doing psycho sh*t like writing about her on an anonymous website breaking into her apartment and messing with her life. So basically, a dark yet accurate glimpse into Dan's future. (Extremely self-aware of Penn Badgley to take this role.) This is my new favorite guilty pleasure show, and if you're a fan of Lifetime at all, I can't recommend it enough.
The first of many red flags he displays in this show: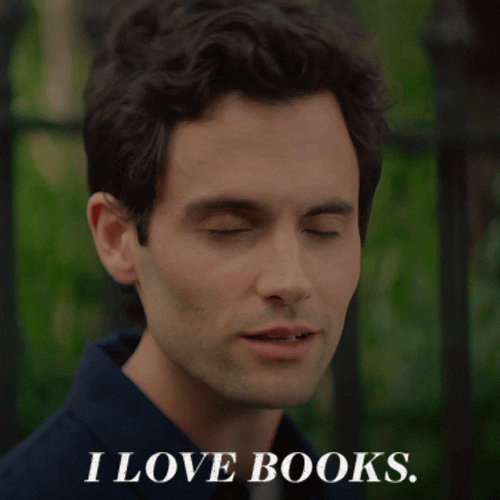 'Maniac' – September 21, Netflix
Okay so polar opposite of the last show, but also about mental health. Can't imagine why that's trendy right now when we have such a stable genius in the White House! Anyway. This whole season dropped on 9/21, and it stars Jonah Hill and Emma Stone. Even in this ~Golden Age~ of television, that's a pretty high-end cast. I won't tell you much about the plot beyond the fact that they both have a sh*t-ton of baggage and sign up for a pharmaceutical trial. The plot is less important than the vibe, which so far is like every episode of Black Mirror smushed into one world. This show is good for an all-day binge when you're up for actually thinking about what you're watching. Invite over your artiest friend so they force you to pay attention through the first 3 episodes, it's kind of slow to start up.
'Dancing With The Stars' – September 24, ABC
Have I ever watched this show before? No, and I probably won't again. But who could resist seeing Grocery Store Joe flit across the stage! I give you permission to stop watching as soon as he's cut.
'This Is Us' – September 25, NBC
You all know what this one is for. This is the show you come to when you need a really good cry, or when you want to ignore all your problems and pretend Mandy Moore is your mom for a while. Also, to get your weekly Sterling K. Brown fix, which is right up there in terms of importance with drinking water and getting enough sleep. It's just a fact of life. This season, we're going back to Jack and Rebecca's first date—and Randall's daughter, Tess, all grown up. Few things are as pure as my love for this show.
Anyone else need to watch this on repeat to cleanse from this week's news cycle?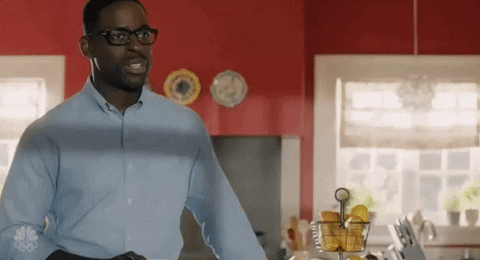 'Modern Family' – September 26, ABC
Did we all kind of get over Modern Family five years ago when it won every award? Yeah, maybe. But this is likely the final season, and they've been teasing a "significant death," so I'm planning on riding out the show until the end. It's the least you can do for something that gave you a few good years, like when you loyally wear your favorite black leggings until they're completely sheer in the crotch. Watch out of loyalty, watch because Phil is still funny AF, or watch because you're hungover and it comes on next on Hulu. Up to you.
'The Good Place' – September 27, NBC
Very few shows like The Good Place have come around in the past few years, and I'm deeply grateful when they do. It's from the creator of Parks & Rec, and has the same soothing effect of all your fave 25-minute comedies. Kristen Bell has spent the first two seasons figuring out that she's in (SPOILERS) Hell, aka the Bad Place. Season 3 opens up with her and her 3 companions having been redeposited on Earth to give things another try. Will they f*ck it up in a largely similar way to the first time? Probably, their memories were erased so IDK why they wouldn't. But it'll be fun to watch them try to fight their baser instincts for a while.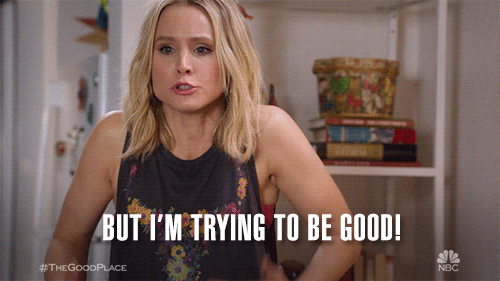 'How To Get Away With Murder' – September 27, ABC
This is another show that's sadly nowhere near as good as it used to be. But at its best it was so iconic that I still can't look away. No matter how ridiculous the rest of it gets, Annalise is still the epitome of boss b*tch goals, and Laurel still has an annoyingly good lingerie collection for someone with such a terrible personality.
'Riverdale' – October 10, CW
Of course the show I'm most excited for doesn't come back until October 10th. OF COURSE. Season 3 of Riverdale is about to be f*cking lit. We're dealing with the aftermath of Archie's arrest, an all-out war with Hiram, more screen time for Cheryl and Toni, and some weird cult stuff with Betty's sister. The promo shows Archie shirtless, more milkshakes at Pop's, and what appears to be a ritual sacrifice of two babies. Exactly what you'd expect and get more than you dared hope, in classic Riverdale fashion. And obviously we'll be recapping it.
Me all season:

The best part of these fall shows? Since they're all newly released, you're basically engaging in a cultural activity with every binge. Some people go to museums; you binge artful new storytelling techniques. Or at least that's what you'll tell yourself as you order Seamless the sixth time that week. Happy watching!
Images: The CW; Giphy (4)
Why Do So Many Celebrities Go To Hillsong Church?
Are you obsessed with cults, conspiracies, and true crime? You're in luck—we're launching a new podcast on all that sh*t starting October 1. It's called Not Another True Crime podcast and it's going to be dope. Follow @natcpod on Instagram and Twitter for more details.
I believe Tina Fey said it best when she said, "Hollywood is like a high school cafeteria. You have your Varsity Jocks, Girls Who Eat Their Feelings, Girls Who Don't Eat Anything, Desperate Wannabes, Burnouts, and of course, your Jesus Freaks." And as it turns out, there are quite a lot of Jesus Freaks. I personally have no problem with religion or religious celebrities, but being the sweet, stupid souls they are, some tend to get themselves involved in cults like Scientology suspicious organizations. Call me skeptical, alright?
So a few weeks ago when I was bumming myself out over the fact that Chris Pratt has a new girlfriend that isn't me and doing a deep dive into their dates for material to complain to my therapist about, I noticed that he and Katherine Schwarzenegger attended church together. And yes, it is the same church that Justin took Selena to during their brief reconciliation this year. So like, is this a thing now? Are the pews lined with cocaine and Playboy models? Because I'm pretty sure that's the only way they'd get celebs to attend.
As I began my Insta stalking research, I learned this organization is called Hillsong Church, and is a favorite of the Biebs, the KarJenners, and Nick Jonas. So what is it, exactly? And why are celebrities taking dates there instead of to like, Tao, or in Ben Affleck's case, Jack-in-the-Box? Well today's your lucky day, friends, because I'm about to give you the deets on this church that is most definitely, for sure, totally not a cult.
There's A Hot Pastor
Is your church even cool if everyone doesn't want to bang the pastor? Thankfully, Hillsong doesn't have to answer that question because their pastor is hotter than any dude currently competing on Bachelor in Paradise (except Joe, duh). His name is Carl Lentz, and he co-founded the New York City branch of Hillsong in 2010. Let's take a gander at that face that was perfectly crafted in God's image. Like, perfectly. God chiseled that jawline Himself.
I bet he doesn't even need those hipster glasses to see. Show me your prescription, Carl. PROVE IT!
Not only is Lentz a regulation hottie, but he is also extremely close with Justin Bieber.  He even baptized Justin in Tyson Chandler's bathtub, and is his personal pastor. However, it is rumored they're on the outs right now since Lentz did not publicly congratulate Justin on his fast and not at all rash engagement to the daughter of the Baldwin I've dubbed "most likely to be a serial killer".
It's In A Cool Venue
Have you ever been sitting in St. Patrick's Cathedral and thought to yourself, "Man, I really wish this religious service felt more like a concert"? Well then you're in luck, because if you attend Hillsong Church you get to feel like U2 is saving your soul. Well, your soul and the souls of 2,000 others who think being a born-again virgin means "just the tip."
The New York services are held in Hammerstein Ballroom, home to legends like David Bowie, Britney Spears, and Patti LaBelle, and now apparently to anyone who is looking to absolved of their sins by a man in skinny jeans.

The Church Is Welcoming To Everyone
Hillsong is a global pentecostal megachurch, which means that they adhere to the word of the Bible. Obviously, since the Bible is a text that was written a while ago, it's not necessarily in step with the times. Pastor Hottie has publicly stated that the church believes that gay marriage and abortion are both sins. But as he explains in this excellent GQ profile, that doesn't mean they don't welcome everyone to their church, no matter what. I assume the "no matter what" part of that statement means "as long as they donate 100 grand and sign an NDA."
Considering their congregation has a few DUI's, a sex tape, some out of wedlock pregnancies, and the song "Pizza Girl" amongst them, I'd say it's a good thing the church is forgiving of sins.   

Pastor Hottie, is this allowed?!
It May Be Shady
As you may have guessed, any organization that encourages people to follow the teachings of one charismatic man may not have the purest of intentions. *cough* Charles Manson *cough*. Now I'm not saying that Hillsong Church is going to murder anyone in the Hollywood Hills, but Post Malone is saying that, okay? SUE HIM, YOU HEAR ME!? According to Post Malone, Justin donated $10 million to Hillsong, and he is now "super-religious" and "real culty," which is what I said about my cousin when she got "John 3:16" tattooed on her lower back. Pastor Hottie disputed those claims from the personal spray tan booth in his gilded bathroom. I'm not sure who to believe, but in the church's defense, Post is always tired and that'd f*ck up anyone's ability to form a rational thought.
And that's the deal with Hillsong Church! I hope all these celebrities really do have their souls saved by a hot pastor in Hammerstein Ballroom, and that the power of Jesus is so strong it cancels out the strategically timed nudes their publicist a hacker released.
Images: @carllentz /Instagram (3); Giphy (2)
Are you obsessed with cults, conspiracies, and true crime? You're in luck—we're launching a new podcast on all that sh*t starting October 1. It's called Not Another True Crime podcast and it's going to be dope. Follow @natcpod on Instagram and Twitter for more details.