3 Exercises You're Probably Doing Wrong, And How To Fix It
While I totally support not giving a sh*t about how you look at the gym, I mean don't worry about sweating and wearing that old sorority date party tank. You still need to care about what your form looks like. If you're not performing an exercise right, at best you're wasting your time, and at worst you're going to injure yourself. This is not limited to the weight machines, either—some of the most common bodyweight exercises you've probably been doing for years are the ones that people mess up the most often. Read on for the exercises most frequently done incorrectly, according to Los Angeles based trainer and founder of KICHGO, Kit Rich, and how to fix your form.
Bicycle Crunches

If you've ever taken a workout class and done crunches, you've probably been told to keep your elbows down and away from cupping your ears. That's not just for aesthetics: scrunching up puts pressure on your neck, causing tension and stiffness. Another common mistake: rocking your hips back and forth too much, because it looks stupid and hurts your back. Basically, if you're feeling strain or moving a lot in any area that is not your abs, you're not doing it right. Also, that's never going to get you that ab crack.
DO IT RIGHT: Unless you're trying to get a thicc neck (you do you), don't pull or twist from the neck and shoulders. Keep your elbows pulled down and think about keeping your back flat and lifting through the shoulder blades, which is the opposite of hunching over. In your bicycle crunch, keep your hips stable by extending your legs forward from the hip, keeping them low and parallel to the ground. Think of it more like a lengthening motion than pedaling motion—this is what's going to target your lower abs and obliques.
Planks

Planks are awesome. Not only do they strengthen every muscle in your core at once, but you don't even have to move while doing the exercise (my favorite kind). However, because you're holding the position for a while, it can be easy to slip out of good form once you start getting tired. Sticking your butt up or arching your back will take the work out of your abs and will give you back pain, and that's not what we want.
DO IT RIGHT: Because planks are hard in general, you may not be able to tell by feeling whether your hips are too high or low, but a quick peek in a mirror will make it obvious. It's called a plank because your back and shoulders should be as flat as a board, so try to visualize that line from your shoulders to your heels the whole time you're holding the position. Hold your gaze a few inches in front of you instead of directly under you to keep your neck neutral. Finally, squeeze your butt and thighs as well as your arms and abs to help keep the straight line. Start off with a 30-second plank to make sure you've got it down before moving on to longer holds.
Wide Arm Push-Ups

Push-ups are hard, but don't sleep on them—they're great for working out your arms without using additional weights. You've probably f*cked this up before, so you already know what it looks and feels like: tucking the chin and looking down, moving your shoulders up and down one inch and calling it a push-up. You're going to hurt your neck and shoulders that way and not get any benefit to your arms. Remember, a push-up is really just moving your plank up and down, so if you're teetering out of your alignment, it's wrong, wrong, wrong.
DO IT RIGHT: Don't try to act cool. If you can't do a full push-up right now, start by doing modified push-ups on your knees. In the modified push-up, be sure to keep your body in line from the back of your head to the back of your knees instead of bending at the waist when you push down. Extend your arms out wide (slightly past your shoulders) and ground your hands into the floor to firmly support the rest of your body. Bring your chest all the way down to tap the floor and back up. Do this with straight arms and with your core engaged the whole time. When you feel something in your abs as well as your arms, you'll know you're doing it right.
THE TAKEAWAY: If it looks weird or feels weird, it probably is hurting more than helping. Slow down, modify, or do fewer reps at first and then work your way up.
Images: Jacob Lund / Shutterstock.com; Giphy (3)
4 Exercises To Improve Your Balance And Flexibility
Do you struggle with balance and flexibility? If you do, first off, you should seek care from a medical professional, since there are many potential causes of balance and flexibility issues other than just "I can't touch my toes and I'm clumsy". There could be an actual medical issue, so you want to speak to your doctor to make sure you identify the cause of your balance issues in order to receive proper treatment. That said, you can also improve your balance and flexibility by performing certain exercises. Your doctor may even recommend you look to direct access physical therapy. Working with an expert will ensure you're working safely and within your abilities.
If you're struggling to improve your balance and flexibility, give the following moves a try.
Alternating Arm Plank

A plank simply involves modifying a typical push-up position so your elbows rest on the floor. When looked at from the side, your arms should appear to form as close to a 90-degree angle as possible.
For this exercise, you may need to rest on your palms (like a typical push-up) when you first attempt it, as it can be difficult to maintain balance otherwise. That's because this version of a plank requires you to balance on just one arm for a few seconds, before switching to the other arm. As you get more comfortable with the exercise, you can try balancing on your forearms or extending your opposite leg.
BOSU Ball Split Squats

A BOSU ball is a piece of equipment you may have seen people using at your gym. It essentially looks like half of a stability ball. Instead of being a complete sphere, it has a flat base running through what would otherwise be the middle of the sphere.
Using a BOSU ball when performing split squats can be a very effective way to improve your balance and flexibility. For this exercise, step forward with one leg far enough so you have to raise the heel of your back foot. The toes of your back foot should rest against the BOSU ball. With your torso straight, bend your front knee so your back leg almost rests against the ball, before returning to a standing position. Alternate sides for the best results.
Pistol Squats

Pistol squats are useful when BOSU ball squats start to feel too easy. For this exercise, stand on one leg and bend the knee of that leg until its thigh is almost parallel with the floor. Try to extend your other leg in front of you as you do so. The straighter you can keep it, the better.
Return to a standing position and repeat to your comfort before switching to the next leg. This is a difficult move to perform, but it can be very helpful if you struggle with balance issues.
Standing Crunch With Clap

This is another exercise you may need to work up to. However, it is a very effective way to improve your balance and flexibility.
To perform it, stand up straight on one leg, with your other knee bent to form a 90-degree angle. Keep your hands raised above your head. Your raised leg's thigh should be parallel with the floor.
Next, bring your stomach forward to your raised leg as if performing a crunch from a standing position. While doing so, bring your arms below the leg and clap your hands together, then raise your arms back up as you return to your original position. Repeat to your comfort, then switch to the next leg.
Again, it's important to see your physician if you have balance and/or flexibility problems. An underlying medical condition may be the culprit. However, it's also helpful to perform these exercises. They'll provide you with the strength you need to stay balanced and comfortable throughout life.
Rae is a graduate of Tufts University with a combined International Relations and Chinese degree. After spending time living and working abroad in China, she returned to NYC to pursue her career and continue curating quality content. Rae is passionate about travel, food, and writing, of course.
Images: Shutterstock (3); Giphy; Unsplash
How To Tone Your Arms & Abs Without Any Weights Or Machines
It feels like ever since Khloé Kardashian began Snapchatting her workouts and girls everywhere started doing squat challenges in their living rooms, butt and leg workouts have been trendy AF. And while we're totally on board with lower body workouts, betches tend to neglect upper body exercises, and that needs to be fixed. These six moves will work your arms and abs with no equipment necessary, so you can avoid creeps at the gym watching you pick out dumbbells. Go through the circuit 3-4 times in a row for a v effective at-home workout. Oh, and good luck lifting your arms to blow dry your hair tomorrow.
1. Plank Ups
It's important to start out any ab workout with some plank variation to get your core muscles fired up, and we love plank ups because they get your arms involved too. Start in a high plank with your arms on the floor directly under your shoulders. Then, bend one arm to bring your elbow to the floor, and then the other arm, ending up in a forearm plank. Then, push each arm up to the starting position, and continue going up and down from hand to forearm for 45 seconds.

2. Diamond Push-Ups
Diamond push-ups are basically regular push-ups, but instead of placing your hands wide under your chest, you place your hands together, forming a triangle (or a sort of diamond…get it?) with your thumbs and fingers. Bend your elbows and bring your chest all the way to the ground, feeling the burn in your tricep muscles. If you can't get full range of motion while in a high plank, drop to your knees. Aim for 10-15 reps without stopping.

3. Standing Jab Cross
If you've ever gone through the 2-minute arm portion of a spin class wondering why your arms burn so much from throwing a few punches, try doing these jab crosses for one minute straight. Stand up and punch with each hand in a diagonal direction, keeping your core engaged and preventing your waist from moving from side to side. The idea is to burn out your arms while twisting your torso to work your obliques, so keep your core as tight as possible.

4. Plank Shoulder Taps
This is another move that is based in a plank position, but by tapping each shoulder, you're challenging your stability and getting your arm muscles involved in the movement. Start in a high plank and keep your feet about hip-distance apart. During regular planks, it's better to keep your feet closer together, but for this move, you want your hips to stay as square and still as possible, so the extra distance will help. Tap your left hand to your right shoulder, and then do the same on the other side, alternating for 45 seconds. Also, it helps to squeeze your butt and keep your head as straight as possible the whole time.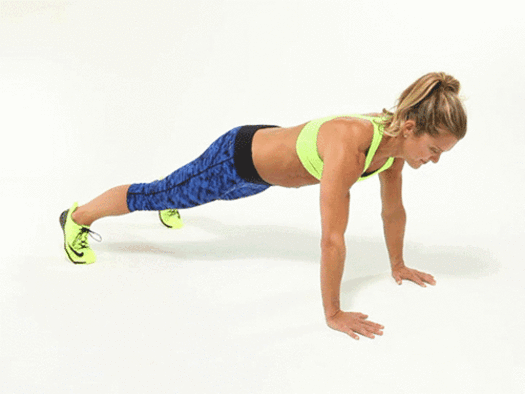 5. Tricep Dips
You don't need a piece of equipment for this one, but having a bench or chair nearby will help. You could also just stack up a bunch of books or shoeboxes. Whatever works. Sit on the ground with your legs in front of you in front of your bench and place your hands on the bench behind you with your fingers facing forward. Dip up and down with your arms, lifting your butt off the ground but keeping your heels planted. Do 15 reps, keeping your elbows tight to your body and directly behind you the entire time.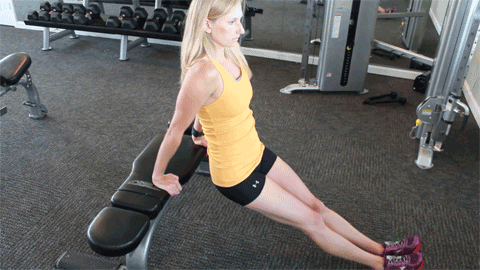 6. Bicycle Crunches
Crunches are like, the OG ab move, so we're taking it up a notch by ending the circuit with bicycle crunches, which basically keep your legs and arms moving while targeting the sides of your abs. Lie on the floor with your lower back pressed to the ground and your hands behind your head. Lift your feet off the ground and bring one knee in towards your chest, lifting your shoulder blades off the ground to touch your elbow to the opposite knee. Straighten out the leg and bring the other knee into your chest, doing the same with the other elbow. Try doing 30 seconds of slower crunches, then do 30 seconds as fast as you can.

How To Get Amazing Abs In Time For Summer
Abs have been a hot topic for a while now, so let's talk about them: what they are, how to get them, and like, if we even want them. (The answer to that last question is an obvious yes.) Getting abs became trendy in the early 2000's around the time when people started to realize they wanted J.Lo's six pack instead of Mary-Kate Olsen's emaciated rib cage. Then, the ab crack suddenly became the new thigh gap of the internet and we started Googling shit like "Khloé Kardashian workout routine." All of this important history brings us to today, where we're left staring at our SoulCycle instructor's chiseled stomach and wondering how many calories were in that bagel we ate earlier. If you're looking for some real info, it's time to get some facts straight. Having good abs is more than just a flat tummy—as Meek Mill once said, there's levels to this shit. Meaning, there are a lot of different parts of your abs and you can't just do one exercise to tone all of them. So here's the deal with all your various ab muscles and what exercises you need to do to get amazing abs all over.
That Line Down the Middle
What is it? You may know this line down the middle of the stomach area as an ab crack, which is unfortunately not a drug you can take to get abs. But if our dealer was selling that, we'd save so much on groceries. Anyway. The ab crack isn't actually a muscle and so it doesn't get a real name, but the best way to get it is by having good genes and doing basic toning exercises. Genes are a huge part of it, and some people can have like, no body fat and a strong core, and still not have that line. We're all built differently, so let's work with what we've got.
How do I get it? Planks. It may sound basic AF, but planks are an amazing way to target the entire front of your core, so stop overthinking fancy and complex exercises and start planking. If you're a beginner, start on your hands, but starting on your elbows really targets the muscles better. Basically, you want to start face down with your forearms on the floor and your knees raised up so that only your toes and arms are touching the ground. Make sure you're contracting your abs and not sticking your butt in the air, or else you're literally doing nothing. Also, make sure to keep your back as flat as possible the whole time. Hold for anywhere from 30 seconds to two full minutes. If you're respectively psychotic and you're looking for an added challenge, try doing your plank in a TRX suspension trainer at your gym—if you don't even know what that is, it's best to stick to the regular planks for now.

Those Side Lines
What are they? The "side lines" you see all over Instagram during bikini season (probably while fake laughing on an inflatable swan in East Hampton), are actually called your obliques. Obliques are the most superficial muscle out of the muscles in your abdomen, which means they look hot but actually don't help you that much in terms of being strong as fuck. But who cares about strength? They'll look hot in your Instagram pics.
How do I get them? Russian Twists. There are tons of exercises that target your obliques (others include bicycles and side planks), but Russian twists are really the most effective way to tone those side muscles that look so good in a crop top or one of those slutty cut-out one pieces. Start by sitting on the floor with a weight in your hand (think anything from 8 lb to 15) and your feet slightly raised off the ground. Your legs should be bent at your knees and your upper body should be elevated to create a folding V shape with your legs. Move the weight from one side of your body to the other, ideally touching the weight to the ground on each side of you during every rep. Do this for 30 seconds to a minute, then rest for a few seconds and repeat again. It might hurt when you laugh tomorrow, but in that case I guess it's a good thing we have permanent RBF.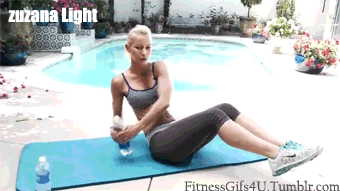 That V-Shape At The Bottom
What is it? No one would ever comment on an Instagram pic to compliment someone's lower abs, but like, why not? That shit is really hard to achieve and honestly I could use a post-workout snack just thinking about all that work. Working your lower abs is super important even if you don't necessarily want chiseled abs because it will help eliminate love handles in the process (but obviously stop eating those double-stuffed Oreos first.)
How do I get it? Well first before anybody asks, you do NOT need to become a man (or Terry Crews) to get the V-cut thing; that was just the best (read: hottest) picture I could find. Anywho. Leg raises. This move looks super easy when you see someone doing it, but once you start, you'll be crying pretty fast. Lying on the floor, place your legs straight out in front of you and your hands on the ground or under your lower back if you're prone to lower back pain. Lift your legs up, keeping them as straight as possible with your knees slightly bent until they make a 90-degree angle with the floor. Hold the contraction at the top for the second, then SLOWLY lower your legs down to the floor in front of you. You'll want to make sure you use a mat to protect your tailbone and stop fucking holding your breath. Seriously, what is it with people not breathing while working their abs? You're not underwater and people around you are starting to get worried.

Inner Core Muscles
What are they? The workouts we've discussed so far will all help tone your abs, but as we mentioned earlier, your core muscles go much deeper than you realize, so you should prob be working those inner layers too. A lot of people get caught up in working the area around their stomachs, but they don't realize that most of your core stability comes from your lumbar spine and lower back area, so try hitting those muscles too if you care about really strengthening your entire core area.
How do I get them? Superman lifts. Everyone has these inner core muscles, but they're pretty weak if you don't work to strengthen them, and Superman lifts are the best way. Lie face down on your stomach with your arms and legs extended and keep your neck in a neutral position. Then, keeping them straight and your torso tight, lift your arms and legs toward the ceiling, arching your back and getting your hands and feet like, five inches off the floor. Hold for a couple seconds at the top and then lower back down. If you're doing it right, you'll feel like an idiot. Try doing 10-15 reps before the embarrassment takes over resting and then repeating again.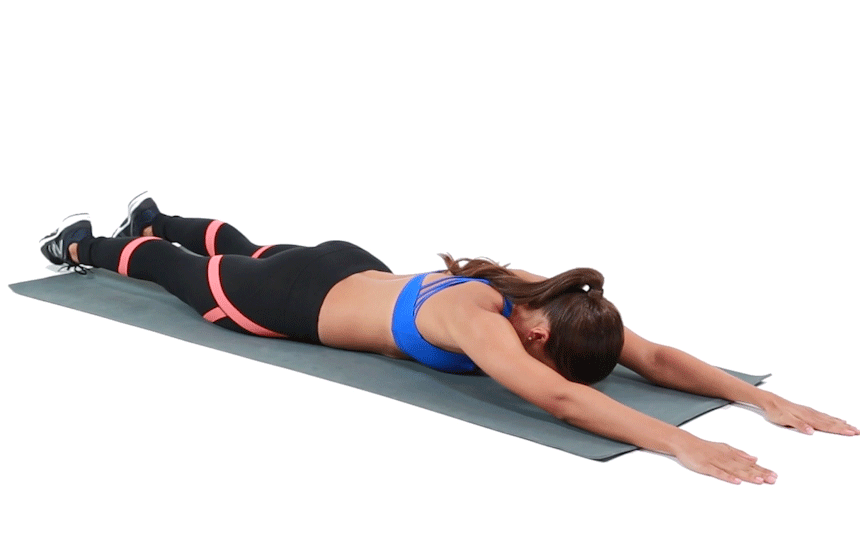 I know it sucks to spend extra time at the gym to do some work that's low-key good for you, but you stuck around last week for like, 15 minutes to find good selfie lighting, so we're gonna assume you have the time.
The 7 Exercises You're Doing Wrong & How to Fix Them
If you're working out at the gym, first of all, congratulations. You've made it farther than like, 92 percent of Americans, and honestly, we're still eating hangover fries from Saturday. We'd hate to fuck with the betch that gets up before work to go to the gym, but we'd also like to help out. It turns out there's like, a million exercise mistakes that people make on the reg, and if you don't fix your form asap, you're wasting your time. Here are the seven exercise mistakes you're probably making and how to fix them:
1. Squats: You're Only Squatting Halfway Down
This mistake is so common and so sad, because half-assing a squat will literally lead you to having half an ass. If you're one of those girls who thinks squatting at the gym is supposed to look cute and bouncy, good luck with seeing any real results. The whole point of a squat is to engage the entire back of your leg and butt area, so you want to get as low as possible, keeping your thighs parallel to the ground and getting your butt below your thighs at the bottom of the movement. Also, make sure your knees don't go in front of your feet. If you're doing it right, you should be squatting lower than you would in the Delta terminal bathroom stall.

2. Running: You Have Bad Posture On the Treadmill
If you hopped on the treadmill ready to run with your Twerkout Workout Spotify playlist in hand, stop for a second and fix your posture. When it comes to cardio machines like the treadmill, Stair Climber, or the bike, most people are tempted to hunch over when they get tired, which will actually fuck up your workout and probably cause major back and neck pain. Try to keep your hands off the rails and maintain straight posture with your core tight while running. It also helps to look ahead and keep your neck as straight as you can. Don't be the girl telling people about your injury from a 30 second sprint on an incline. No one sympathizes.
3. Lunges: You're Putting Pressure On Your Knees
When you're doing lunges, it's important that your step forward is as big as possible. You don't want to take a baby step and put pressure on your front knee, which can lead to a tendon strain. You want your front heel to be at least two feet in front of your back knee as it bends toward the floor. Also, lunges work your thighs and butt, so you also want your back knee to literally touch the ground in order to feel the move in your ass. If you need to slow down to make sure each step is big enough, do it.
4. Crunches: You're Using Neck Instead Of Your Core
Any idiot knows that crunches work your abs, so overusing your neck needs to stop like, now. Using any sort of momentum from your hands or head to lift your torso up completely takes the exercise off your core, which makes the whole thing totally pointless. You need to contract your core the entire time and use ONLY the muscles in that area to lift you up. If you can't nail the form on your crunches, stick to planks or standing side crunches. Just don't waste your time putting your hands behind your head and pulling yourself upward to then hurt your neck. Everybody will laugh at you if you're rocking a neck brace because you fucked up crunches.

5. Kettlebell Swings: You're Using Upper Body Instead Of Lower
When done right, kettlebell swings are an amazing exercise for your entire lower body, because you're explosively swinging the weight from underneath your butt into the air, using the momentum of your hips and thighs to get enough power in the swing. Most people, however, tend to swing the kettlebell with their arms, and they end up just lifting the weight from their legs to their shoulders without any lower body swing involved. The trick is to avoid lifting with your back and shoulders, and instead focus on a hinge in your hips, basically snapping the kettlebell forward, not upward. You should basically feel like you're in the "Bend and Snap" scene in Legally Blonde.
6. Plyometric Moves: You're Landing On The Wrong Part Of Your Foot
For those of you who don't know, plyometric exercises refer to any moves where you're jumping in different positions to get your heart rate up. Think jump squats, box jumps, jumping lunges, tuck jumps…. It's a lot of jumping. But even though these moves are brutal and hard, you shouldn't be punishing your heels in the process. Landing on your heels leads to injury super fast, and just makes the impact more intense than it needs to be. You should be landing on the middle part of your foot, and then rolling forward to push off the ball of the foot when jumping up. You should be sore tomorrow because of your muscles burning, not your feet.

7. Cool Down: You're Skipping The Stretch
If you're in a rush and don't feel like staying at the gym for some extra credit cool down time, we get it, but it's super important to take a couple minutes to stretch before heading out. Your soreness tomorrow will be 10 times worse if you don't stretch, and you'll probably cramp up later in the day. Spend a few minutes stretching out the muscles you worked. Do yoga stretches that target multiple areas so you can get the most out of a short stretching session, like pigeon pose, downward dog, and child's pose. It's annoying to postpone brunch a few minutes longer, but your body will thank you when you can move tomorrow without crying.
The Best Workouts If You Only Have 15, 30, & 45 Minutes At The Gym
Working out is such a dilemma. On the one hand, betches need to work out to counteract our weekly blackouts and keep up our naturally fast metabolisms, but on the other hand, who seriously has the time? I mean, if you wake up on a Sunday and spend three hours at the gym while I'm dragging my ass to brunch in last night's makeup, I salute you, but I also fucking hate you. Betches don't always have over an hour to work out, so we've planned out the most efficient ways to spend your time at the gym when you're in a rush. Whether you have 15 minutes or 45 minutes, you can def get in a legit workout without cancelling all your plans for the day. Here's the plan:
If You Only Have 15 Minutes Or Less
First of all, never judge the betch who only spends 15 minutes at the gym. This extremely limiting time crunch usually means she either has much more important shit to do, or literally has only 15 minutes to spare before work and has a Cinderella-esque transformation in the Equinox locker room before heading to her job at some waspy law firm. This betch means business, and she'll be finished working out by the time you found the best selfie lighting in the weight room.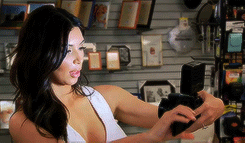 If you only have about 15 minutes, the key is sticking to floor work and ditching any machines. Honestly, you'll waste a good ten minutes by the time you choose a treadmill that's comfortably far enough from other people but close enough to the TV. Lay out a mat and work HARD (we know) for fifteen minutes straight without any breaks, choosing compound movements that incorporate strength work while getting your heart rate up. We know you just read that sentence three times to figure out WTF we mean, so some good moves include burpees, jumping lunges, jump squats, mountain climbers, and plank jacks. Try to pick a few moves and do each one for about 45 seconds each, then repeat as many times as possible until you have to bounce/collapse. Stretch in the shower.
If You Only Have 25-30 Minutes
If you have less than half an hour to spare at the gym, it's time to get your ass to work. Half an hour might seem like a solid amount of time to get in a workout, but time flies when you're fixing your ponytail for 20 minutes in the mirror while laying out your towel like you're on Miami Beach. You can get in a good workout in less than 30 minutes, but don't fuck around.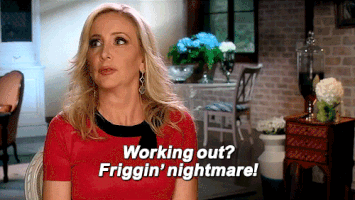 The most efficient way to spend 25-30 minutes at the gym is to break it up 50/50 into cardio and strength. First, pick a cardio machine that you're ready to kill it on for 12-15 minutes. Elliptical or treadmill are ideal if you're basic AF and have a playlist ready. The erg rowing machine is more intense because it works your whole body. Stairmaster wins if you hate yourself. After going moderately hard for half your workout, make your way onto the floor for some strength work. Try to isolate one area of your body per day to get the most out of your gym time. For example, spend one day doing lower-body moves (like squats and lunges), and another day doing upper body (like bicep curls, tricep extensions, and planks), rather than being that dumb girl who does 10 crunches, three squats and a push-up and wonders why she's still flabby.
If You Only Have 40-45 Minutes
If you have up to 45 minutes to spend at the gym, you can def get in a quality full-body workout, but you have to make sure you go in with some sort of plan. Don't be that girl who walks on the treadmill for 45 minutes while refreshing Snapchat stories. She can brag all day that she spent her morning at the gym, but she prob burned like 30 calories total and we're still talking about her, so she's literally wasted everyone's time.

Spend your first 5-10 minutes warming up your muscles and getting your heart rate up. Think light bodyweight exercises, like jumping jacks, air squats, high knees, and push-ups. Oh, and get off your knees. Then, move onto some real strength work, because news flash: if you're not lifting yet, you're doing it wrong. A super efficient way to create a little circuit for yourself is through an AMRAP, which means "as many rounds as possible." The idea is to pick a few moves that involve dumbbells or kettlebells, set a 15-20 minute timer for yourself, and complete those moves as many times as possible until the timer goes off. Then, move onto some HIIT work, whether you're into burpees and plyometric moves on the floor, or 20-second inclined sprints on the treadmill. Either way, you should be sweating your ass off (and cursing loudly) after about 10 minutes, so you can spend the last couple minutes stretching the muscles you just abused. You're welcome.
The 5 Best Ab Exercises & The 5 That Are Wasting Your Time
If you're one of those people who clicks on any article called "7 Foods To Eat For A Six-Pack" or "Drink This Tea To Get You a Flat Tummy Tomorrow," you're gonna want to keep reading. That's because Fit Tea doesn't work (and you should know that by now), but ab exercises do work. So we've done a thorough investigation(ish) of the 5 best ab exercises to get your abs in shape for your bikini. And, because we're psychic, we also know what you're doing wrong. So to shatter all your illusions and make you feel like a failure for your benefit we're also here to tell you the five ab exercises you think are working, but really aren't doing shit.
The first thing you need to know about getting abs is that core exercises are important, but they're not everything. That annoying phrase "abs are made in the kitchen" is sadly true. By definition, you have to have a pretty low body fat percentage to see abdominal definition, so if you're not eating right, fix that shit, then come back to this article. If you're pretty good on the nutrition and you're looking for the right exercises to shape your core and tone your tummy, here's what you should and shouldn't be doing in the gym: 
5 Exercises That Work…
1. Weighted Russian Twist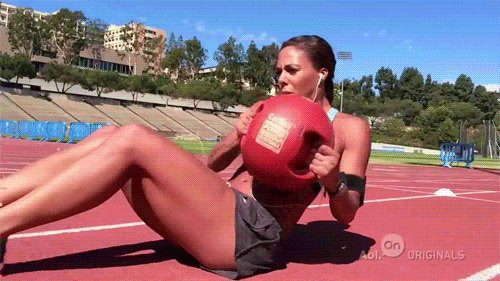 This move is great for toning the sides of your abs because it targets your oblique muscles. Start by holding a 12-15lb weight or weighted ball and sit on the floor with your knees bent. Ideally, your feet shouldn't be touching the floor, but if you're a beginner, you get a pass. For now. Lean back so your torso is at an angle, but keep your spine straight. Touch the weight to the floor from one side to the other while keeping your arms in front of your chest. Make sure you twist your core completely or else the whole move is pointless and you're playing yourself.
2. Plank

People tend to hate on planks because it looks like you're not doing much and because we're all still scarred from the planking craze of 2009, but if you're doing them right, you should feel the burn and see results pretty fast. Planks are amazing for your core, back, legs, and arm muscles, so stop talking shit and start planking. Whether you're doing a forearm hold or starting on your hands, keep your core tight and hold a stable position for a minute. As your core gets stronger over time, try holding for longer and longer. Separate your feet if you're just starting out, then move them closer together once you start getting stronger.
3. Side Jackknives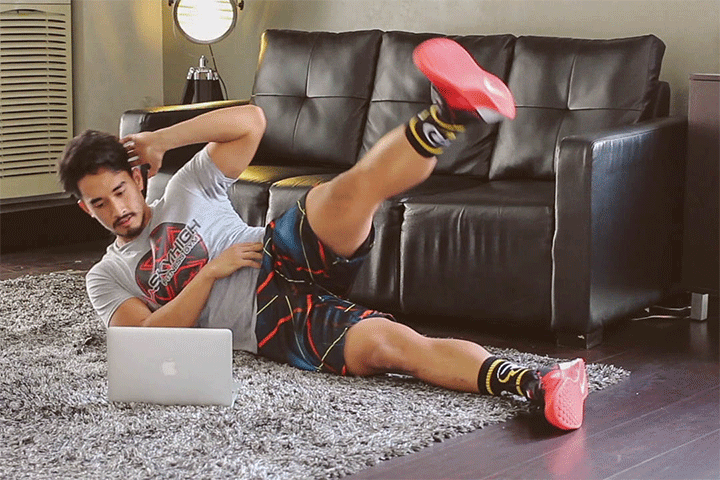 This move is another great one for the sides of your core, and if you do them enough, you'll start developing that hourglass shape around your waist that guys post about on Instagram all the time. Lying on your right side and keeping your left leg over your right one, place your left hand behind your head and bring your torso and left leg toward each other as you pull with your obliques. Squeeze for a couple seconds and then release your leg and hand. The key here is to go slow and feel every rep, so no cheating.
4. TRX Pikes + Knee Tucks

This move is def more advanced, but like, stop crying and put your feet in the TRX straps. The TRX is that yellow and black suspension trainer at your gym, and it's time to start using it. Get in a plank position with your feet in the straps and pull your knees into your chest, engaging your core on every rep. If you're up for the challenge, pike your feet forward, creating a V-shape with your body. You'll feel the burn immediately, but do as many reps as you can without collapsing.
5. V-Ups

V-Ups are not, as the name may lead you to believe, a form of Kegel exercises. They actually target the lower part of your abs that gives your body that V-shape you thought only J. Lo was blessed with. Keep your feet together with your toes pointed at the ceiling, and slowly lift your legs up while bringing your upper body off the floor and touching your toes. Try to keep your legs as straight as possible. Squeeze your core for a second and then slowly lower your legs and back down to the floor. It burns pretty bad, but you'll be thankful when you look unreal in your next bikini pic.
…And 5 Exercises That Are Wasting Your Time:
1. Fast Bicycles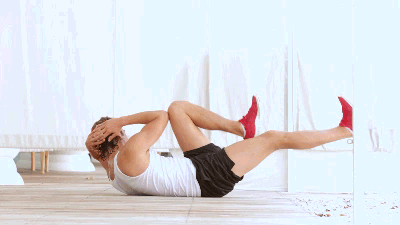 So many girls think that doing fast bicycle crunches will get you a six-pack, and it's honestly sad to watch. This isn't SoulCycle, so stop going so fucking fast without using a single muscle in your core. SLOW bicycles, on the other hand, are actually super effective because you're bringing your shoulder to your knee and isolating your core muscles enough to actually do something. Girls who do fast bicycle crunches and think they're getting abs are like guys who jackhammer away at your cervix and think they've given you an orgasm (ahem, Raven's ex).
2. Crunches

Again, sorry to burst your Shape Magazine bubble, but regular crunches or bodyweight sit-ups are probably wasting your time. Doing 100 baby crunches isn't impressive, and it's not going to do shit to your body. Add some weight to your crunches by holding a dumbbell at your chest, or get your feet off the ground to really challenge your core.
3. Leg Lifts

TBH, leg lifts can actually be a good core exercise if you're doing them slowly and only using your core muscles, but most people just use their hands for assistance and go way too fast to actually get an effective ab workout. This move is more advanced than most people think, so if you're not that strong yet, you're way better off starting out with V-ups or planks. Going straight to leg lifts is like skipping cocaine and going directly to crystal meth. Slow the fuck down. And stay away from crystal meth in general.
4. Static Side Planks

People tend to think holding a side plank for 30 seconds will shape the sides of your torso, but those people are what we in the fitness community like to call "idiots". There are so many better oblique exercises that are way more effective than a static side plank. If you really want to feel the burn in a side plank, try dipping your hip up and down (like Leo does in the above gif) or holding a dumbbell with your arm straight in the air. Otherwise, you're prob wasting everyone's time. Mostly your own, but also the people waiting to use your mat while you do the exercise equivalent of sitting there and looking pretty. We're not saying everyone will hate you if you do a static side plank, but we're not not saying that. The more you know.
5. Most Ab Machines

This might be controversial since so many people swear by the cable crunch machine or the hanging leg raise bar, but most ab machines at the gym are probably wasting your time if you want a good core workout. It's not that the machines don't work, but doing floor exercises are just as effective and are easier to scale to your own level, so don't waste your time trying to figure out how the machines work. We're also saving you from some annoying dude coming up to you and offering tips and telling you that you should smile more, so like, you're welcome.