The Cutest Workout Clothes You Need This Summer
They say summer bods are made in the winter. K, I don't know who "they" are, but they clearly don't live on the East Coast.  Because if they did, they would understand the depressing treachery that winters here are, and they certainly wouldn't spew such BS. I mean like, in the winter, my boss is lucky if I make it into work, let alone get my lazy ass to the gym after work. But anyways, I digress.
Summer is here, and now is the time that most of us are finally actually motivated to kick our workout regimens into high gear. Everyone wants to look and feel their best on the beach, and what's more motivating than some cute new workout clothes that will make you actually want to go to the gym??? When I get new workout clothes, I can't wait to show them off. And like, maybe that's silly, but I have to take advantage of whatever will motivate me to get there. That being said, here are the cutest workout clothes that you need this summer, to help you look and feel your best! 

These leggings are a major upgrade from your standard black Lulu leggings and will totally make you want to actually go work out. Not only are they chic and cute, but according to the reviews, are also super comfy! Not to mention, the neon star graphics at the bottom are very on trend, so people may even mistake you for like, a cool fitness Instagram influencer, or something. Hey, maybe you'll get a free Gatorade out of it!!!

This plain cropped tee may seem basic, but that's because it is a basic. But that doesn't make it any less cute or essential to your summer workout wardrobe. Everyone needs a basic white cropped tee, just like, in their wardrobe in general. So you might as well go ahead and get yourself one that's designed for the gym, as well! A basic crop tee will make you look like a casual off-duty model at the gym. Which consequently gives off the vibe that you came there to get sh*t done. And just giving off the perception that you're getting sh*t done will make you actually want to get sh*t done. I realize this may seem like a stretch, but again, when it comes to getting myself to go hard at the gym, I need all the motivation I can get, logical or not.

Snakeskin was all the rage for spring, and continues to stay a big trend for summer. So why not bring this fashion trend to your workout outfits too? Not only will this Kardashian-worthy set elevate your workout style game, but these pieces could even work with your everyday summer wardrobe as well. There's legit no occasion that they wouldn't be perfect for…except like, maybe a corporate job interview or a funeral…but like, everything else besides that!!!

Windbreakers are cool right now, especially this retro cropped Nike one that's perfect for summer. You'll look so legit wearing it to warm up on a breezy summer morning or when they're blasting the AC at the gym. It's also great for if it's raining and you don't want to look like a wet dog by the time you actually  get to the gym. Nothing's less motivating than looking like a soggy mess and starting off your workout in already wet clothes. Like, I'm just gonna go home now.

With these neon leggings, you simply can't get away with even attempting to try to slack off at the gym. Like, if you're wearing bright-ass leggings such as these, you have to expect some attention from your fellow gym attendees. And, if you're being so bold as to demand everyone's attention, you're going to need to actually perform when you get on that treadmill. Unless of course, you're at like a Planet Fitness where your pink neon leggings are the least shocking thing anyone is wearing in there (no shade to PF, I go there because I'm poor). I have legit seen a guy at Planet Fitness wearing a polo and jeans before, so these neon leggings wouldn't make anyone bat an eye. Smh, don't be that polo guy, get yourself some cute summer workout clothes.

Lavender has been the color of the season, and these lavender running shorts are the perfect addition to your summer workout wardrobe. They're Adidas by Stella McCartney so they're like, fashionable af. Like, probs the most fashionable you could ever possibly get when it comes to workout shorts. Pair it with a cute sports bra or a flowy tank, and you're totally ready to go on that five mile run! Okay, maybe three mile…eh 1.5???

This cut out crop top will have you ready to slayyyy. No, not like slay at the bar drunk on vodka sodas kind of slay, but "slay" like actually get through your entire workout today. But like, the top really is that cute, that you could easily wear it out to the bar and slay there too! Okay, I'm single-handedly making "slay" uncool by saying it so many times right now, so I'll stop. But hopefully you get my point here.

I'm obsessed with this fashionable workout top. It's chic with the center ruching, yet functional with its silhouette and thumbholes. If you think thumbholes are an irrelevant feature, uh, think again. It would be impossible to wipe off every dumbbell or machine that the jacked up frat guy high on C4 used before you. And like, you don't know where his hands have been….and tbh, that's probs for the best. The thumbholes help cover your hands, and keep you extra safe from all the gym germs. It's kind of like when you use a paper towel to grab the bathroom door handle, but like, in this instance, that paper towel is just part of your shirt.
People like to say fashion is materialistic. But what you wear to the gym and how it makes you feel when you're there impacts your self-confidence, drive, and ultimately, success. I realize that sounds v dramatic, but like, it's true. So set yourself up for success in the gym with some cute new summer workout clothes ASAP.
Images: @lauren_alexandra / Unsplash; Free People (3); Revolve (4); Bandier
Betches may receive a portion of revenue if you click a link and purchase a product or service. The links are independently placed and do not influence editorial content.
How To Copy Olivia Culpo's Style On A Budget
Some people may say I have an obsession with Olivia Culpo, and they are absolutely right. I think Olivia has an amazing personal style that is quite easy to imitate. She knows how to dress up and dress down. I'm not just obsessed with her style, I'm also mildly obsessed with needing to know if she and Danny are ever going to get back together. If not, I really hope he sees this and calls me. But I'm a fashion writer, so the purpose of this article will focus on Olivia Culpo's style and not her love life. The latter will be for another time.
Anyway, dressing for the heat and staying trendy is a hard task, but one that Olivia always pulls off flawlessly. So let me help you out by creating three killer Olivia Culpo-inspired looks for different occasions that I hope you'll love and be able recreate yourself—for a lot less, as always.
The first look is a ruffled black top and denim shorts. This look is perfect for a night out in heels, or sandals if you want to dress down. This look is dressy and trendy on top, but with the denim shorts in the bottom, it looks like, "Oh I just threw this together, but look how great I look!" I found this top from Boohoo. Now, be careful, because it is very low-cut, but if you like living on the edge wondering when you're going to fall out of your top, then this is the shirt for you. And fabric tape could be your new best friend. My denim shorts are from Forever 21. Now I know this bag doesn't look like it's on a budget, but I stole it from my mom, so technically, it was free. I tried to copy Olivia the best I could, but of course you can wear your favorite crossbody to complete this look. The top I'm wearing was a gift and is sold out, but I found you guys an equally cool top from Boohoo with a very Olivia vibe.

From top: Boohoo rose ruffle blouse; Forever 21 distressed denim shorts
My next look is a casual Saturday look. I have the same denim shorts on from the previous look, and my crop top is also from Forever 21. Now, I know this top looks a little like a picnic tablecloth, but sometimes that style is cute? Instead of a bow in my hair like Olivia, I put on a white scrunchy because a) I didn't have a bow, and b) I thought it made me look less like a 14-year-old girl and I already get carded at the bar so I'm really not trying to add to that.

From top: Forever 21 smocked gingham crop top; Forever 21 distressed denim shorts
My last look is for a sexy night out—maybe to attend an event or to just lock in that summer crush who finally asked me out on a date. Blazer dresses have been on trend for a while; I've had this in the back of my closet for years and finally got the courage to wear it. This particular one is from Nasty Gal and is a romper with shorts in the back with a skort type situation in the front. A  pair of simple black pumps makes this look what I like to call "business sensual". You can also always wear this with sneakers and be extra trendy. Either way, a blazer dress is perfect for a summer night out!

Nasty Gal Powers That Be blazer dress
Images: Olivia Culpo/ Instagram (3); Maya Media (3)
Betches may receive a portion of revenue if you click a link in this article and buy a product or service. The links are independently placed and do not influence editorial content.

Here Are Less Expensive Versions Of Chic Crop Tops Celebrities Are Wearing
Memorial Day Weekend is right around the corner, and I have the model-inspired crop tops you're going to need. As always, I found them for half the price. Memorial Day weekend is like the prom to me. No seriously, it gives me as much anxiety as my senior prom. It is the kick off to summer, and I always stalk run into my ex this time every year.  Therefore, it's a MUST to look amazing, and what better way to look amazing than in a crop top? That's why I scoured Instagram to find the cutest and trendiest crop tops seen on celebs lately, and then I found you cheap af dupes. Not all heroes wear capes. Click through to see my celebrity picks and their less expensive counterparts.
Images: Emily Ratajkowski, Romee Strijd, Olivia Culpo/Instagram (3); Forever 21
Betches may receive a portion of revenue if you click a link in this article and buy a product or service. The links are independently placed and do not influence editorial content.
The Cutest Workout Leggings You Need Right Now
As much as Christian bloggers wish otherwise, leggings are here to stay. They're comfy, fashionable, and they make our asses look great (/existent), what's not to love? But there's nothing more embarrassing than rolling up to brunch in the same leggings you worked out in… and slept in… and  wore to work the day before. I mean, okay, I can think of a few more embarrassing things just by quickly recalling my adolescence, but that's not the point. The point is, you need to buy some new leggings, and what better time to do so than with spring right around the corner? This season's all about pastel colors, cute color-blocking, and interesting cutouts. We rounded up the cutest workout leggings that you just need to add to your leggings drawer.

Outdoor Voices leggings are kinda becoming the new Stan Smiths, but the seasonal yellow shades are low-key amazing. Get the matching top to look like your favorite SoulCycle instructor.

LOVE the coral/peach color on these—it's like, the most on-trend shade for workout leggings rn—and I love how they're sleek without being overly shiny in a tacky way. The lining is super trendy, too. Honestly these are my favorites. Should I stop now?

These are sick. A little colorful, but not in an offensive way. Pair it with a plain white or navy tank so you don't assault anyone's eyeballs with an overly busy outfit.

Again with the pink. Very in this season. Also, ombre is totally back, but like, just for workout leggings right now—still not for your hair. It was a bad call in 2013, and it's a bad call today.

The vintage rose color on these workout leggings is so trendy, and the little detailed cutouts are amazing. May need the matching sports bra too.
Image: Marion Michele / Unsplash
Betches may receive a portion of revenue if you click a link in this article and buy a product or service. The links are independently placed and do not influence editorial content.
6 Lower Ab Exercises That Will Make You Look Amazing In A Crop Top
You may have gotten away with hiding under winter coats and Bachelor episodes for the past few months, but soon it'll be time to step outside in minimal layers, and your bod is nowhere close to being ready. I mean, I don't blame you. The only people who consistently eat salads and go to the gym all winter are like, psychopaths people who bet too much money on their 2018 resolutions. When it's time to put on your new ASOS crop top, you'll want your abs to look amazing, and the lower ab region of your core can be the hardest to target. If you want to define that area and lose your love handles, you'll have to start putting in the work, starting with these lower ab exercises.
1. Leg Lifts
Lying on the floor, place your legs straight out in front of you and your hands on the ground or under your lower back if you're prone to lower back pain. Lift your legs up, keeping them as straight as possible with your knees slightly bent until they make a 90-degree angle with the floor. Hold the contraction at the top for the second, then SLOWLY lower your legs down to the floor in front of you. If you have lower back problems or need a modification, try doing the move with your hands under your tailbone. It sounds ineffective, but it actually makes it so much easier.

2. Flutter Kicks
Flutter kicks are another one of the lower ab exercises that are done lying on your back, but this time you actually need to lift your head and shoulders off of the mat to fully target the lower region of your core. Once again, put your hands under your tailbone if you feel any pain in your lower back. Then, lift your legs up in front of you (they can be slightly bent), and literally kick your feet out in front of you in a little flutter motion. You should feel your lower abs working as you kick, and the movement should be small and controlled. Note that these aren't scissor kicks, so if you feel like you're kicking around like a Rockette, you're doing it wrong.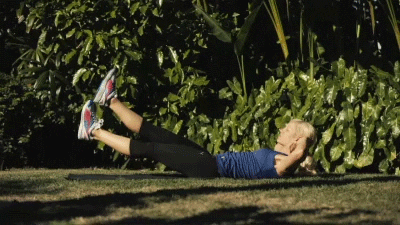 3. TRX Pikes
These can also be done on a rowing machine or gliders if you don't have a TRX in your gym, and if you're doing it at home, you can even use a hand towel on a wooden floor. If you're using the TRX, put your feet into the straps and then turn over, coming into a plank position with your hands on the floor and your feet hanging in the straps. Then, think about pushing your hands into the ground and pulling your legs toward your chest with your hips, keeping your legs as straight as possible. Try to focus on lifting with your abs while preventing your ankles from pointing. Once your head is looking in between your arms, slowly lower your hips back into your starting plank position. These are hard AF, so if you need to just do a couple reps and then hold a plank, go for it.

4. Dead Bugs
IDK who came up with the name for this move, but it'll demolish your entire core so we're gonna go with it. Lie on your back with your arms extended, but bend your knees so that they're creating a 90 degree angle above your hips. Engage your core and press your lower back into the floor as you slowly extend one leg toward the floor, almost hitting your foot to the ground. Then, bring it back to its bent position and do the same on the other side. Keep alternating sides, and if it feels easy, you can even get your arms involved by extending the opposite arm toward your leg each time you bend.

5. Raised Leg Circles
This exercise requires a lot of physical space, so if you're like, two feet away from someone else's mat, you may need to move to a more spacious area of the gym. This is another one of those lower ab exercises where you're lying on your back but raising your neck and shoulders off the floor. To start, extend your legs out in front of you and lift them a couple inches off the ground. The higher you raise them, the easier it'll be. Then, keep your feet and legs together as you literally circle them around you, keeping your hips on the ground as much as you can. Try to aim for six to eight circles in each direction. Make sure your feet don't touch the ground the entire time and that you're using your core instead of using momentum to swing them around.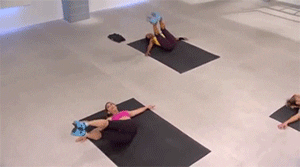 6. Hollow Body Hold
This move is a LOT harder than it looks, so try holding it for 25 seconds, and then slowly work your way up to 35, 45, and eventually a full minute. If you thought time moved slowly when planking, wait until you try this. The hollow body hold is exactly what is sounds like, so you'll be starting lying on the ground. Then, raise your feet off the ground and your arms at the same time, keeping your arms straight behind your head. So basically, only your lower back/ tailbone should be touching the ground, and your abs should be super tight the whole time. If you want to make it easier, put your arms out in front of you or to your sides. If you want to make it harder, hold a weight in your arms and hold it overhead. Just please don't blame me if it hurts to laugh tomorrow.

Images: Matthew Kane / Unsplash; Bionic Body (1); Giphy (5)
The One Crop Top Workout You Need To Look Good In Your Halloween Costume
If you thought you could kiss your summer body goodbye forever and head straight to the sleeve of BBQ Pringles in your pantry, maybe we should remind you Halloween is around the corner. Whether you're being a slutty bunny for the eighth year in a row or getting regretfully creative with some cringeworthy political costume, you're probably planning on showing a lot of skin, so you'll need to look like you haven't completely let yourself go since the Fourth of July. Here's a quick workout that burns calories and targets your abs, so you can look amazing in your costume and spend the rest of the night drunk-eating mini Snickers bars. Complete the circuit three to four times total, and thank us when your slutty nurse costume fits better than ever.
1. Mountain Climbers
Starting the workout off with mountain climbers ensures that you're getting your heart rate up while engaging your abs, so we're already getting shit done. The idea behind mountain climbers is to stack your arms over your wrists and jog your knees into your chest, so you're basically holding a plank while running in place. Don't worry about moving your legs too fast because the main idea is to keep your core stabilized. Try not to lift your butt too high into the air or spread your arms too far in front of you, or else you're defeating the purpose. Do 40 reps total.

2. Russian Twists
This exercise targets the top and sides of your abs, so if you're doing it right, it should hurt when you laugh tomorrow. To really feel the burn on this one, you'll probably need a weight or a kettlebell, but if you're a beginner, you can just use your hands. Lie on the floor with your legs out in front of you, keeping them bent at the knees. Then, elevate your upper body so that it creates an imaginary V-shape with your thighs. Move the weight from one side of the body to the other, using your abs to bring it over. Do 12 reps.

3. Side Plank With Dips
This move is literally how Khloé Kardashian lost her muffin top, so if you're looking to invest in a tight crop top this Halloween, I'd pay attention. The side plank is all about your obliques, which are where your love handles are. To tone that area, it's important to keep everything tight and engaged, so don't rush through this one. Start in a side plank on your elbow, keeping your legs straight and your feet stacked. Then, lower your hip to the floor, lightly tapping the ground before you lift it back up. Do 10 hip dips and then switch to the other side to do the same thing.

4. Burpees
No one ever looked good in a French maid onesie costume without some cardio, so let's stop kidding ourselves. Burpees are key when it comes to burning a ton of calories in a short amount of time, so only do 8-10 of these per round. Standing with your feet shoulder-width apart and your arms at your sides, lower your body into a squat and place your hands on the floor in front of you, jumping your feet back so that you're in a plank position. Once your body is in a straight line, lower your chest to the floor and then bring it back up as quickly as you can. Then, jump your feet forward, outside of your hands, and jump up with your arms in the air. So easy.

5. Lying Leg Raises
So many girls neglect their lower abs because they think they can do a million crunches and look great in a crop top. Your lower ab muscles are really the area that give your stomach a toned, slim shape, so doing leg raises is v important. Lying flat on your back with your legs straight out in front of you, keep your feet touching while you slowly lift your legs up to the ceiling until your butt is slightly off the floor. Then, lower them back down until they're a few inches off the floor. Do 10 reps total, and remember to inhale while you lift up and exhale while you lower down. Don't make this harder on yourself by holding your breath the entire time.

6. Plank Jacks To Plank Hold
This last move is basically two exercises in one, but stop whining because we've noticed how many PSL's you've been drinking recently. (And you're not even asking for skim milk. For shame.) Both moves start in a plank position, so start on your forearms with your body in one line and your feet a few inches apart. Make sure to squeeze every muscle in your abs, butt, and legs to keep your body stabilized the entire time. Then, jump your feet in and out, as if you're doing jumping jacks without standing up. After about 20 jacks, hold the plank for a full minute, or as long as you can until your abs start crying. Whichever comes first.

5 Ways To Wear A Crop Top To Work Without Offending HR
As a secret hoe (I'm not that secret about it) I'm constantly pushing the limits of my employer's sanity by seeing how much I can get away with in terms of the office dress code. Tbh they never should have called it business casual in the first place. Once you throw the word "casual" around that's just asking me not to take it seriously. Like when a fuckboy tries to tell me he's only into "casual dating" or when my mother tries to talk to me about my "casual drinking problem." Please. And because my look is incredibly fashion forward a mix between lazy and slutty, I'm always trying to circumvent the dress code. For example, in the winter that includes me trying to get away with literally not wearing pants. I'll show up to the office in leggings and an over-sized sweater/shirt/$5 Forever21 T-shirt that I'm trying to pass off as Yeezy and booties and just dare anyone to say shit about my outfit. And by dare I mean hide in my office and hope the girl I pissed off by eating her yogurt the other day doesn't write a passive-aggressive email to HR. IT WAS ONE TIME, SUSAN.
But in the summer I sure as hell will be toeing that line between business and casual in a cute af crop top. Crop tops have been around for a while now and apparently the trend is sticking. Blessings. But unlike in college where you could literally wear a bra to the bar and call it couture—just me?—now, crop tops have become more chic and fashion forward. To which I would just like to say, are you listening to this, mother?? And because I support v important causes like making hoe fashion (thank you, Tyra), here are 5 crop tops for every office style that you should buy ASAP because you can absolutely probably get away with wearing this shit to your 9am department meeting.
Office Professional
You have, like, a normal 9-5 job that definitely enforces the "business casual" dress code no matter how many times you tell HR that you're feeling personally victimized by this. In order to carry on with your hoe ways, you'll def want to stick to a looser silhouette. Think longer, loose pants with a flowy, boxy top. The pants will elongate your legs while the crop top will keep you from looking like a bag lady an Olsen Twin. The key here is to make sure that your shirt is long enough so that nosey bitch Susan won't report you for "inappropriate behavior."

Boho Casual
You're the type of person who doesn't call wearing a crop top to work "pushing the boundaries," but rather, "expressing yourself." Odds are you work in advertising or some other creative field that encourages you to dress however the fuck you want. You get a bit more leeway than the rest of us, so go for a matching shirt/skirt combo in a funky print. It's kind of like a trap a fashion optical illusion because while it kind of looks like you're wearing a crop top it also kind of looks like you could just be wearing a dress.

Preppy & Girly
If this is your look then I'm assuming you do, in fact, work in a professional office setting but also you want to look cute. So I'm guessing your style icon is probs more Audrey Hepburn at a premiere than Bella Thorne getting felt up by Scott Disick on a yacht in Cannes. Just a guess. I suggest, pairing an over-sized skirt with a boxy, crop top for a chic yet office appropriate look. If you want to pretend like you have a personality mix it up a bit, try a bold color or print for the skirt.

​
Sporty Chic
I'm not going to make any sort of assumptions about what your job title is (shocking, I know). You could work at a gym or have some sort of fitness Instagram account or you could just be me work in a normal office setting where you show up looking like you don't give a fuck. Either way, your secret weapon is going to be an over-sized bomber or jean jacket. If you're trying to keep with your normal lazy af aesthetic, then throw one of those jackets over a black jean/crop top combo. It's a classic, easy, and only slightly slutty look—three words I also def use to describe myself in my Bumble bio. If you're trying to class it up because the new hire has a man-bun and you're feeling like for once Mercury is not in retrograde and actively fucking with your dating life, then consider pairing the jacket over a knit crop top and matching pencil skirt. You'll still look v edgy but also like you didn't just find your outfit at the bottom of your laundry pile.

​
Wannabe Instagram Influencer
You're def an assistant to an Anna Wintour wannabe who probs throws shoe samples at you when you forget to order her lunch with dressing on the side. Think Nina Garcia two seconds before she emotionally obliterates an amateur designer for not "editing" enough. The rules of business appropriate work attire do not apply to you because if you showed up in a basic blouse and a pencil skirt your boss would take one look at you and say this:

Do not be the Anne Hathaway of this scenario. DO NOT. You work in fashion (I assume) so take some chances for god's sake (assuming your boss is cool with that. I realize I'm assuming a lot this article). That being said, don't be afraid to try out a tighter, shorter crop top as long as you pair it with something high-waisted.

5 Heinous Items Of Clothing You Need To Get Rid Of During Spring Cleaning
Spring cleaning is the one time a year you're allowed to put your shit in garbage bags without looking as trashy as Angelina moving into the Jersey Shore house. In fact, I'd even go as far to say that you're not just allowed to do it, but encouraged. Especially if you have any of these things hanging out in your closet. Here are a few heinous items you should purge from your wardrobe during spring cleaning and what to replace them with instead.
1. Anything With Mesh Paneling
We live in an advanced society where there are approximately three billion ways to make your boobs look good, so there's no reason to keep anything with poorly designed mesh paneling for cleavage-related purposes. You should have left that bodycon with a mesh v-neck on the floor of that frat guy's room in 2013, so there's really no excuse to still be holding onto it now.

Go all out and replace it with something that's mesh all over, like a full mesh bodysuit.

2. Ugly Cotton Maxi Skirts
There is literally not one flattering thing about a cheap cotton maxi skirt, yet every Saturday night, girls in clubs across America are raising their vodka crans, trying to make it happen. Like, congratulations. You've found a way to expose both kneecaps in something floor length. Throw it out.

However, a maxi skirt done properly can still give you total a total Jessa Johansson "I just bathed in the stream and then I ran through the field to dry off" vibe.

A long wrap skirt is such a step up. Just do not wear this to the club—that should be obvious but in times like these, I've got to take every precaution.
3. Caged Necklines
I'm not even throwing shade here, but I'm actually pretty certain that caged necklines were designed for flat-chested betches because they're the only ones who can pull this off. However, this look is awful, so they shouldn't even bother.

If you're a betch with a B cup or lower, you can rock anything with a high neck and look amazing. Swap your creepy caged neckline out for literally any other high-neck bodycon.

Pretty Little Things Aniqah white high neck split detail bodycon dress
4. Dumb Bodysuits Like This One
I guess there's nothing like, offensively wrong about wearing one of these, they've just kind of run their course. It's kind of like how college couples always break up during the beginning of senior year. It's not necessarily the worst thing ever, but it's time to see what's out there while you're still hot enough to pull of a bodysuit.

This off-the-shoulder bodysuit is probably going to be the basic betch's go-to top when invited to drink on a week night at the last minute.

Missguided petite scuba bardot bodysuit
5. Crop Tops With Weird Cutouts
"Damn, look at that one inch of exposed skin on that girl's torso," said nobody, ever. Crop tops with weird cutouts are pointless.

If you feel that you like, absolutely need an additional tiny strip of fabric on your crop top, at least go with something that has a tie or some sort of purpose. (And now I have Justin Bieber singing "Purpose" stuck in my head, which I'm so not mad about.)

​