Why Is Ariana Grande Celebrated For Doing What Taylor Swift Is Mocked For?
Like most sentient Americans, I've spent the past few weeks in a world where Ariana Grande's "thank u, next" is the only soundtrack. It's passed well beyond the point of "great song!" and into the realm of "if I don't get my daily fix, I will probably die." I am certain I'm not alone in this, given that "thank u, next" has shattered multiple records in the streaming world. More importantly to me, the song and its accompanying video have secured Ariana Grande's transition from pop star to icon, from whom every social media nugget and on-screen appearance are nothing short of gospel.
As I've watched (and wholeheartedly approved of) the reaction to "thank u, next," one question continued to bug me. When Taylor Swift sings about her exes, she causes a similar flurry—but one filled with sneering, eye rolling, and the suggestion that she can't be taken seriously as an artist for choosing such diary-like content. Then Grande releases a track in which each of her exes are called out by name, and she's hailed as the ultimate badass for it. As someone who both genuinely loves Taylor Swift's music and feels that 90-95% of songs should be about one's exes, I couldn't help but wonder: why is Grande celebrated for the very thing Swift is mocked for? I've outlined my theories below.
Ariana Grande Is Cool & Confident
Let's be honest—a huge part of the appeal of "thank u, next" is the fact that, given the option, we would all present ourselves like Grande did after a breakup. "Thank u, next" is perhaps the coolest emotion one can evoke when facing an ex—even more so if done with genuine gratitude and while looking insanely flawless. "Thank u, next" is a song we can all caption our pictures with while drunkenly "accidentally" tagging exes, and the worst thing that happens is you've been overly polite to someone who wasted a year of your life. You tag an ex in a pic captioned "got a long list of ex-lovers / they'll tell you I'm insane," and you're not coming back from that so quickly. This brings me to my next point.
Taylor Swift Is Earnest & Emotional
Taylor Swift, almost determinedly, does not put up a "cool girl" façade when she sings about her exes. She painfully scrutinizes where it went wrong, often down to the minute of their breakup. She lingers on their ultimate incompatibility, mourns for the good times, and explicitly details the extent to which both she and her ex will suffer for this loss. Swift is, in my opinion, a far more realistic version of what you look like after a breakup. Contrary to what Grande's rom-com mash-up video would have you believe, most people do not soar from broken engagements feeling validated in all of their choices and loving themselves like never before. They come out feeling lost, broken, and all too likely to dwell on all the most unhelpful and unattractive things.
In other words, they look like this: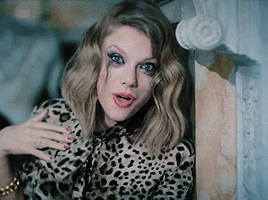 Not this: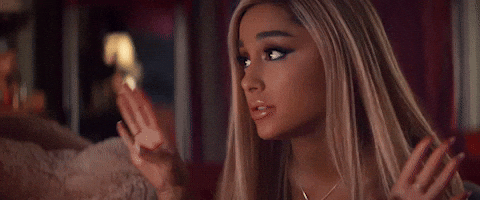 So, if Swift is ultimately more relatable, shouldn't that mean more critical success? F*ck no! Please. Name the last time someone wanted an honest reflection of themselves, particularly if it's unflattering. From the bathroom scale to the pop soundtrack of your life, you want to be fed beautiful lies. People yell at Swift for being vulnerable about her exes the same way you yell into the mirror the morning after drunk-dialing your own ex 12 times the night before. Swift isn't critiqued in spite of being relatable; she's attacked precisely because of it.
Ariana Grande Is Gracious & Direct
First and foremost, we have to acknowledge that Grande takes the high road with "thank u, next." She betrays not one scrap of vitriol toward her exes, talks no sh*t about them or the relationship. She simply thanks them for their time, and reaffirms her commitment to herself. So, that alone is easier to get behind than one of Swift's "remember those three minutes in 2004 when you said we would die together" tirades.
On top of that, there's the fact that Grande seems to have no fear of confrontation (can't relate). She names each of her exes plainly, and even gave many of them a heads-up before the song's release. So, if her exes themselves don't have an issue with the song, it's a little harder for the general public to decry it.
Taylor Swift Is Petty & Secretive
Swift, on the other hand, does everything short of attaching a treasure map to each album with hints to which lyric refers to which ex-boyfriend. Yes, the national obsession with tracking those connections, and stalking her love life in general, has gotten totally out of hand. But when she describes the relationship down to the month ("Back to December"), memorable holiday (4th of July), eye color (too many to count) and so on—it's a little hard not to engage. Add to that the fact that she decidedly doesn't take her exes' feelings into consideration on this—and given the contentious nature of many of her songs, it's not hard to see why.
To clarify, I'm not in any way saying that artists should have to poll their exes before releasing a breakup track. The world would be a much sadder place if that were the case. I'm just saying that Swift's refusal to do so—and Grande's respective decorum toward exes—makes Swift the much easier target to criticize. Basically, Grande is doing all the things you're supposed to do after a breakup; Swift is doing all the things you hope people never find out about after a breakup. And one of those girls will get dragged a lot harder than the other—it's just a fact of life.
Moral of the story here? We should all try to be more like Ariana Grande. JK—you guys knew that coming in. But honestly, that is the hidden message behind the song's unequivocal success. When Swift sings about her exes, she does it emotionally, vindictively, and evasively. She speaks about her exes with all the bitterness of someone still deeply invested in the relationship, or at least actively wounded by it. When Grande sings about her exes, she's singing from the point of view of someone who's moved on—and ultimately, just singing about herself. So yeah, do be more like Ariana Grande. Move on from relationships that didn't work, stop emotionally investing, and celebrate yourself. Apparently, the world has a much harder time tearing that down.
Images: Giphy (2)
A Woman Tried To Bring An Emotional Support Squirrel On A Plane
I will complain about almost anything hate to complain, but this "genocide celebration" three-day weekend has really thrown me off. Specifically, I've been convinced it's Friday since Tuesday, and my mood has greatly suffered for it. On the bright side, the rest of America seems to be feeling cranky too. One Florida woman, for example, tried to take an emotional support squirrel on a plane this Tuesday. While this kind of story doesn't exactly renew my faith in humanity, it definitely makes me feel better about acting like a crazy b*tch all week. There's crazy, and then there's emotional support squirrel-on-a-plane crazy. Here's how the real-life drama of Snakes on a Plane a squirrel on a plane played out.
The woman (unnamed, but pictured here) was flying out of Florida, which makes perfect sense. Case closed, bring in the dancing lobsters. JK. She notified Frontier Airlines that she'd be bringing an emotional support animal when she booked her ticket. But of course, she failed to mention the species. Somehow, the presence of a squirrel in her purse didn't become an issue until the plane was fully boarded. I have a TON of questions for Orlando TSA, because I can't seem to get an extra half-ounce of makeup remover through security, let alone a f*cking SQUIRREL.
Unsurprisingly, passengers objected to the presence of a squirrel in their midst. I can't speak to Florida squirrels, but the ones in NYC are bushy-tailed disease monsters, so I'm fully on the passengers' side here. Frontier Airlines—who clarified that their emotional support policy covers cats or dogs, but not rodents—asked her to exit the plane. When she refused, police came and all passengers evacuated the plane, leading to this spectacular video.
— Brandon Nixon (@bnix4) October 10, 2018

Ultimately, this whole debacle delayed the flight by two hours, which would have been enough for me to murder that squirrel in front of her throw a small fit. According to one extreme pushover fellow passenger, "for the most part, people found it funny." I mean, they're right that it's f*cking hilarious, but very big of them to see that in the moment.
I just feel like if you are able to wrangle an actual squirrel without getting rabies and THEN teach it how to provide emotional support, the airline should just let you take it on the plane.

— sarafcarter (@sarafcarter) October 11, 2018

In the past few years, we've seen an increasing number of "weird support animals kicked off planes" stories, including one ostrich and one pig. In comparison, an emotional support squirrel seems pretty tame. But it got me thinking that we haven't even begun to scratch the surface of emotional support animals. So, without further ado, here's a list of support animals I hope to see kicked off planes in years to come (y'know, assuming we still have a planet):
Support Tarantula
Support Pet Rock
Support Chia Pet
Support Vole
Support Llama
Support Bratz Doll
Support Falcon
~Fin~
The point here? Uh, people are f*cking nuts and it's really funny. Also, if you're going to delay someone's flight, at least have the decency to make it a good story.
Images: Bram Naus / Unsplash; bnix4, sarafcarter / Twitter
UCLA Freshman Wins Batshit Crazy Roommate Of The Year Award
You probably thought the rando you got paired up with freshman year was a psycho. Well, think again. A freshman at UCLA definitely takes the cake this year for craziest roommate ever, thanks to an email she wrote that got leaked by her own roommates.
Let's just take a little look at what she wrote here.
"Okay so I'm not sure why neither of you responded back to my emails…"
Bitch, this ain't the first email you sent?! Homegirl definitely double-texts dudes and then cant figure out why they don't like her. Is there something she should be taking that she's taken none of, or something she shouldn't be taking that she's taken a lot of? Pro tip: one Xanax should do, hun.
"I'll take the top bunk bed that has a bottom and top bunk bed. I DO NOT want the single bunk where it has a desk underneath the top bunk so don't try to leave me that."

Flag on the play for flagrant misuse of caps lock with people she doesn't know. I don't know about you all, but my first interactions with my roommate made me seem like Mother Teresa so they wouldn't hate me and fart on my pillow and give me pink eye. This girl gives absolutely no shits about a proper first or second impression.
"I'm also taking one of the white closets. There should be two white closets and I'm taking one of them. I don't care for which one it is, just know I'm taking one of them. I want the desk near the window. Plain and simple.

"I won't be in the mood for any arguing or other nonsense because one of you two decided to deliberately disregard this email. If needed be I'll turn it into a bigger situation so don't try me."
This is the point where I show my dad the email so when he moves me in he can disassemble the loft kit for that coveted top bunk and put it in the hallway along with the desk next to the window. This girl definitely needs to be removed from the situation, and not just like, moved to a different room. She literally needs to be put in the back of a van and taken to a mental institution.
One of the roommates clapped back with a pretty sane response for how much crazy was delivered in that email.

And apparently the girls tried to vote this little psycho off the island like it was Survivor and the year was 2002.
The roommate, of course, responded again admitting she has anger issues. Hey, the first step is always admitting it.

These roommates should just find some off-campus housing or they're going to wake up to all their hair being cut off in their sleep. I can't even. I do not miss roommates like this.
Best of luck, girls, and the entire UCLA campus. Yikes.
Open Letter To Assholes Who Call Girls "Crazy"
Dear Chauvinistic Assholes,
I've been seeing a very, very unfortunate trend in modern millennial dating in which guys throw out the terms "crazy", "psycho", or "stage 5 clinger" when a girl so much as texts him to be like, "Hey u up?". News fucking flash: It's 2018. You know what's really "crazy"? Here's a refresher, losers.
Donald Trump being the goddamn President of the United States
ZAYN leaving One Direction and his last name in the dust (RIP)
North Korea lauching missiles … YES THAT IS HAPPENING
Permanent freckle tattoos. Somebody please tell me why that is even a thing.
This little thing called ISIS and global terror—ever heard of it?
I hope that puts things into perspective for you. Trying to communicate and show positive interest and affirmation (aka, texting you 1-2 times a week) doesn't make a girl "thirsty" or "insane." It makes her a normal fucking person—and BTW, you should feel #blessed that a betch is into you in the first place.
Of course, there are real "stage 5 clingers" out there, both men and women. Case in point: My (female) best friend once met a perfectly nice, cute guy in a bar. They exchanged numbers and went on one date which was pretty okay. Next thing she knew, she'd be looking at her Instagram notifications and he'd be tagging her in AT LEAST SIXTEEN posts per day. He'd send her paragraphs and paragraphs at a time, Snapchat her twenty times a day, and even put a down payment on a puppy that she mentioned she wanted, assuming they would raise it together when their one mediocre dinner date turned into a fruitful marriage. (He actually raises the puppy alone now because obviously she had to ghost him.) Does this guy warrant a "crazy" label? Absolutely. But unless you can honestly say that every girl you're calling "crazy" acts like this—in which case, you have bigger problems, like why you're a magnet for the mentally unstable—then it's time to reassess your vocab.
There is a very problematic, gendered paradox when it comes to men and women in romantic relationships. For example, T-Swift gets called "crazy" all the time for writing songs about her exes. When Robin Thicke wrote and performed Paula, AN ENTIRE ALBUM that was a desperate plea for his ex-wife Paula Patton to take him back after he got caught cheating, it was dubbed by the media as "a heartfelt reconciliation". WHAT FRESH HELL IS THIS?

Bottom line, the word "crazy" is a convenient term for men, and an often discriminatory word for women. Some men (#notallmen, wouldn't want you to get too butthurt) simply throw out the term because it's easier than getting down and dirty with their real emotions and addressing real issues within their relationships in a healthy way. So, next time you're about to call a betch crazy, boys, think before you speak. It's like, the rules of feminism.
Not your BSCB,
The Betches