5 Sex Positions That Require Way Too Much Coordination & Effort
My frustration with women's magazines is well-documented. However innocent the intention, their constant suggestions of how we can improve ourselves are at best, irritating and at worst, emotionally damaging. Some of the most egregious examples of this are the sex positions offered up by these publications, many of which seem to require the endurance of a marathon runner and the core strength of a yoga master. Because I live to troll am a very serious journalist, I've compiled a list of sex positions that need to be canceled yesterday.
1. Doorway Play

This wouldn't be a proper article on sex positions if I didn't start with a gem from our friends at Cosmo. They suggest that we simplify standing-up sex by, you guessed it, squatting in a doorway. As one does. To be more specific, "For this pose, have your guy squat with his back against one side of a doorway. His thighs should be parallel to the floor, and he can put his hands behind his lower back for cushioning. Stand facing away from him, spread your legs so they're on either side of his, and then back up onto his member." First of all, the word "squat" has no business being a part of any sex position, ever. I only squat in two instances: ehen I have to pee over a questionable toilet, when I am torturing myself working out. Secondly, if I can't get through the thighs portion of a barre class without resembling a human vibrator, what bro is going to be able to remain in a perennial squat for three minutes an entire sex session? Sex is supposed to be fun, not a gym session masquerading as an earthquake drill. Hard pass.
2. Butter Churner

In case the name wasn't enticing enough, allow me to paraphrase a position suggested by Women's Health, of all places. The woman lies on her back with her legs in the air and pointing toward either side of the head. The man then SQUATS (*shudder*) and enters. You can tell that not even the writer of the article suggesting this farce is convinced, because the section telling the reader why it's great warns that "our neck may get a cramp" and advises you to have your partner "go easy on the thrusts to avoid too much pressure on your upper body." Hot! Not only will your partner look like a colonial woman on the wing an angry Amish man, if you're both not super careful you'll be just one neck spasm away from kickstarting the reboot of Sex Sent Me to the ER!
3. Standing 69

This suggestion by Glamour is the sex position equivalent of two people I despise having a baby. Standing-up sex has never been my thing because I'm extremely lazy busy, and I'm not convinced that people actively choose to 69 anymore (if they ever did). So, the Standing 69 sounds about as necessary as Ivanka Trump's presence at a meeting of world leaders. If that's not enough of a deterrent, it requires a level of athleticism that I simply do not possess: "One person stands upright, and the other goes into a handstand while the other holds them. This should allow you both to reach each other's naughty bits, but you may have to cut it short before all the blood rushes to your head." I love the casual "goes into a handstand" that they've thrown in there, as if it's as easy as a quick flick of the wrist. For those who don't have a crippling fear of being upside down, you just have to achieve orgasm before inducing a brain hemorrhage. Easy peasy lemon squeezy.
4. The Condom Trick

Okay, so this isn't technically a sex position, but this one is so absurd that it deserves inclusion on this list. According to the experts at Redbook, you should do the following if the guy you're with does not want to wear a condom: "Try saying this: 'But, baby, I need to practice putting them on with my mouth.' Men love this. Let him know it's an old hookers' trick." There is so much to unpack here. One, the term we are using nowadays is "sex worker". More importantly, if you need to use a condom and your partner gives you a hard time, rather than using some weird seduction technique involving the term "old hookers", you should just make sure you never give him a hard time ever again. Also, I have no earthly idea as to why anyone needs to spend time learning how to put a condom on sans hands. Personally, I'd rather use that time learning another language or, like, how to code, but call me crazy. Finally, this is simply something men can and should do on their own. It's not enough that we live in a society where we are encouraged to remove every errant hair, wear underwear that rides up our asses, lose weight, and edit our photos to cover up any semblance of an imperfection with makeup; now we have to put the condoms on too? GTFO.
5. The Wanton Wheelbarrow

For a cute take on the classic wheelbarrow position, Cosmo suggests you do a forearm plank while simultaneously lifting one leg in the air as your partner enters you from behind, adding, "because this one requires a degree of balance and stretching ability, you'll first want to be really careful that nothing hurts or feels off when you do it." Why these sadists feel the need to make every sex position a thinly veiled bootcamp class is beyond me. I'm all for the idea of sex as a little light cardio, but I'll save my stretching and balance practice for my ClassPass membership, TYVM. The gym and sex are my church and state, Cosmo, so you can go shave your back now take your suggestions elsewhere. And it's 2019: everything hurts and feels off.
When it comes to sex, enjoying yourself is paramount. If any of the above sex positions sound appealing, you clearly have several Iron Mans under your belt go for it. If not, there is nothing wrong with sticking to what feels right for you and your partner. Sound off in the comments with any other sex positions you think are extra AF.
Images: Ruslan Zh / Unsplash; Giphy (5)
The 4 Weirdest Sex Positions Ever Attempted
I won't lie—I fell into a pretty serious rabbit hole of bad sex advice while researching this. And somewhere around the Men's Health column that called the vagina a "mysterious pleasure organ", I came to the conclusion that men should be banned from the written word, but more importantly, that most bad sex advice has one thing in common: someone is severely overthinking it. I totally get it; from my research alone, I already feel I've exhausted all possible contortions of the human body. (I'm also obsessively Googling "how flexible is the average woman" but that's neither here nor there.) But no matter how hard you're trying to spice up your love life, some sex positions just aren't worth it. Read on for my list of completely absurd positions you should never attempt (no matter how far into a 30-day "revive your relationship" challenge you are).
The View
"The View" was recommended by Cosmo and it's like reverse cowgirl, but way harder (hooked yet?). Instead of JUST straddling your partner, you fully lie down. Now that you have some nice boob-on-calf action going (my fave), you're meant to begin "pretty much twerking." Yes, while lying down. And yes, this is "the view" the name of this sex position is referencing. That of your partner watching you desperately try to heave your ass a few inches into the air while all gravity and logic defies you. (You could sneak your hands and feet onto the ground for leverage, but that's just a push up.) Basically, twerking standing up in a cool, dry room was already my nightmare. Twerking lying down naked with a dick inside me is a little much.
Yeah, I can't do anything like this: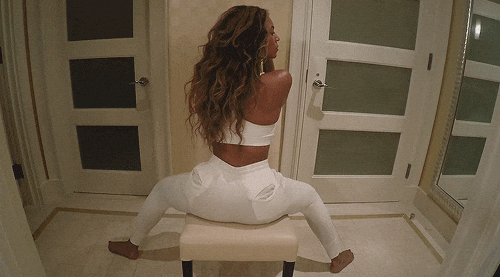 The Spider
You know when you see a spider and you're like "ooh that's hot, let's name a sex position after it"? Well, the good people of Men's Health have you covered. You and your partner crab walk toward each other until your genitals are appropriately entwined. Then you guys rock back and forth, while still balancing on your hands and feet. My main issue with this (other than the set-up it requires), is how very gently you'll need to rock. If there's a dick involved, it seems like more than a few inches would cause the whole thing to collapse. Also, Men's Health cites one of the benefits of this position as "you both can still maintain eye contact." Because who doesn't love adding prolonged eye contact to some very controlled thrusting? At least the eye contact will make it easier for your partner to see the fear in your eyes.
Bonus: Women's Health's version of this recommends that you slide ice cubes down your partner's torso. You know, so that the freezing water POOLS WHERE YOU MEET. This is the most traumatized I've been envisioning freezing water since the first time I saw Titanic.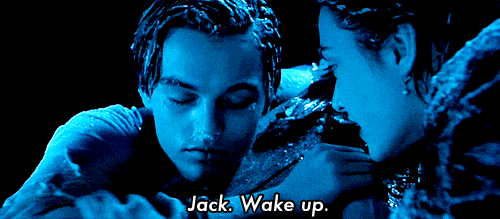 X-Factor
You would kind of hope Women's Health would have more realistic sex positions than Men's Health, but here we are. X-Factor is missionary—now make it sexy terrible. Instead of aligning your bodies to have both heads in the same general area (way too boring, am I right), your partner lies on top of you so that you form the letter X. Since the important parts are still mashing together, I guess that's where the sex is taking place. (Though with a P-in-V situation, I feel like either the P or V would need to have a significant curve.) This seems like a fun position for mouthing "how's it going over there" as your partner valiantly strives to balance on top of you and all the blood rushes to their unsupported head. Also, if you're only turned on by one side of your partner's body, then this is the move for you. It doesn't seem like a fun position for orgasms, avoiding chafing, or any other of my admittedly low-key sex goals.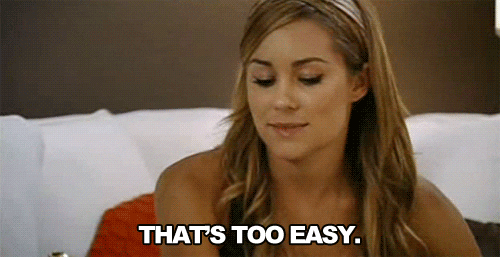 Spread Eagle
This is just an even more fucked-up version of everyone's favorite pile driver position. That's where you assume the plow pose (ass up, legs overhead, uncomfortable amount of weight on your neck), and then your partner lowers down on said ass and bangs you from above. We've already mentioned the damage this is likely to do to your neck, but pause for a second and truly imagine it. In the Spread Eagle variation recommended by Refinery29, you spread your legs wide from this position. As a plus, you could definitely hurt yourself so badly that you're not allowed to go to the gym for several months. And it does seem like a sick deal for the partner on top (Refinery29 notes that they don't have to do "that much work, just hold up"). But the partner on the bottom who's tearing both inner thigh muscles and slowly feeling their head separate from their body can't be loving this.
Again, my body cannot do this: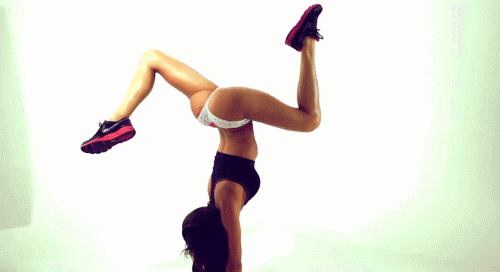 Whatever you want to do in the bedroom is totally your right, obviously. But in the interest of safety and not being a complete fucking weirdo, probably skip the above sex positions. Good luck out there.
Images: Giphy (4); David Hofmann / Unsplash