Your New Fave Beauty Product, According To Your Zodiac Sign
It's a new astrological year, betch! And if you're anything like us, your New Year's resolution to stop using the same concealer you've been swiping on since grade school hasn't exactly stuck. Luckily, spring is the perfect opportunity to revamp your beauty routine. And since we're in our ~Lucky Girl~ era, we figure it's a good idea to look to the stars and use the zodiac to do just that. 
So we've consulted our TikTok astrologists and rounded up the beauty products that are the perfect addition to every zodiac sign's routine, whether you're an adventurous Aries or a practical Virgo. So, sit back and relax—preferably with a cocktail. We're letting the universe take over, because your product soulmate is written in the stars. 
Capricorn: Batiste Dry Shampoo
Capricorn, we know presentation is everything to you, so having a bad hair day is certainly not the vibe. This dry shampoo offers a major volume boost and will get your mane from flat to fab.

Shop it: Batiste Dry Shampoo Volumizing, $12.78, Amazon
Aquarius: Charlotte Tilbury Setting Spray
An air sign like an Aquarius will love the airbrushed look this Charlotte Tilbury setting spray offers. Just spritz it over your makeup and waltz on out that door.

Shop it: Charlotte Tilbury Airbrush Finish Setting Spray, $38, Sephora
Pisces:  La Roche-Posay Gentle Cleanser
Pisces, you're known to be a little, well… sensitive. We know you'll do everything to protect your feelings and your skin by using this gentle cleanser.

Shop it: La Roche-Posay Toleraine Hydrating Gentle Face Cleanser, $16.99, Amazon
Aries: Buxom Lip Plumping Gloss
You're a fiery one, Aries, so you're not afraid of a little spice. This lip plumper will add a little extra oomph to your life as you begin your new season.

Shop it: Buxom Full-On Plumping Lip Polish Gloss, $25, Sephora
Taurus: Super Goop! Sunscreen
Taurus, you're an earth sign, so you love being outdoors. A good sunscreen, like this one from Supergoop! will let you enjoy yourself in the sun without getting scorched.  

Shop it: Supergoop! Unseen Sunscreen SPF 40, $38, Supergoop
Gemini:  Too Faced Born This Way Concealer
There's nothing wrong with being a "two-faced," Gemini, and this Too Faced Born This Way Concealer proves it.

Shop it: Too Faced Born This Way Super Coverage Multi-Use Longwear Concealer, $34, Sephora
Cancer: Rare Beauty Blush
Cancers are known for going from dramatic to lowkey. Try using Rare Beauty Blush for a dramatic but subtle look.

Shop it: Rare Beauty by Selena Gomez Soft Pinch Liquid Blush, $23, Sephora
Leo:  Glow Recipe Dew Drops
No matter the season, Leo, your job is to always shine. Add these dew drops from Glow Recipe to your skincare routine to keep the glow going.

Shop it: Glow Recipe Watermelon Glow Niacinamide Dew Drops, $35, Amazon
Virgo:  Huda Beauty Setting Powder
We know Virgos are perfectionist, which means makeup smudging is a no-go. This Huda Beauty setting powder melts into your skin and gives you a flawless, poreless look.

Shop it: Huda Beauty Easy Bake Loose Baking & Setting Powder, $38, Sephora
Scorpio: Laneige Lip Sleeping Mask
Pucker up, Scorpio, you saucy little scorpion. This Laneige Sleeping Mask will keep your lips soft and plump for whenever you need to use them. 

Shop it: Laneige Lip Sleeping Mask, $24, Amazon
Sagittarius: Sol de Janeiro Brazilian Bum Bum Cream
Sag, we highly suggest using this Bum Bum Cream from Sol de Janiero to show off your smooth skin in your upcoming thirst traps vacation pics. 

Shop it: Sol De Janiero Brazilian Bum Bum Cream, $48, Amazon
Libra: Paula's Choice Balancing Toner
Your symbol is the scales, little Libra, so let's find the middle ground. This balancing toner will ensure your skin stays in perfect symbiosis—no matter how stressed out you may be. 

Shop it: Paula's Choice Skin Balancing Pore-Reducing Toner, $23, Amazon 
Feature Image Credit: Tima Miroshnichenko on Pexels
6 Instagram Face Masks That Are Actually Worth Buying
Whether it's #ad posts by the "influencers" you follow or selfies from those basic bitches you went to high school with, you've probably become familiar with those face masks that have become popular thanks to Instagram. That's right, we're referring to those black masks that are supposed to rip out your disgusting blackheads when you peel them off and the scrubs that look like coffee grinds. And in case you've ever wondered whether the Instagram face masks actually work or if they just make for a #selflovesunday post to distract you from the Sunday scaries, we're here to give you a real review of the masks to let you know which ones are actually worth buying—no spon posts included.

Okay, so the Instagram posts make this mask look like it's a smooth, millennial pink mask and it claims that it detoxifies, brightens, tighten pores, boosts radiance and protects against pollutants. Rest assured, that's mostly is true. After a good 20 minutes, three times a week your skin will be clear, bright, and you'll be asking yourself what a pore is. However, the only downfall is that it doesn't go on as smooth as a lot of the Instagram posts suggest. It's also not really a millennial pink color and it flakes off pretty easily, but those are just small prices to pay for the way your skin will look after consistently using this.

Does this mask rip out blackheads like the popular vloggers suggest? Yes. Does it hurt? Also yes. Are the results completely worth it? Absolutely. We know what you're thinking, another beauty product that's infused with charcoal—must be another fad, and pretty soon we'll go back to only using it to grill hot dogs on the 4th of July, right? Wrong. Activated charcoal helps extract impurities like dirt, oil, and daily grime. When used in this luminizing mask, it rids your face of blackheads and dirt and leaves your pores noticeably smaller and skin noticeably clearer, even after just one use. Simply apply to clean dry skin, let it sit for 20-ish minutes, and peel off. Be sure to examine the mask closely so you can see everything that it pulled out of your face (ew).


Okay, while not technically a face mask, Frank Body's Original Coffee Scrub is the coffee grind scrub that you've seen countless Instagram betches using while they smile and laugh like they're in a Noxzema commercial. But does it actually exfoliate, moisturize and promote collagen production like it claims it does? Yes—skin is left clean, soft, and radiant. And the best part? It smells like you're rubbing a citrusy frappuccino all over your skin.

If you're into looking like a psycho in the name of clear skin, then you should nab a Neutrogena Light Therapy Acne Mask. The mask contains both blue and red LED lights—blue to kill acne causing bacteria and red to enhance collagen production for smooth, wrinkle-free skin. Plop the mask on clean skin for 10 minutes during your nightly Netflix binge, and you'll begin to notice how smooth and radiant your face becomes.

Yet another one of those Instagram face masks that makes you look batshit crazy, Dr. Jart's Hydration Lover Rubber Mask kind of looks like you're wearing a baby blue condom on your face. But it also works, and really fucking well—just like all of Dr. Jart's products. This mask contains a phyto keratin complex to improve water retention (aka help keep your skin moisturized), and green seaweed extract which helps to maintain a balanced skin tone and leaves skin feeling soft and supple.

So you know those bubbly face masks that kind of resemble Freddy Krueger's face? GLAMGLOW's Bubblesheet Oxygenating Deep Cleanse Mask is the best. By far. Wash your face, leave it a little damp, align the sheet mask with your eyes and nose and sit for five-ish minutes as the sheet bubbles (and tickles) your face. When the bubbles subside, peel the mask off and gently massage the remaining serum into your skin. Voila! Glowing, moisturized skin with an unbelievably even texture. You're welcome.
The Hottest Plastic Surgery Trends Of 2018 For People Who Are Obsessed With Their Selfies
If there's anything the selfie kid at the Super Bowl taught us it's that we, as a culture, are slowly turning into an episode of Black Mirror obsessed with our selfies. God, I want to set myself on fire just writing that sentence. According to a recent review by the American Academy of Facial Plastic and Reconstructive Surgery (AAFPRS), 2017 was a huuuuge, very big year for plastic surgery and 2018 is about to be even more lit. Last year, plastic surgeons saw an 80 percent increase of cosmetic non-surgical procedures, like injectables, that are v popular with the Kylie Jenner wannabe crowd twentysomethings. And apparently we can thank "selfie culture" for that. No, seriously. This is the world we live in. According to the AARPS survey, 55 percent of facial plastic surgeons saw patients who wanted to PHYSICALLY ALTER their appearances, I assume so they could look better in their Instagram stories. And that number is only predicted to grow in the new year. Welcome to 2018, fam. I guess it's time to lean the fuck in. And you know what I always say: if you can't beat 'em, join 'em rank the shit out of every procedure so at least people will be able to make a smart, educated decision about the surgical Insta filter they're about to put in their face. And my parents thought I wouldn't be able to use my journalism degree after college! So here is a definitive list of the best and worst plastic surgery trends of 2018:
Plastic Surgery Trends That Are Worth It
The Non-Surgical Nose Job: If you thought we left nose jobs back in the early 00's with Ashlee Simpson, you'd be wrong. Now, instead of doing traditional rhinoplasty, people are using injectables to change the shapes of their noses in a procedure that takes less than 15 minutes, or the time it takes for me to start and end a relationship on Hinge. Plastic surgeons inject a hyaluronic acid filler to smooth out imperfections and help contour the nose shape. The cool thing is the procedure isn't permanent. The injections won't last longer than two years, so like, about as long as it will take you to work out your quarter life crisis and learn to love your nose again.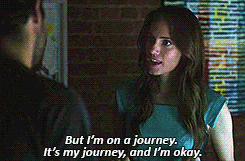 PRP Injections: Platelet-Rich Plasma, or PRP injections have been slowly gaining a cult following for a while now thanks to Kim Kardashian and the thousands of dollars she was paid to promote it for 30 seconds her Instagram account. Remember vampire facials? This is basically the same thing. Surgeons take a patient's own blood and spin it to extract platelets and growth factors. They then separate out the plasma and incubate it for hours to multiply its healing agents before injecting it back into the patient's skin or hair follicles to rejuvenate skin and regenerate hair growth. So basically, some fucking sorcery is at play here, but your skin will look good AF by the end of it. Blessings.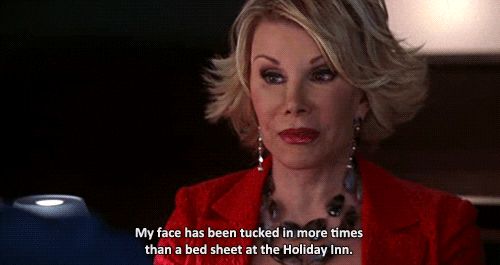 Plastic Surgery Trends To Skip
Eyelid Procedures: Yeah, you heard me right. People are fucking with their eyelids now, because nothing is sacred anymore, goddamnit. Fifty-seven percent of plastic surgeons are saying their patients are not only obsessed with selfies, but also gaining a competitive edge in their careers, which is why kids these days are injecting shit into their eyelids to minimize dark circles and under eye bags. Fucking genius. And while normally I'm in full support of any and everything that will hide the evidence of my hangovers, the fillers they inject into your eyelids only last a year at the most and then you turn back into a pumpkin your ratchet-ass self. Pass. I'd rather just live my truth from the beginning.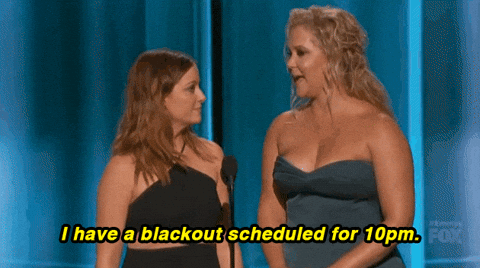 Botox: If you're under 30 and regularly subjecting yourself to this shit, then you need to take a serious fucking look inward. First of all, there's so many anti-aging treatments out there that cost a fraction of what botox does, so save your money for where it really should be spent: the bar. Secondly, YOU ARE UNDER THE AGE OF FUCKING 30. Fucking chill. Just because your mother has low-key been sending you mommy memes and YouTube videos of babies since the day you graduated college does not mean you're actually old and should start injecting shit into your skin.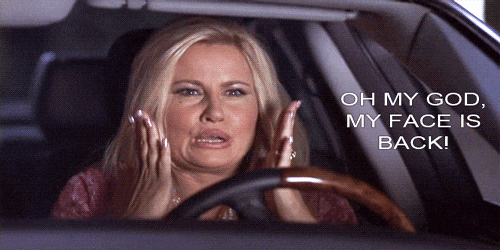 Fillers: Fillers are, like, so 2015 Kylie Jenner last year. Not to mention, this is the year that plastic surgeons are, like, realizing stuff, and that stuff is that your body can actually build up an immunity to fillers, meaning fillers might actually be useless. Whatttt. That's right, it's 2018 people, and by 2019 Kylie might look more unrecognizable than her first driver's permit photo. And we thought motherhood was going to be the craziest transformation we'd see of her. Bottom line: unless you're looking for a v v short-term solution, don't waste your time (and money) on fillers anymore.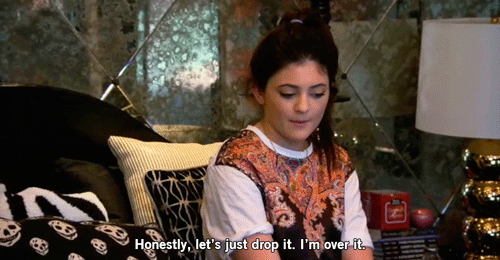 Images: Giphy (5)