Medical-Grade Skincare Is Trending On TikTok—Here's What You Need To Try
Betches may receive a portion of revenue if you click a link and purchase a product or service. The links are independently placed and do not influence editorial content.
Looking to upgrade your skincare routine? It might be time to make the swap to medical-grade products. TikTokers are sharing their skincare journeys with these new high-performance products and the results are dramatic. Think clearer, smoother, and more radiant-looking skin all after just a few months of commitments. While these products aren't cheap, they're worth the investment for those who haven't seen changes with other products that they've spent their hard-earned cash on. Look no further than this list of must-haves for anyone who wants to achieve a flawless complexion. These top-rated products are packed with powerful ingredients to deliver results that you'll love.
For Acne-Prone Skin

This gentle, yet effective, cleanser is perfect for anyone with acne-prone skin. Formulated with 5% benzoyl peroxide, it helps to clear up blemishes and prevent new ones from forming. It also contains gluconolactone, which helps to exfoliate the skin and keep pores clear.
Shop It: PCA Skin BPO 5% Cleanser, $43.50, Dermstore

ZO Skin Health's salicylic acid-based treatment is a must-have for anyone dealing with acne. It works to unclog pores, reduce inflammation, and prevent future breakouts. With regular use, you'll notice clearer, smoother skin.
Shop It: ZO Skin Health Acne Control Pads, $54.66, Amazon
For Dry Skin

If you're looking for a moisturizer that will leave your skin feeling hydrated and supple, look no further than Epionce's Intensive Nourishing Cream. It contains a blend of antioxidants, vitamins, and essential fatty acids that work together to repair and protect the skin's barrier.
Shop It: Epionce Intensive Nourishing Cream, $120, Amazon

This hydrating serum is packed with hyaluronic acid, a powerful humectant that can hold up to 1,000 times its weight in water. It also contains Proxylane, a patented ingredient that helps to support the skin's matrix and improve overall texture.
Shop It: Skinceuticals Hyaluronic Acid Intensifier, $88, Dermstore
For Oily Skin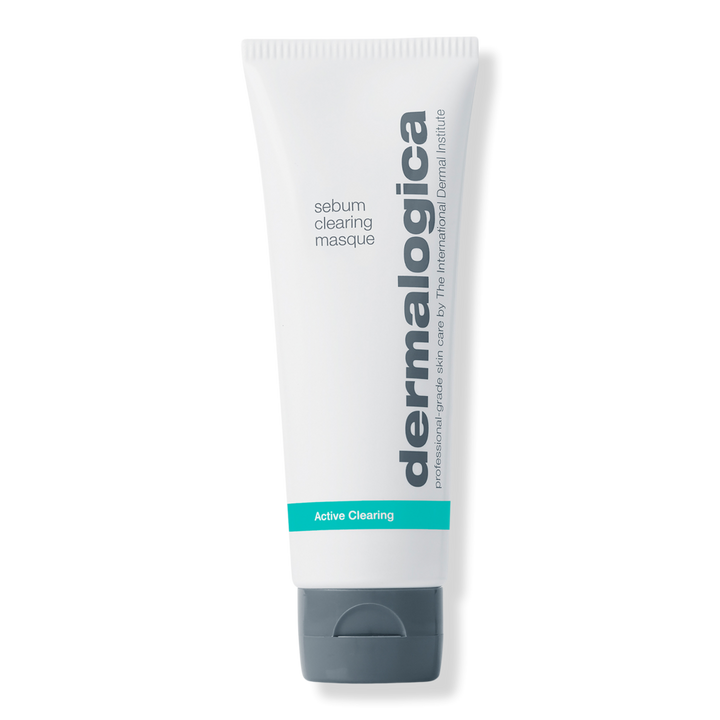 Dermalogica's sebum-busting mask is perfect for anyone dealing with oily, congested skin. It contains salicylic acid, which helps to exfoliate and unclog pores, as well as kaolin and bentonite clays, which help to absorb excess oil.
Shop It: Dermalogica Sebum Clearing Mask, $54, Ulta

This gentle exfoliating scrub is perfect for anyone looking to improve skin texture and tone. It contains glycolic acid, which helps to remove dead skin cells and stimulate cell turnover, as well as polishing crystals to help buff away dullness.
Shop It: Neostrata Glycolic Microdermabrasion Polish, $75, Dermstore
For Combination Skin

iS Clinical's cleanser is perfect for anyone who wants a deep clean without stripping their skin of moisture. It contains a blend of gentle surfactants, as well as chamomile, which helps to soothe and calm the skin.
Shop It: iS Clinical Cleansing Complex, $45, Dermstore
For Dull Skin

This eye cream is packed with antioxidants, peptides, and vitamin C, all of which work together to brighten and smooth the delicate skin around the eyes. It also contains caffeine, which helps to reduce puffiness and dark circles.
Shop It: SkinMedica Instant Bright Eye Cream, $92, Dermstore

iS Clinical's potent serum is perfect for anyone looking to improve the overall health and appearance of their skin. It contains a blend of glycolic, salicylic, and lactic acids, as well as botanical extracts and antioxidants, to help reduce the appearance of fine lines, wrinkles, and hyperpigmentation.
Shop It: iS Clinical Active Serum, $144, Dermstore
For Anti-Aging

This at-home peel is perfect for anyone looking to achieve a brighter, more even complexion. It contains a blend of alpha hydroxy acids (AHAs) and beta hydroxy acids (BHAs), as well as caviar lime extract, which helps to exfoliate and brighten the skin.
Shop It: Lancer Skincare Caviar Lime Acid Peel, $97, Nordstrom

SkinMedica's retinol-based treatment is perfect for anyone looking to improve the overall texture and tone of their skin. It contains a blend of retinol and antioxidants to help reduce the appearance of fine lines, wrinkles, and hyperpigmentation.
Shop It: SkinMedica Retinol 0.25 Complex, $57.60, Amazon
For Sun Protection

This tinted sunscreen compact is a game-changer for anyone who wants the convenience of a touch-up sunscreen without compromising on sun protection or skin-perfecting benefits. It contains a blend of physical and chemical sunscreens to provide broad-spectrum protection against UVA and UVB rays. What makes this product unique is its innovative tinted formula, which blends seamlessly into the skin to provide a flawless, natural-looking finish. It also contains a patented BioShield technology that helps to protect the skin from the blue light emitted by electronic devices like your iPhone, laptop, or tablet.
Shop It: SkinBetter Science Sunbetter Tone Smart 68 Sunscreen Compact, $65, SkinBetter Science

This top-rated sunscreen is perfect for anyone looking for broad-spectrum protection without any added fragrances or harsh chemicals. It contains 9% zinc oxide and 7.5% octinoxate, which work together to provide excellent protection against UVA and UVB rays. This sunscreen is also non-comedogenic, meaning it won't clog pores, and it's suitable for all skin types, including sensitive and acne-prone skin. With its lightweight, sheer finish, it's perfect for everyday use under makeup or on its own.
Shop It: EltaMD UV Clear Broad-Spectrum SPF 46, $41, Dermstore
5 Stress-Fighting Skin Care Products That Do Wonders For Your Face
---
It takes a lot of patience, effort, and internal seething to act as heartless as Kourtney Kardashian. I know this because I try like, really fucking hard to only provide one-word answers to any question and mask any sign of emotion at all times. I give her so much credit for perfecting this act despite having three kids with a mentally unstable and alcoholic ex-boyfriend sleeps with Insta thots on the regular. All hail Kourtney Kardashian.

Regardless of how much I put on this little public façade, the second I'm behind closed doors, I am 1,000% Britney Spears circa 2007. Being in your 20s means becoming a workaholic (possibly also an alcoholic) while remembering to eat solid food before five consecutive tequila shots and turning off your straightener before leaving the house. Anxious is basically my middle name at this point, and if you didn't know that, all you'd need to do is take one look at my face to figure it out. At least my outside matches my inside, right? Some rich smart CEOs probs know of this struggle all too well, so here are fab skincare products to help hide your stress so you don't fuck up your ex's car with an umbrella.
For skin that manages to fuck up when all shit hits the fan, this serum calms down redness and swelling to prevent future breakouts. Glossier understands that junk food and that unpleasant moment right before our time of month are literally sabotage, and this serum is specifically formulated to stop your skin's biggest triggers. The super lightweight water-to-gel formula gets rid of excess oil and absorbs into your skin to drastically strengthen your cells.

The bags under my eyes will def be the death of me, literally. I look like a corpse if I'm not layering a shit ton of eye cream, especially after all the sleepless Saturday nights I've had in the past seven years lately. This is an instant brightening and hydrating eye cream that has a cooling effect and leaves you feeling wide awake. It de-puffs your eyes so you look refreshed and smoothes your eye area for makeup application. The formula is also free of oil and fragrance, and full of peptides that counteract against stress and lack of sleep.

The intense moisturizer is clinically proven to reduce signs of stress, including fatigue, dehydration, and blotchiness. Honestly, anytime something says it's clinically proven, I'm sold. I won't ask questions. This product is infused with roses and some other good-smelling stuff that detect signs of stress before they happen and help promote immediate recovery so you don't break out.

For a super quick and relaxing remedy after a long night of drowning your sorrows in wine, apply these pre-soaked moisturizing pads onto your eyes for about 10 minutes. They're composed of anti-stress and anti-fatigue ingredients to help soothe, hydrate, and massage your under eye area. Turn off your phone and listen to like, Mozart or whatever before taking them off and gently rubbing the excess serum in.

This is like, meditation in a bottle tbh. The product promotes sensory therapy, which is supposed to work wonders after a light application on your pressure points. When you're two seconds away from throwing your computer against the wall at work, apply two drops of this on the back of your neck, inner wrists, temples, and earlobes. A tingling sensation will occur (so, no, you're not going crazy) and soon, your bottled-up tension and stress will evaporate. This also works as a sleep aid and helps with migraines, so who the hell needs yoga when you've got this?

Images: Katerina Radvanska / Unsplash; Giphy; Glossier.com; Sephora (2); Nordstrom; Estée Lauder;
This Is When It's Time To Throw Out Your Eyeliner, Mascara & Other Makeup
While it can be tempting to hold onto your makeup products like you hold onto the idea that your goal body weight is actually achievable, consider this your wake-up call. Hoarding mascara from three years ago isn't just cluttering up your dirty makeup bag. It's cluttering up your life. Which in turn, is cluttering up your entire aura. And making you fat.

Anyway, expired cosmetics can at best cause irritation, and at worst, infections/death. Jk about death. (Maybe.)
Here's the basic makeup shelf life for each of your items so you know when TF it's time to say goodbye.
1. Powder Products

That means blushes, bronzers, face powders, and even shadows. These bad boys stay good for up to two years. Probably longer than most of your relationships put together, so on that note, congrats on your ability to commit to something.
2. Eyeliner

Both liquid and pencil stay fine for up to one year. But if you get pink eye (uhhhmmmmmm ew?) throw that SHIT AWAY. I shouldn't have to say that, but IDK, I'm willing to be that some of you are pretty dumb. No offense.
3. Mascara

You have six months with mascara before it turns into a goopy mess, or gets clumpy, or starts collecting bacteria. Or black mold. Which causes cancer. Just kidding. (Maybe.) Basically, when your mascara dries out or starts giving you perma-spider lashes, it's time to chuck into the trash and never look back.
4. Lip Products

Some say that you have as little as one year with lip products, but if you don't use them regularly and keep them in a temp cooled zone, one and a half years is chill. This goes for lipstick, liner, and gloss.
5. Liquid Foundation And Concealer

You have two years to finish your face makeup before it goes bad. For most people, going through a bottle of foundation before it expires in two years shouldn't be very hard. But like, use common sense. If your foundation starts looking goopy and is hard to apply, or separates, get rid of that shit.
6. Brushes

As long as you're diligent about washing your brushes, they can last a pretty long time. But if the bristles are falling off and your dog has chewed the handle, it's time to consider buying new ones. Don't be poor.
How To Actually Clean Your Makeup Brushes So Your Skin Doesn't Hate You
Makeup comes as second nature to a betch. We eat, sleep, and breathe it with our fave beauty vloggers and celebs. We put a new face on everyday using only the best of the best and yet, they say we're not artistic. My face isn't in the MoMA so, let's be real. Who's the one that really doesn't know what great art is? Puh-lease. We spend forever and a day in Sephora (or on their website, same shit) looking for the next Urban Decay palette and figuring out which brush will make our contour look 10x better. A million brushes and dollars spent later seems a little ridiculous—there's no need to keep buying new brushes. Here's food for thought, when was the last time you actually washed a single brush? I get it, like, we already have to wash our comforter, barely worn jeans, and now, our fucking makeup brushes, too. Life is so hard. Then, we wonder WTF we're not doing right that we keep breaking out. I'm assuming weekly alcohol binges and cheat days don't necessarily help but, neither does bacteria build up. Vom. Do yourself a favor and grab your brushes right now, because you def needed to clean them like, yesterday. You gon' learn today, betch.
How Often You Have To Do This Shit?
The answer may surprise you (or not): pretty fucking often. Foundation, concealer, contour, blah, blah, blah, all those facial brushes need to be washed at least once a week. So, yeaaah, you've been fucking up big time for awhile now. It's okay, though. It's never too late to start treating your face with the respect it deserves. Doing this will get rid of oil, bacteria, and nasty shit you don't want to blend on your face.

For brushes you use around your eyes, that's a bit more flexible, so you can wash those about twice a month. All others should be fine if you wash them at least once a month. IDK, if this sounds like too much already, just do this shit while drinking alone, Netflix-binging, or something.
How To Wash
There are a few different methods you can use to wash your brushes. The cheapest and most convenient is using lukewarm water and unscented soap. Whoa, like, who would've guessed. You'll want to gently massage the bristles and put a very small amount of soap in-between. Wash thoroughly, or until you stop seeing all that shit seeping out of them, because trust me, you'll see it. After, gently press the bristles with a towel. Reshape and let them air dry while they hang over a sink or counter. This is probs best done on a Sunday night, just before heading into bed so you have fresh brushes to work with for the following week.
1. Sephora Collection, The Cleanse: Daily Brush Cleaner. If for whatever reason soap and water require too much effort (hi), luckily our heaven on earth, aka Sephora, has several cleaners to make you feel less like a peasant. This oil-free cleaning spray in particular can be sprayed on whatever brush you want to clean so you can reuse it as much as possible. Made with fruits and other healthy shit I don't feel like listing, the spray will condition and protect the bristles from wear and tear. Since it dries super quick, you can do this before you start your makeup for a clean slate.

2. Sephoa Collection, Dry Clean Instant Dry Brush Cleaner Spray. I quote, "like a dry shampoo for your brushes," this thing is basically a life-saver because we all know what dry shampoo does for our own hair. This spray doesn't require water so, you honestly don't have to get up off the couch to use this. Just apply directly and watch it dry instantly. Since it literally takes seconds, feel free to use it daily instead of weekly. Seriously, you don't really have an excuse anymore for not washing your damn brushes.

3. Sephora Collection, Polish Up Silicone Brush Cleansing Pad. For synthetic brushes, you'll want something that really scrubs in areas your hands can't manage. Here's where this cute AF pink glove-thing comes in the picture. It's a cleansing pad that fits in the palm of your hand—probs as close to baseball as you'll ever get—so while your brushes are wet with soap, scrub gently to get all the gross shit off. Just rinse off when you're finished (fucking duh), reshape the bristles to its original stance, and let them air dry off of a flat surface.

If You're Brush Stops Looking Like A Brush:
If at some point in the near future your makeup bristles no longer like a brush but instead like drunk Barbie's hair here:

All the washing in the world won't help. It's probs a sign that you should throw that shit out ASAP and get a new brush. Except this time, try washing and taking care of it, you know? You hardly need to exert energy get off the couch in order to save money, have your contour stay on #fleek, and look hotter than ever. I mean, what other incentive do you really need?

Makeup You Can Sleep In Without F*cking Up Your Skin
I've been hating myself this week because I may have had a whole bottle a glass or two of wine, got carried away (as usual), and then fell asleep. I woke up to Netflix not only asking if I was still watching Friends, but I also woke up looking flawless like a goddamn raccoon because I (obviously) didn't take off my makeup.
TBH, this happens more often not. After a long day of adulting or a long night of too many vodka sodas, all I feel like doing is (maybe) taking off my bra and sleeping until the next century, so remembering to take my makeup off is obviously out of the question. I know sleeping with makeup on is, like, considered the worst crime ever, but guess what: we've all fucking done it. I know you've been casually seeing that guy on the reg, but there's no way in hell you've let him see your face without a full contour. We're all guilty of doing it from time to time and attempting to rock "The Last Night Look" the next day, because the truth of the matter is, we're all lazy AF. We barely have the energy to send a text back as it is, so here's to saying "fuck it" with these beauty products that won't destroy your face for long, lazy nights.

The worst payback of sleeping with makeup on is how badly you can break out afterwards. Like, okay, face. I fucked up. You don't need to be so dramatic. This foundation is v light, so your pores will be able to breathe all through the night if you start to doze off. It provides long-lasting coverage and UVA protection in case you happen to catch some z's under the sun too.

Find a blush made of natural hydrating ingredients that will give your face the perfect flush overnight. The tint can be used with the swipe of your finger, similar to how you'd use your dating app of choice. Although it has great blendability, the creamy texture is also oil-free and lightweight enough that it won't irritate your skin.

This highlighting pen is basically the wand your fairy godmother would use if that shit were real. You can use this to highlight your fave features without looking like you haphazardly threw glitter on your face. It not only gives your face a healthy, natural glow, but when applied to targeted areas, it smoothes out your makeup, reducing mascara flakes, fading eyeliner, and smudged lipstick for a long night out. Bippity, boppity, boo, betch.

Wearing a bold lip out to the club is fun and all—until you're too fucked up to remember to wash your face. If you haven't already experienced this (which I highly doubt), you know your face ends up looking like you have a questionable STD. To wear a bold lip without the hot mess, opt for a stain without a gloss finish so it doesn't smear while you sleep. You can reapply whenever your little heart desires so your lips stay poppin'.


Some eyeliner is better than no eyeliner, whether you can wing it or not. This eyeliner pencil was literally made for a "bedroom" sultry, smoky look that makes you feel like Beyoncé when you wake up. It stays put for more than 12 hours, which means you won't be looking like a raccoon (aka me) when you toss and turn all night.

Sleeping with mascara on is only slightly acceptable if you find one with a formula similar to this. It should not only be waterproof, but it should be smudge-proof as well. This mascara is made to last through the gross shit (i.e. sweat, humidity, rain…etc.) for literally a whole day. Your pillowcase will be saved and you won't rip your eyelashes out one by one in your sleep.
The Best Long-Lasting Lipsticks That Will Stay On No Matter What You're Doing
Any betch who's into makeup will tell you that finding a good lipstick can be a fucking ordeal. Like, first you have to find the right color. Then you have to find a liner that matches, lest you end up looking like Gwen Stefani during her No Doubt days. Then you have to worry about it drying out your lips and will it actually stay on this weekend while you down vodka shots/make out with the first guy in your line of vision/drunk eat a whole pizza? Okay so maybe if you're doing pizza to the face at 3am your last concern is your lipstick, but the point still stands. You need your shit to stick to you like that creepy bro at the bar who bought you a drink. These are the best long-lasting lipsticks—and before you ask, you will not see a certain Jenner's products on this because while they last forever, that shit makes your lips dryer than the Sahara desert.
This lipstick is enhanced with extra pigment for a more intense color that's designed to last for up to eight hours. Honestly, when food and alcohol is involved, you really only need about half that time before you're going to be falling asleep or too drunk to care, so this lipstick is perfect.
It's usually a pain in the peach emoji when a vegan person constantly reminds you that they're vegan, but Tarte Cosmetics is like, the one exception. This satin matte lipstick is created with a hydrating vegan formula that keeps your lips moisturized. Plus, the tip is narrower than a typical lipstick, so when you're trying to reapply after a few glasses of vodka wine, there's less room for error.

​
3. NYX Liquid Suede Cream Lipstick
This cream lipstick dries into a matte finish, but it's waterproof, which is basically another way to say it can hold its own through a night of eating and drinking better than a betch who just turned 21.

​
If you have a favorite lip product that you're not willing to give up on, try lining your lips with the NYX Wonder Pencil. It helps to prevent lip colors from bleeding all over your face so that even if you happen to drink too much and embarrass yourself, you'll look a little less messy in the Instas.

​
This colorless lip base moisturizes your lips and helps prevent lipstick from feathering and cracking if your heart is really set on rocking Koko K (which claims to be long-wearing and promises not to dry your lips out, but is lying).

​