Why Reading The News Nonstop Is Bad For You—And How To Stop The Cycle
These days, my typical morning routine includes Googling whether it's safe to venture outside today and if there are COVID-19 cases on the rise, followed by how much closer we are to discovering if we've found a vaccine, and finally, scouring articles to figure out if there are any long-term consequences of using so much hand sanitizer. And then before I know it, I'm seeking out more of this depressing and potentially negative info, even though I know it's not helping with my sanity. Apparently, there's even a term to describe this kind of behavior: doomscrolling. Merriam-Webster defines doomscrolling as "the tendency to continue to surf or scroll through bad news, even though that news is saddening, disheartening, or depressing." While I truly believe that knowledge is power, too much of anything can be detrimental to one's health. In fact, going overboard with this kind of activity can have negative consequences on one's mental and physical well-being, especially in these scary times.
As tempting as it may be to constantly hit refresh, we don't have to stay stuck in this endless cycle of terror and misery. There is a way out, and that's to cultivate an awareness of this type of toxic behavior and make a conscious decision to press the pause button on all the craziness that surrounds us. Betches spoke with Dr. Eudene Harry, Medical Director for Oasis Wellness and Rejuvenation Center, and Dr. Braulio Mariano Mejia, Medical Director of The Palm Beach Institute, specializing in Addiction Medicine for insight into what's going on with our minds and bodies. They shined some light on what to do when the line between staying informed and ruining your mental health becomes blurred and offered us some tactics on how to set healthy boundaries between us and the news.
How To Recognize When The News Is Making Us Feel Bad
It can be difficult to attribute our emotions directly to the news—oftentimes we'll think our negative feelings are caused by another trigger. While some types of news can conjure obvious and overt reactions, other times, the feelings can be subtle, like a slow and steady burn. Dr. Harry says that it's important to check in with yourself frequently. She says, "ask yourself if you felt bad after watching the news. Did you feel motivated to act or did it leave you feeling drained and paralyzed? Are you feeling depressed, anxious, overwhelmed, helpless or apathetic? Is your heart racing? Does breathing feel shallow, fast and not enough?" These are the sorts of physiological cues she says you should pay attention to.
Additionally, Dr. Mariano Mejia says that there are behavioral and physical attributes that could be indicative of your emotional upheaval: "ask yourself, 'have I been alienating my loved ones?' 'Have I been isolating from those I care about?' 'Have I been neglecting my family?' 'Have I been slacking at work?' 'Have I been having difficulty sleeping?' 'Has there been a change in my libido/sexual interest?' Have there been any recent weight fluctuations?'" All of this matters and it's important to take time for yourself to answer these questions honestly. It's like going through your own personal mental checklist (it may also help to run through this aloud or write it down). If you're answering yes to any of these questions, both doctors advise that you should regroup and recharge, stat.
Actually, It's About Introspection
Dr. Mariano Mejia says that the first thing to understand about doomscrolling is that it speaks to our human nature more than anything else. "This phenomenon is more about the need to have some introspection. It's about recognizing the need to stop for a second and ask yourself if repetitive news (fake or not) is necessary to get you emotionally or professionally where you want to be."
The most important thing here is to determine whether this information will make a difference in the comfort of your professional and personal life. If not, you can do without this unhelpful stimuli. Dr. Mariano Mejia points out that we as humans have a tendency to obsess over minute things in our lives and that "in order to reduce our anxiety we act on these obsessions, which is a compulsion. In this instance, this compulsive behavior to turn to the media/news evolves into a negative pattern, thus creating a temporary relief." However, if this tendency is left unaddressed, he says that it could lead to negative consequences.
The good news is that conversely, with this same ability, you can train your brain to be a more healthy and balanced one, simply by actively recognizing that you have the power and opportunity to step away from anything you deem to be detrimental to your health. "Introspection is more than simply taking a break. It requires you to stop, evaluate your conscious thoughts and feelings," Dr. Mariano Mejia remarks. "This process allows you to look at yourself in order to determine what is most important in your life." In a nutshell, think of it as an empowered  "you do you" sentiment.
Why You Have All Of These Feels

Dr. Harry says, "your body and mind are being overwhelmed, and as a result, it is constantly activating the stress response system over and over again, continuously flooding the mind and the body with stress hormones." She references clinical studies from Harvard and the National Library of Medicine in which voluntary participants were shown stress-inducing/upsetting pictures and videos. Though they were not actually subjected to the turmoil itself, ultimately, viewing upsetting material resulted in the body exhibiting the same level of heightened stress and trauma. She surmised from these studies that if these feelings are left to fester, it can result in an increased risk of developing psychological trauma, anxiety disorders, depression and other psychological conditions—as well as physical ailments such as heart disease and diabetes.
Ok, So I Feel Like Sh*t—How Do I Make It Better?
Say it with me: SELF-CARE. It's not just some buzzword we see hashtagged to death on Instagram, but a real and positive force that can truly help with our health and wellness if we embrace it.
sometimes self care is an everything bagel

— KATY PERRY (@katyperry) May 16, 2020
Create A Routine That Works For You
Dr. Mariano Mejia says that this can include proper hygiene, good nutrition, regular exercise, and healthy social interactions. Examples of healthy social interactions include interactions that limit exposure to negative people, maintaining positive conversations, and setting boundaries with your peers.
Quality Over Quantity
Dr. Harry says to rely on a trusted news source and consume it for 10 to 20 minutes a day to gather the highlights. Additionally, Dr. Mariano Mejia says that when you do seek out information, stick to factual content rather than opinion-based or emotionally biased stories. "A reliable source such as the CDC (Centers for Disease Control and Prevention) would be recommended, but on a limited basis," he explains. "Official information as it changes and advances on the studies of the novel coronavirus will not take place minute to minute or even hourly," so there's no need to obsessively hit that refresh button. He says you can also control how you remain informed by simply consulting your medical professional/family physician. Additionally, you can consider using free resources, such as Nurses On-Call. 
Timing Matters
Dr. Harry advises against starting and ending the day with your news (lol, I suppose I'm doing this wrong then). She says, "you want to set (an optimistic) tone for your day. Starting it with potentially startling content gives you no time to prepare how to approach your day. As a result, you have immediately engaged your stress and vigilance systems that can leave you feeling edgy, jumpy, and anxious all day."
Get Your Beauty Rest
This is related to timing and is why we shouldn't be inundating our brains with news before going to bed at night or when we get up in the morning. "Sleep is incredibly important; however, it will be difficult to get sound slumber if you've just flooded your brain with potentially traumatizing information and events," says Dr. Harry. It can be a lot to process and can leave you tossing and turning all night. She adds, "it's also another sure-fire way to increase your risk of inflammation and illness."
Unplug And Shut Down All The Things
The world can be a Debbie Downer sometimes, so if you want to chill out for the day and decompress, absolutely go for it. "That's completely okay—take even a few days and go offline from all media to regain your equilibrium. No one knows how you are feeling but you. So find out what works for you," offers Dr. Harry.
You Are Not Alone
Through these challenging times, it's understandable to seek out answers and information to decrease feelings of anxiety and to feel more comforted. However, you don't have to go it alone: "don't hesitate to seek out support. If you are still having difficulties and can't seem to break free or reduce the negative impact on your own, you may benefit from seeking the assistance of a trained and qualified mental health professional," says Dr. Mariano Mejia.
Peace And Pleasure
Yeah, we've all been baking to reduce the stress, but it keeps us cooped up inside. Dr. Harry says that as an alternative, why not consider simply getting outside (safely) for an easy means of decompression? "This may be a nature walk, time with friends via a social distancing/park gathering, meditating, yoga/breathing deeply, and art (painting/pottery), etc." It's about actively distancing yourself from the negative cycle and instead, doing something that brings you peace and a sense of calmness. "More importantly, these activities give your body the chance to recover and reset," she explains.
Doomscrolling may sound like some apocalyptic reckoning, but just remember that ultimately, you have the power to wield control over your thoughts and feelings. We may all be susceptible to this zombie-like trance of doomscrolling, but all it takes is a gentle reminder to pull ourselves out of this rut, turn off our smart devices and the news, and reconnect with elements of our humanity that fill us with joy. We got this.
Images: Bongkarn Thanyakij / Pexels; Chrishell Stause / Instagram; Diet Starts Tomorrow / Instagram (2); Tenor; Katy Perry / Twitter
2 Tricks To Help You Actually Keep A Work/Life Balance While WFH
I have internet, so I'm aware that there are countless articles with tips and tricks to maintaining a healthy work/life balance while working from home during a pandemic. To be fair, I'm not adding anything particularly innovative to this conversation when I suggest you simply do the following: (1) Declutter your space in order to calm your mind. (2) Embrace the storm of this uncharted territory. Where I believe I can help is in the execution.
When your email inbox seems to be mercilessly replenishing, while your phone is ringing off the hook, and you've had to cancel yet another socially distanced Bumble "date" (read: sweaty walk on the Westside Highway) because your boss just asked you to get her something "ASAP," take a deep breath. Fight the impulse to take a nap, and instead, clean out a closet. I'm not suggesting you organize your entire home by category, à la Marie Kondo. Only one little closet.
Take the Amazon packages from three years ago that you meant to return, the old puffy jackets with the stuffing bubbling out of the frayed seams, the enormous air purifier you actually love but never remember to buy replacement filters for, and donate them if they're salvageable. Throw them away if they're not. That's it! But most articles fail to delineate exactly why having a well-organized closet will center you, and it wasn't always abundantly clear to me either until I found myself working from home. 
The next time your emails flood in quickly enough to drown you, or you've forgotten what it sounds like when your phone is not ringing, or your toddler vandalizes your home and calls it an "art project," roll out your neck, stretch your hamstrings (pro tip: don't skip this step), walk over to your newly decluttered closet, twist the knob, step inside, and shut the door behind you. Enjoy the dark. Savor the scurrying footsteps and slightly panicked calls outside the door as your boyfriend or children search for you, never suspecting the "junk closet" has enough space for you in it. You have found peace, and all you had to do was take a moment to organize your closet. Namaste. 
Me: WFH is gonna be amazing
*2 days later*
Working from home is a SCAM all our bosses know we have LITERALLY NOWHERE TO BE so they can bother us at ANY TIME

— Betches (@betchesluvthis) March 18, 2020
Thanks to Instagram's #inspirationalquotes, we all know that storms in life are merely tests. But we are never told how to pass!  
The next time you're pretty sure your camera angle just showed your whole team that you weren't wearing pants during your Zoom, open yourself up to the storm. Literally. Open weather.com, scroll down below the "daily forecast" to the "breaking news" segment and take note of where those gale force winds are growing stronger. Then unplug. Take a few hours in front of the TV, cook some dinner, read to your kids, walk your dog, or make love to your quarantine boyfriend whom you'd only be casually seeing were it not a pandemic. When you're feeling ready to work again, simply respond to the slew of angry emails by explaining that the storm knocked out your WiFi, apologize profusely for the delay, and get on with your day. Nobody knows where you're working from anyway! Pro-tip: Refer to a tropical storm or hurricane by its proper human name to really sell the story. The storm is your friend. Embrace it.
Working from home during a global pandemic is really just as simple as organizing and embracing. I know the countless articles on this topic are written by MDs and PhDs, and that I am neither of these things. But I did have three really productive days while working from home back in June, so in the national spirit of throwing medical advice and empirical data to the wind, this should be the new authoritative article on the subject.
In all seriousness, I don't presume to know what each of you is going through at work or at home—especially when the two are combined—on any particular day. What I do know is that we all want to hide or unplug sometimes. My only real piece of advice is to try to be gentle with yourself, and every so often, indulge the desire to disappear for a while.
Images: XPS / Unsplash; @betchesluvthis / Twitter
Why I Cut Out Friends Who Don't Take COVID Seriously
"I have some news," my dad tells me on our morning call, "my mother died." 
I immediately stop pouring my coffee and take him off speakerphone. 
"Wait, what?" 
My father goes on to tell me that she passed away earlier that morning in her London apartment and that he would send me the Zoom funeral information when he had it. I then ask my dad the question that I'm sure many of us have been asking a lot more these last few months, the question that can change a 10-minute chat into a 3-hour conversation, the most important question at this time: "Are you okay?" 
"Yeah," he says, "I'm fine." 
Back in November, my dad had to have his leg amputated. There are no words to describe the agonizing fear of waiting for the doctors to give you updates or trying to memorize every word and sound of your parent's voice as they are being wheeled into surgery because, hey, it may be the last time you hear them say "I love you." After three major operations, he has been recuperating and learning his new normal, including walking with a prosthetic. When COVID-19 hit the rehabilitation home where he is currently residing, they immediately followed protocol and shut down. I haven't hugged my dad since my visit to the Bay Area over the holidays and now, when I visit from Los Angeles, I stand outside his window to see him. These last couple of visits, I've wondered, "when will I hug my dad again?" and when a parent loses a parent, it's the harsh reminder that we don't get to keep ours forever, either. 
This pandemic hasn't gotten under control because many believe that doing things such as wearing a mask when around others, staying home, and practicing social distancing will lead to the virus controlling their freedom. Thanks to social media, I've learned that some of these people aren't just people on the internet—some were part of my inner circle.
When a friend asked me what I was doing for the 4th of July, I told them there were many reasons why I didn't feel like being patriotic, but more importantly, I want to see my loved ones without the fear of getting them sick. When I asked this friend what their plans were, they told me they were driving from our state, California, to another high-case state. After reassuring me that they weren't one of those people who don't believe in masks, they stated that they were skeptical about the vaccine based on their own knowledge and research of epidemiology. They then stated the infamous line, "We can't live in fear forever." For the record, this person is not a doctor. 
Now, I am all for questioning authority, but when things are uncertain and peoples' lives are at risk, I am not one to put my opinion and assessment over facts and numbers. I did express to this friend that their decision saddened me, and although I do know they understood where I was coming from after almost losing a parent, I can't be the only one whose friendships have changed or have ended during this unpredictable chapter. 
I compare the decisions we make during this time to drinking and driving. Sometimes people get away with it, so they don't think anything of it. But not getting caught doesn't make it right. Also, what happens when you hit another car and hurt someone, let alone kill them? What if your decision hurts or kills the passengers in your car? Then your judgment, your decision, has severely impacted someone else—how can someone be okay with this?   
I spent my July 4th by the pool alone, drinking piña coladas, FaceTiming friends and family, and of course, watching everyone's Instagram stories. The IG stories I saw ranged from people secluded among small groups in other parts of the United States, to the politically slanted "If you don't celebrate today, it defeats the purpose of this day" rants. I unfollowed and deleted and kept telling myself a quote a former colleague once told me: "Don't you just love when the trash takes itself out?" 
It's incredible how a pandemic that has asked us to simply wear a mask when around others and to stay home has revealed who people truly are. My grandmother hid from the Nazis during World War II in Holland when she was eight years old. Having a gas mask was a luxury—it meant you had a chance at survival. She didn't have an iPhone to FaceTime her parents that she was separated from. I mean, hell, she didn't even have food—she lived off tulip bulbs. But sure, tell me more about how wearing a mask is infringing upon your life.
I am by no means an angel. I've received a speeding ticket, sent 3am text messages that deserve to be a meme, and, not to sound like a 45-year-old divorcée, I can be fun. I don't take myself seriously, I'm the friend who keeps Twister and mini-beer pong on hand "just in case" and has a small reputation of being a bit of a wild child. I have managed to safely hang out with a couple of friends outside at a distance, and I will be the first to acknowledge that minimal human interaction is vital to everyone's mental health. However, when you don't choose to care about others' health, others' lives and your behavior is delaying many of us from being able to simply hug our loved ones again, amongst the many other long term effects it could have on others, then yeah… 
You and I have nothing in common. 
Images: Ranta Images / Shutterstock.com
Why Are People Posting On Social Media Not Social Distancing? An Investigation
We're more than two months into quarantine as we help flatten the curve to get back to life as we knew it, but I've been seeing some alarming stuff on my Instagram. Like many of us, I haven't seen my friends since March since I'm practicing social distancing,  but as I'm sitting in my house, I tap through Instagram stories filled with rule breakers. I'm talking about influencers traveling across the country, people attending in-person baby showers, barbecues on the lake, and college parties. Honestly, like…what the f*ck? 
For me, this is personal. My sister, a NICU nurse, has self-isolated herself from her 11-year-old son since March because of this pandemic, but you're going to go to a party because you don't want coronavirus to ruin your social life? Ok.
NY Governor Cuomo recently said that the current rise of cases in New York City is not from essential medical staff and other workers, but rather, from people who are leaving their homes to shop, exercise, and socialize. Trust me, I don't want to be self-quarantined any more than you do, but we have to do our part if we ever want to get the f*ck out of here. But what I don't understand, though, is if these people are being selfish and not following social distancing rules, why would they then take a video of it and post it on their social media for everyone to see? I'd think that if you were doing something wrong, you would want to hide it, not flaunt it.
And this, my friends, is the beginning of our investigation: Why are people posting on social media and not social distancing? Many DMs later, I found some social distancing rule breakers and interviewed them, and also consulted a psychologist for her expert analysis. Let's meet the culprits.
The Influencers
Since the start of the lockdowns, influencers have been in hot water over quarantine, putting out half-assed apologies on their IG stories (hi, Arielle Charnas), and that trend is not stopping. We've all seen the jokes about how quarantine is going to show us who's really a natural blonde, but a number of influencers are taking that really seriously. Recently, Bachelor alums Amanda Stanton and Corinne Olympios broke quarantine to drive hundreds of miles to get their hair done, and they're far from the only offenders. We came across one influencer, Serena Kerrigan, who posted an entire video explaining to her followers that she's getting her roots done (still not an essential service in New York). She says "don't come after me" at the end of this video, but people came nonetheless. 
no words pic.twitter.com/4bBRH7dgJF

— gays0n (@feelinlikeclunt) May 10, 2020
Kerrigan chose to break social distancing rules because, as she explained via Instagram stories to her 56.4k followers, she "hates seeing her roots on camera." Forget the pandemic, people dying, and families that can't say goodbye to their loved ones, this girl's roots are showing!
Dr. Purvi Parikh, allergist/immunologist with Allergy & Asthma Network, warns that the problem with meeting up with others (whether it be for a roots touch-up or to have a picnic in the park), even when following social distancing guidelines, is that "you do not know where the person has been in the last two weeks, who they have interacted with." And while you could take certain precautions, like, as Dr. Parikh explains, asking "if they or anyone they have been in contact with has traveled, had fever, tested positive for COVID-19, or had other symptoms like a cough in the last two weeks", she ultimately concludes, "anytime you interact with anyone, it is a potential risk." 
Kerrigan says in the video that she made sure the woman who came to do her hair had been isolating, and that they were going to wear gloves and masks and "take all the necessary precautions".  Amanda Stanton and Corinne Olympios, however, did none of that, and photographed themselves at a salon with not a single mask or glove in sight.
While neither Olympios nor Stanton outright encouraged their followers to go on an interstate quest for highlights like they did, and Kerrigan ends her video saying, "I'm not saying that you guys should do this, I just am going to do it", the reality is that influencers can make an impact, positive or negative, on their followers with every post. While they may think that they're only putting themselves at risk by bending the rules, they may unknowingly be swaying their followers to break social distancing rules too. This is why we can't have nice things.
The College Senior
I want to note that no one is winning in this pandemic. We're all making the best of this awful situation. It really sucks for college seniors who are not able to experience their last semester together or walk at graduation—these are moments they'll never get back. But as tough as it is, it's not an exemption to break social distancing. 
Earlier this month, a group of more than 20 graduating seniors all traveled down to their college in South Carolina. Allie and her friends have been posting their last hurrah escapades, and I asked her why she was posting, knowing that the rest of the country is following quarantine guidelines and watching closely to call out those who aren't. She tells me, "At first I didn't post and I would get annoyed seeing my friends' posts. I saw more and more posts of kids hanging and completely ignoring the rules. As the weeks went on, I started breaking the rules too because it made me so angry seeing everyone else having fun. We went down to school for the last two weeks because we didn't want graduation to be taken away from us." 

Among close friends, she felt peer pressure to resume the life she had. Allie says, "I wanted to maintain my social life as we all just wanted a sense of normalcy. I felt a strange pressure to show my followers that I was having fun with our happy hours despite being in quarantine. I wanted to keep up with the quantity of content that I was used to posting before the virus." 
While Allie didn't receive any backlash personally, she feared that people were talking behind her back. Hypocritically, she adds, "In my group chat with my close friends, we would discuss different people's Instagram and Snapchat stories and bash them if they were not social distancing. We were definitely judging anyone who was not being 'safe' by our standards."
The Twentysomething
Max's Instagram stories consist of him and his friends playing soccer on a turf field, even after NJ parks have been shut down. He tells me that the police were called to the scene to ask them to leave on numerous occasions, but they kept returning. 
While he doesn't feel pressured to post about his illicit games, this New Jersey native tells me, "Soccer for me is a way to decompress, long before quarantine happened. For my mental state I need my escape, and if people have a problem with that I honestly don't really care."
Dr. Parikh says, "Soccer and other sports where there can be physical contact are especially risky, as usually people are spreading the virus more when physically exerting themselves—breathing heavier, coughing or sneezing outdoors, and from physical contact with sweat, there is potential for viral spread." She recommends wearing a face mask while playing sports, maintaining a 6-foot distance, and if you're meeting friends in a park, "do not share blankets—everyone will likely need their own." But above all, she says, "I would avoid sports with close physical contact."
With an invincible mentality, Max has no intention to stop going to the field with his friends. "If I get it, I get it. If I die, I die," he says. "I'm not blaming anyone else. We all know the risks and potential problems that arise. I'm so sick of everyone on Instagram acting like they're suddenly a doctor now trying to tell me how to live my life."
What The Psychologist Says

Dr. Joanna Petrides, a licensed clinical psychologist and assistant professor at Rowan University School of Osteopathic Medicine, specializes in anxiety and human behavior. She acknowledges that everyone is trying to maintain a sense of normalcy right now, and says, "These three people highlight the desire to engage in activities which energize us, lift our spirits, give us a boost in self-confidence, and help us to find comfort and balance in our lives while publishing it on social media. Unfortunately, these same activities are also putting ourselves at risk and there is a really selfish undertone to the reasoning behind it. Many of the people breaking the restrictions have stated they accept the consequences of becoming ill and were willing to take that on."
It's fine, I guess, to not have any regard for your own life, but that mindset conveniently ignores the real reason we social distance: to protect others. "What we're not hearing is the awareness that they could unknowingly spread this illness with tragic effect after indulging in a seemingly minor activity," Dr. Petrides warns.
"If enough influencers start breaking the rules or enough people post about social gatherings on social media, then people are going to think, 'If they're doing it, why can't I,' which was exactly what Allie said was her influence," she adds. "And when this level of groupthink is present, the desire to fit in with others we relate to can lead to additional problematic decisions and inadvertent consequences of spreading infection when it could have been prevented."
So, given the potential for blowback, why go out of your way to expose yourself breaking the rules? Dr. Petrides weighs in: "As we saw in the example of the influencer, there's a push to not let down followers and still try to stay relevant." She also considers, "being controversial is one way we stay on followers' radars."
"Lastly, there's also a desire for attention during an isolating period like what we are currently experiencing. One way to express, demonstrate, and minimize effects of loneliness and facilitate discussion is through posting on social media and spurring reactions in others. Even if it creates negative attention towards the person posting, it still satisfies our need for attention and provides a break in the loneliness felt."
Am I the only one who feels like we're all in one giant group project, where some people are doing all the work to flatten the curve while others just goof off? That, and the whole "do anything for attention, even if it's negative attention," feels very middle school. But even though some people care more about likes, replies, and keeping up with their social media presence than potentially getting COVID-19, and a pandemic with over 100,000 deaths and counting in the United States isn't shaking them, I did find that a lot of people are with me, doing good and following the rules while helping others however they can. Hopefully, we will continue to course-correct the rule breakers to get back to the 2020 we originally anticipated.
Images: Drew Dau, Chichi Onyekanne, United Nations COVID-19 Response / Unsplash; feelinlikeclunt /  Twitter
This Is Why Your Dreams Are So F*cked Up In Quarantine
Just this morning, I jolted wide awake wayyy before my alarm clock went off. I'd had the craziest dream: I had a boyfriend who was not only really cute, but smart in a hot way, rich, and super attentive but not clingy. After an initial moment of joy (the coronavirus thirst is real), I quickly realized that this dream guy was, in fact, a dream. Let's be honest, none of us have ever met a man that checks all these boxes. Turns out, I'm not the only one having f*cking bizarre dreams during the COVID-19 pandemic. The other day on the Diet Starts Tomorrow podcast, Betches co-founders Aleen and Sami sat down with Dr. Deirdre Barrett, professor of psychiatry at Harvard Medical School, to discuss why our dream lives have gotten all screwed up from being stuck at home.
Why Our Sleep Is Being Affected
One huge reason we're all experiencing weird dream lives is because we're literally just sleeping more, according to Dr. Barrett. With state-wide lockdowns and shelter-in-place orders in effect, people are spending way more time at home than usual, allowing for random naps, late wake-ups, and passing out on the couch at 8pm from your fourth glass of wine (not judging—it's always Wine Wednesday in quarantine). While we tend to have ramped-up anxiety dreams during any crisis, the extra sleep we're getting is pretty unique to this pandemic. According to Dr. Barrett, "In most crises, people end up getting less sleep, but in this one, the average person is getting more because of the lockdown orders and the furloughs from work and school. I think we go around a little bit chronically sleep-deprived and we're catching up on sleep right now, and so we have a big rebound in our dream life."
What Types of Dreams People Are Having

If you're having crazy anxiety dreams rn, you're not alone. Turns out, if you're freaked out about the virus IRL, it's likely that you'll be angsty in your sleeping state, too. For a lot of people, these panicky dreams don't mention the virus outright, but manifest their anxiety in metaphorical—and freaky—ways. In a recent survey, Dr. Barrett found that bug-themed nightmares are the most common metaphor for corona (so yeah, murder hornets are def coming for you during your next REM cycle). She thinks part of this is due to our use of the word "bug" as slang for a virus, "but in a deeper sense, just lots of little things that cumulatively could kill you make them a good metaphor." Great, time to go lock all of my windows.
If you're on the more ~practical~ side (I'm talking about you, fellow quarantined Virgos), you might have dreamt that you actually had the virus. Waking up thinking you're spiking a fever or having trouble breathing is really common, Dr. Barrett says. Virus dreams can also be super absurd (the dream sequence in The Big Lebowski, anyone?). One woman in Dr. Barrett's survey reported dreaming that she looked down at her stomach and saw blue stripes on it, which dreamt-up medical authorities had told her was the first sign of COVID-19.
While the average person's dreams are all wack because of general pandemic anxiety, many healthcare workers are having the ultra-realistic trauma dreams often experienced by combat veterans. "They're dreaming literally about a patient who's dying of the disease," says Dr. Barrett. "They're trying to put a tube down them, or the respirator is malfunctioning, and they're trying to save their life and failing. That's the nightmare, based on something that happens to them by day." Because real life isn't stressful enough for those on the front lines—they get to relive their daily pressures in their dreams too.
What These Dreams Mean

Apparently, these same types of dream patterns happened post-9/11. Like our present-day healthcare heroes, Dr. Barrett recalls, "the first responders and the people who'd barely gotten out of the lower floors, and the people working in Manhattan…were the ones that had nightmares as bad as wartime." At the same time, average people were anxiously dreaming about the attacks, like most of us are dream-panicking about the virus today.
And as if they weren't already suffering enough, lots of patients with COVID-19 are experiencing fever dreams. One patient in her survey dreamt that doctors were replacing his lungs with robot parts (can you imagine??). "In the dream, he was ascribing his trouble breathing to the fact that he didn't know how to use the robot lungs," says Dr. Barrett. She says this type of fever dream likely signifies the patient's "fear of having to be on a ventilator, but maybe just more broadly, a fear of what was happening in his lungs."  
Fever dreams can also make normal things totally terrifying. While I wouldn't mind a dream transporting me from my couch to a tropical island, for patients who are stuck in hospital rooms, changes in location can be completely jarring. According to Dr. Barrett, fever dreams "are probably not from a normal state of sleep. We think they're sort of a hybrid of sleeping brain states, waking brain states, and just completely abnormal brain states all superimposed on each other." Fever dreams can throw you for a loop and completely blur the lines between hallucination and reality.
How To Get Better Sleep

If you've been experiencing especially weird dreams since quarantine started, Dr. Barrett recommends keeping a dream journal in your spare time (which you now have plenty of). After all, Twilight was based off of a dream Stephenie Meyer had, so who knows? You could soon be sitting on the next hit YA series. And if you're not sleeping well, crazy dreams might not be the only culprit, so be sure to practice good sleep hygiene. We all love a good late-night Netflix binge, but the blue light from our precious phones screws with our bodies' ability to produce melatonin, a sleep-inducing hormone. Dr. Philip Westbrook, former president of the American Academy of Sleep Medicine, recommends that we put down electronics an hour before bedtime so our brains can relax. Establishing a pre-bedtime routine also helps our bodies destress and prepare for a good night's sleep. This might include taking an Epsom salt bath, flowing through a few yoga poses, or doing your daily skin care routine. Do whatever helps you destress, but avoid getting too emotional. Texting your ex is NOT an appropriate activity when turning in for the night (or ever, tbh), because it makes your body produce stress hormones. 
The pandemic won't last forever (right, Dr. Fauci?? Please confirm), but know that you're probably not the only one in your group chat having crazy dreams. For now, focus on making changes that will help you get better sleep, and you'll hopefully avoid further dreams about wasp attacks or unrealistic boyfriends.
For more insight from Dr. Barrett, listen to the Diet Starts Tomorrow episode below.
Images: Andrea Piacquadio / Pexels; Gregory Pappas / Unsplash; Giphy (2)
It's Okay To Be Worried About Your Weight During Quarantine
Content Warning: This content may be triggering to those struggling with eating disorders
Like any anxiety-riddled modern bitch, I experienced a nauseating thought-spiral upon hearing that I would be required to stay in my home for the foreseeable future. One of the first thoughts I had was, "Oh no, does this mean I'm going to gain weight?" quickly followed by, "Omg wtf is wrong with me? People are dying and I'm worried about getting stretch marks." Then the spiral stopped right there, and I decided to be happy, carefree, and at peace.
Lmao, obviously joking. I swan dove into a whirlpool of panic about my morals, self worth, thigh gap, and death. But once I was able to take a step back, take my meds, and talk to my therapist, I was able to see that worrying about my body image during this crisis doesn't make me a bad, superficial person who doesn't care that people are dying. In fact, as someone who has struggled with eating disorders since the age of 12, my reaction makes a lot of sense.
I first stumbled upon anorexia when I gave up sweets for Lent in the sixth grade and every teacher, classmate, and their WASP mother at my small town Catholic school commented about how much weight I had lost. The attention felt good, like I had accomplished something. But with that high came what never leaves you after struggling with an ED: the fear that you will lose the control you currently have over your weight. What would people say—or worse, think—then? Being thin was *my thing* now, and being in control of that was my number one priority.
Fast forward to now. What to do you know, it's Lent season again and I'm obsessing over my body. Life comes full circle.

Since 6th grade, I've always had anorexia in my back pocket, at the ready for when I'm in a bad place and need something to fixate on to distract myself from other emotional trauma (lol). I've made people worry about me, obsessed over making sure certain bones stay jutting out, and at most times become unable to recognize what my body actually looks like because all I see is "too big" or "gross." Body dysmorphia is a real bitch. I've dabbled in bulimia but have never stuck with that one for long because I'm not very good at throwing up (brag), and at one point was doing this thing where I'd chew food for the taste and then spit it out, but I'm not really sure what to even call that. But no matter what tactic I'm using, and even at times when I can recognize that my weight is healthy or I even feel good about my body, one thing remains the same: I'm absolutely stressed the f*ck out over the idea of gaining weight.
Years of therapy has taught me that everything I do—even the destructive, irrational sh*t—I do for a reason. And while eating disorders ultimately make me miserable, they also bring me temporary solace. They make me feel like I'm in control. I mean, ironically, they are in control of me and my happiness, but they make me feel like there is a small portion of my daily life where I am calling the shots. I am in charge of the amount of calories that I take in, the amount that I burn through exercise, the amount I release by vomiting. And so, it's no coincidence that my eating disorders are at their worst when I feel out of control in other aspects of my life.
Being confined to your home with no real end in sight is overwhelming. Knowing you can't go about your daily routine is stressful and anxiety-inducing. Not having access to your usual workouts and being stuck inside where you're likely to eat and drink out of boredom is scary, especially if you struggle with an eating disorder, or any type of body image issues. These reactions are normal. Unusual circumstances are going to trigger the ways in which stress manifests for you, and that's okay.
Also, hear me out, it is possible to be upset and worried about two things at once. You can be anxious about your weight and disturbed by death at the same time. I would argue that many of us worry about both of those things at once on the regular. So, during a pandemic, it's reasonable for both of those concerns to intensify.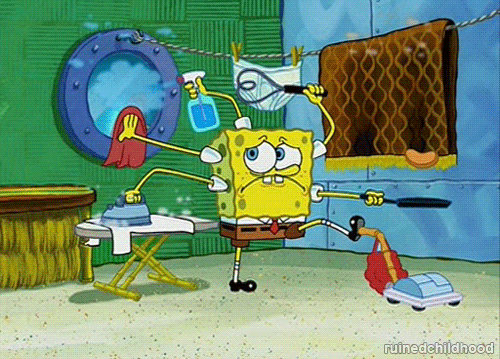 Live footage of me finding multiple things to be anxious about at once.
It's also important to note that the obsession with body image isn't something *you* came up with. A little bitch I like to call society can be blamed for this one. I don't think I need to launch into an entire TED Talk about how society has brainwashed us into valuing our looks and a certain standard of beauty, as we're all pretty familiar with that concept and Jameela Jamil has me covered there. So, being concerned about your looks during a pandemic is also just a reaction that you have learned to prioritize.
Being triggered by stress doesn't make you shallow. Wanting to have control over something while the world as you know it collapses around you doesn't make you a self-centered bimbo. And having an eating disorder certainly doesn't make you weak or materialistic. It all makes you a human living in this dumb world, reacting to things like anyone else.
If you're struggling with an eating disorder, call the National Eating Disorder Association hotline at 1-800-931-2237.
Images: Giphy (2); i yunmai / Unsplash
The Scientific Reason We Can't Stop Making COVID-19 Memes
I don't know about you all, but the only thing keeping me in relatively good spirits these past few days has been the high quality of memes being churned out on the internet. It might have something to do with the fact that this is one of those rare times when the entire word is experiencing the same thing at the same time, and there is a tremendous amount of solidarity online. But apart from providing a much-needed distraction from the news, these memes serve a more crucial role in maintaining our sanity than we might realize. (Take that, every parent who's ever said creating memes is not a real job.)
Is a symptom of corona virus having thick luscious juicy ass cheeks cos I'm scared guys

— chris (@Chrissyinglis) March 16, 2020
Laughter has been considered an effective form of therapy for years, and we've all heard sayings like "laughter is the best medicine." But how does this work exactly? I spoke with Ugur Üngör, a professor of Holocaust and Genocide Studies and someone who has studied the functions of humor during and after genocide, to get to the bottom of why humor really can help people cope with dark times.
"The key objectives of humor in a crisis involving death(s) are criticism, community, and coping. The latter is very important for people to get through a crisis. Ask anyone who's been through a war or genocide and they'll confirm that a certain friend with a good sense of humor is what kept them alive at times," said Professor Üngör. Now, the coronavirus is no World War, technically speaking, but the lasting socioeconomic damage this pandemic has caused on a global scale is already being compared to the recession of World War II. 
1920: Alcohol is prohibited

2020: Liquor stores are an essential business during a national health crisis

— RubMor (@QBruby) March 28, 2020
Also similar to a war is the grim fact that thousands of people across the globe are dying. So is it really okay to make jokes about the virus that is killing so many people? I spoke with Dr. Thomas Ford, Editor In Chief of the International Journal of Humor Research about the benefits of using humor in stressful situations. He conducted an experiment in which participants completed a role-play exercise in which they imagined they were about to take a stressful, difficult SAT-like math test. Participants in the first condition read four cartoons and four jokes that poked fun at math tests and math in general. Participants in the second situation saw cartoons that poked fun at their own math ability. And finally, participants in the last group did not read any jokes or cartoons while anticipating taking the math test. They found that participants whose cartoons poked fun at the math test reported lower feelings of anxiety compared to participants in the other two conditions. 
These findings suggest that engaging in not just any humor, but humor that trivializes the immediate stressor, is particularly effective at mitigating the negative effects of that stressor on anxiety. This is perhaps the reason why social media is flooded with memes that explicitly talk about coronavirus, as opposed to shying away from joking about the virus directly.
"I think it's very healthy to joke about the coronavirus," said Dr. Ford. "Stressful events such as the coronavirus can adversely affect our mental health, producing anxiety and depression. Humor invites us to reframe those stressors playfully and non-seriously, providing a way for us to see them as less threatening and scary, which consequently mitigates, at least momentarily, the experience of emotional distress."
HOW TO AVOID CORONAVIRUS‼️

– Don't let them in
– Don't let them see
– Be the good girl you always have to be
– Conceal
– Don't feel
– Put on a show
– Make one wrong move and everyone will know

— eca (@WlDOWBYTE) March 16, 2020
At first, I was surprised, even annoyed to see the amount of Coronavirus content that was there online. But eventually, I started feeling solace knowing that other people were also feeling the same way. And with no end in sight, the uncertainty of the situation adds to our anxieties, leading to the creation of some truly entertaining content that is bound to stay for a long time. So don't delete that COVID-19 meme folder on your phone—it's called documenting history for future generations, look it up. 
Images: Charles Deluvio / Unsplash; @WlDOWBYTE, @QBruby, @Chrissyinglis / Twitter
13 Ways To Make Money During Social Distancing
Thanks to The Virus That Must Not Be Named, waiters, bartenders, performers, caterers, and planners (just to name a few) are currently scrambling to make ends meet after vast and devastating layoffs. To put it bluntly: This is a scary f*cking time, especially if your normal source of income is either no longer as lucrative as it used to be or completely nonexistent.
Still, all hope is not lost. Not only is this a great time to work on rewatching all of your favorite shows and mastering the art of drinking alone, but you can also still make money while doing both of those things. With extra time being spent at home, this is the perfect time to work on that side hustle or even find a new career. But like, how, right? 
Turns out, there are plenty of ways to make extra money from the safety of your home, even now, when the entire world is one giant dumpster fire. From tutoring to selling sh*t, crafting to copywriting, there's something for anyone who is in need of some extra cash.

1. Tutor A Subject
If there's anyone who needs help right now (and is willing to pay), it's parents who are trying to teach/help their kids from home now that most schools are closed. From business to accounting, kindergarten to college level, tutors are iin high demand for pretty much every level and subject out there, and a noticeable surge in virtual learning tools and tutors has been seen. Whether you post an ad on Facebook, Instagram, or Craigslist and find students that way, or you sign up and work with a company (such as Tutor.com, AimForA Tutoring, or FlexJobs), education work during this crisis is proving to be a successful way to make ends meet.
2. Teach English
Don't feel fully skilled enough to teach a subject, but have a great grasp on the English language (and a college degree)? Consider teaching English to children virtually. The demand for English teachers has seen significant growth since quarantine started, and with websites like VIPKid, you can make up to $22 an hour. Plus, the lesson plans are already created, you don't need to spend hours prepping or grading, and the built-in training is simple and comprehensive. Teachers have noted with the extra time at home, more and more parents are booking their children for extra classes, so if you're in need of some income, this could be a solid solution. 
3. Teach A Skill
Maybe you don't lean so much on your academics but you have tons of other skills you excel at. Whether it's building a brand on social media, perfecting the art of contouring, editing photos in Facetune, cooking easy and healthy dishes, or even the advanced skill of sending a flirty text, there's probably someone out there who would love to learn from you. Join a site like Skillshare (which is free to use and create classes on) to earn money from home by doing what you're good at. 
4. Sell On Poshmark

With extra hours spent at home, now is the perfect time to purge your closet and sell all your clothes that no longer spark joy. While we're not physically running around spending money, we've all upped our online shopping game immensely. Clear some space in your wardrobe for all of the new sh*t you're buying and make some money while you're at it. The key to selling on sites like Poshmark, Facebook Marketplace, or Craigslist is a mixture of good photography and cross-marketing. Utilize your Insta skills and take both flat lays and styled shots (in natural lighting and with clean backgrounds, of course), and post your shop to your social accounts, utilizing hashtags such as#poshmarkcloset or#reseller to get the most clicks and purchases.

5. Put Those Calligraphy Skills To Use
The second I got engaged, about four different people sent me calligraphy books and kits because I INSISTED I was going to do all of my own lettering for my wedding. I didn't, obviously, because I'm lazy. But, I do still have all of the supplies. Even if your closet isn't full of how-to books, there are plenty of free online resources that will teach you how to write beautifully. Practice, create an Instagram, then start selling custom goods to anyone looking for place cards for their future receptions or signs for their homes.
6. Become A Virtual Assistant
Despite some industries floundering in this pandemic, others (such as tech, e-commerce, and entertainment) are booming and are in need of help more than over. Virtual assistances (VAs) do everything from checking emails and handling internet research to making/canceling travel plans and posting to social on behalf of the individual/company. In addition to the perk of working from home, high earners can make anywhere from $50-$100 an hour from sites like Zirtual and Upwork.
7. Start Freelance Writing

Always dreamt of having a byline or finally want to put your communications major to use? Freelance writing is a great way to earn some extra cash (or even a full-time wage). Between blogging and copywriting, plenty of companies and publications seek contributions on a rotating or continuous basis. Reach out to your fave publications, search Twitter for "contributor" or "freelancer" posts and hashtags, or utilize sites like Upwork or Freelancer to find work.
8. Technical Freelancing
It's not only writers who can cash in on freelancing. If you're a pro (or even somewhat competent, tbh) at things like graphics, programming, marketing, design, or editing, there's someone out there who can probably use your skills. Just like with freelance writing, technical freelance involves a decent amount of negotiating and organization, but once you get it down, you can make bank. Upwork, PeoplePerHour, Demand Media, and Freelancer are all great options, well as well posting to your social accounts saying you're available for any family and friends who are looking for the services you can provide.
9. Utilize Google Adsense
Have a blog? Sure you do! You're a millennial! In all seriousness, now's the perfect time to get to posting regularly, if you're not already. If you do have a blog, it's time to start making money off of it. Google AdSense is easy to use and even easier to make money with. A simple string of code puts the ad on your site, easy peasy. The ads are easily optimized for both desktop and mobile, which means you don't really have to do sh*t other than sell out and have ads on your website. WHICH IS SOMETHING WE ALL SUPPORT!
10. Craft Some Sh*t And Open That Etsy Shop
Whether it's tees for the bachelorette parties that will hopefully be in full swing in a few months, signs made from your Cricut, or even simple greeting cards made on your computer, if your love of crafting didn't leave you after your sorority days, then you might just be able to cash in. Tons of brides (and just random people looking to spend money) are shopping and looking for personalized items. Pull out your art supplies or your wine glass vinyl mockups, rewatch The Office, and get to crafting. 
11. Maintain Fan Pages And Social Accounts

You're already scrolling through Instagram all day anyway, you might as well get paid for it. Companies (especially e-commerce ones) always need social media marketing to stand out. With a website like Fiverr, you can post your services for free and coordinate with buyers safely and easily. Whether you build someone's social presence, utilize their current one to grow their following, or just make a plan for general upkeep, businesses and influencers need help posting and keeping up with customers, and they'll pay good money for someone to take that off their plates. 
12. Become An Amazon Associate
The entire freaking world was already shopping on Amazon. According to my very stressed-out brother who works at HQ, however, "it's like Black Friday meets Christmas and it's miserable" right now. Cash in on the fact we're all sitting at home and compulsively giving into our online shopping addictions. If you have any sort of social following, you can make money by advertising for Amazon. Basically, you just post on Instagram or Pinterest about dresses or home goods or whatever it is you find in an Amazon hole and BAM! You make money. Mind you, it's not a ton of money if you do the bare minimum like I do (I average about $50 a month and I put in maybe an hour of work every 30 days), but if you utilize your resources, you could be pretty set.
Basically, it works on commission. According to the site, you "get up to 10% in advertising fees and earn advertising fees from Qualifying Purchases, not just the products you advertised." Here's a breakdown of the full return on the different categories. You have to apply to become an associate, but the results come in quick and you can immediately start earning upon approval. At the moment, no notice of halting the program in light of coronavirus has been released, despite Amazon taking longer than normal to ship non-essentials. 
13. Sell Your Stock Photos
Considering we all take a million and one photos any time we go anywhere, odds are you have some sunsets, mountains, and snowy landscape shots sitting in your storage. Turns out, selling your stock photos can make you some good money (and then you're like, a real photographer). Submit your photos to a place like Shutterstock to earn money each time the picture is downloaded. Even simple pictures of everyday objects like pencils and hangers do well, which means there's an endless supply of sh*t for you to photograph and cash in on. 
So, put down that smashed bag of Southwest Airlines pretzels you found at the bottom of your purse and get to earning. Turns out you might actually still be able to afford some real food when this pandemic is over. 
Images: Mimi Thian / Unsplash; Giphy(4)