Muting People Saved My Mental Health
For me, it all started with Myspace's Top 8. In case you're not in your mid to late twenties (b*tch), this was something we cave people were subjected to back in the early 2000s. On your Myspace page where you posted songs by the Black Eyed Peas and wrote your boyfriend's name with a whole bunch of "<333333″s, you also ranked your favorite people on the platform. In order. For everyone else to see.
Now, your Top 8 wasn't to be taken lightly. It was the space reserved for your BFF, your S.O., the popular girl you were trying to befriend, and your sibling who bullied you into putting them as number four. Got in a fight? Your frenemy got demoted or removed from the coveted section. Holding hands with someone new? They quickly got a spot on the leaderboard. It was the first big way to say "here's who I like, here's how popular I am, here's how I'm judging others", and we lapped that sh*t up.
When the Top 8 first started, it didn't make me feel bad, exactly — it was more like a game. Find ways to level up, get on other peoples' boards, gain virtual popularity. It wasn't until my first serious boyfriend moved "Anna" (a random girl from one of his classes) in front of me that social media made me feel like a failure for the first (and definitely not the last) time in my life.
Myspace's Top 8 was how I found out Tyler (name hasn't been changed — hi, Tyler) was cheating on me (again, for the first, but not the last time). It led me on my first ever stalking spree, where I stared at photos of Anna, comments from Anna, likes by Anna all night, trying to figure out what she had that I didn't (besides boobs). Trying to figure out why he wanted her when I was already in love with him. That night led me on a decade-plus long cycle of "feel inadequate, stalk, feel more inadequate, stalk." It's some sick, masochistic sh*t, and while I'd love to say that's all changed in the 10 (okay, 12) years since I sat on my twin bed, crying to P!nk… uh, no such luck.
Social media has absolutely obliterated my self-confidence, my happiness, and my mental health. And it's probably done some serious damage to yours as well.
Now, it's pretty much common knowledge that social media is basically the devil. It's addictive. It's dividing. It leads to depression, anxiety, and unrealistic perceptions of beauty. It gives you sh*tty posture. But, in case you didn't watch The Social Dilemma on Netflix like everyone else (which was probably suggested to you by a friend on, yup, social media), here's the deal. From the National Center for Health Research:
"25% of 18-25-year-olds report having some form of mental illness. Depression is particularly increasing among girls. Some researchers have suggested that this increase in mental illness is, at least in part, connected to the rise of social media use among adolescents and young adults."
Wait, there's more. From Child Mind Institute:
"Teenage and young adult users who spend the most time on Instagram, Facebook, and other platforms were shown to have a substantially (from 13 to 66%) higher rate of reported depression than those who spent the least time … A 2017 study of over half a million eighth through 12th graders found that the suicide rate for girls increased by 65%."
Last one for good measure, from McLean Hospital (affiliated with Harvard Medical School):
"In recent years, plastic surgeons have seen an uptick in requests from patients who want to look like their filtered Snapchat and Instagram photos."

So yeah, social media is super bad, which is something you — just like I — probably already knew. But, much like tequila or texting exes, that hasn't stopped any of us from continuing to pose, post, and peruse. And while once upon a time we had to log onto a computer and search for people to investigate, algorithms are now so smart, they decide who we stalk, when we scroll, and how long to keep us engaged.
It wasn't until my wedding in 2018 that I actually realized how bad Instagram made me feel. After waltzing down the aisle, I quickly found myself jealous of engaged friends — total hater sh*t, I know. But after spending so long planning my own event, the post-wedding blues hit hard, and I hated seeing other people post their ring selfies and bachelorette photos. I was sad, I was uninspired, and I was jealous. So on a whim, I muted every single one of my engaged friends. Every. Single. One of them.
I didn't want to unfollow or block them, because frankly, that felt too b*tchy, and besides, it's not like I didn't like them anymore. I just didn't like seeing them so blissfully happy. I felt empty after spending months DIYing and pinning and being the center of attention. It wasn't exactly rational, but their posts made me feel bad and instead of just continuing to feel bad, I decided to stop seeing their posts altogether. And just like that, my love of muting became a way of life.

After the engaged people came the girl in my friend group everyone else loved but I couldn't stand. Then competitors in my field who always seem to be outpacing me. Then the really hot people. Then some of my best friends whose posts just kinda… annoyed me. I used to think muting someone was the ultimate "f*ck you," but now I look at it as a means of self-preservation. I'm literally under no obligation to look at someone's over-filtered picture. And just because I muted someone, it doesn't mean I hate them IRL (unless, of course, I do). It just means their posts — at least at the moment — make me feel bad. So why not just stop looking at the thing that makes you feel like trash?
Nowadays I mute freely and without thought. Sometimes it'll be just for a brief period of time and then eventually I'll go back and unmute, and other times friends are muted for the long haul. It doesn't really matter, because the worst case is I forget and I never unmute someone. And like, not to quote Kourtney or anything but, "there's people that are dying" — not liking someone's weight loss picture isn't the end of the world. Ultimately, social media made me feel fat and lazy and untalented and jealous. Now, I've whittled down my timeline so it makes me feel, well, not good, but at least a little less horrible.
While it's not a cure-all — muting is an avoidance tactic, and you need to do internal work to figure out why what you're seeing makes you feel inadequate — it's definitely a way to not only make social media more enjoyable, but take back a little control over what you view. It's not a great idea to just stopping looking at things that make you feel uncomfortable altogether. It's important to see differing political views and perspectives to form rounded opinions. But social media doesn't have to be a way of life and if looking at your sorority sister's abs a month after giving birth makes you feel sad, then bon f*cking voyage. Mute away.
Granted, deleting your social media accounts would probably make you feel the best and free you from the toxic cycle, buuuuuut if completely nixing your handles feels off-brand, editing your timeline is the next best thing. The next time you look at someone's post and feel that pang of inadequacy, instead of spiraling down into a vat of self-pity, just mute them! Before long you'll probably find that your self-confidence has risen and your screen time report is slightly less embarrassing. Win-win.
Images: Kate Torline/Unsplash; Giphy (3)
Being A Beauty Pageant Queen Ruined My Self-Confidence
Imagine walking into a horribly fluorescent-lit room wearing nothing but a tiny black bikini and six-inch heels. Now imagine standing in this room while your legs shake in front of a panel of six judges whispering to each other and asking you to turn around so that they can, and I quote, "take a look at your cute little butt."  That was me at the ripe age of 20 at my first ever National Miss Israel Beauty Pageant audition, and even though it was seven years ago and I totally wouldn't say no to having that cute butt again without having to ever do a single squat, I still cringe at the thought of that moment.
Let me first make something very clear. I had no idea my mom signed me up for the pageant. I was having lunch with a friend like a normal 20-year-old with nothing to worry about besides what to order for dinner that night, when I got a text message from an unknown number: Thank you for submitting your pictures to the National Miss Israel Beauty Pageant. Please arrive at the Israel Woman's Magazine headquarters at 6 am tomorrow for the first in-person audition. No makeup please. 
I called my mom to tell her about it, because I call my mom to tell her about everything, and she confessed that she was the one who sent in my pictures. I wasn't happy with her, but I also wasn't as annoyed as you'd expect. That's because deep down, I knew it had been a dream of hers to be a beauty queen since she was young, and I couldn't blame her for wanting to fulfill that dream through me. What else do you have kids for? Still, I didn't think beauty pageants were up my alley and was actually against the idea of women prancing around like puppets in their underwear on a stage in front of thousands of people. My mom was so deeply disappointed – the kind of McDonalds-is-closed-at-3am-when-you're-drunk disappointment – that I agreed to give it a shot, repeating in my mind the one mantra that calmed me down: There are a thousand other girls trying out, what was the chance that the judges would choose me?

But a month and a dozen auditions later, they surprisingly did, and I became 1 of 20 official contestants in the National Miss Israel Beauty Pageant. I decided that since I had made it that far already, I should at least see where this competition could take me. Plus, a small voice inside wanted to know if I was good enough. 
When Pageant Boot Camp started, I saw a side of the competition I wasn't expecting. The girls were sweet—we laughed at the judges behind their backs, gave each other advice on boys—and to my surprise, some of them were actually smart. There were girls of every type—tan, black, white, redheaded, short, tall—but I remember wondering why they were all so thin. One complimented my wavy hair and summer tan, another offered me half of her banana. I couldn't believe my competition didn't treat me like competition at all. Maybe this beauty pageant thing wasn't so bad after all?
At first, once I let myself get into it, pre-pageant life was amazing. Three times a week, I brushed aside the idea that I was being constantly judged for my looks, the snide remarks from our pageant director when I ate a bagel one morning, the ridiculous rule of having to wear six-inch heels to every meeting, even if that meeting was literally on the beach. Instead, my new friends and I tilted our heads back in laughter as club owners welcomed us into the hottest parties with open arms, as fully booked restaurants somehow had a table waiting for us, as every pair of jeans I ever slipped on seemed to be made for me. I remember thinking one evening as I was applying red lipstick, If I don't have this anymore, what will I have left? What a sad young woman I must have been to think that youth is power, that I had nothing else to offer. But back then, when the pageant was just beginning, I wasn't sad. I felt strong. I felt unstoppable. I felt irresistible and powerful, like I had control.

Until everything started spinning out of control. As the day of the competition was getting closer, I was growing father from the girl I used to be. Instead of barely making it onto the elliptical and watching the Kardashians on my phone as I gradually turned down the resistance like I used to do, I threw on my sports bra and leggings twice a day, grabbed a coffee ,and drove to the high-end aerobics studio the other pageant girls went to. Transform your body, the sign on the door of the studio promised. Every morning I took the one-hour Body Pump class, and in the evenings I did half an hour of cardio before my one-hour Pilates for Beginners workout. I glanced over the girls in my classes, comparing my legs to theirs. I had never previously worried too much about my weight besides being mildly alarmed one time after inhaling nine Krispy Crème donuts and thinking I probably shouldn't do that again for a while. Yet as each day passed, I squinted into the aerobics class mirror and watched my body shrink. I cut out carbs completely, ate small portions, and weighed myself before and after every class.
Three times a week, we spent hours with pageant directors practicing our walks, changing in and out of designer clothes, posing for photoshoots. I remember wondering if the hairdresser thought I was a real-life doll when he styled my hair aggressively, pulling it back as if my scalp couldn't possibly feel the tug of the brush. They measured our body fat weekly, the inches on our arms and legs, stomach, ankles (did you know that's a thing? Neither did I). I felt so insecure, never pretty enough or thin enough, and always judged by people that didn't care about me as a person, only about me as a body. 
One night, when we were at pageant rehearsal, I was changing into my second dress when one of the male stylists kept calling me to come out and show him what it looked like on. The problem was that I couldn't get the stupid thing up over my head because it was literally a toddler's size and full of sparkly silver sequins. The stylist grew impatient and all of a sudden, he barged into my dressing room! Frantically, he helped pull the dress over my naked body, and although he barely looked at me, I had never felt so violated. I wanted to scream at him, to tell him I was a human, not a Barbie. I wanted to tell him that he couldn't just open the door to my privacy whenever he wanted to. But instead, I didn't say anything at all.
I had lost myself. The competition drained the innocent cheeriness out of me and instead filled me with anxiety and insecurity. Being considered one of twenty of the most beautiful girls in Israel is supposed to be a confidence booster, right? Wrong. I was totally losing it, comparing myself to the women around me and constantly feeling like I wasn't enough.

The day of the competition, 19 other contestants and I stood in a black bikinis and six-inch heels, this time in front of 5,000 people. The tiny hairs on the back of my neck stood straight up, and looking out into the audience wanting nothing more than to run backstage, I realized that this competition had ruined my self-confidence. In three months, I went from a girl with deep aspirations like going to college and writing a book, to a young woman who doubted her own value. I didn't win a single title, let alone pageant queen, and at that moment I decided to cut the pageant world out of my life for good.
Today, our culture has opened its doors to untouched ad campaigns (thank you, Aerie!) plus size models, and body positivity. But there is no doubt that we have a long way to go. If you scroll through Instagram, you'll still see Victoria's Secret models in lingerie smiling seductively, Instagram influencers making kissy faces, some of the most amazing celebrities butchering their bodies with FaceTune. I'll let you in on a little secret I learned from experience: they're more insecure than you think.
I miss the girl I was before the pageant. The carefree way she'd laugh and throw her hair up in a messy bun. It's taken years, but I finally feel like I'm slowly getting her back. If there's one lesson I've learned from showcasing my half naked body on a pageant stage, it's this: the only one that can validate your beauty is you.
3 Ways Weed Has Improved My Sex Life
Here's a very millennial humble-brag you probably haven't heard before. While the idea of having sex without alcohol was once unthinkable, I now don't like drunk sex much at all—but think high sex is completely incredible. In college (and I know I'm not alone in this), sober sex just never really happened. Being drunk nearly constantly didn't help, but sex seemed like something you could only unlock after getting drunk and brave enough to meet up with someone. It was a way to pull back from the experience and be less aware of what was going on. I know this all sounds a little tragic, but hey—not all of us had fairytale romance in college. I had fun, I'm fine, and I currently have a very different approach to sex.
Weed, for me, works in the exact opposite way from alcohol. It makes me more present, and more aware of my body and my partner (such a hippie, I know). You don't necessarily want to get super baked, but a decent THC buzz could take your next sexual experience from meh to lying in bed for hours thinking about how good it was (while furiously ordering Postmates, le duh). Note that I'm only speaking from experience here. If you want a more scientific rundown of how THC and CBD can affect your body, try this one from Allure. Here are some ways I've (personally) found that weed can improve sex.
Me telling my boyfriend I want sex: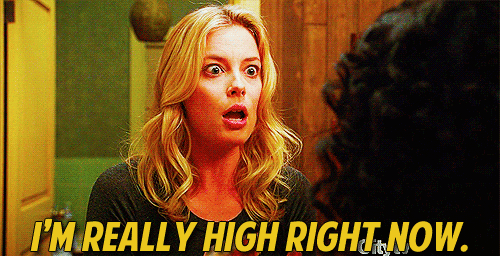 Disclaimer: If you know you don't like weed, this article is not a suggestion that you try it anyway. In fact, if you don't like weed, then I actively recommend that you avoid it—especially in a sexual situation. This should be a mandatory inclusion with every piece of internet advice, but it's way too rarely said: Just because something works for me doesn't mean it will work for you.
Weed Tames Anxiety
Once again for the people in the back: if you know that weed, in fact, heightens your anxiety, get out of this article. Just go. Now, allow me to paint a picture for my remaining stoner friends. You know the feeling that sets in when you take a couple hits after a stressful day? How all the sh*t stressing you out a minute ago now seems way more manageable? Yeah, whatever strain of weed gives you that blissful, chilled-out head high, that's what you'll want to smoke before sex. And that's doubly true if you struggle with anxiety.
Now that I'm in my 20s, I feel stressed out for 95% of every day. The possibilities for anxiety are endless: if it's not a work problem, then something at my apartment is falling apart or I haven't done laundry in three weeks or my diet is a disaster—you get it. It can be really hard to get that running list out of my head when I'm trying to relax and enjoy some much-needed stress relief (my euphemism for sex). I've literally called off sex mid-session because I couldn't stop thinking about whether I'd paid my credit card bill. When I get a little high before sex, I don't have that problem.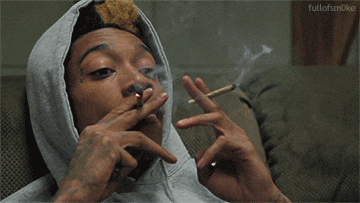 So carefree.
Weed Heightens Your Senses
This goes back to what I was saying about weed making me more aware of my body. The only time I get a comparable bodily feeling is when I'm doing yoga—and like, actually focusing on the breath and my body the way I'm meant to, not just zoning out and copying the people around me. Weed makes me realize how little I typically focus on the moment, and reminds me to appreciate how f*cking fun touching each other can and should be.
I also find that the heightened sensation makes me clearer on what exactly I'm in the mood for, and how I want to be touched in that moment. It's always a great sign when the person you're having sex with checks in to make sure they're getting you off, but sometimes I totally choke up when faced with a "is this ok?" or "do you like this?" I've squeaked out "yeah, fine" a few times before I'd even really thought about it. When I'm high, I know exactly how much I like the way I'm being touched, and find myself asking for it if I want something different.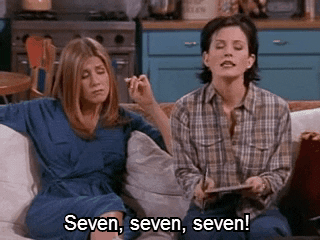 Look at Monica. She knows exactly what she wants.
Weed Makes You More Confident
Again, I speak only for myself. I know many people who enjoy the physical effects of weed, but become decidedly more timid after smoking. For me, (some) weed works a tiny bit in the way I used to use alcohol. It's a way of lowering inhibitions, and making me feel more free to speak my mind. This is definitely linked to the reduced anxiety, but it's more than that—I like the way my brain works when I'm high, and feel less insecure that something I want to say is stupid or boring. I'm less judgmental, and I don't expect the worst from other people. All of this makes it way easier to interact, open up, and enjoy the moment.
How does this translate to sex, you might ask? Well, it makes me feel hotter, for one (doesn't confidence always?), and it makes me feel more adventurous. Both are solid qualities to have during sex. And while being more aware of my body isn't always a good thing for me (like when I'm obsessing over what I look like from certain angles), it is a good thing if I'm also Lizzo-level confident in my mind while experiencing that awareness. Lowered anxiety + heightened sensation + extreme confidence = ideal sex combo. Thank you, weed!
Me, high and ready to go: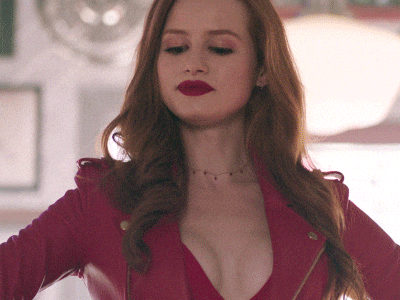 Now, go forth and toke up, my good readers. Now that it's summer, I suggest taking bong rips in an ice cold air-conditioned bedroom, or (for the adventurous, and non-city dwellers) bringing a blanket and a joint to a secluded patch of nature. And if you need something to carry your weed in, we got you.
Images: Giphy(4)
6 Sex Positions To Make You Feel Confident In Bed
Nothing is worse than being down to have sex but feeling uncomfortable taking off your clothes. Being confident in bed is a major turn-on, but the fact of life is unless you're Lizzo, you probably aren't feeling yourself at all times. Maybe you're getting your period and feel super bloated. Or you have a pimple the size of Mount Everest on your forehead and the thought of getting down in missionary while your partner makes eye contact with it is a major mood killer. I get it. I'm all for that self-love crap, but it just doesn't always cut it. Sex can be uncomfortable and embarrassing (as we know from these uber awkward celebrity sex stories), but there are tons of ways to help boost your confidence and make you more comfortable in bed. Besides, the more comfortable you are, the more relaxed you'll be and the more fun you'll both have (and likely, the better it will feel). But other than wearing sexy lingerie or dimming the lights, there are certain sex positions that make you feel confident. Because confidence is sexy.
Masturbate

Who says "Sex positions" can't include solo ones? Hear me out. Being comfortable and confident in bed stems from being comfortable with yourself. Knowing what you like and how you like it is extremely sexy. So how else will you know what to tell your BF to do if you don't explore yourself first?
Girl-On-Top
Like I've said before and I'll say again (sorry for being preachy), if you're confident with yourself, you'll exert more confidence. Duh. But to do this, focus on your favorite body part and put it on full display. So if you're super confident in your rack, climb on top and let your partner get an unobstructed view. Personally, I'm not a huge fan of my boobs. They are large and heavy and bounce around. But hey, I guess that's what my boyfriend likes about them. So cowgirl might not do it for me, but for you it could be one of those sex positions that make you feel confident. An added plus is that you'll be in full control and guys find that super sexy.
Doggy Style

Similar to the above, focus on your fav asset. If that's your ass, then turn around and do it from behind. If 2016 on has taught me anything, it's that people love butts—even just looking at them. But it's 2019, we're eating ass now, so you might want to kick it up a notch. If your hair is long enough to put it in a ponytail, do it. Your bae can pull on your hair as you arch your back. Not only will he see your whole behind, but the arched back creates a super sexy position that you'll both love.
Reverse Cowgirl
Sometimes doggy isn't my thing. The penetration can be so deep that it genuinely hurts, but if I'm bloated it's my favorite position since my stomach cannot be seen. This is why I love reverse cowgirl. My ass is on full display, my stomach is hidden, and I'm in full control. Win-win-win, am I right? It's also not a super frequent position in our repertoire (although it should be) so when I suggest it, my boyfriend gets super excited. The reassurance that I'm doing something he loves is a major confidence booster.
Missionary

Contrary to Coach Carr, do it in missionary. It may seem v boring, but trust me. Lying on your back and letting him have full control may sound lazy, but if you throw in some instructions and boss him around a little, it'll quickly turn from a super passive to a super active position. He'll have the reversal of the typical dominant and submissive roles that are associated with missionary. Knowing what you want and communicating that to your partner is super sexy. Being a boss makes anyone super confident in bed; that's just a fact. If you haven't tried it, I highly suggest.
Sofa Brace
Another spin on doggy is this baby. It's essentially the same, but you brace yourself up against a sofa. What's so sexy about this position? Getting down and dirty outside the bedroom can feel super deviant and hot, which are both major confidence boosters. Sometimes the bed can feel repetitive, so why not change things up? Just make sure your roommates aren't home (if you have them) or the couch doesn't shift too much. Who knows, maybe this will open up the door to having sex around your entire apartment.
If all else fails, ask your bae what they like. Not only is open communication key to good sex, but it also allows them to vocalize what they like and don't like. So you know next time when you kiss their neck or whatever, you'll get a good reaction from them and a little confidence boost for yourself.
Images: Kristina Petrick / Unsplash; Giphy (3)
What Guys Want Women To Know About Body Image
Secret's out—men aren't always as confident as they seem to be on their dating app profiles. The self-proclaimed one-man version of Betches, Jared Freid, spilled the tea on our Diet Starts Tomorrow podcast this week. He chatted with us about what it's like to have body issues as a man and how he deals with being self-conscious, hating workouts, and eating healthy. Even though he f*cking hates being healthy, he shares with us his experience of learning how to find a balance. Here are some of our highlights from the episode:
Sometimes Jared just watches skinny people eat to see like, WTF they're doing that he isn't
Growing up, Jared's family ate dinner in six minutes, which is like, not so healthy apparently
"I think every guy cares about his body image, but they're less outward about it," Jared explains, "I have looked at a picture and thought, 'okay life is over now'."
We have to accept our bad days in order to be better at creating healthy days
Jared became a sensation at his summer camp because he made a bet not to drink for an entire summer and everyone placed their bets on him losing
Nighttime eating and drinking is the hardest: "the minute I have the first time bite, I'm in for the next hour and a half," says Jared.
Every body is an Instagram body, just put it on Instagram and it's a body on Instagram
It's attractive to be a person who gives a sh*t and is motivated
Guys are too cocky and women aren't cocky enough on dating apps
Nobody is 5-10 pounds away from f*cking you
Check out the full Diet Starts Tomorrow episode above to hear Jared's full segment. Also, catch Jared on our U Up? podcast and his own show, The J Train Podcast.
Images: rawpixel/Unsplash
Claudia Oshry Credits This Procedure With Her Confidence
Although you're a flawless betch, it's hard to be fearless all the time. So, this week on our Diet Starts Tomorrow podcast, our special guest was Claudia Oshry, better known as Girl With No Job. She talked about how she stays confident. Even though she has insecurities, Claudia never lets those take over her life. What started as a blog to b*tch out her co-workers after she lost her job has now evolved into a legit career. Here are some of our favorite moments from talking with Girl With No Job. Listen to the full episode below, because we promise, we didn't even scratch the surface of the funny and insightful stuff she said.
The first time Claudia sharted was at fat camp because she ate two laxative popsicles and got way too excited over winning color war
You'll never get over the nerves of putting yourself out there, but it does get easier
Understand that your haters might think they're right, but then you need to remember they're wrong and f*cking stupid
If you pretend to love yourself you'll honestly start feeling it—Claudia's been faking it since the fourth grade and look where she is now
Claudia loves getting messages that are positive, especially when people say "I love how ugly you look here"—she gets it
If you want to be serious on Instagram, buy a ring light
The power stance has been proven not to work, but like, it does for Claudia
Self-deprecating jokes can seriously help build confidence (it's like, being self-aware)
She got surgery that changed her confidence (sorry, you'll have to listen to find out exactly what it was). But now she's unstoppable so clearly it worked.
Listen to the full episode of Diet Starts Tomorrow to hear everything Claudia had to say.
Check out the full Diet Starts Tomorrow podcast and order our new book When's Happy Hour? because Girl With No Job loves it (peep her on the back cover). To keep up with Claudia, check out her Instagram and podcasts. You can also buy tickets for her stand-up shows here.
The 7 Best Ways To Unleash Your Confidence According To Plus-Size Model Denise Bidot
Even if you're Lizzo, you have times when your confidence isn't through the roof and you don't feel like you're 100% that bitch. No one can prance around totally ~feeling themselves~ à la Beyoncé and Nicki Minaj all the time. If you're being real, sometimes your self-esteem needs a pick me up, and who better to give you the tips for how to achieve that than Denise Bidot, who's truly changing the damn world with her body positivity on social media and through her No Wrong Way Movement, which grew from her always saying "There's no wrong way to be a woman." She was the first plus-size model to walk in New York Fashion Week and she is honestly so f*cking beautiful. And she smells amazing. And I'm obsessed with her but that's besides the point. She joined Sami and Aleen on the latest episode of the Diet Starts Tomorrow podcast, but that's not all… she'll be headlining the DST Live Show at the Gramercy Theatre on July 31st, which you can buy your tickets for here. So without further ado, here are her best tips for boosting your self confidence and living your best life.
1. Create An Alter Ego

Take a page out of Erika Girardi/Jayne's book and let your best self live, even if you have to consider it a character separate from yourself at first. As Sami pointed out, this is an actual therapeutic technique. Denise developed an alter ego named Misty in order to turn herself into someone fierce AF who doesn't give a f*ck. She describes her as "a bombshell sugar mama who's really badass," which honestly is what we all aspire to be. Once you've acted like your boss betch counterpart enough, she'll just morph into your personality and become who you really are.
2. Laugh At Yourself In The Mirror

Denise described laughing at herself in the mirror as the first real technique she ever used in order to feel good about herself. She said, "I would stand in front of the mirror naked and make fun of, if not joke about things that I did not love… and I'd be like 'Oh my god, I love that cellulite' or 'Oh my god, I love your uneven tits'… and slowly but surely I began to laugh at them and they became not as powerful over me." Ummm, this is genius. It's not hard to call out the parts of our bodies that we aren't crazy about, so why not just make a joke out of them? I LOVE THIS. It's like standing up to the bully and taking its power away by not letting yourself be victimized by it anymore. LOL stretch marks, you cute! I see you!
3. Do Whatever The F*ck You Want With Your Body 

When Denise mentioned that she was approved by the doctor to get a breast reduction when she was only 16, Aleen opened up about her own breast reduction and how happy she is with the results. Even though Denise never ended up getting one, she said she has major respect for the ways that anyone reaches peace with themselves and happiness with their bodies, whatever they may be. "I do think that there is a happy place for everyone and finding that is what's really important. It doesn't look one way or any way. Like, if there's a girl who wants to get her lips done or a girl who wants botox, do what makes your soul happy as long as you're doing it for you and not for anyone else," she so wisely said. She really is that betch. 
4. Don't Retouch Photos
Denise shared that she has made it a point to not retouch her photos on social media, however brutally honest they may be, which Sami bonded with her over because she has stopped editing her own pictures after looking back at pictures of herself and realizing that's not what she actually looked like back then. Once you start accepting what your photos look like and being vulnerable enough to share them with the world, the more comfortable you will naturally become with yourself. You're also promoting body positivity to literally everybody else and spreading the message that it's okay to look human and not fakely perfect all the time! Being honest with yourself and everyone else and owning how you look is a huge step towards accepting and loving yourself.
5. Realize How Fake Everyone Else's Photos Are

Even though everyone would be following tip #4 in a perfect world, this is reality and Facetune exists. Denise told Sami and Aleen about photoshoots she'd done with photographers that claimed they wouldn't retouch the photos and then did. Even skincare campaigns that are supposed to show how good a certain product can actually make your face look are totally photoshopped and distort everyone's perception of reality. Next time you see a totally smooth body on Instagram, consider that it's literally not possible for anyone to look like that naturally, so it's just not realistic for you to expect yourself to look like that. Just look at one of our many Photoshop Fail articles and you'll see.
6. Take Risks

You don't have to do anything too crazy, like invest all your money or jump off a bridge or anything. Those are a little extreme, but taking risks on things that could bring you closer to your aspirations goes hand in hand with your self confidence. Denise explained that a teacher of hers taught her, "Here's the thing about risks. You can either take the risk and worst case scenario you can end up right where you are, or you can take this risk and actually reach your dreams." Ever since, she's had a YOLO attitude of considering that the worst that could happen actually isn't that bad and it's totally worth it to shoot your shot. She said that she never even considered going into modeling because she thought she could never pull it off, until she realized if it didn't work nothing would change but if it did she'd literally be a model. If you have the balls to take a risk you have way more confidence in you than you thought.
7. Listen To A Song That Empowers You

Denise described the experience of doing her first lingerie photoshoot and being terrified of posing in front of everyone with most of her body showing until she told herself to just listen to the Christina Aguilera and Pussycat Dolls songs that were playing and dance. This is such a great way to loosen TF up and start feeling yourself. Put on "Truth Hurts" by Lizzo or "Flawless" by Beyoncé and THRIVE, BETCH!
To hear more from Denise on Diet Starts Tomorrow, listen to the episode below.
Images: Tenor (6); denisebidot / Instagram