I'm Never Going Back To The Way Concerts Were Pre-Covid
One day, instead of war stories, we'll tell our grandchildren that 2020 was a year in isolation where we became dependent on video chats, TikTok, and making homemade bread. With bars and restaurants closed during quarantine, our lives stood in purgatory with strict stay-at-home orders that even celebrities couldn't escape. Artists such as Lady Gaga, Taylor Swift and Billie Eilish sadly (and rightfully so) canceled or postponed their shows until further notice (without a new date to plan an outfit for). With social media recently flooded with videos of crowded clubs and sporting arenas at full capacity, it's looking like the end of the pandemic is in sight. This also means that my FOMO is making a swift return. 
I took my first flight in over a year to Florida (which could be a whole other article), where my hotel, the AC Hotel Orlando Downtown, had its grand opening during the pandemic. Their rooftop bar has been selling out $1,200 tables (not including drinks!) and the sight of girls sorority squatting to snap that perfect rooftop Insta means that nature is healing, my friends.
The first night of my trip I went to a COVID-safe Foreigner concert and NGL, it was certainly an ~unprecedented~ experience. For one, the sitting area looks a bit like pig pens. Yes, I'm talking pigs on the farm swarmed by flies on a hot summer day, packed like sardines within metal bars. If you got too drunk at the show you won't have to worry about losing your friends since you — like these piglets — are confined in a metal pen. I'm actually squealing, because I low-key loved being in this pigpen. 
This contactless experience was a stroke of genius that really addressed the pain points of a pre-COVID concert. This should be happening everywhere, IMO. Let me explain why we should embrace the pig pens at outdoor shows and festivals post-pandemic.
Pushing Your Way Through Sweaty Crowds Won't Be A Thing
While I do low-key miss the too-close-for-comfort crowds at a concert and scrubbing profusely in the shower when I get home, that soon will become a distant memory. When you purchase your tickets online, you get to select the location of your pod—which contains five seats and a small table. A lot of outdoor concerts and music festivals are usually standing room only, so it's a game-changer when you can pick your seat before the show, and not have to worry about showing up hours before to stake out a spot. 
Forget Waiting In Long Lines For A Vodka Soda
It's about f*cking time that venues got with the times. Instead of waiting in line while missing your favorite song, you can download an app to order food and drinks that will get delivered directly to your pod. This is organization at its finest; whoever had this idea this clearly understood the assignment. So go on, buy as many beers and vodka sodas as you want… we've got lost time to make up for, and you don't have to worry about juggling them back to your seat.
You Won't Lose Your Friends In A Drunken Crowd
In the pre-COVID era, going to a music festival was a true friend test. Why? Because when the crowds rush in, that's the moment when you find out who is going to stick with you and who is going to leave to push their way up to the front. Being sober (or not drunk enough), when everyone around you is sloppy and spilling drinks, is basically its own level of hell. With each pod numbered, you won't have to worry about losing your friends. Guests aren't restricted to staying in their pod, but a mask is required to go make new friends out in the wild. 
There Won't Be A Random Tall Guy Blocking Your View
There's no buzzkill greater than when you get situated in a crowd (or have your lawn chair set up at an outdoor concert) and then some tall dude plants himself right in front of you. Like WTF man?! Then you're left watching the jumbotrons, which is better than nothing—but if I wanted to watch a concert from a TV screen I would have stayed home.  With the pod seating elevated off the ground, even people walking by won't get in the way. It's great to pick where you sit beforehand, and you definitely should splurge for that amazing view.
This pod philosophy obviously works and should be here to stay—long after the pandemic subsides. The new 'make out with random strangers' will be inviting them over to your pod. Will the opening line be 'Pfizer or Moderna?' Yikes. Maybe not. One thing that will make a comeback? Blurry IG Story concert videos. This is the one and only time we'll give it a pass. 
Image: Ibai Acevedo / Stocksy.com
The Spice Girls Reunion News Is A Little Disappointing
If you've been paying any attention to fashion trends lately, you'll know that everything '90s is completely back in style. If Gigi and Bella are doing it, we all have to. For better or worse, it's time to dig out the denim, and basically just dress like your mom did when you were a baby. Along with the clothes, it makes sense that '90s music is making a comeback too. To me, that basically means one thing: SPICE. Yesterday, we finally got the details on the Spice Girls Reunion Tour, which the girls have been teasing for approximately seven million years.
Okay, so I'll be honest, I'm a little disappointed. While any Spice Girls reunion moment is a blessed gift from the pop gods, I was hoping for a little more? The biggest problem here is obviously the lack of any dates in the United States, or literally anywhere outside the UK. I totally understand that the Spice Girls are a British group, and they have a ton of fans there, but what are us stateside '90s babies supposed to do? (Yeah, I know we're supposed to fly to London, but idk if that's in my budget.) If you're in the mood to hop across the pond next June, here are the dates, all six of them:
6/1 – Manchester
6/3 – Coventry
6/6 – Sunderland
6/8 – Edinburgh
6/10 – Bristol
6/15 – London
Tickets for all six dates go on sale this Saturday (11/10) at 10:30 AM UK time, which means us East-coasters will have to wake up at 5 AM if we want to get those tickets. Sorry ladies, but I'm probably not waking up for that. The cheapest tickets are 60 pounds, which is like $80, which is honestly not that bad.
But aside from the lack of American dates, there's a second very disappointing piece of news we need to discuss. I'm sorry to be the one to break this bad news, but Victoria Beckham isn't doing the tour. That's right, Posh is out, so there will only be four Spices. Everyone kind of suspected this from the beginning, but it was confirmed when Victoria posted an Instagram basically congratulating them on their tour, pretending like she isn't above the whole thing at this point. I know she's a big fancy fashion designer, but it's only six shows! Come on Victoria, you can let David handle the fashion stuff for two weeks!
So yeah, the tour announcement is a little bit disappointing, but I'm sure the shows will still be an amazing time. Let me know if you're actually buying tickets, so that way I can make you FaceTime me in the entire time. Or at least for "Wannabe." Aaaaand now I have to go listen to the entire Spice Girls catalog for the rest of the day, but this has been fun.
Images: Shutterstock; @victoriabeckham / Instagram
What To Bring To A Music Festival So You Don't Die Before The Headliner
I love music festivals more than the average person. Any place with good music, drinks, and slutty fashion-forward attire is like, my second home. I've honestly been to way too many to count, so I'm like, a pro. In a way, they're as close to Survivor as I'll get, being that they almost always take place on some island. Most venues are super strict with what you can bring in because NGL, a lot of idiots think these events are a great time to start a drug ring. Not only are you limited, but you don't want to bring too much because who the hell wants to dance with a fucking backpack for hours, anyway? So, if you've ever been to one of these overpriced Coachella imitations, you know the only thing you could probs bring is your phone, sunglasses, and cash. Have to break a seal? Good thing you paid a million dollars for a germ-infested port-a-potty. Feeling dehydrated but don't want to pay $20 for a water bottle? Sucks to suck. Since Panorama is literally this Friday, I've come up with a list of what to bring so you're not feeling (or looking) like a hot mess all weekend.
1. A Small But Cute Crossbody

Chances are you can't bring a big AF bag anyway so, you want a small trendy crossbody that's comfortable to wear all day long and can also fit all your shit in it. The Rebecca Minkoff Mini Mac in Black has enough room to fit your phone and other must-have essentials. If you manage to keep it together all weekend, aka not lose this, you can even use this as your new going out bag.
2. Ear Plugs

By the time you leave, you will seriously be deaf. You'll be screaming to your friends, thinking that it's totally the normal volume. I'm telling you rn, it's not. You will hear ringing for at least the next day or two so, try not to lose your sanity. If you still want to hear the crisp sounds of the music without possibly going deaf, consider packing small light ear plugs like DownBeats Reusable High Fidelity Hearing Protection Ear Plugs.
3. Portable Phone Charger

Your phone will die, or come very close, a whole fucking lot. So, Snapchatting excessively will seriously take a toll. Either cool it with the snaps because no one wants to watch your minute-long story anyway, or invest in a portable phone charger. The PhoneSuit Flex XT Pocket Lightning Charger is probs the smallest charger ever. You can use it with or without your Kate Spade case every time your battery runs low without missing the show.
4. Travel Size Emergency Kit

These fucking adorable and convenient kits are basically lifesavers in a bag you can buy. Find one that has all of the essentials you'll need for any slight inconvenience. The Pinch Provisions Festival Aid Kit comes with travel size sunscreen, flushable wipes (BLESS), deodorant towelettes since you'll most likely be roasting, and like, so much more. The company also has a bigger version with even more necessities including a rain poncho, tampon, and blister balm. If only they had one for my life (i.e, drunk text remover, blackout radar…etc.)
5. Refillable Water Bottle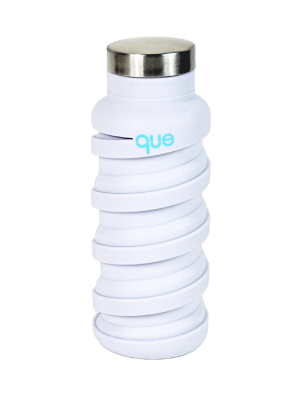 If there's anything you take away from this article that I spent too much time on for you to ignore, it's that bringing a refillable water bottle is crucial. One, because you will be under the sun for long periods of time and if you're drinking, you'll probs forget to eat. Two, because why pay for water when most festivals have hydrating stations?! If you bring your used Fiji or Life water bottle, you're more likely to lose it and/or toss it all together. Because lugging around a Camelbak doesn't sound appealing either, opt for a que Bottle that collapses to half its size so you can tuck it away when you're done.