I Couldn't Get Out The Door In The Morning Without This Super Unsexy Sh*t
Betches may receive a portion of revenue if you click a link and purchase a product or service. The links are independently placed and do not influence editorial content.
Getting dressed nowadays is literally the bane of my existence. Considering that I actually wore some form of athleisure everyday for the last 3 years (thanks, COVID) I genuinely don't know how to dress my body anymore. It's gotten to the point where, if I have to go to a wedding, I have to try on 20 dresses before I find one that either A) fits properly or B) looks like I'm from this century. 
It doesn't help that what's in style right now is, like, actually made for teenagers. While I may be suffering a major menty B given the fact that I'm about to turn 29 again 30, I'm certainly not old. And, because of that fact, I desperately want to be the hot aunt that shows up to every family event with the ~chicest~ wardrobe. 
The problem? Since having the luxury of wearing sweatpants to business meetings (they were on Zoom, ok?) I refuse to sacrifice comfort. Luckily, I have a few secrets up my sleeve to make looking good look effortless, even though it's absolutely the furthest thing from it. Also just fair warning, I wouldn't recommend using these things if you're headed somewhere romantic because they're just about the least sexy things I own. And while they may not be cute, they're effective. 
Nipple Covers For Anything See-Through
Listen,I love the the free the nipple movement in theory. But quite frankly, it's just not for me. You can use these nipple covers for everything—especially that one white dress we all have that you can literally see your areola through. Bonus points for the fact that they come in 5 different skin tones.

Shop it: Nippies Nipple Cover, $26.50, Amazon
A Backless Bra For All Those Summer Dresses
While we're on the topic of nipples, I live for a good pair of sticky boobs. I know they look just like a chicken cutlet, but it's the only kind I'll wear that doesn't just fall (or sweat) right off. Plus, FWIW, I feel like the cutlet texture makes your boobs look more natural.

Shop it: Niidor Adhesive Bra, $28.99, Amazon
This Anti-Chafe Stick So The Only Friction In Your Day Is Discussing Politics At Dinner
There's nothing in this world more unsexy than the waddle you do when chafing in a sundress on a hot day. This shit works harder than Kris Jenner setting up PR stunts.

Shop it: Megababe Thigh Rescue Lotion Anti-Chafe Stick, $13.99, Target
The Perfect Shapewear You Can Wear Anywhere
I'm not kidding when I say I legit wear this as a tank top. You can't see through it and it looks so good just with a pair of jeans or denim shorts. I love that it sucks me in at all the right places without feeling like I have to wear a legit girdle. It's giving SKIMS on a budget.

Shop it: SHAPERX Bodysuit, $37.99, Amazon
Cushions That Make Even Your Highest Heels Look Easy
Being told to buy these foot cushions was best wedding advice I ever got. Forget about "not going to bed angry," because there's a lot less of a chance I'll be angry if my feet aren't killing me by the end of the night. I swear you won't even know they're there.

Shop it: Walkize Metatarsal Pads, $16.99, Amazon
These Psychotic-Looking Makeup Stain Protectors
If you've ever had the pleasure of already being 15 minutes late to event just to throw on a dress and get a makeup stain (which leads to changing again) this product is for you. I'm a "get dressed last" kind of girl and I'm not being dramatic when I say these things save lives.

Shop it: Betty Dain Makeup Protector Hood, $6.99, Amazon
Deodorant For Legit Everywhere
I know you'd like to think you don't stink, but chances are you probably do. It's okay, I'm not judging—I do too. That's why this ~everywhere~deodorant has become my go-to. Because when they say everywhere, they mean everywhere. Pits and privates included. I no longer smell like a hot yoga room.

Shop it: Lume Whole Body Smooth Solid Deodorant Stick, $14.99, Target
Full-Ass Underwear For Under A Sundress
You're totally going to fight me on this one, but I'm telling you, there is no comfort quite like a granny panty under a flowy dress. You can stop worrying that the whole world is going to see your ass if the wind blows a little too hard. These are my faves because they give a little tummy control, too.

Shop it: Maidenform Flexees Women's Shapewear Hi-Waist Brief, $36, Amazon
Feature image credit: Mizuno K on Pexels
6 Ways To Treat Yo'Self This Spring
Spring is officially here which means it's officially all about you season. Cold weather forces you to think about other people, namely, which of these other people can I convince to stay inside and watch Netflix with me all season. But cuffing season is officially over so the only thing you have to be codependent with right now is yourself. You deserve the best, so in honor of you, here's several ways to treat yourself this season. You're such a good girlfriend. To yourself, that is.
1. Hit Up A Korean Day Spa
If Soko Glam has taught us anything, it's that Korean people know how to pamper your skin. You might have to take an Uber into Queens but a Korean daiye day spa is worth the trek. You can spend the day in hot springs style pools, chillin' in a sauna, getting a massage, or updating your #skinnygoals by watching the obscenely thin Kpop girls in the music videos they play in the lounge. Just make sure there isn't a dead guy in the hot tub.

2. Go To A Rooftop Pool And Make Your Backburner Bro Take Pics Of You
Rooftop pools are a perfect combo of being down to earth and also above everyone else. The pool party reminds everyone that you're super chill and would be a great person to take on vacation while the rooftop part reminds everyone that you are still looking down on them. If your backburner bro is well behaved, you can bring him with you and make him take photos of you until you find a new pic worthy of your Instagram.
3. Buy Last-Minute Tickets To A Concert Tonight And Get Dressed Up With A Friend
Get super dressed up with a friend just to go to a concert you two had no idea you were going to until today. Treat it like something you've been looking forward to and see if you can out-fan the actual fans there. If you can get into a football team just because the guy you're dating is into them, you can get into a band just because you got last-minute tickets to see them.

4. Do A Wine Tasting Tour In Your City
Most wine shops have tasting times, and if you live in an urban city then chances are you're surrounded by wine shops. Go for a mini tour by going to free tastings in all the wine shops in a neighborhood. You can stop at a deli for cheese and crackers in between. Plus you might actually learn a little more about wine, so basically you could call it auditing class. You're so resourceful.
5. Take A Beyoncé Dance Class
Sometimes you just want to feel like queen, more than you already are. Take a dance class where you can rock out to Beyoncé songs with sexy choreography. Perfect pregame to drunk brunch, since you'll already be feeling ready to party. Make sure you get a good boomerang for your Instagram story.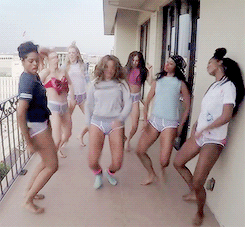 6. Buy Our Shop Betches Robes
Are you still wearing a towel around yourself like a poor college student? Get these Shop Betches robes and feel classy AF walking around in your house. These robes are the ultimate treat for yourself because they're comfortable, sexy, and they have a personality—kinda like you. The robes come with various funny sayings for different occasions—like brunch or Champagne time, two totally separate things—and there's even a custom text option if you're feeling witty. So you agree, you think you're more clever than us? Go ahead, create your own robe and send us a pic and we might share it. You can buy one, or one hundred, right here.

Shop the entire Shop Betches loungewear here!