5 Must-Have Pieces That Will Transition Your Summer Wardrobe To Fall
Labor Day plans are underway for many and unfortunately for everyone, this means summer is truly coming to an end. While it will be hard saying goodbye to summer Fridays at work, flirty wrap dresses, and being able to go out without a jacket, it is admittedly nice to welcome a cool breeze, eagerly await the arrival of the v basic PSL, and ditch the dresses for comfy office attire that finally caters to both the temperature outside and tundra temperatures in the office. Despite it being mid-August, it has been rainy, chillier than the norm, and all around depressing. Lol, hi, fall. It's right around that time when you should be considering how to transition from your summer aesthetic to head-to-toe black. Here are five fall you should definitely have by the time September rolls around, so you're fashionably (and mentally) prepared for next season.
The gross humidity has been making it rain more than ever. This is a dilemma for not only my hair, but also my feet. Sandals in the pouring rain? How about not? Same goes for a chunky rain boot, which is absolutely not cute in the office. This only leaves combat boots. While it may still be pretty warm outside, these are the perfect go-to when you're faced with crappy weather, yet torn about wearing a cute dress. Obviously getting a pair in black is a must.

Fall is my favorite season for many reasons other than pumpkin everything. I love it because the heat is no longer suffocating, but the wind is light enough to feel cool and refreshing. This basically means I can still wear some of my summer dresses layered with tights, chic booties, and maybe an oversize sweater. As temps dip, go for a midi-length dress style with sleeves, so you're hot enough to hit up happy hour, but covered enough if the night gets brisk.

Soon enough, we'll be needing a lightweight jacket to throw over our club outfits. However, it doesn't need to be bulky and inconvenient to carry. Leave it to the OG of fall jackets, the black leather jacket. It makes you look somehow badass and equally as chic, regardless of the outfit underneath.

I'm based in New York, so before you @ me in the comments about how LA is like, still thriving and living its best life in the summer heat, it doesn't mean the city is insusceptible to chilly 70-something degree nights, ok? Eventually, we will be reaching into our drawers for our comfy oversize sweaters, and when that moment comes for you as it did for me this morning, all I'm saying is you can lighten a layered look by pairing a lightweight sweater with shorts, linen pants, or even a skater dress so you don't freeze but also don't get pit stains.

I have not been a fan of boot-cut jeans since like, maybe the 6th grade? However, I'm doing this thing called adulting, and although my behavior often resembles that of a 19-year-old, my fashion attire has got to mature sooner than later. For fall, everything looks best when it's darker in color. Swap out bleached, light-wash skinny jeans and Mom jeans for a vintage-looking boot cut or skinny pants with a raw hem. The style elongates your legs and makes them look that much better in a block heel or ankle bootie.

Photo: Brooke Cagle / Unsplash; Urban Outfitters (1); Nordstrom (1); Asos (1); Macy's (1); Zara (1)
Betches may receive a portion of revenue if you click a link and purchase a product or service. The links are independently placed and do not influence editorial content.

Zara's Cheaper Sister Brand, Bershka, Just Opened A Store In The U.S.
Zara fans, big news: Zara's sister brand is opening up a pop-up shop for three months in NYC. The younger-targeted brand is called Bershka, and before we dive any further into this, we've got to talk about the name. Was anyone else's immediate reaction some joke about babushkas? Or something you might call your Russian grandma? Or was that just me? And for those of you know-it-alls who are like, "well Zara is actually pronounced 'dzah-dah' since it's a Spanish company so this isn't that bad"… Shhhhhhut your face. The clothes are slightly cheaper than Zara's, which is great for me personally. Yes I've seen The True Cost, global exploitation is very bad, but I'm a student. Persecute me. Bershka also sells menswear, so you can drag your boyfriend or brother. Probably not your husband, unless you got married super young in the Midwest. I don't know your life.
Bershka also sells activewear, which is nice, but that 100% will not motivate me to exercise more. Last but not least, they have a beauty collection with matte and shine lipsticks, contouring kits, nail polishes, and more. Bershka (still can't get over the name) officially launched in the US online this past spring, but now it's testing the brick-and-mortar waters out. Before shopping, I'm going to warn you: the sizes run small *rolls eyes* and they don't carry any XL sizes or plus sizes. That's some serious cross-Atlantic shade, Spain. That hurts.
Anyway, if you're skinny, the clothes are really cute (especially the outerwear and bottoms), so I'll probably be adding some pieces to my fall/winter wardrobe. Wait. They have a Halloween and Disney collection??? Take my money. The store is located at 580 Broadway in SoHo and will be here until January. For those of you who aren't in the city, shipping is free if you spend more than $70. God bless free shipping, honestly. I've picked out some of my favorites, and you should def pay attention, because I know what's best.

I need this. And it's only $59.90! This puffer comes in garnet (pictured) and green. This 5'7″ model is wearing a medium—wow, they weren't kidding when they said it ran small, but I guess they did style this over a suit. Odd choice, but okay. You do you, Bershka.

These jeans totally could've been styled with the above puffer for a cute cold-weather lewk. This pair combines two of my favorite trends: lace-up and frayed denim. And for only $49.90… bless. Also, please don't wear that sweater unless you're going as Cookie Monster for Halloween. Wait, that's actually not a bad idea…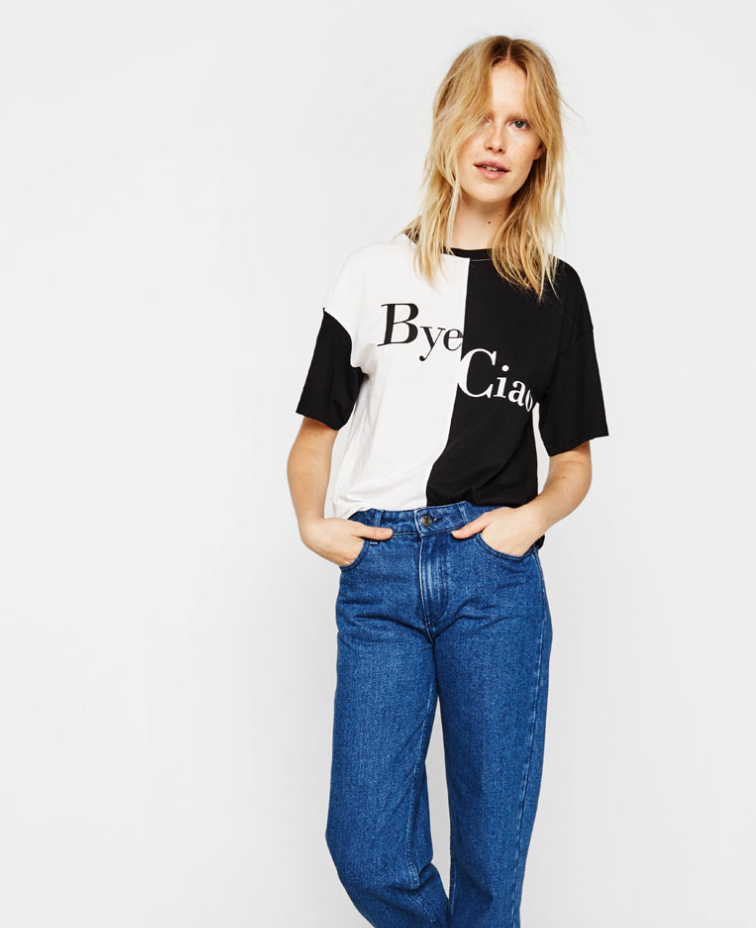 Guys, when I saw this, I literally gasped and said, "Yes." That kind of reaction doesn't happen very often for me. I've been less thrilled on birthdays. This $15.90 shirt comes in two colors: black (pictured, duh) and orange, with the text, "Avant Garde." Ciao bella, I'm going shopping.

Does this not look comfy af? I mean, come on. $29.90 for a hug on your body? Done. Sold. Ship it. This sweater comes in cream (pictured) and gray. I approve of both colors.

Anything with pearls (faux or not) is a win in my book. I also need new combat boots, so let me just update my already full cart. Shoes for $60… not bad at all.

Okay, I'm really impressed with their beauty collection. $9.90 for this flavoured (how European of you to spell it like that) lip balm crayon. It is paraben-free, not tested on animals, and made with plant based oils and butters. *slow clap*
5 Styles Of Boots That Are Unacceptable To Wear This Fall
Judging by the five consecutive Instagram posts I just scrolled through of people's feet surrounded by leaves, it's fucking fall. While I'm just as excited as the rest of you PSL-toting, apple orchard-visiting, autumn-loving betches, we've got to discuss boots. I know that the second the weather dips below 75 degrees we all go effing ham and start wearing sweaters, leggings, and boots like it's our jobs. However, there are some boots that are unacceptable to wear this year, and you need to know about them before you do anything drastic.
1. Booties With A Creepy Peep-Toe
Sure, there are definitely tons of peep-toe boots that aren't creepy, but for the most part, you run a serious risk of having creepy looking toes when you wear them. The risk is twice as bad when they're poorly cut ankle booties. Why would you ever want to cut your leg off in an unflattering place and then have your toes sprawling out, clinging on for dear life? Like, just stop.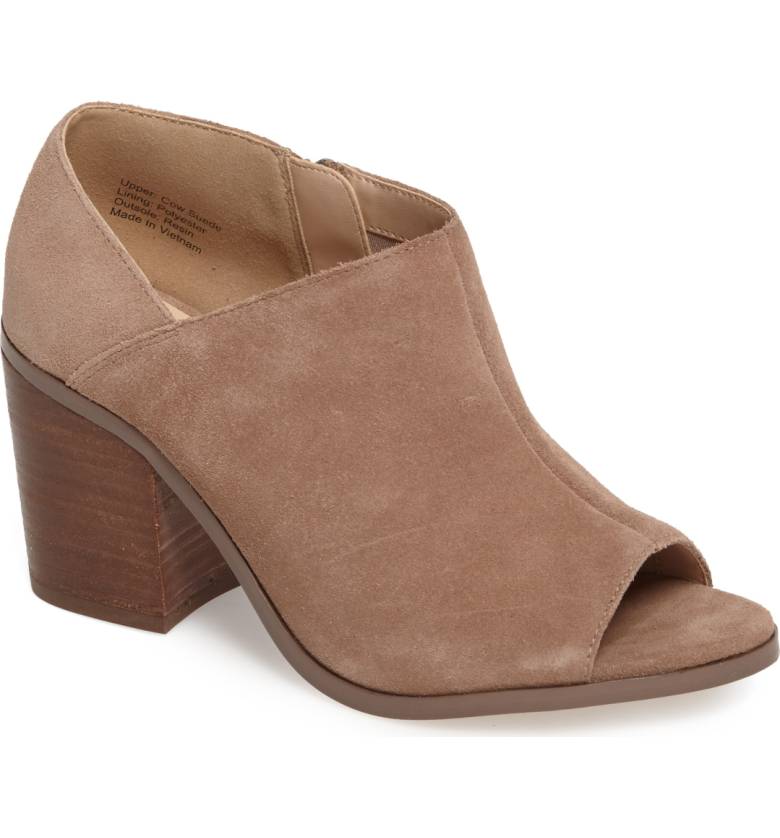 Sole Society Arroyo Peep Toe Bootie
2. Childish Rain Boots
No, those floral printed rain boots aren't ironically cute with everything, because they don't match anything. That's not how that works. Unless you're headed to a music festival and tripping out for three days straight, it's time to get some grown-up rain gear.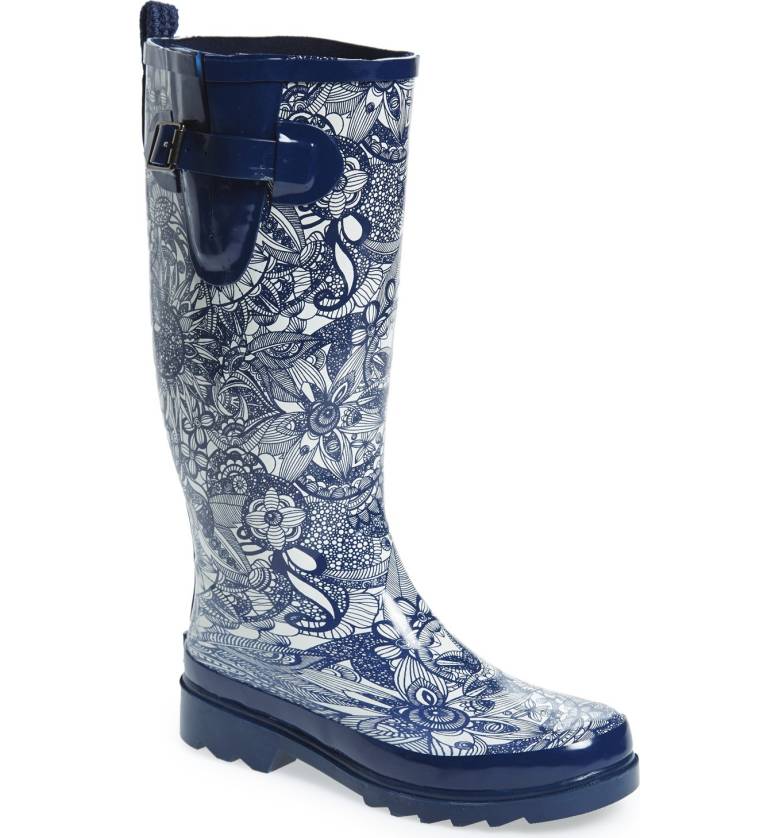 SAKROOTS Rhythm Waterproof Rain Boot
3. Studded Combat Boots
How great was it when Steve Madden combat boots were the answer to all of life's issues? Need something to wear with your jeans? Combat boots. Can't find footwear for a dress? Combat boots. I'm not saying you should stop wearing combat boots altogether, but they've been popular for a while, so it's probably time to refresh the outdated styles that have somehow survived the past few years of your shitshow lifestyle.

4. Anything With Salt-Stained Suede
I get it. We've all purchased a random pair of faux suede boots because we didn't want to buckle up and throw down $800 for a pair of Stuart Weitzmans. Faux suede boots never last as long as you think they will, so it's probably time to throw them out if they're covered in salt stains, or like, vodka cran gunk.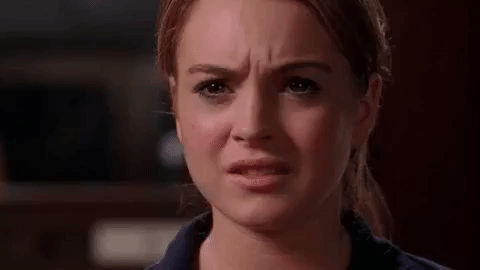 5. Poorly Structured Over-The-Knee Boots
Last year everyone was like, obsessed with over-the-knee boots. This year, it's time to lay down some ground rules. If they're flopping all over the place or slouching or not staying up properly, it's time get rid of them and find a pair that actually fits.