A Literal High Schooler Hacked The US Election System
Most of us consider our computers online shopping or Netflix machines, and have no f*cking clue how they work. Beyond the turn-it-off-then-on-again method, the vast majority of computer users are not necessarily tech savvy. However, 17-year-old River O'Conner from Washington knew enough about computers to hack our election system. Before you start picturing a hacker with a black hoodie on, sitting in front of like 5 monitors in his basement (i.e. our exact header image), think again. River did this as part of a hack-a-thon, and not as an international terrorist. Very important to clarify that fact since he prob is still trying to apply to college and he's prob got a reputation to protect as a normal teen not terrorist, the usual.
Why Did He Do It?
So it wasn't even his idea… the Democratic National Committee (DNC) decided to have a mock election system hacking challenge (say that 10 times fast) at the annual DEF CON convention in Vegas. Because a group of teen hackers and the DNC could really only make sense in Vegas. River has attended the convention since he was 11 and wanted to participate in this challenge because I guess something made him feel like our election system could be vulnerable? Wonder what that could be…

How Did He Do It?
In his personal account, which you can read here, River uses some jargon like "MySQL" and a bunch of other tech info that those of us who aren't in STEM (I see you, beautiful lady STEM warriors) probs don't fully understand. But whatever the method, the outcome was that a bunch of teens were able to change names, numbers, and – oh yeah – the outcome of an election. River decided to go one step further, putting himself in the mindset of a spy. He shut down the whole system by copying the IP Address, accessing the portal from a secure wifi spot, and the googled the coding he would need to use to shut it down. This all happened in minutes and he googled how to do the main part. *jaw on floor*
Why TF Does It Matter?
Basically our entire voting system is based on the idea that everyone gets one vote and that vote matters. So, when a bunch of high schoolers are able to hack into the election system and cancel those votes out, it's def concerning. River O'Connor may not be a spy, but there are for sure plenty of countries *cough, Russia, cough* that would easily be able to pull this off. Even scarier is the fact that this may have already happened in 2016, when 21 state election systems were hacked.

It's been no secret that state election systems have been v vulnerable in recent years and it is a problem that could be fixed. Unfortunately, the powers that be in Congress and the crumbling White House aren't making any changes. If a 17-year-old who doesn't even know if he wants to study technology in college yet can hack into an election system in 10 minutes, then let's just assume pretty much every country as like hundreds of people who could too.
Heads up, you need to keep up with the news. It's not cute anymore. That's why we've created a 5x weekly newsletter called The 'Sup that will explain all the news of the week in a hilarious af way. Because if we weren't laughing, we'd be crying. Sign up for The 'Sup now!
Everything Robert Mueller's Witch Hunt Has Found This Year
We're officially one year deep into the Mueller investigation or, depending on whose Twitter account you're refreshing these days, the Mueller "witch hunt." While the majority of Americans  (52%) see Mueller's investigation into shady dealings between the Trump campaign and Russia is legit, only 30% of Republicans think the special counsel investigation should continue. So to help our dedicated readers decide where they land on the "witch hunt" vs "legitimate investigation" debate we've decided to round up everything Robert Mueller has found so far. You know, because witch hunts typically lead to tons and tons of evidence.
Hella Indictments
Bobby and his coven have secured indictments from 13 Russian nationals, 3 Russian companies, and one Paul Manafort since he was appointed special prosecutor on May 17th, 2017.
While the Russian indictments are more for show (spoiler alert: they're not coming back to the U.S. to be prosecuted), Manafort remains in what we in the biz call "a lot of fucking trouble." The former Trump campaign chairman has pleaded not guilty to 5 charges of conspiracy, money laundering, and failure to disclose assets in D.C.. But that's nothing compared to the 18 charges dealing with tax, financial, and bank fraud he now faces in Virginia. Is Manafort a good witch, or a bad witch? Only time will tell. 
5 Guilty Pleas
And here are your (all male) guilty pleas…
George Papadopolous: George Papadopolous, or "Poppy" as I like to call him, is a former Trump foreign policy adviser who pleaded guilty on October 5, 2017 to charges of making false statements to the FBI. Paps is accused of meeting with the Russians in an attempt to get "dirt" on Hillary Clinton, and made at least six requests for Trump or his campaign staff to meet with Russians and Russian politicians between March and September of 2016. He's also accused of getting drunk and telling an Australian diplomat Moscow's whole plan to release HRC's emails, which makes him both stupid and relatable.
Michael Flynn: Mike Flynn, the OG shady Trump bro, pleaded guilty to charges of providing false statements to the FBI in December of 2017. You might remember him from being the first of approximately one million people who have resigned from the Trump admin, after it came out that he "misled Mike Pence" about communications he had with Russian ambassador and world's-most-forgettable-man Sergei Kislayak. Flynn is now cooperating with Mueller's investigation, and faces allegations of accepting money from foreign nationals without approval and enchanting an old Ford Angelina to fly without a license.
Richard Pienado: Richard Pienado is the biggest rando on the list, but don't sleep on his crimes. Richy pleaded guilty to an identity theft charge in connection with the indictments of 13 Russian nationals and companies. Pienado ran an online service called "Auction Essistance" (Literally, it's spelled "essistance") which he used to buy and sell account numbers some of which were sold to — you guessed it — Russian troll farms using American identities to interfere in the election. TBH you'd think a witch would be better at covering up their crimes…
Rick Gates: Mr. Gates is a political consultant, lobbyist, and BFF to Paul Manafort who pleaded guilty to charges of making false statements to the FBI (classic) and conspiracy. Gates took a plea deal with Mueller, and is now juggling cooperating with the special counsel's investigation and studying for his O.W.Ls.
Alex van der Zwaan: Despite what his name might suggest, Alex van der Zwaan is not a character on Gossip Girl. He is, in fact, a London lawyer who pleaded guilty to making false statements to the FBI about his contacts with Rick Gates and an "unnamed person" based in the Ukraine. He was the first person sentenced in the Mueller probe, where he served 30 days in prison. Better than being burned at the stake, I guess.
So to recap: Two top officials admitted to lying to the FBI about their contacts with the Russians, one person actually served jail time, and five people are cooperating with Mueller's team. Just like the Sanderson sisters. 
Soooo Many Interviews
Mueller honestly should be the next Katie Couric considering how much time he's spent interviewing people. The Mueller team has interviewed Sean Spicer, Reince Priebus, Jared Kushner, James Comey, Stephen Miller, Sally Yates, Mike Pompeo, Don McGhan, Hope Hicks, Jeff Sessions, Hagrid, Goody Proctor, and Elphaba and all in connection to the Russia probe.
So who's left to be interviewed? Don Jr., Ivanka, and the Headmaster of Hogwarts himself, Donald J. Trump.
1 Grand Jury
If AHS season 3 taught us anything, it's that catching witches requires multiple witch hunters. That's why on August 3, 2017, Mueller empaneled a grand jury in D.C. with the power to subpoena documents, require witness testimony, and issue indictments. There is also a separate grand jury investigating Michael Flynn because, like I said, catching witches takes a lot of manpower.
4 Subpoenas
The aforementioned grand jury has issued 4 subpoenas for matters related to the infamous June 9th meeting at Trump Tower which Don Jr. so graciously leaked all the receipts about.
So far, Mueller and the grand jury have secured testimonies under oath from a Rinah Akhmetshin (A Russian-born lobbyist and former Soviet Army officer), Jason Maloni (a former spokesman for Paul Manafort), Carter Page (former Trump campaign ad and douchebag stereotype), Sam Clovis (current senior White House official and former TV personality because that's the world we live in), and George Nader (Lebanese-American businessman with ties to Crown Prince Mohammed bin Zayed Al Nahyan of the UAE).
The New York Times also reported that they subpoenaed none other than living horcrux Steve Bannon, but that he struck a deal to be interviewed by prosecutors rather than testifying before the grand jury. His horrific presence is probably the witchiest thing about this whole investigation considering someone must have summoned him from the grave to testify.
UPDATE: Literally minutes after we first published this article news broke that Mueller's team issued two subpoenas to Jason Sullivan a "social media expert" (same) hired by Trump adviser/Dark Lord Roger Stone. Spooky.
And A Partridge In A Pear Tree
If the partridge is Donald Trump, and the pear tree is an ever-expanding web of financial and international crimes.
Heads up, you need to keep up with the news. It's not cute anymore. That's why we've created a 5x weekly newsletter called The 'Sup that will explain all the news of the week in a hilarious af way. Because if we weren't laughing, we'd be crying. Sign up for The 'Sup now!
The Definitive List Of Shady Bros Living In Trump Tower
Welcome to your relatively exhaustive guide to all the fucked up shit that has gone down in the shithole known as Trump Towers. I say relatively because there is literally no listicle long enough to recount all the money laundering, gambling, racketeering, and mafia dealings that have occurred on Trump properties. As a betch who keeps up with the news enough to be reading this article, you already know about the infamous Trump Tower meeting between Russian operatives and Trump campaign members, but you probably don't know that Trump Towers has offered a home to countless actual convicted and alleged criminals. I mean, literally countless. Shady bros in Trump Towers are like Kardashian babies – there are way more than you think. So much so that I have to break them down by geographic location. You're literally so welcome.
New York 
Let's begin with the convicted criminals who called Trump's New York City buildings home. Trump Tower, nicknamed the "tower full of oligarchs" by Bloomberg, was the second building in New York to accept anonymous buyers, which is a fucking red flag if I've ever seen one. Luckily, there are enough government investigations into these dudes that we now know who many of them are.

Trump Tower denizen Felix Sater, former advisor to Donald Trump, is my personal favorite Trump-adjacent criminal. A Russian immigrant who attempted to become a finance bro, he stabbed a Wall Street enemy in the face with a broken margarita glass while presumably blackout and literally went to jail for a year in 1991. Post-jail, he tried to pull a Nate Archibald's dad and get back in the biz, but ended up pleading guilty to working with Russian mobsters in a racketeering scheme. What a journey.
 A lawsuit brought against Bayrock, a real-estate firm based in Trump Tower co-run by my boy Felix, allegedly engaged in "financial institution fraud, tax fraud, partnership fraud, human trafficking, child prostitution, statutory rape, and, on occasion, real estate." Honestly, LOL.
A diamond dealer investigated by the Treasury Department for money laundering lived in the Trump Tower unit below Kellyanne Conway's before being murdered on 6th Avenue in what totally doesn't seem like a mob-related shoot out at all.

An international gambling ring busted by the FBI was based in Trump Tower. Chuck Blazer, a resident of floor 49 and friend of Trump's fave dictator Vladimir Putin, pled guilty to ten different crimes of corruption including racketeering, money laundering, and tax evasion as part of a larger corruption scheme surrounding FIFA, which I do not understand because I am incapable of even pretending to comprehend sports.
David Bogatin, who worked for someone the FBI literally calls the "boss of bosses" in the Russian mob, bought five condos before being investigated by the Senate.
The former mayor of a Kazakhstan city has been accused of using millions of dollars stolen from his constituents to purchase Trump Soho Apartments.
Paul Manafort, former Trump campaign manager and unregistered foreign agent who helped prop up dictators worldwide while also laundering their money on the side, lived on floor 43.
Trump was almost investigated by former DA Rudy Giuliani for selling condos to the head of a gambling ring, who paid with a suitcase of cash. I can't make this shit up. Like current DA Cy Vance who declined to prosecute Jarvanka after receiving campaign donations from Trump associates, Giuliani suddenly lost interest in this case after Trump claimed he would raise millions of dollars in the event of a Giuliani mayoral run.

Currently, Trump Tower is home to a bank run by the Chinese government, a regime with a great reputation for democracy and the free press.
A single real estate broker claims to have sold 65 units in Trump World Tower to Russian investors. But yeah, def no collusion. Also, Trump's 2016 campaign was run from floors 25 and 26 of Trump Tower, so I assume illegal dealings are TBA by Robert Mueller. Stay tuned.
Florida
Ok, onto the illegal shit occurring in your least favorite spring break destination, Florida. Trump  condo owners here include a Russian-American crime group, a Ukraininan man arrested for fraud, a Mexican financier with an Interpol warrant out for his arrest, and a Venezuelan oil contractor who pled guilty to tax evasion.

Panama
Last up we have Trump's Ocean Club in Panama. The former lead broker for this property was fully arrested for real estate fraud before fleeing the country and proceeding to give an interview claiming he sold units to men who laundered money for drug cartels, ran prostitution rings, and forged foreign documents.

If you made it to the end of this listicle and want to kill yourself because Donald Trump is in the White House instead of jail, same. Ttyl, I'm off in search of a life supply of Xanax.
Heads up, you need to keep up with the news. It's not cute anymore. That's why we've created a 5x weekly newsletter called The 'Sup that will explain all the news of the week in a hilarious af way. Because if we weren't laughing, we'd be crying. Sign up for The 'Sup now!
Images: Giphy (5)
A Historical Timeline of Jared And Ivanka's Shadiness
From Ivanka receiving Chinese licenses for her brands while Chinese diplomats lounge at Mar-a-Lago to Jared's company receiving loans from private equity groups he invites to the White House, Jared and Ivanka just can't resist acting like the Gossip Girl characters they actually once were. Seriously, Kushner Companies might be the one real estate entity more corrupt than Bart Bass's empire.
1998: Jared's Dad Buys Him Into Harvard
Jared's first brush with public shame comes when Charlie Kushner's $2.5 million donation and Jared's subsequent acceptance to Harvard are profiled in a book on rich kids getting into college on the basis of their parents' bank accounts rather than their, you know, merits as students. Ouch. While not mentioned in the book, I'm going to go out on a limb here and say that Ivanka's personal statement was not what got her into Georgetown.

2005: Jared's Dad Goes To Jail
Jared's dad is the only convicted criminal in the Jarvanka story (so far), but his saga is an essential prologue to their sordid tale. Jared's dad spent a year in jail on charges of illegal campaign contributions, tax evasion, and witness tampering after hiring a sex worker to entrap his brother in a sex scandal in order to win back control of his company. This one is so beyond the pale that even Olivia Pope couldn't cover it up.

2012: Ivanka Lies About Trump Soho
While Jared takes the reins at his family's real estate company, Ivanka is getting busy lying to the press and future investors about hers. The Manhattan District Attorney's office found emails between Donald Jr. and Ivanka in which they planned to lie to prospective condo buyers about units sold at the Trump Soho. DA Cy Vance (low-key the same DA who didn't bring charges against Harvey Weinstein) mysteriously dropped the case without pursuing prosecution after receiving a campaign donation from one of Donald Trump's personal lawyers. I assume Ivanka told Vance that her father, the inventor of Toaster Strudel, would not be happy to hear about this case going to trial.

2016: The Campaign & The Trump Tower Meeting
Jared, Donald Junior, and Paul Manafort infamously chill with a group of Russians who want to talk shit about Hillary Clinton. Apparently, Jared got bored at this election rigging pregame, which he literally told reporters because he thinks it demonstrates his innocence. Like you on a bad Tinder date, he emailed his assistant asking her to "pls call me on my cell? Need excuse to get out of meeting." Corrupt celebrity politicians, they're just like us.

2017: Trump is President, Shit Gets Real
Spring: Loans on Loans on Bribes
Citigroup CEO Michael Corbat meets with Jared in the White House, and then loans Kushner Companies $325 million. The year is off to a great start! Private equity firm Apollo Global Management also loans Kushner Companies $184 million. Try not to be too shocked, but this also came soon after a White House meeting.
Spring is an incredibly busy season for Jarvanka and espionage. On April 6, they have dinner with Trump and Chinese President Xi Jinping at Mar-a-Lago. On the literal same day as this dinner, the Chinese government approves trademarks for Ivanka clothing, jewelry, and spa brands. Subtle.
Next, Jared asked Qatar's minister of finance for a loan to keep Kushner Companies' flagship building on Fifth Avenue afloat. He is rejected, probably because his plans to renovate the building into something that a Bloomberg reporter described as belonging in the Emerald City — yes, Kushner is being compared to the Wizard of Oz by business journalists. If he only had a brain. Donald Trump then condemns Qatari foreign policy. I am sure these things are unrelated. 

Fall: Lawsuits on Lawsuits
In August, tenants of Kushner Companies buildings in New York sue Kushner Companies for overcharging rent. Kushner Companies is also sued in Baltimore for charging residents illegal fees, baselessly evicting them, and otherwise attempting to take advantage of tenants. Presumably because they knew a Baltimore jury was not going to take any of their shits, the Kushners attempted to move the case to federal court. They also tried to keep the identities of their investment partners in the Baltimore properties sealed, which does not at all indicate that said investors are probably international governments and/or criminals. 
To top off an exhausting year of colluding with foreign governments and hawking their influence with the president for money, Jarvanka are sued yet again, this time together (romantic!) over failing to include all their assets in their financial disclosures.

2018: Bye?!
Jared loses his security clearance after 'forgetting' to list multiple foreign contacts on his background check. The director of the National Background Investigations Bureau literally says that he has "never seen that level of mistakes" on a security clearance application. Now I really want to know what Jared's Harvard application looked like. To be fair, if I had as many foreign government contacts as Jared, I would probably forget a few too.  Also, multiple governments apparently plotted to play on Jared's inexperience to influence Trump. I don't know whether Ivanka's security clearance or her marriage is next, but one of the two is definitely going down in 2018.
In conclusion, bear with me and return to this Gossip Girl analogy, because real American politics are so ridiculous they are making Gossip Girl plots look restrained. There is a Bass-esque real estate empire involved, Ivanka is as blonde and dead in the eyes as Serena van der Woodsen, and Jared Kushner is basically a wildly less hot Nate Archibald. I mean, he has the businessman turned disgraced convict father with financial ties to political dynasties and also randomly owns a newspaper. Chillingly, the Gossip Girl finale ended with Nate running for mayor. Mueller, if you're reading, I would look for ties to Georgina Sparks. That bitch def has Russia connections.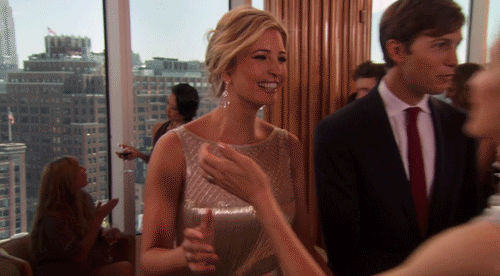 Heads up, you need to keep up with the news. It's not cute anymore. That's why we've created a 5x weekly newsletter called The 'Sup that will explain all the news of the week in a hilarious af way. Because if we weren't laughing, we'd be crying. Sign up for The 'Sup now!
WTF Is This Memo Republicans Are So Obsessed With?
While everyone was still hungover from the weekend on Monday night, House Republicans voted to make a classified document called the Nunes Memo public. The memo supposedly confirms Donald Trump's beliefs that the FBI is out to get him and that the Russia investigation is one big anti-Trump political attack. Final say on the memo going public comes down to him, so naturally he's leading the #ReleaseTheMemo campaign and is potentially rumored to be exposing it today. Here's a rundown of what might happen if it does drop and what might be inside so you can, like, get with the memo (LOL I crack myself up).
Who TF Is Devin Nunes?
TBH when I heard "Nunes Memo," my first thought was, "Woah, the actor who played Oscar on The Office is getting into politics? Good for you, Oscar!"

Turns out there's more than one person named Nunes in the world (plus they don't even spell it the same way – it was a hard stretch). The man behind the memo is Devin Nunes, chair of the House Intelligence Committee and loyal bestie of Trump. He served on Trump's post-election transition team and has spoken up in defense of the President on numerous occasions. It's pretty clear where his loyalties lie, so right away, you can bet that this memo is going to be more than just a passive aggressive post-it note on the White House office fridge telling the Democrats to stop drinking his LaCroix.
What's In The Memo?
The memo is reportedly packed with some majorly juicy goss that, if true, could mean serious trouble for the integrity of the FBI. Nunes claims to have uncovered proof that the FBI and Justice Department are biased against Trump and are only conducting the Russia investigation as a means to attack him and make him look bad.
Trump to the FBI:

Back in the Fall of 2016, the FBI applied for a warrant with the Foreign Intelligence Surveillance Court (FISA) to wiretap a Trump adviser named Carter Page, on suspicions that he might have secretly been a Russian agent. However, Nunes alleges that the FBI got their evidence of Page's ties to Russia from a document called the Steele dossier – which was written by a British spy and conveniently funded by the Hillary campaign and the Democratic National Committee. So if that's what the FBI is basing their investigation warrant on, it might suggest that the FBI plays political favorites, and that their favorite is literally anyone who doesn't have orange skin, tiny hands, and a love for eating cheeseburgers in bed. Following so far? Because this theory is twisted AF and there's still tons more yarn to pin up on the conspiracy cork board.

Who's Getting Dragged?
If this memo does get out, it has the potential to really fuck up a lot of people's jobs – especially when it comes to the Russia investigation. The person who signed off on the FBI's renewal application to keep the warrant open was Deputy Attorney General Rod Rosenstein. Rosenstein also just so happens to be the guy supervising Mueller's entire investigation and protecting him from getting fired without actual cause. Call me Olivia Benson, because I'm pretty sure I just cracked the case on where this is going next.
Say the memo actually does uncover some shady partisan shit, Rosenstein is definitely at risk of being implicated for letting it slide, potentially proving that he's biased against Trump too. If that happens, Trump could have reason to dust off his favorite phrase again and fire Rosenstein's ass. With Rosenstein out of the way, the White House would have direct access to Mueller, and no one to tell them Mueller shouldn't get the boot, effectively ending the Russia investigation if he gets fired as well. Trump is honestly using this memo to crack Rosenstein the way Janice Ian cracked Gretchen Wieners to eventually crack the lock on Regina. It's risky. It's diabolical. It's so fetch.

How Do The Dems/Repubs Feel?
Naturally the Democrats and Republicans have VERY different feelings about this memo, because they'd sooner watch the National Mall go up in flames than come to a common stance on anything. Republicans are thrilled about the possible release of the memo, since they feel that it shows indisputable evidence that the FBI is v scandalous and is using their resources to attack Trump based on personal and political bias. Democrats, on the other hand, are desperately trying to stop this memo from getting out, claiming it's completely skewed and cherry-picks the facts to make it look like the FBI did something wrong, when really it's four pages of straight bullshit.
Weirdly enough, no one seems to care very much about changing policy or reforming the process of applying for warrants, which could mean that the main motive behind releasing the memo is really just to find a way to get closer to firing Mueller and ending the Russia probe for good. But, like, no guilty person would ever want to halt a major investigation before it has a chance to find key evidence, right? That would be obstruction of justice.

So will this memo actually reveal anything substantial? No one really knows yet because the actual contents have been kept top secret – Sarah Huckabee Sanders said that Trump hasn't even read it yet, so the hype must be so real if he's ready to put the FBI on blast with something he hasn't even officially seen. We'll have to wait and see how it all goes down today, but my guess is that it will look a little something like this:

…and then turn into a whole lot of this:

Heads up, you need to keep up with the news. It's not cute anymore. That's why we've created a 5x weekly newsletter called The Sup that will explain all the news of the week in a hilarious af way. Because if we weren't laughing, we'd be crying. Sign up for The Sup now!