Colleges Still Don't Know How To Approach COVID-19
You might recall that a few months ago I wrote an article about my own college shutting down. Well, at the end of the article I made a promise that might not pan out: that gross frat basements would be ready and waiting for us this fall. It turns out that not only was that super wrong but also super naive. 
Here's the thing, universities have even less of an idea what fall will look like than I have about what I'm going to do in the spring when I graduate. So, having no plan for the future is just one of the things that America's most prestigious institutions and I have in common. 
Every university has just been super shady about their reopening plan, mostly to avoid making any real commitments. Even Tulane, which is where I go, sent out an email confirming that campus will be open in the fall but the email was filled with a ton of caveats and since then the school has started to push optional remote learning.  School's plans pretty much fall into one of three categories: full in-person learning (let's call that denial), a hybrid learning plan, or full remote learning. 
Regardless of their school's official plans, students and administrators are desperate to have some sense of normalcy come the fall. Whether that means heading back to their off-campus apartments to take online classes, abiding by mask-wearing requirements, or creating plans for shortened semesters that limit how often students leave and return to campus. 
But, even at schools that move forward with an in-person learning model in the fall, it is pretty unlikely that life will be returning to normal. Like, it's honestly never a great idea to be in a tiny frat house with 100+ random people, but it's an even worse idea now. And, if frat boys insist on coming up with any possible reason to not wear a condom, how can we trust them to socially distance and wear masks at their own parties? 
It's important to remember universities' plans for the fall have a much deeper impact on society than whether or not I'll get to wear a sparkly mini dress at my semi-formal this semester. Universities have to consider what they will do about tuition, international students, and all employees and faculty members. Universities are huge ecosystems that have major impacts in surrounding communities, and any decisions about the fall have to take these things into consideration. 
Many schools that have moved online for the semester are still having students pay full tuition. Sure, classes are being offered online and people will still be learning, but online learning does not come close to in-person learning. Students are losing out on personal relationships with their professors, hands-on instruction, and some of the campus services that make a world of difference when it comes to actually understanding class material. 
On Monday, ICE, Immigrations and Customs Enforcement, reported that they would be issuing a regulation prohibiting international students whose universities have adopted online learning for the fall from staying in the country. As schools continue to change their plans based on developments in research and changes in their communities, this f*cks over more than a million students. 
ICE said in a news release yesterday that students "may not take a full online course load and remain in the United States," adding, "The U.S. Department of State will not issue visas to students enrolled in schools and/or programs that are fully online for the fall semester nor will U.S. Customs and Border Protection permit these students to enter the United States."
Here's the thing: while I disagree with ICE and the government in general, they make an interesting point. The government is saying that learning remotely is different than in-person college, which is correct. So, if the college experience is different when it is done online, maybe, just maybe, we shouldn't have to pay the same tuition as if it was in person. Just a thought. 
All that said, politicians and some universities are pushing for full reopenings next semester – citing financial concerns. Ok, sure. There are legitimate economic concerns especially when we think about service workers and the impact students and professors have on local businesses. But, when colleges express concerns about their own bankruptcy, it's like a. what about your endowments and b. ok way to make a great case for federally funded college. 
At the same time that schools, parents, and students are grappling with hard decisions about the fall, students are returning to their off-campus apartments for the summer. IMO, there's nothing wrong with heading back to school, especially if you're paying for an apartment that you were unable to sublet. But, you have to be safe. There's a huge difference between spending the day working on remote internships and summer classes and going to huge parties where no one is wearing a mask. I'm not saying that you can't do anything but sit in your living room and stare at your roommates, but it's important to remember to wear a mask, socially distance, and keep your circle small. 
Here's the deal, there is a direct correlation between the way we act now and what the rest of the year is going to look like. If we want this shit to end we have to wear masks, socially distance, and avoid big parties. Until this happens, the likelihood of life returning to any sense of normalcy is extremely small. 
Hate to break it to ya, but the only thing guaranteed about fall 2020 is that it's going to be a clusterfuck. 
To stay up to date on all things COVID-19, sign up for the Betches Sup newsletter.
Expectations Vs. Reality Of Being Home For Winter Break
After a long semester and a seemingly endless exam period, winter break could not come f*cking soon enough. Break is probably the only thing motivating you to just finish your damn paper, so you might find yourself daydreaming mid-study session about all of the great things you're gonna do with all the free time you'll suddenly have. But before you get ahead of yourself, let's take a moment to bring your winter break expectations back to reality.
Actually staying on top of school work
Expectation: After seeing how much you f*cked yourself over during finals by not doing the readings literally all semester, you're gonna order all your books for next semester and get ahead on the reading. You're determined to make Dean's List and vow you won't put off all your work until the last minute like you did last semester. 
Reality: Two weeks into the spring semester and you still haven't bought your books yet. And probably never will, tbh.
Having a rom-com romance
Expectation: You'll go ice skating or Christmas tree shopping and have a Hallmark movie-style meet-cute whirlwind romance. You and your new true love will save Christmas/whatever small town you live in by baking cookies or solving a low-grade crime or something.
Reality: You spend every damn day unsuccessfully resisting the urge to hit up your high school ex.
Getting sh*t done for your future
Expectation: Every day will feel like #motivationmonday and you'll submit ALL of your summer internship applications before the end of the break. 
Reality: You sleep in past noon every day—when the sun sets at like, 4pm, how could you possibly be expected to get anything done in that time frame? It's also only December. You'll have pleeeenty of time to get that sh*t done before the summer deadlines. I mean, that's what syllabus week free time is for, right? 
Finally getting fit
Expectation: With all that free time, you'll hit the gym every day and put all those Lululemon leggings you've been wearing exclusively to class to their intended use. You'll have no excuse without classes and studying to get in the way, so you'll finally be able to embody the fit b*tch you stalk (but refuse to follow) on Instagram. 
Reality: Your slight motivation to work out doesn't stand a chance with all the holiday baked goods sitting around. Spin class? Sorry, what? I couldn't hear you over the crunch of this peppermint toffee in my mouth.
Social media activity
Expectation: Your Insta game is going to be ON. POINT. You know all the hacks to make your hometown look aesthetically pleasing. With so many cute Christmas decorations and all your winter outfits, there will be endless opportunities to keep your feed fresh. 
Reality: It's too f*cking cold to dress cute. In a couple of weeks no one will have likes on Instagram anymore, so what's the point of even trying?
Eating real food at home
Expectation: For weeks you've been fantasizing about all the home-cooked meals your parents will make you. You can't wait for a break from the college dining hall food and the food poisoning that comes with it. They'll have a whole spread of all your favorites set up for your arrival. 
Reality: Your parents barely even cook anymore and all they have in the fridge is a jar of pickles and a bag of unopened wilted spinach. Looks like delivery again.
Meeting up with your hometown friends
Expectation: You'll hang out with your friends 24/7, just like in high school. Everything will feel like you never even spent time apart and there will be no drama. 
Reality: It takes at least a full week, five different "activity" suggestions, and 12 different potential dates and times to plan something. When you all finally decide where to go, half of your friends cancel on you with some bullsh*t excuse at the last second, and the other half only want to meet up so they can convince you to join their pyramid scheme.
Organizing Your Life
Expectation: You're finally going to check literally everything off your to-do list. Organizing the files on your desktop? Check. Getting a haircut? Check. Admitting to yourself that you can't afford all the sh*t you have in your shopping carts in all those tabs you have open? Check. By the end of break, you'll be organization personified. 
Reality: Your to-do list will collect dust and accumulate more tasks that won't get done. Instead of getting your act together, you're going to watch all those shows you've been meaning to watch all semester.
Spending time with your family
Expectation: No matter how much you may hate to admit it, you missed your family like crazy during the semester. You can't wait to spend quality time with them decorating the tree, watching movies, going shopping for each other's gifts, and having dinner together. 
Reality: You all get on each other's last nerve within five minutes and spend the rest of your break in separate rooms. You even listen at the door before leaving to avoid interaction. It's for your own sanity, tbh.
Going out
Expectation: You'll attend a lit af New Year's Eve party. Everyone will compliment your outfit and your crush will miraculously also be at the party because of the power of ~holiday magic~. You'll kiss at midnight and live happily ever after (or at least stay together long enough to a steady hookup). 
Reality: You'll ring in the new year watching the ball drop with your family. Your parents will force you to write down some resolutions for 2020 even though you have zero intention of ever changing your ways.
Don't get me wrong, winter break is the f*cking best. You get to sleep all day, have no real responsibilities, and can pretend for a brief moment that you'll never have to walk into a lecture hall ever again. But if you want to enjoy it, you've got to let go of your expectations that winter break is anything more than hibernation (with Netflix and your parents' liquor cabinet to keep you company). Honestly, by the time January rolls around, you'll probably be dying to go back to college, where you're free from your parents' curfew and the reaches of your hometown MLM pushers.
Images: Victor Hughes / Unsplash; betches, offcampus (2), squaresayings / Instagram
The ACT Is Changing & Here's What You Need To Know
It's no secret that for some, standardized tests are like a unique form of self-torture: sitting in a room for over two hours with a group of other freaked out students, every single thing you do being watched and timed, nothing but a complimentary chocolate bar to console you. On a SATURDAY, nonetheless!
There's so much pressure put on your performance on this one test. For some colleges, your test score determines whether or not you'll be admitted. That's a massive burden to put on someone who isn't even old enough to vote yet. I remember spending months going to tutoring sessions, prep courses, and having countless mental breakdowns just to receive scores I knew weren't a true reflection of my abilities. The math section especially ALWAYS made me its bitch. I dreaded sitting through the entirety of another test session just to attempt to improve my math score because there was always the chance I could score lower in the other sections.
Luckily, for those students still eligible to take the ACT test in fall 2020, there will be three new testing options available. All are anticipated to help increase students' chances of college admission and improve the overall test-taking experience. The driving factors for these changes were research findings and extensive feedback from students, parents, teachers, counselors, and college admissions professionals.
On October 8th, the ACT announced students will have access to taking the ACT online, ACT superscoring, and individual sections retests. According to PR Newswire, ACT Chief Commercial Officer Suzana Delanghe said, "ACT is evolving to meet students in the digital world in which they live. We want to do a better job of helping them succeed."
Let's break down exactly what this all means. For starters, the ACT is not getting a new test or test structure. There's not a new version of the test, just new options of how students can take it.
Just in: we're giving students more choices. Starting  next school year, students will be able to:

➡️ Retake individual ACT section tests
➡️ Choose between online testing with faster results or paper testing
➡️ Get an ACT Superscore  https://t.co/E1mEW3r2ow pic.twitter.com/tgF2XNJ6bn

— ACT (@ACT) October 8, 2019
The new, online option will still take place on national test days at (select) ACT test centers. Online testing will offer faster results—two days compared to around two weeks for traditional paper-based tests, according to PR Newswire. Superscoring gives colleges the "option to use the student's best scores from all test administrations, rather than scores from just one sitting." In other words, you can choose your best combined scores, rather than having to throw the whole test away if you don't improve on one section.
Lastly (and easily my favorite new option), is ACT section retesting. For the first time, students who have already completed the test will have the option to retake individual sections. If you suck at math like me, you can just retake the math section rather than the entire test! Delanghe confirmed individual section tests scores are consistent with those of the entire test. They are just "offering new ways to take the ACT…giving them the ability to focus only on subject areas needing improvement." Students can still opt to retake the entire ACT if they'd like, but like… why would you subject yourself to that again?
The new ACT testing options will become available in September 2020. Students will be eligible to retake sections of the test then, regardless of when they took the full ACT. The graduating class of 2021 will be the first effected by these changes.
Despite the new changes to their testing options, the ACT will still offer free learning and test prep resources and its fee waiver program for low-income households.
TBH, I would have killed for these options when I was in high school. Standardized tests are NOT my jam, and having the chance to  retake one section at a time would've been a tremendous stress reliever. Personally, I'm still not convinced standardized tests are the best way to measure skill and knowledge, but it's great to see ACT making strides to improve students' testing experience.
Images: ACT / Twitter
The Must-Have Dorm Room Decor Items That Will Save You From Looking Basic
I look forward to Back to School season for one reason, and one reason only: the shopping, obvi. IDC if it's because I'm buying markers, pens, colored pencils, and other boring shit that just collects dust. It still means I have to spend money and buy things for myself that I (debatably) need. It's the time of year where I buy another overpriced planner, simply because the design is cute and I like feeling as though I have my shit together. Oh, how a planner makes for a perfect disguise. *writes in it for syllabus week only* I then go out and buy an entire new bed set because my side of the room has to look the fucking best. You know, just in case MTV Cribs decides to come back and have a dorm special or something. Although I'm now ancient af a college alum, if there's one thing I learned, it's where to buy the hottest shit for your dorm room to make everyone 1) jealous and 2) come to you for all the pregames. Listen up, betches. Class is session.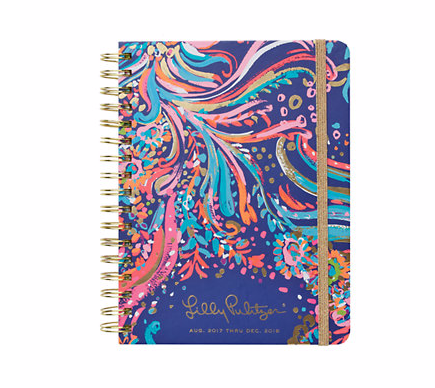 Nothing screams basic bitch or sorority girl more than owning a Lilly Pulitzer planner. The large size comes with more than enough pages and space to write down all of your parties important dates. Plus, it comes with stickers that resemble Lisa Frank but like, for adults in a festive print that's on your fave Lilly dress for this year's track season.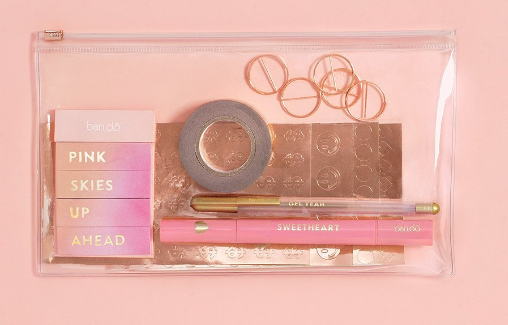 If you didn't already, you're probs getting a new big af bag to carry all your shit in to and from class. Although you'd like to look like you know wtf you're doing, all of your things def get thrown in like pocket change after the first day of school. Well, this little pouch kind of makes your life easier. According to its description, it comes with things you just "neeeed," like a marker stamp and gel pen—sounds about right. Since you lose pens like you lose bobby pins, you'll need this rose gold pouch to keep at least one aspect of your life organized.

Too much of a colorful floral comforter makes me think you're still a 5-year-old. You want one that's simple, yet classy (whatever that means) in a neutral color so your one night stands don't feel like they're sleeping in their little sister's room. For whatever reason, a white comforter says you're a sophisticated betch with a fuck ton of power because you are taking a huge risk to keep a white comforter clean. This white one has a gray floral design you can mix and match with other bed décor and still feel like a queen.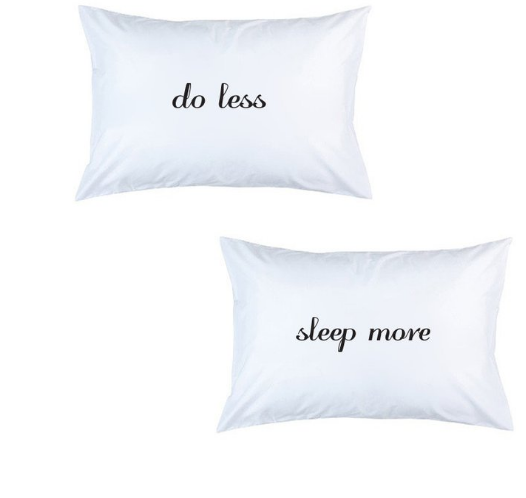 While we're on the topic of bed sets that mix and match, you'll also need pillow cases that inspire you to have sweet dreams, help you go to sleep faster, blah blah blah. It's not like these are like, therapeutic or anything, but at the end of the day you'll feel really good about rewarding yourself with a nap you don't need after barely lifting a finger. Same thing.

If you don't have a $50 UO tapestry hanging in your dorm room, do you even smoke weed dorm? This one comes in either navy or white with rose gold detailing so it'll easily go with any bedroom theme you have going on. Its artsy design will make for the perfect Insta background so all of your followers will think you're somewhere way cooler than your dorm room. Pro tip for those who aren't ready to give up the tapestry life after college: You can actually get your tapestries framed, and it will instantly take your décor from "college stoner" to "cultured intellectual who probably studied abroad in India or some shit." You're welcome.

You've seen this all over Pinterest and even though it's probs easy af to make yourself, ain't nobody got the time, patience, or attention span for that shit. So naturally we're going to buy it instead. This cute photo holder can showcase all the photos you look good in cherish in a v crafty way—one you can totally get away with telling people you made yourself.

Naturally, you're going to get white Christmas lights like every other student and their mother. But these are different and like, literally the best thing I've ever seen. These come with Bluetooth enabled speakers you can pair with your iPhone so you can host the best pregames on campus, make all of your friends jealous, and have your room still looking lit. How fucking cool.