Will 'Growing' Change Your Mind About Amy Schumer?
If you're on this website, you likely have a well-formed opinion on Amy Schumer. Over the past five years, Schumer has swung wildly in the court of public opinion. We loved Trainwreck—then we remembered some of her early jokes about Hispanics. We love how real she is on Instagram—but find her Twitter presence problematic. We love Amy Schumer the feminist, but as a white feminist, we're still eager to see her overcome past blind spots.
Schumer's new comedy special, Growing, doesn't quite feature a woman reborn, or cleansed of past imperfections. But it does, aptly, feature a Schumer who's well on her way to growing up. The Schumer in this special—now both married and heavily pregnant—retains a lot of her classic irreverent attitude toward sex, drinking, and bodily functions. But whether it's due to past criticisms or personal growth, that attitude is underpinned with a genuine desire to do these topics justice. (Well, maybe not the drinking so much.) Obviously, the best way to decide how you feel about Schumer is to go watch the damn thing (or at least, like, turn it on and scroll through Instagram while it plays in the background). But short of that, here's a highlight reel of sensitive subjects Schumer covers in Growing—and notably, what she chooses not to touch.
On Race
If the lesson we wanted Amy Schumer to learn was to stop making jokes based on racist stereotypes, and also to make her brand of feminism a hair more inclusive, I'd say she succeeded. The first mention of race in this special is an off-hand comment about women asking for tampons "leaning in as though they're about to say something racist." She follows with the punchline: "and whatever race you thought I meant, that's your problem." To me, this seems like a perfect level of engagement with race for Schumer: it acknowledges that racism is alive and well (likely, within her audience), mocks the specific physicality that accompanies racist remarks made in social settings, and stops just short of actually sharing the content of a racist comment or stereotype on stage. I will happily call that progress.
The second comment on race comes in citing sexual assault statistics for women. She notes that one in three women will be sexually assaulted in their lifetime, then adds that for women of color and trans women, that statistic looks even worse. Yes, it's a footnote on a joke, not a full-throated roar on the importance of intersectional feminism. But the fact that it's included tells me Schumer is listening, and learning—and even if she's not, I'm just glad it was included.
Also, loving the continued activism on her page:
On Politics
Among the criticisms I listed earlier, Schumer also got in slight trouble back in 2016 for making jokes about Trump. Apparently, a group of fans left her show in Tampa after she dared to call POTUS a "monster." (I mean…where is the lie?) Obviously, this is not an aspect to Schumer that I take issue with—and in fact, I was curious to see if she'd go in even harder. While she mostly leaves politics out of it, the comments she did make affirmed that she is still, to use the technical term, hella liberal. Here were a few of my favorite comments.
On Colin Kaepernick: "I think there are only two reasons you should get down on one knee, if you're a guy. If you're a player in the NFL, and to eat my pussy."
On Brett Kavanaugh:* "People criticized me . They were like, 'that was irresponsible, you're pregnant.' And I was like, 'well that's why I went down there', you know? I want to be able to tell this kid I did everything I could, you know? And D.C., I heard, has the best cocaine." 
*ICYMI, Amy Schumer and Emily Ratajkowski went to D.C. to oppose Brett Kavanaugh's appointment to the Supreme Court and both were arrested.
On #MeToo: "I don't know what I'm having. I hope it's a girl. But really just because it's such a scary time for men."
Also, this:
On Her Husband
This may seem odd to include on a list of "touchy" topics, given that, unlike race or politics, Schumer's never been in hot water for her choice of husband. But my favorite moment of the special—and the one that, for me, marked the most personal growth for Schumer—comes about 20 minutes in, on the subject of her husband, Chris Fischer. "I knew from the beginning that my husband's brain was a little different from mine," she begins. "And about—" she stops, and shakes her head. "I have to start this over," she continues, "because I really want to get this right. Because I love him very much."
Her husband, she reveals, has been diagnosed with autism spectrum disorder (ASD). Schumer talks about their courtship, sharing early moments when she recognized his mind worked differently, before he'd received the diagnosis. These were not, in any way, moments that created doubt for her, or somehow lessened his ability to be a good partner. In fact, she says the same characteristics that "make it clear that he's on the spectrum" were the ones that made her fall "madly in love" with him.
Personally, I love the fact that she explicitly discusses his diagnosis, and love even more that she doesn't shy away from describing that he is, in fact, different. And that that difference is precisely why she loves him. The moment where she pauses, and starts over, felt to me like seeing personal growth happen in real time. She had a moment where she recognized she was entering a sensitive topic, that this topic concerned a group of people she was not herself a part of but very much wanted to show the appropriate respect to, and that, in order to discuss it at all, she would have to do it exactly right. If Schumer applies this same care to all of her comedy going forward, I think she'll fare better with her critics, and frankly, make more inspiring comedy.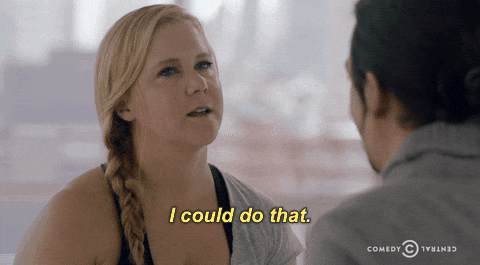 As an hour-long comedy experience, I loved Growing: I laughed a lot, gagged only a little (pregnancy is real sh*t, people!), and came out feeling a personal connection to Schumer that I hadn't before. As a referendum on Schumer's character, I'll say this. If you've been disappointed by Schumer's missteps, and wanted to see evidence that she's becoming more self-aware in her comedy, you'll find it in Growing. If you wanted an apology tour and a public renunciation of her entire comedy career, not so much. Beyond the content I highlight above, she talks about her difficult pregnancy, the joys of new period technology, and why she's glad she waited to get married. It's honest, a little gross, and felt like the comedy of someone halfway between where I am now and where I'd like to be in 10 years. In other words, someone growing, if not quite grown up.
Images: Instagram (2); Giphy
We've Officially Found The Dumbest Response To The Nike Controversy
Unless you've been hiding under a rock you've probably heard about the backlash Nike has received over choosing former pro Quarterback turned political activist Colin Kaepernick as the face of their "Just Do It" campaign. Since then people have been burning their Nike shoes and cutting the famous swosh off of their socks. (Why not just like…buy new socks instead? Who wants to wear socks with the brand cut off?) The mayor of Kenner, Louisiana decided to go one step further and released a memorandum banning Nike in his town.

WTF Is This memo?
Kenner's Mayor Zahn sent a memo to Leslie Knope The Department of Parks and Recreation stating, "Under no circumstances will any Nike product or any product with the Nike logo be purchased for use or delivery at any City of Kenner Recreation Facility." This memo was never meant for the public to see (pro tip: every memo is a public memo now that the internet exists) but it was made public just days after its September 5th release. Cue a bunch of angry towns people, but minus the pitch forks and sub in some New Orleans Saints players repping Nike to support the town. Mayor Zahn claims that he did it to ensure that the taxpayer dollars weren't going to be supporting a politically charged campaign, so that their money can be neutral. Nice try at a coverup, bro. Sadly for Mayor Zahn, the town cannot stop people from wearing their own Nike apparel in public, talk about freedom!
Why Are People Pissed?
In case you look forward to Sunday's for Kardashian episodes and not football, Kaepernick is now known for taking a knee during the National Anthem at a preseason game while on the 49ers. That is how the whole debate over whether or not it is unpatriotic to protest during the National Anthem by peacefully taking a knee got started. The Mayor of Kenner has spoken out against the movement (he literally goes to football games and yells "IN KENNER WE STAND FOR THE ANTHEM!") so no one is surprised that he was upset with Nike's Kaepernick campaign. That Mayor Kenner clearly has no f*cking chill.
Why Are Players Taking A Knee?
The trend of kneeling in protest during the National Anthem started, but most certainly has not ended, with Kaeperknick. The act is meant to call attention to the rapid rate at which young black men are being killed at the hands of police forces in America. Now the issue has been turned into a b*tch slap in the face to the armed forces and America as a whole, despite the fact that the protest has literally nothing to do with the armed forces at all. While Kaeperknick may have landed the Nike campaign, he first had to give up his football career to stand by his beliefs. He refused to stand and the NFL ultimately black listed him, giving us some serious Rosa Parks vibes. The debate over this act has bubbled into elections and Texas's Democratic Senate Candidate, Beto (pronounced "bae-to")O'Rourke has the best answer to this divisive topic. Watch out Lyin' Cruz!
Either way, Nike has made cash money since the campaign released even if stocks have taken a hit. As far as Kenner is concerned members of the City Council are looking to reverse the memo and chances are it won't last long.
Heads up, you need to keep up with the news. It's not cute anymore. That's why we've created a 5x weekly newsletter called The 'Sup that will explain all the news of the week in a hilarious af way. Because if we weren't laughing, we'd be crying. Sign up for The 'Sup now!
Dumb People Are Burning Their Nike Gear Over Colin Kaepernick
If you smell smoke this morning, no you didn't leave your straightener on (but, girl, double check) you're probably just in the vicinity of a lunatic who is burning their Nike sneakers. Why is someone burning Nike sneakers they already paid for, you might ask. Oh, because football. Duh. Yesterday Nike launched a new advertisement with Colin Kaepernick that read "Believe in something, even if it means sacrificing everything." Yesterday Nike launched a new advertisement with Colin Kaepernick that read "Believe in something, even if it means sacrificing everything." Obviously, this is hugely offensive.
First the @NFL forces me to choose between my favorite sport and my country. I chose country. Then @Nike forces me to choose between my favorite shoes and my country. Since when did the American Flag and the National Anthem become offensive? pic.twitter.com/4CVQdTHUH4

— Sean Clancy (@sclancy79) September 3, 2018
 Umm…remind me who is supposed to be the "snowflake" here again? Quick re-Kaep (see what I did there?): Colin Kaepernnick is a former NFL Quarterback for the 49er's who decided to kneel for the National Anthem in protest of unfair treatment and violence against African Americans by the state. Since taking a stand, or literally, taking a knee, he's been released from the 49er's and no team will hire him. If this were the Mean Girls universe, Kaepernick would be a mathelete, aka  he committed "social suicide."
Believe in something, even if it means sacrificing everything. #JustDoIt pic.twitter.com/SRWkMIDdaO

— Colin Kaepernick (@Kaepernick7) September 3, 2018
Nike choosing to partner with him has caused football loving "patriots" to all become arsonists and burn their Nike gear. Some have cut off the Nike logo from their apparel. None of these American heroes realize that they've already purchased Nike gear and destroying them after the fact doesn't hurt Nike in any way.
Our Soundman just cut the Nike swoosh off his socks. Former marine. Get ready @Nike multiply that by the millions. pic.twitter.com/h8kj6RXe7j

— John Rich (@johnrich) September 3, 2018

.@Nike Due to your support of C.K. in your coming adds, I as an American can no longer support your company. #boycottNike #IStandForOurFlag pic.twitter.com/5JxSMD8SSO

— AlterAtYeshiva (@alteratyeshiva) September 4, 2018
Of course, while the backlash is making a louder ruckus, a ton of people are also like "yas, go Nike!" and supporting the company's endorsement of a patriotic dissenter. The company's stocks are down 2% today, but admittedly I do not understand what that means and feel confident no one will be talking about this in 2-5 business days. Also, Colin, congrats on getting that paycheck.
Heads up, you need to keep up with the news. It's not cute anymore. That's why we've created a 5x weekly newsletter called The 'Sup that will explain all the news of the week in a hilarious af way. Because if we weren't laughing, we'd be crying. Sign up for The 'Sup now!