The Definitive Ranking Of The Worst People In 'Love Actually'
We are three days away from Halloween which means, by my book, we are four days away from the pre-Christmas season. I am that person, and I welcome your ire. I can't hear your vitriol over my highly contested "All I Want for Christmas is This Playlist" playlist, which has been queued up since the leaves began to change in September. For those who are curious, it is a 14-track playlist, consisting of 11 covers and/or remixes of Mariah Carey's "All I Want for Christmas Is You", and three repeats of the original song.
Yes, I understand that November is technically still fall and thus belongs to Thanksgiving. But that does not mean that you can't begin to prime yourself for November 27th, when the gourds are dumped into the garbage and the pumpkin spice is shoved to the back of the cabinet to make room for all things garland, pine, and peppermint. It is also the earliest possible date that it becomes acceptable to break out everyone's favorite Christmas movie to hate: Love Actually.
Much like your highly entertaining but socially unacceptable drunk aunt, Love Actually has many… shall we say… "quirks" sprinkled throughout its two-hour-and-twenty-five-minute runtime that don't necessarily hold up as well in today's world as they did back in 2003. The horribly inappropriate relationships, the general fat-shaming, the rampant wish-fulfillment of middle-aged men ending up with young, hot women, just to name a few.
But guess what? We love it anyway. We take all that criticism, examine it, and then still manage to relish in this chaotic and well-meaning holiday classic. Why? Because It's 2020, baby. Entertainment requires analysis, but that doesn't make it any less enjoyable. Recognize that a necessary step in consuming media is to critique it, and move on.
After you've taken the time to examine Love Actually for what it is, flaws and all, you'll come to find that the characters range from those with questionable judgement to objectively immoral. That is not to say that there are not great people in the movie, because there are. May I present to you, a short list of the best characters in Love Actually:
Billy Mack, who leans so far into entirely crude and crass conduct that he manages to circumvent dislike altogether and emerge relatively wholesome and entirely likable.
Liam Neeson, a stepfather who set an unreasonable and unattainable bar for stepfathers for the rest of time.
Bean, who clearly knew what was up and tried to expose a cheater when he had the chance. A true ally.
The Octopus Kid in the car during Hugh Grant's admission of love, whose contribution is obvious enough to not require further discussion.
Aurelia's Sister, the wise and wary sibling we may all be so lucky to have in our lives.
Thomas Brodie-Sangster, who is entirely pure of heart and either 4 or 14 years old, but we will never be sure either way.
Everyone else lands in a moral grey area that I will spend every Christmas for the rest of my life exploring, the worst of which I've attempted to rank below. Here are the worst characters in Love Actually ranked by terribleness.

8. Jamie (Colin Firth)
You may think it's callous of me to put Jamie on this list considering the movie kicks off with him catching his wife sleeping with his brother, but that's exactly the trap that Love Actually wants you to fall into. Jamie is not a bad guy. He is, however, a super cringey guy who projects his misguided emotions onto a younger woman in his employ, and that's enough of a reason for me to dislike him. This is especially difficult to reconcile with my long-held, deep devotion to Colin Firth, but humans are multifaceted creatures.
Not only does Jamie show up in Portugal on Christmas Eve with his haphazard declaration of love for Aurelia, but he does it at her place of work in front of basically everyone she's ever known. Public proposals are inherently unacceptable. But public proposals to someone whom you've never actually had a conversation, professing affection that could be, to your knowledge, entirely one-sided? Unforgivable.
7. Prime Minister David (Hugh Grant)
Much like Jamie, David is not a bad person. His is, in fact, one of my favorite storylines in this movie. But that doesn't change the fact that he incited a low-key international incident because he had a raging crush on his employee (a theme, perhaps??) and didn't know how to handle it. That's just not acceptable any way you slice it.

I am definitely not siding with Billy Bob Thornton here, but I just feel like there were a number of productive ways to address his inappropriate behavior toward Natalie, and a live international press conference was not of them. Sure, it seems like a pretty insignificant event compared to the unrelenting political circus we all live through today, but that shouldn't be a litmus test for acceptable behavior in any regard, fictional or otherwise.
6. Aurelia's Dad
This man was ready to straight-up sell either of his daughters to the first English guy to come knocking, no questions asked. Historically, when a white man shows up unexpectedly in your country to lay claim to something that does not belong to him, bad things tend to follow. But Aurelia's dad was too busy calling his other daughter Miss Dunkin Donut 2003 while leading a parade towards Jamie's potential hostage situation of a proposal to think about that, I guess.
5. Literally Everyone Who Called Natalie Fat

This list is inclusive of but not limited to: Natalie's recent ex-boyfriend, the President of the United States, Annie (Daniel's chief of staff), and Natalie's father (yes, we're counting "plumpy"). You are all invited to physically fight me.
4. Mia
This isn't a groundbreaking insight, but Mia just sucks. Totally and completely sucks. The onus to not cheat on his wife was 100% on Harry, and I'm not making any excuses there. But repeatedly, brazenly, and frankly uncomfortably pursuing your boss who you KNOW is married with children is just textbook sh*tty behavior. This is not slut shaming, but just decent f*cking person shaming.
3. Billy Bob Thornton as the President of the United States of America
Remember a time when the president of the United States being a giant creep and open sleazebag was an outlandish plot in an ensemble rom-com and not just like… a slightly more generous take on reality? Remember that? Ha. Ah ha. Ha. Ha.

A younger, more idealistic version of myself may have put President Billy Bob Thornton close to number one on this list. But the current state of U.S. politics has ground me into a hollow, broken shell of my former self, and to be quite honest, I'd be pretty psyched if the Love Actually caricature of a U.S. politician was President. I would also accept the Hugh Grant version of a Prime Minister, Hugh Grant as any role he played throughout his nineties heyday, or even actual Hugh Grant. His not being a U.S. citizen poses a bit of an issue here, but may I remind you that nothing matters anymore anyway?
2. Mark
Mark has come under real fire in recent years, as it would appear we all collectively woke up and realized his sham of a romantic gesture and general lurk-y antics were actually restraining order-caliber behavior.
Let's start out with the wedding, where his first unforgivable act was to wear an eggplant satin shirt with an identical shade of eggplant satin tie. Clearly sabotage from the start.

Then we learn that, against Chiwetel Ejiofor's wishes, he arranged for Brazilian sex workers at the bachelor party, likely in an attempt to entrap his best friend into cheating on his fiancée so that Mark could swoop in with another ill-advised stunt.
After that, as we all know, Mark goes on to record some truly unhinged wedding footage of his best friend's wife, played by Kiera Knightley. And while he had the foresight to plan for a surprise full choir and big band performance, Mark did not stop to think that perhaps anyone at the wedding, love interest included, would ever ask him for any of the footage that he was very openly and obviously recording. Like, this is an era before functioning phone cameras, buddy. Your home video will be in high demand.
I get it. Unrequited love is rough. But there are many avenues to take with it, and none of them should involve creating your own personal spank bank of your best friend's wife on their wedding day.
After being caught with the incriminating footage, Mark has two options: apologize profusely and then avoid this couple for the foreseeable future, or lie and act like he had no idea the shot was excruciatingly zoomed in all day. Our man boldly pursues a third, highly inadvisable option, by doubling down on his stalker vibes and showing up at Peter and Juliet's home with a truly ill-conceived performance, with which we are all intimately familiar. But just in case you need a refresher, see below.
There are many, many flaws here (absolutely including Kiera Knightley rewarding this act of desperation with a kiss), but the one I've decided to take the biggest issue with is Mark validating his behavior with the sentiment "at Christmas you tell the truth." Christmas is a time for many things, but truth telling is not one of them. I would actually say that it's a time for shutting the f*ck up and not trying to blow up the lives of the people you love, a sentiment I gleaned from watching every single bad Christmas movie Netflix has to offer.
After all that, I wish I could say that he got it out of his system, but the flash forward at the end of the movie begs to differ, with Mark unnecessarily third-wheeling Peter and Juliet to the airport to pick up Jamie and Aurelia. "I just decided to tag along." We see you Mark!! This will not stand!
1. Harry (Alan Rickman)
The number one spot on this list is only surprising in the sense that Alan Rickman has managed to play not one, but two characters I actively despise while being one of the most likable men of all time. It's called talent, sweeties. Look it up.

(Author's tangent: Yeah that's right, Snape sucks. No redemption arc makes up for the fact that he spent his adult life psychologically torturing children because his childhood crush didn't like him back. We've all suffered heartbreak without going on to become Ms. Trunchbull. But I digress.)
You might think we're going to just touch on the blatantly obvious reason that Harry managed to secure the coveted title of Worst Character in Love Actually, a feat that's all the more impressive when you consider there are two actual world leaders amongst his contenders, but no, we will be going one step further.
I went back and re-watched Love Actually in October (which is strictly against my own protocol) for the sole purpose of pulling together an itemized list of every awful thing Harry does throughout the movie. To even my own surprise, it is extensive.
– A now verified theme—let's start with workplace behavior. Harry summons Laura Linney to his office just to confront her about her obvious crush on Karl, which kickstarts the saddest plot point in a movie that also features an orphan and widow at Christmas time. I get that 2003 was a pre-Me Too era, but this isn't Mad Men! I don't care how close Harry and Sarah may be, by Laura Linney's own admission she had only been working at the company for two years, seven months, three days, and two hours. No man who has known you for that insignificant of an amount of time is allowed to talk about the unrequited feelings you may or may not have for your coworker who is also an Armani underwear model. Those are the rules!!
– He openly hates the office Christmas party. I know this isn't an uncommon opinion to have but as someone who loves the office Christmas party, I am going to count it against his character anyways
– He knows someone named Kevin in the office has a penchant for fondling the breasts of his coworkers at said Christmas party, but has apparently done nothing about it other than recommend people steer clear. A cheater and an enabler, to boot.
– Goes on to dance with Mia in front of his wife multiple times at the Christmas party that he supposedly despises.
– Did not object when Emma Thompson said she was the size of Pavarotti. Even if she was actually the size of Pavarotti, it is his job to tell her that she is not.
– Not a personality flaw per se but just worth pointing out that Harry has atrocious taste in jewelry.
– Effectively ruined Joni Mitchell for his wife, because now it will only remind her of her philandering, worthless husband.
– If I confronted my husband about cheating on me with his clichéd sexy secretary and he had the audacity to respond with "I am so in the wrong, a classic fool"? Murder. The only reasonable reaction. Entirely justified. No one could convict me.
To round it all out, let's just be abundantly clear that this absolute buffoon pursued a short-lived, and entirely sex-motivated affair with an employee at CHRISTMAS. I rest my case.
Honorable Mention: Whoever Decided That Laura Linney Doesn't Get A Happy Ending

Karl was so clearly into her! Did you see that chemistry? That was not "drunk sex with your co-worker after the Christmas party" passion. That was "I have also been pining after you for two years, seven months, three days, and two hours" passion. Give me post-credits closure or give me death!!
And no, I am not accepting the 2017 Red Nose Day Actually short as recompense. Patrick Dempsey is Rodrigo Santoro.
Images: Giphy (7), YouTube
The 7 Most Ridiculous Moments From 'Love Actually'
Head Pro would love to watch Love Actually with you. Email him at [email protected], and follow him on Twitter and Insta at @betchesheadpro.
Love Actually is a perfect movie, probably one of the three best ever made. I'm not fucking around. I love that movie more than I love my innumerable illegitimate children, and if we're having casual sex around this time of year and you do not consent to watching this movie with me at least three times, lady, we are quits. Love Actually was here long before we started making out in the basement of Café Saint-Ex, and it'll be here long after you're gone.
But you have to be able to look at something critically in order to truly love it, just like all those voters in Alabama are doing right now re: Roy Moore and their faith. A perfect movie can still have flaws, in fact they're part of what makes it perfect. But some scenes are just beyond the pale, and deserve our scorn. Let's poke fun at some of the more ridiculous scenes, if for no other reason than so we can more fully appreciate this holiday classic.
1. Aurelia Jumps Into The Lake To Save Colin Firth's Shitty Novel
These two have one of the cuter stories in the movie, but I'm calling bullshit. No one's jumping into a lake in December, and it's clearly cold there because he's wearing a sweater. Also, this movie came out in 2003, not 1993. How fucking dumb do you have to be to type the only copy of your manuscript on a manual typewriter? I guess if it gets you in the hot Portuguese lady's pants after you caught your wife fucking your brother, it's worth it.
2. Billy Declares His Love For His Manager
Bill Nighy is pretty much the best thing about this movie, but I always hate this scene because it seems like they missed the mark in terms of tone. I get it, Billy Mack is a cynical, opportunistic idiot who doesn't care about anyone other than himself, and this is the character's turnaround moment. But the "haha what no I'm not gay" tension feels out of place, and inviting him to "get pissed and watch porn" kind of comes out of nowhere. Clearly the people who made this movie don't have a selfish bone in their collective body, so they struggled to create such a character.
3. Colin Fucks The Four Americans
Look, I like good jokes that shit on my country as much as the next person, but some subtlety is required. This scene starts out strong, with some good jokes (realizing that there's no accent on "table" is particularly funny to me). But then they get to the whole "we only have one bed and we can't even afford pajamas" thing, and that's why it gets silly. It would have worked if maybe he'd woken up on an airplane or something (making it a dream), but they come back around and confirm that, yes, this really happened. It gets bonus points for featuring January Jones back when she still had something resembling a personality, though.
I know what happens and I still want to punch the TV every time I see this scene. Sarah's just trying to break herself off a piece of some hot Karl man ass, and her brother in the mental institution or whatever keeps calling. That's how you know it's a fictional movie, because in real life there is literally nothing that would stop a woman from fucking Karl.
5. Billy Bob Thornton Tries To Fuck Natalie
Psshh, like we'd ever elect such a scumbag to be the freakin' president, right guys?!? Totally unrealistic!
6. Liam Neeson Meets Claudia Schiffer And Doesn't Kill Her
This was fine at the time, but knowing him as we know him now, can we really believe that Liam Neeson could encounter a European person and not shoot them and/or break their arm in several places? It's just who he is. In general, Liam Neeson puts way too much effort into his acting throughout the movie, and I approve of it.
7. Yeah, That Fucking Scene
You know the one, the most famous scene in the movie. Whatshisface shows up with cue cards to tell Keira Knightley, who in real life I am married to, that he loves her. As if she didn't figure that out in the earlier scene when she found out that he only filmed her when he shot their wedding, because Mark is pretty clearly a fucking stalker.
The reaction to this scene has kind of had a life cycle. At first, no one gave it a second thought. It was some combination of cute and sad—Mark's unrequited love remains unrequited, but at least he got it off his chest. And he got a smooch out of it!
But then, as we kind of got more woke, people started to come around to the idea that actually, this is pretty shitty. Mark's putting Juliet in an impossible position, and it's incredibly selfish: he feels better, but she clearly feels like shit. And like, it kind of perpetuates the idea that the only thing coming between you and your beloved is the fact that she didn't know you were obsessed with her. This movie already doesn't do the best job of extremely respecting women, and this scene is probably the worst offender.
Personally? I don't think it's that bad. I mean, yes it IS bad, or would be bad if someone did this in real life. But to me, that's kind of the point of the scene. Real people are complicated, and often shitty. Mark has real feelings, like we all do, but because he's kind of a shitty person he doesn't know how to appropriately express them, and his actions speak to why he's single in the first place. This movie works because as absurd as all the storylines are, the characters in them react the way real people probably would. I mean, go through some of your worst Bumble conversations—does a guy doing this (in a time before texting was common, granted) really seem that unrealistic?
Hopefully, this trip down memory lane hasn't dampened your enjoyment of the movie. Jk, that's not possible. Join me in watching it 17 times between now and Christmas.
Head Pro would love to watch Love Actually with you. Email him at [email protected], and follow him on Twitter and Insta at @betchesheadpro.
The 15 Hottest Older Men That Might Convince You To Get A Sugar Daddy
Anyone who tells you we don't need feminism anymore is officially an idiot, but there are some redeeming things about being a woman in 2017. We can vote, open credit cards without our husband's approval (and max them out on shit we don't need), and most importantly, objectify men to our heart's content. It's practically our duty as modern women to turn the tables and make our grandmothers proud.
Well, not my grandmother in particular, but surely some elderly woman out there somewhere would approve. Maybe that lady from The Golden Girls?

All this is to say that as you read the following list of the hottest older men in Hollywood, you're basically doing gender equality a favor—reversal of the male gaze and all that jazz. Btw, if you're not normally into dating people your dad's age (reasonable), consider this your reminder that age is just a number when you have access to the world's best dermatologists and your livelihood depends on being absurdly attractive. Enjoy.
1. Idris Elba

Idris Elba is British, more than six feet tall, and everyone wants him to play James Bond. Move the fuck over, Daniel Craig.
2. Pharrell Williams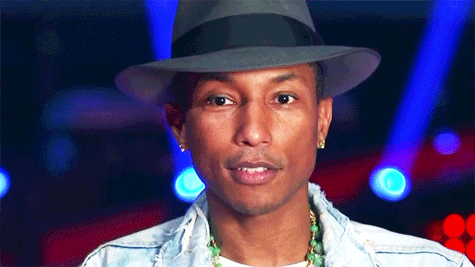 Not only does he have a ridiculously perfect voice, but he also has better skin as a 44-year-old man than you could ever hope to achieve. We're actually not sure that Pharrell is actually 44; we're pretty sure he's a 116-year-old who sold his soul to the devil many years ago in exchange for eternal youth. But whatever, he fine. If only he would lose the stupid hat.
3. Hugh Jackman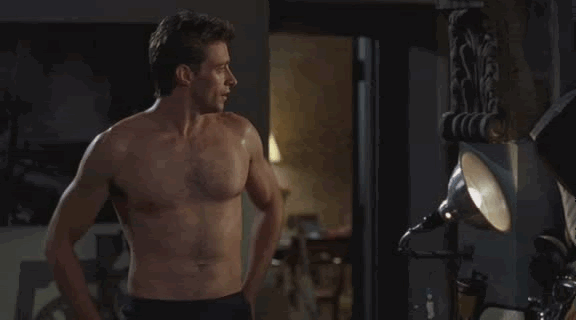 More like Hugh Jacked-man. Right? Right?? I'll stop now. Mahalo.
4. Jeffrey Dean Morgan

I challenge you to watch the latest season of The Walking Dead without wanting to hate-fuck Jeffrey Dean Morgan's character. I refuse to believe I'm the only one.
5. John Stamos

He was hot as Uncle Jesse, and now John Stamos is hot as… whatever he's doing now. Reminding people he was Uncle Jesse?
6. Pierce Brosnan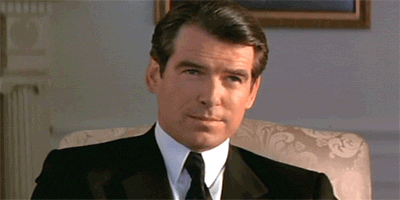 Pierce Brosnan can out-smoulder a dormant volcano. Pierce Brosnan, BTW, is a former James Bond—not to be confused with Piers Morgan, that British conservative talk show guy who everybody hates.
7. Antonio Banderas

Ignore the fact that he voiced Puss in Boots and appeared in Interview with a Vampire, and focus on his accent and cheekbones. Don't lie; you were in love with him since his Spy Kids days.
8. Lenny Kravitz

Is Lenny Kravitz drinking the same magical age-defying elixir as Pharrell?
9. Norman Reedus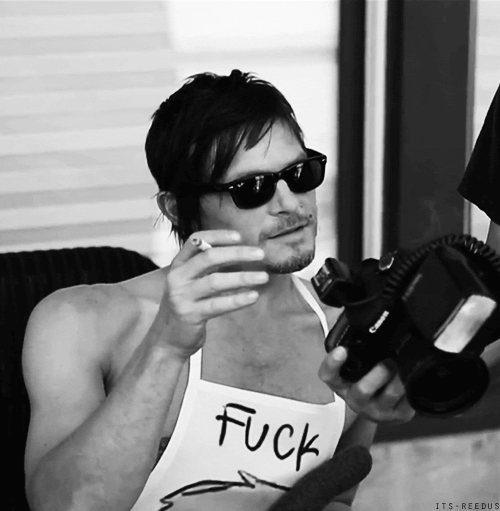 Yes, he looks kind of unwashed and eerily resembles the guy you see roaming around the campgrounds at Coachella without any friends or camping gear in sight, but check out those arms. That's the kind of muscle I'd want on my side during a zombie apocalypse for ogling and survival purposes.
10. George Clooney

Do I really need to say anything?
11. Blair Underwood

Sorry Gossip Girl, but this is probably the hottest Blair in history.
12. Jason Isaacs

Jason Isaacs is famous for two reasons: 1) playing some guy in the Harry Potter movies, and 2) being hot.
13. Daniel Dae Kim

JFC, can he put away those cheekbones? You're gonna cut someone with those.
14. Daniel Day Lewis

Different Daniel Day, same ridiculously perfect bone structure. Although it would be cool if he would quit taking roles that make him ugly on purpose.
15. Colin Firth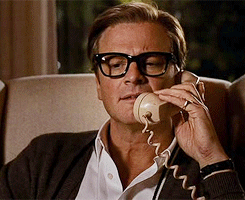 You had to know this was coming. Colin Firth is universally acknowledged as the hottest middle-aged man in the universe, let alone Hollywood.