5 Cute And Affordable Winter Boots
The weather is getting colder and those super cute Zara cutout booties just aren't going to do you any favors once the temp hits below zero. Your feet need boots that will actually keep them warm, but without sacrificing style, of course. Obvi, you don't want to wear gross clunky snow boots with your new puffer coat and matching scarf and hat set. It's going to be a lot harder to get that cliche candid Insta of you playing in the snow if you have to crop your feet out of every picture.
You need some legit boots with actual weather-proof defense. But like, without them making you look like a first grader on a snow day. So I've rounded up five pairs of affordable and cute winter boots that are weather-appropriate. These boots will withstand this season's weather but also won't break the bank or make you look like an Arctic explorer. You really can have it all!
Before full-blown snowstorm weather, you'll need boots that can protect you from the elements. But without all that fur nonsense that will cause your feet to profusely sweat. These beautiful pale pinky-nude boots by Sperry are the answer to your prayers. Not only are they the cutest things I've ever seen since Kimye's kids, but they're also perfect for those in-between days. Like when your weather app can't decide if it's going to be light showers or f*cking ping pong balls falling from the sky.

These are the perfect winter boots with their season-appropriate red cabin plaid print and weather-proof materials. They'll look amaze with jeans and leggings, while also protecting you from the harsh weather. Like, how cute would these be with your Slutty Mrs. Clause attire for SantaCon? They'll be able to withstand both the snow AND the beer slush on the ratchet bar floors. They're like, the boots you never even knew you needed.

Love 'em or hate 'em, you can't deny how unbelievably comfortable UGGs are. Not to mention, they're like, totally a thing again. I mean, Kendall Jenner is like, still technically a "UGG influencer", so that's all the validation I need. You can get this classic pair at Nordstrom Rack for a much better price than you would find anywhere else.

Okay, now we're getting into the legit Eskimo-style boots for when there is actually snow on the ground. You're going to need a pair of boots like these for when you inevitably have to leave your cave bed and latest Netflix binge to go out into the cold stormy world for your life essentials. You know, like another bottle of rosé or more tampons.

These boots are amazing and I'm legit ordering them right now. They're way cuter than traditional snow boots which also usually cost double the price. They have a Step Up 2 backup dancer vibe that I'm here for and need in my life ASAP.

There you have it, five affordable winter boots that aren't ugly AF. So now you can keep your shopping list of all the unreasonable sh*t you need money for like overpriced holiday candles that smell like Christmas trees. F*ck, those are irresistible.
Images: Shutterstock; Nordstrom Rack (3); Zappos (2)
Betches may receive a portion of revenue if you click a link and purchase a product or service. The links are independently placed and do not influence editorial content.
Winter Sex Positions That Maximize Warmth And Laziness
After a schizo month of half-summer/half-rain (I'm told we used to call this "fall"), we've arrived at the shittiest season of all: winter, when the outside world fights me for my title as Ice Queen gets as cold and dark as you made your cubicle until the interns took their questions elsewhere. Winter definitely has its perks, don't get me wrong. You can blame all your mood swings on SAD, start filling out your holiday registry (I'm a genius, thank me later), and hide the 10 pounds you're pretending are winter weight but is really just regular weight your bloat with giant, cozy sweaters. But overall, dragging yourself out of bed just to be hit with a face full of dirty street slush (again, I'm told we used to call this "snow") is punishing and demoralizing, and winter really only lends itself to activities that don't require leaving bed. So, to finally get to the point, winter is a great time to tell your boss you have mono, build a blanket fort with someone you enjoy seeing naked, and refuse to leave your house for the next three to six months. Here are some sex positions you can try in your sex hibernation that won't make you freeze your literal ass off.
1. Spooning
Let's be real—95% of the sex you're having this winter is going to be in this position, and that's definitely not a bad thing. This is the sex had by two people who were nursing Christmas cookie food bellies 30 minutes ago, and then realized their bodies had been touching long enough to get turned on. It's lazy and comfortable, while maintaining the de facto deeper penetration of any from-behind positions AND allowing both of you full use of your hands. Pro tip #1: If you're struggling to find the right angle here, lift your upper leg like you're doing a fire hydrant and/or scoot your torso forward. Pro tip #2: This can all be done from the comfort of your blanket.

2. Modified/Lying Down Doggy
People have different names for this, and none of them are good. Basically, it's the version of doggy where you're lying on your stomach with most of someone's bodyweight on top of you, both of which are obviously huge pros in the season of hoarding body heat with minimal effort. Also, it hits all the same spots that doggy does while severely limiting a guy's ability to grab your hips and start playing whack-a-mole with your cervix (I don't know why this instinct kicks in, but it does and it's frightening). If you want to start from doggy and move into this, I'd recommend you verbally explain what you want to do beforehand—I tried aggressively pawing at my boyfriend's lower back last time we did this, and he fondly refers to it as the time I almost snapped his dick off (think about it, it's a weird angle).

3. "Cowgirl" AKA Girl/Woman On Top
Again, there are no good names for this (or any sex positions, really), and again, I'm going to recommend you do kind of a squished (read: lying down) version of this. Why? 1) You may have noted a trend that all of these positions require full-body contact for maximum warmth, 2) there's something inherently fun about boobs at that angle, and 3) it's a great way to get your clit involved. While being on top is never exactly a lazy position, lying down does take off some of the pressure to feel like you're putting on a show/bouncing up and down like there's a trampoline on the end of his dick. It's also harder for guys to finish like this, so take this as your time to bang out multiple orgasms uninterrupted.

Was any of this groundbreaking? No. Despite what Cosmo may tell you, there are a limited number of ways that human bodies can do sex, and the point here is that you should stop using cold weather as an excuse to put your junk on lockdown until spring. You can 100% treat sex as a winter sport, so start building that blanket fort while your least discerning friend swipes through your Tinder. Winter is coming, and you should be too.
Images: Shutterstock; Giphy (3)
7 Scarves You Need In Your Closet That Aren't Basic AF
It's officially fall. Like, actually officially fall. Not just because pumpkin beer and salted caramel drinks are the main topic of conversation, but because it's literally like, scientifically fall now. Anyway, fall is obviously the best season, but nothing kills the mood like diving knee-deep into your box of scarves from last year and discovering that they're all pill-y and not as cute as you remembered. It's probably worse than meeting a Tinder match IRL and realizing they're kinda fug. Here are a few non-basic scarves to pick up this year.

Balenciaga and Maison Margiela keep trying to make giant puffer scarves happen, and I feel like maybe we should all just roll with it. Except obviously none of us are going to drop three grand on one, so off to Zara we will proudly go. This kind of looks like the North Face scarf your crazy biology professor wore when you got stuck in a freezing classroom for the semester, but like… it's fashionable now so it's fine.

Finding the perfect plain black scarf is next to impossible. It's like, every time you think you're close, you turn it over and it has a rhinestone Michael Kors logo on it. Yikes. Anyway, this one is super simple and will go with literally everything, so you're welcome.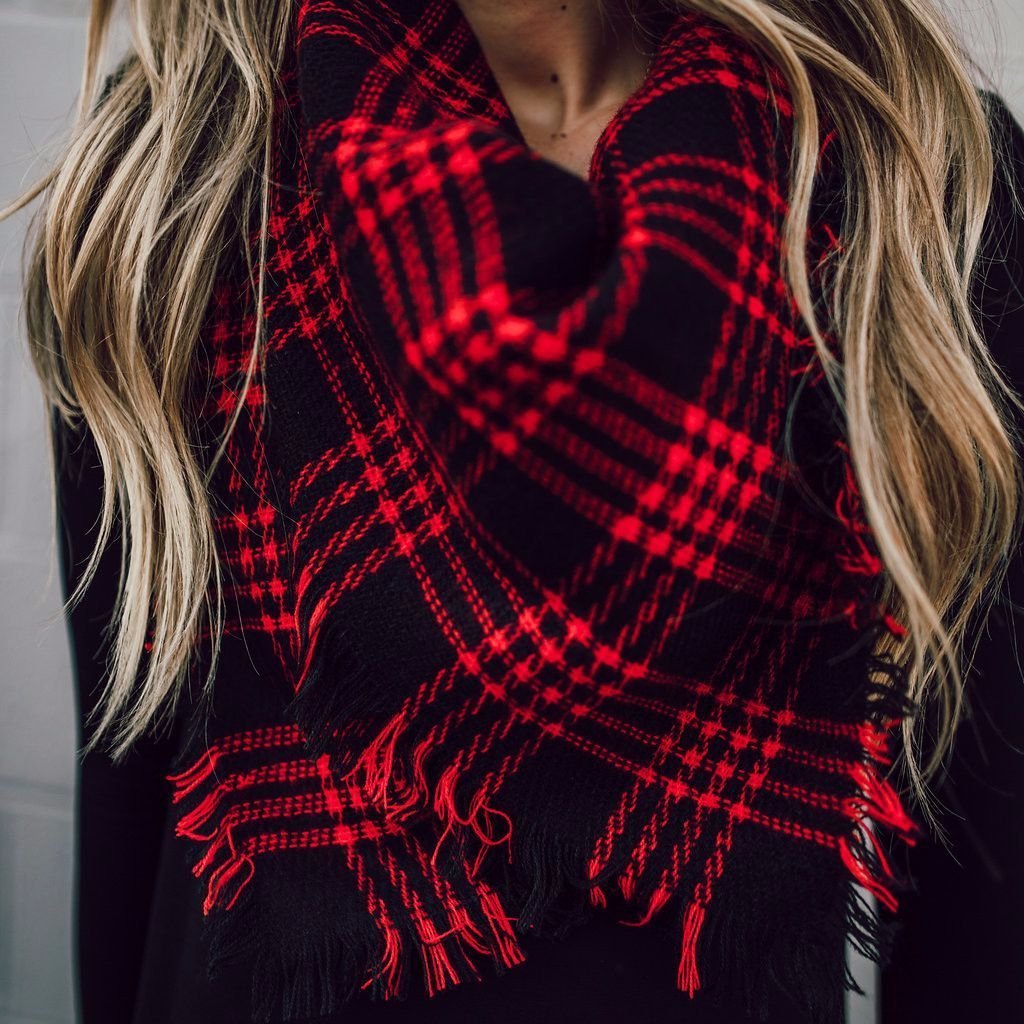 This blanket scarf is cashmere but not in a "shitty cashmere scarf box set your distant relative got you for Christmas because they forgot to buy you something and it was the last thing left at Macy's" way. It looks edgy, but it's actually soft AF, so it's really perfect for that faux bad betch vibe we're all rocking these days.

Personally, I just wear black and neutral earthy tones year round so it seriously baffles me when people consider anything else during the fall. However, if you're the kind of person who insists on wearing pink forever, I feel like this is an appropriate way for us to meet in the middle.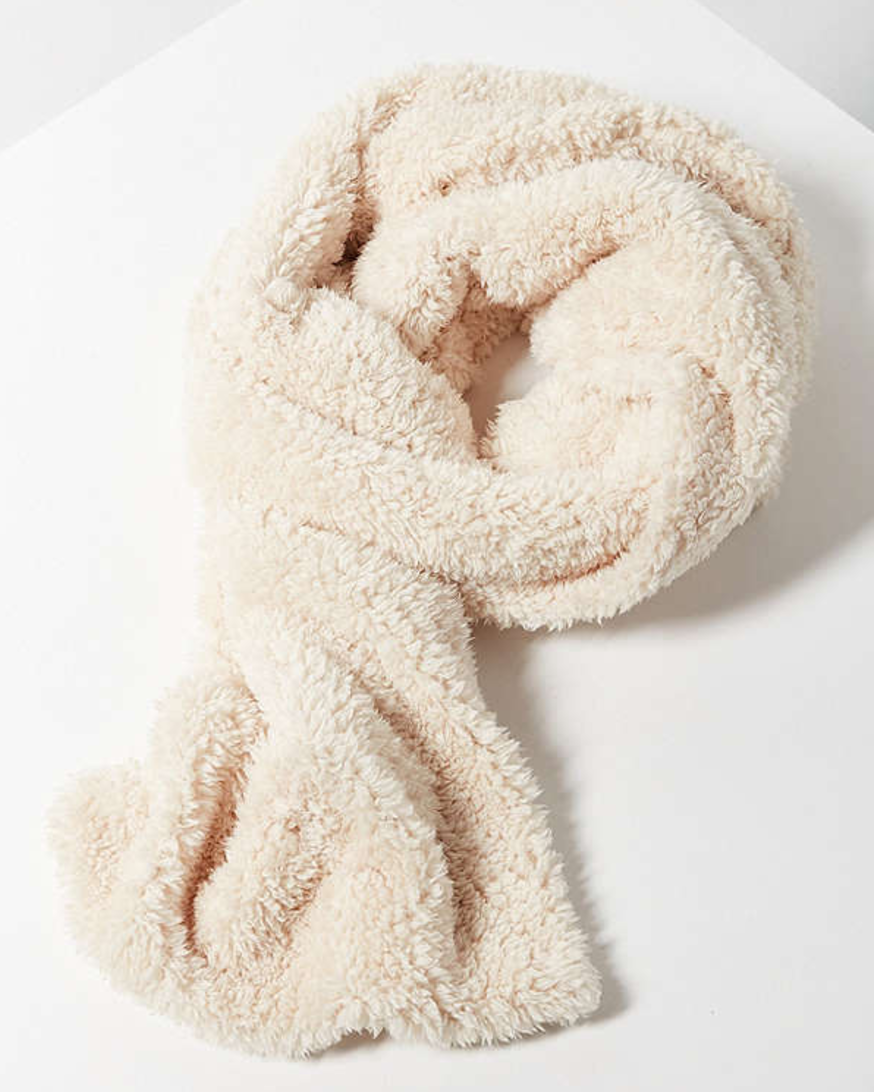 If you can look past the fact that this kind of looks like that Target body pillow cover that every single one of us had in our college dorm room, then you should probs get this scarf. You could probably take a nap in this without anyone really noticing.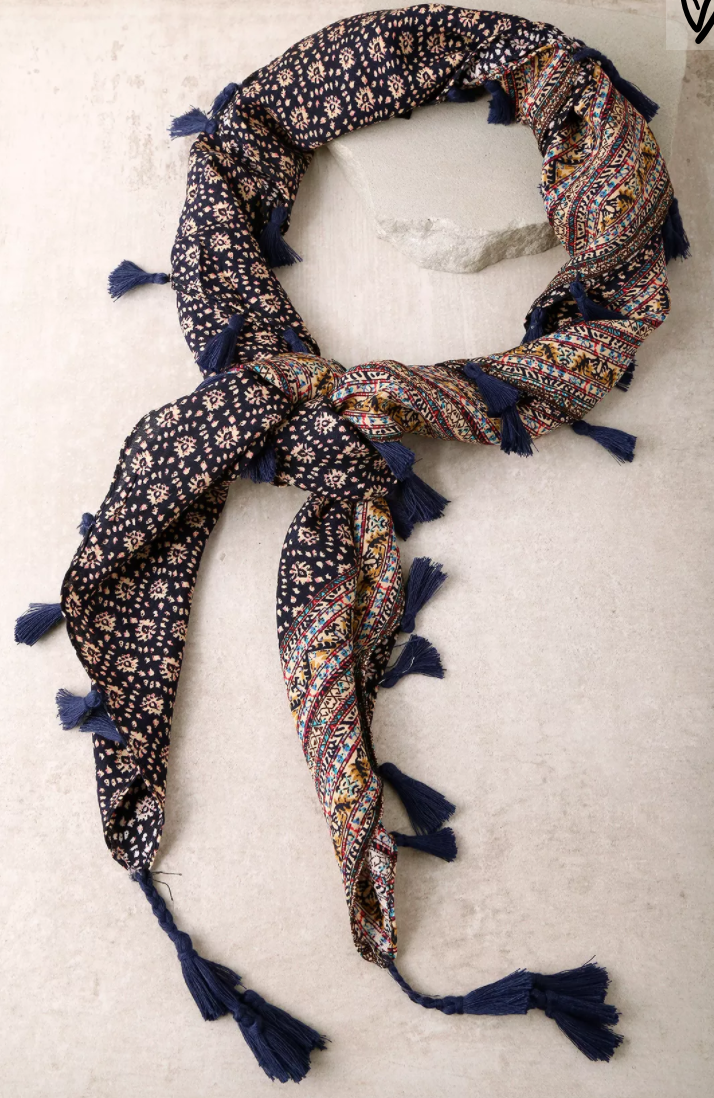 If you're not into wrapping a giant blanket scarf that basically functions as a neck brace around your body, you're lucking out this year because bandana scarves are totally a thing. The trick is just finding one you can pull off with other typical fall fabrics, like suede and shit.

I don't care what anyone says, leopard print is a neutral. I know that's borderline very Olivia from Jerseylicious of me to say, but it's true. A giant leopard scarf (within reason here, people) is the easiest, laziest way to make it look like you're transitioning the black jeans and basic top you wear year round into a new season.
Highly Anticipated Spring Beauty Products To Get You Through The Shitty Winter
Are you bummed about everything happening in the world right now? Is it cold? Are Trump's alternative facts weighing you down? No worries. Since the great US of A is built on the foundations of consumerism, maybe it's time you buy yourself some shit. But not just any shit. Shit to make yourself look pretty. And therefore feel better. Kind of? I guess?
Here are some spring beauty launches to get you through the cold of winter and the nightmare that lays ahead. Some of them are already available for purchase, some are coming out soon. Godpseed!

The cult eyeshadow color, Kitten, is finally available as a highlighter. It only took them like 10 fucking years, but w/e.

As part of their Spring 2017 launch, Urban Decay put out a bunch of new products that help your skin. Not only will this primer make your pores look almost nonexistent (I mean, almost. No one's perfect except maybe me.) It also has SPF which you need so you don't get wrinkly and disgusting.

If you don't want to put face wash on your hands, here's a stick. Congrats. (Read: this is great to use when drunk and/or hungover because during both of those times, washing your face in the sink is the hardest task you'll ever fail to do.)

A "liquid" blotting compact might sound backwards (like, why would I want to put more moisture on my already oily face LOL?) but WRONG. One swipe of this and your face is instantly matte again.

Again, putting more liquid into your already greasy hair sounds like a bad idea right? Well, not according to the experts at OUAI. Apparently this stuff, which was released earlier this month, is like regular dry shampoo on crack. Say crack again.

A limited edition mask inspired by Sonic the Hedgehog (TBT, but nerdy). It does definitely make you look like you're part of the Blue Man Group, though, so I suggest doing it in a locked room. Alone.


Benefit's anticipated new Box o' Blush won't be here until March, but with its warm golden hues and vanilla/grapefruit scent, p sure it'll be worth the wait. P sure.