6 Summer Book & Cocktail Pairings To Make You Forget Summer Is Almost Over
The best—if we're being honest, maybe the only good—part of the summer of 2020 has been the books. From twisty thrillers to steamy romances, we've had it all. Our summer 2020 reads are hot, sweet, evocative—kind of like a really good cocktail. And since you're likely reading any number of these with a drink in your hand anyway, I thought I'd do the work of pairing some of the biggest summer reads with the perfect drink. You're welcome.
'Luster' + Death In The Afternoon

I love a Death in the Afternoon—and no, that's not just when my coffee crash hits—because this cocktail almost begs you to drink it. It's so glamorous, yet kind of out-there (tell me the last time you saw one of these on a cocktail menu… exactly). Not to mention, it's delicious. I think Raven Leilani's Luster is just as compelling. So much of this book is about that all-too-familiar striving for satisfaction, electric and desperate and wry. Luster is the perfect accompaniment to this cocktail because it hits those same dark and quixotic notes. Another irresistible point of symmetry is that this drink has only three ingredients, mirroring the open marriage at the center of this story.
¾ oz absinthe

4 oz chilled prosecco

1 sugar cube
Pour the absinthe into a champagne glass. Slowly add the chilled prosecco; if you do it right, your drink will turn an enchanting, iridescent green. Drop in the sugar cube and enjoy that gratifying fizz while it lasts.
'Hysteria' + Tequila And Habanero Sour

This book burns with sensual urgency, sort of like the burn from the habanero in this twist on a sour. Jessica Gross' immersive and dark debut is complex and beautiful, hitting every note in that virtuosic range between desire and shame. I couldn't resist matching Hysteria with this spicy tequila sour, a drink that encompasses an equally impressive range of flavor and fragrance.
4 oz blanco tequila

2 oz freshly squeezed lemon juice

1 ½ oz agave

2 dashes habanero hot sauce
Add the tequila, lemon juice, and agave into a shaking tin. Throw in the hot sauce and five to seven ice cubes, then shake vigorously for almost a full minute (if your arms can hold up). Fill two rocks glasses with ice and pour out the mixture through a strainer, dividing the cocktail between the glasses equally. Garnish each glass with a freshly sliced lemon wheel.

Akwaeke Emezi's story about community and loss is the real deal. The masterfully rendered characters and shifting points of view create a poignant vision of the kaleidoscopic world surrounding Vivek. I found it nearly impossible to put this book down, which is why I had to pair it with a drink that I also find impossible to put down: this complex, bittersweet, vibrant mezcal Aperol gimlet.
2 oz mezcal

¾ oz agave nectar

1 ½ tsp Aperol

¾ oz freshly squeezed lime juice

grapefruit zest for garnish
Combine the mezcal, agave, Aperol, and lime in a shaking tin. Add five to seven ice cubes and shake vigorously for at least 30 seconds. Strain your cocktail into a rocks glass filled with ice and garnish with a generous strip of grapefruit zest, if you have it.

Pizza Girl will take you for a ride in the very best way. Jean Kyoung Frazier so clearly, brilliantly—and almost harshly, because it's so relatable it may feel like an attack—renders the mistakes, tragedies, and miracles of youth. I couldn't resist going a little more literal with this one and pairing Pizza Girl with a riff on a rum and coke. This one's hopefully a step up from what you were drinking in your high school friend's basement while your parents thought you were studying, but it's still a throwback to those days. (Not to mention, it goes great with pizza.)
2oz Flor de Cana rum

4 oz cherry Coke

1 maraschino cherry
You know this song, right? Fill a tall glass with ice and add your rum and cherry coke. Give it a little stir and add a maraschino cherry so you can practice tying the stem into a knot with your tongue when you're finished.

Iris Martin Cohen's Last Call on Decatur Street perfectly captures the blurry beauty of a long night out in one of the most bewitching cities in the world. (Ugh, remember nights out?) A Sazerac is really the only match for this dazzling ode to New Orleans, since the drink was created there in the early 19th century. The dreamy absinthe rinse along with a bold bolt of rye will bring you to the exact sort of summer night Cohen conjures in her page-turning second novel. Just maybe pace yourself with this drink, or you may find yourself having a blurry night of your own.
1 ½ tsp absinthe

2 oz rye

4 dashes Peychaud's bitters

2 dashes Angostura bitters

1 ½ tsp simple syrup
Pour the absinthe into a glass along with two ice cubes; swirl the glass and coat the interior. Set aside and add rye, both bitters, simple syrup, and ice to a separate mixing glass. Stir for about a minute. Then, empty the absinthe and ice from the first cup and pour—through a strainer—the contents of the mixing glass into the rinsed glass. 

Aside from my friends and family, I probably miss traveling the most. Vanessa Yu's Magical Paris Tea Shop is a tonic for anyone craving adventure. For a more immersive experience, fix yourself a St. Germain champagne cocktail to go along with it. This drink is as lovely, effervescent and delightful as Roselle Kim's transportive tale of Vanessa's voyage to Paris. Plus, it's French AF so it will really set the scene.
1 oz St. Germain

½ oz freshly squeezed lemon juice

4 oz chilled sparkling wine

lemon zest for garnish
Add the St. Germain and lemon juice in a shaking tin over ice.  Shake vigorously for 30 seconds and pour into a champagne glass. If you want to get really fancy with it, chill the glass first. But if you can't wait, don't worry about it. Top with cold sparkling wine and garnish with a twist of lemon zest. If you don't have a shaking tin, you can make this one right in the glass—just make sure you pour in the St. Germain and lemon juice first.
Image: Dragon Images / Shutterstock.com
12 Canned Cocktails, Wines, & Seltzers For Your Socially Distant Summer
If you asked anybody last fall what they thought their summer would be like, I'm sure nobody could have predicted we'd all be relegated to our homes, avoiding a deadly virus. (And if you did, give me your number because I need some advice on stocks.) Bars may be opening to varying degrees where you live, but maybe you don't feel comfortable venturing out just yet. Or maybe you just prefer drinking in the comfort of your own home, which, before quarantine happened, we all complained was a better way to pass the time anyway! So if you're not an overachiever who has taken this time to learn how to bartend (and who wants to buy random sh*t like vermouth and bitters anyway?), then it's time to stock up on canned drinks for summer. They're portable, they're delicious, and you don't have to make them yourself. Here are some canned drinks you can take to your next socially distant park hang.
Cocktails

Created in Los Angeles and produced in Ventura, CA, Livewire canned cocktails are created by top bartenders and the cans are designed by tattoo artists, which is good for your Instagram but bad for my hoarding tendencies. (What, I like to save pretty things…) Three drinks are now available: the Heartbreaker, a mix of vodka, oroblanco grapefruit, kumquat, jasmine, and ginger; the Honeydew Collins, which contains gin, honeydew, lime leaf, coconut, and elderflower; and the Golden God, which is made of Rye whiskey, brandy, apricot, green tea, and elderflower. Fancy. They're available at select stores in Los Angeles, San Diego, and New York, or you can just buy a 4-pack online.

So basically you'll never have to buy a bottle of liquor ever again if you just stock up on Cutwater Spirits, because they've put pretty much every cocktail imaginable in canned form. From a Bloody Mary to a tequila paloma to your basic vodka soda and so many f*cking more, they legit have it all. I sounded like an infomercial just there but it's legitimately true. I the grapefruit vodka soda, which has a nice flavor kick without being too abrasive like ahem other grapefruit canned drink varietals, as well as the tequila margarita, which knocked me on my ass at 12.5% ABV. Truly something for everyone. They're currently available in a bunch of states and on Drizly and Reserve Bar.

I love the design of these cans because they kind of look like you're drinking an old-timey soda and not a cocktail with 5% ABV. Just in case, you know, you might need to disguise the fact that you're getting buzzed…in front of your mom, not anything illegal, of course. Prairie's canned cocktails come in three varietals, all made with Prairie Organic vodka or gin. The cucumber lemonade and grapefruit are made with vodka, and they are pretty self-explanatory in terms of flavor and ingredients. If you're a gin person I don't trust you you can try the Minnesota Bootleg, a blend of gin, mint, lemon, and lime flavors. So like, kind of a gin fizz, maybe? Find them at a local retailer.

Speaking of super cute packaging, Two Chicks is a female-founded company that makes a number of equally tasty and pretty canned cocktails, and they're all sparkling, because obviously. What I love about this brand (aside from what I already said) is that they have cocktails you're not really going to find anywhere else, like a sparkling apple gimlet and vodka CuTea (vodka with peach, cucumber tea, and thyme). They also have your classics like a citrus margarita and paloma, though. I'll take one of everything. Buy locally or through services like Drizly.

Started by Shay Mitchell, Noah Gray, Max Dworin, and Kelli Adams, this sh*t looks and tastes like summer in a can. Their canned tequila soda has 5% ABV and 100 calories, and it's made with blanco tequila from a woman-owned distillery in Mexico and uses real lime and grapefruit juice. You really can't go wrong with either of the two classic flavors, lime and grapefruit.
Wine

McBride Sisters was started by (you guessed it) sisters Robin and Andréa McBride, who had no idea the other existed until 1999. I'm going to need a movie about their life ASAP, and it will be the new Parent Trap. While they have a bigger bottle collection, they offer canned sauvignon blanc and rosé. The sauv b is a New Zealand wine and the rosé is a California wine, a nod to how one sister grew up in New Zealand and the other in California. I'm telling you, they need a movie!! You can bu the cans directly through their site, and stay on the lookout for SHE CAN spritzers.

If you're more of a wine drinker, Cupcake wines have three types that come in a can: the sauvignon blanc, rosé, and sparkling rosé. All are perfect for summer and can be purchased at your local liquor store or, again, online. As an extra bonus that literally seems too good to be true, the cans are 375mL which means there is half a bottle in every can. Let me repeat that: HALF A BOTTLE IN EVERY CAN.

Speaking of wine, 14 Hands Unicorn Rosé Bubbles is pretty much the cutest canned drink ever, and that's all there is to it. I am told the flavor is "light, fruity and crisp," but I'm going to level with you guys: all wine tastes the same to me unless that wine is Chardonnay, which I categorically hate. This wine has scents of cranberry, pomegranate, and Bing cherry, but again, I went to a wine tasting once and was literally Michael Scott being like "this tastes like a red." Regardless, this rosé is cute and it tastes good, and you can get your hands on some online or through Drizly.
Seltzer

We have now reached everyone's favorite portion of the article: seltzers. And I'm not going to cover the obvious ones, but I do feel the need to include Bud Light on here. The thing is that these are actually good!! And they're one of the only companies that has a strawberry flavor, which is a personal favorite. You can pretty much get it wherever you can find Bud Light—I trust that you don't need my advice on this one.

Tequila drinkers (hi), this one's for you. Volley is the first clean spiked seltzer since it's made with only three ingredients: 100% blue agave tequila, sparkling water and organic juice (as if I care, I'm putting alcohol in my body). It's made with 100% blue agave tequila, so to me it tastes like a tequila soda, which happens to be my go-to bar order. They're basically like if you want the taste of tequila without all the commitment, and there are four flavors: zesty lime (tastes like your standard tequila soda with lime and it is, in fact, zesty), sharp grapefruit (like your skinny girl paloma), tropical mango (which is surprisingly really good and kind of tastes like soda), and spicy ginger (like a tequila mule). Check out their website where they will direct you to a third party retailer that ships to your state.

Another hard seltzer that is kinder on the body (well, as kind to your body as an alcoholic beverage can be) is Vizzy, which contains Vitamin C. This is bad news for me because I am known to drink when I am getting sick, because I subscribe to the "alcohol kills the germs" mentality. So now that we have alcohol that contains vitamin C, it's game over. In any case, Vizzy has more ~elevated~ flavors like pineapple mango, black cherry lime, blueberry pomegranate (it's getting wild over here), and strawberry kiwi. You can order through Drizly, Instacart, or at a retailer near you.

From spiked lemonade to tea to soda to coconut (water, I guess?) Crook & Marker has basically every type of hard fizzy drink you could ever want. I can always get down with a hard lemonade, and their classic, blueberry, raspberry, and watermelon flavors are a definite step up from the hard lemonade you stole from your parents in high school (not naming any brand names, but I think you know the one). You can find them at a local grocery store or similar retailer.
Images: Maria Oswalt  / Unsplash; sipwhiskey.com; cutwaterspirits.com; prairieorganicspirits.com; twochickscocktails.com; drinkonda.com; mcbridesisters.com; cupcakevineyards.com; 14hands.com; budlight.com; jensensliquors.com; vizzyhardseltzer.com; crookandmarker.com
5 Last-Minute Summer Cocktails You Can Make From A Corner Store
Unless you're like, a Stepford Wife in training, the odds that you've promised to bring "like, really cute cocktails that will get us so drunk" to a dinner, pregame, or pool party, and then totally dropped the ball are pretty high. If you are a Stepford Wife-in-training, I'm going to need you to stop taking Snapchats of the mildly interesting meals you cook for dinner and captioning them "wife me." If you're like the rest of us, read on.
Nearly every single time I've ever promised to bring a cool drink to a get-together, I've spent an hour at work scrolling through Pinterest, saving ambitious cocktails, and forgetting about them when I realize that someone's probably watching me. Then, the event rolls around, and I'm already like, 20 minutes late, and have no interesting ingredients. I have found myself at so many bodegas, convenience stores, and even gas stations, desperately typing in the depressing selection of ingredients I saw in front of me into the Pinterest app with the word "cocktail" behind them. So here are some of the tastiest summer cocktails you can make when you are somewhere that doesn't even sell tampons with plastic applicators, let alone triple sec or peach schnapps. Oh, and, all of these recipes make enough to fill a pitcher. You're welcome.
Hawaiian Mimosa
1 cup Malibu

2 cups pineapple Juice

A full bottle of prosecco
Literally just pour a bottle of prosecco into a pitcher and add a bit of Malibu and pineapple juice. Feel free to play around with the proportions, but note that this basically tastes like a bubbly Capri Sun so you will end up texting someone you shouldn't.

Get the full recipe here.
White Strawberry-Lemon Sangria
2 lemons

1 apple

1 cup of strawberries

1 bottle of white wine

½ cup of rum

4 cups of lemon-lime soda
Sangria is a solid option, because it's such a vague kind of drink. I mean, what even is sangria? Just wine with a bunch of other sh*t poured into it? I think so. Anyway, this recipe is just a light suggestion. You can basically throw anything into a pitcher of wine and let it sit for like, four hours, and it'll be decent. For the wine selection, I'd advise a dry white wine or even white zinfandel, because even liquor stores with the lamest selections will have a box of Franzia or a bottle of Barefoot White Zinfandel. It's just a fact of life.
Get the full recipe here.
Paloma
1 ½ cups of silver tequila

4 ½ cups of grapefruit soda

However many limes you feel like using as garnishes
Okay, so there are plenty of ways to make a Paloma, but if you're just swinging by a corner store, you probably don't have time to find all of the garnishes or actual grapefruit juice. This recipe will make a pitcher of Palomas. It calls for the juice from six limes, but like, if you're swinging by a bodega last minute on a Friday night, your options may be limited. It's totally fine if you just grab however many you feel like slicing and use them for garnishes instead.
Get the full recipe here.

White Wine Spritzer
1 bottle of white wine

12 oz of lemon flavored seltzer

Sliced lemon or lime wedges
Wine spritzers are another really great cocktail to make when you're totally unprepared because again, what even is a wine spritzer? They can truly be as half-assed or as extra as you'd like. Just dump a bottle of wine into a pitcher, and then throw in some seltzer and lemon or lime wedges. If you're in the mood to blackout, you could even use a Spiked Seltzer.
Get the full recipe here.
Last-Minute Margarita
Coconut Water

Pineapple Juice

Tequila
Guess what? This recipe doesn't tell you how much of anything to use because it's not a real recipe. It's basically a non-disgusting version of the Redneck Margarita from Queer Eye. I literally just once texted my dad from a gas station while I was on my way to visit friends because I had promised to bring stuff to make margaritas, and forgot to. (Save the judgment. This is who I am as a person. Back off.) He was like "IDK, just throw some coconut water, pineapple juice, and tequila into a shaker and pour it in a cup. And also, when's the last time you got an oil change?"

Anyway, another gem I learned from this phone call was that you can actually just use two solo cups as a shaker. Because, obviously, I do not have my life together enough to carry a shaker everywhere I go, and you probably don't either. Sorry.
Images: Pexels (1), Giphy (3)
5 Cocktails That Won't Give You A Bad Hangover
Hooray for cocktails! Honestly, we feel v classy while sitting and sippin' on something colorful and cute. It's like, who we are as people. But we don't feel cute come the splitting headache, irritability (more than usual), general feeling that we're dying, and potential for barfing in our eggs benedict at brunch the next morning. Yes, drinking is fun, but hangovers are the worst. It's a real Sophie's Choice we grapple with every day. Since the beginning of time (I assume), people have been looking for how to drink without getting hungover. In general, to avoid a hangover, stick with vodka and gin, plain and simple. Additionally, the higher shelf the liquor is, the better, since the filtration processes are going to remove more unwanted shit. So, when given the choice between Grey Goose and Dubra (FLASHBACK FLASHBACK HELP), go ahead and splurge on the Grey Goose.
Secondly, your mixer should be natural and/or sugar-free. So, carbonated water, unflavored soda, and pure fruit choices are going to be the best choices if you want a weekend that doesn't require you to inhale a pizza to feel better. Don't want to do any brain work and figure out a cocktail using the above tips? I did it for you. These cocktails will help you along your journey of figuring outhow to drink without getting hungover, Or like, more accurately, how to drink without getting *as* hungover. Don't chug twice as many vodka waters as you normally would and @ me. That's not how this works.
1. Vodka Soda
YAS QUEEN YAS. No one should be surprised that the reigning queen of betchy drinks, the low-calorie vodka soda, can do no wrong in terms of hangovers, either. Since vodka has almost no congeners, which is a fancy name for added shit, it doesn't contribute as badly to the Sunday morning regrets (in terms of your body … not who you texted). Add in soda water, which has no sugar, and you're well on your way to having a headache-free morning. Praise be.
2. Sea Breeze
Since this cocktail sounds like the given name of a 1980s cruise ship, you probably aren't too familiar with it. SURPRISE, SURPRISE—it's our old friend, vodka, with grapefruit and cranberry juice, coming in HOT for a hangover-free weekend. As we know from extensive research, vodka is the best choice in liquor for avoiding a hangover. Add in some real cranberry juice (not cranberry juice cocktail) and fresh squeezed grapefruit juice for a refreshing combo that 1985 would be proud of. Break out the shoulder pads.

3. Tom Collins
You know a cocktail's gonna be good when it sounds like a fancy British man. The Tom Collins combines gin, lemon juice, sugar, and carbonated water. Gin is a clear liquor (or like, blue), so it's a good option that won't make you as hungover. Lemon juice has pretty much no sugar—same goes for carbonated water, so we're in the clear there. The sugar can pose a bit of a problem, but if you're making the cocktail yourself, just chill on the sweet shit and you should be fine. This is like the adult's answer to lemonade.
4. Martini
Wanna pretend you're on Mad Men and lacking in basic human rights? Time to pound a martini! The classic gin martini (vodka martinis are delicious but they are for trash people … although that probs won't give you a hangover either) is essentially a splash of dry vermouth (not enough to even matter) with gin and an olive or lemon peel. No sugar here. I mean, this is literally a glorified shot in a bigger glass.

5. Gin & Tonic
Remember: If you drink gin and tonics you may be a psycho, but you probably won't get that hungover. Tonic has a fuckton of sodium, so you may bloat, but the lack of sugar in the gin or the tonic means you're pretty well on your way to not throwing up at brunch again.
Images: Kaizen Nguyen / Unsplash; Giphy (2)
5 Perfect TV And Cocktail Pairings For Your Summer Shows
Watching your favorite TV shows is only made better by watching it with friends. And if you're watching it with friends, the only improvement is to drink while you watch, especially because most of the TV I watch is so fucking stupid I could not possibly get through it sober. Instead of downing a bottle (or two) of wine while screaming at Becca for LETTING LINCOLN THE FLOOR SHITTER STAY on The Bachelorette, maximize your viewing party chicness by pairing your fav show with a cute on-theme cocktail. Also?? Have food. If I have to go wear pants, put on makeup, and hang out at someone's house instead of my bed, I expect to be fed. GOD. You can thank me for these genius TV and cocktail pairings in the comments.
'The Bachelorette' + Will You Accept This Frosé?
If you haven't had frosé yet, you're not trendy enough to be my friend. Sorry. A frosé is a frozen rosé cocktail. It is my favorite summer drink, it's not super high in calories, and it goes with the sad roses Becca tearfully passes out to racists and flat-Earthers. Plus, frosé is totally Instagrammable. All you need is rosé, sugar, strawberries, lemon juice, ice, and a blender. Your friends will be hammered, having a great time, and on theme.

'Jersey Shore' – The Long Island Dump
Celebrate the trash that is Jersey Shore: Family Vacation with an equally trashy drink, like a Long Island Iced Tea guaranteed to get you so drunk that you feel on par with the cast. Much like our favorite guidos, this drink is a mess of alcohol all poured into one fuck-you-up beverage. Also, aren't some of them from Long Island? My sense of geography for that part of the country is v flawed. I don't pay attention in one class freshmen year of high school because it was at 7:30am, and I somehow never take or learn geography again. Like, I didn't know that would forever fuck up my ability to find shit for the rest of my life. Anyway, get your friends drunk enough to tolerate Angelina shitting her pants on TV with vodka, gin, white rum, Triple Sec, lemon juice, cola, and lemon wedges!

'The Handmaid's Tale' – Gilead Water
Do people have viewing parties for The Handmaid's Tale? Do you guys just like, cry into each other's shoulders about the realization that this is going to be our reality in the near future? Well, if so, drink a cocktail the same color as our sad, black hearts watching it. This drink is actually called LA Water, because it's the exact color of the LA river. Super sad and super gross, much like our impending doom! Make this dystopian cocktail with vodka, gin, rum, Triple Sec, Blue Caracao, raspberry liquer, and sweet and sour mix. Hopefully you'll forget about the state of our country.

'The Real Housewives Of Orange County' – You Are Orange, Jesus Jugs
Coming back this July, my OC Real Housewives are back to ruin lives and accuse each other of faking cancer. Can't wait! I just binged the entire series on Hulu, so I'm sure that will tell you everything about my current mental state. I'm actually from Orange County, and I can tell you, it's exactly like that. Anyway, watch Vicki and Tamra mak eup and then call each other whores five minutes later with a fun, orange-themed drink like an Orange Blossom. But I gave it a cute name involving Jesus Jugs because that is the best insult of Housewives history. Fight me. Make this orange drink in honor of our fav orange-holding ladies with gin, vermouth, and orange juice.

'Bachelor In Paradise' – Consensual Sex On The Beach
Ok, this one doesn't come out until August but I am so. Fucking. Excited. It's the only reason I tolerate all the other Bachelor shitshows is to pregame for BIP so I know who everyone is. Which was an especially huge burden this year because we had that fucking disaster that was Winter Games. Hopefully this year everyone gives explicit consent before having oral sex on camera in front of an entire crew, because I will cut a bitch if production gets shut down again and we miss several weeks of iconic trash TV. Make a ~Consensual~ Sex on the Beach for this slut-fest with vodka, peach liqueur, orange juice, and cranberry juice, and pretend you've also instantly found true love with randos in Mexico.

Light, Low-Calorie Cocktails That Are Perfect For The Beach
Summertime is coming and that means bikinis, sun, pool bars, and the beach. Obvi you're going to drink this summer, because otherwise, really what is the point of existing? But we all know that alcohol is the absolute worst if you're trying to lose weight. Or even maintain your weight. Alcohol fucks up your metabolism and makes you crave fried cheese, scientifically speaking, so weight gain comes easy. The least you can do is make sure the calories in your drinks aren't pushing you over the top. Too many piña coladas or pre-made margaritas and you won't even fit in those cute white cutoff shorts you've been saving all winter. Here's what you should be ordering.
1. Vodka Soda With Lime
This is the holy grail of the basic bitch drink. Sorry, but there is a reason. Soda water has 0 calories, so you're just drinking the vodka cals, and the lime totally disguises the taste of the vodka. There are only 60 calories in one shot of vodka, so assuming one drink is like a shot and a half, we're looking at about 90 calories per drink, so you can get hammered guilt-free. Bonus tip? It's clear, so when you get sloppy as fuck, you're at least not sloshing something colored all over your white shorts.

2. Skinny Margarita
A regular margarita at most *shitty* bars is a nasty, syrupy, pre-mixed abomination that will run you 455 calories for 8 ounces, and I am not fucking kidding. This is a horrible bastardization of what a ~real~ margarita is supposed to be: tequila, lime, agave, and sometimes a dash of OJ or soda water. But fear not. You can still force the bartender to make you a real marg by ordering it "skinny". It sounds douchey to order, but this is what margaritas are supposed to be made with and will only run you 100 calories a drink. It won't be overly sweet and disgusting and it won't set you back too many calories. Order it on the rocks with salt like a goddamn adult.

3. Gin & Tonic
For most low-cal drinks, you want as few ingredients as possible. A gin and tonic is a classic that they have everywhere that will only run you 150 calories per drink. If you can't stand the taste of gin (fair), add lime  to disguise the alcohol. Bonus points if the bar has diet tonic, which is zero calories, and now you're looking at a 90 cal drink for just the alcohol.

4. Paloma
A Paloma is so refreshing and summery, and it's only 160 calories. It's made with tequila, soda, grapefruit juice, and lime. It's a safe choice to order if you want to mix it up, and it isn't loaded with sugar or calories so you won't feel like a dehydrated sugar monster if you pound these for hours on end.
5. Champear
This is my new favorite brunch option, but really it can be drunk always. A champear is just champagne with a splash of pear juice, and it is fucking amazing. The pear juice is so minimal that it'll only run you 18 calories, and a glass of champagne is only 90 calories. It's classy af and delicious, and way better than mimosas so do this for your next day drinking excursion and be guilt-free.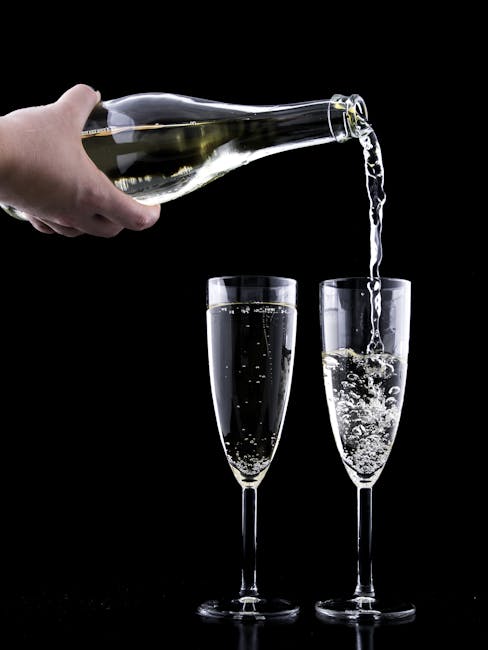 Images: Shutterstock; Giphy (2); Pixabay (2)
The Types Of Signature Wedding Cocktails Nobody Wants To Drink
Another wedding topic for me to shit on! Signature cocktails—it doesn't get much more basic than this. You're having your country club wedding, and instead of just opening the bar like a normal person, are offering beer, wine, and a signature cocktail.
Depending on what that cocktail actually is depends on how much I get to judge you. I understand that having an open bar just isn't in everyone's budget (sad), but offering me a shitty cocktail is unforgivable. There are some basic rules of feminism pulling this shit off that you should stick to unless you want blind-drunk guests and bridesmaids barfing on each other. You'll thank us later.
1. Think About Your Goddamn Menu
Would you serve a fine late season Chilean Malbec with a goddamn McFish Sandwich? If you would, I hope you choke. Same rules apply for your signature cocktail and its relation to your menu. If you're serving a buffet, the world is your oyster. If the cocktail is presented during cocktail hour, choose something that fits well. Don't go serving a whiskey sour rip-off with crab cakes and chilled tomato soup shooters, feel me?
2. Don't Be A Trendy Douche
I usually heart being pretentious, but this isn't the place, fam. Your cocktail does not need to smoke, or sizzle, or include rare bird spit from Guangzhou. Our advice is to pick a classic and build on it. They're classics for a reason—no humanely sourced fair trade wild flowers required.

3. Don't Go Crazy On The Booze
We all love grandpa, but once he starts hittin' the sauce, his groping and orgasm jokes are less than cute and make us all gag. Because cocktails, by nature, are easy to drink, go a little easy on the alcohol. If you load 'em up with three kinds of liquor, everyone's going to either black out or get sick, which sounds hilarious, but is less so when you're left with the cleaning bill.
4. Use Fresh Ingredients
I shouldn't even need to say this, but freshness counts just as much in your drinks as it does in your dinner. Picking a cocktail that utilizes fresh fruit and herbs is going to be much more enjoyable than the one utilizing Fireball and Aunt Jemima.
5. Make It Fucking Snappy
Hey, you know what sucks? Waiting on the bartender to add smoke/liquid nitrogen/shake my drink for 10 minutes when my fucking song is coming on. Pick a cocktail that can be made in under three minutes or get out of my life. Do you want a line at the bar winding around your reception hall like a tubular snake? Didn't think so.

6. Make It Something You Like
This should go without saying, but motherfucking pick something that you (and like, I guess the groom) actually enjoy. If you met while sipping craft beers, go for a craft beer cocktail. If you met when he accidentally spilled a gin and tonic on you—you get the idea. Plus, it makes for a cutesy story that'll maybe inspire people to add an extra 0 to your wedding gift.
Images: Rawpixel.com / Unsplash; Giphy (2)
6 Drinks You Need To Know How To Make To Be Considered A Functioning Member Of Society
As we get on into the scary shit that is adulthood, there are certain skills every betch should possess. Knowing how to fold fitted sheets (still unsure if this can be done), submit taxes, unload a dishwasher, book appointments, and even take care of an animal are all on the list. Feeding, and more importantly, drinking like a king are also up there. Knowing how to make classic drinks without consulting the internet so as to keep yourself and your friends drunk is super fucking important. Here is our definitive list of the drinks you need to memorize and know how to create for whoever walks through your door.
1. Gin & Tonic
It's two goddamn ingredients, and if you can't figure it out you don't deserve to share space with those who do. Add about 2 oz. of gin to a tall glass filled with ice. Squeeze in 2-3 lime wedges, then add them to the glass. Add 3-4 oz. of tonic water and stir.

2. Margarita
Ah, the margarita: a great and terrible decision, all wrapped into one. Luckily for you, making one isn't really that difficult, since we're going the classic route and not the blueberry burnt orange top shelf tequila dusted with fair trade sugar route. Run a lime wedge around two glasses and dip the rims in salt (or sugar if you're a lil bitch). Set aside. In a cocktail shaker filled with ice, combine 4 oz. white tequila (NOT Jose Cuervo), 2 oz. Cointreau, and 1 ½ oz. fresh lime juice. Shake that shit for about 15 seconds. Fill the rimmed glasses with ice and strain the margarita into the glasses. Garnish with lime wedges and serve.
3. Martini
A real martini is made with gin, which, while making you a psychopath for drinking it, isn't all that bad when added to a simple concoction like the motherfucking classic dry martini. Combine 2 oz. of dry gin with 1 oz. dry vermouth and 1 dash of orange bitters (optional) in a cocktail glass that's been chilled. Stir well and twist a piece of lemon peel over—then use as garnish. Olives are a faux pas, BY THE WAY.

4. Old Fashioned
Since this is like, probs the OG cocktail, you better know how to make it. Classic recipes abound and it's not all that difficult. Put 1 tsp sugar in a glass, douse with 2-3 dashes of bitters and a few drops of water. Add whiskey and stir until the sugar is dissolved. Add ice, stir to chill, and garnish with an orange slice.
5. Cosmo
We admit Sarah Jessica Horseface ruined this one for us, but it actually isn't that bad of a cocktail. I mean, it's kinda sweet, kinda tart, and kinda really fucking easy to make. Fill a cocktail shaker with ice and add 1 ½ oz of citrus vodka, ½ oz. Cointreau, ½ oz. cranberry juice, and ¼ oz. fresh lime juice. Shake that shit well and strain into a cold cocktail glass.

6. Mint Julep
So this may be the most difficult of the bunch, and that isn't saying much. If you live in the dirty south or raise horses/make bank on horses in Kentucky, you better know how to make this recipe as well as you can stalk an ex's girlfriend's mother's brother within 30 seconds of finding out their middle initial. Place 2 tsp. simple syrup in a tall glass and add about 10 fresh mint leaves. Muddle that shit until they're bruised, but not totally destroyed. Half fill the glass with crushed ice and add 3 oz. of good bourbon, stirring to combine. Add more crushed ice and add a few sprigs of fresh mint on top. Serve with a short straw.
Congratulations, and welcome to society, ya filthy animal.