What To Wear To A Summer Wedding Based On The Dress Code
Betches may earn a portion of revenue if you click a link and purchase a product or service. The links are independently placed and do not influence editorial content.
Welcome to wedding season: where the hangovers are real, the dress codes are confusing, and we're all sweating. As if the uptick in vaguely specific dress code attire hasn't made finding a wedding guest outfit hard enough, summer weddings also require finding something that's dress code appropriate while also seasonally appropriate. There's a lot of "vibe interpreting" required for all these confusing wedding dress codes that, frankly, most of us just aren't cut out for. So to help guide you on your seemingly treacherous wedding guest outfit search, here are some options based on the different dress codes.
White-Tie
Clearly I need to reevaluate my entire circle of friends because I've never attended nor have I even been invited to a white-tie wedding. White-tie dress code is the most formal of them all, requiring floor-length gowns, no exceptions. Your gown should be paired with your most elegant clutch and accessories and, if I were you, I'd take full advantage of the occasion and even add some trendy elbow-length gloves. You can make your gown more seasonally appropriate by choosing summery colors and fabrics.

Off Shoulder Drape Neck Pleated Dress

ASOS Design

V-Neck Crepe Ballgown

MAC DUGGAL
Black-Tie
Personally, this is my favorite wedding dress code out of the ones I've attended because I love an excuse to dress up. Black-tie dress code means you can wear a formal gown or elevated jumpsuit, either of which paired back to elegant accessories. Basically, think prom-adjacent attire minus the over-the-top tackiness and vodka-filled water bottles. Similarly as with white-tie, you can make your black-tie ensemble more summer- appropriate with light and bright colors, airy fabrics, and more breathable silhouettes.

Unstoppable Cross Over Halter Neck Maxi Dress

Club L London

Milena Jersey Corset Maxi Dress

House of CB
Formal or Black-Tie Optional
This dress code can be confusing and definitely requires some of that "vibe interpreting" that I mentioned earlier. Black-tie optional is pretty much equivalent to formal and  just means slightly less formal than black-tie. The biggest difference for women's attire is that a full-length gown isn't required, but something of the same dressiness "vibe" is still recommended. Basically, if you want to get wild and show your ankles then you have permission to do so but I'd avoid going above the knee for your hemline. Add a summer-feel to your formal look with vibrant summer colors or a lightweight mesh fabric.

Colette Satin Cutout Midi Dress

ASTR

Cecilia Bodycon Midi Dress

Beginning Boutique

All That Strapless Ruched Midi Dress

Mistress Rocks
Cocktail
Cocktail attire means that women can wear shorter hemlines but still need to look dressy. Long story short, it would be inappropriate to wear a gown but also inappropriate to wear a sundress. I realize that leaves quite a large gamut, but basically just think a specialty mini dress, elevated midi dress, or eloquent jumpsuit. Overall, this dress code does imply a bit more of a flirty and playful vibe, so have fun with it but still look classy. Keep it summer appropriate with shorter hemlines, seasonal colors, or even an elevated floral print.

Uma Sheer Mesh Sleeve Crepe Corset Dress

Miss Circle

Corset Satin Slip Midi Dress

Heiress

Mesh Ruched Puff Sleeve Mini Dress

Missguided
Semi-Formal or Dressy Casual
Semi-formal or dressy casual might be the most vague of all the dress codes because there are no "hard lines" beyond no sweatpants. Rather, you really have to feel into the vibe of the wedding, so maybe just grab a crystal and the invitation and mediate on it? On second thought, maybe just text a fellow wedding attendee to see what they're wearing and go from there. At the end of the day, err on the side of being over-dressed rather than under-dressed.  Remember, it's about special event elegance without crossing the line of "fancy." Vague, I know, so best of luck.

Santorini Floral One Shoulder Midi Dress

ASTR

Jackie Wide Ruffle Hem Pinafore Dress

Selfie Leslie
Beach Formal
As someone who recently attended a beach formal wedding, my biggest piece of advice is DO NOT underestimate the heat. As someone who also attended said wedding in a long sleeve bridesmaid dress, I'm going to suggest you steer clear of sleeves and any material that could potentially show sweat. Instead, opt for lightweight summery fabrics like linen or gauze. And, if you're really someone who sweats easily, go for an airy printed maxi to help disguise any possible sweat stains. Oh, and bring a handheld fan, you'll thank me later.
Daytime or Casual
Covid has made the backyard wedding quite a trend, and given how expensive weddings can get, I definitely see the appeal. Backyard or daytime weddings are usually more casual which means they're perfect for a breezy sundress, pretty mini dress, or sophisticated set. The only "don't" here is going too casual or too dressy. Just avoid dressier fabrics, overly casual fabrics, stiletto heels, sneakers…and you should be good to go from there.

Ruffled Tiered Mini Dress

Nocturne

One Shoulder Smocked Waist Tiered Mini Dress

WAYF
Images: Omar Lopez / Unsplash 
6 New York Bars With Giant Drinks You Can Share With Your Friends
Look, sometimes life is hard and the light at the end of the tunnel is actually just a giant drink. And I'm not using that term generously like I do to the guy I'm seeing—I really mean "giant" here because the kind of beverage I'm talking about is usually served in what I can only imagine is a fish bowl. If sharing a huge cocktail with six friends isn't your cup of tea, then you must like gross-tasting tea, because what could be more fun than creating pure Instagram gold? Nothing. So, if you live in New York and want to put your money towards something that isn't rent for a change, check out these places that understand the delicate balance of crafting a cocktail using an entire bottle of liquor that won't kill you if you finish it. Remember, sharing is caring, so do not attempt to down the drink on your own, or you will likely die of alcohol poisoning. Ya hate to see it. Anyway, if your interest is piqued, read on for our favorite local NYC bars serving up giant cocktails you can and should split with your friends. 
A.R.T. SoHo

It may be cold af outside, but that does not mean rooftop bars aren't an option anymore. A.R.T. SoHo is on the roof of the Arlo SoHo, which is a hotel in, you guessed it, SoHo. It is, however, so far west that it doesn't feel like you're in the violently crowded, loud, touristy part of SoHo. Because this place is basically in the Hudson River, the views are truly amazing. I'm not usually ~moved~ by views of the city that's taking all of my money, but being at eye-level with the Freedom Tower is really cool.
Anyway, let's talk about the only drink you should order here, the passionfruit and pineapple punch. I am finally over my frat house-induced fear of anything with the word "punch" in it, so I can happily recommend this cocktail that is made with 62 ounces of Hennessy and 62 ounces of rum. All I gotta say is, challenge accepted. The ingredients that make it a punch—as opposed to a 124-ounce shot—include pineapple juice, lemon juice, cinnamon syrup, triple berry shrub, passionfruit syrup, and lastly, hibiscus tea because it's classy. It's recommended for anywhere between two to six people, but you better be two giant people if you plan on finishing this bad boy on your own. 
Magic Hour 
Hey, guess where this bar is? If you guessed on the rooftop of a hotel, you are correct! Tbh I am a fan of this place on top of the Moxy Hotel because it's a good mix of a bar and a club, which means you can talk to people or dance, whatever you feel like. You can also sit back and relax with a drink that arrives in a disco ball and serves a minimum of 10 people. A minimum! So, if you have 10 friends (quit bragging), definitely get a table and order up. The drink is called Disco Ball for All, which sounds like a fun spin on socialism, but I'm into it! It's a red wine sangria, fruit punch mix, so if you don't like very sweet, fruity drinks, this guy may not be for you. But if you like having fun with a creative cocktail, bottoms up!
Mister Paradise
This is another downtown haunt that looks like it was designed with Instagram in mind—and I mean that in the best way. The interiors have a very Art Deco vibe and, unlike most downtown bars, there are plenty of places to sit, which is great for five people crowding around what looks like a serving bowl filled with alcohol. The Thundergun Express is a vodka-based drink that's also made with…milk! Look, my mom used to make us have milk with dinner every night, so if I can drink it with tacos, you drink it in a cocktail. Truth be told, you don't even taste the milk because five entire bottles of vodka are in the Thundergun Express. Yeah, you read that right. Five. Bottles. There's also chartreuse, pisco, lime juice, pineapple juice and the bar's homemade version of simple syrup. One more time: there are five bottles of vodka in this drink, so do not go it alone, people. 
PHD Terrace
Ah, another rooftop bar. Can you tell this is my vibe? This one is on top of Dream Hotel's Midtown location, and the Moscow Mule is no f*cking joke. There are two versions of the 10-pound drink and both are truly delicious. They're called Mega Mules, and one is tequila-based and the other is vodka-based. As you can guess based on the weight of this thing, it's $185, but think about it: if you share it with five of your friends (which you should because it is 10 pounds, again), you're each only paying 30 bucks, which is actually pretty affordable. In true mule fashion, it's served in a giant copper mug and impossible to lift, so you'll want to get a bunch of long-ass straws and get really intimate with the people next to you. 
Sugar Factory
This place is like the Lush of restaurants. You walk in, are hit with a tsunami of smells and sparkly things to look at, and right when your sensory overload-induced migraine arrives, you're already sitting down and ordering one of the signature Goblets. You can get them with or without alcohol, but unless you're underage, I don't see why you wouldn't get the alcoholic version. There are seven varieties of Goblet, but the one that spoke to me most was Berry Bliss, which is made with strawberry rum, blueberry vodka, fresh berries and, of course, gummy berries, because let's not forget that this place is essentially a candy store. Tbh, if you have a sense of humor, this could be a really fun place to have birthday party. Just sayin'.
Clover Club

I thought the bougiest part of this place was its name, but then I visited their website and I stand corrected! If you can believe it, Clover Club is not in Midtown, but rather, in Carroll Gardens, Brooklyn. Just based on the way it looks, CC seems like the kind of place Trey MacDougal would hang out pre-Charlotte. The walls are cherrywood panels, the booths are burgundy tufted leather, and the lights are barely on. Contrary to how I'm making it seem, I actually really like this place because it has a very Old New York feel to it. The only element that feels very now are the punches, which is served in what I can only assume is an antique crystal bowl with scalloped edges. I mean, is this not the most beautiful way to drink punch? There are also slices of fruit floating atop the concoction, which just makes me want to photograph it instead of drink it, honestly. There are two kinds of punches here: the harvest punch, which is made with rum, cognac, mulled cider, Licor 43, Jamaican rum and lemon; and the nice pear punch, which is made with Pisco, pear eau de vie, pear liqueur, lemon, Moscato d'Asti, Aromatic bitters. Seriously, yum. 
Images: A.R.T. SoHo courtesy of ArloSoHo; Clover Club photo by Daniel Krieger; thesugarfactory, phdterraceny, misterparadisenyc, magichourny / Instagram; Unsplash 
The Types Of Signature Wedding Cocktails Nobody Wants To Drink
Another wedding topic for me to shit on! Signature cocktails—it doesn't get much more basic than this. You're having your country club wedding, and instead of just opening the bar like a normal person, are offering beer, wine, and a signature cocktail.
Depending on what that cocktail actually is depends on how much I get to judge you. I understand that having an open bar just isn't in everyone's budget (sad), but offering me a shitty cocktail is unforgivable. There are some basic rules of feminism pulling this shit off that you should stick to unless you want blind-drunk guests and bridesmaids barfing on each other. You'll thank us later.
1. Think About Your Goddamn Menu
Would you serve a fine late season Chilean Malbec with a goddamn McFish Sandwich? If you would, I hope you choke. Same rules apply for your signature cocktail and its relation to your menu. If you're serving a buffet, the world is your oyster. If the cocktail is presented during cocktail hour, choose something that fits well. Don't go serving a whiskey sour rip-off with crab cakes and chilled tomato soup shooters, feel me?
2. Don't Be A Trendy Douche
I usually heart being pretentious, but this isn't the place, fam. Your cocktail does not need to smoke, or sizzle, or include rare bird spit from Guangzhou. Our advice is to pick a classic and build on it. They're classics for a reason—no humanely sourced fair trade wild flowers required.

3. Don't Go Crazy On The Booze
We all love grandpa, but once he starts hittin' the sauce, his groping and orgasm jokes are less than cute and make us all gag. Because cocktails, by nature, are easy to drink, go a little easy on the alcohol. If you load 'em up with three kinds of liquor, everyone's going to either black out or get sick, which sounds hilarious, but is less so when you're left with the cleaning bill.
4. Use Fresh Ingredients
I shouldn't even need to say this, but freshness counts just as much in your drinks as it does in your dinner. Picking a cocktail that utilizes fresh fruit and herbs is going to be much more enjoyable than the one utilizing Fireball and Aunt Jemima.
5. Make It Fucking Snappy
Hey, you know what sucks? Waiting on the bartender to add smoke/liquid nitrogen/shake my drink for 10 minutes when my fucking song is coming on. Pick a cocktail that can be made in under three minutes or get out of my life. Do you want a line at the bar winding around your reception hall like a tubular snake? Didn't think so.

6. Make It Something You Like
This should go without saying, but motherfucking pick something that you (and like, I guess the groom) actually enjoy. If you met while sipping craft beers, go for a craft beer cocktail. If you met when he accidentally spilled a gin and tonic on you—you get the idea. Plus, it makes for a cutesy story that'll maybe inspire people to add an extra 0 to your wedding gift.
Images: Rawpixel.com / Unsplash; Giphy (2)
This Fall Cocktail Will Make It Feel Like Sweater Weather
It's like, officially Fall today, so bring on the basic betch uniform consisting of NorthFace fleeces, Uggs, too many scarves, leggings, and the ever-present PSL. But because we literally deal with the onslaught of pumpkin everything every year, as soon as cool-ish weather hits, allow us to make a suggestion: Make a drink that's totally autumnal WITHOUT the pumpkin flavoring.
Real talk—pumpkin is kind of a shitty flavor. It's an odd, overly sized orange squash that people only associate with fall because a) there's little, if any, actual produce this time of year (except you, apples), b) Halloween, and c) pumpkin pie—the only Thanksgiving dessert—is right around the corner. The issue we have here is that pumpkin on its own tastes like an old candle. It's not sweet. It's not really savory. It's just kind of there. The addition of about eight cups of sugar, enough cinnamon to poison a small child, and other probs unnatural flavors make it palatable.
For these reasons, we give you a v alcoholic drink sans pumpkin anything. You're welcome.
Ingredients
2 shots Rumchata
1 shot Caramel vodka
Sea salt
2 tbsps caramel sauce—you can make your own OR just grab that Smuckers jar from the ice cream toppings aisle
Grab a martini glass and wet the rim with water. Dip into a plate of the sea salt, margarita style. Drizzle in your caramel sauce, so it sits in a happy puddle at the bottom of the glass.
Set aside. In a cocktail shaker, combine lots of ice with the Rumchata and vodka. Shake and strain into your salty martini glass. Chug that shit, and then go jump in a leaf pile. Or don't and stay inside in sweatpants. Yay, Fall.
6 Drinks You Need To Know How To Make To Be Considered A Functioning Member Of Society
As we get on into the scary shit that is adulthood, there are certain skills every betch should possess. Knowing how to fold fitted sheets (still unsure if this can be done), submit taxes, unload a dishwasher, book appointments, and even take care of an animal are all on the list. Feeding, and more importantly, drinking like a king are also up there. Knowing how to make classic drinks without consulting the internet so as to keep yourself and your friends drunk is super fucking important. Here is our definitive list of the drinks you need to memorize and know how to create for whoever walks through your door.
1. Gin & Tonic
It's two goddamn ingredients, and if you can't figure it out you don't deserve to share space with those who do. Add about 2 oz. of gin to a tall glass filled with ice. Squeeze in 2-3 lime wedges, then add them to the glass. Add 3-4 oz. of tonic water and stir.

2. Margarita
Ah, the margarita: a great and terrible decision, all wrapped into one. Luckily for you, making one isn't really that difficult, since we're going the classic route and not the blueberry burnt orange top shelf tequila dusted with fair trade sugar route. Run a lime wedge around two glasses and dip the rims in salt (or sugar if you're a lil bitch). Set aside. In a cocktail shaker filled with ice, combine 4 oz. white tequila (NOT Jose Cuervo), 2 oz. Cointreau, and 1 ½ oz. fresh lime juice. Shake that shit for about 15 seconds. Fill the rimmed glasses with ice and strain the margarita into the glasses. Garnish with lime wedges and serve.
3. Martini
A real martini is made with gin, which, while making you a psychopath for drinking it, isn't all that bad when added to a simple concoction like the motherfucking classic dry martini. Combine 2 oz. of dry gin with 1 oz. dry vermouth and 1 dash of orange bitters (optional) in a cocktail glass that's been chilled. Stir well and twist a piece of lemon peel over—then use as garnish. Olives are a faux pas, BY THE WAY.

4. Old Fashioned
Since this is like, probs the OG cocktail, you better know how to make it. Classic recipes abound and it's not all that difficult. Put 1 tsp sugar in a glass, douse with 2-3 dashes of bitters and a few drops of water. Add whiskey and stir until the sugar is dissolved. Add ice, stir to chill, and garnish with an orange slice.
5. Cosmo
We admit Sarah Jessica Horseface ruined this one for us, but it actually isn't that bad of a cocktail. I mean, it's kinda sweet, kinda tart, and kinda really fucking easy to make. Fill a cocktail shaker with ice and add 1 ½ oz of citrus vodka, ½ oz. Cointreau, ½ oz. cranberry juice, and ¼ oz. fresh lime juice. Shake that shit well and strain into a cold cocktail glass.

6. Mint Julep
So this may be the most difficult of the bunch, and that isn't saying much. If you live in the dirty south or raise horses/make bank on horses in Kentucky, you better know how to make this recipe as well as you can stalk an ex's girlfriend's mother's brother within 30 seconds of finding out their middle initial. Place 2 tsp. simple syrup in a tall glass and add about 10 fresh mint leaves. Muddle that shit until they're bruised, but not totally destroyed. Half fill the glass with crushed ice and add 3 oz. of good bourbon, stirring to combine. Add more crushed ice and add a few sprigs of fresh mint on top. Serve with a short straw.
Congratulations, and welcome to society, ya filthy animal.
Two Kombucha Cocktail Recipes For Your Next Hair Of The Dog
With America turning another year older, we needed a fucking patriotic cocktail. Actually, scratch that—we needed two. But like, instead of the usual alcohol + fruit/mixer = drunk, we decided to add in our good friend kombucha, who always seems to come through for us in times of hangover tough shit. You may think the fermented tea tastes a little weird, but this is America, where we experiment with weird vinegar-flavored things and see what alcohol we can add to make it better.
If you shop hard enough, you'll find plenty of flavored kombuchas which give you the health benefits plus not-gross flavor. So you can get your July 4th party on knowing that you're like, better than everyone else. And that's really what's it's all about.
Blueberry Mojito

– 1 cup blueberries
– 6 oz. white rum
– A bunch of fresh mint
– 2 tsp. sugar
– Juice from 2 limes or like, some bottled stuff if you're povo
– 6 oz. kombucha — we used LIVE Soda Pomtastic Blueberry because it's like, blueberry flavored and doesn't taste like vinegar and feet but still has kombucha goodness
Got all your patriotic shit? Good. Blend or otherwise smash your blueberries, mint, and sugar together until everything is like, relatively smooth. Stir in the lime and rum until everything is niiiiice and mixed. Divide the mixture between two glasses and top the rest with the kombucha. Add some ice and fuck yes, America.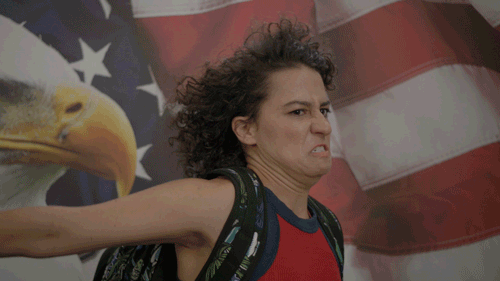 Kombucha Mimosa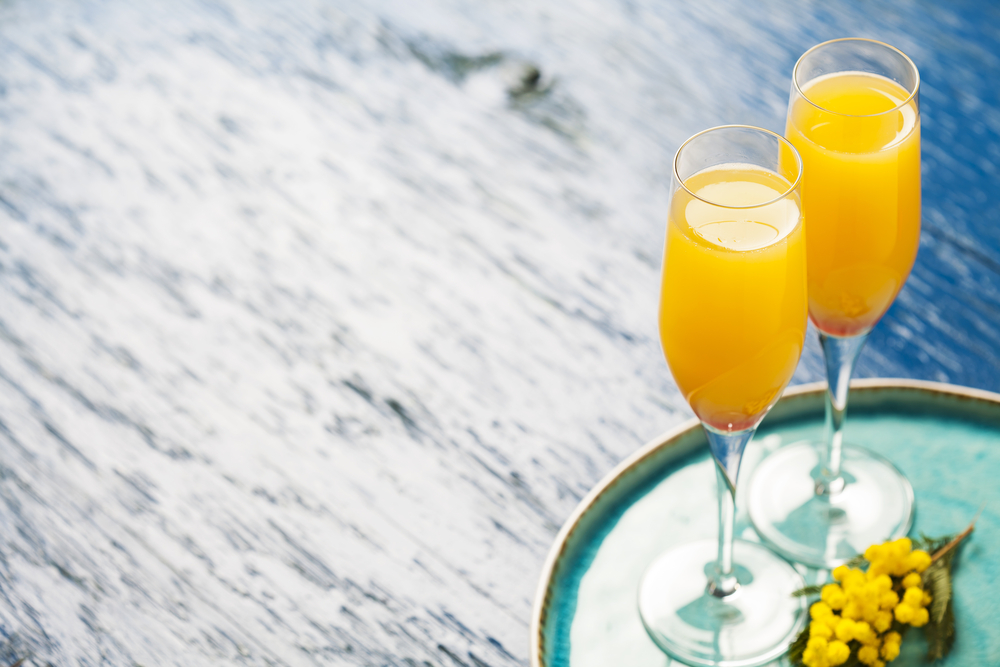 – 1 bottle Champagne or prosecco (as you do)
– 2 bottles berry-flavored kombucha — we used LIVE Refreshing Rhuberry
– 1 ½ cups orange juice
Have you made a mimosa before? Cause like if you haven't idk why you're on the site. Probably as a dare. Or you're a Russian spy. Anywho, grab a big pitcher and combine the Champagne, kombucha, and juice. Stir to combine, pour into glasses, and garnish with berries. Like honestly I shouldn't have to explain this to you. There's nothing like a mimosa to kick off a day of explosions and hot dogs for America.
This Blackberry Gin Spritzer Will Keep You Skinny While Getting You Drunk
So, like, summer is officially here, and somehow I don't have the bikini body of Gigi Hadid despite working super hard on not eating and only drinking vodka sodas. Rude. Since I'm all about giving up and giving in to temptation these days (lol yolo), I figured we skip the low-cal vodka drinks and questionable hard seltzers (we've hit a new low as a society) and go right for the drink of psychopaths—gin. Weirdly, this liquor reminiscent of cleaning solution goes beautifully with things like fresh berries and mint aka the prime farm-to-table crops of summer. To get in the spirit, we mashed 'em all up together and made an alcoholic bev that'll keep us cool and happy when we're getting our tan on.
Ingredients
1 6-oz container of blackberries OR raspberries … or a combination of the two. IDGAF, it's your life.
½ cup white sugar
2 cups gin
1 cup fresh lime juice
1-2 bottles of that hard seltzer shit—we used Spiked Seltzer
Mint
1. Grab your Vitamix or poor people blender and combine the blackberries and sugar. Once you're done blending, stir the concoction until the sugar looks dissolved, which honestly may take a while. You can also put it on the stove in a small saucepan and heat the mixture until the sugar is alllllll gone.
2. Once you've got that where you need it, strain the mixture through a fine sieve into a pitcher so you can throw out the seeds. Ain't nobody want those.
3. Grab your gin and lime and pour into the pitcher with the blackberry stuff. Then divide among glasses and top with the hard seltzer and sprigs of fresh mint.
It's like totally healthy because there's fruit in it, fucking duh!
The Ultimate Fancy Vodka Lemonade For Day Drinking
When you're hosting a group of betches—be it for a pool party, Champagne and caviar toast, or Bachelorette viewing, you need enough alcohol to kill a preschooler (sorry not sorry). The catch? You can't just dump Everclear in a cooler, add some Hawaiian punch, and call it a day—I see you, college kids. There needs to be an element of fun AND class when you're creating a group cocktail. Also, if you can incorporate herbs, fruit, AND alcohol, you're fucking winning.
Of course, wine is fine and tequila makes us literally crazy, but, how about a more super summery FUN cocktail? We've taken that shit literally and have given you a riff on lemonade—now with alcohol. Be safe, kids.

Ingredients
2 cups of vodka — we used organic Purus vodka because, like, we love the environment and organic stuff makes us feel cool
6 tbsps honey or agave nectar
3/4 cup fresh lemon juice
1/2 cup of muddled fresh ginger
1 cup mint leaves
8 lemon slices
Stir honey and 6 tbsps of hot water in a large pitcher until honey is dissolved. Stir in the vodka, lemon juice, and muddled ginger. Add about 2 cups of ice (depending on the size of your pitcher) and the mint leaves. Cover and refrigerate until chilled. Pour into glasses filled with ice; garnish with lemon slices and serve.