11 Canned Cocktails To Get Shadily Wasted On This LDW
I know Labor Day weekend typically marks the end of summer, but if nothing else, 2020 has proved that time is a social construct, so I for one am just going to keep pretending it's summer all year. (And I know summer technically ends on September 20th but much like Memorial Day is the unofficial start, Labor Day is the unofficial end. So don't come for me.) One way to pretend like it's summer all the time is to drink summery drinks no matter the time of year. 
2019 may have been the summer of hard seltzers, but 2020 for me is all about the canned cocktails. They're delicious, they're portable, and best of all, half the flavors in the variety box aren't undrinkable (okay so that was a White Claw subtweet). My point still stands. Here are some of the best canned cocktails to stock up on.

Boulder-based Cocktail Squad® has something for every type of liquor drinker, whether you're a whiskey girl (Whiskey Sour, Bourbon Smash), a vodka lover (Greyhound, Vodka Soda), a tequila drinker (margarita), or a gin sipper (gin & tonic). The small batch original flavors all pack a serious punch at 10% ABV per can, but if you're in a more casual drinking mood (can't relate) the new Whiskey Ginger and Vodka Lemon are a responsible 5% ABV. See if Cocktail Squad is available in your area here.

First of all, I've got to say that this comes in some of the best packaging ever—plus, I love that these cans look like rugged sodas or a kombucha or something. They'll never know it's alcohol! These canned vodka sodas come in a variety of flavors from your traditional lime and black cherry to the more snazzy watermelon and cucumber mint (plus there's also a grapefruit option). They're only 99 calories per can, sodium- and gluten-free. Available on Drizly.

Truthfully, I'm not a gin person so I can't vouch for these, but thankfully Tanqueray doesn't need my endorsement because there are plenty of actual celebrities who swear by the stuff. And now you can get all the natural flavors of Tanqueray in a convenient can. There are three varietals: Tanqueray Gin & Tonic, Tanqueray Rangpur Lime Gin & Soda, and Tanqueray Sevilla Orange Gin & Soda, all 6% ABV and available in a 4-pack.

New this summer to Clubtails are two flavors: Strawberry Daiquiri and Blueberry Mojito. I'll take a million of each, please. There are a bunch of other flavors if those aren't your scene—including, but not limited to: Bahama Mama, Sex on the Beach, Scredriver, Watermelon Margarita, and others. All have a hefty 10% ABV and are perfect for drinking on-the-go.

Mimosas in a can made with brut from the Finger Lakes region of NY, plus real juice. That's it, that's the product. Ohza has three different brunch-inspired drinks: a classic mimosa, a bellini, and a mango mimosa. With 140 calories per can, that's less than what you'd get if you made it yourself, and there's no added sugar. At 5% ABV these are perfect to start your day with.

As we've previously established, I'm a sucker for cute packaging, and Fling's is f*cking adorable. Boulevard has been brewing beer for decades but decided to dip their toes into the craft cocktail pond, and the result are fun varietals like a blood orange vodka soda (need), mai tai, mojito, and more. They vary in intensity from a casual 5% to a solid 9% ABV, so there's really something for everyone in your group.

Again with a pretty cover, these Organic Premium Spritzes are a fave of Gwyneth Paltrow and Olivia Culpo. But stay with me, because they're actually good! They don't have artificial flavors, colors, or added sweeteners, and have five different varieties. I liked the grapefruit & hibiscus paloma spritz, which had a bit of a kick (think like gingerbeer); plus the elderflower & ginger margarita spritz. Other varietals include the brunch-friendly Mango & Peach Rosé Bellini Spritz, Sunrise Rosé Sangria Spritz, and Mandarin Rosé Mimosa Spritz. 

For the wildcard in your friend group (if you don't know who it is, it's you), there's Belle Isle Canned Cocktails, which are made with… wait for it… moonshine. But don't get scared because they are a respectable 5% ABV and not the instant blackout you think of when you hear "moonshine". Honey Hab & Pineapple combines honey-habanero moonshine with bubbles and real pineapple. Blood orange & soda , ruby red & soda, and shine & soda mix Belle Isle's moonshine (in the case of the first two, infused with fruits) with a splash of soda.

Sold on that name alone, tbh. These canned cocktails, made with spirits distilled in Virginia, range from 4.5-10%ABV and come in four varietals. The Orange Smash is basically a screwdriver with lemon lime flavors added for an extra punch; the vodka soda has a twist of lime and is only 90 calories; the vodka mule combines ginger and elderflower; and the gin & tonic has notes of citrus and juniper.

Made with wine, fruit juice, sparkling water, and natural flavors, MOVO wine spritzers are only 100 calories per can with no sugar added. They come in three types: peach white blend, raspberry rosé, and blood orange sangria. And probably the best part is that since they're canned, you don't have to worry about bringing a corkscrew to the beach.

We can't go to Italy right now, but we can get Italian spritz culture in a can with Ramona, a line of canned wine spritzes. No Aperol spritz, sorry, but all three can varieties are made with sparkling organic Sicilian wine, so you can pretend like you're on your Italian vacation. There's a blood orange, a ruby grapefruit, and an unconventional Meyer lemon. All the spritzes clock in at 7% ABV, which is more than your average seltzer.
Images: Monica di Loxley / Unsplash; Cocktail Squad, CANTEEN, Drizly, Clubtails, Ohza, Boulevard, Miami Cocktail Co, Belle Isle, Devil's Backbone, MOVO Wine, Ramona
6 Drinks You Need To Know How To Make To Be Considered A Functioning Member Of Society
As we get on into the scary shit that is adulthood, there are certain skills every betch should possess. Knowing how to fold fitted sheets (still unsure if this can be done), submit taxes, unload a dishwasher, book appointments, and even take care of an animal are all on the list. Feeding, and more importantly, drinking like a king are also up there. Knowing how to make classic drinks without consulting the internet so as to keep yourself and your friends drunk is super fucking important. Here is our definitive list of the drinks you need to memorize and know how to create for whoever walks through your door.
1. Gin & Tonic
It's two goddamn ingredients, and if you can't figure it out you don't deserve to share space with those who do. Add about 2 oz. of gin to a tall glass filled with ice. Squeeze in 2-3 lime wedges, then add them to the glass. Add 3-4 oz. of tonic water and stir.

2. Margarita
Ah, the margarita: a great and terrible decision, all wrapped into one. Luckily for you, making one isn't really that difficult, since we're going the classic route and not the blueberry burnt orange top shelf tequila dusted with fair trade sugar route. Run a lime wedge around two glasses and dip the rims in salt (or sugar if you're a lil bitch). Set aside. In a cocktail shaker filled with ice, combine 4 oz. white tequila (NOT Jose Cuervo), 2 oz. Cointreau, and 1 ½ oz. fresh lime juice. Shake that shit for about 15 seconds. Fill the rimmed glasses with ice and strain the margarita into the glasses. Garnish with lime wedges and serve.
3. Martini
A real martini is made with gin, which, while making you a psychopath for drinking it, isn't all that bad when added to a simple concoction like the motherfucking classic dry martini. Combine 2 oz. of dry gin with 1 oz. dry vermouth and 1 dash of orange bitters (optional) in a cocktail glass that's been chilled. Stir well and twist a piece of lemon peel over—then use as garnish. Olives are a faux pas, BY THE WAY.

4. Old Fashioned
Since this is like, probs the OG cocktail, you better know how to make it. Classic recipes abound and it's not all that difficult. Put 1 tsp sugar in a glass, douse with 2-3 dashes of bitters and a few drops of water. Add whiskey and stir until the sugar is dissolved. Add ice, stir to chill, and garnish with an orange slice.
5. Cosmo
We admit Sarah Jessica Horseface ruined this one for us, but it actually isn't that bad of a cocktail. I mean, it's kinda sweet, kinda tart, and kinda really fucking easy to make. Fill a cocktail shaker with ice and add 1 ½ oz of citrus vodka, ½ oz. Cointreau, ½ oz. cranberry juice, and ¼ oz. fresh lime juice. Shake that shit well and strain into a cold cocktail glass.

6. Mint Julep
So this may be the most difficult of the bunch, and that isn't saying much. If you live in the dirty south or raise horses/make bank on horses in Kentucky, you better know how to make this recipe as well as you can stalk an ex's girlfriend's mother's brother within 30 seconds of finding out their middle initial. Place 2 tsp. simple syrup in a tall glass and add about 10 fresh mint leaves. Muddle that shit until they're bruised, but not totally destroyed. Half fill the glass with crushed ice and add 3 oz. of good bourbon, stirring to combine. Add more crushed ice and add a few sprigs of fresh mint on top. Serve with a short straw.
Congratulations, and welcome to society, ya filthy animal.
Hipsters Have Officially Ruined Rosé For All Of Us
Everyone knows a true betch's summer go-to beverage is a nice tall glass (or bottle, whatever) of rosé. It's cold, it's pretty, it has alcohol in it, it's delicious. Did I mention it has alcohol? But sometimes wine drunk doesn't cut it. Like, maybe I wanna get my drink on but not fall asleep after an hour only to wake up to the world's worst headache. Fucking sue me. Or maybe I just had a very stressful day of doing the bare minimum and need to black out for a while and recalibrate my emotions. I mean, not that you can't black out on rosé. I've done countless experiments here and I assure you, it can be done, but it just takes a little more time and a lot more calories than a few well-timed shots of clear liquor would. Well now, thanks to Wolffer's vineyard in the Hamptons, you can get liquor drunk with rosé vibes. How you might ask? Gin made from rosé. Did you hear that thud? It was me dropping the mic.
If you're wondering how this is possible, you've come to the wrong place because I'm not a gin distiller sry, but apparently gin just has to be a clear alcoholic drink made of neutral spirits and juniper berries, so the term "gin" is a loose one. I even Merriam-Webster'd that shit.

Now that's what I call research. Am I a legit journalist? Only time will tell. My Googling research also taught me that, in order to turn wine into gin, Wolffer uses copper stills to create pure alcohol from rosé, then adds juniper berries and other shit to make it gin-y. A touch of red grape skin extract enhances the pink color to really take it to a faker the next level.

If you know anything about anything, you know that rosé is for basics and gin is for hipsters, fucking duh. You might also remember that there is scientific evidence that proves only psychopaths drink gin. So now you don't have to fit in a bubble. Don't let society tell you you have to choose. You can be both basic and a psycho. That's what makes this country so great. (Though maybe try not being a hipster. Society as a whole is like, done with that.) You wanna wear Uggs on your feet and a beanie on your head while contemplating murder? Fucking do it. Just make sure you have a glass of rosé gin in your hand. And jk about the murder part.
The Best Long Island Iced Tea Recipe For A Guaranteed Blackout
In keeping with all things warm, sunny, tan, and refreshing, we need dranks! But when you're sitting around trying to get as blackout as possible, not just any drink will do. Sure, we could knock back million calorie piña coladas or try to chug rosé (and like, we know we'll fail) to try and beat the heat, but it just wouldn't get the job done.
We all know that a true, straight long island iced tea will get you fucked up faster than you can say "more ice, bitch." And it's time you, as an adult, learned to make one on your own.

Ingredients:
· ½ oz Triple Sec
· ½ oz white rum
· ½ oz gin (don't use anything blue, homie)
· ½ oz vodka
· ½ oz white tequila (um so like, not Jose)
· 1 oz sour mix
· Cola (shit, you could even use diet if you want)
· Lemon wedges
Grab a cocktail shaker and fill it with ice. Mix together everything except the cola. Strain into a highball or Collins glass filled with ice and top that shit off with the cola. Garnish with a lemon and enjoy your trip, betch. Just make sure you have at least one person in your crew who didn't drink one of these. They'll be responsible for remember what happens later.
How To Make Fourth Of July Cocktails That Will Get You Triple Digit Instagram Likes
Ah, July 4th—a holiday created so that Americans can fondly remember the time they threw off the yoke of tyranny and oppression so they could do whatever the fuck they wanted including ditching British accents, eating hot dogs, and electing a president not at all qualified to do his job.
If you've ever been on the internet during or around an American holiday, you've seen patriotic cocktails, i.e., red and white and/or blue cocktails making the rounds.
This shit would make an eagle cry tears of joy and George Washington jizz his pants. With July 4th a few days away, and you likely without anything to make for your guests at this year's fireworks fucktacular, you better get your shit together and make these tributes to those dudes who signed the declaration. We appropriately adapted the following recipes from the American woman's bible, Cosmopolitan.
The American

-1 ½ oz. berry flavored vodka
-1 oz. sliced strawberries
-3 oz. spiked seltzer
-2 oz. coconut water
Put the strawberries in the bottom of a tall glass. Add ice, vodka, spiked seltzer, and the coconut water. Float some blueberries on top and fuck, it's America in a glass.

Explosion For America

-¾ oz grenadine
-1 ¼ oz blue curaçao
-1 ½ oz vodka
-1 oz spiked lemonade (like Mike's or some shit)
Grab a tall-ass glass and pour the grenadine into the bottom. Add ice on top. Super fucking gently pour the curaçao over the grenadine so it lays on top but doesn't really mix. In a cocktail shaker filled with more ice, combine the vodka and spiked lemonade, then gently strain that mixture over the curacao. If you did it right, you have some really patriotic shit going on.
A Perfectly Boozy Shamrock Shake For Your St. Patrick's Day Blackout
Well, tis the season for green booze, again. But before you go dry-heaving reminiscing about last year's rivers of green vomit, do yourself a favor and make a legit, delicious, and decadent alcoholic Shamrock Shake. You won't find this shit at McDonald's. Is it diet friendly? No. Is it a dessert in and of itself? Hell yas. This recipe is an easy AF way to take your St. Paddy's day pregame to the next level. You're definitely going to want to do this for the pregame, BTW. This recipe is easy but not like, doable-after-a-pub-crawl easy. I can barely even re-heat soup after a pub crawl, TBH. Best to stay away from the blender. 
Ingredients
1 ¾ cups Vanilla Ice Cream — get the good shit
¼ cup Crème de Menthe
¼ cup vanilla vodka
Three to four sprigs fresh mint
Take all that shit and throw it in your Vitamix. Blend until smooth. Top off with whipped cream and a cherry to feel festive. Shit, throw some mini chocolate chips in there to make yourself feel better and get ready to wake up tomorrow morning and wonder what happened to all your vanilla ice cream.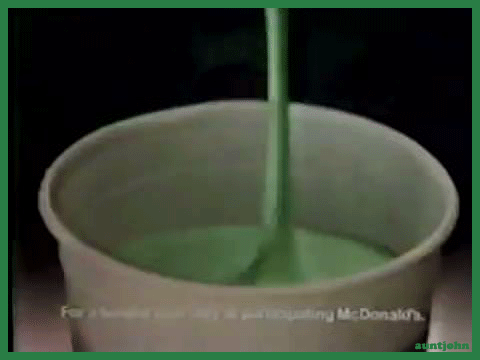 A Cosmopolitan: The Perfect Valentine's Day Cocktail To Drown Your Sorrows
OBVIOUSLY you'll need a drink come Valentine's Day. Whether you're single, listening to your friend's relationship problems, or dropping hints to your significant other over this shit holiday, alcohol should probs be involved.
We look to none other than the classic Cosmopolitan cocktail. Supposedly created in the 30s out of gin, Cointreau, lemon juice, and raspberry syrup, we honestly can't think of a better drink to celebrate this pink-drenched holiday. We know Sex and the City sorta ruined it for everyone, but a classic is a classic, like black on black and Chanel.

Ingredients
1 ½ oz vodka
¾ oz triple sec
½ oz cranberry juice
Freshly squeezed lime juice
Ice
Chill your cocktail glass in the freezer for a few minutes so that you have a chic, cold glass. While it's chilling, break out your cocktail shaker and combine the vodka, triple sec, cranberry juice, and a splash of the lime juice—then fill halfway with ice. That's it—the hard part is over. 
Shake for like, awhile, until the shaker is sorta icy and uncomfortable—like your heart. Strain into your chilled glass, and drink like, three of these.
 
Orange Drinks For The Inauguration Of The Orange Man
Unfortunately for us—and like, the world—tomorrow Donald Trump, human Cheeto, will become President of the United States.
In order to kind of try to forget, we need a drink. A really strong one. Laced with Xanax, probably. But we digress. If you're like us and borderline ready for entertainment/marches/loud protests tomorrow, make a drink that can hang.

Ingredients
1 oz. vodka
1 tbsp. honey
½ oz. lime juice
½ oz. orange juice
In a cocktail shaker, shake together alllllll of the ingredients. Pour into a chilled cocktail glass, garnish with orange slice, and knock that shit back.
Oh, you need more orange alcohol recipes? Okay.
Ingredients
1 shot whipped cream flavored vodka
2 shots orange juice
½ shot Triple Sec
Shake ingredients together then pour into a chilled cocktail glass.
Ok one more so we can get on the path to Blackout Town.
Ingredients
1 oz. silver tequila
2/3 oz. Triple Sec
2/3 oz. orange juice
2/3 oz. lemon juice
Dash of salt
Shake everything together then pour into a chilled glass full of ice. Garnish with a strawberry, if you feel fancy.
Let's make America drunk again.