This Fall Cocktail Will Make It Feel Like Sweater Weather
It's like, officially Fall today, so bring on the basic betch uniform consisting of NorthFace fleeces, Uggs, too many scarves, leggings, and the ever-present PSL. But because we literally deal with the onslaught of pumpkin everything every year, as soon as cool-ish weather hits, allow us to make a suggestion: Make a drink that's totally autumnal WITHOUT the pumpkin flavoring.
Real talk—pumpkin is kind of a shitty flavor. It's an odd, overly sized orange squash that people only associate with fall because a) there's little, if any, actual produce this time of year (except you, apples), b) Halloween, and c) pumpkin pie—the only Thanksgiving dessert—is right around the corner. The issue we have here is that pumpkin on its own tastes like an old candle. It's not sweet. It's not really savory. It's just kind of there. The addition of about eight cups of sugar, enough cinnamon to poison a small child, and other probs unnatural flavors make it palatable.
For these reasons, we give you a v alcoholic drink sans pumpkin anything. You're welcome.
Ingredients
2 shots Rumchata
1 shot Caramel vodka
Sea salt
2 tbsps caramel sauce—you can make your own OR just grab that Smuckers jar from the ice cream toppings aisle
Grab a martini glass and wet the rim with water. Dip into a plate of the sea salt, margarita style. Drizzle in your caramel sauce, so it sits in a happy puddle at the bottom of the glass.
Set aside. In a cocktail shaker, combine lots of ice with the Rumchata and vodka. Shake and strain into your salty martini glass. Chug that shit, and then go jump in a leaf pile. Or don't and stay inside in sweatpants. Yay, Fall.
6 Drinks You Need To Know How To Make To Be Considered A Functioning Member Of Society
As we get on into the scary shit that is adulthood, there are certain skills every betch should possess. Knowing how to fold fitted sheets (still unsure if this can be done), submit taxes, unload a dishwasher, book appointments, and even take care of an animal are all on the list. Feeding, and more importantly, drinking like a king are also up there. Knowing how to make classic drinks without consulting the internet so as to keep yourself and your friends drunk is super fucking important. Here is our definitive list of the drinks you need to memorize and know how to create for whoever walks through your door.
1. Gin & Tonic
It's two goddamn ingredients, and if you can't figure it out you don't deserve to share space with those who do. Add about 2 oz. of gin to a tall glass filled with ice. Squeeze in 2-3 lime wedges, then add them to the glass. Add 3-4 oz. of tonic water and stir.

2. Margarita
Ah, the margarita: a great and terrible decision, all wrapped into one. Luckily for you, making one isn't really that difficult, since we're going the classic route and not the blueberry burnt orange top shelf tequila dusted with fair trade sugar route. Run a lime wedge around two glasses and dip the rims in salt (or sugar if you're a lil bitch). Set aside. In a cocktail shaker filled with ice, combine 4 oz. white tequila (NOT Jose Cuervo), 2 oz. Cointreau, and 1 ½ oz. fresh lime juice. Shake that shit for about 15 seconds. Fill the rimmed glasses with ice and strain the margarita into the glasses. Garnish with lime wedges and serve.
3. Martini
A real martini is made with gin, which, while making you a psychopath for drinking it, isn't all that bad when added to a simple concoction like the motherfucking classic dry martini. Combine 2 oz. of dry gin with 1 oz. dry vermouth and 1 dash of orange bitters (optional) in a cocktail glass that's been chilled. Stir well and twist a piece of lemon peel over—then use as garnish. Olives are a faux pas, BY THE WAY.

4. Old Fashioned
Since this is like, probs the OG cocktail, you better know how to make it. Classic recipes abound and it's not all that difficult. Put 1 tsp sugar in a glass, douse with 2-3 dashes of bitters and a few drops of water. Add whiskey and stir until the sugar is dissolved. Add ice, stir to chill, and garnish with an orange slice.
5. Cosmo
We admit Sarah Jessica Horseface ruined this one for us, but it actually isn't that bad of a cocktail. I mean, it's kinda sweet, kinda tart, and kinda really fucking easy to make. Fill a cocktail shaker with ice and add 1 ½ oz of citrus vodka, ½ oz. Cointreau, ½ oz. cranberry juice, and ¼ oz. fresh lime juice. Shake that shit well and strain into a cold cocktail glass.

6. Mint Julep
So this may be the most difficult of the bunch, and that isn't saying much. If you live in the dirty south or raise horses/make bank on horses in Kentucky, you better know how to make this recipe as well as you can stalk an ex's girlfriend's mother's brother within 30 seconds of finding out their middle initial. Place 2 tsp. simple syrup in a tall glass and add about 10 fresh mint leaves. Muddle that shit until they're bruised, but not totally destroyed. Half fill the glass with crushed ice and add 3 oz. of good bourbon, stirring to combine. Add more crushed ice and add a few sprigs of fresh mint on top. Serve with a short straw.
Congratulations, and welcome to society, ya filthy animal.
Two Kombucha Cocktail Recipes For Your Next Hair Of The Dog
With America turning another year older, we needed a fucking patriotic cocktail. Actually, scratch that—we needed two. But like, instead of the usual alcohol + fruit/mixer = drunk, we decided to add in our good friend kombucha, who always seems to come through for us in times of hangover tough shit. You may think the fermented tea tastes a little weird, but this is America, where we experiment with weird vinegar-flavored things and see what alcohol we can add to make it better.
If you shop hard enough, you'll find plenty of flavored kombuchas which give you the health benefits plus not-gross flavor. So you can get your July 4th party on knowing that you're like, better than everyone else. And that's really what's it's all about.
Blueberry Mojito

– 1 cup blueberries
– 6 oz. white rum
– A bunch of fresh mint
– 2 tsp. sugar
– Juice from 2 limes or like, some bottled stuff if you're povo
– 6 oz. kombucha — we used LIVE Soda Pomtastic Blueberry because it's like, blueberry flavored and doesn't taste like vinegar and feet but still has kombucha goodness
Got all your patriotic shit? Good. Blend or otherwise smash your blueberries, mint, and sugar together until everything is like, relatively smooth. Stir in the lime and rum until everything is niiiiice and mixed. Divide the mixture between two glasses and top the rest with the kombucha. Add some ice and fuck yes, America.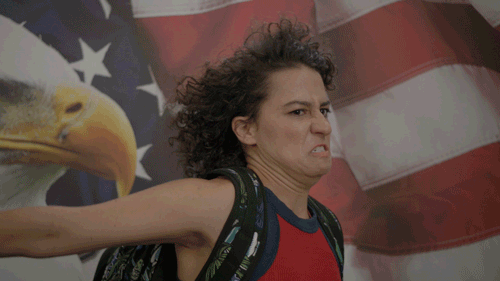 Kombucha Mimosa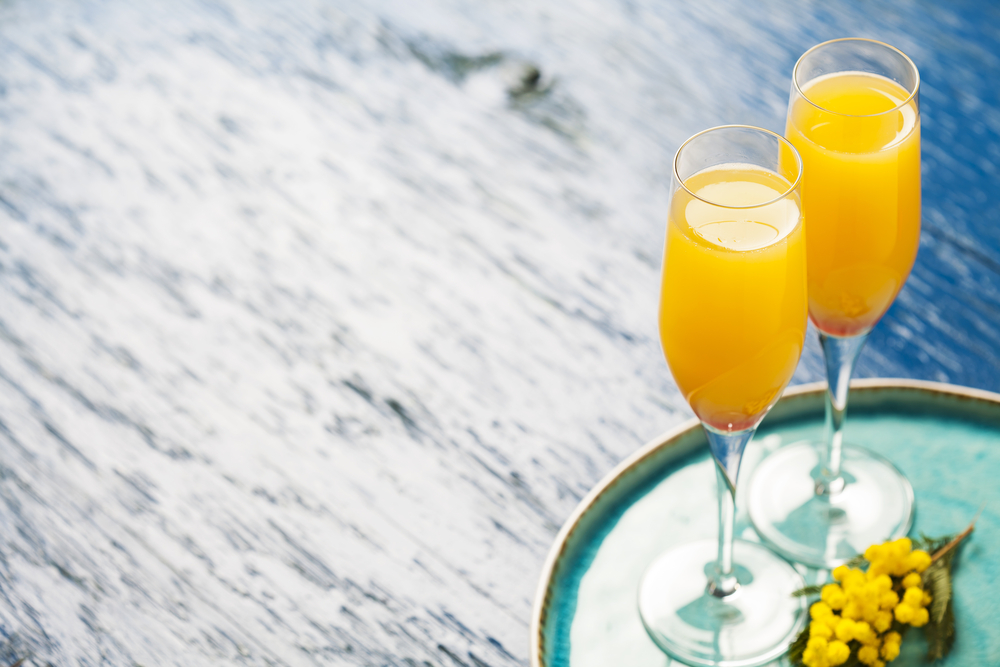 – 1 bottle Champagne or prosecco (as you do)
– 2 bottles berry-flavored kombucha — we used LIVE Refreshing Rhuberry
– 1 ½ cups orange juice
Have you made a mimosa before? Cause like if you haven't idk why you're on the site. Probably as a dare. Or you're a Russian spy. Anywho, grab a big pitcher and combine the Champagne, kombucha, and juice. Stir to combine, pour into glasses, and garnish with berries. Like honestly I shouldn't have to explain this to you. There's nothing like a mimosa to kick off a day of explosions and hot dogs for America.
A Perfectly Boozy Shamrock Shake For Your St. Patrick's Day Blackout
Well, tis the season for green booze, again. But before you go dry-heaving reminiscing about last year's rivers of green vomit, do yourself a favor and make a legit, delicious, and decadent alcoholic Shamrock Shake. You won't find this shit at McDonald's. Is it diet friendly? No. Is it a dessert in and of itself? Hell yas. This recipe is an easy AF way to take your St. Paddy's day pregame to the next level. You're definitely going to want to do this for the pregame, BTW. This recipe is easy but not like, doable-after-a-pub-crawl easy. I can barely even re-heat soup after a pub crawl, TBH. Best to stay away from the blender. 
Ingredients
1 ¾ cups Vanilla Ice Cream — get the good shit
¼ cup Crème de Menthe
¼ cup vanilla vodka
Three to four sprigs fresh mint
Take all that shit and throw it in your Vitamix. Blend until smooth. Top off with whipped cream and a cherry to feel festive. Shit, throw some mini chocolate chips in there to make yourself feel better and get ready to wake up tomorrow morning and wonder what happened to all your vanilla ice cream.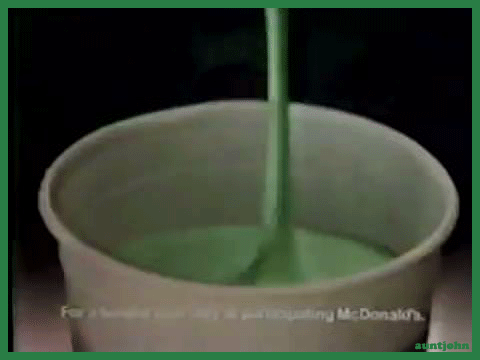 Orange Drinks For The Inauguration Of The Orange Man
Unfortunately for us—and like, the world—tomorrow Donald Trump, human Cheeto, will become President of the United States.
In order to kind of try to forget, we need a drink. A really strong one. Laced with Xanax, probably. But we digress. If you're like us and borderline ready for entertainment/marches/loud protests tomorrow, make a drink that can hang.

Ingredients
1 oz. vodka
1 tbsp. honey
½ oz. lime juice
½ oz. orange juice
In a cocktail shaker, shake together alllllll of the ingredients. Pour into a chilled cocktail glass, garnish with orange slice, and knock that shit back.
Oh, you need more orange alcohol recipes? Okay.
Ingredients
1 shot whipped cream flavored vodka
2 shots orange juice
½ shot Triple Sec
Shake ingredients together then pour into a chilled cocktail glass.
Ok one more so we can get on the path to Blackout Town.
Ingredients
1 oz. silver tequila
2/3 oz. Triple Sec
2/3 oz. orange juice
2/3 oz. lemon juice
Dash of salt
Shake everything together then pour into a chilled glass full of ice. Garnish with a strawberry, if you feel fancy.
Let's make America drunk again. 
Grapefruit Absinthe Punch That Will Fuck You Up
It's like, 12 hours until the weekend, which means that obviously we're already in planning mode. Thanks to warm temperatures, we also aren't freezing our asses off, which like, silver linings—ya know?
Because this fancy betch is hosting a party this weekend, and also because I could out-drink you any day, we present this classic punch recipe, adapted from Serious Eats. We wanted it to be pinker and more alcoholic, so, we fixed it.
Make this and watch your guests get trashed.
Ingredients
2 bunches fresh mint, leaves picked from stems
25 oz. white rum — we used Bacardi
25 oz. spiced rum — we used Kraken
6 oz. absinthe — ohhhhhhh boy
10 oz. pink grapefruit juice
10 oz. lime juice
1 oz. bitters
8 ½ oz. simple syrup
Got all your fancy shit? Good. grab a big ol' punch bowl and muddle the mint until it's like, kinda bruised but not fucking disgusting. Add in both rums, absinthe, grapefruit juice, lime juice, bitters, and simple syrup. Gently stir the whole concoction until it's well blended. Add in some club soda if you like bubbles too, because why fucking not, right?
Garnish with grapefruit and lime wheels and more fresh mint.