What To Wear To A Summer Wedding Based On The Dress Code
Betches may earn a portion of revenue if you click a link and purchase a product or service. The links are independently placed and do not influence editorial content.
Welcome to wedding season: where the hangovers are real, the dress codes are confusing, and we're all sweating. As if the uptick in vaguely specific dress code attire hasn't made finding a wedding guest outfit hard enough, summer weddings also require finding something that's dress code appropriate while also seasonally appropriate. There's a lot of "vibe interpreting" required for all these confusing wedding dress codes that, frankly, most of us just aren't cut out for. So to help guide you on your seemingly treacherous wedding guest outfit search, here are some options based on the different dress codes.
White-Tie
Clearly I need to reevaluate my entire circle of friends because I've never attended nor have I even been invited to a white-tie wedding. White-tie dress code is the most formal of them all, requiring floor-length gowns, no exceptions. Your gown should be paired with your most elegant clutch and accessories and, if I were you, I'd take full advantage of the occasion and even add some trendy elbow-length gloves. You can make your gown more seasonally appropriate by choosing summery colors and fabrics.

Off Shoulder Drape Neck Pleated Dress

ASOS Design

V-Neck Crepe Ballgown

MAC DUGGAL
Black-Tie
Personally, this is my favorite wedding dress code out of the ones I've attended because I love an excuse to dress up. Black-tie dress code means you can wear a formal gown or elevated jumpsuit, either of which paired back to elegant accessories. Basically, think prom-adjacent attire minus the over-the-top tackiness and vodka-filled water bottles. Similarly as with white-tie, you can make your black-tie ensemble more summer- appropriate with light and bright colors, airy fabrics, and more breathable silhouettes.

Unstoppable Cross Over Halter Neck Maxi Dress

Club L London

Milena Jersey Corset Maxi Dress

House of CB
Formal or Black-Tie Optional
This dress code can be confusing and definitely requires some of that "vibe interpreting" that I mentioned earlier. Black-tie optional is pretty much equivalent to formal and  just means slightly less formal than black-tie. The biggest difference for women's attire is that a full-length gown isn't required, but something of the same dressiness "vibe" is still recommended. Basically, if you want to get wild and show your ankles then you have permission to do so but I'd avoid going above the knee for your hemline. Add a summer-feel to your formal look with vibrant summer colors or a lightweight mesh fabric.

Colette Satin Cutout Midi Dress

ASTR

Cecilia Bodycon Midi Dress

Beginning Boutique

All That Strapless Ruched Midi Dress

Mistress Rocks
Cocktail
Cocktail attire means that women can wear shorter hemlines but still need to look dressy. Long story short, it would be inappropriate to wear a gown but also inappropriate to wear a sundress. I realize that leaves quite a large gamut, but basically just think a specialty mini dress, elevated midi dress, or eloquent jumpsuit. Overall, this dress code does imply a bit more of a flirty and playful vibe, so have fun with it but still look classy. Keep it summer appropriate with shorter hemlines, seasonal colors, or even an elevated floral print.

Uma Sheer Mesh Sleeve Crepe Corset Dress

Miss Circle

Corset Satin Slip Midi Dress

Heiress

Mesh Ruched Puff Sleeve Mini Dress

Missguided
Semi-Formal or Dressy Casual
Semi-formal or dressy casual might be the most vague of all the dress codes because there are no "hard lines" beyond no sweatpants. Rather, you really have to feel into the vibe of the wedding, so maybe just grab a crystal and the invitation and mediate on it? On second thought, maybe just text a fellow wedding attendee to see what they're wearing and go from there. At the end of the day, err on the side of being over-dressed rather than under-dressed.  Remember, it's about special event elegance without crossing the line of "fancy." Vague, I know, so best of luck.

Santorini Floral One Shoulder Midi Dress

ASTR

Jackie Wide Ruffle Hem Pinafore Dress

Selfie Leslie
Beach Formal
As someone who recently attended a beach formal wedding, my biggest piece of advice is DO NOT underestimate the heat. As someone who also attended said wedding in a long sleeve bridesmaid dress, I'm going to suggest you steer clear of sleeves and any material that could potentially show sweat. Instead, opt for lightweight summery fabrics like linen or gauze. And, if you're really someone who sweats easily, go for an airy printed maxi to help disguise any possible sweat stains. Oh, and bring a handheld fan, you'll thank me later.
Daytime or Casual
Covid has made the backyard wedding quite a trend, and given how expensive weddings can get, I definitely see the appeal. Backyard or daytime weddings are usually more casual which means they're perfect for a breezy sundress, pretty mini dress, or sophisticated set. The only "don't" here is going too casual or too dressy. Just avoid dressier fabrics, overly casual fabrics, stiletto heels, sneakers…and you should be good to go from there.

Ruffled Tiered Mini Dress

Nocturne

One Shoulder Smocked Waist Tiered Mini Dress

WAYF
Images: Omar Lopez / Unsplash 
7 Semi-Formal Dresses For Under $50
Well bitches, Halloween is behind us, and it's so cold that we have to wear jackets to frats to avoid hypothermia, but that doesn't mean your social life is over. Luckily, semi SZN is upon us. Honestly, three years into college I'm still not clear as to why it's called "semi" when it's basically the same as formal, but I'm not one to complain about another excuse to dress up, get drunk, and post a cute Instagram. 
I totally get wanting to buy a new dress that your frat star of a date will call "really hot." However, as someone who feels a compulsive need to buy something new for every event (blame my mother) trust me when I say you don't need to break the bank on a dress you'll wear twice, max. Here are eight affordable dresses that are perfect for semi-formal. 
If You're A Little Basic And Proud

by the way. Kathleen Strappy Mini Dress, $52
If you're going to pick a basic little black dress, you'll either look like a freshman or an upperclassman who couldn't be bothered, but like, in a good way. Black bodycon dresses are super flattering and always serve their purpose. The best part is, if you look really hot no one will notice that you look basic!
This reliable dress comes from the equally dependable Revolve. They have Amazon-Prime-speed shipping and free returns. While Revolve's items can be a little pricey, you can often find a lot of options that won't raise a red flag on your parent's credit card statement if you know how to look (read: use the low-to-high sort setting). 
If You're Looking for A Not So Basic LBD

Superdown Maia One Shoulder Bodycon Dress, $34
This one is still on the safe side but a little riskier. There's something about the combo of a cool neckline and cut-outs that make it seem more ~original~ than any black bodycon dress I've seen before. This dress comes from my new go-to online shopping site called superdown. The Revolve-owned brand was launched last year and is waaaay cheaper than its parent site, plus, there's always a promo code available. 
If You're Into The Girly Vibe

Pretty Little Thing Black Dooby Mesh Ruffle Skater Dress, $45
This adorable lace dress is another play on the LBD that doesn't feel super basic. The flare-style skater skirt bottom is ideal for looking super hot without wearing a tight-ass dress you can't comfortably sit down in. This dress will give you an effortlessly chic look with more comfort and breathing room for your lower half. Pretty Little Thing is a great place to look for dresses since they have pretty reasonable prices and great student discounts.
If You Love Being The Center Of Attention

Topshop Holographic Bodycon Dress, $48
The attention-hoe inside of me LOVES a full glitter lewk, and this dress is perfect for it. Trust me—if you do it right, you'll look f*cking sick. By that, I mean wearing nude heels, leaving the hoops at home, and resisting the urge to put on glitter eye shadow. Less is definitely more when it comes to accessorizing with this dress.
Pro-tip: The right glittery dress can be super versatile. It can double as a great birthday outfit and a disco-ball costume for Halloween/a disco-themed date party. And, of course, New Year's.
If You Want To Look Hot AF

Missguided Red Slinky One Shoulder Dress, $34
This dress is perfect for Insta, but if you think you're going to be the only girl who uses the caption "high heels, red dress," think again, bitch. That said, it's a great caption, and you should still do it, because the Jonas Brothers are the sh*t. 
I have a dress like this that all of my friends have borrowed at one point or another, and it literally hasn't looked bad on a single one of them! Honestly, something about a red one-shouldered dress makes people look so good. It's just science. 
Pro-tip: Wear nude or clear heels with a red dress, they'll look much better than black.
If You're Over Dresses

I know I said this was a list of dresses, but I am honestly such a fan of jumpsuits that I had to include at least one. Let's face it, dresses aren't for everyone and jumpsuits are super comfortable, will make your legs look longer, and hide the fact that you haven't shaved since Halloween! This Tobi jumpsuit gives off such don't-f*ck-with-me vibes, and I am so here for it. I love Tobi because somehow, they're always having a sale. 
If You Need A Little Color

Nasty Gal Jewel World Diamante Satin Mini Dress, $21
If you want a totally different look that will make you stand out, bright colors are the way to go. Even with the extra AF rhinestone straps, this hot pink dress somehow still looks pretty classy. If the bright pink is a little too much for you, I get it. Dark purples, blues, and greens are also perfect for a little bit of color that doesn't, like, scream, "look at me!!" Also, like Tobi, Nasty Gal is always having a sale, so you're sure to get a good deal on this dress whenever you buy it.
Bonus: If You Want to Splurge

superdown Naomi Mini Dress, $68
I tried keeping all of these dresses under $50, but this one was too good to leave out. TBH, I even thought about not including because I love it so much and don't want anyone else to have it, but we can consider this my good deed for the week. It's super on-trend being a snake print mini-dress, and it's versatile enough to both work for semi and be worn throughout the year casually. This dress has been literally haunting my dreams and I'll be putting it in my cart the second it goes on sale.
I am super supportive of the irresistible addiction desire to constantly buy new stuff, but it's also not the end of the world to rewear something. We're all too narcissistic to notice, especially when everyone is super drunk. Like I said before, my friends and I have a few items that are on constant rotation. It's like sisterhood of the traveling pants, except if you throw up in it, you have to pay for it to be cleaned. 
Even though your frat star date probably won't notice that you spent close to $50, I promise that all of these dresses will at least earn you a drunken compliment in the bathroom from the girl in your sorority you've never talked to.
Betches may receive a portion of revenue if you click a link and purchase a product or service. The links are independently placed and do not influence editorial content.
Images: Ksenia Varapaeva / Unsplash; Revolve; superdown (2); Nasty Gal; Tobi; Missguided; Topshop; Pretty Little Thing
New Year's Eve Dresses That Aren't Extra
There's truly a lot to take away from the excitement of New Year's Eve. Planning your midnight festivities is always a bitch, the chances of getting a cliché midnight kiss are slim to none, and the pressure to look your best on the first night of the new year is enough to make me want to boycott the holiday forever. Essentially, NYE is always a goddamn hassle. When it comes to scoring the perfect dress, it seems as though every store has puked glitter, sequins, and a fuck ton of sparkles on everything. Uh, unless you want to look like a walking disco ball, this shit is getting absurd. Like, glitter is fun and all, but only in small increments. Some of us want to blackout sans sequin scratches and itchy cleavage. I'm literally only wearing the dress once, so all the extraness is as unnecessary as Taylor Swift's comeback album. Believe it or not, some of us prefer to ring in the new year with a low-key dress that still makes us look skinny, glam, and gorg. On that note, here are five NYE dresses that aren't extra af.
This is definitely the cutest effing dress I've ever seen. Besides totally loving the flirty blush hue, I'm obsessed with the bead-accentuated sleeves. The balance between its revealing off-the-shoulder neckline and thinning bodycon fit makes it a chic, yet edgy option for 2018.

When in doubt, black out in black. This sophisticated style comes off as bad and boujee, but also low-key says you'll be blacked out by 9am. It has a frisky front with intricate detailing, so with fab highlighter and sexy tousled waves, you'll most def have a midnight kiss with something (or someone?) other than a champagne bottle.

Obviously, a turtleneck on anything is usually always a major no-no, but what the latest fashion trends call for, we follow. Stay with a classy style like this high-neck velvet bodycon that mixes a holiday Merlot red and our BFF, black. With the long sleeves and thick velved material, you'll probs be the only sane one staying warm when it's freezing af this January.

In case you haven't heard from like, scrolling through Twitter, the color of this year has been declared as Ultra Violet. This comes from a company called Pantone that I know nothing about, but I'm not questioning their sixth sense. It could mean we have a year of royalty, mystery, or complete and utter disaster ahead of us, so cheers to that alone as we see if 2018 could possibly treat us any worse than 2017 did. Put forth good vibes by wearing the color nice and early with this dramatic-sleeved bodycon style. The bottom comes with a hiking slit for that touch of slut we absolutely can't resist, obvs.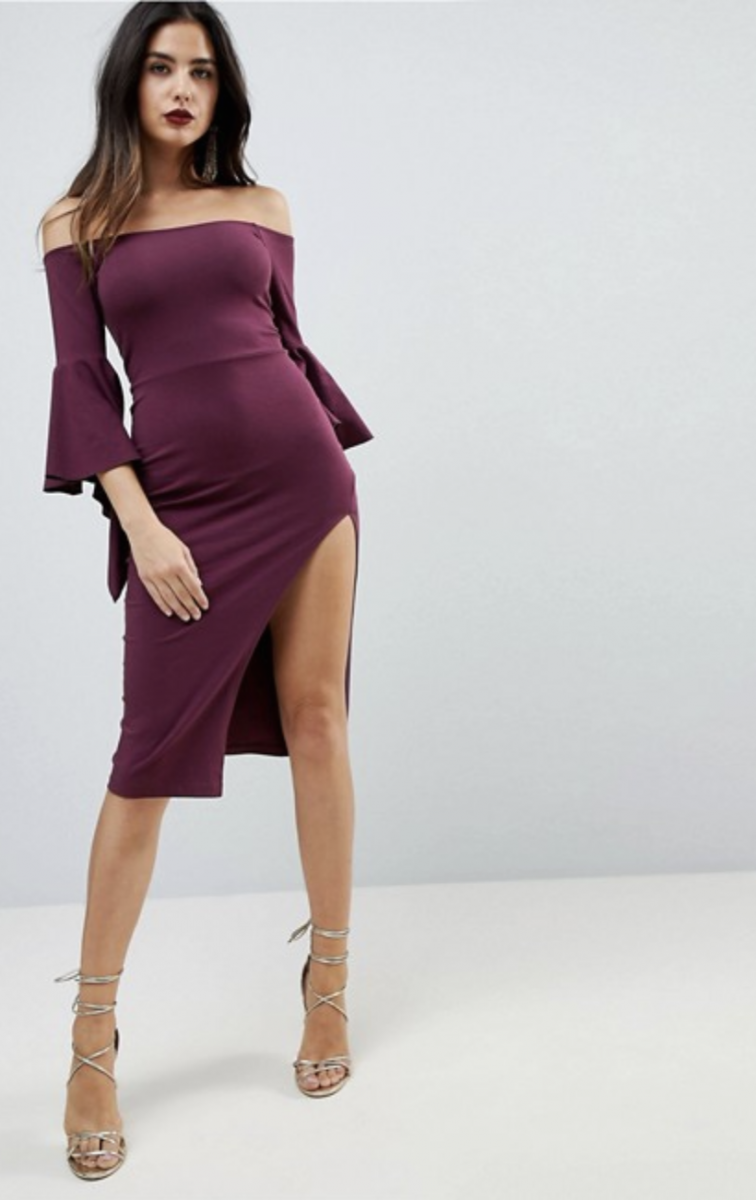 Whether you actually give a shit about keeping our earth clean or not, Reformation is a new brand that prides itself on making v cute clothes out of materials that happen to be good for the planet and all the little birdies and the little monkeys that inhabit it. Amazing. This bestselling holiday dress falls down to your ankles (SRY to everyone who's five feet tall, like myself), and comes with a high slit and deep V neckline. The all-over formal navy velvet makes the dress a prime option for NYE if you pair with strappy stilettos and dainty Y-necklace. You'll def slay in your "new year, same me" Insta with this one.