So, You Ate Too Much—Here's How To Reframe Your Thinking
We've all been there: doing super well with our workout routine, eating super clean and healthy, and then the holidays roll around, and you feel like you ate so much mac n cheese, you could literally die. You had the best of intentions. You told yourself you were going to fill up on salad and green beans and turkey. (Okay, so maybe you were a bit unrealistic). That didn't happen, because food is delicious. If you're like a lot of people, you might be feeling a whole lot of emotions, and probably not a lot of them are positive. I don't need to tell you that beating yourself up over not being perfect is counterproductive… but I'll tell you anyway. Don't worry, I'm here to help.
When all is said and done (and eaten), you probably came to one of two different conclusions, right? One, you say f*ck it, you already messed up, might as well give up. Two, you own up to your sh*t, recover, and get back on track. If you picked one, then we need to switch your whole mindset. How are you ever going to reach your goals (in fitness and life in general) if, for every one mistake you make, you give up and make another four or five? One bad meal or one bad day doesn't have to set you back for a week or more. So take a deep breath, stop beating yourself up, and take a look at my best tips to helping you get back on track.
Instead Of Beating Yourself Up… Forgive Yourself
I already touched on this a little, but first and foremost, realize that you're human and no one on Earth has ever stuck to a diet or lifestyle change perfectly. Diets are not designed for perfect execution, but that's a whole different topic of discussion that I could talk about forever. Bottom line, if you went harder at Thanksgiving than you had initially intended, forgive your mistake and dust yourself off. It's just a speed bump, you didn't crash and burn. You'll be okay.
Instead Of Feeling Regret… Find Appreciation
Instead of focusing on all the negative feelings, focus on the upside. Did you have a great time with your friends and family? Did you enjoy the food? Did you avoid getting into an argument with Uncle Paul by making sure your mouth was full with mashed potatoes at all times? Regret nothing. The more you focus on the negative, the more you'll stress yourself out, which will raise your cortisol levels and cause you to further demonize food. If you follow my school of thought, then you know we don't demonize food—doing so will just make you want more of the "bad" foods you have deemed off-limits, and in the long run, sabotage your own goals and happiness.
Instead Of Doing A Cleanse… Hydrate And Eat Fiber
Okay, so instead of just not eating the next day to counteract the damage, drink a lot of water and make it a point to eat something green and crunchy like a salad (crunchy because of the lettuce, not croutons, sorry) for either lunch or dinner. The water and fiber will help move things along, literally and figuratively. Salad, soups, feel free to add whatever lean protein you want. Avoid processed foods and try to limit your sodium intake, because it will just make you more bloated. But, for the love of God, eat! Don't try to crash diet or deprive yourself of food or go on a juice cleanse—that's setting yourself up for more struggle, disappointment, and bad feelings in the long run.
Instead Of Working Out As Punishment… Do It As Motivation
If you feel so motivated, try to get a workout in. To be clear, this is not a punishment for your mistakes. Don't approach it like that, but approach it like, now that your gas tank is full, you have the resource to go the extra mile. You may find that you are able to lift heavier, run faster and go for more reps and sets. Use the extra fuel as a resource for achieving new fitness goals, but make sure not to over-exercise to the point of injury.
Remember: As long as you don't give up, you'll be okay. Keep the vibe and self-talk positive, because literally, EVERYONE on Earth goes through this. What matters is if you choose to bounce back from these setbacks. The difference between progression and regression not just in fitness, but in life, is realizing you're bigger than your mistakes.
Images: Element 5 Digital / Unsplash; @dietstartstomorrow, thefuckitdiet /Instagram
7 Fake Healthy Foods That Aren't Doing Your Body Any Favors
Dr. Mona Vand is a Certified Pharmacist, author (Food For Skin), and entrepreneur who loves to share her tips for leading a healthy lifestyle. She educates her audience through YouTube videos, a blog, and Instagram on maximizing health by taking care of both their bodies and minds through nutritional food recipes, clean beauty, and fitness tips focusing on natural solutions. Based in LA, Dr. Mona has been featured on NBC, The Telegraph, The Doctors and more.
One of the most frustrating things about the food industry is that it tricks people into thinking that they're eating something healthy, natural, or clean when really, they're not. After six years of pharmacy school, eight years of working as a pharmacist, and 10 years of personal experience in health, fitness, and wellness, I have researched and learned about how to look out for fake healthy foods. But I'm not here to tell you what to do—I hope that by sharing this information, you'll be more aware of what you're eating, and then you can make your own choice about whether or not you want to eat it!
1. Peanut Butter Powder (PB2)

For those of you who aren't familiar with PB2, it's basically a powdered peanut butter made by extracting natural oils out of the peanut and dehydrating what's left, yielding a powder in which 90% of the fat is removed from the peanut. The nutritional profile of PB2 is, at first glance, amazing. For 2 TBSP, it's got 45 calories, 1.5 grams of fat, 5 grams of carbs, 2 grams of fiber, 1 gram of sugar, and 5 grams of protein. But from a general overlook of the product, it's not really healthy. First of all, it's not organic, which is an issue here because peanuts are one of the most heavily sprayed crops. Basically, the amount of toxic pesticides that could be in the powder could cause toxins to build up in your body. Also, let's just talk about peanut butter in general. Did you know that most products that include peanuts as an ingredient do not disclose the fact that there is mold present in the peanuts they use? In general, peanuts are highly susceptible to mold! Jungle peanuts are one of the only peanuts I know of that don't produce toxins, but in other peanuts (including the ones used in PB2), there is mold that creates a carcinogen called aflatoxin. In the US, the FDA allows a certain amount of aflatoxin in our food system, but even though it's approved in small doses, the fact that this powder could contain something that is a known carcinogen is enough to mark it as fake healthy.
Healthy substitute: raw almond or walnut butter! You're still getting healthy fats, protein, and energy. Just without the toxins and mold.
2. "Light" Whole Wheat Bread

It can feel like it's almost impossible to buy a loaf of bread at the store that's actually healthy. I've gone up and down the bread section, and I always see added sugars, artificial colors, GMOs, dough conditioners (like azodicarbonamide, which is literally used as a cleaning chemical), and more. Do not buy a loaf of bread like Pepperidge Farm's Light Style Whole Wheat bread and go home thinking it's healthy, just because it's 45 calories and only 9 carbs per slice. It is FILLED with unhealthy ingredients and is 100% fake healthy!  Instead, go for something like Ezekiel Bread. I promise you, the quality of this bread—even though it's higher in calories and carbs—will help you keep weight off better than the processed stuff! Whenever you choose clean ingredients, your body will react better and help you stay leaner (no chemicals, no additives, no bullsh*t).
3. Veggie Chips

Veggie chips are one of the biggest marketing tricks, and it actually kind of kills me when I see people eating these and thinking that they're making a "smart" choice. I don't mean to sound dramatic or patronizing, but it frustrates me when I see people who are making an effort to eat healthy getting fooled by fake healthy foods. So to break it down for you, a veggie chip is usually not much different than a regular potato chip. There are two ways brands can get around this: they can take a regular chip (a fried, oily, greasy chip), and then add just a smidge of beet powder, and voilà–it's a veggie chip. The other way to get around this is by using sweet potatoes. Sweet potatoes are, by definition, a vegetable. So are white potatoes! They're just starchy vegetables. So next time you're snacking on veggie chips, read the ingredients on the back. Most of the time you're still eating potatoes processed and fried in oils, so you're still getting just as much fat and sodium as you would in a regular chip.
The better choice: Instead, I recommend finding true veggie chips. These are often in the healthier aisle of the grocery store (sometimes in the "raw" aisle). Look at the ingredients and make sure that they're actually vegetables (green beans, beets, carrots, yams, etc).
4. Oatmeal

Don't get me wrong—oatmeal can be great for you. It's heart-healthy—oats are a great source of both healthy carbs and fiber, they're rich in antioxidants known to lower blood pressure, and they're filled with other beneficial micronutrients. The tricky thing is knowing which kind of oatmeal does all of the above, and which is the kind that's just fake healthy. The packaged oatmeal that comes pre-flavored is the culprit here, which is frustrating because when you go to a grocery store and look at the selection of oatmeal, the brand packaging and labeling makes it so difficult to map out which ones are clean and which aren't. What you need to look out for are the ingredients on the back of the box (this is always what you should look out for on any food). So even if the box says "natural" or looks super clean, look for things like cane sugar, maple sugar, or natural flavors. The problem with these additives is you don't know where they are sourced from. So something like "natural cinnamon flavor" is most likely not just cinnamon.  There is a very easy solution to this—just buy PLAIN, unsweetened oatmeal. It can be a big sized package or the individual ones (the individual ones do come in handy for breakfast at work, etc.). Then, you can feel free to add healthy, natural sweeteners or spices yourself! That way,  you're in control of the amount and quality of ingredients you're eating. This makes a huge difference! Using a little organic maple syrup or coconut nectar in your oatmeal is much, much, much better than eating packaged oatmeal with cane sugar and "nature maple flavor." I personally like to get plain oats, then add cinnamon, nutmeg, stevia, and a little raw cacao. Then top with almond milk. It's SO GOOD.
5. Most Packaged Juices/Smoothies

One of the easiest mistakes to make is thinking that you're having a healthy, nutrient-filled juice or smoothie when really you're basically drinking processed, sugary juice. Almost every single store-bought smoothie (even the freshly made ones) are filled with added sugar.
The one that REALLY gets me is the Naked Juice "Green Machine."  When you read this, you assume you're drinking a green smoothie/green juice. But if you look at the ingredients, there is a LOT of fruit juice and "natural flavors." Here are the ingredients: apple juice, mango puree, pineapple juice, banana puree, kiwi puree, spirulina, natural flavors, alfalfa, broccoli, spinach, barley grass, wheatgrass, ginger root, parsley, kale, odorless garlic. At first glance, these ingredients may seem harmless, but there's literally 53g of sugar in this "green machine." The American Heart Association recommends no more than 25 grams of added sugar a day for women and 38 grams for men. So in this "healthy" green juice, you've gotten double your daily amount. Yikes. As a healthy alternative, have a piece of fruit and/or an organic, cold-pressed green juice.
While we're at it, let me mention one more. A while ago I was drinking a juice from BluePrint. I specifically sought out this exact juice because it's organic, and there are only greens in the juice (I prefer all greens in my juice, and fruit + greens in my smoothies). So I bought like four of them to hold me over for a few days, and when I got home, I looked on the back and noticed the ingredients: organic cucumber juice, water, organic kale juice, organic celery juice, organic lemon juice, organic spinach juice, organic watercress juice, natural peppermint flavor. 74% juice. Here's the thing—if you're going to drink a green juice, drink an actual pure, organic, natural green juice. Don't drink one that's watered down and that has flavor added! The whole point of drinking green juice is to get the amazing health benefits from greens. Either go all in, or don't bother. Even brands that are organic and cold-pressed find ways to trick you so they can make more money. They water down their juice and then add peppermint flavor so you won't taste the difference. Also, I personally think the peppermint flavor is overbearing. I'd prefer fresh mint leaves, please.
Healthy option: aside from blending the drink yourself, go to a juice shop or smoothie shop where they make it in front of you. More importantly—learn to look beyond (far beyond) the label, font, and claims on the front of a juice. Just look at the ingredients on the back, and choose one that has nothing but the organic fruits and greens you want.
6. "Healthy" Nut Butters

If you follow me on Instagram or YouTube, you know I love nut butters. However, nut butters become fake healthy when brands add a bunch of unnecessary ingredients that will cause bloating and unwanted weight gain. Let's take the brand Earth Balance, for example. The label on the front says "natural peanut butter and flaxseed." That sounds amazing. But then you flip it over, and all of a sudden you see ingredients like "peanut oil, agave syrup, palm fruit oil, and salt." I mean, peanuts are already filled with natural oils, so why do they feel the need to add peanut oil and palm fruit oil? Always look for nut butters that have no added sugar—there is literally no need to add agave to peanut butter. (Agave also has more fructose than high fructose corn syrup, and heads straight to the liver. It's just as bad as cane sugar. More on that in the following section.) 
Better option: raw, unroasted, unsalted nut butters. I recommend raw, because when you roast almonds, walnuts, or any nut, they lose some of their nutrients. Raw is easier to digest and better for you.  I personally love Artisana and MaraNatha. Still, check the label, as these brands often make different variations (some MaraNatha products are not raw, while others are).
7. Agave

In the past couple years, there have been so many new sugar alternatives. We have coconut sugar, stevia, monk fruit, agave, and many more. But the one I want to single out is agave. Sugar, in general, should be avoided (and I think most of us know that), but I have a problem with agave companies that try to brand their product as a "healthy" and "all-natural" sugar alternative, when the heating process of turning an agave plant into a syrup actually destroys any nutritional benefits, and we're left with a glorified sugar syrup that has more fructose than high fructose corn syrup. When a product, like agave, is high in fructose, that means it's high in a sugar that our body is not able to properly process. Because we can't process it, it ends up being metabolized to fat (which is why it can cause weight gain, high blood pressure, and can even contribute to Type-II Diabetes). Agave companies have labeled and branded themselves so well that most people would pick agave up at the store and think they're making a healthy choice, but this is just another fake healthy food that everyone should be aware of! Agave is no better than regular old sugar. If you want a cleaner option, use coconut nectar or stevia drops—a little goes a long way with them, and they will not spike your blood sugar levels or be stored as fat.
Images: Amazon (5); Shutterstock (3)
I Tried To Eat Like Gisele Bündchen For A Week & Here's What I Learned
Tom Brady and Gisele Bündchen: a couple that needs no introduction. They are one part international supermodel, one part elite athlete, and two parts unbearable. Not one single aspect of their life has ever seemed even remotely attainable to me, and thus I'd never imagined I'd spend any amount of time trying to live like them.
But then I received an email three weeks ago from my editor, asking that I try to eat like Tom and Gisele for a week, and I didn't even question it. After Keto, Whole30, the Master Cleanse, and every fad diet in between, what was one more week of bullsh*t? Surely whatever the two of them eat every day couldn't possibly compare to the psychological torture that was eating ice cream ten days in a row. Whatever happened, they probably wouldn't attack me on Instagram and send hordes of rabid followers after me (knock on wood), right? I shot back an overconfident yes, because, I thought to myself, what was the worst that could happen?
In an unprecedented move for me in terms of this diet series, I'm going to come out and tell you right off the bat: I failed at the Brady-Bündchen diet. I failed miserably. I've put my body through such laughable amounts of strain over five segments and four years, that it never really occurred to me that I'd get to a point where I wouldn't be able to follow through on a challenge. But here I was, staring down the barrel of defeat, bested by none other than Tom Brady. Is this what it feels like to be almost every other football player in the world? If so, my condolences to you all.

But before we dive into my experience, let's talk about what the Brady-Bündchen diet entails. It is, in short, everything you would expect from these two near-perfect animatronic humanoids. In fact, I was so unsurprised by the contents of their diet that I never even contemplated that it would become insurmountable. But here I am, a week later, humbled and angry at every vegetable in a hundred-yard radius.
My initial research came back with fairly consistent information on what exactly the Brady-Bündchens eat on a daily basis. There are a handful of articles that all seem to quote the same interview with Allen Campbell, the family's former personal chef. Likely subject to an NDA about what exactly Tom Brady deigns to eat (because we all know it's not strawberries), Allen's breakdown was frustratingly vague. On a normal day, Tom and Gisele's diet is 80% vegetables and 20% lean meat, with a small smattering of whole grains like brown rice or quinoa. It goes without saying that every ounce of it is organic.
If you thought that one of the single most famous supermodels in the world had a stricter diet than her husband, a man who literally burns thousands of calories a day as part of his career, you were mistaken. Whereas Gisele and the Brady children are allowed to indulge in fruits, Tom avoids almost all of them except for bananas, which are used in his daily breakfast smoothie. He also steers clear of nightshades, which encompass vegetables like tomatoes, eggplants, mushrooms, and peppers, because he fears they may cause inflammation.
Allen offered an example of a comfort staple in the Brady household, which is healthier than something the rest of us would eat during a cleanse. "'I'm all about serving meals in bowls. I just did this quinoa dish with wilted greens. I use kale or Swiss chard or beet greens. I add garlic, toasted in coconut oil. And then some toasted almonds, or this cashew sauce with lime curry, lemongrass, and a little bit of ginger. That's just comfort food for them,' Campell said." Based on that statement alone, I was left to assume that my weekly comfort meal of Sunday night Hawaiian food was off the table. Just another thing that Tom Brady has taken from me.
It's honestly easier to list the things that the Brady-Bündchen diet said I couldn't have, which coincidentally happened to be every food group that has ever brought me joy. If you want to be the most hated decorated quarterback in the world, all you have to do is cut out sugar, white flour, MSG, iodized salt, tomatoes, peppers, mushrooms, eggplant, caffeine, gluten, and dairy. Olive oil is only allowed if it's raw, and to combat that, Allen cooks meals only with coconut oil. You know what gets old really f*cking fast? All of your meals being slightly coconut flavored, but more on that later.
Further research took me down a separate, albeit equally depressing, route: The TB12 Method. It's Tom's own diet and exercise book, which details his 12 principles for "sustained peak performance." The only performance I need to sustain is the one where I show up to work every day and don't fall asleep at my desk, so TB12 felt a bit like overkill.
The book is pretty widely renowned as nonsense, not necessarily because Tom's diet is unhealthy, but because his claims are not accurate. Tom's postulations on inflammation, his body's pH levels, and "muscle pliability" are all, for the most part, entirely unsubstantiated by science. Also, the "body coach" he wrote the book with, Alex Guerrero,  has been investigated by the FTC for "falsely presenting himself as a doctor and promoting bogus nutritional supplements." Nevertheless, ladies and gentlemen, I persisted.
Alex Guerrero: Don't eat tomatoes and you can play football forever
Literally anyone with medical knowledge: 

From the TB12 Method I was able to gain a few more parameters that I would, eventually, completely abandon: starting my day with 20 ounces of high-electrolyte water and then following it up with up to TWENTY FIVE MORE GLASSES OF WATER. As I've covered many times in many of these kinds of articles, I'm bad at drinking water. The fact that I was reminded of it every single day when one of my 25 alarms went off, urging me to please drink a glass of water for the love of God, only served to add insult to injury.
My first mistake was underestimating the Brady-Bündchens. Or, more accurately, overestimating my own time management. Instead of doing any kind of legitimate meal prep for this endeavor, or maybe putting in an ounce of thought into what the next week would look like, I just went to my neighborhood Trader Joe's to load up on vegetables (sans nightshades), pre-cooked quinoa (because I truly cannot be bothered to boil my own), and a few fruits (I was subscribing to the Gisele end of this diet). I went home, pre-cooked some aggressively coconut-flavored chicken for the week, and called it a day.
I would describe my typical diet as fairly healthy. I eat a lot of vegetables, generally avoid sweets and carbs, and maybe overdo it on the dairy end here and there (read: every day). Because of this, I assumed transitioning to something more stringent wouldn't be that wild of a shift. And I was right, to an extent. In a vacuum, I probably could have managed this diet just fine, but I don't live in a vacuum. I don't have a personal chef who goes to the farmer's market twice a day. And I definitely don't have a schedule that accommodates a whole lot of prep and cook time. In short, I was destined to fail from the start.
Day One
After an utterly gluttonous weekend, I was actually excited to dive into this clean eating regimen. I woke up and made myself eggs with side of avocado (seasoned with only the finest Himalayan Sea Salt that Trader Joe's had to offer) before I realized that I wasn't even sure if Tom Brady ate eggs. I couldn't find any evidence in favor or against, and seeing as how I'd actually exerted enough effort to cook breakfast on a work day, I went ahead and ate them. A strong start.
I got to work and immediately spit in the face of one of the pillars of this diet by grabbing a cup of coffee. But I drank it black, because compromise.
At lunch I made my way to New Seasons and crafted an overpriced salad. "This is a breeze," I said to myself as I walked back to the office. "I am the pinnacle of health, a bastion of self-care," I thought as I sat at my desk, happily munching away at my bowl of greens. "What the f*ck, I am so goddamn hungry," I whispered, a mere…40 minutes later. Turns out a diet of 80% vegetables leaves me 100% hungry just four hours into the day.
I sustained myself on pistachios from the office kitchen until I got home to prepare a vague and unmemorable mixture of quinoa, vegetables, coconut-drenched chicken, and absolutely zero cheese, despite my deepest desires. All in all, not the worst day.
It wasn't until I lay in bed later, nearly asleep, that I realized I hadn't a single f*cking glass of water all day.

Day Two
I woke up today determined to rectify the great drought of the day before, and immediately chugged the recommended 20 oz. of water. Unless Portland tap water has an abundance of electrolytes, it likely wasn't up to Tom's standards.
I made the bold choice of heading to a workout class before work this morning, which my body rejected more so than it usually does. I was feeling tired, sluggish, and just generally out of it, which leads me to believe that my natural diet consists of more sugar than I'd anticipated.
What followed was a (entirely unexpected) grueling day at the office, in which I ended up skipping lunch and working well past my regular dinner hour. I came home that night angry, stressed out, and in zero mood to cook anything. I warmed up some quinoa and chicken, halfheartedly grabbed a handful of carrot sticks, and went to bed.
I'd managed to gulp down eight glasses of water throughout the day which, to be fair, is the amount that science recommends, but pales in comparison to what Tom Brady demands.
Day Three
I'd be lying if I said I woke up on the third day of this venture with any kind of positive outlook. I had another day of nonstop meetings and deadlines ahead of me. I had an interview to transcribe, a long-form piece to finish, and a prior commitment that night that I couldn't get out of. I'd slept terribly, was likely going through sugar withdrawals, and was dreading the thought of getting through the entire day without so much as a treat to motivate myself. In short, I was in a terrible state of mind, and knew that terrible decisions would likely follow.
I built myself a salad at Chipotle for lunch, having already abandoned the notion of preparing food for myself the night before. I snacked on snap peas I'd remembered to tuck away in the work fridge throughout the afternoon. I nearly flipped a table when my boss walked in to the office with a box of brownies, as a reward for the sudden bout of nonstop work.
By the time my event rolled around that night, I was ready to snap. What's crazy is that, looking back on it, I don't even know why I was in such a bad mood. I know that things weren't going well, but it's almost as if I'd already decided I was doomed, regardless of what came my way. Which means that when I walked into my friend's house and was offered a glass of red wine, I didn't even hesitate to accept it. Or the second. Or third.
I'm sure Tom and Gisele indulge on a glass of wine here and there (one that probably costs more than every ounce I drank that night combined), but something tells me they don't casually drink whole bottles of red wine on Wednesday night because they've had a bad week. Or maybe they do. We're all human, I guess.
Needless to say, I didn't come close to hitting any kind of water goal that day.
Day Four
I woke up on what would be the last day of my Brady-Bündchen diet with a dry mouth, a light headache, and a debilitating need for a breakfast sandwich. While I may have succeeded in abstaining from that initial craving, the rest of my day wasn't as successful.
What started as a minor concession (soy milk in my very necessary iced coffee), became another, slightly larger misstep (cheese on my salad at lunch), and then snowballed into what could only be described as a major transgression (one of the leftover, aforementioned brownies), and ultimately culminated in spitefully throwing the entire diet out the window and getting Hawaiian takeout on the way home from yet another late night. It wasn't even Sunday.
What was truly strange? I didn't feel bad about any of it. At all. I had never so brazenly defied the rules of a diet with such a lack of regard for whatever I was meant to write about it four days later. It was as if this time around, under these very specific circumstances, I truly could not bring myself to care.

That was the end of my dieting experience. I didn't try to start fresh the next day. In fact, I think I just defiantly continued to eat things that Tom Brady would balk at. I just chalked this one up to a loss and vowed to do better next time.
In hindsight, I should have made more of an effort here, but it's exactly that: hindsight. I sign up for these diets entirely voluntarily, and I typically love throwing myself into them with all the gusto and dedication that they require. But what I learned in the last week is that it can be hard to justify something like this when real life gets in the way.
I have a full-time job, one that is usually pretty cool but can be demanding at times. I work nine to ten hours a day, attempt to maintain a regular workout regimen, and have extracurriculars on top of that. In short, I am busy, just like how most of the people reading this are busy. And busy people don't always have the time to prepare beautiful and immaculate meals for themselves, especially not three of them a day.
The Brady-Bündchens have a full-time personal chef. They have personal trainers. They have careers that are entirely reliant on the state of their bodies. The rest of us are not the Brady-Bündchens. Thank God.
It's easy to beat ourselves up for not adhering to meal plans, even those laid with the best of intentions. But all the meal prepping and tedious planning in the world still won't account for the fact that sometimes, life gets in the way.
Sometimes you're stressed and upset and there's a stack of cookies in your office kitchen. Sometimes you're driving home in the late March gloom, and the very thought of eating a cold, meager salad makes you want to drive your car into oncoming traffic. Sometimes you don't need any of those excuses and you just want to eat some cheese. And that's okay! We're all entitled to missteps; what matters is that you recover from them, and learn to forgive yourself along the way.
Also. F*ck Tom Brady, am I right?
Images: Giphy (4)
Make These Easy Carb Swaps To Shed That Winter Weight
When it became April, idfk. Like, wasn't it last week that we were all bitching about how January was, in fact, four months long? Here comes the sun, and with it, the last-minute panic as we all try to get our bods bikini ready after six months of eating our weight in cheese, carbs, and alcohol. The fine layer of fat we've built out of boredom for survival over the winter must now be shed. You'll need to fucking sweat it out at the gym, but making some easy carb swaps when you're stuffing your face can help, too.
Ditch Cereal For Bacon And Eggs
Sounds cray, but it's for real. Cereals and granola packs on upwards of 60g of carbs, not to mention the added sugar. Best to start your day out with loads of protein, and having two strips of bacon plus two eggs clocks in at ONLY 1.3g of carbs. There may be more calories, but you'll stay fuller longer and will, therefore, be happier.


Ditch Whole Grain Bread For Lettuce Wraps
Whole grain bread is like, semi-good for you, but two big leaves of lettuce have about 0.5g of carbs, whereas two slices of whole grain bread have about 19g. Swap that shit and feel healthy AF. Use the lettuce leaves for any sandwich item where you wanna ditch carbs. Tacos in lettuce! Burritos in lettuce! Salad in lettuce! The possibilities are endless.
Ditch Pasta For Zoodles
I realize that Italians everywhere are screaming in pain for this one, but either cutting your pasta portion in half or ditching it completely and using spiralized zucchini or spaghetti squash in its place is where you want to be. It really isn't that bad, once you smother it in pesto, Bolognese, or marinara sauce. Plus, a whole zucchini only has about 10g of carbs compared to the normal 50g in a plate of spaghetti.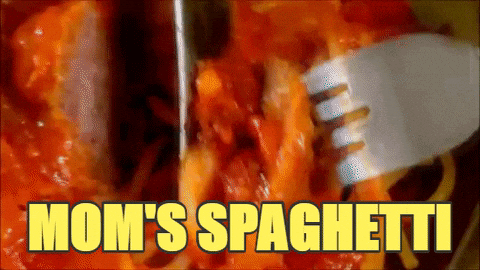 Ditch Mashed Potatoes For Mashed Cauliflower
Fun fact—if you puree cauliflower in a food processor, it takes on the consistency of mashed potatoes, minus the butter, cream cheese, sour cream, extra butter, etc. that you're normally drizzling all over your side dish. Cauliflower has 29g of carbs PER HEAD, versus your run-of-the-mill 64g in ONE potato. Holy shit.
Ditch Fries For Roasted Veggies
No fucking brainer here. If you're one of those people who buys or makes fries at home, fucking knock it off. Grab some fresh carrots or turnips, slice 'em up French fry style, and roast them with olive oil, salt, and pepper. You'll get your crispy fix without the 30g of carbs attributed to a bunch of French fries. Also, you'll be healthier and, therefore, cooler.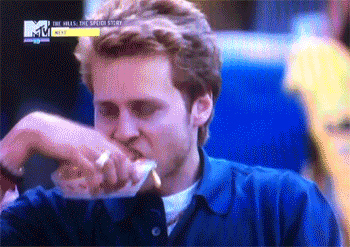 Ditch Buns For Mushrooms
It's okay if you're gagging at the thought of a mushroom burger, but it's honestly not a horrible swap. According to Eat This Not That, swapping out the burger bun for the portobellos will cut carbs AND save you the blood sugar spike that usually comes with eating white bread.
Ditch Breadcrumbs For Almonds
If your recipe calls for crisped breadcrumbs to add a crunch, swap them out for ground almonds. The almonds have a boatload more protein and minimal carbs but still get you the crunch you need for whatever you're making.


Ditch Rice For Grated Cauliflower
Head to the freezer aisle for "riced" cauliflower, which sounds super gross but is only shitty if you don't flavor it. If you're craving a plate of Thai curry over top fluffy rice, swap in the cauliflower. Since there's so much nuanced flavor in Asian dishes, using the cauliflower as a base won't bother or distract you as much as it would if you were eating it alone.
Images: Giphy (4)
This Is What Kourtney Kardashian Eats In A Day
It is a truth universally acknowledged by anyone with eyes that Kourtney Kardashian is a 38-year-old mother of three with a BANGING body. It's equal parts inspiring and rage-inducing to know that this woman looks better in her late thirties than I did in my prime college years before the alcohol abuse and limitless access to carbs took their toll. RIP 21-year-old body. I hardly knew, ye.
Luckily for us commoners, Kourtney released her daily meal plan on her app and, as per usual, we have a lot to say. First of all, the woman loves a tasteless pudding. But she also loves bikinis and looking like a damn snack, so I guess the two go hand in hand.
We broke the diet down for you in case you decide to eat like a Kardashian for a day. Pro-tip: if it's excessively expensive and tastes like raw sewage, it will keep you young forever.
First thing in the morning: "Every morning, when I wake up, I take collagen supplements on an empty stomach. About 20 minutes after the collagen, I usually drink one tablespoon of organic apple cider vinegar mixed into a glass of water. Both of these habits have a ton of health benefits that affect everything from your skin to the way your body processes nutrients."
From my brief experience with prenatal vitamins in high school, I can tell you with the utmost certainty that supplements on an empty stomach are a terrible idea. But if it means I look like Kourtney at 38, I guess it's something I'd be willing to try.

The tablespoon of apple cider vinegar sounds gross but my mother and her iron immune system swear by it, which basically makes me a distant Kardashian relative I guess.
Before Breakfast: "Before breakfast, I take a vegan probiotic shot. Then, almost every morning, I eat freshly made avocado pudding with E3Live blue-green algae, bone broth protein powder and MCT oil. It only takes a few minutes to make and it provides healthy fats to give me energy before a workout."
I can't even fathom what a vegan probiotic shot tastes like, but I would be willing to bet it's something akin to frothy, grassy, garbage. I'm sure I can buy one at my local New Seasons for the low, low cost of $9 and a painful morning spent in the shared office bathroom.
The avocado pudding concoction sounds like Kourtney threw a couple darts at a board covered in health food buzzwords and then poured them all in her Vitamix. I'm sure it tastes like saw dust and makes her skin glow like a newborn baby. But just for fun, let's break it down:
First you have the obligatory avocado, which as well know is God's gift to millennials and packed with healthy monosaturated fatty acids.
A quick Google search tells me that other than being found in lakes and reservoirs, blue-green algae is also a superfood that is high in protein, B-vitamins, and iron which is supposedly beneficial for a whole slew of ailments, ranging from ADHD, stress, PMS, and generally just attempting to live your life in 2018.
MCT oil is harvested from coconuts and is familiar to me because it's one of the magical ingredients in the legal heroin that is Bulletproof Coffee. 100% Betch Ivy Carter approved. Moving on.
Bone broth protein powder is exactly what it sounds like: protein powder made from both broth, which is essentially a 2018 rebrand of the regular broth you use to make soup. Except, you know, good for you and shit.
Altogether, this sounds like an incredibly expensive, tasteless pudding and I'm going out tomorrow to buy all the ingredients for it because have you SEEN Kourtney? The woman knows what she's doing.
Breakfast: "After exercising—which I try to do 5-6 times a week in the morning—I usually have a bowl of whole grain oatmeal made on the stove (instant isn't as good for you!). I'll add fruits, sprinkle seeds or bee pollen, or drizzle honey on top to mix it up."
Kourtney Kardashian eats oatmeal. I repeat, Kourtney Kardashian eats OATMEAL. Sure, she puts bougie ingredients on it, but it's still oatmeal. There may, in fact, be hope for the rest of us yet. I'll just ignore the 5-6 days of exercise a week and pretend like we're on the same level here.
Lunch: "I love salads, so I usually have one for lunch every day with some type of protein added, like chicken or salmon. Whenever possible, I try to make my own simple balsamic or ginger dressing since store-bought dressings have lots of unnecessary sugar and preservatives."
We've already put ample research time into what exactly is up with the Kardashians' go-to salads and, spoiler alert, they're just salads. Not even a nice seared ahi story. It's a chef salad.
Afternoon Snack: "If I'm hungry in the afternoon, I'll have fresh vegetables with avocado hummus, raw almonds or a bit of fresh fruit. I also usually drink hot green tea right after lunch."
When I'm hungry in the afternoon I have to physically restrain myself from diving face first into a bag of Flaming Hot Cheetos, but to each their own.

Pre-Dinner Snack: "In the evening, before dinner, I do another round of apple cider vinegar mixed with water, then another probiotic shot."
This isn't a snack, Kourtney. A glass of vinegar water and a probiotic shot can range anywhere from a cleanse to an actual punishment (same thing tbh), but not a snack.
Dinner: "I love fresh, simple soups made with asparagus, sweet potatoes or beets. I also make turkey chili when it's cold outside. I usually try to make soups and chili on a Sunday, so I have the extras in the fridge when I'm busy during the week."
I have a sneaking suspicion that the six bowls of chili doused in cheese and sour cream that I'll be consuming at this weekend's Super Bowl party will vary slightly from the turkey chili Kourtney makes on brisk Sunday nights. At the very least, I know that mine will have 100% less blue-green algae in it.
Sweet Snack: "Even though I eat healthy most of the time, I think it's really important to have something sweet—especially when it's worth it, like Chef K's matcha chia seed pudding."
I bet Chef K's matcha chia seed pudding is decadent compared to Kourtney's morning concoction, but I doubt it would land anywhere in the realm of dessert where the rest of us are concerned. Then again, no part of Kourtney's daily routine would register anywhere near normal for the rest of us, so this shouldn't be all that much of a surprise.
TL;DR: you are not Kourtney Kardashian. Don't bother.