UPDATED: Are Clare And Dale Officially Back Together?
UPDATE #2: It's been a month since we checked in with Dale and Clare, and unsurprisingly, this fairytale nightmare couple can't stay away from each other. The two seemed to be on pretty bad terms when they announced their split last month, with Clare claiming to be blindsided by Dale's breakup post on Instagram. But a little public betrayal is no match for true love and thirst, and the Bachelorette alums have been spotted together in Florida several times in the last week.
Last week, Clare and Dale were seen hanging out at numerous restaurants in the Sarasota area, and were holding hands in the lobby of the Ritz-Carlton. While Sarasota isn't exactly the paparazzi capital of the world, holding hands in the lobby of the Ritz doesn't make it seem like they were trying to keep anything a secret. Later in the week, two sources spoke to Us Weekly, confirming that the relationship is back on. One source said that "they're just figuring things out," but "it's obvious to everyone that they're back together." The second source echoed this sentiment, adding that Clare "still has strong feelings for" Dale.
Though their reconciliation already seemed clear, this was further confirmed on Sunday, when Dale and Clare were photographed frolicking on the beach, and sealing things with a kiss. Well folks, maybe we're getting our happy ending after all. For all the emotional turmoil they've put us through in the last six months, I can't deny that they look great together. I'll probably regret saying this in 72 hours, but I actually think Clare and Dale might have a chance? Some relationships thrive on chaos, and I just want Clare to have happiness.
UPDATE: Did you really think we were making it out of this week without some more Clare and Dale messiness? Of course not. When we last checked in on Wednesday, we were working with Dale's Instagram post (that was shadily deleted, and then later reposted) and a bunch of tabloids with info from anonymous sources. Despite Dale confirming the breakup, at that time we still hadn't heard from the Bachelorette herself, Clare Crawley.
Well, buckle up, because she finally made her statement, and it's a f*cking doozy. Clare begins by clarifying that she "was made aware of a 'mutual' statement at the same time you all were, so I've needed some time to really digest this." Whoa. Immediately, my brain is spiraling. There are two ways to read this: either Clare and Dale broke up and weren't clear on the timing of going public with that information, or… Dale informed her that their relationship was over VIA INSTAGRAM. While neither of these situations would be ideal for Clare, I'm sincerely hoping it's the first option, because a social media breakup would be downright cruel. 
Clare goes on to say that she is "crushed" by the breakup, and that it's not what she "expected or hoped for." She outlines many of the reasons why 2020 was such a challenging year for her (COVID, post-Bachelorette anxiety, dealing with her mothers' dementia), and reiterates that she was "genuinely invested with all of heart" in the relationship with Dale. Based on the whole tone of this statement, it seems safe to say that Clare wasn't the one who wanted out of the relationship, and based on some new reports, we may have a better idea of what happened.
View this post on Instagram
Just after Clare's statement was posted, E! News reported that Dale had been engaged in a months-long affair with Eleonora Srugo, a New York-based real estate agent. Their source claimed to have witnessed the two having a "candlelit dinner" back in November. According to their reporting, Dale has known Srugo since 2019, and maintained a relationship the entire time he was with Clare. But a different source told Us Weekly that this rumor is untrue, and Srugo herself denied that her relationship with Dale is anything but "platonic". Messy, messy, messy. Whether the cheating part of this whole situation is true or not, you can't help but feel bad for Clare that this supposed-to-be fairytale has come to such a swift end. Personally, I'm secretly hoping they both end up on Paradise, because could you imagine?
Now that we're a few weeks into Matt James' season of The Bachelor, Clare and Tayshia's season of The Bachelorette feels like a distant memory. But as we've all come to understand, time isn't real anymore, and it was just over two months ago that Clare and her beloved Dale sat down with Chris Harrison for a little chitchat after they ran off together in the middle of the season. As I said, time is not real.
From the moment we heard the first spoilers that Clare jumped the gun on her Bachelorette engagement, I would imagine most of us were skeptical that this would end well. It's not like couples from this franchise have a great track record of staying together to begin with, and watching it unfold, we could see these two barely got to know each other before they were calling up Neil Lane on Zoom. Turns out the skepticism was warranted, because just weeks after meeting each other, falling in love, and getting engaged, Clare and Dale have called it quits.
On Tuesday afternoon, numerous tabloids reported that the couple was spending time apart, and later in the day, Dale confirmed the breakup with a text post on Instagram. For reasons unknown, that post has since been deleted, but thanks to the high-powered technology of screenshooting, it didn't actually go anywhere. Silly Dale, the internet is forever!

Despite earlier reports that he and Clare were "on a break," Dale's statement made things sound a lot more final. And because these people work harder than the devil, Dale also spoke about the breakup to a paparazzo in New York City on Tuesday night. He said that his relationship with Clare is "not the greatest situation," and that they will "be cool" despite deciding that being together isn't the "healthiest thing for us right now."
Dale isn't sharing a lot of details about their split, and Clare still hasn't said anything publicly, but people are already coming out of the woodwork to explain where things went wrong. One source told Page Six that they had disagreements about where they would live and how quickly they would try to have children together. If you've paid any attention to this couple, neither of these issues are surprising. In their interview with Chris Harrison, Dale looked horrified when Clare told Chris Harrison that "BABIES!" were the next thing on the horizon for them as a couple. And just after their time on the show came to a close, there were conflicting reports about where they wanted to live. Clare told PEOPLE that they were "house-hunting in Sacramento", but Dale was seen touring apartments in NYC the same week. Not to be too cynical here, but were these two ever really in it for the long haul? An E! News source basically cited the same relationship issues, suggesting that Dale was worried he was rushing into something too serious. Perhaps he should have considered that before proposing in front of TV cameras, but hey, we all get swept up in the hype from time to time.
So for now, we're awaiting an official response from Clare, but if she's looking to move on to someone new, she already has her first candidate lined up. Spencer Robertson, who competed for Tayshia's heart on The Bachelorette, asked Clare to get coffee with him in an Instagram story on Tuesday after the breakup news surfaced. It's important to note that Spencer was one of the new contestants who showed up after Clare had already left, so this isn't a Pilot Pete/Kelley situation. Clare and Spencer have probably never met each other, so there's a solid chance Spencer was just feeling a little thirsty and knew people like me would end up writing about this. Or who knows, maybe he and Clare will be engaged two weeks from now—anything could happen.

And along with Clare and Dale's breakup, we have another split to process: On Wednesday morning, Listen To Your Heart winners Bri and Chris also announced that they've decided to part ways. Even if you didn't watch LTYH (congratulations, you have standards), you'll appreciate this: Chris and Bri were the couple who performed during Dale and Clare's weird date before they peaced the f*ck out, and were also supposedly supposed to perform at their wedding. So I guess that whole situation really was cursed, huh? A sad day for Bachelor Nation, but there's something really poetic about the simultaneous demise of these two relationships.
In the end, I'm kind of sad for Clare that her latest Bachelor journey ended in yet another round of heartbreak, but maybe Spencer will come along to save the day. In the meantime, I'm fully expecting to see Dale on Bachelor in Paradise this year, and he'll probably have marriage plans with three different women by the second week. And as for Bri and Chris, I probably won't ever think about them again, but I wish them all the best with their music careers. After all of this grim relationship news, maybe wasting years of my life on dating apps doesn't seem so bad after all.
Iamges: ABC/Craig Sjodin
Clare And Dale Are House Hunting, And We Have Questions
As we've seen in the last month or so on The Bachelorette, Clare Crawley and Dale Moss are not like, the most calm or measured people in the world. After Chris Harrison's hard-hitting exit interview on this week's episode, these two soulmates won't be gracing our television screens anymore (sad!), but did you really think they were just going to stop being extra? Seriously, did you? Of course not! This is Clare and Dale we're talking about. Just two days ago, we watched Clare exclaim that she's ready to have "BABIES!" with a man she's only known for a few months, and these two aren't just going to fade away now that Mike Fleiss is done with them.
View this post on Instagram
On Wednesday, the happy couple did an exclusive interview with People, where they discussed some of their future plans together. Clare's quotes about her fiancé are predictably upbeat—she calls him "the yin to my yang," and says that this is the happiest she's ever been. Likewise, Dale said that Clare "lights a fire in me that I was missing for so long." Considering they got engaged after like, two weeks of knowing each other, nothing that surprising. In the article, they also discuss their current living situation, which is where things get interesting. While they haven't moved in together yet, People says that they're "house-hunting" in Sacramento, because Clare needs to be able to take care of her mother. Clare adds that "Dale understands and respects" that it's important for her to be in California, and that "he told me, wherever we are, that's home." Great, so that's settled; Sacramento it is!
But later in the day on Wednesday, The New York Post reported that Dale was spotted late last week "house-hunting" in New York City. Excuse me? Dale, WHAT IS THE TRUTH? According to the report, Dale toured properties with his broker, who just happens to be Ryan Serhant, star of Bravo's Million Dollar Listing: New York. Hmm. How convenient that one reality star is showing properties to another reality star, and the details just happened to make their way to a tabloid! I hope Dale's publicist is getting paid extra this week.
The report from the Post even included the details of one of the listings they toured, a Lower East Side apartment that's priced at a casual $6.5 million. I'm sorry, but how do they have this kind of money? Dale never made it off the training squad in the NFL, and I'm pretty confident that Party City and diaper bag modeling gigs don't pay seven figures. I'm not trying to be a hater, but I do not understand where this kind of budget is coming from. Serhant even gave a comment to the Post, saying that the apartment's terrace makes it a good fit for Clare and Dale, because "they both really want outdoor space." Uhhh, I want outdoor space too, but that doesn't mean I'm suddenly a millionaire. This really will keep me up tonight.
But going back for a second, what happened to house-hunting in Sacramento? Maybe they're trying to be bi-coastal, but am I supposed to believe that these two can afford a multimillion-dollar apartment in New York City, and then can also buy a property in California? Sorry, but I refuse. Nobody gets that rich from spending three days on TV. Do they? Actually, hold that thought—I have an application to fill out.
So I guess we'll have to stay tuned to see where Clare and Dale end up. So far it looks like the choices are Sacramento, NYC, or broken up six months from now, but only time will tell. In the meantime, please join me in fully stanning Tayshia.
Don't miss out on anything happening in Bachelor Nation. Subscribe to our weekly newsletter here. 
Images: ABC/Craig Sjodin; clarecrawley / Instagram
The Best 'Bachelorette' Recap You'll Ever Read: Show Us Your Balls
Welcome back, friends, to your regularly scheduled Bachelorette recap! For those of you who missed last week's episode, congratulations! You're not better than me. Here's what you missed: despite its usual difficulty vetting contestants each season for racism and toxic masculinity, The Bachelorette somehow managed to thoroughly vet each and every man vying for Clare's heart for an extremely infectious disease in the amount of the time it takes for a blowout to go to sh*t. Seems very chill. Other things that feel permanently seared into my brain: Clare coming dressed for her big Bachelorette debut like she walked right out of the lyrics to Taylor Swift's "Mirrorball," hearing Tyler C blubber "but his DMs!", and watching Clare mentally sift through the one improv class she took in undergrad when Dale stepped out of the limo and she had to pretend like they weren't actually dating already. Fun!
Which brings us to this week's episode. We start with a close up of Clare lounging by the pool asking the viewers back home if we think Dale likes her or if he likes likes her. Christ.  
The First Group Date
So does Chris Harrison not even read the date cards anymore? He's like, "welcome to the house guys, I'll just leave this scrap of paper here and hope one of you knows how to read something longer than a 134 characters!" Oh, sweetie. Why would you ever assume that? 
Clare shows up to the group date, and once again I'm going to need to speak to the manager of her wardrobe team this season. I mean, why is she dressed like the head of a Girl Scout troop?? And not even a cute one! Phyllis Nefler would be AGHAST.
I'll be seeing those khaki green shorts in my nightmares.
This date is all about the men learning love languages, which I'm all for. Knowing your love languages are important, as it helps you communicate with your partner and better understand their needs. It's nice to see that they're taking this whole mature bachelorette thing seriously and aren't planning any super gimmick-y dates. But just as I'm about to applaud ABC for their maturity I see that their version of "love language" involves a set they stole from a local high school's rendition of  Romeo and Juliet. So, I guess I'll go shave my back now. Touché, ABC. Touché. 
As much as we're told this is a group date, the main focus is clearly Dale. He steps up to the papier-mâché  tower with all the confidence of a man who has only played one actual minute of professional football in his entire adult life. He says something about wanting to give her everything he has physically, so I guess his love language is boning? Subtle, Dale. Real subtle. 
DALE: I'll give you everything I have.
ALSO DALE: 

Look, it's not that I dislike Dale exactly. It's just that he's SO boring. He's definitely attractive, don't get me wrong. But that's good for a two-episode character arc on Riverdale, not as the only defining quality in the man you leave your sponcon deals for. 
Clare says it's been a while since a man has been kind to her, and I love that the men are all nodding in unison as if none of them have ever left a girl on read before. Please. 
Apparently part of learning love languages involves gifting Clare with loose bits of trash the men found in their hotel rooms. Wow, this is bleak. I'm half expecting one of the guys to be like, "and here's this complimentary soap that made me think of you. Not complimentary in the sense that it was free with the room, but complimentary in the sense that I am complimenting you with it." Christ. 
And finally, the last love language the men learn about is touch. I'm guessing ABC was hoping this would make for some hot, romantic moments, but last time I saw this much giggling and caressing on my screen it was from a documentary on the underground world of professional tickling. 
Dale steps up to the plate and Clare immediately has a small orgasm. Why is she sighing that much! Clare, you're in public!  
MY ROOMMATE: Did they date before the show or did they just DM?
ME: Is that not the same thing?
Asking for a friend!!
As we move into the cocktail portion of the evening, Clare's expectations are high. And why shouldn't they be? She just spent the better part of an afternoon being showered with adoration and praise—praise I'm sure that wasn't at all manufactured by an ABC intern holding up helpful cue cards with potential compliments written on them behind Clare's back.
Guys, I want to f*cking disintegrate into my couch. WHY IS NO ONE ASKING TO STEAL HER FOR A SEC?! She's like, "so, should we get the night started??" and it's CRICKETS. They do know this is the part where they're supposed to pretend to be interested in her, right? Damnit, where are those cue cards when you need them!
Harvard takes pity on Clare's groveling and offers to spend five minutes alone in her presence. You're a real prince, sir! Despite the fact that he was the only one to show an ounce of interest in her, Clare can't focus on their conversation because she needs to go pick a fight with her boyfriend Dale for not whisking her away like he's contractually obligated to do. 
Also I love how Clare just ditched Harvard to scream at the other guys and then doesn't even go back to him. I guess she was done talking about how his love language is his timeshare in the Hamptons. 
Speaking of which, now that Clare and Dale have run off together I'm starting to think this was maybe her plan all along… 
DALE: Why do I scare you?
CLARE: You scare me because I'm worried about breaching my contract with ABC.
You're right, that's downright terrifying. 
The rest of the evening carries on uneventfully. Clare has some meaningful conversations and slow dances with Riley to a knock-off version of Boyz II Men, which weirdly wins him the group date rose. 
Jason's One-On-One Date
Jason gets the first one-on-one of the season and I know this not because Chris Harrison graced us with his presence, but because, once again, a contestant was made to read his own date card. Look, I'm starting to think Chris didn't even need to come out of quarantine for this. Couldn't they just have Zoomed him in for his allotted 20-60 seconds of snarky commentary? 
Clare wants Jason to write a letter to his younger self before their date, because there's no sexier form of foreplay than assigning homework. Well, if they didn't wish the bachelorette was an illiterate 22-year-old Instagram model before, they certainly do now. 
Guys, I don't even know what to make of this evening. First, they scream into the night to purge themselves of their past traumas, then they read aloud negative words exes have called them… and this is a date? This is usually an activity I reserve for the hours of 2-3am after drinking two bottles of wine and FaceTiming every man in my phone, but I guess we're defining everything a little differently in quarantine. 
Oof, Jason starts listing some things people have said about him, and he might as well be regurgitating words under the Merriam Webster definition for "sociopath." He's like, "people have said I'm manipulative, cold, and mean, can you believe it?" And it's like, well what is the context here? Did someone call you cold and mean after you beat them up, because that would be valid. I'm gonna need a little more from you here, Jason. 
Finally, they read the letters they wrote to their younger selves, and I'm starting to understand why Clare has been single for so many years. Daddy issues make her wet. 
JASON: *reads from his letter*
CLARE:


Okay, is Clare getting paid for the therapy she's giving him? Because she absolutely should be. 
Listening to Jason discuss the demons from his childhood is weird because I'm not used to seeing sincerity with this franchise. Like, he might not even be reading from cue cards!! I feel like I'm taking crazy pills!
This burning of Clare's dress from Juan Pablo's season feels random, but I like that Jason is into pyros. Somehow when I do things like that with a guy it gets twisted into being "arson" and "in need of police involvement," but Jason chalks it up to a fetish. It's nice to know there are still good ones out there!
JASON: I'm glad you burned that dress, it was fugly
HAHAHA JASON. You can't just say that to her face! This is why people call you cold and mean!
The Second Group Date
Clare starts the second group date off by declaring she needs a man with balls, and what better way for the men to prove their toxic masculinity than a sadistic game of dodgeball? The men are broken up into two teams and a lot is on the line. By "a lot on the line" I mean literally nothing. Seriously, the stakes could not be lower. We're told that the winners will get to move on to the cocktail portion of the evening, while the losers have to endure being emasculated on national television. Fun!
Sensing that their pride and fragile masculinity aren't high enough stakes, Clare tells us that she would like to up the ante by turning this into strip dodgeball. STRIP DODGEBALL?! At the mention of potential nudity, Chris Harrison lets out a small squeak of abject horror and then pointedly looks at the producers off screen with eyes that say "I don't get paid enough for this sh*t." You and me both, buddy. 
Let's keep in mind that half the men on this date are or were professional athletes at one point in their lives, and now they're here. Wearing nothing but their jockstraps in front of God and Chris Harrison at a resort gym. Oh, how the mighty practice squad players have fallen.
Clare decides to throw the blue team a bone by saying she'll even the playing field: the red team has to strip too!! I'm sorry, but is this an orgy? These are the kinds of things my mother warned me about when I told her I was moving to Bushwick. 
Live footage of Clare's dodgeball date #TheBachelorette pic.twitter.com/FvLEXOQcHL

— The Betchelor🥀 (@betchelorpod) October 21, 2020
Clare declares the game over after the blue team, stripped of their dignity and their little blue thongs, has been thoroughly ogled by her. Honestly, there's really no need for them to go to the cocktail hour now anyway. She got to see their d*cks. That's really all the info she needs at this point in the season. 
The cocktail hour is super blah. Having all bared their, um, souls, the men are now looking to make deeper connections with Clare. Plus, they heard from Jason that she's really into emotional trauma porn. I mean, I'm guessing that's the reason for why Chasen decides to make a sob story out of being short. He's like, "at one point in my life I wasn't 6" feet and I played video games and people made fun of me for it." Short and played video games? So… he was 12? His trauma is that he had an adolescence. Got it. 
CHASEN: They called me hermit crab!!
EVERY WOMAN IN AMERICA WHO HAS SURVIVED THE NUCLEAR WARFARE THAT IS 7TH GRADE: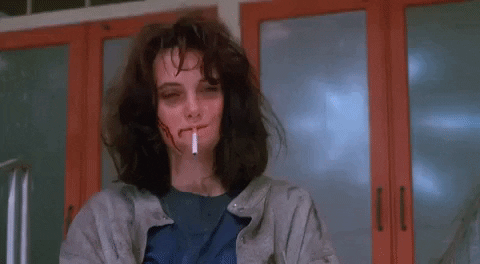 Mr. Wildlife Man whose name I can't remember and will henceforth be called Ranger Rick for the remainder of this recap, decides to crash the cocktail party despite being a dodgeball loser. Why do I feel like the first thing he's going to say upon arrival is "look, I'm not a shower, I'm a grower." 
Ranger Rick says he's "breaking the rules" for Clare. I think I'd be more inclined to believe this "rebel" act if he didn't just soil his khakis at the sight of five grown men confronting him about the sanctity of dodgeball game outcomes. 
On his way out, Ranger leans in for a kiss AND SHE GIVES HIM THE CHEEK?? Hahahahahahaha. Oh god, that's so painful to watch. Do we think this is more or less humiliating for him than having to strip to a g-string on national television?
Clare tries to save the evening by hanging out with Brandon, and that promptly blows up in her face. He makes the mistake of saying that he came on the show for her but all he knows about her is that she's hot. Honestly….. I don't think it's that horrible of an answer. At least he didn't say I hated her fugly green dress, amiright Jason?
And while it's not that bad of an answer, I sort of understand where Clare is coming from with this temper tantrum. Like, he could have said ANYTHING else. He could have said "that dodgeball thing was super funny" or "your dog is cute" or "I want to know more about you than just what I've seen on TV,"  but instead he settled for an easy answer, and she's too old for this sh*t. She wants more from a connection than "you're hot." She wants romance and commitment and for Dale to talk dirty to her in that monotone, robotic voice of his. God, Brandon, get with it!!
The group date ends with Chasen and his hermit-sized hands getting the rose. He's really showing those middle school bullies now! They may be selling a pyramid scheme on Facebook, but he is the pyramid scheme, bitches!!
The Rose Ceremony
Yosef is still throwing a fit that this show has mild nudity on it. He says that after the stunt she pulled on the group date, he's lost all respect for Clare. He calls her "classless" and does so with a straight face as he stands shirtless in front of the cameras.  K. 

Wow. For once I have no complaints with Clare's ensemble. It's sleek, it's chic, her boobs look great. Carry on. 
Clare grabs Ranger Rick first and apologizes for her dismissal of him on the group date. He just has to understand that had she shown him an ounce of kindness that mob of khaki wearing men would have drawn and quartered her on live television. You get it, right?
The rest of the rose ceremony is all about Dale. And by "all about Dale" I mean "all about the back of Dale's throat." Seriously, that is a LOT of tongue. I fear for Yosef's delicate sensibilities. What if he were accidentally to happen upon this scene! Shield your eyes, Yo Yo! 
And that's all she wrote, kids! We'll have to wait until next week to see the rest of the rose ceremony and if Yosef ever self-combusts at the sight of Clare and Dale's writhing bodies. Until then!
Don't miss out on anything happening in Bachelor Nation. Subscribe to our weekly newsletter here. 
Images: ABC/Craig Sjodin; Giphy (3); ABC; @thebetchlor /Instgram (1); @betchelorpod /Twitter (1); @bachelorusaspoilers (1)
Not Even A Global Pandemic & The Oldest Lead Ever Could Change 'The Bachelorette'
The Bachelorette is back! After months of waiting, about a million spoilers, and one very heinous stand-in called Listen to your Heart that could only be punishment for something I did in a past life, our heroine Clare Crawley has finally embarked on her journey. And it was a bit familiar, no? I was hopeful that this season was going to be different.  
After Peter's season of The Bachelor, it was obvious the franchise had to change. The women were immature, Peter let his conscience penis be his guide, and the whole thing felt like an audition for an Instagram sponsored ad. And so naturally it led to a broken engagement and then a 30-hour relationship with the runner-up. Penises make bad choices! So I was heartened when production did not choose a 22-year-old influencer with more filler than a Real Housewife as our Bachelorette, but instead chose Clare, a 39-year-old who seemed to be serious about finding a husband. And look, guys, I know this show is mostly fake. Like Clare, I was not born yesterday. But I do appreciate the show at least attempting to put on a better charade. But unfortunately, as last night showed, the charade was the same. We've all been through a lot leading up to this premiere. And it seems that not even a global pandemic and the oldest Bachelorette in history can make The Bachelorette into something a little less absurd. Let me elaborate.  
Of course we began with Chris Harrison giving the obligatory "unprecedented times" speech. I mean, the last thing I need during these unprecedented times is a rich dude that probably spent these unprecedented times on the golf course sipping scotch reminding me about it, but okay. And we see our contestants gallantly suffering through COVID tests just so that they can swallow Clare's face whole in a hot tub somewhere. 
Me when the guys are shrieking through their COVID tests:

And then after that, the show was off and up to its old tricks. 
First, we had the drama between Yosef and the dude from West Virginia. It is too early in this season for me to remember everyone's name so you get what you get, okay? Mr. West Virginia knew that Yosef was DM'ing girls before coming on this show. My god, my generation is embarrassing. Like 90% of our TV drama is based on DM'ing; history will look back on us with disgust. This virus would be cured if only we would stop wasting time DM'ing! Imagine what our brains could do!
The drama was brought immediately to Clare, and at first I was impressed that she shut them down to go talk to the other men. But of course, at the rose ceremony, she ended up picking Yosef anyway. What are you doing, Clare? He looks like a Batman villain! This is going to end badly! If I know how this storyline plays out on a Bachelor franchise show (I do) there will be more drama to come with Yosef. 

Me too. It's that you get kicked off after starting drama.  
Then we also, of course, have the men who complain they didn't get time to talk to the Bachelorette. There were a few that complained throughout the night, but Tattooed Chef really takes the whining to the next level. He says that she "could have met her husband tonight" and he wanted to show her his heart but not literally, and then points to the tattoo of a heart on his chest. That's still not literally showing her your heart, pal. Just a little free grammar lesson for ya right there. I just can't believe it's 2020 and men are still complaining about not getting time to talk to the lead. C'mon guys! Take that confidence you all have to apply for jobs you're not remotely qualified for, and bring it to this show! If this pandemic has taught us anything, it's that time may be stagnant but we're all still getting older, so if you have the opportunity to actually meet someone, just f*cking talk to them. I have no sympathy. 
The men also have the same old ridiculous entrances. I'm sorry, but when I get out of quarantine after not seeing a man for the last seven months, the one that opens a ring box that farts at me will be immediately executed. I'm bringing King Henry VIII energy to post-pandemic dating, and I really wish Clare had channeled more homicidal maniacs herself. We also have the guy that wore a straitjacket the entire night, which fine, respect, and the guys that drove up in different cars. This parade of men could have been any other year. Even the guy in the bubble could have happened in the before times, because people seem to think those things are fun, and not vomit-inducing. Where are the guys that are going to impress me instead of make me want to watch the rest of the show through my hands while shrieking? Clare has waited this long, can't we at least give her some men that didn't first appear on America's Funniest Home Videos?
I know that this season is going to be the "most dramatic ever" yada yada yada Chris Harrison's bullsh*t, but even in the previews it felt familiar. Clare's season is short and unconventional, but they've still managed to cram in some of their favorite overplayed things. Like Colton's virginity and Peter's pilot status before her, Clare's age seems to be the subject destined to be harped on all season. If I had taken a shot every time I heard "oldest Bachelorette in history" in the five-minute season preview, I would actually be dead right now. Or at least so incapacitated my dog would have to write this article and then the whole thing would be about how I never brought her to a resort filled with men who would pet her and do I have to be such an anti-social troll? In that preview I also saw men who are not there for the right reasons and dramatic yelling. So nothing new to see here. 
Look, I'm not saying that because we've had a global pandemic and Clare is 39, The Bachelorette had to do a 180 and no longer be fun. But this is a reality show. And reality has changed. I know mine has changed! In February I had a job, an apartment, and a daily workout class. I no longer have those things, so the way I approach things is different, and the things I talk about are totally different. But if ABC hadn't given us Chris Harrison's dramatic intro, it would honestly have been like nothing happened. Like all things, The Bachelor/ette must adapt or die. My tolerance now for petty bullsh*t is a little bit lower, and my desire to hear about the banana bread someone baked is a little bit higher. Were there chocolate chips in it? Did they add pumpkin? Just give me a little something!
In all seriousness, I hope that as we move on in the season that we do see a little perspective from the contestants and a little more authenticity throughout the whole process. This year is already bonkers! No need to manufacture all the same old drama as before. I'm giving you another episode (okay fine, the whole season), so show me what you got, Bachelorette.
Don't miss out on anything happening in Bachelor Nation. Subscribe to our weekly newsletter here. 
Images: Giphy (2), bacheloretteabc/Instagram; ABC/Maarten de Boer
A Breakdown Of Clare's Contestants On 'The Bachelorette'
Six months ago, we watched as Pilot Pete's tragic season of The Bachelor came to an end, and hoped that a brighter day might be just around the corner. We no longer had to watch Peter be the least decisive man in America every Monday night, Hannah Ann and Madi were free to live their best influencer lives, and Clare Crawley was ready to get things in Bachelor Nation back on track. Then… Well, you know what happened after that, and here we are in October still waiting for Clare's season to premiere. 
That fateful premiere night is now less than two weeks away, and ABC finally gave us something real to talk about this week, when they released the official contestant bios for the men who will be competing for Clare's heart (and probably Tayshia's heart too, TBA). I will say that this year, ABC made the men slightly more difficult for us to roast, but nevertheless, we persist. As always, we're breaking down the contestants on the season, so you can fill out your brackets and speculate what the f*ck will actually happen on this historic season.
AJ
28, Software Salesman, Playa Del Rey, CA

We're starting off this group of Instagram model hopefuls with someone who, dare I say, looks normal?? Has ABC actually learned to stop casting a bunch of male models (but why male models) and trying to convince us they are actually here for love? I do feel like AJ is going a bit far in the other direction, basically admitting he has a thing for cougars: "AJ certainly does not steer toward younger women and is very excited to pursue a woman like Clare". Ironically, though, he has a fear of tigers, which means he'll never binge Tiger King with you. 
Ben
29, Army Ranger Veteran, Venice, CA

Ben is a "sweet midwestern guy" who looks like he would be anything but sweet when he gets cut off at the bar. Ben is giving me slight Chad Johnson vibes since his favorite indulgence is an ice bath, as in, the thing athletes do after a workout to recoup. That's your indulgence? Mine is ice cream, but close, I guess. He also once flew across the country to see a girl he'd never met in person before… wait a minute. Ben, you can't count what you're going to do on the show towards your bio! I'm actually kind of concerned that he's done that before.
Bennett
36, Wealth Management Consultant, NYC

If you don't offer to split the bill on your first date with Bennett, he will be contacting his attorney and send you an invoice. I'm guessing that Bennett was a fat kid growing up, because his bio alludes to him growing into himself and says he hasn't always been "this successful and good looking." One of his hobbies is walking the High Line in "his favorite Belgian loafers", which just continues to fuel the "do you know who my dad is" vibes I'm picking up on.
Blake Monar
31, Male Grooming Specialist, Phoenix, AZ

Move over, initials, because we're getting full last names with these guys! We have not one, but two Blake M's, so I can't wait to see how this will play out on camera. Our first Blake M is an athlete who was forced into retirement due to a debilitating injury, which I'm sure casting ate up. I really couldn't find anything wrong with this Blake until I got to this sentence: "Blake's dream woman is incredibly secure in herself and has done the work to become the best version of them possible." I just feel like the type of guy who says this is the type of guy who will call you crazy when you call him out for talking to other women…
Blake Moynes
29, Wildlife Manager, Hamilton, ON

Other Blake M. seems super outdoorsy, and is from Canada, which is a huge plus right now. But I'm getting some red flags because Blake all but says that he's only looking to settle down because all his friends are wifed up and now he has nobody to hang out with. That's something you admit after six weeks of dating when you won't bring her around to meet your family, Blake! You don't lead with that!!
Brandon
28, Real Estate Agent, Cleveland, OH

Ok, now we've reached the male model coalition. Brandon hates "Debbie Downers" and never wants to see the girl he's dating cry. Brandon definitely has "good vibes only" on his dating app profile and will hold you to that. I hate him with pretty much every fiber of my being.
Brendan
30, Commercial Roofer, Milford, MA

Brendan, whose eyes are boring through to my soul, is "all about that initial attraction when meeting a woman." In other news… he's a straight guy. Groundbreaking. His high school friends call him "BMoney" which means that nobody has ever called him BMoney and he has been trying to force that nickname since the tenth grade. Stop trying to make BMoney happen!
Chasen
31, IT Account Executive, San Diego, CA

And here I thought Chasen is a fake name only used in memes to satirize millennials! Chasen's nickname is "Wolverine" because he recovers and heals quickly, and not at all because he will cut you. He also "loves women who take pride in staying fit," so god forbid you eat a granola bar in his presence.
Chris
27, Landscape Design Salesman, Salt Lake City, UT

Chris's goal is to travel to 200 countries and still has 180 to go, which is like me saying my life aspiration is to become a millionaire with my $200 in my bank account. I can't fault the guy for dreaming big, at least!
Dale
31, Former Pro Football Wide Receiver, Brandon, SD

I mean, what do I say about Dale that isn't a spoiler? He's so hot I could die, he loves Oprah, he's an ambassador for the Special Olympics… I'm beginning to think Dale is not actually a real person, but rather, a simulation of every woman's masturbation fantasy. The only real con is that he's from South Dakota.
Demar
26, Spin Cycling Instructor, Scottsdale, AZ

Demar is "diligently on the hunt" for his wife at only 26 years old, but his dream is to be a DJ on the Las Vegas Strip. The fact that he can't understand why those two goals are mutually exclusive is probably why he's still single.
Eazy
29, Sports Marketing Agent, Newport Beach, CA

Diggy was one thing—can you imagine going to your dad like, "Dad, this is my fiancé, Eazy." Another footballer, Eazy has "dreams of world domination". Weird flex, but okay. If you want to be the Pinky to his The Brain, then he's the guy for you. 
Ed
36, Health Care Salesman, Miami, FL

In true Miami fashion, Ed is "looking to find a woman who has natural beauty without looking overly fake." I'm sorry, but guys who say this are just f*cking dumb. They think Kim Kardashian's everyday contour is a "natural" look and don't even know that eyelash extensions are a thing. Ed would be shocked to find out how many women in New York City have subtle lip injections.
Garin
34, Professor of Journalism, North Hollywood, CA

Garin sounds extremely fun, but not at all ready to be in anything resembling a serious relationship. Case in point: he admits he loves being the center of attention, spends his free time DJing, and likes being the source of energy for the night. My "here for the wrong reasons" radar is going off, but at least he'll be fun on Paradise. HMU if you want to take shots, G.
Ivan
28, Aeronautical Engineer, Dallas, TX

Ivan is a "recovered Crocs enthusiast", proving that beauty does not equal brains. Ya hate to see it. He says "intelligence is a huge aphrodisiac" to him, so hopefully he's not the kind of person who makes being a "sapiosexual" a huge part of his personality. Does anyone outwardly admit they prefer dumb people?
Jason
31, Former Pro Football Lineman, Arlington, VA

Jason likes to drink coffee in bed, meaning he lives on the edge. Then again, he likes to spend his time visiting Arlington monuments, so he's kind of like my dad. The man has got range!
Jay
29, Fitness Director, Fort Lauderdale, FL

Jay, The Bachelorette's own Tom Haverford, says "every song Drake puts out is a banger." Of all the things you would want to communicate about your personality, why put that? No word on if Jay also calls eggs "pre-birds" or "future birds", but I'm standing by and will update this piece if necessary
Jeremy
40, Banker, Washington, DC

Jeremy looks exactly like what I would expect a 40-year-old banker living in DC to look like. He says his love language is "witty banter", which means he also probably thinks he's not an asshole, he's just sarcastic and honest, and he loves having fun. He also says he hates Instagram models, both male and female, which is just what every aspiring Instagram model would want you to think.
Joe
36, Anesthesiologist, NYC

Joe is a COVID-19 survivor, so I am going to try to limit my roasting. I'll say this: his favorite childhood game is Scrabble, which paints a picture of a pretty bleak childhood. What, no Sorry? No Trouble? No Candyland? You played an educational vocabulary game for fun??
Jordan C
26, Software Account Executive, NYC

I really respect Jordan C walking out of the set of Hitch and right onto The Bachelorette, with his open shirt, chain necklace, and thin-framed glasses. Jordan "dreams of owning a dog named Maverick" which is not really a difficult dream to achieve, even in NYC. Everyone I know has a dog. You can do it, man!
Jordan M
30, Cyber Security Engineer, Santa Monica, CA

Jordan M is 6'8", which should allow him to coast through the first few weeks unscathed. He likes staying active and hiking (yawn), but also participates in hacking competitions in his spare time. I can't decide whether that's hot or scary, but if he really wants to impress us, he should like, hack into ABC's computers and rig the season to his benefit. (Or I can think of another thing he could hack…) His favorite Sunday activity is cleaning, which means if Clare doesn't pick him (she doesn't), the women of Instagram will snap him up in a heartbeat.
Kenny
39, Boy Band Manager, Chicago, IL

Kenny manages boy band cover bands for a living (yes, really), and his bio contains not one, not two, but THREE NSYNC puns. Remember, Kenny manages cover bands, so he has nothing to do with the actual NSYNC. Kenny is looking for a woman who is "not controlling, fake or wrongly opinionated," which means he's got a healthy track record. Yikes! Big Luke P vibes. Kenny also hates cheese and thinks the ideal time for a date is Sunday morning, so he already has three big strikes against him. Hopefully, Clare eliminates this psychopath immediately.
Mike
38, Digital Media Advisor, Calgary, Alberta

Mike is extremely Canadian: he loves skiing and ice hockey, he's a member of a Shania Twain fan club, and he also claims to be very nice. Honestly, that all sounds pretty delightful (minus the skiing), but Mike has to go and ruin it by saying that if he could live in any time period, "he would live during the Jurassic years so he could roam through life with the dinosaurs." This is like, the worst possible answer to this question, though I guess I respect the creativity because I've never heard that terrible response before.
Page
37, Chef, Austin, TX

Assuming Clare doesn't end up choosing Page, I'd like to throw my hat in the ring. He's apparently an accomplished chef and "cannot relate to people woh like football". Same. The one thing that makes me nervous is that he "loves to hang out with his buddies and debate social and political issues." It's too soon to know, but let's hope that doesn't skew into Garrett territory.
Riley
30, Attorney, Long Island City, NY

It feels weird to specify that Riley lives in Long Island City when everyone else just gets to say NYC, but maybe he just has a chip on his shoulder about not being able to afford Manhattan rent (same). His bio talks about "the grind" of working as a medical malpractice attorney—not exactly the profession I think of when I think of "the grind", but sure. Riley loves baseball, but he f*cking hates museums, with his bio saying "please don't ask him to go to a museum with you because that's not going to happen." Who hurt you?
Robby
31, Insurance Broker, Tampa, FL

I know in my heart that this man is not Robby Hayes, but I still feel like he could be Robby Hayes. Have we not been through enough in 2020? This Robby played college baseball at FSU before moving home to work for the family insurance company. He now "splits his time between Tampa and Los Angeles," so he's primed and ready for his career as an influencer to take off. Robby is looking for a woman who "has a sweet personality and won't mind that he spends his Sundays on the golf course," because this is still 1950, apparently.
Tyler C
27, Lawyer, Morgantown, WV

I have to say, I feel like being a Tyler C at this point in the Bachelorette timeline is a big disadvantage. Our beloved Tyler Cameron left some really big abs to fill, and I just don't see this self-described "Matthew McConaughey stan" from West Virginia living up to his legacy. His bio says that growing up, he "rarely left his bubble and wasn't very social," so honestly, he might actually be thriving this year. But this bargain bin Tyler C really loses me when he's described as "a badass lawyer who says he is a businessman by day and cowboy by night," which sounds like the plot of a new NBC drama that will get canceled after three episodes. Tyler just "needs a cowgirl to ride off into the sunset with," and I need a f*cking drink.
Tyler S
36, Music Manager, Georgetown, TX

Moving on from Tyler Cameron's shadow, we have Tyler S, who is finally putting himself first after years of managing his brother's music career. His brother, Granger Smith, is a country singer with over a million monthly listeners on Spotify, so it's not surprising at all that he's actually performed on an episode of The Bachelorette before. Tyler is a big family guy—his bio contains the word "mama" twice—and his stipulation for a partner is that she should be "willing to adopt his family as their own." Is this a family or a cult? 
Yosef
30, Medical Device Salesman, Daphne, AL

Yosef's reason for coming on the show boils down to bitterness, and I'm loving his energy. Basically, he got married at 24 and had a daughter, but the marriage didn't last. His ex-wife got remarried in February, and "while he is happy for her, he says now it's his turn to find love." This is the biggest f*ck you move ever, and I love the unabashed pettiness. Yosef's fun facts are a wild ride, ranging from the fact that he "loved his Velcro sneakers" as a kid (join the club), to the fact that he "was once catfished on a dating app" (again, join the club). Why do I feel like his entire personality will be his divorce?
Zac C
 36, Addiction Specialist, Haddonfield, NJ

I can't help but feeling that Zac C looks like he's trying to sell me something, and that something is our Lord and Savior, Jesus Christ. It's just something in the eyes, I think. He is a proud sneakerhead, which I find a little hard to believe given that dad polo. He also "prefers to keep it old school and gets his news from reading the morning paper", which sounds a lot more like it.
Zach J
37, Cleaning Service Owner, St. George, UT

There had to be at least one stalker in the cast, and Zach J proudly admits that he's had a "major crush" on Clare since Juan Pablo's season. He's adamant that he's "only here because he believes Clare is the perfect woman for him," so I have a feeling things could get rough for him after a couple episodes, depending on how the spoilers pan out. Zach is also "obsessed with gum and Chapstick," but "HATES jazz music." I'm just picturing this guy furiously snapping his gum and applying lip balm while stealing Clare away from all the other guys, and the producers troll him with jazz music scoring. Can't wait.
Don't miss out on anything happening in Bachelor Nation. Subscribe to our weekly newsletter here. 
Images: ABC/Craig Sjodin (32)
Does ABC Actually Want 'The Bachelor' To Be Spoiled?
For the last 18 years, ABC has slowly sucked the will to live out of us with a torture device known as The Bachelor. I hate this show. But my god, I LOVE this show. You know what I mean? In the beginning, it was gripping because reality TV was relatively new, and we got to see people genuinely fall in love. In the end times (that's us now, am I right COVID/murder hornets/Isaias?) it's gripping because of the unconventional endings and the overwhelming desire to know which blonde women from the South will end up with the best FabFitFun sponsorship when it's over. But, through the years, one thing that's remained constant in Bachelor Nation is its disdain for spoilers. That's right! Bring on the racists and the sex offenders, but don't you DARE spoil this contrived mockery of modern courtship for the masses. Or at least, that's what they say. But I've got another theory. I think ABC actually LOVES having the season spoiled. And, dare I say it…they may even spoil it themselves. Allow me to explain. 
First, let me lay out the evidence that ABC claims to hate spoilers. Just last season, Chris Harrison went on Almost Famous, Ben Higgins' and Ashley I's podcast, and told them that spoilers "ruin people's lives," are "disrespecting the hard work done by writers and producers," and that people who spoil the season "have no self-worth."

Oh, Chris. That's cute. But people with no self-worth are busy ruining their lives by texting their cheating ex 73 times at 1am (hypothetically!), they don't spoil The Bachelor. Producers also make the contestants sign an NDA when they go on the show, which of course includes a clause forbidding them from revealing the ending. 
But even with that clause and Chris Harrison publicly cursing Reality Steve's name, somehow spoilers get out. Every season since Jason Mesnick's, actually, and I know like 75% of you reading this were still wearing a diaper when he was publicly changing his mind (ugh, men). So, spoilers have been a part of the Bachelor franchise for a long time—longer than March 2020. And of course there are some reasons for this that don't involve an underpaid production assistant getting wine drunk and chatty in a public place near a recording device. Obviously The Bachelor is a big production, and they have dates out in public, so naturally people are going to see them, take pictures, and tweet about it. And some seasons the lead even spoils it themselves. Kaitlyn Bristowe actually posted a Snapchat in bed with her winner Shawn Booth before the season finished airing. 
Well Kaitlyn just gave away who won the bachelorette on snapchat @RealitySteve pic.twitter.com/MlbIX3fNQx

— Graceanne Parks (@GraceanneParks) June 13, 2015
So, like, did Kaitlyn get in trouble for this? If she broke this clause in the NDA and didn't get sued, can contestants on the show finally talk about "controversial topics" like feminism? Please hit me back, Bachelor lawyers. And, if she didn't get sued, doesn't that just further the idea that, at the very least, ABC doesn't really care if their show is spoiled? The only consequence for her actions that I could find was when Jimmy Kimmel told her that ABC was "very, very mad." Well! I didn't know they were very, very mad! Two very's! That should certainly serve as a strong deterrent to other contestants.
So, of course, plenty of people, spies and dummies alike, are spoiling The Bachelor. They have never been able to contain it. My bet is that ABC decided that if you can't beat 'em, join 'em. Because we have finally made it to my star witness, the season that has me all riled up, Season 16 of The Bachelorette, aka The Clare Catastrophe™ . The Clare Catastrophe™ began all the way back in March, when Clare Crawley, woman who talks to crabs, was announced as the Bachelorette. And then her season was immediately put on hold due to COVID-19. That makes sense, they're swapping a lot of bodily fluids over there. But now that we have the virus under control (lol I am a mole person and everyone is still dying) they began filming in July in one isolated location. One isolated location I might add, that immediately got leaked. That means no going out in public on dates, no leaving the property at all, and STILL spoilers got out. I'm no genius, but I'm pretttyyyyy sure that means that someone on location had to be the one to spill the metaphorical beans, no?
You can find our full explanation of The Clare Catastrophe ™ here, but I'll give it to you quick to prove my point. First, Reality Steve found out that Dale Moss got the first impression rose. HOW WOULD ANYONE WHO WAS NOT THERE KNOW THAT? The call was coming from inside the house! And then we had the Reddit post that outlined pretty much EXACTLY what happened with Clare, and how Tayshia was coming in to replace her. AND THEN we have this Instagram account that revealed EVEN MORE about why Becca and Hannah Ann have shown up. 
Sorry for all the caps, guys, I realize this looks like an email from my grandpa, but I am THAT jazzed up about it. Because at this point they just want people to speculate. They could have easily made sure that no one knew Hannah Ann was coming and locked down the location, but they didn't. 
So, we have the fact that the information about Clare's season leaked even though they were quarantined for filming. And sure, some of the information could have been from contestants that were called back, but that doesn't account for the location being leaked, the first impression rose info, and the story that was posted on Reddit. And then we have the fact that the show is getting a TON of publicity from this. Did I care two weeks ago about a sad, lonely old lady looking for love? Sure, but that old lady was me. Now I'm pumped to see how this season all goes down, there have been non-stop stories on major media outlets about the season every single day, and people give a sh*t again. HUH what do you know? So why wouldn't the people who benefit from this the most be the ones to put it into action? 
Every website is talking about the "Bachelorette," all former contestants are on social media discussing it, they're congratulating Tayshia, etc. This is productions wet dream. We're over a month away from premiere & look at how many people are giddy over what's going on.

— RealitySteve (@RealitySteve) August 5, 2020
And I'm sure this isn't the last we'll hear of this season. The leaks will just keep coming, they've opened up a can of worms. These spoilers are basically me with an episode of Schitt's Creek. Once you watch one, you may as well stay up for 52 hours and watch the entire series! And though ABC will NEVER admit that they may have played a part in this or at the very least benefited from it, and I'm sure Chris Harrison will have a field day sh*tting on these spoilers during filming, you and I know the truth!
Don't miss out on anything happening in Bachelor Nation. Subscribe to our weekly newsletter here. 
Images: ABC/John Fleenor; Giphy (1); graceannparks, realitysteve/Twitter; lexniko/Instagram 
Clare's Season Of 'The Bachelorette' Is Still Happening & We Have Details
It's been a big couple of weeks in Bachelor Nation, mainly centered on the fact that we're finally getting a Black Bachelor next season. After mounting pressure to address the lack of diversity and racial sensitivity within the franchise, including a petition with thousands of signatures, ABC made their big announcement that Matt James would be the next Bachelor last week. But given that ABC and The Bachelor have otherwise been silent about the racial issues within the franchise, the timing and nature of the announcement raised some questions.
On Watch What Happens Live this week, Rachel Lindsay said she "hated the timing" of the announcement "because it does seem like a reaction to what is happening in our country." She questioned, "Did a man have to die in such a public way on a national stage for you to say now is the time for us to have a Black Bachelor?" While ABC execs claim that the decision to make Matt James the Bachelor was made independently of the current Black Lives Matter protests, it's hard to see the timing of the announcement as anything but reactionary. Normally, the new Bachelor is announced after The Bachelorette airs, and he's chosen from contestants who have already been on the show. ABC may have wanted Matt James as the Bachelor all along, but would they have made an announcement this soon without external pressure?
On WWHL, Rachel also continued her calls for a wider focus on diversity and inclusion across the franchise, and said that she's been in contact with the producers about how to implement these practices. So far, ABC or Bachelor execs have not detailed an actual plan to ensure a more diverse show, though The Bachelor executive producers said in a statement, "We are taking positive steps to expand diversity in our cast, in our staff, and most importantly, in the relationships that we show on television." ABC Entertainment president Karey Burke echoed, "This is just the beginning and we will continue to take action with regard to diversity issues on this franchise."
On top of the questions about the Bachelor franchise's intentions with the announcement, it also made us wonder—what is going on with The Bachelorette? Way back in March, Matt James was initially announced as a contestant on Clare Crawley's season, which was delayed indefinitely because of the pandemic. Obviously, he won't be competing on The Bachelorette anymore, but was this news to Clare? On the heels of the last week's announcement, a source told Us Weekly that Clare "wasn't given any heads up," and that she "didn't know about Matt becoming the Bachelor until the GMA announcement." On Wednesday, ABC exec Rob Mills went on Ryan Seacrest's radio show, where he firmly denied this report. He said that "of course we would never do that to Clare," adding, "she found out the day before."
At this point, it kind of feels like Clare Crawley is the forgotten stepchild of the Bachelor franchise, but don't worry, her season is definitely still happening. This week, various announcements were made, and now we have a lot more clarity about when and how they're moving forward. ABC unveiled their official fall programming schedule earlier this week, with The Bachelorette slotted for Tuesday nights (The Bachelor will return to Monday nights in January). ABC Entertainment President Karey Burke spoke to Deadline, confirming that the show is scheduled to start filming in July, and that there is a "very thoughtful" plan in place for how to make it happen.
#TheBachelorette is moving to Tuesday this season cuz of football. #TheBachelor will be back on Mondays. Long live #BachelorMondays!

— Mike Fleiss (@fleissmeister) June 17, 2020
In his interview on Ryan Seacrest's show, Rob Mills outlined more details of what's actually going to happen. Production for Clare's season will be contained within a "bubble," with all cast and crew tested for COVID-19 before entering. Instead of the beloved Bachelor mansion, Mills said "They'll be at some sort of resort," where the entire season will take place. While travel is off the table this year, Mills promised that "there will be plenty of different date locations that will feel hopefully as close to The Bachelorette as possible."
So we won't be getting trips to exciting locales like Australia or Cleveland, but it's better than my initial idea of doing the whole season in an empty airplane hangar. And despite all the adjustments, there's one thing that even a pandemic can't take away from us: makeouts. When asked about whether we'll see kissing on this season of The Bachelorette, Mills said, "We think it'll be absolutely safe." Personally, I feel like it's going to be triggering to watch Clare make out with multiple randos in one episode, but at least something will feel normal again.
Images: ABC/Paul Hebert; Watch What Happens Live with Andy Cohen / YouTube; fleissmeister / Twitter
Why Clare Crawley Is Going To Make 'The Bachelorette' Worth Watching
Guys, did anyone actually like this season of The Bachelor? Everyone is 12 years old, the "drama" is so petty and not in a fun way, and I swear, Pilot Pete gets off on breaking his contestants down and watching them cry over him. Overall, ew. And a sad time for women. I don't buy that a single girl actually wanted to find love—and why would they, they're children who want to sell laxative tea on Instagram! I find it hard to believe a gorgeous 23-year-old model has exhausted every option for finding love, forcing her to go on reality TV. It's just not likable or believable. But today, we've been saved from watching one of them yet again for months and months. Because in a bizarre twist, The Bachelorette has cast Clare Crawley! If you didn't watch Juan Pablo's season, or her numerous stints on Bachelor spin-offs, like Paradise and Winter Games, you have no idea what you're in for. I'm personally so excited for Clare to reshape the garbage train that's been the last few seasons of both The Bachelor and The Bachelorette, and here is why you should be too.
She's Unpredictable

On Juan Pablo's season, Clare showed up at his room in the middle of the night and hooked up with him in the ocean. In front of the other girls. I mean, this is reality TV gold. I don't watch the shows so someone can find love in five minutes with a stranger and fake an engagement, I watch for the drama. And not "ooh someone said she wasn't my friend/someone took my champagne" drama, which is boring. Clare is a total loose cannon and just does whatever she wants, which makes for great TV. She's also been brought back so many times, which makes me think she's easily influenced by the producers and they're able to give us some awesome drama with her.
She Doesn't Take Any Sh*t

Clare also takes no sh*t—not from the other girls, but especially not from men. She basically told Juan Pablo to go f*ck himself during his season. Clare speaks her mind to absolutely everyone, even if they did not ask for it. ESPECIALLY if they did not ask for it. She sent Ashley I on what I believe was her second stint of Bachelor in Paradise totally over the edge over Jared. Although it's hilarious how that worked out for Ashley now. But Ashley was a total sobbing puddle because of Clare and called her an "old woman", which is amazing because Clare was probably like 32 at the time. Then Clare had had enough of the BS and left of her own accord that season. She does not tolerate anything, and I can't wait to watch her rip these men there for the wrong reasons to pieces.
She's Kinda Nuts

But like, in a fun way. Clare being the Bachelorette is almost like Corinne being the Bachelorette (if only we could have been so lucky). She's really emotional and you don't know if she's going to be shouting her love from the rooftops or ripping a guy a new one. Which is my favorite kind of person to watch on reality TV! She's so much fun to watch, and I can't decide if she's genuinely the sweetest person or like, is secretly a bunny boiler. Most likely both. But we'll find out soon enough!
She Actually Wants Love

Even if you think the worst things about Clare, no one can argue that she's there to try to launch her modeling career. She's been very genuine on every show she's been on about how badly she wants to find someone. Plus, she's a hair stylist, which is a real job, instead of a Model/Influencer/Twin, or whatever ridiculous jobs the rest of the contestants have now. She is also 38 and single—I actually believe that she's tried everything else to meet someone and that's why she's willing to do this yet again. And I hope it works out for her! But if it doesn't, at least we'll get some good TV out of it.
Here's to drinking while watching The Bachelorette because I want to and not because it's too excruciating to get through otherwise! Also, if you need more convincing, watch this amazing edit of Clare telling her troubles to a raccoon.  Kinda hope he guest stars next season.
Images: Jesse Grant/Getty Images for Leisure Opportunities; Giphy (6)