Where To Meet Guys Who Don't Suck
The absolute worst part of being single is trying to find someone acceptable for dating. Seriously, where do you meet decent men these days? With our complete douchebag-appreciating society and all these guys that want to act like your boyfriend but also want to sleep with your friends, it can be hard to weed out the losers from quality men. However, you probably aren't going to meet the love of your life in like… a club. Why? Because then you will be dating the kind of guy that hits on women in clubs. Usually kind of skeezy. I'm sure there are exceptions, don't @ me, I don't care. So where do you have the best chances of meeting a good dude? See below for a few suggestions on where to meet guys who aren't trash.
Downtown (Or Where The Jobs Are)
This one came from my gynecologist. Seriously. Disappointed that I yet again will not be adorning her office with photos of my children that she delivered, because my uterus is a barren wasteland and no one loves me or wants to reproduce with me, she literally lectured me about my life choices. She told me that I should not be trying to meet guys around Hollywood where I live, because everyone is an "ACTOR" (she literally said it with air quotes and an eye roll). She said to meet ~real men~, I should hit up happy hours downtown because that is where the men with real jobs are and where they will go after work. (Joke's on her, I never even try to meet men.) But anyway, I mean, it does make sense. Chances are the guys that have decent jobs are probably more likely to be actual adults and therefore will probably act like one in dating. As opposed to Chad. The male model. Whose parents pay for his apartment. That he shares with seven other guys. So wherever you live, hit up the downtown happy hours, or wherever the real jobs are.
Literally my Dr:

Dive Bars
Caution: you may be in danger of hipsters, but otherwise, the cool guys probably hang out at the cool bars that aren't super trendy or have lines wrapped around the block. Chill guys want to have a beer and talk to their friends, not dance to hardcore dubstep (is that still "in"?) and pay for $500 bottle service every weekend (which, let's be real, is probs on mommy's credit card). Try to find something relaxed and laid-back for your next outing with your friends and see if you can accidentally-on-purpose start talking to cool guys in this low-key environment.
Coffee Shops
I usually work from home, which gets really, really dull. I occasionally bring my work to local coffee shops just to get outside and have a reason to put on pants. There are always men writing, reading, working, etc. at cool coffee shops near me. I mean, if you're into creative guys that care about something other than their appearance or their booming modeling career (sorry, Chad). Coffee shops are also an easy place to talk to people, since they are less likely to be surrounded by a bunch of douchebag friends.
The Beach
If you want to meet someone laid-back and easygoing, the beach is a good bet. Guys who hang out in nature tend to be more relaxed and down-to-Earth. You will definitely find douchey guys there too—especially in the summer, but you can probably tell who they are easily by the fact that they're shitfaced at 2pm and are aggressively wrestling their friends while chanting something frat-related. Find the guys having a good time with their friends, and bonus points if they have a dog.
Run very, very far from this:

Images: Giphy (2)
5 Desserts You Have To Instagram Before Everyone Else Does
Follow Tess on Instagram @foooodieee for the latest in desserts to die for and all other Instagrammable foods
When it comes to ordering desserts, my first thought is like many of yours: "Can I Instagram this?" If you aren't Instagramming your dessert to all of your soon-to-be-jealous followers, was it even worth the carb consumption? NYC has so many places to buy these kind of desserts that my mouth is watering just doing my research. By the time you have finished reading my rundown of the most Instagrammable desserts New York City has to offer, you'll be grabbing your phone and heading for the door… Like me. Uh. BRB.
Taiyaki NYC is known for their Japanese ice cream in a fish-shaped cone. I can tell you firsthand that these are soooo delish and definitely stand out from everyone's Starbucks pink drink pics on the 'Gram. Taiyaki NYC is also known for their unicorn cone (pictured below and still in a fish-shaped cone… so like a unicorn fish? IDK, just go with it). Some of the flavors you can choose from include Matcha, chocolate, vanilla, strawberry, and black sesame. As far as toppings go, your soon-to-be fat ass can choose from sprinkles, fruit, and even mochi. You can also get mochi on a stick to add flavor to the ice cream and to the photo.

OKAY, SO THESE ARE SERIOUSLY THE BEST COOKIES IN THE WORLD. FIGHT ME ON THIS. Plus, we all know that the "warm cookie oozing with chocolate chips" photo is the money shot for any IG foodie. Ranging from chocolate chip to blueberry cheesecake, these cookies will change your life.

If this isn't Instagrammable, I don't know what is. WELCOME TO THE NUTELLA CRACK MILKSHAKE. Holy shit, I got a heart attack just writing that. Yep, these bad boys include Nutella, chocolate, pretzels, whipped cream, hot fudge, peanut butter, strawberry shortcake, OREO and a food-induced coma if you eat the entire thing (not included with your purchase). Some people even call them freakshakes. I can't tell why, can you?

If you haven't been to Magic Hour at the Moxy Hotel, you are 1000% missing out. Not only is this place super cute and Instagrammable, but these desserts are probably some of the most delish treats I've ever seen or tasted. Their most to-die-for dessert is their GIANT ice cream sandwich, pictured below, which is literally bigger than my head. This cookie sandwich is a mixture of sprinkles, ice cream, and overall deliciousness and probable diabetes.

CoolMess is another gorg place on the Upper East Side whose interior is enough to be 'Gram worthy on its own. But the best part about this place? You get to make your own ice cream! Whether it's a simple ice cream cone or a giant sundae, your Instagram will be rolling in with the likes. And there are toppings for all of your heart's desires. Cookie dough, brownie bites, sprinkles, pound cake, fruit loops, gummy worms… AM I MAKING YOU HUNGRY? BECAUSE I'M MAKING ME HUNGRY. HELP.

If you're looking to share a dessert after date night or simply just craving sweets in general (which okay, you caught me, I always am), these are the top 5 places I recommend. Not only for a delish dessert, but so your dessert post on the 'Gram makes everyone else's look like *insert poop emoji here.*
Follow Tess on Instagram @foooodieee for the latest in desserts to die for and all other Instagrammable foods
5 Quick & Easy Weekend Getaways From New York City
New York City is the best city in the entire world (fight me), but every now and then, it starts to feel dirty crowded overrated like too much. What's a betch to do? Give up in the face of adversity and binge-watch The Office for the 14th time? Or triumphantly plan a trip outside the city for a change of pace and enjoy a latte with an ocean view? Obviously, it's the latte latter. The problem is, we don't all have movie producer boyfriends with private jets, so our options can be a little limited. Here are some excellent and close-by weekend getaways to soothe your commuter agita, and get you the F out of the city without requiring a sugar daddy.
P.S. During my research, I took the liberty of immediately closing out of any tab/website with a child running around on the beach. There were a lot. You're welcome.
Enjoy The Finer Things in Chesapeake Bay-Tilghman, Maryland
Why You Should Go: Tilghman, Maryland, adjacent to the Chesapeake Bay, is the perfect place to escape the neverending chaos of NYC. The seafood in Maryland is the best, but the sunsets are even better (for your Instagrams). Tilghman is only four hours from the city and has a population of roughly 854 people (as reported in the 2000 census), which means you have a negative 10 percent chance of running into your ex or observing a man urinating while waiting for public transportation.
Where To Stay: The biggest reason we're including Tilghman, MD on our list is Wylder Hotel Tilghman Island. This new lifestyle resort looks insanely chic and private. The location on the Chesapeake Bay is v exclusive and sooo gorgeous. The hotel itself has a relaxed, seaside cottage vibe, mixed with a modern vibe. Also, there's a new saltwater swimming pool, which just sounds bougie because like, where in the city are you going to find that? (Don't comment with answers, thx. I'm hyperbolizing, not looking for recs rn.)
What To Do: Get ~blissfully~ wine drunk at the stunning Running Hare Vineyard, a little bit of Tuscany and Napa in Southern Maryland, and bring a picnic lunch to enjoy their live music in the outdoor tasting area. Or, if you're looking for some stress relief, head over to St. Michael's Studio for an aerial yoga class and stretch out the tension in your neck and back that's built up from all of the shitty weather this "spring." At night, check out The Big Owl Tiki Bar, a dock-side dive bar.

Live Like Taylor Swift in South County, Rhode Island
Why You Should Go: Want to spend a weekend living like an international superstar on the Rhode Island Coastline? South County, RI is the spot. South County is home to breathtaking beaches, nature trails, and eateries. Located only three hours from NYC, Rhode Island provides the ideal weekend getaway for anyone trying to vacation the way Tay spends her summers.
Where To Stay: Enjoy sweeping views of the Atlantic Ocean inside the BEYOND GORGEOUS Lilly Pulitzer Suite at the Watch Hill Inn. BTW, Watch Hill is where Taylor's big house is—you know, the one where she has her 4th of July parties with whoever she's decided is in her "squad" that year. Where the famous "I <3 TS" shirt originated?! I digress. Have a glass of wine on your private terrace and enjoy the RI sunset while you scope out Taylor's BFF of the week (I CAN'T STOP).
What To Do: The "Ocean State" is the perfect spot to enjoy seafood and Matunuck Oyster Bar boasts the local seafood sure to satisfy your cravings. Wash down the clam chowder and oysters at one of Rhode Island's first commercial hop farm breweries, Tilted Barn Brewery. A trip to Tilted includes a firsthand look at the process and ingredients that go into making handcrafted beer, but more importantly, tasting opportunities. You'll come back ready to take on the hipsters in Brooklyn who like to wax poetic about the superiority of craft beer.

Reconnect with Yourself in Cape Cod-Chatham, Massachusetts
Why You Should Go: Chatham is a quaint little beach in the Cape Cod area that has plenty of cute shops and amenities. The beaches are never crowded, and neither are the gorgeous biking and hiking trails, if you're into that sorta thing. Although it's a five-hour drive from NYC and yes, unfortunately, has a fair amount of vacationing families with young children (it's not like you have to interact with them, okay? I tried), it's totally worth it for the seclusion and privacy without the feeling completely isolation.
Where to Stay: The Chatham Bars Inn & Resort encourages you to reconnect your mind, body, and soul. Enjoy exclusive access to a beachfront cabana, poolside food and beverage services, or play a quick game of tennis, golf, or croquet (I laughed typing croquet. Is that a real thing people do or is it just for rich people in movies? Lmk). If you're looking to get in touch with nature, take a morning beach launch tour to watch the local seals explore, or go whale watching (not a euphemism). At The Spa at Chatham Bars Inn & Resort, treat yourself to one of several massage therapies (the "Summer at The Shore" seasonal massage using Ocean Rose Foaming Body Polish looks really good RN), body scrubs and wraps, or facials.
What To Do: If you're looking to get in touch with your spiritual side, check out The Sanctuary for all your mystical needs. They do aura photography, various types of natural healing, and even have an "etheric crystal light table" which I've honestly never heard of, but, based on the description, seems cool af and is probably Instagrammable. Also, if you're in Cape Cod and can't afford a trip to Martha's Vineyard because you're not a 65-year-old tycoon of wealth (yet), head over to Truro's Vineyard and enjoy the local wines of Cape Cod.

Bring Brooklyn to the Beach in Asbury Park, New Jersey
Why You Should Go: Asbury Park makes for a great weekend getaway for Tri-State locals who can't stand how fucking crowded and noisy Manhattan is. Just a short hour and a half from the city, Asbury Park prides itself on being one of the most eccentric boardwalks at the Jersey Shore (even more eccentric than the Jersey Shore cast themselves, which is like really hard to do), with novelties like Korean tacos, vegan ice cream, and locally-sourced oysters. (Look, they're novelties for Jersey, ok?) Asbury Park also has a great music scene, prompting The New York Times to describe Asbury Park as "Brooklyn on the beach," and it has amaze wall art backgrounds for your impromptu Insta modeling shoots.
Where To Stay: Stay at the 110-room Asbury Hotel, with a v past-meets-present interior inspo. It's got a lively lobby bar called Soundbooth where you can get (classily) shitfaced while playing board games and vintage pinball, or check out Salvation, their gorg rooftop bar (pictured here). Let's be real, though, you'll probs spend your whole time taking cheers Boomerangs on the roof.
What To Do: Memorial Day marks the official reopening of Asbury Lanes, the iconic 1960s bowling alley-turned-music venue. With programming by The Bowery Presents (you defs have like 16 email blasts from them sitting in your inbox because they always book killer well-known acts), there will be tons of performances to enjoy. Also check out the summer lineup at The Stone Pony with artists like Band of Horses, Franz Ferdinand, and Slightly Stoopid for a perfect #fbf photo.

Party Harder in Atlantic City, New Jersey
Why You Should Go: I mean, this is a no-brainer. Atlantic City is where people go to party and gamble when they can't afford a trip to Vegas. There's a reason people call this place the entertainment capital of the Jersey Shore, people.
Where To Stay: Borgata Hotel Casino & Spa is the perfect destination for a more turnt summer getaway. Borgata Beer Garden & Outdoor Pool will be your tanning spot, with the option to choose between one of 400 chaise lounges, daybeds and cabanas for prime tanning hours. Then dance the night away at Premier Nightclub, or enjoy the hotel's Borgata Event Center with an expansive entertainment schedule throughout the summer (hello, Britney Spears in July!). There's also three other nightlife venues, including Gypsy Bar, a tequila bar (say goodbye to me now). The hotel is home to award-winning spas Spa Toccare and Immersion Spa, fine dining restaurants from celebrity chefs such as Bobby Flay, Michael Symon, Wolfgang Puck, and Geoffrey Zakarian, and over 161,000 sq. ft. of gaming space, and so much more.
What To Do: There's already so much to do at the hotel between spa treatments, gambling, and concerts, that you might not even want to leave. But if you do, hop over to Haven or The X Bar at Harrah's. When in doubt, your best bet is to head to the boardwalk and get drunk with the locals. Nobody ACs harder than AC.

Images: courtesy of hotels
5 Romantic Restaurants In NYC To Have Valentine's Day Dinner At
It doesn't matter if you've been seeing someone for two months or three years: deciding where and what to eat for dinner almost always becomes a legitimate argument, regardless of where you live. You'd think that living in one of the best cities in the world would help this issue, but you would be wrong. Actually, New York City offers too many options, so it's hard to know where to even start, especially with Valentine's Day coming up in just a couple of days. This isn't Gossip Girl or Friends With Benefits; chances are, your current fling's romance skills are not straight out of a cheesy rom-com, so it's now or never for you to find a place and make reservations for two. Or, scratch that—even just find a table for one, because who the fuck says you can't dress up and wine and dine yourself to a candlelit dinner in a bougie restaurant? NO ONE. Whether you're spending V-Day solo or going on a classy af date this year, here are five romantic restaurants in NYC to have Valentine's Day dinner at.
Everyone who lives in New York knows what the High Line is since it's probably the one place you bring your parents and out-of-city friends who want to be tourists. What you've probably yet to see is this cute little restaurant right on 10th Ave. The ambiance is, like, so worth an Instagram (or 10) since it's lit tf up from ceiling to floor. It has an indoor and outdoor garden, amazing food, strong drinks, and decent music you'll find yourself nodding to from time to time. Tables are surrounded with trees and full of classy centerpieces that set the mood.
Nothing goes with Valentine's Day better than a fuck ton of wine and good-ass pizza. Fucking obviously. If you plan on spending the day with your anti-Valentine's Day GFs, by yourself (because less people = more for you), or keeping things low-key with your latest Hinge guy, you'll want to grab a table in this cute little Midtown East spot. The wine options are endless, the menu is worth salivating over, and like, the service is actually good. I know, am I sure this is in the city? YES.
If you live in Queens, you already love this place. If you don't, then you'll at least consider borough hopping. Maiella sits in Long Island City, right on the water with a 'gram-worthy view of the skyline. It serves carb-loaded Italian dishes and yummy drinks. For Valentine's Day, they offer a special menu that includes lobster, spaghetti, and chocolate covered strawberries for just $75.
Some of you hate trekking to Brooklyn for fear of the hipster apocalypse, but honestly, there are some hidden gems with fucking amazing food that seriously makes the trip all worth it. This place sits right on water and hosts quite a few weddings, so you know you're heading into lovey-dovey central. However, the view and atmosphere are to die for, so you'll probably consider having your own here. They have a special Valentine's Day menu with bougie af foods like caviar, truffle, and filet mignon, but they do ask you look your best in their dress code, so maybe you'll feel like you're kind of a big deal.
This restaurant has definitely been in New York for like, decades. Like, your great-great-grandpa used to come here all the time or some shit (IDK, I don't know your family history). This French restaurant has long been known for its totally gorgeous flower arrangements and high-end cuisine. For Valentine's Day, they're offering a four-course dinner and a complimentary bottle of really classy Champagne that I can't pronounce. Obviously, seats are limited so if you're looking to be blown away, you'll want to reserve ASAP.
5 First Date Bars In NYC That Will Make You Seem Classy & Sophisticated
If you grew up watching Sex and the City or Gossip Girl, you probably had a pretty warped idea of what dating in NYC looked like. (If you didn't, cancel whatever date you had in mind. You have some catching up to do). In a perfect world On TV, your handsome (if soulless) evening companion just picks you up in a town car and whisks you off to a mystery location—for which you happen to be perfectly dressed, of course—and logistics never really come into it. But in the real world (SIGH) of office jobs and medium-cute (but definitely soulless) Hinge dates, date nights are not only significantly less glamorous—they can actually start to resemble real work. IMO, one of the most anxiety-producing aspects of dating in the city is the dreaded "ok where do you wanna meet" text, because now in addition to finding an outfit that perfectly captures how cool and desirable I am my essence, I need to find a location that matches it too. Since I assume you hate doing work as much as I do, I went ahead and made you a list of chicest date bars in NYC to save you those pre-date panic attacks. Read on and thank me later.
1. Tanner Smith's
Pretty much every part of Tanner Smith's is a win—great drinks, great food (if you're into that), and decor that is pretty without being overwhelming. Since the upstairs can get a little packed, take your dates through the red door to the cocktail bar downstairs—it's much more intimate, with sexy lighting and even sexier bartenders (in case your date turns out to be a dud). Also, if you don't like whiskey but always wanted to pretend you did, order the Brown Eyed Girl—it's so delicious you won't care what kind of liquor you're drinking, and you'll look and sound like even more of a badass for ordering it.
2. Library Bar at Hudson Hotel
This is a perfect date bar for a few reasons: it's quiet, which means you won't be awkwardly screaming your hometowns at each other; it's sexy without being trashy, since it's basically a place of learning (library, duh); and it's so spread out that you're absolutely guaranteed privacy in whatever plush armchairs/couches you choose. Since the entrance is lightly difficult to find, you get the bonus of seeming like a quintessential New Yorker as you lead him to this secluded spot—and it goes without saying that the cocktails themselves are amazing too.

3. Dear Irving
While the speakeasy theme has been done to death in New York, Dear Irving is one of the few places that really pulls it off. This means that "hidden entrance" isn't code for "unmarked door with rude-ass bouncer"; the outside just looks like the entrance to a fancy brownstone, and then it opens up into a bar so gorgeous that you should probably go with friends a few times first and rid yourself of the need to 'Gram it to death. This spot just off Union Square is both conveniently located and 10 times as classy as anything else in the area—the only downside is that there can be a bit of a wait if you don't make a reservation, so maybe save this one for someone's who's commitment-friendly enough to actually call and set a definitive time to meet.
4. PHD Terrace Midtown
Midtown PHD is basically like going to a downtown club on a night when it's reserved for a private party. Since it's not packed with versions of you on a Saturday night the trash you'd find in Meatpacking, you can actually notice how pretty it is, not to mention actually find seating and enjoy the stunning views of the city. This spot is on the pricier side, so come here a few dates in when you're feeling confident enough that he's not the kind of guy who will make you split the check roll his eyes at the vibe (notably, the neon pink "it was all a dream" sign at the entrance), then enjoy making out in a corner with the world's best skyline behind you.

5. The Roof
While this is ideally saved for summer so you can enjoy the outdoors (one of the best rooftops in the city, and never overly packed), the old-school bar and leather couches inside are still cozy and old-New-York enough to merit a visit year-round—and the floor-to-ceiling windows won't disappoint on view no matter the season. While small (and also a little pricey), this bar on top of the Viceroy Hotel is blissfully tourist-free and once again, something you wouldn't really know is there unless you'd been before, giving you another opportunity to impress your date with your insider tour of the city. It's an absolute must for any European Hinge matches in town for 48 hours, and (like every bar on this list, because I'm amazing), everything about the vibe just makes you feel sexy. Basically, it's the perfect place to split a bottle of champagne and fall in love with New York all over again.
For what it's worth, you should always remember that it's perfectly acceptable to fake a work emergency in response to a "where are we meeting" text until they take the hint and pick a place themselves. But since they'll probably pick a shitty sports bar that you judge so much you end up cancelling, I'd go ahead and just start suggesting these spots instead—even if the guy sucks, you're basically guaranteed to have a good night. Also, please do me a favor and coordinate what nights you go here; I'm not trying to find a new set of places where the bartender knows my name.
Images: Wine Dharma / Unsplash; Hudson Hotel, PHD Terrace New York / Instagram
Fun Things To Do In The Winter That Won't Make You Freeze Your Ass Off
Honestly, go you. You clicked on this article because you're not going to let those brutal NYC temps be your excuse to lay in bed all weekend. New York may be the greatest city in the actual world, but it's also cold as shit in the winter. And we both know that going to Coney Island, blacking out on a rooftop, or tanning/smoking in the park no longer sounds super enjoyable. Unless you're psycho. In that case, a cute winter date idea for you may be you and a therapist. Anyways, here are some awesome places where you and your bff of choice can talk shit, grow deeper in friendship, and totally take shots beforehand.
Painting is therapeutic af. And so is chilling with your favorite non-male. So what better to do on a freezing NYC night than chug sip wine while getting all artsy with your bff? Don't be scared if you're creatively challenged—there's a professional artist leading you step-by-step, so it's kind of impossible to fuck it up. Until the point when you're both drunk and you're trying to finish your masterpiece but can't really see clearly and then you add some weird-ass colors but it ends up looking fantastic anyway. But whatever, their wine selection rocks. And when you're done you can put your painting somewhere in your half-decorated apartment and make it less blah. Win-win!

The Museum At FIT
If there was ever a place we want to admit is more Instagrammable than our office, we would probably admit that it was the Museum at the Fashion Institute of Technology. Who isn't up for admiring the monumental fashions that historical betches have worn over time? Plus, you can totally get inspired for what to wear on your next night out and def go for drinks after when you realize you can't even remotely afford anything in the museum.

Rolf's German Restaurant
If you're feeling your *holiday spirit* self, you have to get dinner and drinks at Rolf's. During the holidays, they are so extra with their decorations. Like, chill? Kidding, it's the best type of extra there ever was. The place is covered in super dramatic garland, Christmas lights, and ornaments. Give your non-bff friends hella FOMO with your festive af Insta and Snap stories. Plus, the vanilla spiced eggnog gets you lit.

The Coziest NYC Bars For Blacking Out Until Spring Comes
Everyone knows getting through the winter in NYC is all about how much alcohol you can consume while still making everyone believe you're a functioning adult. It's hard to find cool cozy bars around the city, and if you're still hitting up SideBar three Saturdays per month, it's time to expand your horizons. Luckily for you, we've compiled our favorite speakeasies, bars, and lounges around the city that will make your winter dramatically better. Here are the coziest bars in different neighborhoods that will become your new favs.
Fig. 19, Lower East Side
Fig. 19 already earns the title of the coolest speakeasy in the city, because you can only access the bar through a secret entrance at the back of an art gallery. We can't make this shit up. Once you get through the gallery and find the bouncer, the bar lives up to the hype. Think Great Gatsby vibes with dim lighting, tons of candles, and amazing cocktails.

The Library Bar At The NoMad Hotel, NoMad
The Library at the NoMad is truly a dope experience. I mean, the bar literally looks like a secret dark library with sexy lighting and a twirling old school staircase. The seating is a combination of cool couches and regular tables, so it's perfect for going out with friends or on a date. Needless to say, every library you'll see afterwards will be a huge letdown.

The Wren, Bowery
The Wren is one of those places that can totally pull off calling itself a "pub" but still be classy enough to pull in its downtown crowd. They always have good music and they have a solid dinner menu too, if you must insist on having fries with your cocktail. The actual place looks like a cute little white house from the outside, and the interior is super vintage and cozy. Plus, their cocktails are seasonal, so you won't get bored going back more than once.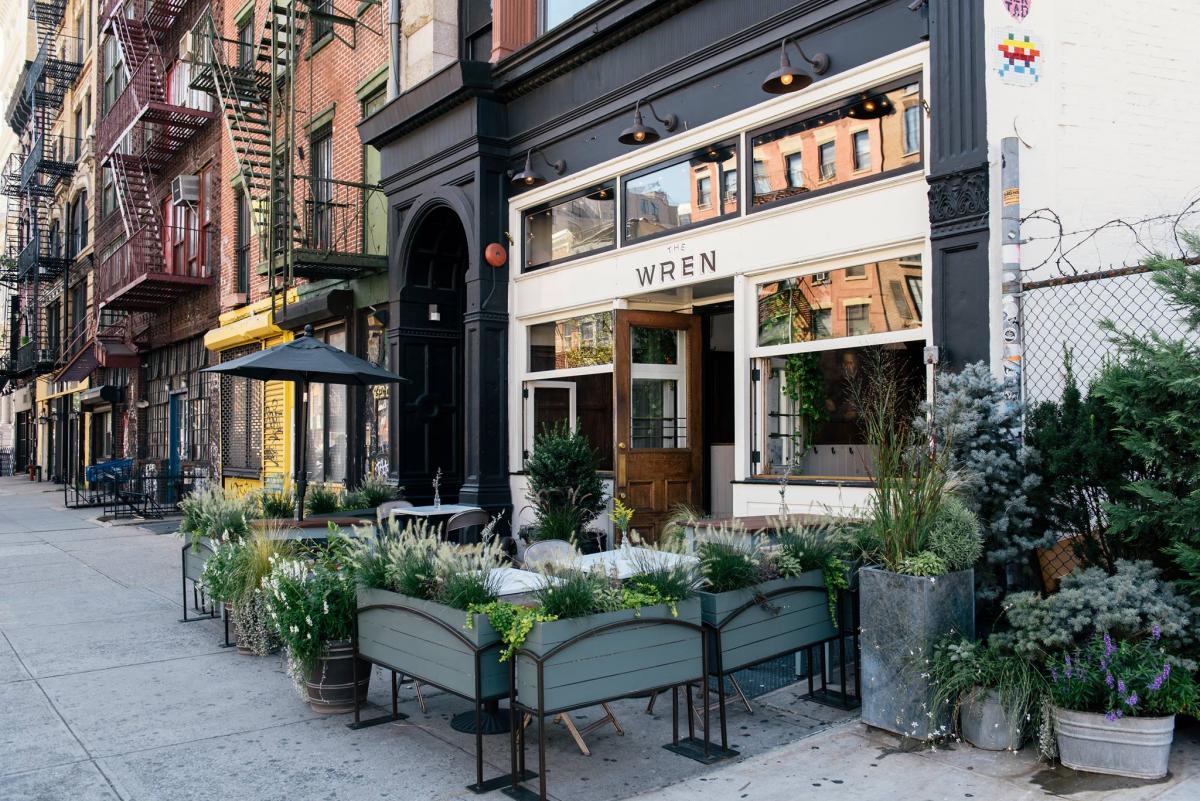 The Belfry, Union Square
This place is honestly smaller than my apartment, but any bar that serves all its drinks in mason jars and writes their menu on a Pinterest-esque chalkboard is worth a visit. The Belfry may not be as trendy as other bars in the area, but their drinks are low-key amazing and the vibe is so cute and retro. They're known for their local craft beers and pickleback shots, so you can bring any guy here and he'll love it too. They also play live music on the weekends, and it's usually decent.

Bar Centrale, Hell's Kitchen
Hell's Kitchen is a tragedy and we wouldn't recommend going out of your way for a bar on 46th street, but if you're in the area anyway and need a drink (for obvious reasons), Bar Centrale is the coziest bar ever. It's located in a vintage-looking brownstone so it's pretty hidden, and the inside of the bar is just as cute with its brown-brick walls and dark leather couches. Definitely a hidden gem.
Raines Law Room, Chelsea
This spot opened after Raines' original location at The William on 39th street, but obviously we'd rather get wasted in Chelsea than anywhere that close to Murray Hill. Raines Law Room has a small boutique vibe, and they totally kill the game with their old-timey candlesticks and fireplace. Keep in mind the space itself is small and v intimate, so if you're coming with a big group you probably won't get a seat. They take reservations from Sunday to Tuesday if you're looking for a buzz to get you through the week.

Manhattan Cricket Club, Upper West Side
This speakeasy is pretty much the only cool spot on the Upper West Side, so if you live in the area and have never been, we're sorry. You can find it by going upstairs in the restaurant Burke & Wills, and the whole lounge is totally cute and cricket-inspired. Think leather menus, marble counters, lots of gold accents, and really cool cocktails. It's also super dark inside, which makes it even more ideal for hiding out until the temp rises again in the spring.

5 Haunted Attractions That Are More Terrifying Than Asking "What Are We?"
I hate any time of year that brings temperatures below 70 degrees, tbh. The whole month of October is the only exception solely because the food is better, drinks are slightly stronger thanks to hard cider, and most importantly, it's fucking Halloween. This holiday isn't for everyone because some people are fucking lame don't enjoy dressing up for one night a year. I get it. For those of us who enjoy wearing lingerie in public, we appreciate the parties and all that goes bump in the night. And, I mean, as a betch living in NYC, anything that makes a sound in the middle of the night can truly be anything, some of which we're def better off not knowing. With less than two weeks before the shit show that is Halloweekend, what better way to get psyched than visiting the city's best haunted houses? Even if giving yourself a heart attack doesn't sound as exciting as rewatching Hocus Pocus, just think of all the possibilities that could happen if you dragged your Bumble boy to come with you.
It's NYC's most popular haunted house attraction, so chances are you already know this one exists. Located in downtown Manhattan on Varick St., the haunted house is a huge-ass warehouse with different rooms and corners designed to scare the shit out of you. Once you're inside, you'll be greeted with clowns, creepy girls with long hair, disfigured zombies, and like, other terrifying shit in darkness. The whole thing can last about 20 minutes, depending on how fast you can run out of there. Tickets start at $30, and since lines can get hella long, you can spend an extra $15 to cut everyone.

This is def one of the scariest of the bunch. This one-of-a-kind experience in Brooklyn is a combo of the "Escape Room" trend sprouting up all over the city and a real-life American Horror Story episode. It's noted that it's "not a haunted house," and that's because it's so much worse. Your ticket purchase begins with the narrative that you've been kidnapped alone and don't remember how or why. (Sounds like the intro sequence to every episode of Law & Order: SVU; I've been preparing my whole life for this.) When you arrive to the event, you watch the previous victims get tortured and it's up to you to figure out how to escape. I'll take a million rain checks, thanks. If you're into this sadistic kind of shit, ticket prices start at $95, and I'm calling the police.

So like, an "Escape Room" on too much crack to function is essentially what this is. Right in Long Island City, I Survived The Room is providing twisted, brave people (ahem, me) an opportunity to escape an asylum while handcuffed and you only have an hour to do so. Tickets start at $25.

I'll be honest. This one is in Long Island so it involves extra effort to get to, but that's what pregaming on the LIRR is for. The Chamber of Horrors consists of three different haunted houses, each with a bunch of strobe lights and other seizure-inducing effects, so beware. They have different options for entering each of their haunts, one being in complete darkness and the other allowing full-on contact. Yeah, fuck that, but if this is the slightest bit intriguing to you, tickets start at $30, or $40 to skip the long lines.

It's no surprise that there's a lot of creepy, haunted shit in New York City. I mean like, really-haunted-probably-on-Syfy type of shit. If you're a hardcore fan of Halloween and summoning spirits from the dead without the Ouija board you used in high school, consider attending any of these walking tours through some of the most haunted spots in the city. The tours are across most of the boroughs, highlighting the dark and disturbing history each spot has to offer. They promise (and guarantee) none of this is bullshit so, they're the real deal without reality TV cameras following them. Check out their calendar and select a two-hour tour with tickets starting at $25.