How Many Calories Your Favorite Workout Classes Actually Burn
Group workout classes are great. You're motivated by the overachieving people in the front row to work harder, but you also don't feel super sh*tty about yourself because there is usually someone who's just as lost as you. But even if you're not perfectly coordinated (me in dance cardio classes), you will likely still be dying at the end of a class, if you're doing it right. Obviously, not all workout classes are created equal, and some will burn more calories than others. So I did the research to find out if cycling is really kicking your butt, if CrossFit is really worth it, and more. Read on to find out how many calories workout classes burn. For reference purposes, I reported the number of calories burned for a woman who is 155 pounds. So your mileage may vary, but here's a good reference guide to the calories burned in your favorite group fitness classes.
HIIT

Also known as high-intensity interval training, HIIT classes involve lots of sweating, heavy breathing, and typically burpees. As the name implies, they are structured in intervals of high-intensity workouts. Typically, you push yourself to the maximum for 20 to 90 seconds before taking a short break and doing it all again. Due to the intensity of the workout (say "intensity" again), you can burn up to 900 calories in an hour. The harder you work, the more you'll burn. Either way, you'll for sure need a shower and nap after this workout.
Kickboxing

If you want a major confidence boost, take up kickboxing. This high-intensity workout will test your balance, endurance, strength, coordination, and flexibility. Not to mention, you'll feel like a total badass when you master a mean uppercut. A 155-pound woman could burn around 740 calories in an hour of kickboxing class. Speaking from experience, you'll work legit every muscle in your body, and I can guarantee you'll be so sore the next day. Have fun walking upstairs!
Cycling

Personally, cycling is my favorite workout. The high energy and fun music makes me forget about how much the instructor is kicking my ass. According to this calculator, you could burn 637 calories for a one-hour spin class working at mid-intensity (which means that you could still have a conversation). Personally, I can barely breathe midway through a spin class, let alone have a conversation, but sure.
CrossFit

Say what you want about the people who swear by it, but this workout is no joke, and you're able to burn almost 800 calories in an hour (so I guess those bros are doing something right). It's a high-intensity, constantly changing workout that involves exercises like push-ups, pull-ups, and squats. Honestly, I don't feel like I need to explain it further—if you want to know more just go up to the nearest person you know who does CrossFit and breathe in their direction and they'll tell you all about it.
Circuit Training

This workout may be hard, but it is never boring. It combines a variety of different exercises to work different muscle groups that you move through with a short or no break in between. Your heart will be racing basically as soon as you start. In a one-hour class (or workout you do yourself, which I'm v impressed you are motivated to do), you could burn up to 547 calories.
Hot Yoga

Well for starters, it's hot, which some people hate but I personally love. You sweat balls, which always makes me feel like I'm working 10 times harder that I probably am. The heat also helps you release toxins and loosens your muscles so you can have a deeper stretch. For an hour hot yoga session, you could burn up to 500 calories. You can also improve flexibility and reduce stress.
Barre

I don't think I've ever left a barre class when my legs don't feel like Jell-O. Even though I danced ridiculous hours as a child, these classes are very hard. In case you missed the trend, barre is a combination of ballet, yoga, and pilates poses and exercises to work muscles you never even knew you had (or at least, that's the case for myself).  You can burn more than 400 calories in an hour class and tone your muscles. These ballet-inspired classes will make you feel like a classy ballerina.
Images: Scott Webb/Unsplash; Giphy (7)
A Personal Trainer's Guide To Staying Fit While Traveling
If you guys have stuck to your resolution to stay fit/get healthy/tone up/etc. for THIS long… congratu-f*cking-lations. You've outdone probably 95% of the general population. I am here to help you stick to this resolution, because let's face it: you still have 10 months to go. While sticking to healthy habits get easier over time… life, like a horrendous mother-in-law, will always try to find ways to make things hard for you.
As a personal trainer, a lot of complaints I've heard from clients is they fall off track when they have to travel or circumstances come up where they can't stick to their normal routine. In the first few weeks, having a steady routine is key, but you're not a boring bitch. You're not under house arrest (I hope) and you deserve a little vacay, goddammit. So just because you're on a bomb body mission, I'm not gonna let you say no to these "business" (yea right, but I'll play along) trips or vacations just because we're trying to lose three pounds. Here are my tried-and-true tips for keeping your diet while you're on vacation.
1. Do Your Research
Does your hotel have a gym? Does your room have a fridge and microwave? What are some active tourist activities you can do? Look at the hotel restaurant menus, see what your best choices are. Google dining options nearby, and find a grocery store nearby to stock up on fruit/nuts/etc. (room service fruit is usually mediocre at best and ridiculously overpriced).
2. Pack Activewear

Always, always, always pack your gym clothes. This way you can't use the excuse that you didn't bring workout clothes or sneakers—and honestly, even if you don't end up hitting the gym (no judgements here), you can wear the clothes on a regular day or on a travel day. I can't tell you how many times gym clothes have come in handy for me on other non-gym related occasions.
3. Pack An At-Home Gym Kit
Bring booty bands, resistance bands (the ones with handles), gliders, and a jump rope. This way, you can fit in a workout in your hotel room. If you don't have gliders, you can use little hand towels, but if your hotel room is carpeted it's gonna be a little rough. I've done a full-blown hour-long circuit before (see below) with just these three equipments and body weight moves. Bringing your own equipment will also give you more exercise options in a sparse hotel gym.
4. Add Consistency When You Can

This is probably going to end up being diet related if you're traveling. Whether it's having the same breakfast or having a general theme to stick to for dinner (fish/seafood and greens is a great one), having some kind of consistency in your day-to-day will help you feel less stressed and frazzled when traveling.
5. Walk Where You Can
This is amazing for people visiting walk-friendly areas such as New York, Europe, and the UK. Cities that revolve around walking are amazing for helping you stay active while traveling. Soak in the sights and get those steps in. Many large cities in Europe will have guided walking tours, which are also great for safety reasons, so you're not just stranded in a f*cking foreign country.
6. Plan Active Activities
Of course this will depend on your trip destination, but if you can… take the workout outside! Plan a guided hike, a kayak adventure, ziplining, ATV riding, etc. it's a great way to make the most of your trip and also stay active.
7. Make Good Food Choices

If you're in an exotic location, food is a HUGE part of new cultures and new experiences. Try everything, but the keyword: TRY. That's like 3 bites. "Try" does not mean eat all of everything. If you're traveling domestic or the local cuisine is more been there, done that, I suggest customizing the f*ck out of your food. Be that girl. The "I'll have the sea bass, cooked in no butter and sauce on the side" girl. In fact, you should be that girl every time you eat out, travel or no travel. Restaurants don't care about your resolutions, so you just have to make it work for you. Trust me, they see crazy sh*t all the time, you being specific about your food is SO not a big deal. 3 main tips for eating out: skip the bread basket, salads always ordered with dressing on the side, and nothing fried.
8. Do This Full Body Circuit
1 min jump rope/jumping jacks
1 min high-knees
1 min plank walk out
1 min squats (booty band optional)
1 min side lunge (gliders and band optional)
1 min high plank hold with shoulder tap
1 min bicep curls (use bottles of water or a resistance band)
1 min tricep extensions
1 min burpees
1 min rest.
This is 10 minutes. Repeat as many times as you want.
Images: @CurtisMacNewton/Unsplash, Giphy (3).
3 Signs You Need A New Workout Routine
When you're already going to the trouble of working out, it can feel like unfathomable betrayal to hear that you should, in fact, be doing a completely different workout. Or at least, that's the logic I once used to justify doing nothing but yoga for six months, while slowly ceasing to fit into my pants. As someone who really wants to be fit but is decidedly not an athlete, I've spent a of time and energy on different gyms, classes, and even trainers and physical therapists over the years, trying to find the perfect workout that would turn me into a *fit person* once and for all. As all those professionals have explained to me repeatedly, not all workouts are created equal. What's more, switching up your workout routine has consistently proven to show better results. So, while I reluctantly follow this advice myself, here are my past trainers', physical therapists, and preferred internet authority's tips for knowing when it's time for a new workout routine.
1. You're Not Getting Sore Anymore
Sorry! But also, not really because you should know this. If a workout stops making you sore, it's not a sign that you have ascended to a new level of athleticism in which your muscles are no longer capable of strain. It does probably mean that you have strengthened the specific muscles involved in this particular workout (congrats!). But if you don't up the difficulty of the workout, or switch out the muscles you're working on, you won't keep seeing results. At best, you'll maintain the very specific strength you've gained. But even that isn't a guarantee, since you're continuing to do a workout that was appropriate (and difficult!) for you in a less fit state. Trainer Faheem Mujahid explains it as your body realizing "it doesn't need to expend as much energy anymore:" meaning you burn fewer calories, get less tired, and are less likely to feel sore. Time to level up, b*tch!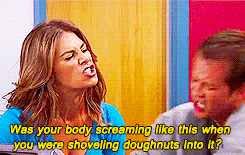 2. You're Getting *Too* Sore
The flip side of the whole soreness thing is that you have to be careful not to overdo it. There's a difference between it hurting when you laugh the day after an ab routine and needing to strap on a knee brace every time you leave the gym. Fitness instructor Trish DaCosta puts it plainly: "A reoccurring injury or too many injuries is often a sign we're doing too much of an exercise program." Pulled muscles, joint pain, or persistent aches are clear signs that your body needs a break. Injuries aside, extreme soreness—or persistent soreness in only a few, select places—also mean you should switch out your routine, or at least add some variety. Trainer Jessica Thiefels stresses the importance of making sure your body feels "balanced in strength," and adds that "working the same muscles, time and time again" is a bad idea. Muscles need rest periods in order to get stronger; so you're really just robbing yourself of #gainz if every day is focused on the same body part.
Obvs, if you're repeating the same workout over and over it's because you like it, and I get that it's tough to motivate yourself to make the switch. I once spent two weeks obsessed with barre and loving my life. Then I promptly re-pulled an old thigh injury, and my physical therapist at the time told me that barre was "the worst thing" I could do for my body.  The fact that I had just purchased both a "barre so hard" tank and a month-long barre studio membership apparently meant nothing to her. As much as I was dying to be a fancy barre girl, I had to accept that my body just wasn't built to benefit most from that particular workout.
Me to my useless barre studio membership: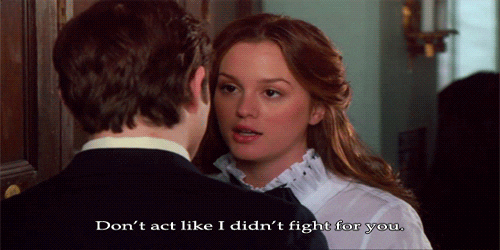 3. You're Not Getting The Results You Want
So, this goes back to my whole "only doing yoga" period in time—despite feeling like I was gaining weight, or at least sort of…spreading out. Before my yoga phase, I'd been getting most of my workouts in at the gym, where I lifted weights and ran intervals on the treadmill. Then, I moved to NYC and decided a gym was a luxury I could no longer afford. Even though I'd read countless times that yoga is not the most effective calorie-torching workout out there (particularly not when done for 15 minutes at a time in one's living room), I hated the idea that completing any workout wasn't enough for my stupid body. I felt more flexible and balanced for sure—but I felt like I was losing muscle, and my clothes weren't fitting as well.
The point here? Don't be like me! Yes, some exercise is better than no exercise at all. But that doesn't mean you can go on a jog and expect your triceps to be more defined after. DaCosta notes the importance of seeing "continued progress" from your workouts, which could come in any of the following forms: "more muscle definition, decreased body fat, more energy, stronger lifts, faster recovery times, weight loss, faster pace, etc." While yoga was pushing me on some of those fronts, it wasn't satisfying others. For a fully varied workout routine that pushes you on all these fronts, Mujahid recommends trying for a mix of "cardiovascular, strength, agility and flexibility sessions," making sure you're "hitting every muscle group" in a week's worth of workouts.
If that sounds totally unattainable to you (same girl), take some comfort in knowing a lot of these categories overlap. For example, a HIIT workout could be your lower body workout, and combines a cardiovascular and strength workout. Then you could work your upper body with yoga on alternate days, which would count as your agility and flexibility sessions. Throw in an ab day and you're done for the week. (And if that sounds like a month's worth of workouts to you, once again I say SAME GIRL. I'm just the messenger for what the pros are recommending.)
Me during my yoga phase:*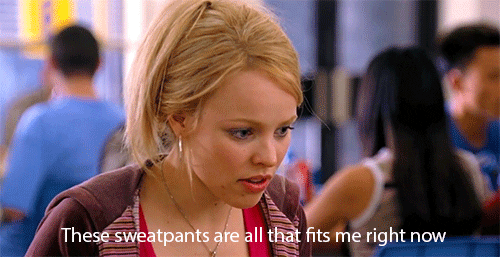 *To be clear, yoga absolutely can and does help people with all kinds of body goals. But my refusal to do any other workout meant I really hit a wall.
This article is not meant to shame anyone out of the workout routine that they're doing. Everyone who has broken a sweat (on purpose) in the past week: I am proud of you. But I also know firsthand how frustrating it can be to feel like you're making a huge effort and not getting anything for it. If anything, this article will hopefully inspire you to make a change and find the workout that leaves you sore, satisfied, and not feeling like you need a wheelchair. Everyone's body is different, and once you find the (healthily varied & not at all overwhelming) routine that works for you, working out will feel 1000% more worth it. I promise.
Images: Giphy (3); Pexels / bruce mars