9 Last-Minute Gifts For People Who Have Literally Everything
Is it just us, or can getting holiday presents for everyone on your list start to feel like a full-time job?
I mean, it's not like we're all sitting here taking meticulous notes all year about products that our fav people have their eye on, right? (If you are one of these people, please tell us all of your secrets).
And let's be real—we all have that one friend who mentions something they want, and next time you see them, welp—there it is. They're the type of person who has literally everything. Is there anything more frustrating than thinking you found the perfect gift just to find out they got it for themselves before you could even hit the "buy now" button? We think not.
Shopping for these people can be a tough task, which is why we've collected the best gifts to give for those hard-to-please people in your life. From unique experiences to little luxuries they wouldn't normally buy for themselves, trust us when we say there really is something for everyone here.
Give them a reason to stop scrolling and go smell the metaphorical flowers by gifting them a National Parks Pass. Nothing says, "You need to get outside" like a gift that will force them to spend some time in nature.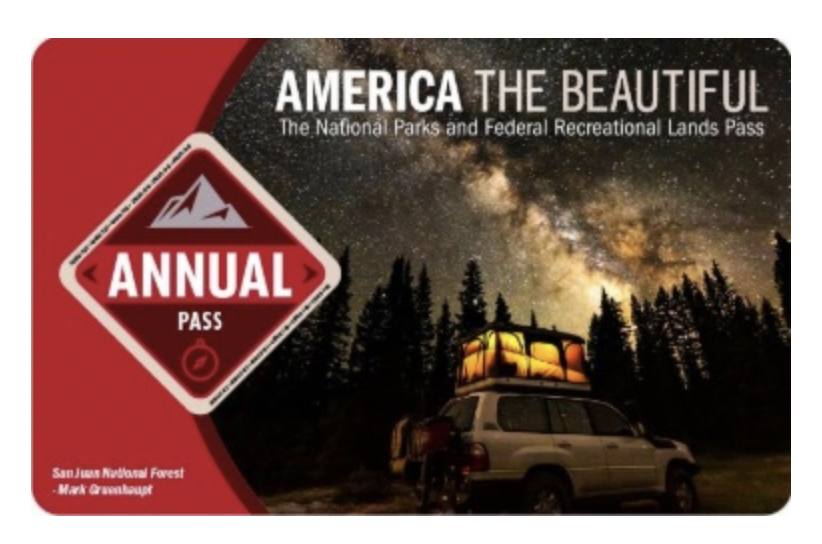 National Parks Annual Pass
USGS
That's nothing quite like the gift of competition. Bananagrams is a thought-provoking, anagram game that will get everyone gathered around a table for some quality time together. Albeit, we can't promise you won't get into a screaming match about if a word is real or not. You win some, you lose some, right?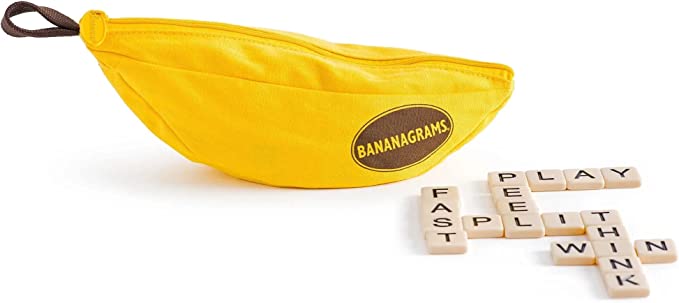 Cozy up together with the blanket of your literal dreams. We've never met a person who was upset with receiving a chic, comfy blanket, especially when it just so happens to be the Kardashians' favorite brand.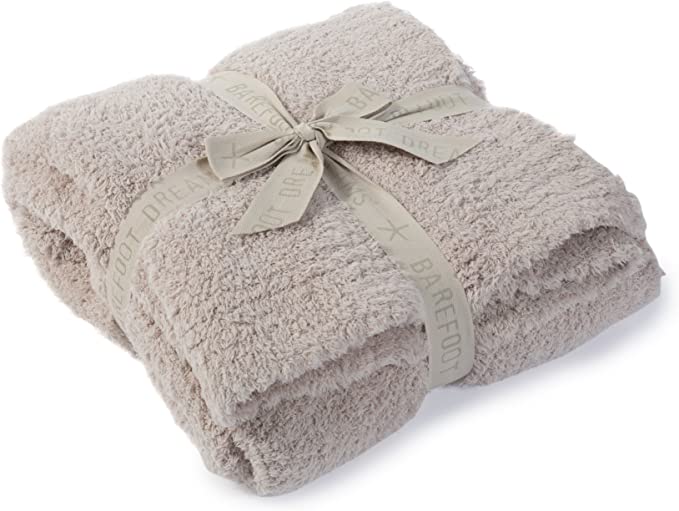 CozyChic Throw
Barefoot Dreams
Okay hear us out on this one—this flavored olive oil set is a little something special. Most people would probably never buy it for themselves since they likely only use flavored oils on certain cooking occasions… aka get this for them and have them make you a nice meal. Win-win.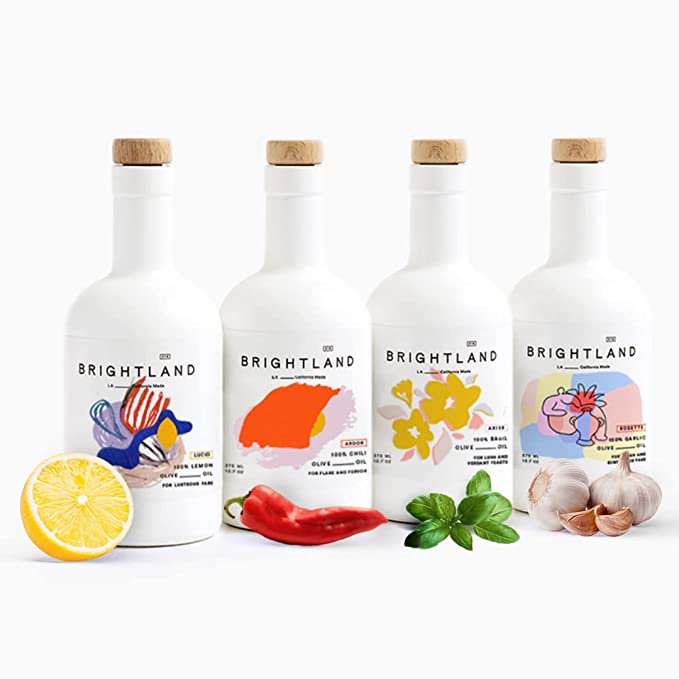 Olive Oil Set Infused with Garlic, Lemon, Basil, and Chili Peppers
Brightland
Truth be told, the holidays are stressful AF and we could all use a drink. Enter: these chic colored coupe glasses. They're chic, trendy and the perfect luxury to gift your bestie for a future wine night. Pro tip: assign everyone a color and you'll never get your drinks mixed up again. Probably.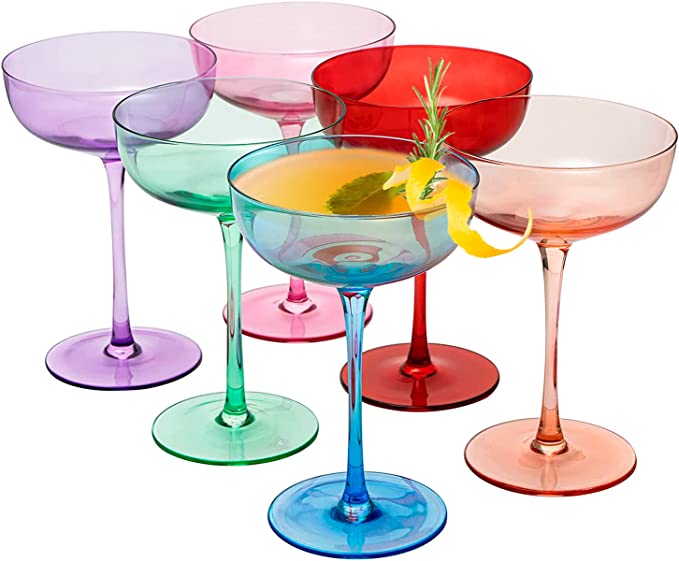 Colored Coupe Glasses
The Wine Savant
A custom photo puzzle will keep them busy during the strange abyss that is the week between Christmas and New Year's while also showing how thoughtful you are by displaying one of your favorite photos. Thank us later.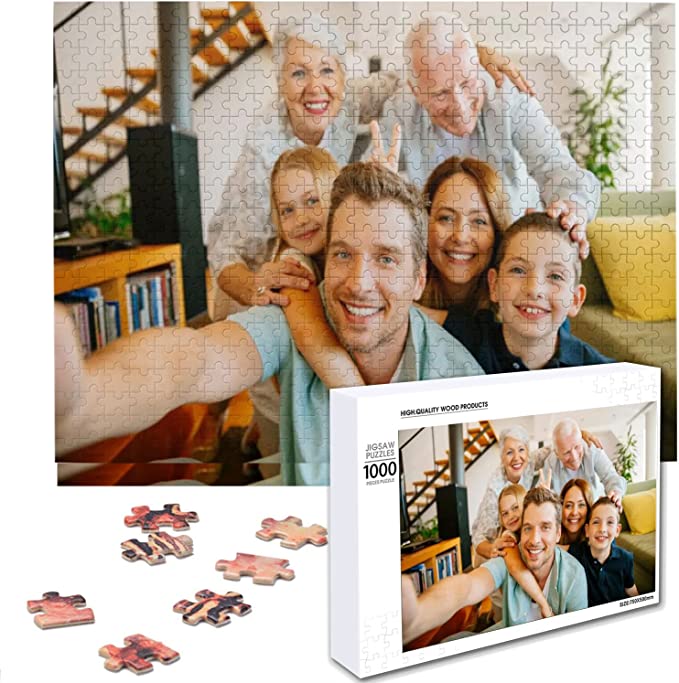 A wise woman once said you can never have too many candles, and who are we to doubt that as fact? Not only is this candle the best scent in the world (in our humble opinion), but the packaging is so gorgeous you hardly even need to wrap it. Throw a bow on it and you're good.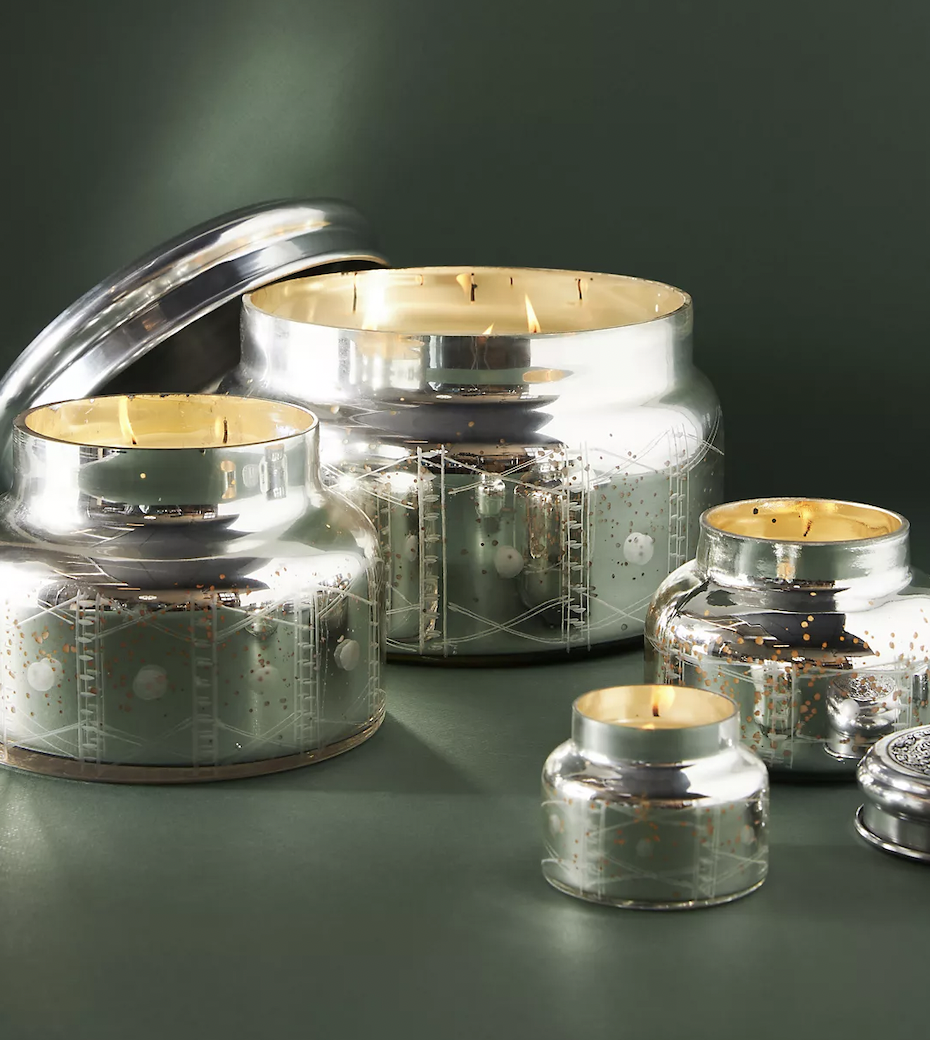 Volcano Mercury Glass Jar Candle
Capri Blue
Everyone loves chocolate. Need we say more?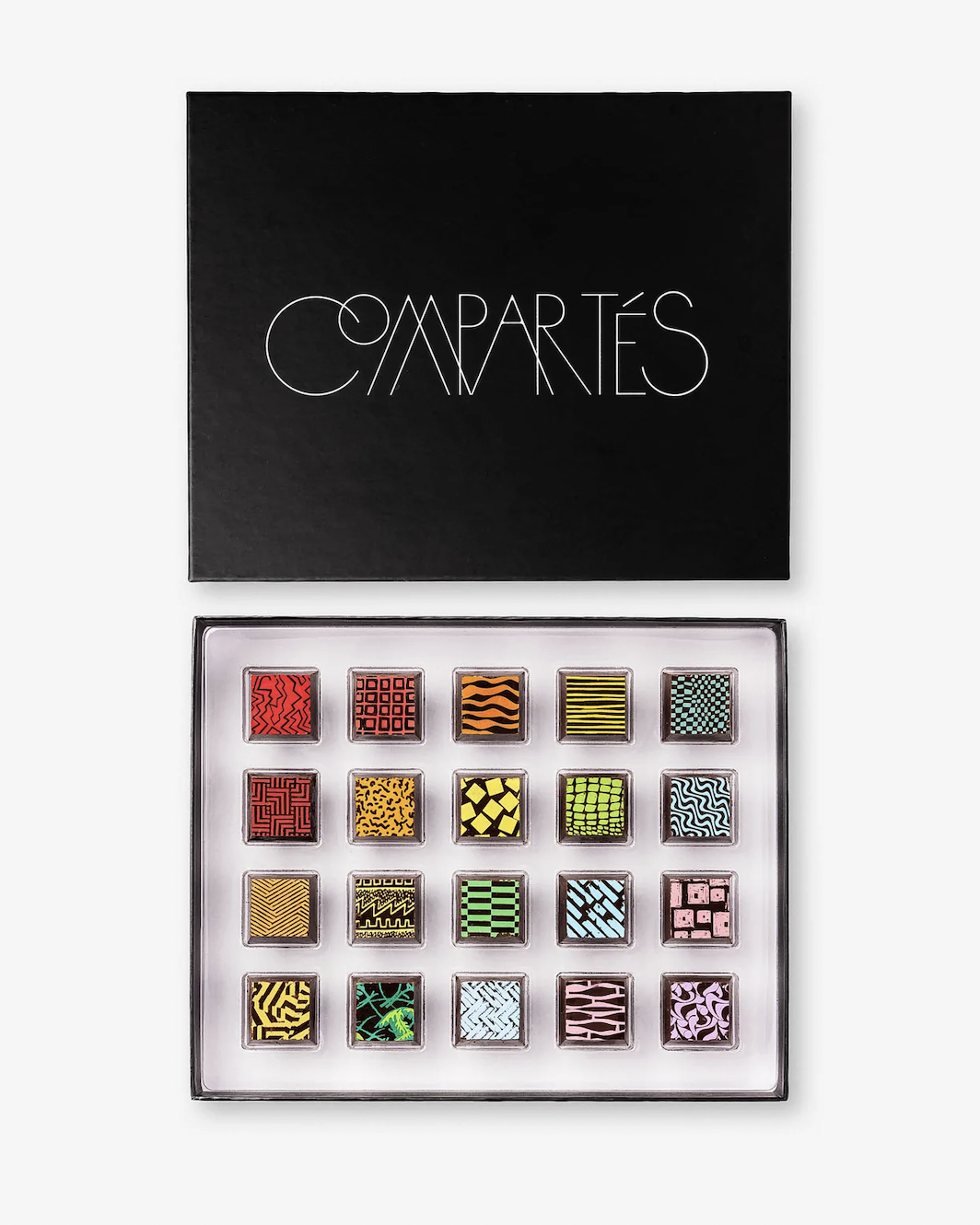 20 Piece Signature Truffles Gift Box
Compartés
Last but not least… If you're truly stuck, there's no better gift to give than to give. Pay it forward on their behalf and you'll stay on karma's nice list for another year.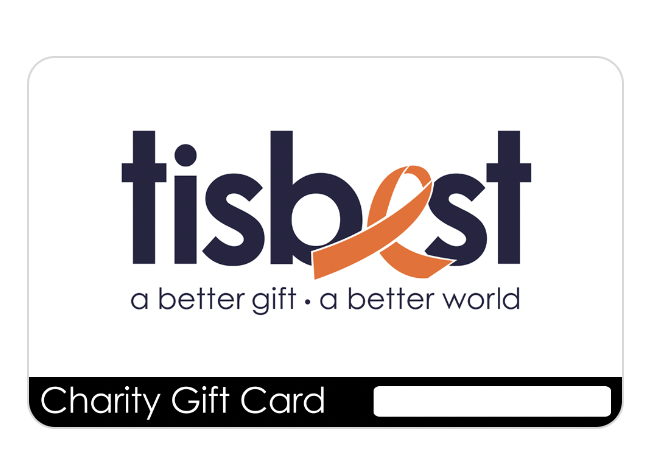 10 Beauty Products That Are On Sale Right Now That Will Sell Out Quickly
Betches may receive a portion of revenue if you click a link and purchase a product or service. The links are independently placed and do not influence editorial content.
If you've been looking for a sign to try out some of the most Internet-famous beauty products on the market, this is it. Amazon is running yet another sale so you can treat yourself to a little beauty haul before the holidays without feeling an ounce of guilt. It's called self-care, look it up.
I know what you're asking yourself now, "What's the catch?" Well there is none, except you need to get your shopping in before November 6th. Do deadlines give you the ick? Fear not and keep scrolling. As an early holiday gift, we've rounded up all the best beauty deals so you can spend more time doing the things that matter, like catching up on Taylor Swift's most recent album drop.
Gone are the days where you get a round brush stuck in your hair. This one-step hairdryer has become my new best friend for the perfect at-home blowout.

One-Step Volumizer PLUS 2.0 Hair Dryer and Hot Air Brush

Revlon
Just FYI, it IS possible to take the glowy makeup look a little too seriously. Don't fret, because we're obsessed with little device fits in your bag and will de-slick any oily situation.

Volcanic Reusable Facial Skincare Tool

Revlon
If you're still using your OG Naked Palette it might be time to trade it in for something new (and grab some eye cream while you're at it). This NYX Ultimate Eyeshadow Palette is the perfect for everyday use. 
As with anything in life, it's important to invest in basics. Words cannot explain how these brushes have changed by eyeshadow game for the better. Better yet? Get them now for 20% off.

Everyday Eye Essentials Makeup Brush Kit
Glazed donut nails at home? Sign me up! If you've been dying to try this trend but aren't sure which colors to get, this nail polish set is for you.

Nail Polish Glazed Donut Bundle

Essie
Who else can relate to the pain of having to wash your makeup off after a night out? It just feels like so much effort sometimes. Thankfully, the Makeup Eraser is on sale to help keep your skin clean with a minimal amount of effort.

Makeup Eraser

The Original Makeup Eraser
I don't think there's anything that makes you feel more like an adult than buying an electric toothbrush. You're one click away from being cavity-free, plus it's 35% off.
Speaking of clean teeth… This Prime Day best-seller is back. All I want for Christmas are sparkling white teeth—is that too much to ask?
We know TikTok is obsessed with the EltaMD Sunscreen, but have you tried their toner? This stuff is a triple threat with the benefits of repairing damaged skin, having a calming effect, and minimizing the risk of irritation.

Skin Recovery Essence Face Toner

EltaMD
What's better than treating yourself to flowers? Treating yourself to this English Rose-Infused Radiance Duo when it's 20% off, duh. This viral cleansing balm and matching facial oil is sure to make your skim calm & bright this holiday season.

English Rose-Infused Radiance Duo

Elemis
WTF To Get Them For The Holidays Based On How Long You've Been Together
Whether you're quarantine-casual or in it for the long haul, gift giving in a relationship is never an easy feat. But what should you do when your casual hookup happens to coincide with the holiday season? Do you get them a present? More importantly, are they getting you a present? The timeframe in which you have been hooking up can help decipher whether you need to bother buying them a gift or if sending nudes will suffice. I say whether you've been getting intimate for one month or for one year, if you're breaking social distancing for this person and a major holiday is approaching, gifts are kind of expected. 
Also, it should go without saying, but absolutely no one should take an agreed upon "no presents" rule seriously. Just buy a damn present. You don't have to empty out your savings account, but you should put a bow on something. If you're strapped for ideas, don't freak out, I got you. Consider this curated cheat sheet my gift to you. 
Dating: 1-2 Months


Breckenridge Seasonal Christmas Ale
Together for only a month or two? It's new and you're both having fun, so there's no need to overthink it. This early on you can probably get away with a few strategically placed bows on yourself and call it a night. If you want to go in a more tangible direction, then I recommend playing it safe with something edible, like cookies or a seasonal six-pack. You made an effort, it's on theme, and it doesn't send any overly serious signals. It's holiday cheers all around. 
Dating: 3-5 Months

Ripple Junction Grateful Dead Tour 74 Vintage Light Weight Crew T-Shirt

Fujifilm Instax Mini 11 Camera
You don't need to feel pressured to define the relationship, but you should probably be exchanging presents. In the early stages of dating, casually or exclusively, it's the thought that counts. If you're just hitting the three-month mark, take note of their Spotify roundup and go for a graphic tee of their favorite band. It's casual and shows that you're paying attention to their likes. Nearing closer to five months of being together? Then it's time to start documenting! What better way to capture proof of your relationship than with a Polaroid camera?
Dating: 6-9 Months

Crosley Voyager Bluetooth Record Player


Brookstone Frienship Lamp – Set Of Two
Hi. Sorry to break it to you, but this is not just a hookup anymore, you should probably reference an inside joke and hit a store. Another way to ease into the gift exchange is to choose an interactive gift, one that the two of you can enjoy together. Take your hookup playlist to the next level with a Bluetooth compatible record player. If you're feeling extra splurgy, you can even throw in their first record from their favorite band. If you're working with a long-distance situation, then go for what I'm dubbing the love lamps. A set of lamps—you keep one, your partner keeps the other—and when you tap your lamp, the matching one lights up. Easiest way to tell someone that they light up your lif—k sorry, I'll stop.
Dating: 1-2 Years

Herschel Supply Co. Duffle Bag

Alright, this has surpassed the hookup stage. This is full-on monogamy, so congratulations! And with commitment comes a higher level of gift giving. It's time to give a gift with some longevity. Gift them a duffle to tell them that you fully accept their baggage. For a hidden bonus, you can even slip in a future travel itinerary (pandemic permitting). Or what's a subtle way of telling your person that you're sick of them being late to everything? Get them a watch! It's sleek, thoughtful, and they'll never be able to tell you that they lost track of time again. 
Dating: 3-4+ Years


Safe to say that if it's gone on this long that this is a fairly serious commitment, which means that it's time to get thoughtful, and dish out some more dough. Welcome to the big leagues, kids. Handwrite a love letter, or transcribe your favorite DM, and print it on a blanket. It's a gift to show the grandkids one day. Or, on a not-so-sentimental track, if you can get your hands on a coveted PlayStation 5 Console, then you are guaranteed to be crowned partner of the year. It may not be super original, but I actually think it's illegal to not include a PS5 in a 2020 gift guide. Sorry, I don't make the rules. I recommend investing in two controllers, so you can at least both play. 
Remember, it's the thought that counts—and it counts even more when it comes with a gift receipt.
Betches may receive a portion of revenue if you click a link and purchase a product or service. The links are independently placed and do not influence editorial content.
8 Money Mistakes To Avoid This Holiday Shopping Season
HerCapital's mission is to empower women to invest in their future. Through virtual events and an online knowledge base, we hope to help women with money management all while building a community of strong women who lift each other up. Click here to check out our website and follow us on our Instagram @her.capital!
Ahh, the holidays. Michael Bublé on blast, holiday drinks at Starbucks, and Christmas party hookups (we're kidding, please stay in). The holidays will look pretty different this year with 'rona still rampant, but regardless of how you spend it, gift-giving with friends and family is probably still on your mind. Now, we know retail therapy is real, and let's just say 2020 is giving us even more reasons to want to fix our problems by buying things we don't need. But before you start maxing out your credit cards and landing in that pool of tears and regret (like you did after you drunk-texted your ex, oops), make sure you're not falling into one of the following traps this holiday shopping season.
View this post on Instagram
Mistake #1: Not Setting Your Budget Beforehand
Before you buy anything, be sure to get organized and craft your budget. Start planning out your holiday shopping by making a list of every single person you're planning on buying a gift for and how much you are willing to spend for each of them. Then remember to include white elephant gifts, potential travel expenses, or (virtual) office parties. And of course, smaller expenses like wrapping paper, shipping fees, and decorations. They're small, but they add up! Once you're done making your budget, stick to it! Impulse-buying is real, we get it, but you do not want to end up spending more than you can afford. This especially applies to people who recently entered the workforce and started making money. We know it's tempting to go all-out and splurge once that paycheck hits, but be sure to slow your roll and think savvy!
Mistake #2: Buying Gifts Last-Minute
Like that presentation you need to work on for tomorrow's meeting (we see you procrastinating on Betches, girl), you will not be on your A-game if you wait until the last minute. Retailers know that shopping tends to spike closer to the end of the holiday season, and they often raise prices because they know buyers will be willing to drop more. To make matters worse, if you don't shop ahead, many items may be out of stock or otherwise unavailable, which could lead you to settling with higher-priced alternatives. You don't want the stress of having to rush to finish up your holiday shopping. Start hunting down deals right now! (Bonus: It gives you an excuse to procrastinate at work, just saying.)
Mistake #3: Overspending On Credit
If you haven't started saving up for this holiday season, it might be tempting to just swipe your credit card and deal with the expenses later. But patience, young padawan. You do not want to end up drowning in exorbitantly high interest rates and fees or to ultimately take a hit to your credit score. It's noble and generous to give extravagant gifts, but do not jeopardize your financial health for the sake of it! Remember that handmade gifts and sentimentality (self-care craft night, anyone?) can be just as appreciated as store-bought gifts. If you do take on debt, set strict goals to pay it off by January or February of next year—do not let those interest rates accrue!
View this post on Instagram
Mistake #4: Splurging On "Great Deals" 
So you're perusing stores looking for gifts, and you see it. 50% off the MOST FETCH handbag you've ever seen. Or free shipping if you spend just $10 more. Or even 10% off if you apply for a store credit card. It always feels like an opportunity we just can't pass up! I get huge FOMO when shopping for deals, and we've all been guilty of spending extra when we really thought we were spending less. Retailers know how to take advantage of human psychology, and they push just the right buttons to make us buy things that we don't really need, or even want. So this holiday season, ask yourself if you would still buy the item if it was full-price, or if your money would be better served elsewhere. 
Mistake #5: Impulsive Buys
Now if you're like me (I have definitely bought a dress because yes, I totally saw myself wearing it while eating a pain au chocolat in a cafe by the Eiffel Tower like Emily), you have also totally shoved that dress in the back of your closet, only to collect dust. Impulse-buying because we think we need the item makes us vulnerable to overspending and maxing out on our holiday budget. Stick to the 7-day rule: if you like something, think about it over the course of the week, and then act on it! You will be surprised to see how much your opinion can change when you're out of the spending mindset.
Mistake #6: Sh*tty Gift-Giving Strategies
Like any good investment (read more on investing here), the best gifts aren't necessarily the expensive ones—they're the ones with high value. Before you buy a gift for someone, ask yourself: is this something they need and will use daily, or will it just end up being re-gifted? Have you taken a look at their Pinterest boards, or any of their wishlists? The best gifts are useful and high-quality; think tickets to an art museum your BFF is dying to go to (after COVID ofc!), or a standing desk extension for WFH. And also, if you are tight on cash this holiday season, consider doing a gift exchange with family, setting maximums for gift exchanges, or just planning a virtual get-together instead. Normalize that money talk!
View this post on Instagram
Mistake #7: Not Shopping Savvy
As you're shopping for gifts, don't take prices at face value; do your research and compare prices across retailers. Now more than ever, it's easy to automate your deal shopping by adding a couple of browser extensions like Honey or Rakuten. Like any potential cuffing season bf/gf, be sure to shop around and compare prices before you commit! Don't leave money on the table.
View this post on Instagram
Mistake #8: Not Planning For Next Year
If you're like me and are just waiting for 2020 to be f*cking over, start off next year on the right foot by determining how much you will need for gifts the next holiday season. Establish a small fund early on and divide it into months, so it's easier to manage. It's also worthwhile to throw that moola into a high-yield savings account or a brokerage account early to earn some bank without breaking a sweat! 
View this post on Instagram
And that's it! Best of luck with the holidays! We hope it's not too stressful. If you want more tips like these, comment below, check out our website here, and follow us on Instagram @her.capital!
Images: Ben White / Unsplash; @her.capital / Instagram
The Betches 2019 Gift Guide: Under $50
If the proliferation of Christmas music through my eardrums is any indication, it's holiday season. That means it's the one time of year when you have to think about other people and not just yourself (bummer). However, as a conceited person, I'll say that there is no rush quite like the influx of praise you receive from buying someone the perfect gift. But that is hard to do, so I've rounded up some gifts that will get you those compliments you so badly need, organized by price point. Whether you're ballin' on a budget or straight ballin' you can find something on this list.
All of these items are under $50, so they're perfect for the person you like, but not too much. If you're looking for something more luxe, check out our other 2019 Gift Guides for items from $50-150, and over $150.
$25 & Under:

Scrunchies, like everything else that was popular in the 90s, are back in style. But since spending more than, like, $10 on a single scrunchie just feels wrong, you can get this entire set of eight for that much money. There's a velvet one, a sequined one, a silky looking one… basically, a scrunchie for every outfit.

This $22 value is only $12, which is basically free. Murad's Hydro-Dynamic Ultimate Moisture cream is what all our crusty winter skin needs, and the bright shiny ornament-like packaging is so festive.

I've used these wipes while traveling and after workout classes, and they are an actual life-saver. The travel kit gives you either full or mini sizes of their Face 201: Bacteria Fighting Wipes, Body 101: Deodorant Wipes (aluminum-free), and Body 301: Aloe Wipes. These are ideal to use in a pinch if you're kinda gross but can't shower (i.e. just left a fitness class or just got off a plane). Though they don't come in this pack, the hair wipes are also amazing because they get all the sweat out of your hair, and the face wipes are also super convenient.

Okay, you know this is hilarious, but unlike a throwaway gag gift, this sleep mask is actually useful. Described as "a mini pillow for eyes" by an actual review, our eye mask will help you block out the bullsh*t… and by bullsh*t, I mean light.

When you don't know what to get someone for the holidays, get them some fun earmuffs like these ones from Aerie. No matter who you are, what you look like, what you believe in, we all get cold ears in the winter time. I love the hot pink ones because they're obnoxious, and the headband part is sparkly, which is perfectly festive.

This is actually the cutest stocking stuffer. This little ornament contains pH-color-changing rosé glimmer balm that automatically adapts to the perfect color for you based on your pH. Plus the ornament doubles as a carrying case.

You love listening to Jared and Jordana play Red Flag or Deal Breaker on the U Up? Podcast, now take the fun home with you with our original card game. Whether you're having a girls' night in or need a game to liven up your summer share house, these cards are the perfect way to figure out just how low your group's dating standards are. The game comes with 52 red flag/deal breaker cards, plus a card holder.

Who doesn't need glitter right before holiday party SZN and NYE? Free People just launched a mineral-based shimmer formula that provides subtle, buildable, natural-looking sheen that can be used anywhere on the body. For your clean beauty betches, it's free of parabens, silicones, phthalates, synthetic colorants and synthetic fragrances—and the packaging uses no plastic. It comes in four shades: gold, rose quartz, opal, and amethyst. 

With locations from Georgia to Colorado to New York, and many more, bartaco is a coastal inspired taco eatery that is literally popping up everywhere. If you don't have a location nearby, you can still take the bartaco taste home with their trio of three signature hot sauces. The 3-pack includes Habanero, Jalapeño, and Roja. 

If you want to give someone the gift of an influencer-worthy unboxing, pick up the ROUTEINE KIT, because the packaging is seriously so cute I didn't want to throw out the box. This $70 value will only cost you about a third of that, and it contains THE EVERYTHING DAY and NIGHT, skin "multitaskers" that boast anti-aging, firming, moisture, and more; THE GOLDEN RULE retinoid; and THE GIRLFRIEND primer.
$26-$50

If you've ever needed a blade, or scissors, or a nail file, and not had one, then you know how useful having a Swiss Army knife is. This little one comes with all that plus a few other extras, and they have cute patterns inspired by food. So really, what's not to love?

Okay, so like, it might feel kind of shady to give someone a gift that implies, "your under-eyes are super dark and puffy!" However, these are so cute and these eye masks are all over Instagram, so I think you can get away with it. These energizing eye masks contain collagen, vitamin C, and everyone's favorite skincare ingredient, hyaluronic acid. They come in a pack of 12 or 24, so it's worth the price tag. Plus, this gift gives you and whoever you give it to an excuse to have a + face masks night.

For the serious insomniac in your life (hi), it's time to pull out the big guns with this weighted sleep mask that contains a half pound of evenly distributed weighted beads, an adjustable velcro strap, and premium fleece to get your ass to sleep.

Hot girl summer was exhausting, and I don't know about you, but I'm positively excited to settle into cold girl winter. All it means is I don't leave my apartment and just sit with this lavender scented candle all day and night. 

If you're tired of Cards Against Humanity, try Off Topic. Basically, you draw a card to determine the topic, then roll the die to determine the letter all your answers have to start with. Once you flip over the hourglass, everyone has to race to write down as many answers under the designated topic that start with the designated letter. Then you get to defend your questionable answers to everyone else playing the game. 

Do you have a friend with tired, dry hair? Weird flex, but ok. This elixir that works either as a leave-in treatment or finishing oil comes in the cutest little flask, and I'm a sucker for cute packaging. Especially if that packaging could be reused to sneak alcohol into the club… 

So, these candles are a little out-there but I think they're so fun. Basically, it starts out as a cute geometric animal candle, but then when you burn it, it reveals a metal skeleton. I feel like we all have that friend who is still obsessed with Tim Burton and used to love Hot Topic back in the day, and I have a feeling that friend will appreciate this candle.

Robyn Blair Davidson has become a big deal for turning her candy obsession into literal art. So, following that logic, her prints (a collab with Dormify) are the ideal gift for anyone with a sweet tooth who needs to liven up their walls a little bit. 

I have a Sonix portable charger and always get so many compliments when I whip it out. They have way cuter ones than just the standard black boxy thing everyone else has, and still provide an extra 16 hours of battery life for all your iPhones.

This kit contains a cannabis facial moisturizer, cannabis cleansing foam, and scrunchie. But don't get too excited… the products do not contain CBD or THC—just cannabis sativa seed oil. Still, it makes for a cute gift for your stoner friend who you don't want to just gift a dime bag for Christmas.

Don't let the size fool you—this little guy can pack some serious sound. (Sorry you can't say the same about…. Well, nvm, you know where I was going with that). But since it's still small, it's easy to carry around and bring to your friend's house party, the beach, or wherever you're going.

Forget about the Disney Vault, it's all about the Moroccanoil Beauty Vault. This limited-edition set, first of all, looks luxe as hell, and it also contains seven of Moroccanoil's best-selling hair and body products, in perfectly convenient travel-size versions. TSA can't tell you nothin'.

Under $50 for a pair of legit, not-paper-thin leggings sounds too good to be true, but it's real. I personally love a high-waisted legging, and these fit really well. As in, they won't be falling down but you won't have your breathing cut off either. Their sports bras also fit well and provide good support (I have this one and it's great). It's a holiday miracle!

I am not a gin person, so I am judging a bottle by its cover here. But, like, that black bottle is so chic. This gin has the classic gin flavor of juniper berries, plus notes of hand-picked Indian botanicals, like coriander and vetiver. Look, if you can actually taste those notes, more power to you. All I taste is my impending inebriation.
Betches may receive a portion of revenue if you click a link and purchase a product or service. The links are independently placed and do not influence editorial content.
Ulta's Holiday Beauty Blitz Is Giving You Half Off Your Fave Brands This Week
This is like those chocolate advent calendars your grandma used to get you when you were like, five years old, but only a million times better. Ulta, the less hot expensive version of Sephora, is always known for having amazing deals where the shit is so cheap, it's basically free. While we'd expect nothing less this holiday season, they have truly outdone themselves with this crazy good month-long sale. If you thought their 21 Days of Beauty was good, you'll def go broke after hearing about this one. In the 25 days leading up to Christmas, Ulta launched their Ulta's Holiday Beauty Blitz which features a different deal every day. Not just any deal, more like an insane deal that takes up to 50 percent off of beauty brands we're obsessed with for just one day. I'm talking Anastasia Beverly Hills, Bare Minerals, Urban Decay, and obvs so much more.

You'll have to check their site every five days to get a preview of the upcoming deals that week so you can beat out the other basic bitches. Not only are these deals unheard of, but they're also valid online and in-stores so you can do holiday shopping (and grab some shit for yourself) regardless of where you are. I've already started my cart for this week, so here are this week's deals you should start saving your direct deposit for before they sell out.
Too Faced's bestselling lip gloss gives you Kylie-looking lips, but without the fillers. Each flirty shade is full of avocado and jojoba oils to give you thick, soft, hydrated lips that last all day long. Layer with your fave lipstick for triple the amount of "Wya" Snapchats from your latest fuckboy.

The limited edition set comes with a full size They're Real! Lengthening Mascara in black (bless), as well as a mini They're Real! Push-Up Eye Liner in black and They're Real! Remover. The 3-in-1 set is all you need for hella long lashes, killer winged liner, and easy removal when you're too tired to wash your face. Believe me, we've all been there.

Bare Minerals is one of the few brands that actually promises what it delivers, so whenever there's a deal on their makeup, I go fucking nuts. The concealer is so light you'll forget you're wearing any at all; it instantly rids you of annoying breakouts and redness; and it protects against cancer-causing UV rays. The blend-ability is also like, v amazing, so you'll have no problem mixing with any foundation or wearing alone.

What originally started as the eyeshadow everyone had to have has now become a fave highlighter, lipstick, and all-over illuminating powder. Each lightweight baked powder comes with reflective particles so you shine like a fucking diamond 24/7. Whether it's for the perfect contour, fake cleavage, or "toned" legs, it'll give just the right amount of long-lasting shine. Prolong the wear with your setting spray, or mix with a lotion for less of a glitter fiasco.

The bent wand to this mascara may look kinda fucked up, but it's worth it because it emphasizes length, lift, and volume. The fab formula makes it easier to reach even the smallest lashes for maximum length. Covered in the blackest black you could ask for, each lash will be conditioned in rose-infused stuff that prevents flaking and smudging throughout the day. So like, it's literally the best mascara you've probs been searching your whole life for.

Images: Jazmin Quaynor / Unsplash; Giphy; Ulta (5)