The Betches' Bachelorette Guide To Las Vegas
Planning sucks, and bachelorette parties are a ton of work. So we're taking all the guesswork out of planning a bachelorette party by breaking down top bachelorette destinations. Our guides will tell you where to stay, eat, party, how to get around, and give you a sample itinerary that you can follow. You're welcome.
Las Vegas is synonymous with bachelorette parties, so it only makes sense that this is our first of many bachelorette party guides. No one goes to Sin City to relax so this itinerary is for the girls who like to party all day and night only to pass out go to sleep and do it all over again the next day. The Vegas strip offers four miles of nonstop partying options, which is probably why so many people flock to the city to pregame their nuptials. But in a city with so many options, how TF do you know what to do to maximize your time? No need to reach for your essential oils—we got you. Here is your official Betches Bachelorette Guide to Las Vegas.
Where To Stay: The Cosmopolitan
View this post on Instagram
When it comes to lodging in Vegas, you'll want to consider a few factors: where to get the best bang for your buck, where to find the most ideal sleeping arrangements, and where you can get f*cked up create memories that will last a lifetime. You're definitely going to want to stay at a hotel that has both a day club and night club as well as one that has a ton of restaurant and bar options. This will just makes your life that much easier, and the chance of getting lost coming home at 5am that much smaller.
The Cosmopolitan is my go-to spot for staying in Vegas for a variety of reasons. The Cosmo is considered one of the smaller hotels, which is crazy to even fathom considering it has two towers of hotel rooms, a huge casino, over 25 food establishments, a spa, a night club, and a day club. But size does matter because the layouts of these hotels is extremely confusing and since you'll only be there for a short time, you don't want to waste time walking in circles when you have a pool party to get to. Plus you won't have to deal with flocks of tourists that are spending the day aimlessly shopping while you're just trying to find the nearest exit.
The suite options at The Cosmo are essentially created for large parties, specifically the Wraparound Terrace Suite. The suite can also connect to the room next door, allowing your entire group to share accommodations without being squished. The Terrace Suite's balcony doors open to a huge terrace that offers insane views of the Vegas skyline—the perfect place for all your Instagram photos-to-be.
How To Get There
Unless you live in Los Angeles the thought of driving to Vegas will never cross your mind. But lucky for you there are a ton of direct fights from the east coast that will cost you around $500. $500?! Yup… we would say this is the average cost for what a bachelorette flight will cost someone, however there are a few ways to make paying for this less painful.
Download the Hopper app that lets you track flight prices for dates of your choosing. The app will send updates right to your phone when flight prices start to fluctuate and when the optimal time is to book is. The other way to soften the blow of this financial burden is to pay with credit card points. Literally put anything and everything on your credit card to get as many points as possible in anticipation of your trip. Most cards offer double points for travel and dining so get ready to justify those excessive Uber rides and weekday Seamless orders.
How To Get Around
We highly encourage you to take full advantage of the limos and party buses that wait outside the hotels at night and during the day. For roughly $10/person, you can get into the party vibe and IG story the experience and really rub it in the face's of those who didn't make the cut to join the trip.
We definitely do not suggest walking home unless the last stop of your night happens to be within your hotel. Uber is plentiful in Vegas and a majority of hotels have designated Uber/Lyft pick up areas, making it really easy to get from point A to point B. Even if it says its a 10 minute walk to your hotel, err on the side of caution and request a car. Plus, your feet are going to be on fire from wearing heels all night.
Where To Eat

If there's anything more plentiful than nightclubs in this city, it's got to be restaurants. Since people will be suffering at varying degrees of hungoverness, we suggest just finding someplace low-key in your hotel for breakfast, with the exception being the buffet at the Wynn. This $32 all-you-can eat option was voted best Vegas buffet, and with damn good reason. Soak up all the alcohol with more than 120 dishes and 15 live-action cooking stations.
Vegas is meant for group dinners, with endless options scattered throughout the strip. Since ordering à la carte can get pricey, we suggest setting up a prix-fix menu option in advance so your friends know upfront what they're expected to pay. We suggest picking a restaurant within the hotel that you plan on going out at. For example, if you're heading to Marquee, then opt for dinner at STK. Plus, these restaurants are well aware bachelorettes are in town and will offer customizable options like putting the bride's name on the menu for no additional cost. Some of our fav nighttime spots include: Beauty & Essex, Sage, SUSHISAMBA, and Hakkasan Restaurant.
Where To Party

While there are tons of pool party options in Las Vegas, three remain at the top when compared to the rest: Marquee Day Club, Encore Beach Club, and Wet Republic. But which pool to go to on which day? DJs like The Chainsmokers, Tiësto, and Calvin Harris will be taking the stage, so make sure to check the events calendar on each club's website a couple months before your trip and decide from there.
Promoters are prevalent in Vegas and are highly recommended since working with them will basically alleviate any financial burden of going out. (It's how we make up for the pay gap, ladies.) Here's how to find a promoter: literally go to the explore page of Instagram and type in "Vegas Promoter". You will be greeted with 100+ options of people to choose from. Some are more legit than others, so sift through and find the one who's working the parties you want to attend. Look at for people who have some semblance of a social life mixed into their promotional materials. From there start sliding into their DMs—we promise this isn't weird.

Also, you'll start to notice the second you post a picture on IG in Vegas, the promoters will come and find you. Seriously—they check geotags and find people they can work with to get into their partner venues. And don't be too alarmed if they request pictures of the girls in your parties—that happens and is definitely off-putting, but it's not like, a sign you should call the cops. If you're not feeling that vibe, just find another promoter. TAKE ADVANTAGE!! Proof below:



The benefit of working with a day promoter in Vegas is that they also work night parties. The lines get crazy regardless if you bought a ticket for that night, so having someone who works with the venue is always helpful. Unlike in other cities, the venues in Vegas encourage the use of promoters because they help fill their clubs with girls. Once you meet up with your promoter in the lobby of the hotel, they will escort you to a designated table area with varying degrees of comped service. Yes, really. You're welcome.
Nighttime Entertainment
If you're looking to entertain yourselves in ways  that don't involve getting completely obliterated, congrats on being a better person than me Vegas offers a ton of nighttime live entertainment options. Rose Rabbit Lie and Spiegelworld are two interactive shows at The Cosmopolitan that mix fantasy and reality in a slightly more refined atmosphere. So if you aren't into getting pushed around a club fighting to get a blurry picture of Calvin Harris, we suggest opting for a show. Plus some of our fave artists are known for their Vegas residencies like The Backstreet Boys, Christina Aguilera, Lady Gaga, and Gwen Stefani.
But if you're still unsure of exactly what to do and when to do it, here is our Betches approved itinerary for your partying pleasure.
Thursday, Day 1:
Pro Tip: If you're traveling from the east coast, take advantage of the time difference and aim to arrive as early as possible to allow for an entire day of debauchery
Check into the hotel, unpack, and claim your bed
Change as fast as humanly possible into your bathing suits, rip a few shots in the room, then hit a pool party stat (Marquee, Encore Beach Club, or Wet Republic depending on which DJ you like that's playing that day)
NAP!!!!!! Even if you "don't nap", lay your ass in bed and attempt to relax for AT LEAST an hour and a half. You'll thank us later when your friends want to go out after dinner.
Head to dinner at TAO in The Venetian Hotel
Either get tickets to see a live show or hit up Hakkasan Nightclub for the Tiësto residency
Friday, Day 2:
Pro Tip: Slow and steady wins the race halfway through a Vegas bender. Listen to your body and don't force yourself to do something you're not feeling. After all, if you're heading to Vegas any time soon, temperatures are well above 85 degrees, and dehydration will knock you out.
Sleep in and grab breakfast casually somewhere in the hotel
Lay out at the hotel's chill pool (yes, there are raging pool parties and relaxing pools—take advantage and rest halfway through your trip)
Get dressed up and head to dinner at Sushi Roku, a trendy sushi spot with awesome views of the Strip in Caesar's Palace
Check out Calvin Harris' residency at Omnia Nightclub (also located in Caesar's Palace)
Saturday, Day 3:
Pro Tip: Food is your friend; you're likely hungover and are going to need sustenance to soak up that alcohol. Plus, you're going to need to fill up before your last pool party and night out!
Indulge in the famous breakfast buffet at The Wynn
Pick a pool from Marquee, Encore Beach Club, or Wet Republic that you haven't gone to yet
TAKE A NAP!!!!!!
Head to STK for your last dinner out
End your epic weekend at XS Nightclub that has DJs like Steve Angello, Diplo, Alesso and Drake performing on a frequent basis
Sunday, Day 4:
GET THE F*CK HOME WHERE YOU BELONG!!!
UPDATED: Ariana Grande's New Tattoo Proves She's All Of Us
Stars—they're… not like us at all, actually. They're wealthier, better looking, and (sometimes) more talented at multiple things than most of us are at any one thing. That makes the temptation to relate to them both baffling and sensible at the same time. On the one hand, they're impossible to relate to, but on the other hand, what fun is it to try to connect with someone who's already like you? Yes Allisyn, it's very cool that you're trying intermittent fasting for the fourth time, but I'm more interested in Cardi B's new Lamborghini. But if Ariana Grande's new tattoo is any indication, sometimes it's indeed possible for a celebrity to fall ass-backwards into relatability.
As you may be aware, Ari's latest song is "7 Rings," a tune about how Ariana and her friends are the last people on Earth to actually shop in physical brick and mortar stores. It's become a minor hit, because who the hell knew that getting involved with one of the least-used players on an SNL cast full of not useful people was the ticket to having everything you touch (or sing) turn to gold? And because everything 1998 is new again, the almost-Mrs. Davidson decided it would be rad as hell to include some Asian characters in the graphics. In this case, the characters were Japanese, as seen in the video: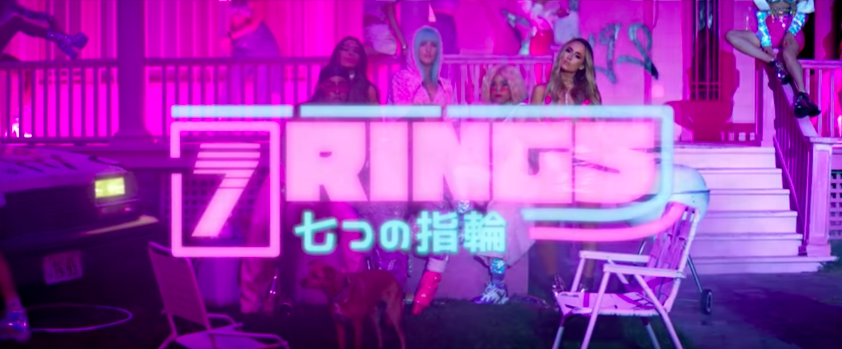 Cool, cool. It checks out, those characters translate to "7 rings" in Japanese. Not sure why she's going all Gwen Stefani here, but there's a reason she's a famous singer and I'm not. Things got less cool, however, when Ari decided to celebrate the song's success by getting a tattoo (an idea that's never backfired on her in the past). In what I'm interpreting as a testament to how difficult it is for an artist to make money in the modern streaming economy, Ariana Grande's new tattoo cuts a few corners, opting to only ink the Japanese characters for "7" and "wheels," i.e., rings:
【Instagramより】
アリアナがまた日本語のタトゥーを追加!今度はなんと漢字で「七輪」????
「みんなこれは私の手じゃないって思っているみたいだけど、本当に私の手よ????」とコメントしています。
「七つの指輪」を略して「七輪」かな????????とても気に入っているよう????#アリアナ pic.twitter.com/wR55jgu7FU

— アリアナ・グランデ JP公式 (@ariana_japan) January 30, 2019

While that's all well and good, there's one teensy problem: it doesn't mean what she thinks it means. According to Kotaku (a site for nerds), while those characters do mean "7" and "wheels" separately, when you put together they mean something else entirely: "shichirin," or a small charcoal grill used in Japanese BBQ.  That's literally it—it's a simple clay or metal pot with a little steel grate over it for cooking (you can get a little crappy one on Amazon for $13 if you're already planning this year's ironic Halloween costume).
アリアナが七輪のタトゥー入れてる笑 pic.twitter.com/9Jj4Fs2hIE

— at (@aoi80550747) January 30, 2019
UPDATE: Ari has pulled off the rare and coveted double tattoo screw-up. On the advice of her Japanese tutor (something she definitely does not have), she added the character for "finger" (and a heart, for some reason). The only tiny problem is that she didn't put it where the tutor told her to put it, so her tattoo is still nonsense. It now means something like "Japanese BBQ finger." So she now LOVES Japanese BBQ, and also fingers.
So what have we learned from Ariana Grande's new tattoo? Plenty. I submit that this is really the moment she went from robot to regular person. Consider how much this one small thing means we have in common:
Do I do things impulsively? The pile of Amazon boxes waiting for me to recycle them seems to indicate "yes."
Do I think Asian calligraphy is cool for no good reason? I owned a hat like this in high school.
Do I actually speak or understand Japanese? Haha, no.
Is Japanese BBQ delicious? Unequivocally.
Am I an idiot? The biggest, possibly.
There you have it, Ariana Grande's new tattoo means that she's just like us and probably that she and I could hang out for like 15-20 minutes before I would want to throw myself in front of an oncoming train. Maybe we could go to one of America's few remaining shopping malls and she could buy me something.
But lest you think I'm picking on Ariana, consider that she's not even close to the only celebrity to do a dumb and bad tattoo—in fact, it's probably easier to make a list of celebs who haven't. But here's a small sample:
Rihanna

Ri is the proud owner of not one, but two tattoo screw-ups: One on her neck in French that, due to grammatical errors, translates to "flower rebel," and one in Sanskrit on her side that's supposed to say "forgiveness" but actually says nothing, because it's misspelled.
Britney Spears

Rising to fame in the 90s, it's maybe not a surprise that she also fell victim to a misunderstood Asian character tattoo. She wanted "mysterious" tattooed on her pubic bone area (the most 90s tattoo location) in Chinese, but what she got translated to "strange" instead. Weird flex, but ok.
Christina Aguilera

Perpetually playing second fiddle to Britney, Christina also got in on the bad tattoo action. In her case, she wanted the initials of her then-husband Jordan Bratman on her arm in Hebrew. Instead she got "12," which is pretty much the same if you think about it.
Hayden Panettiere

Some tattoos are misspelled, but a select few do so with some delicious irony. Hayden wanted "live without regrets" tattooed down her ribcage in Italian, but the artist misspelled it. It rules that now she cannot look at her own tattoo without doing the thing the tattoo expressly tells her not to.
Nicole Richie

Nicole Richie may now be heralded for her ideas and designs as a fashion mogul, but one design she regrets is her tattoo. Nicole is a virgo, so when she was 16 she thought it would be edgy as hell if she instead got "virgin" tattooed on her wrist. It's not, but no one knows that better than she does.
Images: Ariana Grande/YouTube, Ariana Grande Japan/Twitter, at/Twitter; Getty Images (5)
Celebrities Who Secretly Hate Each Other
It's hard to keep up with all the celebrity news these days. There are countless feuds between singers who hate each other that we are all aware of (hi Cardi B and Nicki Minaj). But there are some celebrities who hate each other that do so in a more tasteful private manner. Ever think actors really aren't that good at their job? Well, there are a bunch of co-stars who can't stand one another and you'll be shocked when you find out. I apologize in advance for possibly ruining your favorite movies or shows when you learn about these celebrities who hate each other. Whoops.
1. Rachel McAdams Ryan Gosling
This one broke my heart. Apparently, when they first started filming The Notebook the chemistry was not there. Gosling even asked the director to replace McAdams but instead, the two were forced into a couples therapy session. LOL. This ended up working because their acting in the movie is v compelling and the two even went on to date on and off for four years after filming.
2. Leonardo DiCaprio and Claire Danes
During the filming of Romeo + Juliet, Danes found DiCaprio to be immature and avoided him at all cost when they weren't in scenes together. DiCaprio was 21 while Danes was 17 at the time. She didn't like that he would prank others on set, while he reportedly thought she was uptight. I guess it's true when they say girls mature faster than boys.
3. Mariah Carey and Everyone
Carey has a reputation of being a diva. And the celebrity feuds she is involved in are endless. The list includes Nicki Minaj, J.Lo, Demi Lovato, and probably continues to grow as we speak.

4. Kelly Osbourne and Christina Aguilera
This one is rather one-sided. After Osborne said, referring to Aguilera, "Maybe she is just becoming the fat b–ch she was born to be. I don't know." Fat shaming is never cool. Although this duo has a long history of snarking comments to one another, Aguilera stayed quiet in this specific instance. Only time will tell if this feud will continue.
5. Sarah Jessica Parker and Kim Cattrall
Ugh. It's v depressing to know that your fav BFFs on TV are actually part of the list of celebrities who hate each other. That said, Parker and Cattrall have been pretty public about their *lack of* friendship. In February, Cattrall posted to her Instagram (see post here) to call Parker out for being a fake friend and to tell her to leave her alone after her brother's death. Ouch. Fans, including myself, were devastated to learn about this feud, especially since that meant no third Sex and the City movie.

Images: Giphy (3)
10 Iconic 90s Music Video Outfits That Inspired Your Slutty Middle School Wardrobe
Before style trends were dependent on the Kardashians, CW teen dramas, or even our Cheeto president there was the 1990s. Ah, the 90s. A simpler time, a time when Britney Spears was still a "virgin" and boys in matching denim ensembles were considered sex symbols. What a time to be alive.
It could be nostalgia kicking in or it could be this $8 bottle of red wine that's mostly empty, but either way I'm about to revisit some of my favorite shit shows fashion choices and beauty looks from the best 1990s music videos.
1. "JUST A GIRL" — GWEN STEFANI (1995)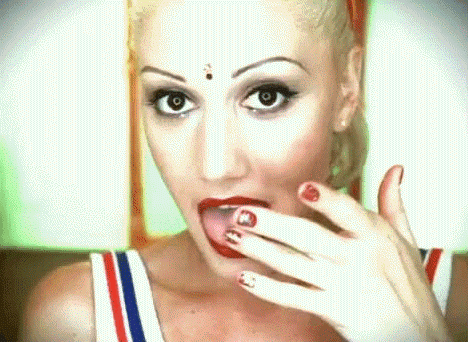 Oh, Gwen. Where do I even begin with you? Perhaps with the semi-culturally offensive red jewelry in the middle of your forehead? The fugly giant hair barrettes? Or the men's track pants you're wearing? Please also keep in mind that this person has a very successful FASHION LINE today, which I can only imagine Twitter is responsible for. Gwen's style is something I'll understand about as much as I understand clear plastic boots, which is to say I don't fucking get it. Let's also not let this moment pass without discussing how Gwen's eyebrows are thinner than my will to live. They are actually making me so uncomfortable. I need an adult.
2. "MMMBOP" — HANSON (1997)

Seeing prepubescent boys with better hair than me makes me want to heavily drink. Seriously, shouldn't you be getting head lice from kids on the playground, not giving a grown woman hair envy?
3. "I WANT YOU BACK" — N*SYNC (1997)

I mean seriously wtf were we thinking? To be fair, this music video actually features some of the less offensive fashion choices from their time in the spotlight. Shocking, I know.

Also #neverforget JT's ramen noodle hair. I love that since Justin went solo and didn't become a has-been like the rest of the band, he thinks he's better than everyone. Like, you might be married and successful and actually pretty funny anytime you appear on SNL, but you still wore a JEAN SUIT to the American Music Awards. Know yourself.
4. "(HIT ME )…BABY ONE MORE TIME" — BRITNEY SPEARS (1999)

An iconic Britney moment that forever made me want to dress like a baby prostitute. Thanks for giving us years of slutty Halloween costumes. You the real MVP, Brit.
5. "SAY MY NAME" — DESTINY'S CHILD (1999)

You know I had to add in the Queen here. And I guess I have to mention her backup singers band mates too. Aside from the fact that the lyrics in this song are fire and I use them in daily in my life, Beyoncé also looks like a fucking goddess in this music video. Groundbreaking, I know. I'll even forgive her for those gold hoops because we all know hoops are Regina's thing. An important note, though: If your skin burns in the sun, you should absolutely, under no circumstances, attempt her hairstyle at home.
6. "GOOD VIBRATIONS" — MARKY MARK AND THE FUNKY BUNCH (1991)

Fuck, this boy is ripped talented. The original fuckboy, his signature look was not wearing a shirt, touching himself, and giving white people hope of becoming a rapper. 10/10 would hit that.
7. "DIRRTY" — CHRISTINA AGUILERA (2002)

While not *technically* a 90s song, I'm still including it because Kylie Jenner made this video relevant again. Those dirty AF blue hair extensions, the assless chaps, THE BODY JEWELRY—she made slutty chic. Not all heroes wear capes, people. She was also single-handedly responsible for every dress code violation phone call my mother received about me from grades 8-12. *starts a slow clap*
8. "ALWAYS BE MY BABY" — MARIAH CAREY (1995)

Aka the reason I thought butterfly hair clips were a statement piece. She spends this entire music video swinging over a lake in a classic jean-on-jean ensemble, looking as angelic as her voice sounds.
9. "WANNABE" — THE SPICE GIRLS (1996)

The original Plastics, these girls are responsible for stereotypes in cliques and my hideous metallic mini dress in middle school. Also for giving my boyfriend an excuse to "get with my friends."
10. "AARON'S PARTY (COME GET IT)" — AARON CARTER (2000)

Again, not exactly a 90s song but I couldn't not include this one. First of all, Aaron Carter is, what, 9 in this music video? Maybe? And he's throwing fucking ragers while his parents are out to dinner? I applaud you, son. Also the fact that a third grader is rapping on a bicycle in a fur coat while middle school girls grind up on him. I'd be lying if I said I didn't want to be one of those middle school hoes. And you'd be lying too.
Anddd now I have "Aaron's Party" stuck in my head. Brb I'm just going to do something productive bang my head against a wall until I stop singing rap lyrics written by and for a 12-year-old.