People Are Taking These Herbs For Relaxation & It's Not What You Think
The wellness world is always evolving and throwing new sh*t at us to help our bodies and minds in wonderful, magical ways. As focus has shifted from the early '90s era of extreme weight loss (remember the grapefruit diet, anyone? No? Wanna go on a Cabbage Soup fast? No? Ok then.) to today's more holistic and health-conscious space, the trends have adapted to follow suit. In other words, our focus in the health space has transitioned from weight loss to wellness. Applause all around, please. I'm so glad we all finally realized there are more important things in life (such as functioning organs) than having thighs that don't touch.
With this paradigm shift, wellness experts are now marketing new things based on concepts such as detoxification, hormone balancing, and immune boosting. Enter: adaptogens.
Adaptogens are the latest buzzword in the wellness realm, and I know they sound weirdly medical, like they should be a part of our DNA or cells or something, but they're actually a non-toxic herb, so you don't need to be scared. According to Times magazine, adaptogens are a special class of herbs that will help the body resist physical, chemical, and biological stressors. Results from this scientific study show that the herbs also interact with our hypothalamus-pituitary-adrenal axis (HPA), responsible for communication to our kidneys (ie: adrenal glands) about how to handle stress.
See, when we are stressed out, our body uses three stages to handle stress. The initial phase is the alarm phase. It's self-explanatory: you're f*cking shook. It's the initial stage of stress, such as your first few reps of lifting weights. This is where the body releases its first dose of hormones. The second phase, the phase of resistance, is when you're able to handle the stress. So this phase is kind of what gets you through the subsequent reps and sets of your workout. This phase is where the adaptogens work their magic. They essentially stretch out the resistance phase by acting like a hormone balancer. Because they play a role in the brain to adrenal gland communication, they are able to level out the amount of stress hormones that get released by your adrenal glands. The third and final phase of a stress response is the exhaustion phase. It has nothing to do with adaptogens, that's just your body saying "chill, bitch."  The example of weight lifting is obviously a physical stressor, but adaptogens have also been shown to help the body handle mental or emotional stress. So basically, adaptogens are supposed to level you tf out so you're not a miserable, murderous bitch.

While new to the Western world, Ayurvedic healing and Chinese medicine have known about adaptogens for centuries. The trend has hit our side of the world in a big way, and now all these coffee shops are pushing mushroom coffee (I'm not so sure about this), and you can find the adaptogenic herb Ashwaganda in powder form in many health food stores. Another one you've most likely heard of before is ginseng. I'm kinda psychic, so I can say with like semi-certainty that it's about to have a huge comeback now, but your favorite Chinese spot has probably been cooking with ginseng forever. For you overambitious betches that don't believe in easing into things, try this Gwyneth Paltrow-approved adaptogenic smoothie recipe. I'm not sure where you can buy "moon dust," but it sounds like something my drug dealer has mentioned before.
Despite all the cool info circulating about these herbs, keep in mind that scientific research on how adaptogens truly interact with our body is still very limited, and I recommend consulting with a doctor before trying new supplements, especially if you are taking prescription drugs.
What do you guys think? Would you try these herbs? Would you do the mushroom coffee? Sound off below!
Images: Chris Knight / Unsplash; Giphy
The Common Acupuncture Myths You're Falling For & What The Truth Is
When you think of acupuncture, you probably think of two things: needles to the face, and your weird alternative friend who shadily doesn't believe in vaccines. Well, like most stereotypes, this is not really correct. Acupuncture has been around forever and isn't like, some back-alley shit you turn to in a moment of desperation. Well, I mean, maybe you're desperate, but my point is it's a legit science that's been proven to help with so many issues like pain, digestive issues, and sleep. Acupuncturists have to go through a lot of schooling before they can practice—a three- to four-year masters program, to be exact. So yeah, we're going to bust some common acupuncture myths thanks to our friends from Sanctuary Acupuncture & Holistic Health in NYC.
We were lucky enough to have Sanctuary Acupuncture & Holistic Health come to our office, where they offered a variety of services. We tried out ear acupuncture and cupping. These are our stories. EXECUTIVE PRODUCER DICK WOLF. Oh wait. That's not right. Moving on.
Ear Acupuncture
First of all, acupuncture doesn't have to be needles all over your body. It can be if you're into that, but it's not necessary. If you want the same rest and digest benefits of all-over acupuncture, but like, you can't sit with your facial muscles completely still for an extended period of time (hi), you can do ear acupuncture. The acupuncturist will stick five needles in various parts of your ear and leave them chilling in there for about 10-20 minutes. I know what you're thinking, and it hurts wayyyy less than getting your cartilage pierced, so it's a pretty painless experience. Afterwards, they can continue the treatment and put gold ear seeds or crystals in the same points. It helps prolong the benefits of the acupuncture AND you get to feel like one of those super edgy people with multiple ear piercings even if you secretly cry at night listening to Taylor Swift.

I specifically told the acupuncturist that I wanted help clearing my sinuses, and I shit you not, I stopped sniffling so damn much during the procedure. I'm not saying acupuncture works miracles, but I am saying I might book another appointment when I feel a sinus infection coming on. So like, the second I step outside today. If you want the full benefits of acupuncture but you're a little commitment phobic, try ear acupuncture as your gateway.
Cupping
You probably remember vaguely hearing about cupping back during the last Olympics, when Michael Phelps showed up with perfectly round bruises all over his body that made us think, "Damn, who gave Michael Phelps all those hickies?" The answer: ancient Chinese alternative medicine. Cupping was developed thousands of years ago, and it is the practice of putting special cups on your skin to create suction (hence the hickies). It can be use for pain, inflammation, blood flow, relaxation, and, in the case of Michael Phelps, winning gold medals.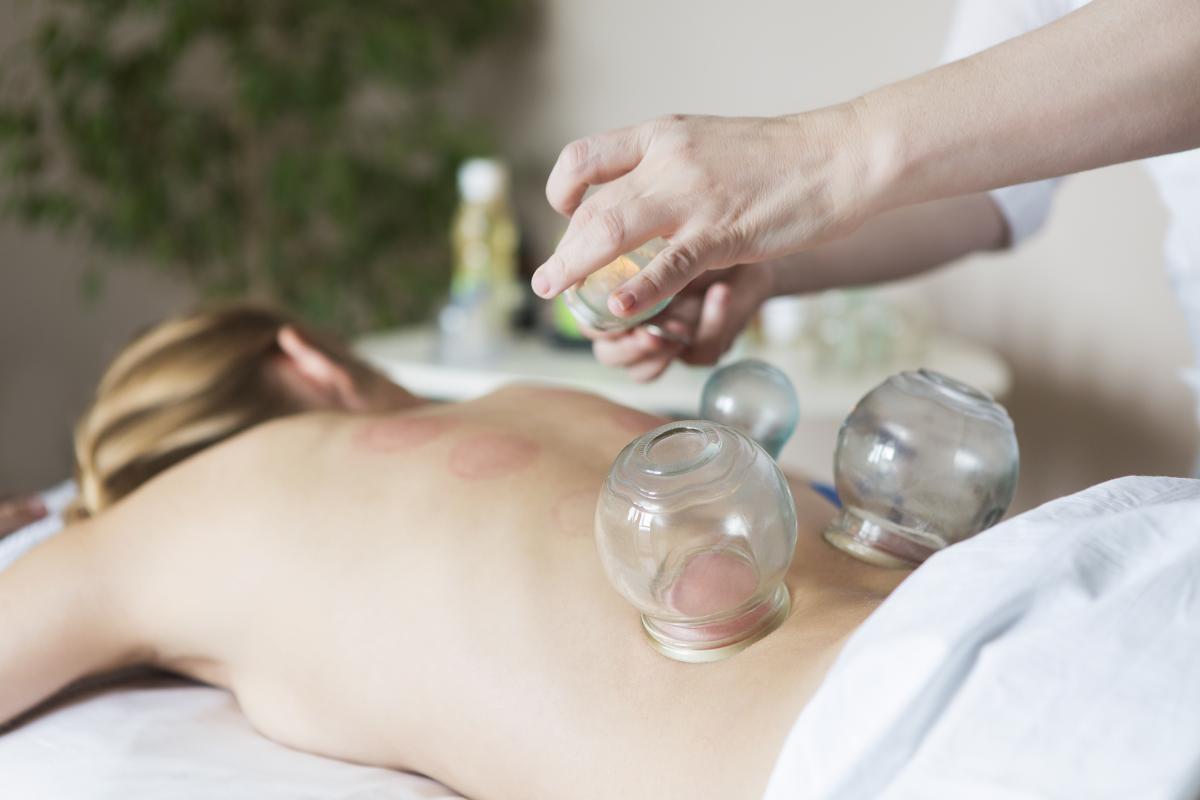 Okay, so cupping won't directly help you win gold medals, but it definitely didn't hurt. Basically, if you spend 90% of your week rubbing your shoulders and screaming about how you need a massage, cupping is for you. Funnily enough, cupping is actually the opposite of a massage in that it uses pressure to suck the muscles upward, rather than pull them down. Tons of celebs are obsessed with cupping, including Jennifer Aniston, Lady Gaga, and Victoria Beckham, so if you're worried about the marks, don't be. They're literally a status symbol at this point. (But also if you're going to an event and are wearing a backless dress or something, you can just tell the specialist and she'll place the cups strategically for you. NBD.)
Don't forget to follow @sanctuaryacu and book your appointment NOW!