The Super Bowl Party Foods To Avoid At All Costs & What You Should Eat Instead
As Americans who proudly DGAF about sports but still want to partake in a national tradition we'll never understand, we really have no other choice than to eat an endless amount of calories during the Super Bowl. Super Bowl parties are known to include every American high-fat culinary embarrassment from mac and cheese to spicy wings, and unless you intend on getting through the game by drinking a room-temp Corona Light and pretending to understand what's going on, you'll be eating. Making healthy choices during the Super Bowl is almost impossible, but if you're looking to host or attend a Super Bowl party without eating a month's worth of calories in one day, here are the foods to avoid and some healthier alternatives to consider:
1. Fully Loaded Nachos
Super bowl nachos are basically a death sentence, but they're also tragically amazing. Like, whoever invented these was definitely stoned and had definitely been working too many hours at Taco Bell. If  you really insist on having some, try grabbing from the corners of the bowl, where the chips aren't completely drenched in cheese and sour cream. If you're hosting your own party, bake your own zucchini chips or kale chips and season the shit out of them. They're obviously not hardcore nachos, but they're way less calories and still taste good, so don't knock it.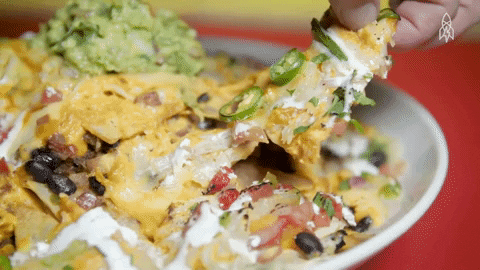 2. Buffalo Wings
Apparently Americans eat 1.33 billion chicken wings during the Super Bowl every year, and they all regret it the next morning. Wings are always a bad call if you're trying to stay somewhat healthy. Don't try to convince yourself that you need protein, because it just doesn't count. If you're making your own, try a basic recipe with no added sugars, using just tomato sauce, garlic, onion, honey, apple cider vinegar, paprika, and salt and pepper. Always bake instead of fry. If you're eating them out of a red KFC bucket, they're probably a lot worse for you than you'd think. Put down the wings.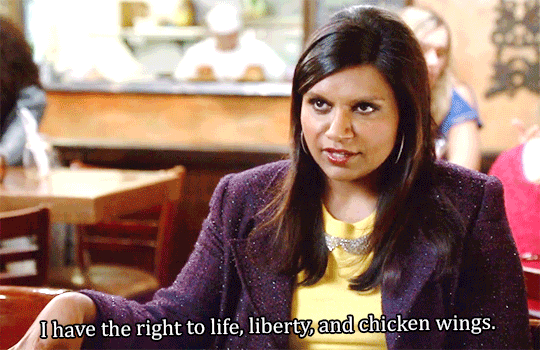 3. Pigs In A Blanket
Okay, YUM. If you didn't spend your adolescent years heating up frozen pigs in a blanket and french fries after school, I'm so sorry for you. These are addictive, but honestly unless you have the self control of a Victoria's Secret model, don't get started with these. You'd think they're so small and harmless, but eating only four of these equates to over 20 grams of fat, so be careful. You tell yourself you'll only have a few, and then suddenly you're Guy Fieri going ham at a random diner in the midwest. If you need something to snack on while refreshing Instagram watching the game, I'd stick with pita chips and hummus as a safer option.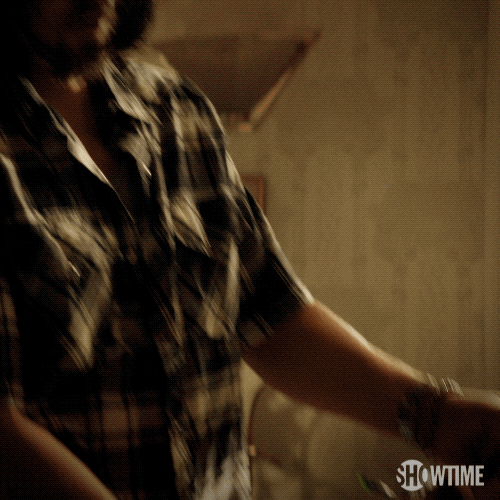 4. Queso Dip
We already spoke about cheesy nachos, but let's take a moment to discuss queso, the dip that is essentially glorified melted cheese. With some butter and milk. Maybe a sprinkle of garlic and cayenne pepper, but we all know the cheese is the real star here. This dip is a heart attack in a bowl, and honestly it's really not worth the calories if you're *basically* sober at 5pm on a Sunday. If there's guac around, go for that instead, and if you're making your own dip, find a spinach artichoke dip recipe made with Greek yogurt and light mayo. It's a fraction of the calories, it's delish, and if it means avoiding 400 grams of fat, we're here for it.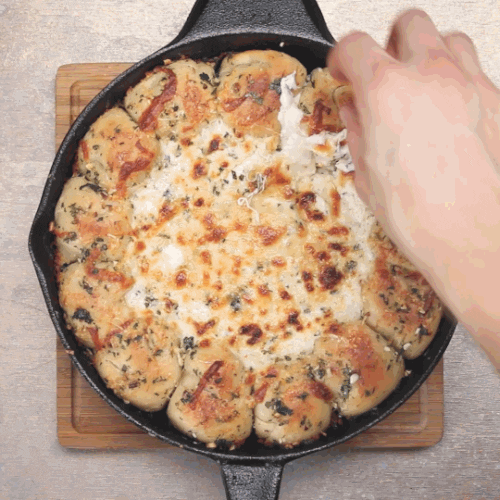 5. Chili
Chili is made in different ways so we can't say all of them are horrible for you, but usually, if you're consuming a dish made from ground beef, beer, and sour cream, we're gonna suggest you stay away. Chili is also one of those dishes where no one really has any perception of a serving size, so you just end up eating it like you're a bottomless pit who just finished a Yom Kippur fast. Instead, go for the salmon burger, the grilled chicken, or even the meatballs would be a better option. At least in that case you can count how many you've had.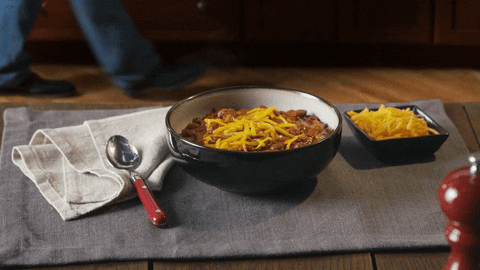 6. Soda
We've already accepted the fact that you'll be blackout by the halftime show, so let's disregard alcohol calories for a second. If you're mixing your drinks with soda, or even worse, just sipping on a Regular Sprite because you're not in the mood for water, put the cup down. You're eating enough calories at this party to feed a small village. You really don't need to drink your (non-alcoholic) calories, too. Keep your alcohol choices simple and avoid all regular sodas and sugary syrups. If you're making a mixed drink, stick with zero-calorie options like La Croix or Diet Coke instead. Straight vodka works too. It's a long game.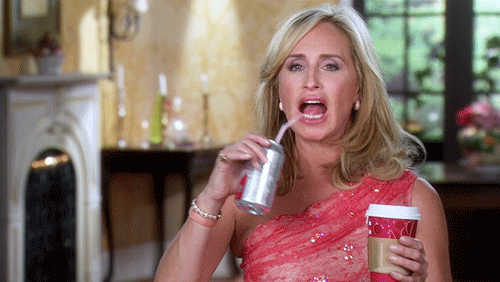 Images: Niklas Rhose / Unsplash. Giphy. 
How To Make Cookie Dough That Won't Give You Salmonella
There comes a time in every betch's life when instead of actually breaking and baking the cookies from the refrigerated log, she just digs into the cookie dough with a spoon—and you're lying if you say you've never done this. I mean, this is literally the reason Dō exists and has a 3-hour line that wraps around the block. 
In case your mom didn't ruin your life tell you enough times in first grade, eating raw cookie dough isn't actually good for you, considering the cookie dough contains raw eggs which can give you salmonella. Which, in turn, can cause a legit case of the shits, vomiting, and other not cute symptoms. Is all that worth it for the few minutes of happiness you get while you eat an entire package of break-n-bake Tollhouse cookies? We think not.

If you must eat a package or bowl of cookie dough, make it yourself, sans salmonella or 3-hour line. We have the technology, if you can call it that. What a time to be alive.
Ingredients
2 cups of all-purpose flour
1 cup dark brown sugar
1 cup butter, unsalted, softened
2 tbsps whole milk
2 tsps vanilla
1 tsp salt
2/3 cup chocolate chips or chocolate chunks
Time to get our shame-eating on. First, put on sweatpants, remove all makeup, and put hair in your 90s scruncie.
Next, preheat the oven to 350F. This next part is gonna sound weird, but trust us: take the flour and spread it out on a baking sheet. Bake it for 5 minutes. This will make the flour taste less, well, like baby powder and more like, um, slightly browned baking stuff.
Next, beat the flour in a large bowl with the sugar, butter, milk, vanilla, and salt. Once the mixture is combined, add in your chocolate chips or chunks. EAT WITH A SPOON. Try not to think about the life choices that have led you to this point.
One Cheat Meal Could Ruin Your Metabolism, Study Finds, So Put Down The Pizza
Everyone knows that just because you're juicing on the reg and going to SoulCycle religiously doesn't mean you can't have a cheat meal here and there, right? Actually, according to a new study, cheat meals can ruin your metabolism. Yes, even one.
Some researchers in Germany got together to ruin all our fun yet again look at how even one dose of saturated fat can fuck up your life. They took a bunch of "healthy, slim men" and gave them one drink of palm oil (compared to the control group, who got a glass of water—boring). "Yeah ok but like, my drunk slice of pizza is healthier than a straight-up glass of oil, right?" you're probably thinking to yourself. To which I say, HA! Those "palm oil drinks" had roughly the same amount of saturated fat as two fucking bacon cheeseburgers and a large order of fries. Or one salami pizza, though the experiment did not analyse what psychos are ordering salami on their pizza. But yeah, so basically even that ONE "cheat meal" (/drink) started fucking up these guys' metabolisms by reducing insulin action and increasing the fat content in their livers. And that, presumably, will happen to you too.

So the takeaway of this study is just because you've been good all week doesn't mean you should drunkenly order the chili fries Saturday night. Yes, even one drunk slice of pizza is going to make your metabolism take an L—and you're not Big Sean so you're not gonna bounce back. Sorry. I'll allow a moment of silence to mourn all that delicious fatty food you won't be eating guilt-free this weekend. Or like, ever again. 
But like, go ahead and get that burger if you want. I'm not here to tell you how to live your life. Just don't be surprised when sweatpants are all that fits you right now. Or just avoid palm oil, I guess. IDK, we're all screwed. Good luck out there.