12 Ways To Shop To Support Pride & LGBTQ Organizations
We may not have a Pride Parade this year, but we can still celebrate in various ways, including donating to LGBTQ organizations and buying from LGBTQ-owned brands. There are also a number of brands out there that are supporting Pride and giving all or a significant portion of proceeds to organizations advocating for the LGBTQ community. From makeup to candles to cookie dough, justify your next online shopping trip with these brands and products that are supporting the LBGTQ community in a variety of ways.

Morphe launched their "Free to Be" Collection, and the colors are a rainbow DREAM. I have gotten almost too comfortable being a hermit in my home, but I swear this palette makes me want to go out, just so I have an excuse to put on R-E-S-P-E-C-T. The shade names will make you smile, and so will the brushes and lip gloss that complete this set. 100% of net proceeds from the sales of this collection (purchased through Morphe.com and Morphe Stores) during Pride will be donated to GLSEN to help create safe and supportive school environments for K-12 students.

Youth to the People's "With Pride" Kit is made up of three existing minis, formulated to cleanse, resurface, and hydrate your skin. As someone who uses this brand religiously, I can confirm the products are amazing, but what makes this kit even more worth purchasing is the fact that 100% of profits are being donated to GLSEN as well. (In case you forgot, they are the leading education organization working to create safe and inclusive schools for LGBTQ+ students). P.S. This kit works on dry, combo, and oily skin, so regardless of your type, this is worth the purchase.

If you're covered in glitter and glam post-Pride celebrations, Bliss' Makeup Melt Wipes will be your new best friend. Originally, Bliss pledged to donate 100% of net proceeds from the Limited Edition wipes with the rainbow design (pictured above) to The Trevor Project, but with Pride events being canceled nationwide, Bliss is now extending the donation to include 100% of net proceeds from its complete collection of Makeup Melt Wipes. The Trevor Project is the world's largest suicide prevention and crisis intervention organization for LGBTQ youth.
innisfree's "Spill the Equali-tea" mini lip balm set is great, because we all know that lip balms go missing faster than anything else in the world (aside from maybe bobby pins) and backups are always necessary. innisfree has partnered with the It Gets Better Project for Pride month, and will be donating to help support and empower the LGBTQ+ youth in our global community.

NOTO is a natural, multi-use, gender fluid cosmetic line packed with high-performing organic ingredients. They focus on representation and celebrate those choosing to be their most authentic self. Every sale of NOTO's Agender Oil (pictured above) goes to non-profits including LGBT Youth Center LA, Planned Parenthood, ACLU, the Audre Lorde Project, Black Mamas Matter, and more. Founded by Gloria Noto, a queer woman, the brand has raised $22,000 and counting in donations.

Marc Jacobs Beauty sometimes goes under the radar, but I am actually obsessed with this product. The Enamored (With Pride) Hydrating Lip Gloss Stick is basically a dream come true, as someone who loves lip gloss but could do without the mess it makes. All of the colors are fairly neutral and wearable, and work with every skin tone. Marc Jacobs Beauty will be donating to two charities—SAGE, the world's largest and oldest organization dedicated to improving the lives of LGBTQ+ older adults, and Le Refuge, a French organization dedicated to preventing the isolation and suicide of LGBTQ+ youth by providing shelter and support.

Hi Wildflower was created and founded by queer Bangladeshi novelist, Tanaïs. Their muse was wildflowers, hence the name, and the brand is for the socially conscious consumer looking for luxury goods. Ranging from fragrance to candles and lipsticks too, Hi Wildflower's well sought-after products are as good as they sound. The Dianthus Lipstick is the perfect universal red, and the Mojave Extrait de Parfum is the best thing you will ever smell, and is unisex!

I have a freakish obsession with candles, so I was thrilled to see that my favorites, Boy Smells, made a six-candle set titled Bundle of Pride to illuminate inclusivity. Founded by partners Matthew Herman and David Kien, you can feel the love when lighting any of these candles. The collection will support The Trevor Project, with all purchases contributing towards a $26,500 donation minimum. The smells vary from citrus to floral, woody and warm. They also make for a beautiful display!

I've been a long-time fan of (MALIN+GOETZ) because, you guessed it, candles. Founded by couple Matthew Malin and Andrew Goetz, M+G brings you an "uncomplicated" regimen for body, hair, and personal/home fragrance. Their Bergamot Hand Wash and Grapefruit Face Cleanser are two fan favorites, but the candles are the bread and butter. Neroli is my personal go-to, but the Dark Rum is a rumored must-have.

As someone with a very intense sweet tooth, edible cookie dough is music to my ears. This year, dō launched their love is love pack, which, as you can see, is a rather intense but very delicious scoop of rainbow deliciousness. The pack comes with four flavors: signature chocolate chip, cake batter, sugar cookie, and rainbow dō (which is also sugar cookie flavor). 20% of every purchase of this pack will be donated to the National Black Justice Coalition, a civil rights organization dedicated to the empowerment of Black LGBTQ and same-gender loving (SGL) people.

This year, Reebok launched an entire Pride collection. I can say with confidence that I would wear every single thing out of this collection, and it varies from the brightest of rainbows to the most simple of designs in the form of sneakers, athletic wear, and accessories. As part of their campaign, Reebok is donating $75K to the It Gets Better Project.

I feel like I must put a disclaimer here that I am 6 feet tall and even two inch heels makes me nervous, but I could not resist adding this collection in for obvious reasons. This Pride Pump screams "love" (literally), and Ruthie Davis is donating 20% of sales from the Pride Pump (pictured) and Pride Kick to the Lesbian, Gay, Bisexual & Transgender Community Center of New York City. Both styles are offered in extended gender fluid sizing up to 43.
I am thankful to see more and more brands using their platforms to advocate for LGBTQ+ rights and donate to help organizations on the ground doing the work. Happy Pride, everyone!
Images: Isi Parente / Unsplash; Morphe.com; Youthtothepeople.com; Courtesy of Bliss; Innisfree.com; Marcjacobsbeauty.com; Cookiedonyc.com; Courtesy of Vivrelle; Reebok.com; Courtesy of Ruthie Davis; Boysmells.com; hiwildflower.com; notobotanics.com; malinandgoetz.com
Bethenny Frankel Talks COVID-19 Relief & How You Can Help
Unless you've been living under a rock (which is solid social distancing) you're aware that the world is currently coming to an end. Okay, that may be slightly dramatic, but sh*t is seriously going down. The COVID-19 virus has created a massive healthcare crisis on a global scale. All businesses not deemed essential have been shut down, hospitals are overrun with coronavirus cases, and for some reason your next-door neighbor has hoarded all of the toilet paper. In a time where uncertainty and panic have become everyday feelings, it's important to maintain perspective and to acknowledge those who are working tirelessly on the frontlines, and the organizations that are dedicating all of their resources to helping those in need. Or, as Mr. Rogers said: look to the helpers. Which leads me to an extraordinary introduction: she's an author, producer, entrepreneur, philanthropist, and let's be frank(el), a literal queen. Bethenny Frankel hustles like nobody else: starting from serving up top notch skinny margs, to now saving the goddamn world, Frankel is a hero to happy hours and to those in need everywhere. 
Frankel's disaster relief initiative, BStrong, is founded on the mission of providing real time emergency assistance to people in crisis. They have partnered with the Global Empowerment Mission (GEM) in order to distribute face masks and protective gear to hospitals and medical workers. I spoke exclusively with Bethenny Frankel to hear more on how she is navigating aid efforts in midst of the pandemic and what you at home can do to help.  
BStrong and GEM
At the start of the pandemic, Frankel's BStrong and the GEM team began working around the clock to assemble "corona kits", primarily aimed at prevention, consisting of tote bags with protective gear, hydration kits, Vitamin C for immunity building, and medical information. In response to the recent overwhelming shortage of personal protective equipment (PPE), BStrong and GEM have since pivoted to providing masks, gowns, and additional protective gear to healthcare workers. Frankel shared an update on BStrong and GEM's current relief efforts, telling us that, "We are currently distributing protective life saving gear to hospitals and state governments nationwide. In addition to the aid, we have distributed to important large hospitals in high risk cities, our current goal is to distribute to 100 hospitals nationwide who cannot afford to help themselves. We now distribute to between 10 and 15 hospitals a day." While their approach may have changed, their mission is still the same: to deliver essential supplies to those who desperately need them.

Frankel is no stranger to dealing with large scale disasters. She has been in the trenches providing aid to those affected by the fires in Australia and the hurricanes in the Bahamas and Puerto Rico. The coronavirus, however, has challenged Frankel to adapt and shift her strategy in regards to responding to a healthcare crisis on a global scale. Frankel describes what it's like to be an essential resource and providing aid during a pandemic. "This is a very cutthroat, time-sensitive, and intense process like I've never seen," says Frankel, "Hoarding, gouging, stealing, and interception make this a very challenging mission, but we are trained for this. We have inspectors, lawyers, operations and logistics experts, and we cut through the red tape and move quicker than anyone can. We have already made significant progress and have moved an excess of 15 million dollars on necessary aid." 
Bethenny Frankel goes on to say that, "This is different from any other crisis, because the whole world and governments are on fire and are all fighting for their lives. It's a war." She's not wrong; governments have been fighting over resources like they're the last pack of toilet paper in the entire world, clashing over who's going to receive coveted supplies and who's left to get strategic with a bandana. BStrong's partnership with GEM is working to make sure that doesn't happen to our healthcare workers who are on the front lines of this crisis. 
How To Help
Without proper funds, organizations like BStrong and GEM aren't able to provide the crucial goods to the people and trades that desperately need them. That's why Betches has launched the Good Influence Fund for Corona Relief. The Good Influence Fund works to connect people to worthy causes that have proven that they can mobilize quickly to address the range of challenges brought on by the coronavirus pandemic. In addition to BStrong and GEM, The Good Influence Fund is recognizing World Central Kitchen, One Fair Wage, and the National Domestic Violence Hotline. Donations are divided equally between the four organizations to support their vital work.
Donations are essential in a time like this. Bethenny Frankel stresses that, "Funding has never been more important." She goes on to say that, "We are sourcing and paying for tens of millions of dollars in protective equipment, and need to move instantly." There is no time to waste, and every second and every penny truly does make a difference. Frankel says, "We need large donations. People spreading the word does a tremendous amount of good, and the small donations add up to thousands daily. We transact in the millions every few days." Feeling inspired yet? You can donate to Betches' Good Influence fund, or directly to BStrong and GEM by clicking here.
Frankel continues to preach that, "100% goes to the effort, which is refreshing in a time where major charities keep a significant percentage, and people have no idea specifically where money goes." Frankel appeals to donors, saying that, "We show them the return on their humanitarian investment. We don't hoard money and have ten million dollars sitting around for every disaster; so the more we do this, the greater trust we establish for ourselves, for wealthy donors, and for the influencers that get heavily involved." Celebs like Amy Schumer, Billy Joel, Katie Couric, Ellen DeGeneres, Nina Dobrev, Shaun White, Mindy Kaling, and even Vanessa Hudgens have all pledged their support and donated to BStrong and GEM. 
Right now @Bethenny is securing #millionsofmasks and supplies for various hospitals across the US. Join me in donating to help these medical professionals/literal lifesavers on the front lines: https://t.co/qccAJdlpsF

— Mindy Kaling (@mindykaling) March 26, 2020
Funding isn't the only way that you can support relief efforts from home. Frankel says that it is a pivotal time to use social media for good, emphasizing that, "Social media has helped #bstrong to save thousands of lives and aid people who have lost everything." She continues, "We are totally transparent and I show our missions in real time on my Instagram." It's like they always say: sharing is caring. Frankel calls us all to action, urging everyone at home to, "Please encourage those who you look up to and who can afford it to keep donating. Please keep spreading our message and communicate exactly what we are doing." You don't have to be a billionaire to do your part. An Insta story is free, use your social media for good and post about initiatives and organizations that are out there doing valuable work. I'm not saying you have to skip your next selfie, but maybe throw in a hashtag and a link to a worthy cause while you're at it! 
And tune in TONIGHT 4/7 on Instagram, where Betches will be going live in our first-ever Instathon to raise money for the Good Influence Fund For Corona Relief and spread awareness. Starting at 6pm, we'll have live DJ sets, celeb interviews, games, and more, featuring DJ James Kennedy, Colton Underwood, and many more special guests—all while raising money for corona relief.
Bottom line: I encourage everyone to donate financially if you can, or to help spread awareness through your social media channels, or hell, be an overachiever and do both! Do it for your loved ones, do it for the brave healthcare workers, and most importantly, do it because Bethenny Frankel told you to. DLBD, Don't Let Bethenny Down! 
For more information on BStrong and GEM or to donate to The Good Influence Fund please visit: https://www.bethenny.com/bstrong-disaster-relief/ & https://www.globalempowermentmission.org/covid-19 and https://secure.actblue.com/donate/betches 
 Photo credit: Sasha Maslov 
This Artist Will Draw Your Thirst Traps To Support Sex Workers During COVID-19
Hey babe, looking for some light during these dark times of quarantine & scream chill? I got you. Or rather, comedian, artist, author, and stripper Jacqueline Frances — aka Jacq the Stripper — has got you. Frances is using her quarantine time to come up with creative endeavors, including a project that involves drawing thirst traps and helping sex workers stay afloat during this crisis. We absolutely god damn love to see it.
Jacq the Stripper asked her followers on Twitter to send her their thirst traps so she could draw them for $50 and send the proceeds to mutual aid funds for sex workers. Sex workers are among one of the most affected groups of workers amid the pandemic, as many of them are unable to conduct their business safely.
With strip clubs and massage parlors closing for the foreseeable future, the NYC Health advising people not to engage in sex with anyone besides themselves and their roommates, and people generally being afraid to come within six feet of people, it's harder than ever for many sex workers to find gigs right now, making these mutual aid funds vital to their survival. To have your money go towards a great cause and get you a dope drawing of your sexy bits all in one go? That's a slay, hon.
Send me your quarantine thirst traps and for $50 I'll draw your portrait, with proceeds going to mutual aid funds for sw affected by this wildly inconvenient world health crisis. All commissions are through https://t.co/g3Lu0NhTjv pic.twitter.com/vJ5G6PhwJX

— Jacq the Stripper (@JacqTheStripper) March 25, 2020
These drawings also make for amazing gifts. If everyone I knew gifted me with drawings of my nudes I would be one happy slut, I'll say that. If you have a friend who's feeling down, has a birthday coming up, or just deserves a treat for the sake of it, may I suggest sending one of Jacq's masterpieces their way. And while we're throwing ideas around, it would be pretty rad to have one of Justin Bieber's thirst traps drawn, and if anyone made this happen for me I would not be mad.
And this isn't Jacq the Stripper's first rodeo in terms of creating cool, sexy projects with an important message. She has "soft clothes for sluts," pro-sex work merch, and other amazing art that you can buy on her website. She's also a hilarious performer, and you can access all of her amazing content on her Patreon for endless entertainment. Wow, smart, funny, hot, talented women really can have it all. Who knew?
Want more news like this? Sign up for Sup's daily newsletter to laugh (instead of cry) about the news.
Images: Twitter (2), Instagram (1)
Here's How You Can Help Australia During Devastating Bushfires
I know there's a lot going on (a potential war with Iran, the impeachment, J Lo's giant bow dress from the Golden Globes), but it's important to remember that through all of this, the world is also currently on fire, metaphorically speaking, but also literally speaking.
There are 136 fires burning across New South Wales, Australia, taking lives, destroying homes and infrastructure, and devastating wildlife. At least 24 people have been killed, with dozen more missing. As of January 6, over 15 million acres have burned, more than 1,300 homes have been destroyed, 100,000 people are displaced, and 500 million animals have died. That's half a billion animals.
And fire season isn't over. But tell me again how climate change isn't real.
The news is so insane rn that an entire continent is on fire & it's a B story.

— Lindsay Theisen (@lindsaytheis) January 5, 2020
How to fix climate change is still a question our current leaders are refusing to answer. On a list of 57 countries ranked by action on climate change, Australia ranked… 57th.
But there is a way you can help the situation in Australia: donating money. Money is crucial in these situations and helping fund organizations that help communities in need during these kinds of tragedies is the best way to give a helping hand. If you are able, please consider donating to one/some/all of these organizations. Australia and the koalas will thank you.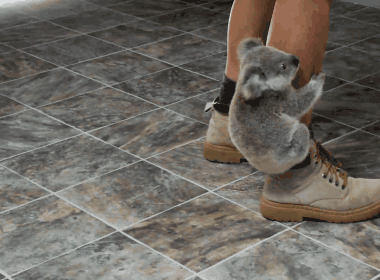 Here you can support the local firefighting efforts in New South Wales.
Here you can donate to protect the pets and keep livestock safe during the fires.
Here you can donate directly to Victoria's rural firefighting service.
Here you can help support staff that is standing by at evacuation centers to help provide support needed in communities and to first responders who are on the front lines.
Here you can donate money to victims of the fires who have been evacuated and/or lost their homes and/or family members as a result.
The Naked Philanthropist
Here's a fun one. A sex worker has set up an amazing system online, where people can donate to a list of charities and organizations that will help people and wildlife affected by the fires, and in exchange, she will send them a nude. You have to donate directly to the organization of your choosing, and then send proof of a receipt to her. In the end, ass will save the world. I've been saying this for years.
I'm sending nudes to every person who donates atleast $10 to any one of these fundraisers for the wildfires in Australia. Every $10 you donate = one nude picture from me to your DM. You must send me confirmation that you donated.
Please RT #AustraliaOnFire #AustraliaFires pic.twitter.com/VIgzCUy6Wf

— THE NAKED PHILANTHROPIST (@lilearthangelk) January 4, 2020
Want to keep up with the news without crying into your sad desk salad? Subscribe to the Betches Sup newsletter for a lunchtime briefing to make you laugh, instead of cry, about the news. 
5 Organizations That Can Literally Just Take Our Money Already
Hate to be the bearer of bad news, but the world is literally crumbling around us and it's time to cut back on skinny vanilla lattes with no whip and put your money towards things that actually matter. The good news is that after you donate you can brag to your friend about how you're like, a really good person. Also you can help people and the world. That is the point. Don't be shallow, Karen.
We saved you the trouble of having to open another tab on your browser and put together a curated list of amazing organizations that will put your money to good use. We're amazing/super helpful/saving the world, etc. — yes, we know.
Environmental Organizations

So what, you're like supes horny for the environment? Great, we could use more of you. Our president doesn't believe that climate change is real, which is a bold move for a man who can barely read. Point is, the environment needs our help. Here are some organizations you can donate to and help literally save the world.
Earth Justice: This nonprofit funds legal teams that hold corporations accountable when they try to break environmental laws. They are literally representing Earth and taking down the man simultaneosuly. Badass, right? Donate here.
Humane Society: This is the nation's most effective animal protection organization, and tbh animals are beating humans by a long shot in terms of the whole deserving-to-be-alive thing rn. Make a donation here.
SeaWeb: The ocean ecosystem is incredibly important when it comes to keeping our planet in balance and like, in existence. So naturally humans have taken to completely destroying it. This org takes a marketing approach to protecting sea life because branding is everything, obv. Help out with a donation here.
Organizations For Women

I don't know if you've heard, but women are everything. Unfortunately, women are often in need of help because why would the world ever make anything easy for us? Here are a few organizations that provide assistance for women in need.
Safe Horizon: This incredible organization is not exclusively for women, but it provides assistance for victims of domestic violence and sexual abuse, and statistically most of those victims are women. Fuck everything, and also donate here.
International Women's Health Coalition: Sure, the US is a legit garbage fire right now, but women all over the world have it much worse than we do. IWHC advances the sexual and reproductive health and rights of women and young people in Africa, Asia, Eastern Europe, Latin America, and the Middle East. Take your girl power beyond the US borders and donate here.
Time's Up: You've probably heard of this one seeing as it made a splash at the Golden Globes last Sunday. For those of you that don't know, one — get your shit together – and two, Time's Up is a movement with a mission to end sexual harassment and assault in the workplace. You can donate here.
Organizations That Help Immigrants

Republicans are dead set on doing what they do best, aka ruining lives, and are attempting to repeal DACA, the program that protects undocumented citizens that came to the US as minors. Idk why I'm explaining this to you, you should all read The Sup everyday and know all this shit by now.
Council on American-Islam Relations: The CAIR helps Muslim communities and individuals that are facing discrimination. In Trump's America, this organization needs your help now more than ever. You can make a contribution here.
Families For Freedom – This org helps families that are facing deportation. Again, in a country ruled by a man who wants to deal with immigration the same way I dealt with getting my sister to not touch my shit when we were literal children — by building a wall around it — this organization could really use your donation. Click here to help.
International Rescue Committee – The IRC helps refugees by providing them with shelter, food, and education. They are legit saints. Help out by donating here.
Organizations Focused on Criminal Justice Reform

Look, I love Law & Order just as much as the next betch, but the reality is that our criminal justice system kinda…sucks. And is racist AF. The war on drugs is specifically racist and unjust, but I'll save delving into that for when I'm wasted at a party and corner you to yell at you about it another time. For now, here are some great places you can donate to to help bring justice to our justice system.
The Sentencing Project: The Sentencing Project works for a fair and effective U.S. criminal justice system by promoting reforms in sentencing policy, addressing unjust racial disparities and practices, and advocating for alternatives to incarceration. The US locks up more people per capita than any other nation, and convicted felons are disproportionately black. Plus, an astonishing amount of sentences are for nonviolent crimes. I don't have the word count to get into it now, but I suggest you donate here.
Families Against Mandatory Minimums: Did you know that people can go to jail for up to 40 years for something as small as marijuana possession because of mandatory minimums? Great, sounds like every white, fratty fuckboy you know who smokes and sells a shit ton of weed can get locked up then, right? Nope, it's mostly black men that are affected by this. Lol, remember when I said I wasn't going to delve into the war on drugs? Anyway, donate here to help those affected by mandatory minimums.
Students for Sensible Drug Policy: SSDP is the only international network of students dedicated to ending the war on drugs. I feel like I've made my point here re: the fuckery convention that is the war on drugs. I think we can all agree that would should be able to smoke weed in peace. Visit SSDP' website. Donate. Smoke a blunt.
Organizations Involved in the LGBTQ Community

I'm starting to sound like a broken record here, but the President of wanting to fuck his daughter the United States is ruining everything, vulnerable communities are under attack and we should totally just stab Cesar, etc. etc. Here are some LGBTQ focused organizations you can donate to.
Gay Men's Health Crisis: GMHC is the world's first and leading provider of HIV/AIDS prevention, care and advocacy. They do amazing work and fund a lot of incredible programs, including Re-Charge which takes a harm reduction and sex positive (hell yeah) approach to providing assistance to gay and trans men. Donate here.
Community United Against Violence: The CUAV's mission is to end violence and oppression imposed on the LGBTQ community. Nothing not to love there. Donate here.
Trans Student Educational Resources: This organization is led by transgender youth and aims to transform the education environment for trans and gender nonconforming students through advocacy and empowerment. Hell fucking yes. You can donate here.
Honorable Mention: How TF Can You Help Puerto Rico?
Puerto Rico needs our help and the Great Pumpkin in Chief has made it v clear that it won't be coming from him. There are a lot of ways to help out, but we suggest checking out Global Giving, Central World Kitchen, and Center for Disaster Philanthropy.
Obviously there are thousands of other amazing organizations that could use donations, but unfortch we cannot list them all. A hot tip: look into how you can help out locally. Local organizations are often in need of funding and can do a lot for your community. Plus, it's a great way to #GoLocal without saying obnoxious shit like, "let's go to the farmer's market!" at 10am on a fucking Sunday.

Heads up, you need to keep up with the news. It's not cute anymore. That's why we've created a 5x weekly newsletter called The 'Sup that will explain all the news of the week in a hilarious af way. Because if we weren't laughing, we'd be crying. Sign up for The 'Sup now!