Chanel's Underwhelming Advent Calendar Is Getting Dragged On TikTok
Well, brokes… We've done it again. We've officially been marked safe from yet another luxury scam that's out of our tax bracket. 
If your TikTok FYP has yet to recover from the Bing Bong of it all, let me catch you up to speed: Chanel is celebrating the 100th birthday of the N°5 fragrance by getting people to spend $825 on an advent calendar. Lest you believe that a month's worth of luxury goods for under a grand is a good deal, I regret to inform you that the contents of the advent calendar are equivalent to anything you may find if you were to reach into the depths of your closet and root through the purse dirt of the Michael Kors crossbody you haven't touched since 2014. (Let me guess… a pantyliner, a crusty hair elastic, and a fossilized stick of Trident gum? You are not alone.)
In a series of videos, TikTok user Elise Harmon treated the world to an unboxing of Chanel's festive disappointment, which begins with the number 5 because it's 2021 and branding always beats logic. Although the calendar had a few kinda-useful items in it—like hand lotion, a red lipstick, and a small perfume sample—most of the little boxes that filled up the enormous perfume-shaped packaging were the kinds of things you wouldn't necessarily be upset over losing if your vacuum cleaner accidentally sucked them up. Sticker sheets, wax seals, and little pieces of random materials shaped like Chanel motifs left Harmon feeling like the advent calendar was a waste of money, and it doesn't seem like she's the only one. 
TikTok users are having a field day with the calendar, including a creator named Bryan who loosely broke down the value of all of the products in a video, and another named Savannah who went viral for pointing out that the $195 calendar from MAC Cosmetics was a much better buy. There are, however, a few people who just keep unboxing the calendar each day as their comments sections fill up with people dragging the product. User Nicki Cheng agreed that although she doesn't "think it's valued to $825," she's "still having fun unboxing it," while Fionn also found the price to be ridiculous, but in a TikTok,  said she would "spend anything for packaging," and has continued to defend her financial decisions in her comments section. I have personally never related less to a sentiment in my entire life, and do not think I would enjoy blowing $825 just to spend 25 days opening boxes full of items that I can't even tell if I should recycle or trash. But, hey! To each their own! 
The Chanel Advent Calendar mess doesn't end at the unboxing videos. Harmon is in a very Real Housewives-esque squabble with Chanel at the moment, after claiming that they've blocked her. In a statement to PEOPLE, a representative from Chanel said, "The recent claim of a person being blocked by Chanel on TikTok is inaccurate. We have never blocked access to the Chanel TikTok page to anyone, because it is not an active account and no content has ever been published." You can't tell me this response doesn't sound like it was manufactured by a woman sitting next to Andy Cohen on a velvet couch (or at the very least, Mariah Carey when asked about her relationship with J.Lo).
Harmon also ended up receiving quite a bit of backlash from TikTok users who pointed out that the contents of the Chanel Advent Calendar were clearly described on the brand's website, and that she shouldn't have been so shocked to discover the contents of each box. (I would just like to take a moment to point out that the literal point of an advent calendar is to receive a surprise, but by all means, continue to spend your limited time on this Earth defending a luxury brand by yelling at a stranger through the comments of a video app.) In a video, Harmon explained that she purchased the item in-store, where, she said, "there is no description" of the contents. Harmon also kind of hit the nail on the head  when she said, "When you're buying from a brand like Chanel that is coveted and known for quality and luxury and you receive something that's like, gum ball status and free things that they had given away months prior… it's questionable."
Still, the calendar is sold out and is now being resold for even more money on websites like eBay. God bless consumerism! 
Image: Laura Chouette / Unsplash
The Best Instagram Tributes To Karl Lagerfeld
Early on Tuesday morning, news broke that Karl Lagerfeld passed away at 85. The Creative Director of both Fendi and Chanel for over 35 years, Karl Lagerfeld was always on the cutting edge of what was happening in fashion. His controversial designs and ad campaigns, along with his instantly recognizable personal style, made him one of the fashion industry's ultimate icons.
Rumors of health issues had been circulating in recent weeks, especially after Karl was absent from Chanel's Spring Haute Couture show last month in Paris. Regardless, everyone was caught off guard with the news of his passing, and dozens of celebrities and fashion figures have offered heartfelt tributes. Here are some of the best Instagram tributes to Karl Lagerfeld, fitting of his massive legacy.
Lindsay Lohan
Lindsay Lohan might not always keep it cool, but she kept it sweet and simple in the wake of Karl's passing. This really is a lovely photo of them together, and her message is sincere and to the point.
Chanel
Karl is best-known as the Creative Director of Chanel, a position he began in 1983. He was given total control of the brand from the start, and helped bring Coco Chanel's classic vision into the modern era. Under his leadership, Chanel has become one of the biggest global fashion brands, so he's left some big shoes to fill.
Fendi
In addition to Chanel and his own Karl Lagerfeld brand, Karl designed for Fendi for more than 50 years. The brand kept it simple in their official tribute post, which is probably how he would've wanted it.
Naomi Campbell
From one icon to another. Naomi Campbell has spent decades at the top of the modeling game, and she obviously had a close connection with Karl. This caption kind of broke my heart, not gonna lie.
Kim Kardashian West
You might not love Kim Kardashian, but Karl was always a fan. They worked together on numerous occasions, and Kim commemorated Karl with some great behind the scenes photos of them on set.
Vogue
The fashion bible shared a great photo of the designer at work, taken just last fall. Behind the black sunglasses and oversized collars, it's easy to forget that Karl was a fashion genius, but this image shows him as the true artist he was.
Throughout his career, Karl Lagerfeld always had a sharp sense of humor, and he never took himself too seriously. I don't know how Karl would've felt about all of the touching tributes, but he would probably have a good laugh at this. RIP Karl, you'll be greatly missed.
Images: Shutterstock; lindsaylohan / Instagram; chanelofficial / Instagram; fendi / Instagram; naomi / Instagram; kimkardashian / Instagram; voguemagazine / Instagram; herrleudtke / Instagram
5 Fashion Trends That Will Be Everywhere In 2018
Obviously, 2017 wasn't anyone's year. It wasn't mine, it probably wasn't yours, and it most definitely wasn't Taylor Swift's. We, as a dysfunctional society, took a hard, violent fall. We hit a lot of railings; we broke a lot of shit… I'm going to say we survived, but I'm not going to say we thrived. Trump is still our president, Kylie Jenner just beat teen pregnancy, and someone *tried* to make designer Crocs a thing, BUT we still have feminism and a decent fashion sense to hang onto—thanks to hangover clothes being labeled as "street style"—so to me, we're fucking thriving. While 2017 may have brought us the good, the bad, and the ugly in more ways than one, it was definitely an eventful year for fashion. From sun's out, nips out to rubber pool slides, we're only getting started. 2018 already has a shit ton of fashion trends prepped for us, so we better start looking ahead. Here are five major fashion trends you're about to start seeing everywhere.
1. Low-Key Chic Hats
I mean, this is news to me, but apparently the effortlessly chic French girl style is very much a thing. Straight from Paris' own streets, the classic beret has taken runways and Instagram by storm. The accessory immediately turns you into the next Coco Chanel who just needs an éclair in her hand, stat. In addition, the long-lost, but definitely not forgotten, basic baseball hat or "dad hat" will soon be worn with going-out skirts and cute shoes. On the bright side, you no longer need the "greasy hair" excuse to wear a hat.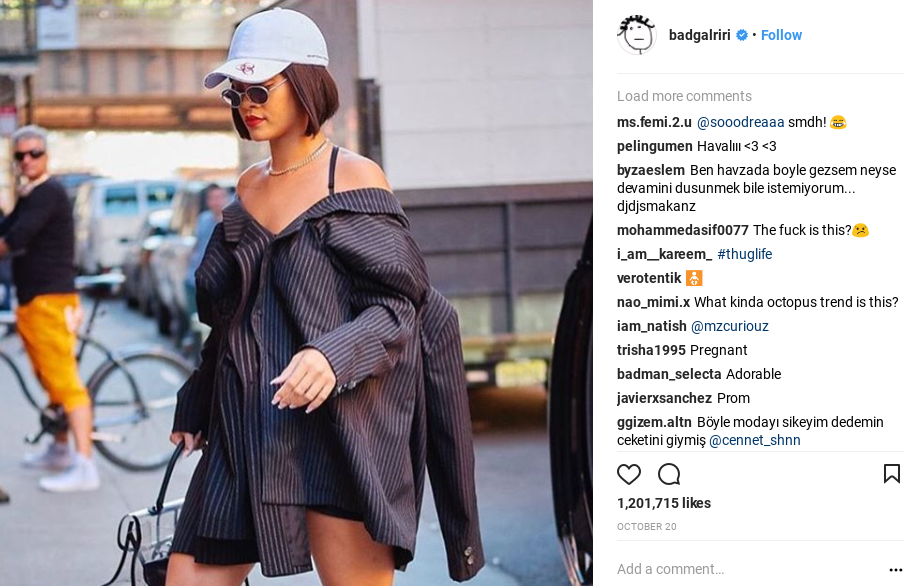 2. Palazzo Pants (Again)
This one is here to stay, but don't go crazy and dig out your summer pairs. What are you, an outfit repeater? Stick to longer, wide-legged styles in neutral prints or solid colors to take this trend in a subtle approach.

3. Plastic And Latex
Just when we thought we'd seen the worst of the worst with see-through Yeezys and half-denim, half-plastic jeans happened. Some freaks are really making this cracked-out trend last. First of all, why? Second of all, WHY? Whether it's a trendy raincoat or a cheap af-looking plastic dress, it looks like we'll be getting an assortment of clothing in tacky plastic. Guess that guy from The Graduate was right? Come spring, we'll probs start to see our fave chain stores carry latex dresses and leggings because honestly, we've run out of ideas at this point.


4. Logo Mania
I guess we're going back to 2001—a time when we felt obligated to wear Hollister or Bebe across our padded bras, just to let everyone know we were cool enough to shop the brands. This next year is apparently full of logo everything, so when you think you left that shit in high school with Abercrombie, American Eagle, or even PINK, think again, and like, this time, make it fashion.

5. All Purple Everything
If you listen to anything I say, ever, or just casually check the internet, you'd know purple is 2018's color. It's specifically Ultra Violet, but even a girly lavender or true purple will still count for something. Expect this trend to be the new millennial pink. From heels to bags to sweaters to the next fucking iPhone XYZ, you'll be wanting everything you see in the bold shade.