Is Justin Timberlake A Cheater Or Just An Idiot?
Nineties babies, I hope you haven't thrown out your Trapper Keeper bedazzled with "Mrs. Timberlake" just yet, because you might still have a shot! That's right, your middle school crush Justin Timberlake was just caught getting touchy with a woman who was decidedly not Jessica Biel. The Sun exclusively reported on Saturday that Timberlake was out in New Orleans drinking heavily and holding hands with his costar Alisha Wainwright. They're in town filming a football movie named Palmer, for which Timberlake will not win an Oscar. Call it a hunch. They have photos and video of the incident, which I did watch despite the fact that there was an ad every nine seconds. I do this for you. Based on the content of this evidence, I suspect someone is about to be in a lotttt of trouble back at home.

Let's talk about what happens in this video. JT appears to be pretty drunk, and oddly he's more attractive to me than he's been in years. One has nothing to do with the other, I'm sure. He and Alisha are out drinking on a balcony together, and at one point Alisha sits next to JT, and he grabs her hand and puts it on his leg and SHE CARESSES IT. Now, I don't know how you all interact with your married coworkers, but I usually just ask them to send me pictures of their home renovations, no caressing involved. There are also photos of him holding hands with Alisha under the table. And that's not all! In the video he is grabbing hands and getting playful with another woman as well. All in all, not a good look for JT, but also not definitive proof he's a cheater. I mean, it definitely proves he's a douchebag, but I think we already knew that. 
Another problem JT is going to have to deal with? He's not wearing his wedding ring in this video. Now, this, along with his behavior, could be an indication that he and the most annoying Camden sibling (fight me) actually have broken up, he's a single man, and they just haven't announced it yet. Celebrities usually keep that sh*t on lock until they drop the news strategically on Friday night or right before a long weekend. We see you. And neither of the Timberlakes have posted about each other on Instagram since Halloween, which is not necessarily a long time, but like, Starbucks has already rolled out their Christmas drinks, so maybe it is?
On the other hand (not literally, the ring was on neither hand), maybe JT wasn't wearing his ring because he just wanted to be like a regular married man looking to score and slid it right into his pocket before hitting on someone way too hot for him. Or, if you are not like me and prefer to give people the benefit of the doubt, maybe you think he just left it at home because he knew he'd be out drinking and didn't want to lose it. That's sweet. 
People immediately followed up this report with one of their own, with a source claiming that it was "completely innocent," and that Justin and Alisha are filming a movie together and "they're cool." And this source's name was Shmustin Dimberlake. Timberlake himself is yet to make a statement about what happened, but he was caught having the decency to look mildly embarrassed the next day. 
Regardless of whether he is a cheater or not, this is a pretty embarrassing situation for JT. He's visibly drunk out in public, acting way too flirty with women who are not his wife, and let himself be photographed and videoed without anyone knowing! He's super rich and super famous, he should know better than this—or should have at least surrounded himself with people who know better than this. It's sloppy. I doubt he and Jessica are separated, but I do hope that she rips him a new one when he returns home. Maybe if we're lucky she'll ban him from being in that movie and none of us will be subjected to his terrible acting ever again. A girl can dream!
It'll be disappointing if the cheating rumors turn out to be true, but Justin would be far from the first famous person to be caught in bed with someone who's not their spouse. Just for old time's sake, let's reminisce about some of the messiest celeb cheating scandals. There are honestly way too many to choose from, but I've done the tough work of narrowing it down.
Tristan Thompson & Khloé Kardashian
Perhaps the most notorious cheater of the last couple years is none other than Tristan Thompson. Who could forget when he was spotted with another woman while Khloé Kardashian was in Cleveland, literally about to give birth to his baby? For whatever reason, Khloé stayed with him, until almost a year later, when the Jordyn Woods news hit the fan. He and Jordyn may not have slept together, but their inappropriate behavior was finally enough for Khloé to ditch his ass. Thank f*cking god.
Ben Affleck & Jennifer Garner
Even four years later, I'm still not quite over the way things went down with Ben Affleck and Jennifer Garner. They seemed like a normal, happy couple, which is why it was so disheartening that Ben cheated on Jen with their nanny, Christine Ouzounian. Ben's team tried to deny the rumors, but you know some shady sh*t is going down when the nanny gets fired one day after you announce your divorce. Jen is now dating a super normal guy, and Ben can kick rocks.
Tiger Woods & Elin Nordegren
It's been 10 years since the great Tiger Woods Cheating Scandal of 2009, but it's no less crazy a decade later. After an initial tabloid report about Tiger having an affair, an avalanche of mistresses began coming forward, with nearly a dozen women accusing Tiger of sleeping with them. If you're going to cheat, you should probably try to keep the number of mistresses to like, one hand at least. Tiger's wife Elin divorced him the next year, and this year she gave birth to a son with former NFL player Jordan Cameron. Good for her.
LeAnn Rimes & Eddie Cibrian
This cheating scandal was M E S S Y, and there are so many layers here to unpack. LeAnn and Eddie were both married to other people in 2008, when they started hooking up while shooting a Lifetime movie together. Honestly, how all great relationships begin. They eventually went public and left their spouses to be together. They're still together, so maybe this was for the best? Also, you might remember that Eddie Cibrian's ex-wife is a woman by the name of Brandi Glanville, who would go on to be an iconic Real Housewife, and also one of the root causes of the drama that gave us Vanderpump Rules (because Scheana also slept with Eddie). This cheating scandal is so deep, and its ripple effects have greatly benefited my life, even years later.
What's the craziest celeb cheating scandal you can remember? And do you believe that Justin Timberlake cheated on Jessica Biel? Let me know in the comments, because I need conspiracy theories about this.
Images: giphy, justintimberlakebelge,jessicabiel/Instagram
Did Justin Bieber's Dad Accidentally Reveal Hailey Baldwin Is Pregnant?
My friends, the rapture may be imminent. Because word on the street aka the internet sites that my work computer doesn't block is that HAILEY BALDWIN MIGHT BE PREGNANT. *screams internally*. Is Hailey Baldwin pregnant? What did we do to deserve this, you ask? Well I know I stole extra rolls at my grandma's funeral reception did nothing, but I'm not sure about you all. Whatever it was, we are clearly being punished. 
So, I'm sure you're wondering why people think that the human embodiment of nepotism draped in crop tops is pregnant, and the answer to that is Jeremy Bieber. According to my celebrity gossip god, Lainey, Papa Biebs has been doing some curious social media-ing lately that has fans questioning Hailey's reproductive status. Let's look at the evidence, shall we?
The first questionable post is brought to you by Instagram. Yesterday, Jeremy posted this picture, but it's the caption that's making the Beliebers suspicious.
Now sure, "To be Father #Bieber's" is confusing for many reasons, most of all because if you're pluralizing a last name there should not be an apostrophe. Take note for your Christmas cards, PLEASE people. Second of all, I can see how fans might think this means Justin is expecting. Jeremy is kind of  implying that both he and Justin are fathers. Personally, I just think that Jeremy doesn't have a strong grasp on grammar rules, but sure, I will begrudgingly accept the possibility that Jeremy Bieber was putting his famous son's business on the internet for more followers because he's just so excited!
Now on to exhibit B. Jeremy also tweeted out the following:
Nothing touches having all your kids together. 3 generations. #ProudFather

— Jeremy Bieber (@JeremyBieber) September 30, 2018
Apparently this tweet came on Sunday when Hailey and Justin were visiting Jeremy in Canada. Hmm. V suspicious. If we trust that Jeremy knows what generations mean (a bit of a leap tbh), and we count his generation, and then Justin's generation, WHAT IS THE THIRD GENERATION? Is Hailey Baldwin pregnant and the third generaation is gestating in her womb??! It would seem that's what he is implying.
Finally, I think the last piece of evidence is the quickie marriage between Justin and Hailey. Yes, plenty of youths these days have babies without being married, but as we know, Justin and Hailey are "religious" people. I mean, not so religious they wouldn't have unprotected sex before marriage, LOL AS IF, but definitely the type to try and correct their mistake afterword with a shotgun wedding and some creative math.
So what do you all think, is Hailey Baldwin pregnant? Personally I believe these two need a baby like I need a UTI, but hey! At least the kid will be rich. Let's all keep our eye on this, and if she really is with child I wish them all the best and hope that Hailey gains 60 pounds.
Images: @jeremybieber/Instagram; @jeremybieber/Twitter
6 Celebrity Couples With Huge Age Gaps
Hollywood is notorious for strange celebrity couples,
 but sometimes the age difference between two people is so large, people wonder if he's her father or boyfriend. Large age gaps have become the norm in Hollywood, housing some of the largest age differences ever (okay, so I don't know about ever, but if a couple had an age difference larger than those on this list then that's just criminal). Has anyone else mistaken Hugh Jackman's wife for his mom whenever they are seen at award shows? Awkward. Here is a list of more celebrity couples with large age gaps. Like, these gaps are probably larger than the age gap between you and your parents.
1. Olivier Sarkozy and Mary-Kate Olsen
Sarkozy, 48, and Olsen, 31, have a 17-year gap between them. They got married in 2015, but to be fair, their age difference seems minimized because Olsen looks about double her age. (Possibly due to smoking. 
PSA: smoking is bad). For reference, Sarkozy was 18 and already too old to be watching Full House when Olsen first appeared on it, but maybe his kids enjoy watching it? *Shudders*

2. Leonardo DiCaprio and Camila Morrone
In my book, Leo can't do much wrong. However, dating a girl who just turned 20 when he is 43 may be one of them. (And, honestly, any one of Leos' recent girlfriends would have landed him on this list of celebrity couples with large age gaps—mid-life crisis, anyone?) Leo is 23 years older than his latest squeeze, Camila Morrone, for those of you as bad at math as I am. We've all been rooting for Leo to finally find someone, but this isn't exactly what I meant. It's not just me who thinks their age difference is concerning—as of two years ago, 
so did the law
.
3. Donald and Melania Trump
What's weird about this one? 
A few things
. Melania was just 7 years old when Donald's eldest son was born, making her significantly closer in age to her step-son than to her husband. Yikes. But to each their own; maybe they enjoy the 24-year age difference. Maybe Melania is trapped. Who really knows? The couple, Donald, 72, and Melania, 48, married in 2005. DM us if you need an out Melania, we've got the getaway car ready. 

4. Michael Douglas and Catherine Zeta-Jones
Since 2000, Douglas, 73, and 48, Zeta-Jones, have been married. Maybe their 25-year age gap is the secret to a successful marriage (although they did briefly split in 2013). Does anyone else remember the time Michael Douglas tried to claim eating p*ssy gave him throat cancer? Because that's literally the first thing that comes to mind when I think about this couple. 
5. Sarah Paulson and Holland Taylor
Paulson, 43, and Taylor, 75, have been together since 2015. Their 31-year age difference proves they're one of those "age is but a number" couples. Taylor has said their relationship is "the most wonderful, extraordinary thing that could have ever possibly happened in my life." Awww…how sweet. But still not 
going to lie, their age gap weirds me out slightly.

6. Arlene Silver and Dick Van Dyke
This couple takes the cake for the largest age gap on our list. Van Dyke, 92, and Silver, 46, have been married since 2012. That means Arlene married an 86-year-old when she was 40!! Like, damn, I know I will always double tap on those memes that say "me arriving at my sugar daddy's funeral to collect my portion of the will," but I'm not really about to live that life! To give you even more perspective here, the first episode of The Dick Van Dyke Show aired 10 years before Silver was even born. And Mary Poppins came out seven years before she was born. Do we think they watch re-runs of Van Dyke in his prime together? They have to, right?
Images: Shutterstock; Giphy (3)
Why Do So Many Celebrities Go To Hillsong Church?
Are you obsessed with cults, conspiracies, and true crime? You're in luck—we're launching a new podcast on all that sh*t starting October 1. It's called Not Another True Crime podcast and it's going to be dope. Follow @natcpod on Instagram and Twitter for more details.
I believe Tina Fey said it best when she said, "Hollywood is like a high school cafeteria. You have your Varsity Jocks, Girls Who Eat Their Feelings, Girls Who Don't Eat Anything, Desperate Wannabes, Burnouts, and of course, your Jesus Freaks." And as it turns out, there are quite a lot of Jesus Freaks. I personally have no problem with religion or religious celebrities, but being the sweet, stupid souls they are, some tend to get themselves involved in cults like Scientology suspicious organizations. Call me skeptical, alright?
So a few weeks ago when I was bumming myself out over the fact that Chris Pratt has a new girlfriend that isn't me and doing a deep dive into their dates for material to complain to my therapist about, I noticed that he and Katherine Schwarzenegger attended church together. And yes, it is the same church that Justin took Selena to during their brief reconciliation this year. So like, is this a thing now? Are the pews lined with cocaine and Playboy models? Because I'm pretty sure that's the only way they'd get celebs to attend.
As I began my Insta stalking research, I learned this organization is called Hillsong Church, and is a favorite of the Biebs, the KarJenners, and Nick Jonas. So what is it, exactly? And why are celebrities taking dates there instead of to like, Tao, or in Ben Affleck's case, Jack-in-the-Box? Well today's your lucky day, friends, because I'm about to give you the deets on this church that is most definitely, for sure, totally not a cult.
There's A Hot Pastor
Is your church even cool if everyone doesn't want to bang the pastor? Thankfully, Hillsong doesn't have to answer that question because their pastor is hotter than any dude currently competing on Bachelor in Paradise (except Joe, duh). His name is Carl Lentz, and he co-founded the New York City branch of Hillsong in 2010. Let's take a gander at that face that was perfectly crafted in God's image. Like, perfectly. God chiseled that jawline Himself.
I bet he doesn't even need those hipster glasses to see. Show me your prescription, Carl. PROVE IT!
Not only is Lentz a regulation hottie, but he is also extremely close with Justin Bieber.  He even baptized Justin in Tyson Chandler's bathtub, and is his personal pastor. However, it is rumored they're on the outs right now since Lentz did not publicly congratulate Justin on his fast and not at all rash engagement to the daughter of the Baldwin I've dubbed "most likely to be a serial killer".
It's In A Cool Venue
Have you ever been sitting in St. Patrick's Cathedral and thought to yourself, "Man, I really wish this religious service felt more like a concert"? Well then you're in luck, because if you attend Hillsong Church you get to feel like U2 is saving your soul. Well, your soul and the souls of 2,000 others who think being a born-again virgin means "just the tip."
The New York services are held in Hammerstein Ballroom, home to legends like David Bowie, Britney Spears, and Patti LaBelle, and now apparently to anyone who is looking to absolved of their sins by a man in skinny jeans.

The Church Is Welcoming To Everyone
Hillsong is a global pentecostal megachurch, which means that they adhere to the word of the Bible. Obviously, since the Bible is a text that was written a while ago, it's not necessarily in step with the times. Pastor Hottie has publicly stated that the church believes that gay marriage and abortion are both sins. But as he explains in this excellent GQ profile, that doesn't mean they don't welcome everyone to their church, no matter what. I assume the "no matter what" part of that statement means "as long as they donate 100 grand and sign an NDA."
Considering their congregation has a few DUI's, a sex tape, some out of wedlock pregnancies, and the song "Pizza Girl" amongst them, I'd say it's a good thing the church is forgiving of sins.   

Pastor Hottie, is this allowed?!
It May Be Shady
As you may have guessed, any organization that encourages people to follow the teachings of one charismatic man may not have the purest of intentions. *cough* Charles Manson *cough*. Now I'm not saying that Hillsong Church is going to murder anyone in the Hollywood Hills, but Post Malone is saying that, okay? SUE HIM, YOU HEAR ME!? According to Post Malone, Justin donated $10 million to Hillsong, and he is now "super-religious" and "real culty," which is what I said about my cousin when she got "John 3:16" tattooed on her lower back. Pastor Hottie disputed those claims from the personal spray tan booth in his gilded bathroom. I'm not sure who to believe, but in the church's defense, Post is always tired and that'd f*ck up anyone's ability to form a rational thought.
And that's the deal with Hillsong Church! I hope all these celebrities really do have their souls saved by a hot pastor in Hammerstein Ballroom, and that the power of Jesus is so strong it cancels out the strategically timed nudes their publicist a hacker released.
Images: @carllentz /Instagram (3); Giphy (2)
Are you obsessed with cults, conspiracies, and true crime? You're in luck—we're launching a new podcast on all that sh*t starting October 1. It's called Not Another True Crime podcast and it's going to be dope. Follow @natcpod on Instagram and Twitter for more details.
Is Justin Bieber's Mom Shading Him Over His Engagement?
Young love. It's so beautiful, so powerful, so all-consuming, and so damn stupid. And you know who is the stupidest of all the stupids out there? Justin Bieber. That's right, I said it. As everyone in the world now knows, Justin Bieber got engaged to the daughter of the scariest-looking Baldwin brother last month, in some sort of strange plot to prove to Selena Gomez he doesn't still sniff a lock of her hair before bed every night. I assume.
Since the engagement, family members of both Justin and Hailey have expressed excitement and joy for this blessed train wreck of an event. But guess who doesn't seem too excited about this mild natural disaster? Justin's mom, Pattie Mallette. And you know why? Because his mama don't like you, Hailey, and she likes everyone. That, or Pattie has at least one iota of common sense in her brain and can see that this is going to end about as well as the Red Wedding.

I'm sure you're asking yourself how I, someone laying in their bed in the tri-state area, could possibly know that Pattie is just not that into this rushed engagement, and the answer to that is simple: Twitter.  According to this article in Cosmopolitan, there are a few pieces of evidence. But, as much as I want to believe this conspiracy theory, the evidence is about as strong as my will to live on a Monday morning.  Let's take a look at these straws for which fans are desperately grasping.
First, we have Pattie's Twitter bio. According to all the Beliebers out there getting their panties in a twist about this, Pattie's bio used to say, "yes Justin Bieber is my son." That was recently removed and now her bio only reads #LoveWins #LOVEARMY. Okay, so yes, it is a little suspicious that she removed that line from her bio, but maybe she figured after 9 years on Twitter, we already knew she was his mom? And considering Justin Bieber's abs are aggressively staring at me from a pinned tweet at the top of her feed, could she really be THAT mad at him? I wouldn't even feel comfortable staring at my son's naked torso when I'm proud of his decisions, let alone when he is making a mockery of the sanctity of marriage.
Life is worth living. #love pic.twitter.com/RiagCLjUaH

— Pattie Mallette (@pattiemallette) July 2, 2018
Pattie also recently tweeted "Love is unconditional." And I know Twitter is not, like, a binding contract, but it would be a little petty if she was mad at Justin for getting engaged to a model that his erect penis is telling him he loves. Certainly not unconditional.
The next piece of evidence that every Cosmo girl should know is that Pattie liked the following tweet from The Bachelor's OG virgin Sean Lowe:
Pattie removed @fearofgodkid from her bio and liked this tweet ???????????? @theseIenagomez_ pic.twitter.com/fM9J1xhhSq

— Justin Bieber & Selena Gomez (@lbelievejelena) July 21, 2018
Look guys, I read into everything. I have spent hours poring over Taylor Swift lyrics to see if there's anything to the rumors that she and Karlie Kloss were in love. And even I think this might be a stretch. The title of the Cosmo article says this is a tweet "shading rushed engagements." BUT IS IT? This is clearly a tweet shading the garbage crop of Bachelorette contestants this season. And even though Pattie liked it, is it that far off to assume that she is also just bitter that Wills got cut unjustly?
So, as I mentioned, weak evidence at best. I do actually hope Pattie is pissed at Justin for this incredibly rash decision, but I doubt she's leaving us all breadcrumbs on social media. We should keep our eyes on this, though, because you never know when flimsy evidence can become a possibly literal smoking gun. And if there's anything more fun than the rushed engagement of two twentysomething millionaires, it's a blood feud.
Images: giphy; @pattiemallette/Twitter; @ibelievejelena/Twitter
Khloé Kardashian Broke Her Silence In The Most Confusing Way
Friends, it has not been an easy few weeks for Khloé Kardashian. Not only did she have to push the giant spawn of an indiscreet cheater out of a hole the size of a lemon, but she had to do it while knowing that in the end she really should have gone the sperm donor route. I can only imagine this birth required lots of drugs, ice chips made from Evian water laced with liquid gold, and high thread count sheets. Then, since the birth of True "I was named to shame my father" Thompson, Khloé  has also had to endure the media saying she is "living in hell." What a beautiful way to describe Khloé's time with her brand new daughter. Put that one in the baby book for sure. Well, Khloé has finally had enough.
Yesterday E! News posted a picture on Instagram and linked to a story they wrote about how Khloé is "leaning on Kourtney" right now, since Kourt has also endured the shame of a cheating boyfriend with no regard for the woman whose organs literally shifted around inside her body to accommodate their child. I'm paraphrasing.
And after all the stories written about her since the cheating scandal broke, Khloé finally decided that a story claiming her sister was helping her out required a comment. So that's the line, then. Not her boyfriend being taped motorboating a rando in a club, or her mother telling Ellen that she is struggling with breastfeeding, but it was this nothingburger story that I can't even find a record of on the internet. Am I bad at Google? Anyway, Khloé commented on E!'s insta saying "oh damn… I hope I don't crush her by leaning on her! I love my little @kourtneykardash"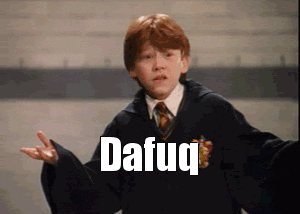 First of all, I feel betrayed by the stories claiming Khloé was "breaking her silence" and "clapping back." V misleading. It would be more appropriate for them to say "Khloé was finally so fucking bored while attempting to get True to latch on to her breast that she commented on an Instagram so she could get some more free media attention." Should I make that this story's headline?
Next, is she trying to shade E!? Like I just can't tell. If it's an insult, it's not a good one. It only serves to remind me that Khloé is, in fact, much larger than her sisters and that I really should get back to my investigation into who her real father is before the case goes cold. That bulletin board of clues in my basement isn't going to solve itself.
And finally, is she just agreeing with them? Like, "yeah I'm leaning on her, us gals with shitty taste in men gotta stick together"? I'd love to see how these sisters actually lean on each other. I'm sure we'll find out soon though, documented by a nude photo shoot for Insta.
Kourtney:  "I'm sure you're feeling sad Khloé but, like, you're blocking my ass and stealing my best light"
Khloé: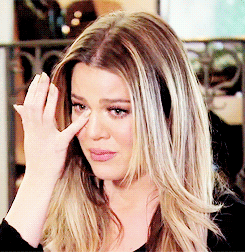 So basically it appears that the media made a story out of nothing. Shocking! Hit me up when Khloé actually breaks her silence with a scathing statement about Tristan's cheating ways while clasping his balls triumphantly in her hand. Sound good?
Images: @commentsbycelebs /Instagram (1); Giphy (2)
DASH Is Closing, So We Found The 10 Most Heinous Items Ever Sold
Remember when Kim's voice was five octaves higher, Kourtney was hooking up with girls in Miami, and you dreamed of working as a DASH Doll? The Kardashian empire has come a long way, and as much as Kris Jenner would deny it, DASH has been outdated for a while now. The boutique used to be this exclusive and trendy brand, but now it's just an old hobby that Kylie's older sisters did before they all had nose jobs kids. The sisters just announced that all DASH stores are officially closing, so we thought we'd do one more dive through the website to see some of the weird shit that was being sold. Here are some of the worst things we found.

Because everyone wants a giant shiny DASH on their car keys. Subtle.

Is it a necklace? A bra? A choker? An S&M toy? Yes to all the above. Also, probably a choking hazard.

Is it just me or is Wildfox getting less and less relatable as time goes on? Regardless, I'd like to find the Kardashian that approved this sweatshirt for the store.

Just when you thought Kris Jenner was milking every ounce of her kids' talents for fame, she suddenly shows up with her own cookbook and gets it in her daughters' store. Also, like, *as if* she cooks.

I think the only thing worse than wearing a bedazzled bandeau is wearing a bedazzled bandeau that says FIRE across your boobs in a weird Old English font. I'm concerned.

To commemorate that one episode where Khloé goes to Morocco.

"I'm looking for a confusing and highly uncomfortable white lace bra that literally goes with nothing."

I can't imagine a single time when this top would be appropriate. As if the pine green color isn't bad enough, this is like, a fancy work top that happens to expose your nipples. Should I call HR?

*Kourtney wears plaid once.*

Unless you worked at the store or bought this as a joke, there is no excuse for wearing this in public. I'm done.
Images: DASH (10)
Kristin Cavallari Is Disgracing The Good Name Of 'The Hills'
In case you thought Botched was the most cringeworthy show on E! right now, Kristin Cavallari's new show, Very Cavallari, is premiering this summer, and it literally makes Lauren Conrad's Teen Vogue internship look real. Let's discuss. 
Look, don't get me wrong. I'm not one of those people who turns on Real Housewives on a JetBlue flight and pretends to suffer through an episode of reality TV. I love reality TV. I can explain the Kardashian family tree better than my own, and I still hesitate before making plans on Monday nights even after Bachelor season is over. I just genuinely think Very Cavallari is gonna suck.
I mean, let's talk about the promo. We see a few shots of Kristin being a *regular person* who lives a normal married life in Nashville, and we're supposed to be impressed that she's building her own "lifestyle brand" while being a cool mom. Yawn. That just described the daily goings-on of pretty much every mom on Instagram with more than 300 followers.
Kristin starts the trailer by saying, "It has been SEVEN YEARS since I've stopped shooting The Hills."
Umm, yeah, and there's a reason it stopped airing. We were team Lauren back then, and we don't give a shit about your fake drama anymore. Like, Kristin heroically returning to reality TV is the equivalent to me going back to the nail salon after I screwed up my manicure because it wasn't dry yet. No one asked for this revisit. Also, there's a reason shows like The Hills don't exist anymore. The characters are dated. Like, I used to think Lauren was the most relatable person on the show, but nowadays I relate much closer to Spencer's batshit breakdowns and financially irresponsible crystal collection. Just saying.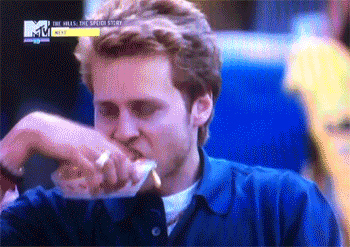 Then Kristin starts spewing random shit about her "business team", like, "I have the craziest staff. Of course there's gonna be drama. Of course there's gonna be hookups…. It's gonna be a wild ride."
First of all, "of course there's gonna be hookups"? What kind of workplace environment are you in? It sounds like a sexual harassment lawsuit waiting to happen. And I'm sorry, what is this show even about?! So far it sounds like one of those shows where a secret HR rep is watching a corporate disaster from some hidden camera in a nearby van and has to step in when Kristin hooks up with an intern or shows up to Casual Friday in a bikini. I actually think I'd watch that, though.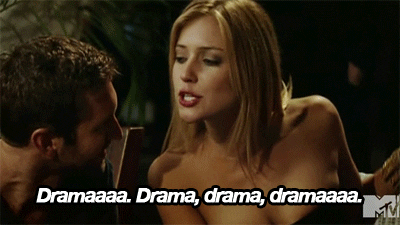 The drama on this show makes the plot lines on Laguna Beach seem plausible. Unless you give Brody Jenner at least one guest appearance, I'm sticking with the Jersey Shore reboot for now. But like, on the bright side, I guess we've finally solved the debate over how Cavallari is pronounced. VERY helpful, Kristin.
Images: E! News (1), Giphy (4)