Is Justin Timberlake A Cheater Or Just An Idiot?
Nineties babies, I hope you haven't thrown out your Trapper Keeper bedazzled with "Mrs. Timberlake" just yet, because you might still have a shot! That's right, your middle school crush Justin Timberlake was just caught getting touchy with a woman who was decidedly not Jessica Biel. The Sun exclusively reported on Saturday that Timberlake was out in New Orleans drinking heavily and holding hands with his costar Alisha Wainwright. They're in town filming a football movie named Palmer, for which Timberlake will not win an Oscar. Call it a hunch. They have photos and video of the incident, which I did watch despite the fact that there was an ad every nine seconds. I do this for you. Based on the content of this evidence, I suspect someone is about to be in a lotttt of trouble back at home.

Let's talk about what happens in this video. JT appears to be pretty drunk, and oddly he's more attractive to me than he's been in years. One has nothing to do with the other, I'm sure. He and Alisha are out drinking on a balcony together, and at one point Alisha sits next to JT, and he grabs her hand and puts it on his leg and SHE CARESSES IT. Now, I don't know how you all interact with your married coworkers, but I usually just ask them to send me pictures of their home renovations, no caressing involved. There are also photos of him holding hands with Alisha under the table. And that's not all! In the video he is grabbing hands and getting playful with another woman as well. All in all, not a good look for JT, but also not definitive proof he's a cheater. I mean, it definitely proves he's a douchebag, but I think we already knew that. 
Another problem JT is going to have to deal with? He's not wearing his wedding ring in this video. Now, this, along with his behavior, could be an indication that he and the most annoying Camden sibling (fight me) actually have broken up, he's a single man, and they just haven't announced it yet. Celebrities usually keep that sh*t on lock until they drop the news strategically on Friday night or right before a long weekend. We see you. And neither of the Timberlakes have posted about each other on Instagram since Halloween, which is not necessarily a long time, but like, Starbucks has already rolled out their Christmas drinks, so maybe it is?
On the other hand (not literally, the ring was on neither hand), maybe JT wasn't wearing his ring because he just wanted to be like a regular married man looking to score and slid it right into his pocket before hitting on someone way too hot for him. Or, if you are not like me and prefer to give people the benefit of the doubt, maybe you think he just left it at home because he knew he'd be out drinking and didn't want to lose it. That's sweet. 
People immediately followed up this report with one of their own, with a source claiming that it was "completely innocent," and that Justin and Alisha are filming a movie together and "they're cool." And this source's name was Shmustin Dimberlake. Timberlake himself is yet to make a statement about what happened, but he was caught having the decency to look mildly embarrassed the next day. 
Regardless of whether he is a cheater or not, this is a pretty embarrassing situation for JT. He's visibly drunk out in public, acting way too flirty with women who are not his wife, and let himself be photographed and videoed without anyone knowing! He's super rich and super famous, he should know better than this—or should have at least surrounded himself with people who know better than this. It's sloppy. I doubt he and Jessica are separated, but I do hope that she rips him a new one when he returns home. Maybe if we're lucky she'll ban him from being in that movie and none of us will be subjected to his terrible acting ever again. A girl can dream!
It'll be disappointing if the cheating rumors turn out to be true, but Justin would be far from the first famous person to be caught in bed with someone who's not their spouse. Just for old time's sake, let's reminisce about some of the messiest celeb cheating scandals. There are honestly way too many to choose from, but I've done the tough work of narrowing it down.
Tristan Thompson & Khloé Kardashian
Perhaps the most notorious cheater of the last couple years is none other than Tristan Thompson. Who could forget when he was spotted with another woman while Khloé Kardashian was in Cleveland, literally about to give birth to his baby? For whatever reason, Khloé stayed with him, until almost a year later, when the Jordyn Woods news hit the fan. He and Jordyn may not have slept together, but their inappropriate behavior was finally enough for Khloé to ditch his ass. Thank f*cking god.
Ben Affleck & Jennifer Garner
Even four years later, I'm still not quite over the way things went down with Ben Affleck and Jennifer Garner. They seemed like a normal, happy couple, which is why it was so disheartening that Ben cheated on Jen with their nanny, Christine Ouzounian. Ben's team tried to deny the rumors, but you know some shady sh*t is going down when the nanny gets fired one day after you announce your divorce. Jen is now dating a super normal guy, and Ben can kick rocks.
Tiger Woods & Elin Nordegren
It's been 10 years since the great Tiger Woods Cheating Scandal of 2009, but it's no less crazy a decade later. After an initial tabloid report about Tiger having an affair, an avalanche of mistresses began coming forward, with nearly a dozen women accusing Tiger of sleeping with them. If you're going to cheat, you should probably try to keep the number of mistresses to like, one hand at least. Tiger's wife Elin divorced him the next year, and this year she gave birth to a son with former NFL player Jordan Cameron. Good for her.
LeAnn Rimes & Eddie Cibrian
This cheating scandal was M E S S Y, and there are so many layers here to unpack. LeAnn and Eddie were both married to other people in 2008, when they started hooking up while shooting a Lifetime movie together. Honestly, how all great relationships begin. They eventually went public and left their spouses to be together. They're still together, so maybe this was for the best? Also, you might remember that Eddie Cibrian's ex-wife is a woman by the name of Brandi Glanville, who would go on to be an iconic Real Housewife, and also one of the root causes of the drama that gave us Vanderpump Rules (because Scheana also slept with Eddie). This cheating scandal is so deep, and its ripple effects have greatly benefited my life, even years later.
What's the craziest celeb cheating scandal you can remember? And do you believe that Justin Timberlake cheated on Jessica Biel? Let me know in the comments, because I need conspiracy theories about this.
Images: giphy, justintimberlakebelge,jessicabiel/Instagram
Everyone Taylor Swift Not-So-Subtly Shades In Her 'Elle' Essay
I'm about to blow all your minds—I love Taylor Swift. I know! I'm sorry if you're one of those people that wish something graphically horrible would happen to her, but I'm a card-carrying member of the Taylor fan club (we don't really have cards). Maybe it's because "Tim McGraw" reminds me of a simpler time when my only responsibility was to make sure I ordered enough jalapeño poppers from Campus Corner for all the people crammed into a tiny dorm room. Or perhaps it's because a guy I used to date told me that "Today was a Fairytale" reminded him of us. Sure, that ended with a $75 dollar red light traffic ticket and some lasting mental health issues, but I should have known better than date someone that lived on Staten Island! So yes, it could be my own nostalgia talking, but it also could be because Taylor is the queen of petty and brings it. Every. Single. Time. Her ability to hold a grudge is only rivaled by my stone-cold Italian grandmother.
Why am I confessing my deepest, darkest secrets you ask? Well, Taylor appears on the cover of Elle's April issue, and she bribed them was allowed to write her own story titled "30 Things I Learned Before Turning 30." Perhaps you've heard, Taylor was born in 1989. So 30 is upon her. Now, the only thing I learned before turning 30 was that you shouldn't spend your rent money on wine and pizza, but sure, I'm willing to entertain the idea that a pop superstar with her own jet learned slightly more than a Jersey girl who likes to sh*t talk. And boy, am I glad I did. Because this essay is a master class in shade. These "lessons" are Taylor's thinly veiled takedowns of her enemies, and I am here for it because that's basically what I try to do with all my articles too! So, since Tay isn't naming names, I'm here to break down who she's not-so-subtly shading in this article. Author note: these are only guesses, please don't sue me, Taylor!
Tom Hiddleston
In lesson sixteen, Taylor says, "Before you jump in headfirst, maybe, I don't know…get to know someone! All that glitters isn't gold, and first impressions actually aren't everything. It's impressive when someone can charm people instantly and own the room, but what I know now to be more valuable about a person is not their charming routine upon meeting them (I call it a "solid first 15"), but the layers of a person you discover in time."
This is obviously referencing Taylor's brief romance with Tom Hiddleston, who she met at the 2016 Met Gala. They had an incredibly cringey dance-off that made me wish the internet was never invented, then he was invited to #Taymerica where he was spotted donning a tank top that said "I Heart TS," and I was officially dead of embarrassment by the time they broke up in October. It seems Taylor realized that perhaps just because a white dude that went to Cambridge is game to torture us with a dance routine to "Bring 'Em Out," does not mean you should go all in on that immediately. Plus, you know who else gave a solid first 15? Ted Bundy. Just saying.  
#neverforget
Karlie Kloss
Of all the friends in Taylor Swift's 1989-era girl squad, Karlie Kloss was queen bee of them all. Taylor and Karlie even posed for a Vogue cover together, with the article titled "On the Road with Best Friends Taylor Swift and Karlie Kloss." If Vogue says you're best friends, then you just are. And then Karlie just kind of disappeared from Taylor's life. Psycho fans people even believed they were a couple that had a bad breakup. Seriously. Karlie recently got married, and Taylor wasn't there. So what happened? I think we have our answer in lesson twenty:
"Learning the difference between lifelong friendships and situationships. Something about "we're in our young twenties!" hurls people together into groups that can feel like your chosen family. And maybe they will be for the rest of your life. Or maybe they'll just be your comrades for an important phase, but not forever."
So clearly they were both really tall, really famous, really blonde girls that were the same age and so they became friends. I can obviously totally relate. And so they just eventually went their separate ways, with Karlie marrying into the Kushner family and Taylor busy tending to her grudges like little pets.
The good old days
Anna Wintour
If you come at the Queen you best not miss, and I think Taylor misses on this one. In lesson twenty-one she writes:
"Fashion is all about playful experimentation. If you don't look back at pictures of some of your old looks and cringe, you're doing it wrong. See: Bleachella."
I'm so sorry that Anna insisted you make your look a little more edgy to be in her high fashion magazine, Taylor. God forbid you give up the burnt straw hair color you cling to like it's your first born. Anna was right, and Bleachella was your best look. And I'm not just saying that because I myself spent one glorious year as a platinum blonde. Sure, my hair is falling out now, but that's beside the point.
Kimye
Oh, did you think Taylor was going to write an article and not call out public enemy #1? I'm sorry I couldn't even say that with a straight face. Of course Taylor claims she would like to be excluded from this narrative, but that's only when other people are talking about it, duh. She says in lesson twenty-seven:
I learned that disarming someone's petty bullying can be as simple as learning to laugh. In my experience, I've come to see that bullies want to be feared and taken seriously. A few years ago, someone started an online hate campaign by calling me a snake on the internet. The fact that so many people jumped on board with it led me to feeling lower than I've ever felt in my life, but I can't tell you how hard I had to keep from laughing every time my 63-foot inflatable cobra named Karyn appeared onstage in front of 60,000 screaming fans. It's the Stadium Tour equivalent of responding to a troll's hateful Instagram comment with "lol."
KARYN!! She named the cobra KARYN! I'd like to know more about this choice. Why Karyn with a y and not an e? What an unconventional spelling. So many unanswered questions, I will be on the edge of my seat studying her secret IG clues until I get an answer for this one. Obviously Taylor is not over the whole Kimye feud, and that's fine with me. Feuds are to me as unicorn blood is to Voldemort. They give me life. I hope Taylor takes this one to the grave, and that Karyn is etched on her tombstone.

My Cocktail Making Skills
Despite the entire thesis of my article, Taylor does talk about other things in her essay. Here's lesson nine:
"I learned how to make some easy cocktails like Pimm's cups, Aperol spritzes, Old-Fashioneds, and Mojitos because…2016."
Lol, wait. I take it back, that's some more shade at Kimye. If you'll recall, 2016 was the year that the feud of all feuds went down, and Taylor clearly still hasn't gotten over it. Anyways, in this lesson she's also coming for my cocktail making skills. Who the f*ck knows how to make an Old-Fashioned? I'm still mastering the vodka soda. Except I don't have club soda. Or ice. If you come to my apartment, you get a lukewarm vodka and you WILL LIKE IT.
And that's all! Did I miss any other shade Taylor was throwing? Let me know!
Images: Giphy (1); hiddlove,karliekloss,voguemagazine/Instagram
Are Khloé Kardashian And Tristan Thompson Still Together? We Investigate
For those of you who Keep Up on a regular basis, you know it's a full-time f*cking job. Not only do you have to tune in on Sundays, but also every other day of the week. You need to deep dives into their social media so you can figure out WTF is happening. It's exhausting but someone's got to be this committed to avoiding doing actual work do it. And nothing is more exhausting than trying to figure out if Khloé Kardashian and Tristan Thompson are still together.
Last spring, Tristan proved that men are unfit to live in society and should be caged at all times when he cheated on Khloé while she was NINE MONTHS PREGNANT by motorboating a bunch of randos he met at a club. As if little baby True didn't have enough issues to bring up with her future therapist, now she can add "daddy issues" to the long list. Since then Khloé has been v v quiet about WTF is going on between her and Tristan despite the fact that I am heavily invested in their relationship and need answers immediately.
KHLOÉ: *chooses to keep very personal issues of her private life private*
ME: 

Sources say the couple has been on "rocky terms" ever since the scandal broke but, like, what does that even mean? Like, how rocky is it? Is it like they're in couples therapy but Tristan still sleeps on the couch kind of rocky? Or more like he's allowed to breathe near baby True but only during supervised visits? WHAT IS THE TRUTH? And with the cheating episode airing on KUWTK this Sunday (!!!) it's important that we have answers now more than ever. I'm not trying to get hurt again, ya know? Let's take a look at the evidence, shall we?
1. Her Instagrams
Tristan has been suspiciously missing from Khloé's IG for MONTHS now. If there's a stronger indicator for a relationship falling apart than that, I don't know it what is. Since the cheating scandal, her feed has been a constant stream of baby photos and thirst traps. I guess motherhood only changes you so much. Tristan did make a quick appearance in August when Khloé posted about her weekend getaway to Mexico but, like, at the very back of the photo reel and their bodies weren't even touching. If there's one thing I know about the Kardashians it's how much they looove to flaunt their asses and significant others, so the fact that his face is buried so far back in her IG that even I have a hard time tracking it down means it's not looking great for T.  
2. The Bali Vacation
This year the Kardashians pregamed Halloween with a casual vacation to Bali. I do something similar except replace "vacation to Bali" with googling vacations I can't afford, stuffing my face with discount candy to numb the pain, then saying "f*ck it" and incorporating Target's last-season swimwear into a slutty costume so I can get some sort of use out of that purchase. Self-care is so important, isn't it ladies?
So, the Kardashians pregamed in Bali and even let the father of the year alcoholic and self-proclaimed sex addict Scott Disick come. You know who wasn't invited? Tristan Thompson. Some might say this is because Tristan is training in Cleveland. I say it's because Kris Jenner threatened to throw him overboard. Khloé also posted a super cute photo of her and True with the caption "blah blah blah Thankful for the memories baby True and I are creating" (I paraphrase). Does that now low-key feel like a dig at Tristan? She might as well have said "thankful for making memories with baby True AND NO ONE ELSE." Khloé, I'm picking up what you're putting down.
3. The Cleveland Move
Perhaps the most damning piece of evidence: Khloé has yet to move back to Cleveland. Apparently Khloé was supposed to join her baby daddy last month when he moved back to Cleveland for basketball season, but instead is living her best Calabasas life. According to sources she's not making any moves rn and is "just going to sit back and assess the situation very closely" aka she's making damn sure there's no more late night motorboating going on before she moves her entire life to middle America.
That said, she did attend one of his games earlier this week. Some people are saying this is proof that their relationship is back on track, but I have trust issues am not buying it. This feels less like a loving partner's show of support and more like Khloé flew two thousand miles to make sure her man wasn't eye-f*cking any cheerleaders. Just saying.
4. Halloween
Finally, my investigation brings us to yesterday. Halloween. While her sisters were testing Instagram's nudity policy one lingerie photoshoot at a time, Khloé was posting a sh*t ton of photos of baby True looking adorable AF. Once again, Tristan was suspiciously missing from every photo. But while he was absent from her feed, she showed up on his IG story with this painful looking photo:
Is it just me or does Khloé look f*cking miserable? Or at least like she's exhausted from putting up with all his bullsh*t? GIRL, YOU AND ME BOTH. (I mean actually, this looks like one of the Wayans brothers disguised as Khloé Kardashian, but barring that theory, she looks like she's screaming internally.)
So there you have it. The (not at all solid and based solely on rumors and Instagram captions) facts. THE DEFENSE RESTS. TBH I think Khloé and Tristan are still together, but only for True. Or so Khloé's rabid followers (hi) don't set fire to Tristan and everything he loves.  
Images: Giphy (1); @khloekardashian /Instagram (1); @kimkardashinan /Instagram (1)
Amanda Stanton Was Arrested For Domestic Violence
Yesterday TMZ broke the news that Bachelor and Bachelor in Paradise alum Amanda Stanton was arrested in Vegas for domestic battery. Damn, that boob job really changed her. Let's break down the story here.
Amanda was in Vegas for a bachelorette party (oh GOD, will I still have to go to things like this when I have two kids?!) and was partying at The Encore with friends and her new BF, Bobby Jacobs, because apparently this was a co-ed bachelorette party. Word of advice, if you saw them do it on Vanderpump Rules, RUN! I'd like to imagine this is what she was wearing during the incident.
Things started to get a little rowdy, and so security came to the room to quiet the party down. Apparently the guard was talking to Bobby, and Amanda got involved and shoved Bobby. So, even though Amanda is downplaying the incident (I'll get to that in a second), the security guard thought the shove was serious enough to warrant a call to the cops, and Amanda was arrested for misdemeanor domestic battery. Here's her mugshot:

Finally, a photo that is truly #nofilter
TMZ also reports that Amanda and Bobby are still together and that they both think someone slipped something into her drink. Okay, sure. Maybe the bride? I heard they can be vengeful b*tches. But seriously though, let's not blame the idiotic behavior of a 90-pound woman who probably had one too many vodka sodas on being drugged unless we have some proof, mmmkay? Also literally every girl that does anything stupid while blackout in Vegas blames it on being drugged. Are you all hanging out with Alan?

Amanda has responded to the arrest through none other than Z-lister mouthpiece the magazine of the stars, People.com. They report:
"Amanda is embarrassed and ashamed this happened and sincerely apologizes to hotel security and the Las Vegas Police Department," Stanton's rep, Steve Honig, tells PEOPLE. "Amanda is a gentle, respectful person who has never gotten physical with anyone under any circumstance." 
You mean, except for this circumstance…? The statement continues:
"When hotel security asked her and Bobby to quiet down, she got a bit rambunctious. Amanda gave Bobby what she thought was a playful shove; hotel security did their job and reported the incident to the police, who in turn did their job."
A playful shove?! Me thinks you are reaching, Amanda. Where are the producers now? Roll the tape!
I also think we should all take this as a very important lesson that drunken behavior that may be acceptable on Bachelor in Paradise is the same kind of behavior that will get you arrested in the real world, okay? Chris Harrison can't help you fools now. 
Images: Shutterstock; amanda_stanton/Instagram; Las Vegas Metropolitan Police Department; Giphy
DASH Is Closing, So We Found The 10 Most Heinous Items Ever Sold
Remember when Kim's voice was five octaves higher, Kourtney was hooking up with girls in Miami, and you dreamed of working as a DASH Doll? The Kardashian empire has come a long way, and as much as Kris Jenner would deny it, DASH has been outdated for a while now. The boutique used to be this exclusive and trendy brand, but now it's just an old hobby that Kylie's older sisters did before they all had nose jobs kids. The sisters just announced that all DASH stores are officially closing, so we thought we'd do one more dive through the website to see some of the weird shit that was being sold. Here are some of the worst things we found.

Because everyone wants a giant shiny DASH on their car keys. Subtle.

Is it a necklace? A bra? A choker? An S&M toy? Yes to all the above. Also, probably a choking hazard.

Is it just me or is Wildfox getting less and less relatable as time goes on? Regardless, I'd like to find the Kardashian that approved this sweatshirt for the store.

Just when you thought Kris Jenner was milking every ounce of her kids' talents for fame, she suddenly shows up with her own cookbook and gets it in her daughters' store. Also, like, *as if* she cooks.

I think the only thing worse than wearing a bedazzled bandeau is wearing a bedazzled bandeau that says FIRE across your boobs in a weird Old English font. I'm concerned.

To commemorate that one episode where Khloé goes to Morocco.

"I'm looking for a confusing and highly uncomfortable white lace bra that literally goes with nothing."

I can't imagine a single time when this top would be appropriate. As if the pine green color isn't bad enough, this is like, a fancy work top that happens to expose your nipples. Should I call HR?

*Kourtney wears plaid once.*

Unless you worked at the store or bought this as a joke, there is no excuse for wearing this in public. I'm done.
Images: DASH (10)
I Did Krystal From 'The Bachelor's Beach Workout And Almost Died Of Boredom
Happy Bachelor Monday, fam. We're back to talking about the one TV franchise that literally takes up more time than football season and March Madness combined. (Don't fight me on that. You don't stalk the players' Instagrams in between games.) If you follow Krystal on social media, you've probably noticed she's even more *Krystal* online than she was on the show. Like, IDK what bothers me more—the fact that she straight-up said the phrase "needle dick" or that she goes by @coachkrystal_ on social media. I'm so concerned. Anyway, whether you refer to Krystal as the most annoying voice in Bachelor history or the girl on a mission to find brand endorsements true love, you can't deny her body looks amazing. So, I decided to try her "beach workout" myself. I found it on her Instagram, obviously.
Unfortunately, my "beach workout" was done in the gym because I live in New York, but I feel like I still got the gist of it. Here's how it went:
 ¼ Mile Run
Coach Krystal (cringing as I type that) claims this workout is her "FAVORITE way" to beat stress, but honestly running sucks, and in my opinion it's pretty stressful. Like, I feel personally victimized by the incline setting on the treadmill. Plus, I could think of a couple other ways to chill out like smoke weed, but running works I guess. I was totally dreading the run portion of the workout, but then I got on the treadmill and like, reached ¼ mile before I even made it through one song. I was confused. Is this a typo? Why would anyone only run ¼ mile? Could I actually get fit running for less time than it takes me to brush my teeth? Okay, moving on.

10 Step Ups (Each Leg)
I used a bench at the gym for this one, and I even held dumbbells in my hands to make it a bit harder. Like, stepping up on a bench 10 times is pretty basic, so I figured the added weight could make it more interesting. Am I already more qualified to be a "coach" than Krystal? Honestly, these aren't terrible, so I'm going to tentatively say yes. I definitely felt the burn in my glutes and quads, and I'd definitely recommend adding the weights. But obviously no shade to Krystal's version…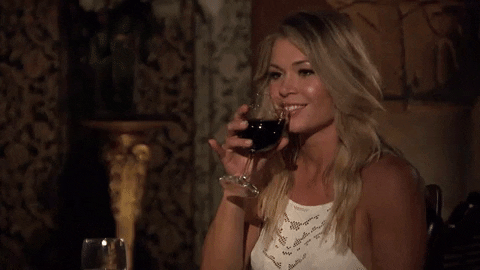 10 Tricep Dips
These ones are tough. Tricep dips are extra tricky because you're not actually using any added weight, but you're also low-key using your entire body weight at the same time. You're basically holding onto a bench behind you while facing the other direction, and then straightening and bending your arms to bring your body up and down with your triceps. Krystal does these with her legs straight, but you can also keep them bent to make it a bit easier. It's more important that you're getting full range of motion with the dipping part of the movement.
10 Leg Raises
Leg raises are always a good lower ab exercise. I'm a fan. Doing only 10 sounds easy, but it's important to do these slowly to really engage your core and feel the burn in the lower part of your abs. The idea is to lie flat with your legs out in front of you, and then raise them up and down while keeping your back flat and your core tight. Krystal does these with her hands behind her head, but if you feel any lower back pain, I suggest keeping your hands under your lower back area.
10 Toe Touches
Another good one—more focused on the upper abs. Staying in the same position as your leg raises, keep your legs in the air, as straight as possible, and then try to touch your feet or toes, bringing your shoulders off the ground with your core. Also, a lot of people do weird shit with their neck here, but try to keep it as neutral as possible and really just use your abs to lift. These should be done faster than the leg raises, so 10 of them should go by pretty fast. Thanks, Krystal.

20 Bicycle Crunches
This is a good burnout move, and it's also for your abs. No wonder this girl has a six-pack. Put your hands behind your head, then bring your knees in towards your chest and lift your shoulder blades off the ground, touching your elbow to the opposite knee in every rep. Bicycle crunches are usually done too fast, but it's really not a race. It's more important that you're crunching with your abs instead of just hitting your elbow to your knee without using your core. Don't cheat yourself. Think about the "shoulder to knee" cue instead of elbow. You should feel this in your obliques and your upper abs, and honestly it should be hard.
My Takeaway
I didn't mind this workout, but I probably wouldn't do it again. Krystal suggests doing 3-5 rounds, and, honestly, I only did two rounds before I got bored. Plus, people were starting to think I didn't know how to work a treadmill because I was only on it for, like, a minute at a time. On the plus side, I definitely broke a sweat, and felt like it was a pretty sufficient full body routine. I wasn't sore the next day, but it was a solid workout and I'd recommend you trying it out for yourself. And if you actually do five rounds, you deserve a glass of wine.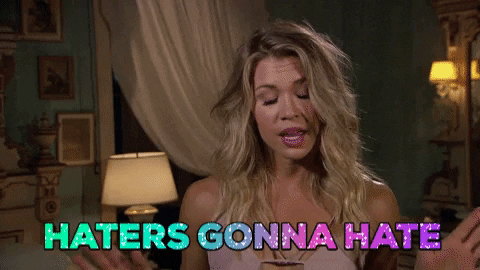 Images: Krystal Nielson, Instagram; Giphy (4). 
I'm Convinced Khloé Is Confirming Kylie's Pregnancy In This Picture
Gather round, y'all, for our regularly scheduled "Is Kylie Jenner pregnant ?" Well, this week's evidence is pretty indisputable, and at this point it's getting pretty fucking annoying that I have to continue to report on all these conspiracy theories because Kris won't fucking confirm what we all have known for months. *Takes deep, calming breaths* I guess the Kardashians did some sort of advertisement for Calvin Klein, and an hour ago (at the time I am writing this), Kris Jenner regrammed the ad. And in case you were still looking for evidence to the contrary, this picture all but puts the speculation to bed. Take a look below.
Okay, so on a very basic level, all the Kardashian/Jenner sisters are baring their stomachs, except for Kylie, who is legit swaddled in a blanket. Like, come on. There were a million less obvious ways they could have done this, but they literally covered up every inch of Kylie from the chest down. What more proof do you need? Even Khloé, who we know for sure is pregnant, is showing her stomach. If they cared at all about keeping Kylie's pregnancy a secret, couldn't they just have photoshopped her baby bump out? Is that how it works? Graphic designers, feel free to leave your opinions in the comments section.
But wait, there's more. Notice the hand placement in the photo. Every pregnant Kardashian sister has her hand on her stomach. Kim does. Khloé does. Now LOOK AT KYLIE AND KHLOE'S HANDS. Khloé is holding Kylie's hand, and her arm is resting over Kylie's baby bump. I'm saying it now: Khloé is confirming Kylie's pregnancy.
I rest my case.
Someone May Have Spotted A Pregnant Kylie Jenner At CVS
In a massive blow to my working theory that Kylie was actually Kim's surrogate, a very pregnant Kylie Jenner may or may not have been spotted at CVS yesterday, trying (and failing) to cover up her baby bump with a large green hoodie.
See for yourself:
Kylie Jenner was spotted at CVS Yesterday. pic.twitter.com/cETQeXo6ob

— amanda; ❤︎ (@abcddlovatox) January 16, 2018
This appearance follows false rumors that were spread by us that Kylie had gone into labor at Cedars-Sinai Medical Center, and the announcement of the birth of Kim's third child via surrogate early Monday morning.
Kylie still hasn't officially confirmed that she's pregnant, and all we have to go on is one blurry photo of a pregnant person that *might* be Kylie from back in December, and her conspicuous absence from the Kardashian Kristmas Kard.

Unlike the first photo, this one is very close up and looks a lot like Kylie Jenner, but then again, anyone in the greater Los Angeles area with $100K and a great health insurance plan can probably look like Kylie Jenner in however much time it takes for lip injections to heal so…
…We still don't know. At this point I just need SOME kind of announcement so I can move the fuck on with my life. Kris, I'm begging you. Please let us have closure.