Evan Bass' Legal Troubles Are Low-Key Hilarious
Remember when Evan Bass and Carly Waddell were the height of Bachelor fame? Yes? No? Only because you're still talking through the hot tamale abomination that was their first kiss with your therapist? Same. Well, buckle up friends, because it appears not only is Evan Bass a horrifying kisser, but he's also in a crazy amount of legal trouble. 

Still the stuff of my nightmares.
For those of you who don't remember, Evan Bass was on JoJo's season of The Bachelorette, where producers tried to spin him as a catch because he ran a medical clinic. What made it really hard for them to accomplish this was the fact that he runs an erectile dysfunction clinic, but also has the personality of someone who makes genitals shrivel up and die. After The Bachelorette, he went on to Bachelor in Paradise where he attempted to woo Carly Waddell by pretending to be physically ill in the hopes that she would pity date him. And they say all the good ones are gone! What's crazy is that the two of them actually ended up engaged by the end of the season, and have since then gotten married and somehow managed to spawn two children together. Just thinking about Evan Bass and nudity sends a swift chill down my spine, but whatever works for you, Carly!
But recently, Evan has done more than just manipulate women into dating him—he's also manipulating the men of Nashville into believing he can solve their impotence problems! According to TMZ, new legal docs show that the BiP star just paid a chill $150K to the Tennessee Attorney General for allegedly making "misleading claims in advertisements" for an erectile dysfunction clinic he owns. The documents claim that Evan and his clinic allegedly sold erectile dysfunction and other men's sexual function treatments through "multiple widely-disseminated, deceptive marketing campaigns" as well as had advertising that "misrepresented the efficacy, suitability, cost, and administration by doctors of its sexual function treatments." Tbh I'm more upset that the article refers to Evan as a "hunk" than the fact that he conned men into thinking their penises would work again, but fine. 
The lawsuit lists all of the alleged "deceptive" claims made by the clinic in their ads. Apparently the clinic "repeatedly claimed" in TV, radio, and print advertisements that it "would be able to solve or fix erectile dysfunction even after just one visit" even though this "was not the case." Lmaoooooo. This is hilarious to me. Evan is a man whose OWN WIFE has gone on national television and said that he gives her erectile dysfunction, and the men of Nashville somehow believe he can give them long-lasting erections and a newfound sense of virility? What else do the men of Nashville believe? That Jeffrey Epstein actually killed himself?!

Let's be clear: Evan has admitted to no wrongdoing, however, he has agreed to pay the $150k and promised not to repeat the claims in order to make this whole thing disappear. Now, I'm not an attorney, but I've watched many episodes of Judge Judy, and this feels like a clear admission of guilt to me. I, mean, it's not like he's paying that massive sum out of the goodness of his heart. Now, if you'll excuse me, I'll just be here waiting for his Notes App apology to drop on Instagram. Until then!
Images: Giphy (2)
6 Celebrity Couples We're Shocked Made It Through The Year
Every year, people say "this is the year of devastating celebrity breakups!" Look, we're all really sad that Jenna Dewan and Channing Tatum didn't work out, but 2018 was surprisingly a year of toxic couples staying together (???). Pete and Ariana obviously didn't make it, but things have been weirdly stable other than that. For what it's worth, when these couples actually break up, the fallout and drama will probably be incredible to watch. But for now, here are some of the most shocking celebrity couples that made it through 2018 (relatively) unscathed.
1. Tristan Thompson And Khloé Kardashian
Okay, this is an obvious one, because Tristan cheated on Khloé while she was pregnant. I'm sure that her family is trying to save face right now by pretending to get along with him, but it was obvious in recent KUWTK episodes that they despise him. I get that he's 6'10", makes really cute babies, is 6'10", is extremely good looking, and is 6'10" (I'm terrified), but let's not forget that Tristan cheated on Khloé while she was LITERALLY carrying his child.
He's also been caught since the cheating scandal getting way too flirty with other chicks in public. I get that Khloé wants to try and work things out for the sake of True, but how can Tristan even look that adorable, mushy little baby in the eyes when her name is a reminder that honesty and loyalty clearly isn't his forte? Also, never forget that Khloé and Tristan did that cringeworthy maternity photo shoot. Obviously, I blame him instead of her for that fiasco, because did I mention that Tristan cheated on Khloé when she was pregnant?
2. Scott Disick And Sofia Richie
When Kourtney and Younes broke up, Sofia was in need of, like, a Pez dispenser full of Xanax. I love Sofia, but even after all this time, I can't shake the feeling that Scott is only dating her to piss Kourtney off. Here's what I'm thinking: Justin Bieber was Kourtney's rebound after dumping Scott, and Sofia is Justin's ex. What stings even more is that Sofia is Nicole Richie's little sister, and Nicole and Kourtney basically grew up together. It was also recently discussed on KUWTK that Scott and Kourtney both want another baby. Someone even suggested that they just have another one together. Stranger things have happened.
Let's not forget that Scott refuses to throw Sofia a follow on Instagram, and barely features her on his feed. Meanwhile, he's in every other picture she posts and even had his face as her phone case at one point. This is not the sign of a balanced relationship. He's also literally been photographed borderline cheating on her. I honestly think at this point he's just staying with her to prove to Kourtney that he was dating Sofia out of love and not spite. Maybe Scott and Kourtney will get back together eventually, or maybe they won't, but you'll never convince me that they're not both thinking about it.
3. Justin Bieber And Hailey Baldwin
Did anyone see these two actually making it to the altar? No. Did everyone see them making it to a New York courthouse? Yes, but only in the sense of Justin getting into some legal drama and Hailey serving as a witness. None of us expected them to go their for their marriage license, because we all thought this engagement was a complete joke. Sources close to them justified the engagement by saying she had made him happy for the last three weeks of dating, so they decided to get engaged. They also said he was planning on proposing to her for weeks. How can you be with someone for three weeks and plan on proposing to them for weeks? The math just doesn't make sense!
Fans try to justify it by saying "they got back together" but um, not really. In the past, they were casually dating and hooking up from time to time, but nothing official. Selena was the one who Justin wrote all those songs about and kept pursuing. He even convinced her to break up with The Weeknd. Yet Hailey's The One? A part of me will always believe that Justin and Selena belong together. Sorry Hailey, but Justin can only keep up these thirsty Instagram comments for so long.
4. Emily Ratajkowski And Sebastian Bear-McClard
How is this marriage still a thing? He was her rebound after a three-year relationship. They knew each other for, like, five seconds before getting engaged. Sebastian even proposed with a ring that he made out of a paper clip. They also made it on our trashiest weddings list because they deprived us all of seeing Emily go all-out-influencer for her wedding. Also, it would've been dope to see Emily play the field for a while. In terms of her charisma and disposition, she seems like she has major Rihanna vibes. She's a bad b*tch, and it's a shame we didn't get to see her single phase.
5. Jax Taylor And Brittany Cartwright
All right, allow me to paint you a picture of an actual adult male: he has had numerous affairs with women besides his significant other, an affair with a porn star, adamantly lied about said affair with this porn star at the expense of others, has a sh*tty fake tan, and is a reality star. I'm talking about Jax Taylor. This guy is clearly never going to be monogamous. Whenever I tell someone that I write about Vanderpump Rules, eight times out of ten they will tell me that they know someone that's hooked up with Jax. That's not a great track record, I gotta say. Brittany seems sweet, and I just don't want her to get hurt by Jax more than she already has. Whatever, it's her life, but he's a 39-year-old man, and it seems unlikely that he's going to change his ways at this point.
6. Mod Sun And Bella Thorne
In a lot of ways, Mod Sun and Bella Thorne are perfect for each other. They're obnoxious, questionably talented, and a lot of people find them nauseating. But they're like the Chad Kroeger and Avril Lavigne of America. They're totally a perfect match because they're the only people on the planet who could tolerate each other. Bella Thorne is what would've happened had I never stopped my "double vodka Red Bulls and whipped cream flavored vodka, make out with five guys in one night, scream-sing all the words to "Caribou Lou" by Tech N9ne" phase. But unlike me, Bella still has time to grow out of her questionable phase considering she's barely legal.
Mod Sun, on the other hand, is 31. He's a full adult. His tattoo situation makes him look like the doodles of a 7th-grader, if that kid also spent his time shoplifting from Hot Topic and doing whippits. And did I mention they named their dog Tampon? Is it supposed to be ironic that the most unhygienic couple on the planet named their dog after a feminine hygiene product? Or are they just trying to be obnoxious? Who's to say? Either way, I have a lot of questions here.
But congrats to all these happy couples for making it through the dumpster fire that was 2018! Can't wait to see who will break up and who will get prematurely engaged next year.
Images: @khloekardashian / Instagram; @sofiarichie / Instagram; @commentsbycelebs / Instagram; @emrata / Instagram; @brittany / Instagram; @bellathorne / Instagram
I Wish Khloé And Tristan Weren't Back Together, But It Looks Like They Are
It's been a few weeks since the news of Tristan Thompson cheating on Khloé Kardashian broke, and I've thought about it a lot. Mostly I've hoped that Khloé locked him in a dungeon and was only letting him out for basketball games, but Khloé and Tristan were spotted together over the weekend, which means everything in this world is still wrong. Khloé, honey, I know you love him or whatever, but this man is a grade-A asshole! Why are you not on the first private jet back to Calabasas?? Everything about the saga of Khloé and Tristan is depressing, but let's go over the newest developments.
Last week, there were reports from some lovely anonymous sources that Khloé is "leaning on Kourtney" to get through this tough time. KoKo responded in a cryptic/joking way, but it was the first time she had actually broken her silence. Now, she's not saying anything, but she's making it pretty clear that she's still with Tristan. On Friday, Khloé and Tristan were spotted together at a restaurant in Cleveland. In a grainy paparazzi photo that was clearly taken from 300 feet away with a fucking telescope, Khloé wears giant sunglasses while looking like she just ate an entire lemon, and Tristan just stares at his phone. WHY YOU STILL TEXTIN' BITCHES, TRISTAN?
They were at a restaurant called TownHall that has a Paleo Night every Wednesday, so at least we know Khloé is still in charge of picking where they go to eat. Is it technically a revenge body if you're still dating the man you need revenge on? I can't decide. Also, whose arm is that across the table from Tristan and Khloé?? Is it a body guard to make sure Khloé doesn't poison Tristan's food? I need answers. Unfortunately, we didn't get any more information about Khloé and Tristan from their awkward-looking dinner, but then Khloé made another appearance at the Cleveland Cavaliers game on Saturday night. I have mixed feelings about this.

So I understand that basketball is, like, really important to Tristan, and he's in the middle of the playoffs right now. It's nice of Khloé to go and support him, but also what the fuck has he done to earn her support at this time? Also, the entire cheating incident went down when he was traveling for a basketball game! Khloé should fucking hate basketball at this point! Maybe she's really just at the game to keep an eye on him and make sure he doesn't get too friendly with any of the cheerleaders. From the pictures, I can't tell how big of a purse she was carrying, but it must have been big enough to fit Tristan's balls inside.
So it seems like Khloé and Tristan are pretty committed to making it work at the moment, and I guess I can't really blame them. Khloé has wanted a baby for a long time, and it's obviously a huge life decision to break up with the father of your child. That being said, get your shit together Khloé. This man is a proven douchebag, and if there's anyone who has the resources to make it work as a single mom, it's Khloé fucking Kardashian. You know Kris Jenner is basically doing nothing and would love nothing more than to raise another child.
Images: @enews / Instagram; Giphy
G-Eazy Got Arrested For Exactly What You'd Think
Back in college, I used to get wasted on Wednesday nights, but now my typical hump day evening consists of watching The Real Housewives of New York City before being in bed promptly by 11. Apparently, G-Eazy and I have very different lives. G-Eazy got arrested for assault and cocaine possession in Sweden on Wednesday night, which is crazy but also not that surprising at the same time. He was partying after the first European show of his Beautiful & Damned Tour, and things obviously got a little out of hand. There aren't a lot of details yet, but let's go over what we know about this Swedish train wreck.
First of all, just a reminder that G-Eazy's name is Gerald. Sorry, I just still think it's really funny. Anyway, he's in the middle of his big fancy world tour, and Stockholm was the first stop, so naturally it was time to get fucked up. There was an afterparty, and the guests included a lot of Swedish people, G-Eazy's girlfriend/overgrown scene kid Halsey, and Sean Kingston. Yes, Sean Kingston of "Beautiful Girls" fame. Honestly, Sean Kingston randomly being at this party is my favorite part of this whole story. I'm just glad he's fully recovered from that tragic jet ski accident, bless up.
God bless the G-Eazy stan account on Instagram for somehow having video of him fucked up at his afterparty, and also for posting concert photos today like nothing happened. You da realest. According to sources at the party, G-Eazy was having a really great time (read: on a lot of drugs) and started acting belligerent. So glad that's never happened to me. When security tried to get him to calm down, he started swinging, and allegedly hit one guard in the face several times. Oops!
G-Eazy got arrested and was taken into custody on suspicion of assault, and then the cops also found coke in his pocket (oops again!), so he also got charged with both possession and use of narcotics. He's reportedly still in custody, but I'm sure Halsey is planning an elaborate scheme to break him out of jail before his next tour date. Imagine the Lady Gaga/Beyoncé "Telephone" video, but grainier and taken in the Perpetua filter. Before you go berating me in the comments section, just look at his last posted Instagram and tell me I'm not right.
Ah, look how pensive G-Eazy looks in his artsy Instagram photo, posted just hours before he would be passing out shots and doing bumps off of Halsey's finger (I imagine). Simpler times, truly. There hasn't been any sort of statement from G-Eazy or his team, but I'm sure there'll be something dramatic as soon as he gets out of prison. Halsey will probably like, release 1,000 white doves into the sky to signal his innocence while they ride off into the distance on a motorcycle. Their entire lives are like that one week in your 2008 emo phase where you thought you were like, a very good poet.
While it seems like a cocaine arrest would finally give G-Eazy some much-needed street cred, it really just adds to his reputation as a glorified frat rapper. Seriously, punching a security guard in a drunken coke rage is behavior that matches 85% of the dudes in any fraternity. So if you have tickets to G-Eazy's show on Sunday in Copenhagen, you might want to make other plans. Gerald is a little busy, that is unless the Swedish police are big fans of "Me Myself & I" and decide to go easy on him. I have a feeling he'll be okay.
Images: @the.gerald.updates, @g_eazy / Instagram
Selena Gomez's Mom Was Reportedly Hospitalized Because Of Justin Bieber
Last week, we discussed how Selena Gomez's family was reportedly not super thrilled about her reunion with Justin Bieber, and how they probably weren't spending Christmas together because of the tensions. Well, it seems like things have taken a turn for the worse, and you literally won't believe it.
Early Tuesday morning, reports surfaced that Selena's mom Mandy had been hospitalized last week, and the reason is truly baffling. Apparently, Selena told her mom that she and Justin were in couples counseling, and her mom just couldn't handle it and had to be taken to the hospital. Jesus Christ, I thought my mom was dramatic when she was sending me passive-aggressive texts.
Medical staff were reportedly called to an LA hotel, and Mandy was voluntarily transported for treatment. We have no idea what this means, other than that she wasn't carted off against her will. It sounds like she was released later the same day, so at least the news about Justin didn't do too much permanent damage—no literal heart attacks here.
Selena's mom seems okay now, but it's probably safe to say Justin still isn't getting an invite to the Gomez Christmas in Dallas. It's been a long year for that family, and the last thing they need is another trip to the hospital. Let's hope Santa puts some Xanax in poor Mandy's stocking, because homegirl really needs it.
Taylor Swift's Top 10 Snake Moments Of 2017
Today is Taylor Swift's birthday, and we didn't want to let it pass without doing anything. We might not always love Taylor, but there's no denying she's had a big year and she's given us a lot of shit to talk. So let's reminisce on some times when she was her true snake queen self this year, shall we?
1. She Released A Kimye Diss Track
The whole snake thing goes back to the Great Snapchat Incident of 2016, and Taylor finally clapped back after more than a year of gathering her shit. Say what you want about "Look What You Made Me Do" (and we have made our thoughts clear), but it's peak 2017 Snake Queen Taylor.
2. She Actually Sat On A Throne Surrounded By Snakes
In the video for the aforementioned Kimye diss track, Taylor took the throne from Beyoncé's "Sorry" video and added in some CGI cobras to make her point very clear. Taylor loves a good literal interpretation of something that could be much more subtle.

3. She Went For A Very Aggressive Rebrand
When most people want to change their image, they just like, change their profile picture and maybe delete some old shit that's embarrassing now. Taylor decided to take it one step further and let us know that the old Taylor is dead, and we're honestly still trying to figure out wtf that means. Like, when she performs her old songs now, are they considered covers?
4. She Shaded Kanye West's Late Mother
Taylor sent waves across the internet when she decided to release her new album on the 10th anniversary of Kanye's mom passing away. She and Kanye have some, um, history, so this seems a little sketchy. We know that this was just an unfortunate coincidence because her people came out and said as much, but still, she didn't change her release even after learning of the controversy, which in my expert opinion is a little suspect.

5. She Fucking Called Us Out
Taylor wrote an essay that was included with her new album, and she seriously tried to act like the songs aren't about the millions of men she's dated: "When this album comes out, gossip blogs will scour the lyrics for the men they can attribute to each song, as if the inspiration for music is as simple and basic as a paternity test." SAYS THE GIRL WHO WROTE ACROSTIC POEMS IN HER CD LINERS ATTRIBUTING EACH SONG TO ONE PERSON. *Deep breaths* Sorry. Okay, so maybe she didn't call us out by name, but still. Sorry Taylor, we have you figured out.
6. She Dated Someone Like, Barely Famous
Taylor is known for her loooooong history of dating other A-list stars, but this year she went for someone a little more low-key. Joe Alwyn is an actor but has only been in like, two movies, so he's a little less established than basically anyone else she's dated. Good for her, and not exactly snake-like, but honestly it's a lot less exciting to talk about.

7. She Shaded Katy Perry Via Spotify
And now we enter the Katy Perry portion of the program. In what was widely seen as a big fucking middle finger, Taylor finally made her entire catalog available on Spotify the exact same week that Katy's new album dropped. Ugh Katy, look what you made her do.
8. She Skipped The VMAs (Hosted by Katy Perry)
Katy had her big hosting gig at the VMAs this year, and there were rumors that Taylor and Katy would publicly end their years-long feud on the show. Nope! Taylor skipped the show despite her single coming out three days earlier, and she and Katy are still feuding as far as we know. We heard from someone *cough* Taylor *cough* that women should always support other women, but I guess Katy doesn't count!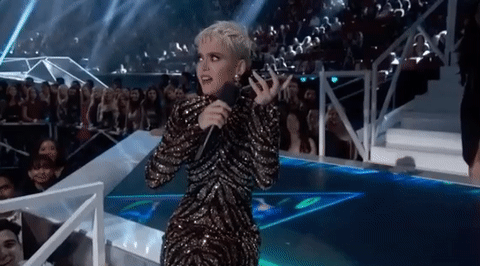 9. She Made The TIME Person of the Year Cover
Taylor was included as one of the "Silence Breakers" because of the case she won against the DJ who groped her, but people were understandably a little confused at her being on the cover instead of people who have led the #MeToo movement. It's great that Taylor won her own case, but it's not like she risked her career to bring to light a system of men abusing their power over other women in their industry.
10. She Never Said A Word About Donald Trump
People have often criticized Taylor for not sharing her political views, but in 2017 that's a bigger red flag than ever. Like, it's one thing if you voted for George Bush or something, but in this day and age you have to do something to prove you're not a literal Nazi. (@Taylor Fans: Not saying Taylor is a Nazi, direct your hate mail elsewhere.) She could literally tweet one thing and we would stop complaining!

One Of Our Favorite Celebrity Couples May Be Getting Back Together
2017 has been a trip, y'all. It's been a year of many things, like questionable decisions (*cough* me) and people winning things they did not earn (*cough* Trump and Blake Shelton). It's also, apparently, shadily been the year of going back to your ex. A few weeks ago, Selena Gomez and The Weeknd broke up, and Selena was seen hanging out with Justin Bieber like, .5 seconds later. Well, get this: Bella Hadid and The Weeknd have been spotted together again. Be still my heart. I already told y'all I was not over their breakup, and now it looks like I'm they're getting a second chance at love. Is this why my ex-boyfriend commented "Happy birthday" on my Instagram even though we haven't spoken since we broke up two years ago?
Elle reported on Wednesday that The Weeknd was photographed leaving Bella Hadid's apartment, after reportedly spending "several hours there," I'm sure playing Monopoly or something. So WHAT DOES THIS MEAN? I for one hope it means that Bella and The Weeknd are getting back together. I never felt like Selena was right for him anyway—she's too bubbly and mainstream and not brooding enough. Also, she probably doesn't do as much cocaine as Bella, a model, does (just saying). I am shipping (re-shipping?) Bella and The Weeknd so hard. Hadid/Weeknd 2020.
So with Selena Gomez back with Justin Bieber, and Bella Hadid in the process of reuniting with The Weeknd, I can't help but wonder how Taylor Swift is processing this news, with all two of her friends going back to their exes. Is she currently penning a passive-aggressive reprise of "We Are Never Ever Getting Back Together" called, like, "You Should Never Ever Have Gotten Back Together"? Is she having her publicist track down Jake Gyllenhaal's number as we speak? Is she just like, living her life unconcerned because she has a new boyfriend and an album to promote? All scenarios except that last one are equally likely.
Bella, Weeknd (may I call you Weeknd?), you kids keep me young. God love ya.
We Demand A Public Apology From People For Their Sexiest Man Alive Pick
Every year around this time, the folks at People get together and decide who's going to be the year's Sexiest Man Alive. It's one of our country's most inspiring traditions, and it always causes some controversy. But this year, we literally can't even.
On Tuesday night, People announced that 2017's Sexiest Man Alive is Blake Shelton, and we are so fucking confused. It's okay if you need to scream into a pillow for a minute, we're here for you. Grab a drink if you want, because it's obvious that People had some beer goggles on when they picked Blake.
We know Blake as a successful country singer, a lovably annoying judge on The Voice, and the dude who's currently fucking/in love with Gwen Stefani. All of these things are great, but they don't make you the sexiest person on the planet. Notably, Blake is the second judge on The Voice to take the title, after the much more deserving Adam Levine took home the crown in 2013.
So here's the thing. Blake is cute! He's cute for 41 years old and looks like he'd be fun to hang out with, and he might even be good in bed, but there's literally no way he's even in the top 1%. Right now, we really hope the Goslings and Hemsworths and Clooneys of the world are having some secret hot person meeting that Blake wasn't even invited to, because he's just not in the same league.
Also, we need to discuss People's mayonnaise tendencies. Why is almost every Sexiest Man Alive white?? Sure, we had The Rock last year, but he was the first non-white Sexiest Man Alive in TWENTY YEARS. And the only other one? You guessed it, Denzel in 1996. Where's the imagination, People? Have you never heard of Idris Elba? Or Michael B. Jordan? Or John Cho? Hell, I'd settle for Will Smith at this point. It's so BORING seeing average white men take home the title year after year (a great metaphor for our current political climate—is that what you were going for??). Really, if you guys need me to give you my personal celebrity crush list for inspiration, just let me know. I'm happy to drop it off for you.
Tbh, People probably only chose Blake Shelton so they could do some cute interview about how much he loves Gwen, because maybe that sells more magazines than hot unattached dudes?? Whatever, we're not here for it. Sexy is in the eye of the beholder, but People might need some glasses for Christmas.