There Are More Claims That A-Rod Cheated On J.Lo
Unless you live underground, you're likely aware that A-Rod (of Yankees fame) and J.Lo (of the block) decided to consciously couple and announced their engagement on March 9. There was a 10-carat ring. A picturesque sunset over a bay we've never heard of. A previously great baseball player and his big bootied love, just soaking up each other's awesomeness, as they've been doing since they started dating in 2017. Everything was literally great. I mean, J.Lo even managed to look surprised, which is shocking considering she's had somewhere between four and six men propose to her. Based on their social media alone, they seem like couple goals. But only 48 hours after the ex-baseball star got down on one knee, there were accusations flying regarding Mr. Rodriguez's wandering eyes (and d*ck). Can't say we're surprised, because we can never have nice things. But here's a refresher for you on what's going on in paradise, and why there might be new troubles on the horizon.
We told you all about part one of this "is he or isn't he" bullsh*t in that ex-baseball dude Jose
Canseco accused A-Rod
of actually being the cause of his own marriage ending. He threw these accusations like a sh*tty ground ball just two days after A-Rod popped the question. He also tried to get A-Rod to box him, which I would 100% be down to watch, but that's neither here nor there.
ARod what happened to your eye? Did one of your girlfriends do that to you? Stop being such a liar and a cheat

— Jose Canseco (@JoseCanseco) March 17, 2019

Canseco's ex-wife, Jessica Sekely, quickly denied those rumors, seemingly squashing the whole "is he cheating" rumors. Did they bone? I have no idea, and I kind of don't care, since it seems like the attempt of a disgruntled sad ex-baseball player to throw his ex-wife's reputation under the bus.
However, now there's another person coming forward with claims that A-Rod is doing our BFF, Jenny, dirty on the DL. Let me be the first to say, "hasn't J.Lo been through enough?" I mean, the woman has been engaged several times and isn't eating carbs (probably). There's only so much she can handle. Unlike the Canseco rumors, these newest claims seem significantly more interesting, since they involve a lot less sad baseball players and a lot more (alleged) d*ck pics. Who's throwing shade? British Playboy Playmate Zoe Gregory claims that A-Rod sent her inappropriate (and seemingly one-sided) texts for about three months before he decided to hitch his wagon and now dead career to J.Lo with that sunset proposal.
Ex-Playmate claims A-Rod was sexting her just a few weeks before proposing to JLohttps://t.co/IESV8AVbr4 pic.twitter.com/T1Rr5N1E4e

— Barstool Sports (@barstoolsports) March 26, 2019
Zoe Gregory, Playmate and alleged A-Rod d*ck pic recipient
Gregory, 44, lives in L.A. and says the texts, sent over WhatsApp, ranged from asking how many times she'd "been" with a few of her girlfriends (ew), to if and when she could fly out to San Francisco, to requesting "naughty videos." Apparently, A-Rod also gifted a d*ck pic to Gregory, which allegedly showed his "manhood" (gag) and his "muscly thigh." What a charmer. The texts started around Boxing Day, which is in December, of 2018, and continued right into February. There's no word on why the texts and communications stopped (did they even?) but Gregory alleges that J.Lo "doesn't deserve this." Weirdly, we agree on that point.
View this post on Instagram
The couple in happier, more engage-y times
On the one hand, this isn't the first time A-Rod has been accused of being sketchy. His first marriage ended because of his supposedly numerous extra-marital activities. Then you have the whole Canseco thing, and the fact that celebrity gossip guru, Enty Lawyer, has been claiming for a while now that A-Rod has been cheating.
Based on his history, it seems like sending gross texts to an ex-Playboy model is right in this guy's wheelhouse. However, these texts seem awfully one-sided and, I'm sorry, but until I see the blurred-out d*ck pic, I'm not sure I buy it.
Neither J.Lo or A-Rod have outright addressed the claims yet, but I wouldn't be surprised if Jenny puts a kabash on what would be her fourth marriage. Girl, go have some you time.
Images: Getty Images; jlo / Instagram; barstoolsports, josecanseco / Twitter
Kylie Might Be Using Donuts To Hint At Her Pregnancy
Hello there, and welcome back to the Kylie Jenner Pregnancy Rumor Channel. We're now into month five of pregnancy speculation, which is funny because I feel like it's been a hundred years. Somehow it's 2018 and we still don't know for sure that Kylie is pregnant, so let's talk about why these donuts mean Kylie is pregnant. Get comfortable, because this is actually a two-part conspiracy theory.
On the last episode of Keeping Up, Kylie sent almost everyone in the family pink donuts. A fun, yummy treat, or an elaborate pregnancy scheme? People were quick to point out the color of the donuts, suggesting that this confirms the rumors that Kylie is giving birth to a baby girl. That would actually kind of make sense, and it's not the most ridiculous gender reveal we've heard of.
But the next important piece of this puzzle is that Kim didn't get any donuts. We'd say she's on a diet, but Kourtney didn't eat hers either, instead satisfying herself by sniffing a donut like she was a high schooler with a fresh pack of Sharpies. No, there has to be another reason that Kim didn't get donuts. The theory is that Kylie might actually be Kim's surrogate, in which case there's no need to tell her the gender of the baby. Dun dun DUNNNNNN.
So is Kylie the surrogate? There's no way to know for sure, but it's definitely possible. That might explain Kylie's reluctance to have the spotlight on her, because the baby isn't actually hers. But it also seems weird to me that someone young enough to fit in at a frat party would just like, volunteer to make her body less hot? Like Kylie, this is the prime of your life, and you fucking volunteered as tribute to get a shitload of stretch marks? It's a no from me.
So is Kylie having a girl? And is it actually Kim's? I won't pretend to be psychic or anything, but I'm going to officially guess that the answer to at least one of those questions is yes. And let's hope we get an answer soon, because I swear I'm about to start putting vodka in my coffee if I don't get some closure.
Is Khloé Kardashian Showing Off Her Baby Bump In This New Instagram?
Another day, another tidbit of possible news in the is-Khloé-Kardashian-pregnant-or-isn't-she debacle of 2017. I tell ya, we're living through history, folks. Literally yesterday I raised some (in my opinion) very valid questions surrounding Khloé's pregnancy. Mainly, if she is pregnant, how is she so fucking skinny? Well, I am now pretty sure that Khloé Kardashian reads Betches, because her latest Instagram just might confirm the pregnancy reports. Khloé posted a picture where she is resting her hand on her stomach, or should I say, her baby bump? I'll let you all look at the photo and then decide.
Since rumors of Khloé's reported pregnancy broke, a lot has happened. Reports have surfaced that Tristan Thompson, the rumored baby daddy, is looking to buy a house in Los Angeles, where Khloé lives. He's reportedly looking to spend a very modest $20 million, which should just barely accommodate himself, Khloé, and the new baby. But with still no word from the Kardashian camp, all we can continue to do is speculate, probably until next season of Keeping Up With The Kardashians, when they will reveal what we've all unofficially known for months.
Anyway, you all take a look at this Instagram and let me know if it's a sign or just a coincidence or just a giant troll.

Now if you'll excuse me, I need to add this to my Kardashian Pregnancy Conspiracy Wall. Right now, it looks something like this:

I need a hobby.
Someone Please Explain These Khloé Kardashian Instagrams
It's been a full, like, eight days since one of the Kardashians has decided to announce her pregnancy at the very end of the work day and send the entire media into a frenzy. Given all that's been happening in the world, it makes sense, and I for one am glad that Kris Jenner has been able to put aside her thirst for publicity for the time being. But that doesn't mean I've stopped thinking about Khloé Kardashian's pregnancy. I have not. I'm still losing sleep over it, and it's gotten to the point where my boss has had to "gently" remind me that Khloé Kardashian pregnancy rumor-induced sleep deprivation is not a valid excuse for calling out of work. But I still have so many thoughts. Mainly, is Khloé Kardashian really pregnant? I've stalked her Instagram lately, and I have some doubts.
First off, I'd just like to say that between Khloé and Kylie, I find it much easier to believe that Khloé is pregnant. She's older, she's wiser (not that the bar is that high, but still), and she's in a steady relationship of more than five months. She's also reportedly wanted to get pregnant for a long time. So I would very much support her as a new Kardashian mom (because my support is really what matters here). I'm just genuinely confused. We haven't heard anything from Khloé either way, which is just weird. Like, what are you all gaining here by remaining silent, other than my continued speculation?? Please advise.
Okay anyway, now onto the conspiracy theories. Khloé is supposedly pregnant, and she's probably the most likely one out of anyone to be pregnant, and yet, she posted this Instagram five days ago: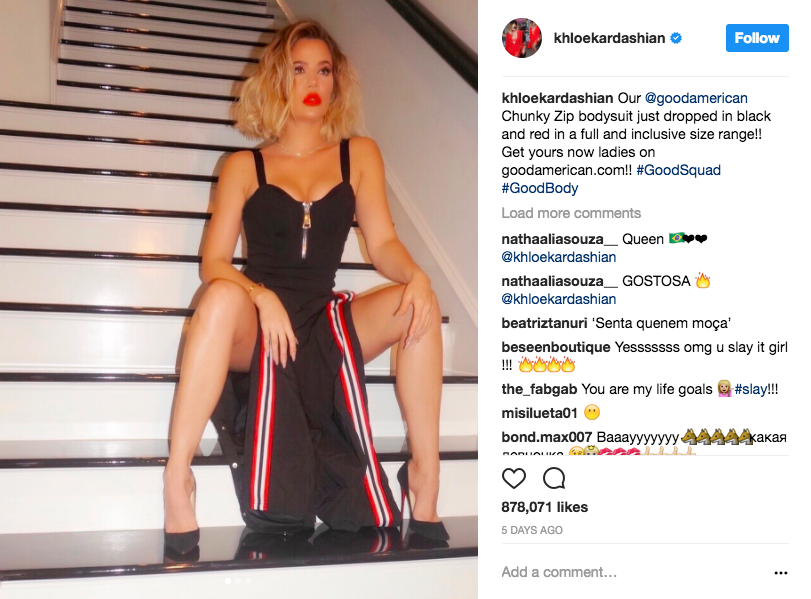 Normally I'd say this photo could have been taken a long time ago, but this is supposedly a new item that just dropped. How long in advance could she have gotten a new item to take a picture of it? And seriously, look how skinny she is. Someone please PM me the name of Khloé's personal trainer. Jokes, I can't afford him or her and half of that is probably lipo anyway.
But I'm not done. Khloé posted the following Instagram on September 23rd, which again, wasn't that long ago.

Not only does she not look pregnant, homegirl has ABS. Now note the caption: "Last swim before we're off to Cleveland!" I had to do a lot of extra Googling to compensate for my nonexistent sports knowledge, but basically here's the gist: Khloé's boyfriend and maybe baby daddy, Tristan Thompson, plays for the Cleveland Cavaliers. Khloé was in Cleveland with Tristan on September 26th, according to PEOPLE. If on September 23rd, she took her "last swim" before heading to Cleveland, and she was in Cleveland no later than September 26th, then we're talking a maximum of three days difference. Incidentally (or not really, I just like using that word), news of Khloé's rumored pregnancy also broke on September 26th. Like I said about Kylie before, people typically wait to start telling family and friends they're pregnant until they're around 10 to 12 weeks along, and like I also said about Kylie, women can start to show at that point. So if she's supposedly nearly three months along at this point, and has abs like that, again I say, somebody PLEASE PM me her personal trainer.
Seriously, HOW??? How can Khloé be pregnant with a six-pack when I'm over here, decidedly NOT pregnant, and rocking a mini keg? *Looks down sadly at loaf of garlic bread in my lap*
That's all I've got for today, folks. If Khloé is pregnant, which is looking increasingly likely to be the case, mazel tov to her and Tristan and apologies to their future child for all the "your mom is a MILF" comments they're going to have to deal with.
Kris Jenner Just Addressed The Rumors That Kylie Jenner Is Pregnant
On Friday afternoon, news of Kylie Jenner's alleged pregnancy spread around the world faster than you can get herpes from sharing a lip kit. We weren't, like, truly surprised by the news, but we'll admit we were a little bit surprised. Kylie is a rich bitch who obviously has access to all the birth control she wants, so we weren't expecting this so soon.
But is Kylie really pregnant? If you tuned into the Keeping Up 10th Anniversary Special on Sunday night, you'll know that there was absolutely no mention of the pregnancy, but that's not a shock. On the special, Kylie said she's 19, which means it had to be filmed before her 20th birthday, which was August 10. So even if she is pregnant, she might not have said anything in front of a studio audience six or seven weeks ago. Yes, thank you, I've often been told I should be a professional detective.
When asked about it earlier this weekend, Kris Jenner gave a typically fake answer. When asked whether she knew the pregnancy news was going to come out, she said how Kylie hadn't confirmed anything and that it's "kind of wild that everyone is just assuming that that's just happening." Sooooo like wtf does that mean?

Kris also said "you never know what is going to break at any moment," which sounds kind of ominous. Like, if Kylie is pregnant she's still rich and can afford like 32 nannies to watch the baby at all times.
So, long story short, is Kylie pregnant? Our gut is telling us yes, but we still can't be sure what's inside Kylie's gut. We'll probably know for sure sooner rather than later, but until now we'll just lose sleep go about our lives.
Katy Perry & Ryan Phillippe Deny Dating Rumors By Flirting Shamelessly, Fooling No One
As we all know, Katy Perry and Orlando Bloom are broken up, as evidenced by Katy Perry's new "I'm Going Through A Breakup" pixie cut. So which heartthrob nobody has cared about since 2005 will Katy Perry take off the market next? Should we pull Shane West out of retirement? Maybe give Ben Mckenzie a call? I know Josh Hartnett isn't doing anything.
Nope, it looks like the most viable option for Katy Perry to continue to crush our high school selves' heart is Ryan Phillippe who, like any man who has caught feelings for a woman, took to Twitter this week to declare that he and KP are not dating. Because there is no better way to let the world know that you're not dating someone than to "jokingly" tweet about it, because the idea is soooo funny to you. Ryan Phillippe is basically every dude who has ever casually mentioned how "everyone" thinks that you're dating just to see how you react, and then acts totally shocked if you show interest. Seriously, look at this shit:
I AM NOT DATING KATY PERRY. BARELY KNOW HER. PLEASE STOP FLYING HELICOPTERS OVER MY HOUSE. SHE IS NOT HERE.

thx

— Dr. Philz (@RyanPhillippe) April 10, 2017
Oh really, Ryan? Paparazzi are "flying helicopters" over your house looking for Katy Perry? How do you even know what the helicopters are looking for? Maybe they're a search party trying to locate your career, which hasn't been seen since the last time we had a republican president. Predictably, Twitter was not buying this fuckboy-esque behavior from Phillippe, and pointed out the obvious:
@RyanPhillippe THATS WHAT SOME1 WHO HAS KATY PERRY IN HIS BASEMENT WOULD SAY…..

— jonesy (@flyboy4014) April 10, 2017
Okay but here is where shit gets interesting because, as we know, Katy Perry is one of the most extra pop stars in existence and boasts a Taylor Swift level roster of A-list ex boyfriends (literally, considering they both dated John Mayer). KP, instead of doing what any self-respecting person would do and ignoring Phillippe's obvious thirst trap, did what most post-breakup betches would do and decided to fuck wit it:
Can u let me out of this basement pls? https://t.co/I2WKOsIxak

— Katy Perry (@katyperry) April 10, 2017
So now here we have two very famous (or, used to be very famous) individuals who are on Twitter telling people that they're not dating but are also simultaneously hardcore flirting for all of the world to see. Do these two think we're fucking dumb? I haven't put thousands of hours into stalking my ex's mentions to not recognize when two people are flirting online. Please do not insult me this way. Of course, Phillippe, who hasn't been relevant a day since he stopped being Reese Witherspoon's husband, responded immediately:
@katyperry never

— Dr. Philz (@RyanPhillippe) April 11, 2017
And then, because Katy just couldn't resist going back and responding to the original tweet…
Hi, nice to meet you, sorry bout that @RyanPhillippe carry on, lol.

— Katy Perry (@katyperry) April 10, 2017
There is a 90% chance that Phillippe slid directly into Katy Perry's DMs after this tweet was sent, and the two of them are vigorously sexting at this exact moment. Seriously, you don't joke about kidnapping a woman and keeping her in your basement unless you really like her. Beauty And The Beast taught us that. This Twitter convo has all the trademarks of a celeb romance in the making. Katy Perry is obviously trying to come off as a "cool girl" here, using a casual, lowercase "lol" to show that she is emotionally distant, though those of us who study in Textology know that the only way that she could show that she is more interested would be to say "k" and sign off for a while. Phillippe's interest is a given because, literally what else is he doing right now? Serious question.
Now please excuse me while I find someone to bet on wedding dates online with me. I give it six months.