UPDATED: Mary-Kate Olsen's Divorce Is Getting Messy Already
UPDATE: Well, we didn't really expect that to be so simple, did we? With the court system mostly shut down due to COVID-19, Mary-Kate Olsen requested an emergency divorce filing last week, but that request has since been denied. A judge deemed that this case is "not essential," which means Mary-Kate will have to wait a while before getting the divorce process going.
While the divorce is on hold indefinitely, the bigger question here is what will happen to the apartment. In her emergency request, Olsen said that her husband, Olivier Sarkozy, was forcing her out of their main apartment by May 18th, which I just realized is today. Now, Mary-Kate hasn't actually been living there during quarantine, so it's not like she's getting thrown out on the streets, but she expressed concern that Sarkozy would destroy her personal property inside the apartment.
So with the emergency divorce not being granted, it seems like Sarkozy is pretty free to do whatever he wants for the time being. Hopefully he and Mary-Kate can work something out for the time being, because it would be pretty sh*tty for him to just like, throw away her stuff.
Earlier this week, I wrote about 10 of the messiest celebrity divorces ever. That list had everything: cheating scandals, custody disputes, and enough pettiness to last a lifetime. Well, I'm starting to think I spoke a little too soon. (Or predicted the future, depending on how you want to look at it.) On Wednesday, news broke that Mary-Kate Olsen is divorcing her husband Olivier Sarkozy, and we're already getting a look into the legal details of their situation. In short, it sounds like a f*cking disaster.
Here's a quick refresher, so we're all up to speed. Mary-Kate married Olivier, who's the half-brother of former French President Nicolas Sarkozy, in 2015. He's 17 years her senior—she's 33, and he's 50. Olivier has two daughters from a previous marriage, both of whom are taller than Mary-Kate. That's not important here, I just think it's funny. Their relationship always felt a little strange, but they seemed like kind of a good match to me. We never saw any photos from their wedding, but a source famously said there were "bowls and bowls of cigarettes" at the reception, so just let your imagination run wild with that.
But fast forward five years, and things are obviously not so great anymore. On April 17th, Mary-Kate Olsen signed a summons and complaint for divorce, and those papers were then sent to the New York Supreme Court. But things quickly hit a snag, because the New York court system is not accepting divorce filings right now. In light of the pandemic, the Courts have placed a temporary "prohibition on the filing of new, non-essential matters," which includes divorces.
But things aren't that simple. On Wednesday, Olsen requested that she be allowed to file an emergency divorce petition, claiming that Sarkozy terminated the lease on their New York City apartment without her consent. In the request, she wrote, "This application is an emergency because my husband expects me to move out of our home on Monday, May 18, 2020 in the middle of New York City being on pause due to COVID-19." She says in the request that she's reached out to Sarkozy's attorney and her landlord, asking that the lease be extended past the end of this month, and adds, "I am petrified that my husband is trying to deprive me of the home we have lived in and if he is successful, I will not only lose my home but I risk losing my personal property as well."
In an email from May 3rd that was included with the filing, Sarkozy explained that he was terminating the lease because he is "not in a position to extend it and/or pay additional rent." I don't know all the details of this situation, but this makes no sense. Without even taking Olivier's money into account, Mary-Kate Olsen has an estimated net worth of $250 million. I'm sure their apartment in Gramercy is very fancy, and it's a tough economic time, but I feel pretty confident these two can still pay rent. To me, this sounds like a toxic game, and it's stressing me the f*ck out.
No divorce is simple, but this apartment situation is way more complicated due to the COVID-19 pandemic. It sounds like Sarkozy is currently staying somewhere else in NYC, but Mary-Kate is riding out the quarantine at their home in the Hamptons. For this reason, she says that she can't "look for another apartment right now, let alone retrieve my separate property belongings," adding that she is "gravely concerned my husband will dissipate, dispose of and/or secret" her belongings that are currently in the apartment. I'm glad she's not trying to drop everything and come back to the epicenter of a pandemic, but this is a very sh*tty situation. Like, imagine being told that you have to be out of your apartment in a week, but you also can't go there to get any of your stuff. I'm moving in four months, and I'm already panicked about packing! Truly a nightmare.
There's one other important piece of the emergency petition that Mary-Kate Olsen filed this week. She's requesting that her prenuptial agreement be enforced, and given that $250 million estimated net worth that I mentioned, that's exactly what she should do. A source told Us Weekly that Mary-Kate has an "ironclad prenup", which might be the sexiest thing I've ever heard. According to the source, "her business interests and fortune are protected," which is a huge relief to hear. If she can just get this apartment fiasco sorted out, the actual divorce proceedings will be pretty straightforward. Well, they should be, but with the messiness we're already seeing here, I imagine nothing will be simple.
So far, Mary-Kate Olsen hasn't commented on her divorce, but given that she and her sister Ashley are pretty much the most private people on the planet, I wouldn't expect to hear anything directly from her. But with divorce proceedings being public, we'll know as soon as there's an update on her emergency filing. Until then, I'll be working on my top-secret plan to somehow get the Olsen Twins back into acting. It'll never happen, but hey, we can dream.
Images: s_bukley / Shutterstock.com
UPDATED: The New Details About Kristin Cavallari & Jay Cutler's Divorce Are Messy AF
UPDATE: As this week has gone on, there have been about a million anonymous sources popping up, claiming to have some insider info about Kristin Cavallari and Jay Cutler's divorce. It's hard to know which of these stories are true, but now we finally have a concrete look at some of the alleged "misconduct" that Kristin included in her filings. According to new documents obtained by Us Weekly, Kristin is accusing Jay of withholding money from her, and the situation sounds pretty rough.
According to the court papers, things weren't good in their marriage for a while, and Kristin started looking for her own house way back in November 2019. She even had a house under contract at one point, until Jay "informed her that his attorney was going to stop her from purchasing the house she wanted" and that the attorney "was going to tell their business manager to not release the funds" for her to buy the house. Yikes.
For a normal couple, buying a second house would be a huge financial strain, but considering that Kristin and Jay have an estimated net worth of over $60 million, this feels a little petty. In addition, an Us Weekly source says that Kristin "always knew that Jay was trying to keep some of his money from her," and the house situation was just the proof that she needed. If their marriage was already on the rocks, this kind of situation definitely wouldn't have helped things.
Fast forward to April, after they got back from their extended Bahamas trip, and the money disagreements continued between the couple. As they decided to separate, the documents show that Jay offered Kristin an initial settlement amount. Kristin's filing says that she "refused to accept the settlement," finding it "unfavorable," because she has made "significant financial contributions to the marital estate." We don't know any specifics about the amounts here, but obviously Kristin has her own money on top of whatever Jay made playing football. No one is broke here, and any settlement should reflect that.
Kristin also alleges that Jay filed divorce papers as quickly as possible "as a way of punishing her" for turning down the settlement offer. Of course, Kristin's filing is only one side of the story, but if she's telling the truth, there was definitely some financial manipulation happening here. I'm sure we'll get more details and context in the weeks and months to come, but there was clearly more going on in this marriage than we ever knew about.
ORIGINAL ARTICLE: Let's face it: most divorces are messy. While not every marriage ends with a dramatic scandal or betrayal, most people don't wake up and decide to get divorced just because they're bored. When Kristin Cavallari announced on Sunday that she and Jay Cutler were splitting after 1o years together, the tone was positive—a little too positive. She wrote that their relationship had reached a "loving conclusion", and that she and Jay have "nothing but love and respect for one another." That's all well and good, but of course, we wanted to know what really happened here. If things were really so loving, would they be filing divorce papers?
Well, that "loving conclusion" didn't last long. On Monday morning, less than a day after Kristin Cavallari's divorce announcement, Kristin filed legal papers that suggest there's a lot more to this story than her initial claim of "two people growing apart." Color me shocked. Kristin's filing, obtained by TMZ, is in response to Jay's original divorce filing, and it's clear that they are not on the same page when it comes to any of the details surrounding their split. 
In her legal filing, Kristin Cavallari accuses Jay Cutler of misconduct, stating that he "is guilty of such inappropriate marital conduct as renders further cohabitation unsafe and improper." There have been some cheating rumors surrounding Jay Cutler in the past, but "unsafe and improper"? That sounds serious. Her filing also claims that "any misconduct alleged or implied against in the complaint for divorce" was only a result of Jay's original misconduct… but Jay didn't make any misconduct allegations in the divorce filing. I'm not a lawyer, but something's not adding up here, and I want answers.
Unfortunately, the consequences of divorce are often harshest on young children, and it looks like Cavallari and Cutler are gearing up for a custody battle. While Cutler is seeking joint custody of their three children, Cavallari wants primary custody, with Cutler only having visitation rights. Both Kristin Cavallari and Jay Cutler are claiming that they have been the "available at-home parent and primary caretaker" during their marriage, and since two people can't be the primary caretaker, I have a feeling this is going to get messy.
While the new filings bring up a lot of questions, and not too many answers, we are getting a clearer picture of the timeline here. In Jay Cutler's divorce filing, he listed a separation date of April 21st. That was just last week, but this is another spot where Kristin disagrees. In her filing, the separation date is listed as April 7th—the day after the family returned from their month-long Bahamas vacation-turned-quarantine. I really need to know what the hell went down on that trip, because it sounds like it was far from paradise.
Images: Dfree / Shutterstock.com
Kristin Cavallari and Jay Cutler Are Getting A Divorce
While we were all mixing our quarantinis, cleaning our apartments, or just generally lazing about this rainy Sunday, Kristin Cavallari took to Instagram to announce that she and Jay Cutler are getting a divorce. To be perfectly clear, I haven't thought about Kristin Cavallari since approximately 2009, but I still didn't see this one coming. I've honestly been waiting for more celebrities to announce divorces once the effects of being quarantined together started kicking in, but I still wouldn't have predicted that Kristin Cavallari and Jay Cutler would be the first ones to bite the dust. They have been together for 10 years and have three children together, Camden, 7, Jaxon, 5, and Saylor, 4.
In an Instagram post that depicts the now-exes with their backs to the camera, Kristin wrote, "With great sadness, after 10 years together we have come to a loving conclusion to get a divorce." She added, "This is just the situation of two people growing apart," and if you ask me, the whole announcement smacks of "conscious uncoupling." Still, it's better than a Notes App screenshot.
News of Kristin Cavallari and Jay Cutler's divorce comes just a few weeks after the couple returned to Nashville after being "stuck" in the Bahamas on vacation with Kristin's friend and hairstylist, Justin Anderson. On March 15, the group traveled to the Bahamas (despite there being a confirmed case of coronavirus in the Bahamas that same day). In the days that followed, they would complain about being "stuck" on the island despite there being no travel restrictions at the time; later, on March 24, they would remain on the island even after the U.S. Embassy urged travelers to return home. After catching some flak online for remaining on vacation while almost everyone around the world was staying home in an effort to flatten the curve, they all returned home on April 6.
In light of recent events, this trip to the Bahamas is raising even more eyebrows. Was it a last-ditch attempt to save their marriage? Were they trying to escape more than the reality of coronavirus? Or was being stuck on an island together the straw that broke the camel's back? God knows I've returned from a family vacation wanting a hell of a lot more than a legal separation. With Kristin asking "everyone to respect our privacy", we'll probably never know. But I'm predicting that this won't be the first seemingly solid celebrity marriage to crumble under quarantine, and we're going to be seeing a lot more of this verbiage the longer we're stuck inside.
Images: Timothy Hiatt/Getty Images; kristincavallari / Instagram
Adele And Her Husband Are Getting A Divorce
Grab your Airpods and your tissues, because we're soon going to have one of the best breakup albums of all time. I say that because news broke on Friday that Adele and her husband Simon Konecki have separated. Adele's representatives confirmed the news to the Associated Press.
"Adele and her partner have separated," the statement said. "They are committed to raising their son together lovingly. As always they ask for privacy. There will be no further comment."
First of all, big freaking ups to Adele for simply referring to Simon in the media as "her partner". That is serious BDE in action. He's the father of her child, and she didn't even refer to him by name! I stan.
Second of all, this statement is the publicist equivalent of saying we will never know what happened or why Adele and Simon separated. It makes sense, given that the couple has been very private about their relationship this entire time, but it sucks for me personally because I want to know the tea. Gosh, it's just so rude when celebrities end their relationships and don't personally tell me the reason why. So if you'll excuse me, I will be stalking Crazy Days and Nights for the next 48 hours.
Me, trying to think of theories behind Adele's divorce:

Adele and Simon were together since 2011, and Adele had their son Angelo in 2012. That's a pretty long time to be together in the celebrity-verse, even if they were only actually married for two years.
I'm sure that this is a tough time for Adele, and I am very sad for her and her son. However, I can't help but think that this timing is crazy given that Beyoncé just released the Homecoming documentary and visual album. And I can't help but wonder… if we are going to get a repeat of the 2017 Grammys in 2020.
Kidding! Adele, honey, you take all the time you need in penning a gorgeous and emotionally devastating divorce album. We'll be here patiently waiting.
Images: Shutterstock; Giphy
Audrina Patridge Is Getting A Divorce And A Restraining Order Against Her Husband
Today is a strange day for fans of The Hills. TMZ just reported that Audrina Patridge filed for divorce from her husband Corey Bohan. The two just had their first daughter and have only been married for 10 months. That's not quite 72-day marriage level, but not very good, either.
Sources are also reporting that Audrina is filing a restraining order against Corey for "a series of incidents," which does not sound very good. For now, that's all the information we have, but we will update you all if and when more information becomes available.
I don't want to kick a girl when she's down, but damn, Audrina has some questionable taste in men. She went from combat-boots-to-the-beach-wearing Justin Bobby to… a guy who looks exactly fucking like Justin Bobby. No, seriously. Look at this dude.

I mean, fam. COME ON. Tell me this isn't Justin Bobby in a different hat! You can't, can you? Now I can't help but wonder what Audrina's dad looks like. Thankfully, Instagram has my back on this one too…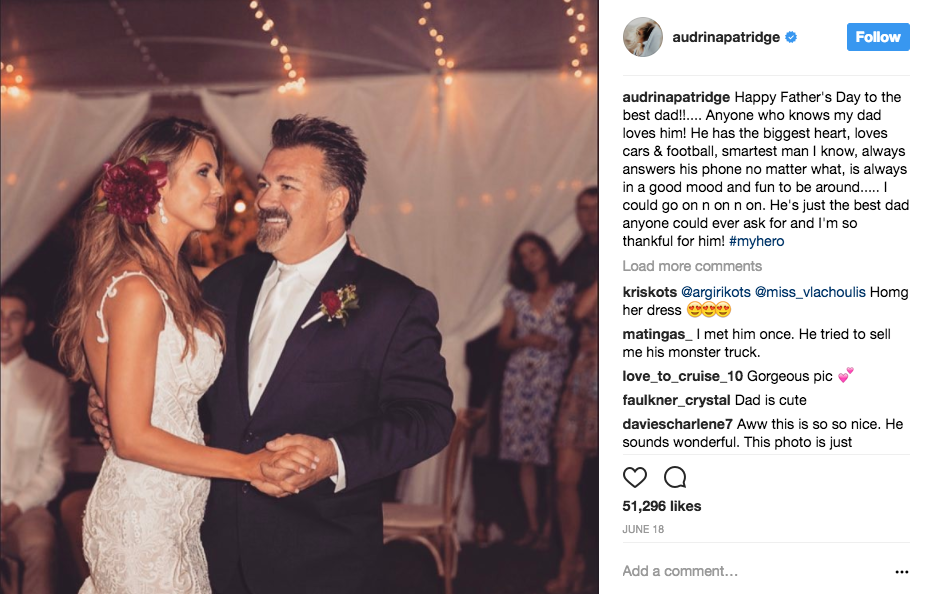 Wow, that was easy. Well now that I've successfully discovered the reason for Audrina's relationship woes, all I can do now is send her my well wishes. Seriously, Audrina, I hope you and your daughter are doing okay. In times like these, just remember the infamous words of LC: "He's a sucky person!"
Josh Duhamel Is Officially Single
If you thought love wasn't dead, think again. Yesterday, we got the news that Fergie and Josh Duhamel are getting a divorce, and it hurts. They had been married for over eight years, and they always just seemed normal and happy together. Here's the statement they released to the press:
"With absolute love and respect we decided to separate as a couple earlier this year. To give our family the best opportunity to adjust, we wanted to keep this a private matter before sharing it with the public. We are and will always be united in our support of each other and our family."
Okay, that's nice, but we're a little confused why we weren't the first people they told? Whatever, I guess it's the best thing for their son Axl, besides maybe getting a new name. Seriously, that name needs at least one more vowel, he's not a Black-Eyed Pea.
The timing of the announcement probably isn't a coincidence, because Fergie just happens to have her first solo album in 11 years coming out next week. It's called Double Dutchess, and if it can provide us with even one banger on the level of "Glamorous", "Fergalicious", or "Big Girls Don't Cry", we'll be very happy. Meanwhile, Josh is busy doing Transformers movies or something.
We hope everything works out for Fergie and Josh, and as long as John Legend and Chrissy Teigen don't break up we'll still hold out some hope that love isn't terrible.
Brad And Angelina Are Reportedly Getting Back Together
While most of the world is still recovering from the tragic news of Chris Pratt and Anna Faris' breakup, we, the hard-hitting journalists of the world, have different celebrity couples to move on to. Namely, Brad and Angelina, and why they might not be calling it quits after all.
Are you okay? Did you faint? Yes, you read that correctly. Brangelina, power couple of the century, adopters of seven million children, human rights pioneers, might be giving it another shot. Let's discuss.
It's been 11 months since Angelina first confirmed the divorce was happening, when she said that it was "for the health of the family." The world momentarily stopped turning and we definitely shed a tear or 100, but now there are new developments. According to reports, they haven't moved forward on the divorce in several months, and it seems unlikely that they will anytime soon.

Sources say that Brad got sober to try and win Angie back, which sounds like no fun but also, like, good for him. Angie supposedly read about his changes in his GQ story in May and had a change of heart. What, he couldn't just text her that he was sober or slide into her DMs like a normal person? Whatever. In the story, Brad repeatedly uses "boozing" as a verb, which makes us slightly uncomfortable in the way that our dads saying "lit" makes us uncomfortable, but it's the thought that counts.
Also, last month in an interview for Vanity Fair, Angie said that the divorce has been the "hardest time, and we're just kind of coming up for air." What does all this mean?? Why are all these developments happening through magazine interviews? Sorry to all you girls who are still Team Jen Aniston, but it looks like Angie and Brad might be back together. Thank god. Just when I was starting to think love is a construct invented by the film industry and we're all sitting in a rock hurtling through space *puts down blunt*. Now I can die happy, as long as this doesn't mean a Mr. & Mrs. Smith sequel.
'Flip or Flop' Will Keep Filming Even Though Their Marriage Was A Flop
HGTV shows are basically interchangeable unless they feature hot twins or the hosts go through a highly-publicized separation that wouldn't be out of place on Real Housewives of Atlanta. Today, I bring you news about the latter. Despite (or possibly because of) Tarek and Christina El Moussa's scandalous split last year, Flip or Flop is set to film new episodes, and I, for one, am all about it. Watching exes interact after a divorce IRL is depressing. Watching them film a TV show while awkwardly dancing around the subject of their hella dramatic separation is entertainment.
If you forgot all the shit that went down in the El Moussa household last year, allow me to remind you. Back in May, Tarek booked it out of the couple's Orange County house with a gun to wander the trails of a nearby state park for a few hours, like a totally rational and normal person. Meanwhile, Christina followed him into the yard crying, then called the police. Eventually, Tarek returned and claimed he took the gun to ward off mountain lions. Since police found five MORE guns in the house while they were waiting, this is clearly a man with a deep and abiding fear of wildcats.

Anyway, the couple separated not long afterward, and six months later, everyone found out when Tarek filed for divorce from Christina. A bajillion rumors began swirling around immediately, mostly claiming that Tarek was spying on Christina and Christina was having an affair with some older, grizzled contractor named Gary. It turns out she actually was dating that guy, but not until after Tarek moved out, so it wasn't an entirely shitty move—but I gotta say, that's a step down for someone as hot and rich as Christina. On the other hand, Tarek's rebound wasn't any better—he apparently had a fling with their 23-year-old nanny. So… healthy choices all around.
Everyone was worried about the fate of Flip or Flop after all this came out, natch, but it turns out we didn't need to be. On Tuesday, Tarek posted on Instagram that the show is being renewed for 20 episodes "regardless of the circumstances." Way to play it cool, bro.
So next time you're nursing a hangover, you might actually catch some new Flip or Flop episodes between naps. Pro tip: Turn it into a game where you take a shot every time the schadenfreude becomes too much. You'll be so wasted by the end your hangover won't matter anymore.