Why Was Brad Pitt At Jennifer Aniston's Birthday Party?
Want to feel old? Jennifer Aniston celebrated her 50th birthday this weekend. Want to feel even older? Enough time has apparently passed that she and ex-husband Brad Pitt are cool enough for him to attend the party. I guess there's no better way to say "I'm still getting over my second divorce" than by bringing the f*ckboy from your first divorce back into your life.
So obviously, the question on everyone's minds is are Brad and Jen getting back together? The answer is a resounding "maybe". According to some of Aniston's F.R.I.E.N.D.S. who attended the party, Brad was there but the two didn't really interact. Though Pitt did reportedly have a "great time" and spent most of the night hanging out with George Clooney and Orlando Bloom. Sidenote: how do I get invited to a party with Brad Pitt, George Clooney, and Orlando Bloom?
Since their divorce in 2005, Brad and Jen have reportedly remained in touch, and are reportedly friendly with one another, despite the whole him dumping her for Angelina Jolie thing. (And here I am unable to forgive my high school boyfriend for getting the wrong prom corsage.) But rumors that the two have rekindled their iconic romance have been swirling ever since Jen's recent split from Justin Theroux in early 2018. While a source told ET at the time that the two were "absolutely not" dating, everyone's favorite purveyor of juicy-yet-not-officially-confirmed celebrity gossip, Enty Lawyer, has some other insight to offer.
The back of Brad Pitt's head spotted at Jennifer Aniston's 50th and what does it all mean? https://t.co/qgbNhNeyUm pic.twitter.com/0kwLkqlCmJ

— SimpleNews.co.uk (@Simplenewsuk) February 10, 2019
If you don't read Crazy Days And Nights, you need to. An abridged explanation is that Enty, the man behind the site (not his real name), publishes what are called "blind items" in which he spills celebrity gossip that hasn't officially been confirmed yet. Only, he doesn't name names, which is how he manages to do this without getting in trouble with the celebrities he writes about. Basically each blind item is like a fun riddle that you can piece together using the clues in the items. It's hard to explain, so just go read it, and then say goodbye to your life.
So, Crazy Days and Nights published a blind item months ago alluding to the fact that Brad would make "a return to Jen's life," and not just for the purposes of friendship. Enty revealed to us that being seen together would be a good PR move for both Brad and Jen, considering Brad's rep has suffered considerably since his messy divorce from Jolie, and Jen needed to take some heat off her "awful relationship" with Theroux. Brad was also apparently "not the only ex at the party," though Theroux was not in attendance. If that's true, then is Jen's birthday party basically the real-life version of when I text all my exes at 3am to see who will respond the fastest to give me attention?
So is Brad being at Jen's birthday party a sign these two will do a reboot of their relationship? I guess we'll have to wait and see if Brad changes his hairstyle to match Jen's find out.
The birthday party of a one year old made a way bigger splash than Jennifer Aniston's 50th WHERE HER EX BRAD PITT MADE AN APPEARANCE so yea we really are in the sunken place

— samifish (@samifish1) February 10, 2019
Follow Enty Lawyer on Instagram for more celebrity gossip.
Images: Giphy (2)
All The Times Kanye West Gave Kris Jenner A Heart Attack This Year
It's Kanye West's birthday! The world's most controversial rapper/Kardashian husband turns 41 this year, and I honestly don't even know where to start. We've known Kanye is an asshole for many years, but personally I've never really cared. He makes great music, and I've never met a Taylor Swift hater I didn't get along with. Unfortunately, in the past few months, Kanye has gone off the deep end even more than before. He's never been, like, the most coherent guy, but yikes. So to commemorate Kanye's 40th trip around the sun, let's look back at some of his greatest hits from the past year. Seriously, Kris Jenner's blood pressure has probably never been higher.
The Donald Trump Shit
Just gotta start out with the elephant in the room here. At the end of April, Kanye popped off with a multitude of Trump-supporting tweets that ranged from confusing to "I WANT TO LIGHT MY PHONE ON FIRE." For me, the personal low point was the photo of his Make America Great Again hat, personally signed by Prez Trump, but there were many other awful tweets to go along with it. He also posted his personal texts with John Legend, which really just made everyone love John more and roll their eyes even harder at Kanye. Kris Jenner definitely made several angry phone calls about this.
my MAGA hat is signed ???????????????????????????????????????????????????????????????????????????????????????????????????????????????????????? pic.twitter.com/DrDHJybS8V

— KANYE WEST (@kanyewest) April 25, 2018
The "Poopity Scoop" Song
In the midst of his Trump-fueled shame spiral on Twitter, Kanye suddenly dropped a new song called "Lift Yourself." The song is…fucking awful. There are basically no actual lyrics, and the only rapping Kanye does is some gibberish that sounds like a 2-year-old who just learned what the word poop means. It's bad. Luckily, Kanye's actual album turned out to be way better than this and have some actual lyrics, but I can guarantee Kris Jenner was stressed out about this song.
Wyoming
As opposed to everything else on this list, this isn't really a scandal at all. That being said, you can bet that Kris Jenner still had a meltdown when she found out that Kanye (and therefore Kim and the kids) would be spending months hanging out in Wyoming, our least populous state. Kris is most comfortable in a Calabasas mansion, so the thought of anywhere that's not behind gates is probably pretty terrifying for her. Also, she always acts like she's being personally punished whenever any of her kids spend time away from LA. Calm down Kris, everything will be fine.
The Rhymefest Feud
A couple weeks ago, Kim Kardashian West went rogue on her Twitter about some beef between Kanye and this producer Rhymefest from Chicago. The drama was all about the charity Donda's House that Rhymefest runs, which Kanye used to be a major part of. Kanye has stopped donating to the charity, and Rhymefest decided to change the name of the organization. Kim tweeted all kinds of savage things at Rhymefest, and tbh she ended up looking pretty psycho and petty. Also, why did Kanye let Kim do his dirty work on Twitter? This feud is dumb as fuck, and I imagine Kris Jenner was definitely more than a little exasperated when she saw Kim's tweets.
Sorry to all of my followers for flooding my timeline I know you have no idea who Rhymefest is.

— Kim Kardashian West (@KimKardashian) May 26, 2018
The Canceled Fashion Show
People love to mock Kanye's YEEZY clothing brand for basically being expensive rags, but some people love it, I guess. Kanye caused many headaches last year when he canceled his New York Fashion Week show just one week in advance. No explanation was ever given for the disappearance of YEEZY SEASON 6, but there were lots of people who had already signed contracts to work the event. In addition, the Kardashians missed out on one of their prime appearances, because they usually make quite a scene at the show. Kris probably had a good stress cry because of this, considering she had probably already booked all the private flights and hotel rooms. Life is hard as a momager.
Happy birthday Kanye, lmk if you need help deactivating your Twitter account. Kris Jenner's nerves could really use a break.
Images: @kanyewest / Twitter; Giphy; @kimkardashian / Twitter
Kourtney Kardashian's Life As Kris Jenner's Least Favorite Daughter
April 18 is Kourtney Kardashian's birthday, but you'd probably never know if you hadn't clicked on this article right now. Kourtney is 39 now, but unfortunately for her, there are other more important things to focus on than her birthday. Namely, Khloé's new baby and cheating scandal that has sent the entire world into a shame spiral. Or maybe that's just me, but everyone is well aware of the drama with Tristan. It's sad that no one really cares about Kourtney Kardashian's birthday, but tbh, she's used to being overshadowed by her family. She spent the weekend at Coachella getting it on with Younes, but if a Kardashian parties in the desert and no one cares, does she even get drunk? For the last 10 years, we've watched as Kim, Kylie, Khloé, Kendall, and even Rob have eclipsed Kourtney with their personal drama. It honestly seems like Kourtney has got to be Kris's least favorite daughter, otherwise you'd think she'd let her have her moment in the sun just once. So in honor of Kourtney Kardashian's birthday, we need to take a look back at all the times Kourtney got overshadowed by every other member of the Kardashian family.
Back when Keeping Up With The Kardashians premiered in 2007, it was basically just the Kim show. While Kim was busy doing photoshoots and low-key auditioning to be a Pussycat Doll, Kourtney and Khloé basically just wrestled with each other on the floor in the background. My personal favorite early Kardashian moment is when Kim finally gets her custom Bentley, and the episode becomes a whole thing about how her rando sisters could never afford such a nice car. Times have changed, but Kourtney is still on the bottom of the Kar-Jenner totem pole.

For nearly a decade, we watched in delight horror as Kourtney struggled through her relationship with Scott Disick. Anyone with half a brain understands that Scott was categorically the worst, but we still rooted for them. So like, why? It's not because being with Scott was best for Kourtney, it's because Scott is entertaining as hell. Khloé and Kris were always giving Scott a hard time, and he totally deserved it, but I also still shamelessly like every single photo on his Instagram. I love Kourtney, but I might like Scott more? I'm not proud, but it's just who I am.
When Kourtney was pregnant with her third child in 2014, her sisters threw her a beautiful baby shower. It was Breakfast at Tiffany's themed, naturally, and there were some truly solid Instagram shots of Kourtney wearing a tiara and posing with her sisters. What a beautiful occasion! I can't imagine what could pull focus from Kourtney at such a special moment! Except, um, Kim's Paper magazine cover that just so happened to drop the same day—you can't tell me Kris didn't have something to do with that. If you'll recall, this issue of Paper was literally called Break the Internet. That's like showing up to your sister's wedding white. Wait no, that's like showing up to your sister's wedding ass naked and then announcing you're pregnant.
Also in 2014, numerous tabloids reported that Kourt was worried about Kim's wedding to Kanye overshadowing her wedding to Scott. If you're thinking "but wait, Kourtney never married Scott," you're absolutely right. The couple mentioned getting married lots of times throughout the years, but it doesn't seem like there was ever a real wedding planned. That means that even when Kourtney wasn't being overshadowed by her sisters, tabloids were literally making up stories about her feeling overshadowed. Shit is bleak.

So yeah, in the past we've all been guilty of forgetting about Kourt at times, but I'm promising to do better. I can't speak for such prestigious tabloid outlets as Drum and Closer, but my days of Kourtney erasure are over. Next time Kim is posting pictures of her nipples on Instagram, or Khloé is discussing which baby wipes she's planning to use, I'll do my best to stop and think about what Kourt is up to. Happy birthday, Kourt, try not to let anyone talk over you today!
Images: Giphy (2); @kourtneykardash / Instagram
10 Times Vicki Gunvalson Tried To Show Emotion But The Botox Wouldn't Let Her
If you're even remotely a fan of the Bravo Cinematic Universe, you really should know about the woman, the myth, the legend: Vicki Gunvalson. Vicki has stood strong on The Real Housewives of Orange County for all 12 seasons, a feat that is truly astounding. Most women who become Real Housewives can't take it for more than a few seasons, so the fact that Vicki has done this shit for over a decade is just nuts. Today is Queen Vicki Gunvalson's 56th birthday, so it's only fair that we send a little love to the housewife who started it all.
Let's start by going through some of Vicki's taglines. 12 is a lot, so it's understandable that they can't all be the best, but some of Vicki's choices really don't make sense. Take, for example, season four: "I want the power and the money, and I want them both." Oh Vicki, that is so redundant. My personal favorite Vicki tagline is season one's classic "Are the police involved?," but season 10's ""I am the OG of the O.C.; everyone else is just a copy."" really came close. I've never figured out if these women come up with their own taglines, but wow they really are the best.
Now, let's take a look at some of Vicki Gunvalson's best Housewives moments from the past 12 seasons, in the form of gifs that you will definitely need to use on a daily basis.

Vicki is super mad, can't you tell from the deep emotions on her face? Sometimes the fresh botox makes it hard to show emotion, but that's probably for the best. I'm mad basically 24/7, but like Vicki, I know when I should hide my feelings.

We all have that one friend who loves to act like she's the fucking queen of the world, and it's important to put these people in their place. Vicki is not afraid to be #thatbitch, which is probably why Andy Cohen and his team of producers have kept her around for so long. You're not Madonna, sit the fuck down sweetie.

This gif is basically just me talking to myself after a Friday night where some poor choices were made. This is the maximum display of rage permitted by the botox, and you can really feel the venom in Vicki's words. I am disgusting, and I truly own it. I'm trash, you're trash, we're all trash. ¯\_(ツ)_/¯

Again, Vicki is the one that's giving a much-needed voice to my inner monologue. As a self-destructive sociopath with very few emotions, you can find me at your local party making decisions that will definitely result in the loss of friends. Either that, or I just stay in bed and let all my friends forget I exist.

Vicki isn't doing so hot on the rafting trip, and honestly same. I'm not sure why the producers constantly force the housewives to go on these outdoorsy trips when it's clearly the last thing on the planet they want to do, but I feel for them. This gif is literally me any time I have to put on pants/leave my apartment/interact with others.

Vicki loooooves to talk about how she's a businesswoman who makes her own money and her own rules, and I definitely respect her for that. I relate to this, in that I am very protective over my shit. Like, when you have a pack of gum and someone just assumes that they can take a piece. Back the fuck off, I'm calling the police.

This is the perfect reaction whenever you and your friends are at the bar and a notorious fuckboy shows up. In certain situations, there's just no positive outcome, so the best thing to do is just cut your losses and go home. I'm not sure what Vicki was referencing in this particular gif, but again, the lack of emotion on her face is just astounding.

This is my response when someone is talking to me about something I don't give a shit about, but that's not all. This is also appropriate for when that one weird dude from high school keeps following and unfollowing you on Instagram, just in the hopes that you'll follow back and slide into his DMs. Absolutely fucking not, honey.

Same Vicki, same.

Me, constantly, when I think about all of the responsibilities I have neglected, and will continue to neglect. Happy birthday, Vicki Gunvalson, and please never stop giving us these incredible moments. You're truly the rock of Orange County, and we'd be nowhere without you.
Images: Giphy (10)
We Rewrote Taylor Swift's "22" Because She's 28 Now
If you felt the sudden urge to be petty af today, or to hit up your ex boyfriend just to confuse him, that's probably because it is Taylor Swift's birthday. We've seen Taylor grow from a 16-year-old country music star with impossibly curly hair to a 28-eight-year-old pop music graveyard girl with shorter impossibly curly hair. It's kind of inspiring. Being that Taylor is almost 30 (gasp!!!), it's probably time she update some of her more teenager-ey tunes to reflect her late-twenties lifestyle. You know, replacing the references to high school with references to LinkedIn, and adding in more lines about how you thought you'd be married or have a house by now, but instead you still have 5 roommates and are trolling for dick on Hinge. Inspiring stuff.
Anyway, to help welcome Taylor into the world of old millennials, we've updated the lyrics to her song "22" to reflect her new 28-year-old lifestyle. It's a lot less dressing up like hipsters and clubbing, and a lot more putting on sweatpants (because your metabolism has slowed down irreparably and they're the only thing that fit you right now) and texting your mom about how sad you are. It's honestly better than it sounds.

"28" by Taylor Swift (sort of)
It feels like the perfect night to put on pajamas
And binge watch Netflix uh, uh, uh uh
It feels like the perfect night to but shit off Amazon
And fall asleep early, oh yeah
Yeah, we're anxious depressed overworked and hangry at the same time
It's miserable and miserable oh yeahhhh
Oh fuck I realized I forgot all my deadlines, oh shit
Sorry I was late, but now I'm twenty eight
I cancel basically all my plans now, you're lucky I came out
You don't know about me, but I'm almost thirty
I don't really need new friends, but I'll act fake now 'cuz I'm twenty-eight (twenty-eight)

It seems like one of those nights
I'm leaving early. This place is too crowded. Too many college kids, uh uh, uh uh
It seems like one of those nights
We Irish goodbye
And drink some boxed wine
Yeah
Sorry I was late, but now I'm twenty eight
I cancel basically all my plans now, so you're lucky I came out
You don't know about me, but I'm almost thirty
I don't really need new friends, but I'll be fake now 'cuz I'm twenty-eight
10 Times Nicki Minaj's Shade Was Too Much To Handle
Today is Nicki Minaj's 34th birthday, and the day wouldn't have been complete without honoring this true queen. Over the years, she's given us countless iconic songs, looks, and performances, but the thing she maybe does best is being shady and savage AF. Here's a look at some of the most important Nicki moments ever, because she's really given us so much.
1. The time she basically ended Miley Cyrus' life while accepting a VMA.

2. How she spent an entire season of American Idol throwing shade at Mariah Carey.

3. When she used an acceptance speech to casually address the fact that Iggy Azalea might use a ghostwriter.

4. When Taylor Swift tried to get some attention and Nicki shut that shit down.

5. When Nicki's ex Meek Mill dissed her at a concert and the subtweets came literally seconds later.

6. When she offered this very real critique of the patriarchy.

7. When she definitely gave Drake the worst blue balls of all time.

8. When she called out Andy Cohen on his own show.

9. The Remy Ma feud that's lasted a full decade and given us like, 12 diss tracks.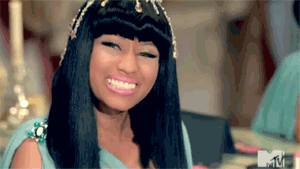 10. When she literally ended our lives.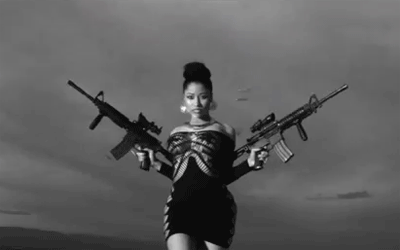 Happy birthday Queen, don't take shit from anybody today.
7 Times Chrissy Teigen Was All Of Us In Honor Of Her Birthday
Hear ye, hear ye. It is a holy day in betchy history: Chrissy Teigen's 32nd birthday. When Chrissy Teigen first became famous, initially we all thought she was just another hot swimsuit model. Which, to be clear, is admirable in and of itself. But then we noticed that not only is Chrissy beautiful, but she's also funny af. She criticizes Trump on Twitter (before getting blocked), she pokes fun at herself and her husband, she eats chicken nuggets, she's an amazing cook… basically, Chrissy Teigen is all of us (minus the cooking part). So in honor of her 32nd birthday, here are all the times she was literally the most relatable person on the planet.
1. When She Made This Face At The Golden Globes

Anyone who's even watched The Golden Globes (anyone?) in their pajamas in the comfort of their own home can relate to this feeling, let alone having to dress up and not eat throughout the whole thing. So I can understand this general sentiment. Chrissy made this face when her husband John Legend won an award for his song in Selma, which is kind of perplexing given the context. What's not perplexing, however, it that this is an extremely relatable face for many occasions, like when my boss asks me to do anything or when I sexted a guy because I was bored and now he really expects me to do the things I told him I wanted to do.
2. When She Made This Other Face At The Oscars

Chrissy made this face in response to Chris Rock bringing Stacey Dash up for a Black History Month cameo. I understand if you repressed that moment from your conscious memory, because it was extremely awkward for all involved. This is me viewing my drunken Snap stories from the night before. It's me when I look at the calorie count of one slice of avocado toast. It's me when a guy matches me and his profile says he's under 5'7″. It's me at most times, tbh.
3. When She DGAF About The Kids

Yeah, MIKE. Go Chrissy for not giving a shit about random-ass internet fools who take every single thing a person they've never even met does personally.
4. When She Offered This Very Astute Television Commentary

Yes. Anyone who acts superior to people who love reality TV can fight me. So, my dad can fight me.
5. When She Fell Asleep At The Oscars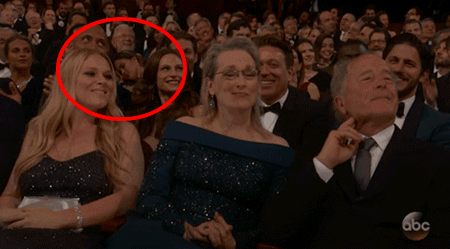 Do I even need to explain the importance of this? No. No, I do not.
6. When She Tweeted This

If you've never said this but not about selfies, you're either boring or we would not have fun together.
7. When She Wouldn't Let John Legend Break Up With Her

Again, this is fucking iconic and an inspiration. Do you hear that, ladies? Breaking up isn't a decision. It's an option, and you can always say no.
Thank you Chrissy, for your contributions to humanity. We love you. Never change.