An Update On Meghan Markle's Insane Family Drama
It's been almost four months since the royal wedding, and I'll be honest, I miss it. From approximately February through May, a solid 50% of my mental energy was devoted to Meghan Markle, and I was loving every scrap of news about her and her crazy family. Well, Meghan has settled nicely into her new life as the Duchess of Sussex, but her American family is no less batsh*t. In case you haven't been keeping up with the Markles (E! Network, please get on this), here's your much-needed update on what Samantha and Thomas have been up to lately.
The first bit of major drama involves Meghan's time on Suits. I'm still obsessed with the fact the the former star of a USA show is literally a princess, so sign me up. Recently, Wendell Pierce, who played Meghan's dad on the show, publicly slammed Meghan's real dad, Thomas Markle, for the negative things he's said about Meghan. Basically, Thomas is a messy b*tch who lives for drama, even if it means throwing his daughter under the bus. Wendell, who actually seems like he would be a good dad, told The Daily Telegraph "If you love your daughter, just love your daughter. It's not for public consumption." Shots fired.
Lucky for us, the Markle family is way too desperate to just let something like this go. Samantha, Meghan's half sister, hit back at Wendell Pierce on Twitter, saying that his advice is "like a television president telling the White House what to do." Ooh, sick burn. In the past, this might have been a solid analogy, but at this point I would really kill for Robin Wright or Julia Louis-Dreyfus to get in there and take control. Claire Underwood is the only one who can save us now.

I'm also a big fan of the random quotation marks around "stop sucking" in the second tweet. Not only is Samantha Markle a crappy sister, but she apparently is not so hot at English grammar. I'm not even going to pretend to be surprised.
And, because one questionable White House metaphor is never enough, Samantha had to try another one. In some more unhinged tweets, Sammy Markle fully compared Meghan to Donald Trump:
"Trump said he 'could shoot someone and still get votes'…The 'ant line mentality' is the same here. Stop being gullible. Smiles and waves are a smokescreen."
What??? Everyone is entitled to their own opinions about Meghan Markle and whether she's a nice girl or whatever, but this really seems like a stretch. Like, she's a princess who just goes to charity events and looks pretty in tasteful dresses, not a political leader with worse judgment than drunk me at 3AM. I won't pretend to know what goes down between Meghan and her family behind closed doors, but Samantha's tweets are desperate AF.
The one good thing in all of this is that, apparently, Queen Elizabeth has been super supportive of Meghan during the drama with her family.  Understandably, Meghan is stressed about the situation, and at this point it's unclear if it's even worth reaching out to her dad. But an "Us Weekly Buckingham Palace source" (seriously, who are these people??) said "what may surprise some is just how supportive Her Majesty has been during the problems Meghan has faced with her family. Meghan is in a tough place, and the queen knows it's completely out of Meghan's hands. She has only sympathy for what's been a difficult and distressing situation for her." Wow, this seems like major growth, considering that a few hundred years ago, they probably would've just beheaded Meghan and started over.

The source says that Meghan is worried that if she did reach out to her father, he would just record their conversation and sell it to the press. This is obviously very cynical, but she's not wrong. Thomas Markle has proven time and time again to be completely shameless when it comes to exploiting his daughter for fame, so he would definitely have TMZ listening on the phone in the next room.
My personal favorite piece in all of this drama is Samantha Markle's reality TV debut that never actually happened. Way back in July, it was reported that she would be a contestant on the new season of Celebrity Big Brother in the UK. The new season was allegedly going to feature lots of stars that had been embroiled in controversy, and Sammy Markle seemed like a big get. My all-time fave Stormy Daniels was also set to appear. I was actually pretty excited to see them on the show, but then…they weren't on it.
Two days after the season premiered, Samantha took to Twitter to clear things up (sort of):

Again, grammar is not her strong suit. I do really love that someone called her out, considering that she had been tweeting about being on TV for the previous weeks. I'm really just dying to know what this "I other opportunity" is, because I still haven't gotten sick of Samantha Markle content. Luckily, she's apparently working on a memoir, with the working title The Diary of Princess Pushy's Sister. This sounds like a children's book that teaches you how to share, and I can't f*cking wait to preorder it. God bless this mess of a family.
Images: @SammyMarkle64 / Twitter (2); Giphy
Omarosa Is Spilling The Tea On Mike Pence Now Too
Ah yes, our favorite reality-television-star-turned-White-House-aide-turned-fired-White-House-aide-turned-reality-television-star. That's right, it's our girl, Omarosa!
As we know, Omarosa has been spilling the damn tea on Celebrity Big Brother. Lucky for us, the tea just keeps on spilling. She recently discussed DACA with her fellow cast members and explained how the Trump administration plans to get more and more aggressive. She noted that Trump is a "numbers guy" and he "wants to outdo his predecessors." You say "numbers guy", I say "deteriorating old yam in a toupee."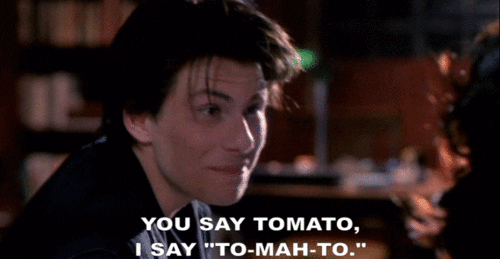 After setting the scene, Omarosa dropped a bomb by telling everyone "We'd be begging for days of Trump back if Pence became president, that's all I'm saying." Okurr. She went as far as saying that Pence thinks Jesus tells him things, and implied that he was a bit off his rocker. Not breaking news to me, but sure. She also said, "So everybody that's wishing for impeachment, might want to reconsider their life." Sorry Omarosa, but I'm not sure we need to be taking life advice from you. We will take this piping hot goss on Pence though.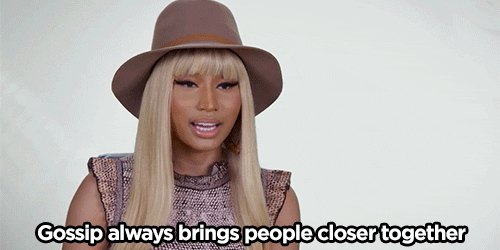 In short, Omarosa can concur that Mike Pence is a weirdo who thinks calling his wife "Mother" is okay, but homosexuals loving each other is not. Great. Adam Rippon for President.
Heads up, you need to keep up with the news. It's not cute anymore. That's why we've created a 5x weekly newsletter called The 'Sup that will explain all the news of the week in a hilarious af way. Because if we weren't laughing, we'd be crying. Sign up for The 'Sup now!
Images: Giphy (2)
Omarosa Is Already Spilling Tea About Trump On Celebrity Big Brother
It's been less than two months since The second most famous Apprentice-star-turned-White-House-official Omarosa Manigault left her job in the Trump administration, and she's now safely back on reality television where she belongs. She's currently living in the Celebrity Big Brother house, and she already spilled the tea on Trump's tweets.
Omarosa wasted no time before milking her recent political experience for reality show gold, and her conversation with Ross Mathews is one of the best things we've seen in a long time. Ross and Omarosa are sitting on the most uncomfortable-looking couch we've ever seen, and Omarosa is wrapped in a blanket as if someone pulled the fire alarm in her building while she was taking a shower, except she has clothes on.
Omarosa has these lines ready to go. This is 2018. pic.twitter.com/sGwZxIK89B

— deray (@deray) February 8, 2018
Ross asks her why the fuck she decided to get involved in the Trump administration in the first place (same), and Omarosa says through tears that she felt like she was answering a call of duty to serve her country. Like all of us at home, Ross obviously isn't buying it, but he sits and listens like any self-respecting gay who knows there's gossip to collect. Omarosa claims that she was "haunted by tweets every single day," which accurately describes literally all of us for the past year.

Ross asks if she tried to intervene, and she says that her efforts to get through to the Donald resulted in her being pushed further away. "Ivanka's there, Jared's there," she says, apparently listing the other people who have been completely useless in their year in the White House. When Ross asks who does have the power to get through to Trump, Omarosa responds with some next-level bullshit: "I don't know…I'm not there…It's not my circus, not my monkeys…" Bitch, what?
Ross, who apparently came prepared with a list of questions that we all want answers to, then asks Omarosa if we should be worried. We know the answer is yes, but hearing Omarosa basically growl "it's BAAAAD" strikes a fear in our hearts that we've never felt before. Like, she must know even more than we do, and she clearly isn't comforted by any of this extra info.

Ross asks her to say it's going to be okay just for shits, but Omarosa won't fucking say it. It's just not going to be okay. No, I'm not sweating right now, that's just some random water on my forehead. Everything is fine, I'm fine, we're all fine, it's all good. Fuck.

Celebrity Big Brother is just getting started, and this shit is on five nights a week, so prepare for many more dramatic Omarosa/Trump moments if she sticks around for a while before getting evicted. Omarosa is currently in her seventeenth minute of fame, and she needs to prolong that shit as much as possible. Ross, meanwhile, will be in the corner hyperventilating into a paper bag.
Heads up, you need to keep up with the news. It's not cute anymore. That's why we've created a 5x weekly newsletter called The 'Sup that will explain all the news of the week in a hilarious af way. Because if we weren't laughing, we'd be crying. Sign up for The 'Sup now!
Lord Save Us All, Spencer Pratt And Heidi Montag Are Reproducing
On the list of couples who should absolutely not be producing offspring, Spencer Pratt and Heidi Montag are at least in the top five, right after Sami and Ronnie and Justin Bieber and anyone. But sadly for all of us, the day we all knew would eventually happen has finally come to pass: Speidi is pregnant. I guess they've come a long way from appearing on Marriage Boot Camp season 4, or at least, let's hope so for the child's sake. According to Spencer (who is about 9 months away from getting his very own World's Most Reviled Dad T-shirt), he was "half asleep" when Heidi broke the big news. According to Pratt, Heidi was "literally glowing. I thought she was about to say she made muffins or banana bread."
Okay so pause. You thought your newly pregnant wife of eight years looked so happy because she had just made you muffins? I guess in a way a baby is kind of like the greatest baked good of all, but still, ain't nobody ever heard of a "banana bread glow." Sounds like you were just hungry, Spenc.
Heidi, who is now 30 years old and has an entirely new face, told Us Weekly that she is currently 12 weeks along and due October 12th—which I'm pretty sure is the day the Mayans predicted the world would end, so it looks like we're right on track. Heidi also told Us that she was "overwhelmed" in the moment, though she did not mention bread, banana or otherwise.
To the question "Are you pampering Heidi?" Spencer responded "I'm doing dishes!" which is an obvious lie considering that Spencer and Heidi have never done their own dishes a day in their lives. But maybe he meant to say, "I'm making sure the help does all the extra dishes we're going to have now that Heidi is eating for two"? Also, is that really your response to a reporter asking how well you're taking care of your pregnant wife? Like, you couldn't even make up a lie about giving her a foot rub or something? Good Lord, Spencer, can you not even pretend to be an acceptable mate?

So what does this mean for Speidi's future—apart from the fact that Heidi will probably go immediately from the birthing room to the liposuction table in order to get her pre-baby body back while Spencer gets fatter by the second? Well, according to Spencer, Heidi has "wanted to be a mom since the day I met her" and "she has planned for and thought about this"—so, like anything that has ever been important to Heidi in her life, her husband will inevitably destroy it. Cue Spencer getting jealous of the baby one week out and making Heidi choose between them.

So if Heidi has wanted a baby for so long, why did the couple wait? Well, as Heidi explained to US, up until now the couple had "work obligations" such as Celebrity Big Brother in the U.K., which she "did not want to be pregnant for." What a sweet birth story. Can't wait for their baby to eventually ask how it was born and for Heidi to explain that "When two people love each other very much, and don't need to be skinny for any television engagements, then a little miracle is born!"
While of course we all wish the new family the best of luck (do we, though?), this news is probably more than a little alarming to The Hills fans who have not yet forgotten the multiple baby related freakouts Spencer had on the show, or the time he called Heidi's mom "just a vagina!" Anybody want to take me up on a bet that Spencer brings Audrina into the birthing room as a pre-baby power play? Either way, I think we can all smell a new Baby Pratt-based reality show in the making, which is great because we all need a new show to hate-watch right now.