Snooki's Third Baby Is Finally Here
Yesterday, we were all eagerly awaiting Arie and Lauren's baby, but there was another new arrival being delivered into the world of reality TV. This morning, Snooki revealed that she has given birth to her third baby, thoroughly stealing the spotlight from the Luyendyk's. Sorry Arie, but I didn't get a breaking news notification on my phone when you announced your baby. Who knows, maybe Angelo and Alessi will be friends someday, stranger things have happened.
Snooki first announced her latest pregnancy back in November, and shared that the baby was a boy in December. She joins a group of recent celebrity pregnancies that seemed like they went on forever, including Meghan Markle, Amy Schumer, and obviously Lauren Burnham. But now Snooks can finally put away her maternity swimsuits, because her little baby is here:
Snooki announced the arrival of baby #3 via a People exclusive, where she confirmed that she gave birth at 2:30am on May 30. I respect the dedication to having the People exclusive posted less than 12 hours after your middle of the night delivery. In the article, Snooki said that her new son Angelo looks just like her oldest, Lorenzo, did when he was a baby. She also shared that her Jersey Shore castmate Deena sent over some thoughtful gifts, including a blanket that says Angelo about 100 times. It's not my personal taste, but I'm sure the baby will love it.
Check out our interview with Snooki from last month on the When's Happy Hour podcast, where she talks about how she balances being a mom with running successful businesses:
Having a third baby in the mix will definitely make things a bit more challenging, but it seems like Snooki has a good system in place. In the interview with People, she said that she and Jionni "can't wait to see how being outnumbered turns out," so hopefully we can look forward to some more Snooki shenanigans on the upcoming third season of Jersey Shore: Family Vacation. 
Congratulations to Snooki and Jionni, and all the best wishes for their new family addition!
Images: Snooki / Instagram
Of Course Khloé Kardashian Revealed Her Baby's Gender During The Oscars
Last night was a momentous night in television. It was the 90th annual Academy Awards. We were all focusing our attention on the gowns, the speeches, and the (alleged) sexual predators. After last year, anything was possible and it was all exciting. But you know what no one was focusing all their attention on? The Kardashians. And they will not stand for it. It's not like it's 2004 for God's sake. So naturally, Khloé had to announce her baby's gender, and oh yeah, it's a girl! Thank you, Khloé, for ripping me away from my favorite night of the year judging beautiful people from my couch in a dirty sweatshirt. Now would be a good time to remind you all the Kylie confirmed her pregnancy hours before the Super Bowl. Is no American TV pastime sacred to these people?

It had been reported by many outlets, including US Weekly, that Khloé was having a boy. All of the new stories conveniently forget to mention that fact. It's cool, I'd also rather die a painful fiery death than admit that I was wrong about something like when The Bachelor airs. So I get it. I'm just saying don't go to Vegas any time soon, US Weekly. You had one job.
On last night's episode, Khloé's doctor told Kylie that Khloé was expecting a girl. Kylie then created a gender reveal cake, and by "created" I mean she probably had a team of unpaid interns do all the work while she took the credit. Later on in the episode, Khloé told Kim and Kourtney the news. Khloé appeared to be upset, so she tweeted this after the episode to clarify:
God gives us what we need! His timing is never wrong! ???????? my hormones were IN RARE FORM for that news

— Khloé (@khloekardashian) March 5, 2018
Surrrree, Khloé. I am not convinced this wasn't planned from the beginning, and I'm going to go even further and say that at least two-thirds of the recent Kardashian babies were planned to be girls. As Amy Schumer says, the Kardashians are women that take their original faces as a light suggestion. You think they're going to leave gender to chance?
As a freelance writer who, in one scarring moment, skimmed my friend's copy of What to Expect When You're Expecting, I'm uniquely qualified to examine this situation. Hear me out. Kim had a surrogate, which means they implanted an embryo. You can find out which embryos are boys and which ones are girls. They knocked that surrogate up with a girl intentionally. That's one. Khloé has long documented her pregnancy struggles. I doubt she got pregnant this time without help. You can also choose the gender with IVF. That's two. Kylie's baby's gender was probably just pure chance because I refuse to believe that any 20-year-old with talons for nails actually wanted to have a baby, let alone went through the process of making sure it's a girl. Look, I'm not saying you have to believe me, but if you don't, Kris Jenner definitely made a deal with the devil and that's far more concerning.
Now that we know the baby is a girl, I might have to re-evaluate my baby name predictions, which I foolishly based on shitty reporting. Now, I wonder what Kris has to do to ensure that the baby gets Khloé's post-surgery nose? Time will tell.
Lauren Conrad Named Her Baby Something Normal And We're Impressed
In news of the world that isn't horrible and depressing, Lauren Conrad has given birth to her first child. She and husband William Tell welcomed a baby boy, Liam James, on July 5th, and he probably already has better style than any of us. They definitely don't get any bonus points for a creative name, but originality is overrated. Honestly, the fact that this baby has just a regular bro name (I feel like I met 15 Liams on Bumble in the past week alone) is more interesting than if they'd followed in other celebs' footsteps and named him "Ichabod" or "Appletini". If Lauren taught us anything, it's that you've always got to be subverting expectations. She did it when her career lasted past the early 2000s, and she's doing so now by naming her baby something so normal that he'll have to add like, a thousand numbers to all of his social media handles. Congrats, LC. You passed your first test as a mother.
In the years post-Hills, LC has mastered the art of being famous and still leading a classy, drama-free life, and her baby announcement was no different. She Instagrammed a picture of a needlepoint design with the whole family (dogs included), with a simple caption about how happy they are. So cute! So normal! So not cringeworthy! Rob and Chyna, take note.

LC joins Kristin and Audrina in the moms club, with Whitney and Heidi also expecting their first babies sometime later this year. So yeah, I guess we're all old now. If you had asked us 10 years ago, we honestly would've expected more of them to become messes, but they've come a long way since fucking around with Brody Jenner and co. Good job ladies, keep it up.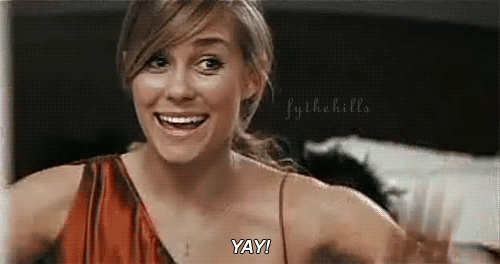 Congrats to William and Lauren on their new arrival, but they probably shouldn't let him be on a reality show while he's in high school.
Natalie Portman Just Had a Baby and She's Already Skinnier Than Us
Natalie Portman, black swan of our hearts and arguably one of the most perfect people on the planet, is a new mother again. In a classic A-list move, she had the baby on February 22 but waited over a week to tell anyone about it, because privacy or some bullshit. Natalie Portman's daughter was born just four days before the Oscars, which explains why Natalie wasn't there, even though she was nominated for Jackie and probs would've looked stunning.
Her new baby is a little girl named Amalia Millepied, which is a pretty name but with a name like that it kind of sounds like she could grow up to be psychotic and like, key a guy's car if he does her wrong. We're into it. It's her second kid, after her son Aleph in 2011. It's pretty disappointing that she didn't also name her daughter after a letter in the Hebrew alphabet—we were personally rooting for Gimel—but whatever. Tbh if you want your future son to find a hot Jewish wife, have a kid now so they're in Amalia's age group.
Really we've never quite gotten over the fact that Natalie married the choreographer from Black Swan, Benjamin Millepied—aside from the fact that his last name conjures up some serious insect horror movie vibes. Like sure he's good-looking and French and probably insanely flexible, but didn't he like, abuse her while they were making the movie? It's none of our business really, which is exactly why we care so much.
So now it's time for Natalie to get her body back, which for her probably consists of like one pilates class a week and some intense stretching. She's always been a skinny bitch, so it should only be a matter of weeks until shitty tabloids are starting anorexia rumors about her again.
Best of luck to Natalie and baby Amalia, and we better see some cute baby pictures soon.