Justin Bieber Randomly Cancelled His Tour And We Think We Know Why
Yesterday, 16-year-old girls everywhere got some upsetting news when Justin Bieber announced he's canceling the rest of his world tour. The 14 canceled dates were in North America and Asia, which means he officially has two continents pissed off at him. This, coupled with the fact that he was literally just banned from Beijing for "bad behavior" means that this summer might even be worse for Justin than all the ones where he was feuding with Selena Gomez on Insta or running around Boston without shoes. Actually, come to think of it, has Justin Bieber ever had like, a good summer? Sad. According to Justin's people (he has "people" not "friends") the dates were axed due to "unforeseen circumstances," so naturally it's up to us to brainstorm why Justin did it. Given our extensive research into fuckboys and fuckboy culture, and given that Justin is obviously the king of all fuckboys, we think we're more than qualified to make shit up make an educated guess as to why the Biebs isn't continuing his tour. Here's what we think:
1. He's Tired
Justin's 'Purpose' World Tour has lasted 150 dates and has been going strong since March of last year. Like, his tour is way longer than most of our meaningful relationships. He's been to every continent, and he's probably just fucking tired. We get tired walking from our bed to the fridge, so we can very much relate. Just take a nice long nap, Justin.

2. He Got Cyberbullied
Justin is a sensitive guy, and maybe he got his feelings hurt by something someone said about him online. Like, how is he supposed to do a show in Denver if someone said Colorado hates him on Twitter? Singapore is probably a really tough crowd, so we totally understand.

3. Food Poisoning
Food poisoning is one of the best excuses to get out of basically anything. Even if you're totally fine, just tell everyone you ate some bad sushi, and you'll easily get out of your commitments for the next 2-3 months. Japan will understand, they literally eat nothing but sushi.

4. He's Learning Spanish
Justin was probably embarrassed about not knowing the words to his gigantic summer jam "Despacito", so he must be learning Spanish before he goes back out on the road. He has to sing like two dozen whole words, so maybe he just doesn't feel confident in his abilities yet. No hay problema, amigo!

5. Some Girl
We don't know who Justin is dating sleeping with right now, but no doubt she's some gorgeous Instagram model with no hint of a personality. Either way, she might have Justin hypnotized into never wanting to leave her. Seriously, Hailey Baldwin isn't that hot.

6. He's Dead
Justin posted a message about the cancellation on his social media, but there's technically no proof it's him. Maybe he died in a freak jet-ski accident and Scooter Braun is just trying to keep it a secret as long as possible? Just give them long enough to create a realistic hologram, then he'll be back on tour in no time.

7. Bad Horoscope
Justin seems like the kind of guy who might be really into astrology, so maybe he just didn't like what's in the stars for him this month. It's not like there are millions of dollars on the line here, so it's a totally acceptable reason. I mean, when Mercury is in retrograde we basically don't leave our house, so we feel.

8. Mafia Kidnapping
Maybe Justin can't perform because he's been kidnapped by the Russian mafia? If we get a Russian remix of "Despacito" within the next month, we'll know he's really in trouble.
Um so yeah we basically have no fucking clue. Sorry The Philippines, maybe next time! Justin, get your shit together, the people of Asia need you.
Blac Chyna Talked Major Sh*t About Rob Kardashian
It's been about a week since Rob Kardashian's Instagram revenge porn spree, and Blac Chyna isn't wasting any time making sure people are on her side. On Monday she obtained a temporary restraining order against Rob, and now she's done an exclusive interview with ABC News to tell her side of the story. We got all the details so you don't have to.

She says that she felt devastated and betrayed by all the stuff that Rob posted about her, especially because she used to trust him. "I felt comfortable…sending these pictures and even talking to him about certain things," she said. It's not exactly surprising that they were comfortable talking about "some things" considering that they were literally engaged and had a child together, but clearly this isn't your average relationship.
Her explanation for the explicit video that Rob posted of her was pretty great stuff. She said that she and Rob had been broken up for months, but he still wouldn't leave her alone. So she decided to send him the video of her in bed with another man, hoping that he would just give up. Girl….

Chyna also said she's hurt that no members of the Kardashian family have reached out to apologize to her, especially because she was friends with Kim before she ever met Rob. To be fair, none of them are probably talking to Rob either. They're too busy Snapchatting their workouts and posting about Sugar Bear Hair gummies on Instagram.
In the interview, she took the time to respond to those who say she only dated Rob for the fame, saying that she was already Blac Chyna before dating a Kardashian. Okay, so that's technically true, but you didn't have your own TV show and you definitely weren't getting an exclusive interview with ABC News. Rob is obviously an idiot, but don't pretend that the Kardashians haven't helped your career.

Chyna's lawyer was also there to say all the things we already know about how what Rob did was fucked up, but we've been over that. Chyna isn't letting this go away, and we suspect this won't be the last interview she gives.
Lauren Conrad Named Her Baby Something Normal And We're Impressed
In news of the world that isn't horrible and depressing, Lauren Conrad has given birth to her first child. She and husband William Tell welcomed a baby boy, Liam James, on July 5th, and he probably already has better style than any of us. They definitely don't get any bonus points for a creative name, but originality is overrated. Honestly, the fact that this baby has just a regular bro name (I feel like I met 15 Liams on Bumble in the past week alone) is more interesting than if they'd followed in other celebs' footsteps and named him "Ichabod" or "Appletini". If Lauren taught us anything, it's that you've always got to be subverting expectations. She did it when her career lasted past the early 2000s, and she's doing so now by naming her baby something so normal that he'll have to add like, a thousand numbers to all of his social media handles. Congrats, LC. You passed your first test as a mother.
In the years post-Hills, LC has mastered the art of being famous and still leading a classy, drama-free life, and her baby announcement was no different. She Instagrammed a picture of a needlepoint design with the whole family (dogs included), with a simple caption about how happy they are. So cute! So normal! So not cringeworthy! Rob and Chyna, take note.

LC joins Kristin and Audrina in the moms club, with Whitney and Heidi also expecting their first babies sometime later this year. So yeah, I guess we're all old now. If you had asked us 10 years ago, we honestly would've expected more of them to become messes, but they've come a long way since fucking around with Brody Jenner and co. Good job ladies, keep it up.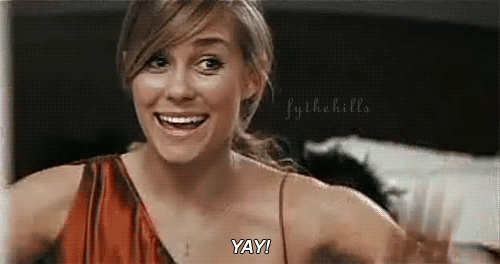 Congrats to William and Lauren on their new arrival, but they probably shouldn't let him be on a reality show while he's in high school.
Calvin Harris Wants To Get Back On Taylor Swift's Good Side
Last summer, Taylor Swift reached peak snake status. Kim Kardashian posted that infamous video recording on Snapchat, and Taylor broke up with Calvin Harris like a week after he was in a car accident. But one of the best parts was when Calvin completely went off about Taylor on Twitter.
It was just after "word got out" that Taylor had actually written the lyrics for "This Is What You Came For," and Calvin was having none of it. He tweeted that Taylor should focus on her new relationship (Tom Hiddleston, RIP) instead of "tearing your ex bf down for something to do," and that she was trying to "bury him like Katy but I'm not the guy."

Cue applause, bouquets of flowers, Champagne, because it looked like Calvin was 100% fucking done with Taylor's bullshit and was ready to go on the warpath. Buuuuuut it was all too good to be true. In new quotes that have surfaced from an interview with British GQ last year, Calvin says that he acted on the wrong instinct, and that he just snapped after feeling like his talent was belittled.
He says that he doesn't blame Taylor but the media circus got to him and blah blah blah are you done yet? Like, sorry if Taylor's 12-year-old fans aren't buying your new album, but this is just lame. If Taylor went around apologizing after saying something bad about an ex, she literally wouldn't have any music left. Her Spotify catalog would basically be "Welcome to New York," and then some shit from the Hunger Games soundtrack.

Calvin, we liked you. Sometimes your taste in women is questionable, but you've given us no less than three Rihanna bangers, and for that we are grateful. Now grow a pair and don't say anything nice about Taylor Swift ever again.
Scott Disick And Bella Thorne May Still Be A Thing, Unfortunately
The past few months, Scott Disick has been cycling through underage girls faster than Kourtney can scream "I'M DOING WHAT'S RIGHT FOR MASON AND PENELOPE." It seemed like something more might be developing last month when he took Bella Thorne to Cannes with him, but she went home after like, one day and was swiftly replaced with some other chick. Bella went back to hanging out with her old ex, and Scott clearly found a different, um, pleasure source. We thought that was the end of Scott and Bella, but not so fast.
Bella, who has spent more time lately being a thirst trap on Instagram than being an actress, posted a picture earlier this week in a tiny bikini pretending to eat a burger. At first it just looked like standard thot behavior, but upon closer inspection, we've deduced that she's standing in Scott's backyard. There aren't many places with a view like that, but it looks like Scott might be busy enjoying the view of Bella's ass.



So are Scott and Bella a real thing, or are they just doing over-the-pants stuff hanging out? It's too soon to know, but clearly Scott gives negative fucks about what people think about him. At 19 years old, Bella is probably a little young to be a stepmommy to his three kids, but she's Scott's ideal age for a sexual partner *shudders*. We're not sure what this means for all the other girls that have been hanging around him in the last month (*cough* Sofia Richie), but they'll probably find some other C-list celebrity to pretend to be "just friends" with.
Long live Scott and Bella, maybe they'll at least make it til the end of the summer?