Things On Kylie Jenner's Instagram That Cost More Than The Life-Saving Surgery She Wouldn't Pay For
What do you spend your money on when you're the youngest billionaire in the world? Evidently not charity cases. Kylie Jenner, self-proclaimed billionaire (and Forbes' highest-paid celebrity of 2020), has sent fans into a moral dilemma over whether to keep worshiping at the altar of King Kylie or #eattherich this week when she posted a goFundMe for her makeup artist and "friend" Samuel Rauda's medical bills after he was involved in a horrific car accident.
While Kylie did share a screenshot of her $5,000 donation, with a net worth of $900 million, it's certainly raising some eyebrows—especially when that works out to 0.000006% of her net worth. While Miss Jenner more or less offloaded the financial responsibility of her friend's surgery onto her lip kit army, here are five things she's posted on Instagram that would have paid for Samuel's $60,000 surgery (and even the full $120,000 goFundMe request).
View this post on Instagram
If you were watching Kylie's instagram story on December 27th, did you realize this photo cost over $50,000?  Yeah, that's what we thought, broke bitch. That tiny bag Kylie is holding is the Hermès Matte Alligator Kelly Pochette Poussiere, which retails for approximately $49,999 if you're in the market. Paired with a Charlotte Knowles London Exclusive Green Check Skinny Dress and Trouser ($900), Dior Sunglasses ($340) and Yeezy pumps ($240), this quick glimpse into Kylie's wardrobe is only worth about 0.0056% of her net worth, but would have covered 85% of Sam's original medical expenses.
View this post on Instagram
While Kylie's daughter Stormi normally steals the attention of whatever picture she's in, even she can't outshine the $50,500 Harry Kotlar 5962 Classico Earrings Kylie's wearing here.  Didn't catch those, you uncultured swine? Don't worry—the more obvious matching red Bottega Veneta Cutout Sequined Jersey Turtleneck Gowns cost nearly triple Kylie's donation goFundMe donation, at around $14,000.
View this post on Instagram
Posted less than two weeks ago, this picture not only called you poor, but also crossed the street to avoid you. For those who don't keep up with coveted designer bags, this Instagram features not one, but three Hermès bags. In the name of science, we did some research: they appear to be alligator skin, which puts them at a hefty approximate $48,000 each. 
The bottom line: With just the three handbags in the upper left corner, Kylie Jenner could have paid for her "friend" Samuel's surgery, but didn't.
View this post on Instagram
While at first glance this may just be a cute snap of Stormi holding an $800 Prada Re-Edition bag that costs over half my rent, look again at the orange vehicle behind here and squint at the logo. If you recognized that as the $400,000 Lamborghini Jenner acquired in 2018, congrats on Keeping Up With the Kardashians. For everyone else: That car could have paid for all of Samuel's medical bills three times over.
Still Not Getting It? Let's Put It In Perspective…
View this post on Instagram
You may recognize this picture from Kylie's Instagram story on March 10th, but I bet you didn't know she's wearing a S/S 2006 Runway Brown Tie Around Ultra Tiny Bikini by Dolce and Gabbana that retails for $6,200. For those bad at math, let me spell it out for you: Kylie Jenner spent more on a bikini than she donated to a "friend" to save his life.
So, is this the end of King Kylie's reign? Unfortunately, probably not. But, in a year that has had nearly 11% of Americans unemployed and millions more scraping to get by, maybe it's something to start thinking about when a celebrity chooses to post a goFundMe and offload financial responsibility onto their fans.
Images: Tinseltown / Shutterstock.com; kyliejennersoutfit, kyliejenner / Instagram
Ellen DeGeneres F*cked Over Her Crew During The Pandemic
There have been many unfathomable changes in the last month, but out of all of them, who would've thought that we'd all come out of quarantine thinking Ellen DeGeneres is a sh*tty person? Well, to be fair, I kind of thought that before, but over the past month, it feels like the floodgates on negative press about Ellen have sprung a major leak.
First, there was the viral Twitter thread, in which dozens of people shared their personal anecdotes of Ellen being a nightmare. Then, last week, Ellen got raked over the online coals for a tone-deaf joke about her quarantine being like jail. But while that joke was in poor taste, even more concerning is a new report about how poorly her TV show crew has been treated during this time.
Speaking to Variety, two sources from within the show shared how the core Ellen crew—around 30 people—were essentially ghosted after production shut down last month. According to the sources, the crew "received no written communication about the status of their working hours, pay, or inquiries about their mental and physical health from producers for over a month." When pressed for more information, "Higher-ups in production would occasionally answer phone calls but reveal little" about what was actually going on. Considering that I start to freak out if my mom doesn't respond to my texts within five minutes, I'm not even sure what I would do if my bosses stopped talking to me for a month. Especially now, we should all be communicating more, not less.
Today I learned Ellen makes $50 million a year and the show has been around for 18 years aaaand her crew isn't being paid adequately. Hmm.

— roxane gay (@rgay) April 17, 2020
As if the lack of communication wasn't bad enough, things got worse when the  Ellen higher-ups did start communicating again. Last week, as the show resumed production from home, the majority of the crew was told to "brace for a 60% reduction in pay." Normally, the crew works four 10-hour days a week, but after the first couple weeks of the shutdown, those were reduced to eight hours. Now, the crew have been told that their pay will be cut to two eight-hour days a week, which is… just not enough money. Reached for comment, a spokesperson for Warner Bros. Television, which produces Ellen, said that they "have made decisions first and foremost with in mind," but that seems apparently false.
In the past few weeks, production has ramped back up on Ellen, and DeGeneres is now doing a full five episodes a week from home. But while new episodes of Ellen are airing every day, the sources told Variety that only four of the core crew members are actively working on the at-home version. So it's understandable that the rest of the crew was reportedly "incensed" when the show hired an "outside, non-union tech company" to handle the production.

While at the moment, it doesn't sound like any crew members have been fired, hiring an outside company that isn't unionized with the same skills as your long-time employees is a pretty major slap in the face. But above all this other nonsense, the sources say that the most upsetting part of all this is the "lack of personal outreach from show leadership to check on longtime employees" during this difficult time. I hate to say it, but this sounds pretty in line with some of the other stories we've heard about Ellen DeGeneres recently, no?
Obviously, this is a tough time financially for a lot of people, as well as a lot of businesses. Millions of people have been laid off or furloughed, and the entertainment industry is certainly not immune to this. But considering that Ellen DeGeneres makes $50 million a year from her TV deal, it seems like she could be doing a lot more for the people who work for her. When it comes to paying the crew, that obviously involves a lot of other people, but Ellen has the resources to actually do something about it. Variety reports that during Jimmy Kimmel's initial shutdown, he paid his show's stagehands with his own money. Obviously, not everyone can afford to do that for their employees, but um, Ellen can.
Or if she's not going to give them money, you know, maybe a check-in phone call or a text would be nice? Just a thought! Gotta say, the last month has not done any favors for my opinion of Ellen DeGeneres. It'll be interesting to see whether she cooks up some elaborate damage control PR campaign, but I have a feeling she'll just go about her business like nothing is happening. The midwestern moms probably still love her, so that's what really matters.
Images: David Crotty/Getty Images; rgay / Twitter
Tori Spelling Is Getting Trolled For Her Virtual Meet-And-Greet
At this point into quarantine, I'm starting to think that celebrities are competing in a secret game of Who Wants To Be Dragged On Twitter. It feels like new famous people are coming out of the woodwork to be problematic, tone-deaf, or just plain dumb nearly every single day, and I honestly have to thank them for all the prime content. Just yesterday, we had Ellen DeGeneres getting dragged for making a joke about being in jail, but it's already time to move on to today's bad look. Today's celebrity Twitter dragging is one Tori Spelling and the reason is totally ridiculous.
On Tuesday, Tori Spelling posted on Instagram, inviting her followers to a virtual meet-and-greet. The event, which is actually happening today, includes "live, individual video chat," and allows you to "take virtual selfies" and download the full video after. Okay, fun! I'm not sure how a "virtual selfie" is any different from a regular screenshot, but getting to talk one-on-one with Tori Spelling is pretty cool, right? She said there were only 20 spots available, so it's definitely an ~exclusive~ opportunity.

Well, Tori neglected to mention one important detail in her Instagram post. Upon going to the link, you can reserve your spot—for a cool $95 fee. LOL, in what f*cking world?! As a young millennial who's never watched an episode of Beverly Hills, 90210, I'm aware that I'm not the target audience for this, but like… is there even a target audience for this?
Based on the online reaction, I'm gonna say the answer is "not really." First of all, Tori Spelling is not exactly at the pinnacle of her career right now. One tweet called her a D-List celebrity, and like, I don't know about that, but I certainly wouldn't pay almost $100 for a few minutes of small talk over a crappy internet connection and a screenshot with her.
$95…to take virtual selfies with TORI SPELLING Who in their right mind would do this?? It is clearly the end of days👇 #COVID19 #QuarantineLife https://t.co/CJYKkBKh7c

— Karen Huger's Hair (@KarenHugersHair) April 8, 2020
Especially right now, so many celebrities are more accessible to their fans than ever, so charging that much for a virtual meet-and-greet feels ridiculous. Celebs are going live on Instagram every 10 minutes, making TikToks, and generally making more boredom-fueled content than we can consume. What makes Tori think that we'e all clamoring for a bit of time with her?
But Tori Spelling's level of fame isn't the main issue here. As you're probably aware, there's a little global pandemic happening right now. Millions of people have lost their jobs, the healthcare system and other essential parts of our society are under immense strain with resources in short supply, so there's no shortage of worthy causes to donate to. While Tori Spelling's financial issues have been incredibly public over the years, I'm pretty sure shelling out for her virtual meet-and-greet doesn't count as a charitable donation. If you're considering spending the $95, please go give that money to something worthwhile.
Since the mostly negative public response, Tori's Instagram post has been deleted, but the site to sign up for the event is still live. Hopefully the die-hard Tori fans, wherever they are, will still be able to find it. The meet-and-greet is in just a few hours, but unsurprisingly, it looks like there are still spots available. Thank god! Funny enough, a video from Tori Spelling on Cameo is $100, so when you think about it, maybe $95 is actually a good deal?
Images: Kathy Hutchins / Shutterstock.com; torispelling / Instagram; karenhugershair / Twitter
Vanessa Hudgens Had The Worst Response To COVID-19 Yet
At this point, we've all been stuck inside for a few days (I hope), and it's easy to start feeling a little crazy. Things are very not normal right now, so it's important to take deep breaths and just try to keep it together. There are plenty of good approaches to keeping your mental health in a good place right now, but you know what you probably shouldn't do? Go on Instagram Live and word vomit about what's happening in the world. That's what Vanessa Hudgens did yesterday, and well, her career might be COVID-19's latest victim. We've seen other celebs make missteps in the last week, but this might be the worst one yet.
On Monday, Vanessa popped on to IG Live to chat with her followers, as pretty much every celebrity has done over the past few days—especially the thirsty ones. But instead of doing an uplifting at-home concert, like John Legend or Chris Martin, Vanessa treated her fans to some extremely bad takes about the coronavirus pandemic.
In the video, she talked about how sad it is that Coachella was postponed, which is kind of missing the point of this whole situation, but sure, it's sad, especially when half of your relevance revolves around being photographed at Coachella. But when someone asked for her thoughts on possibly being isolated until July, things unraveled very quickly.
Here's what she had to say, transcribed with every "like" for full effect: "Til July… sounds like a bunch of bullsh*t. I'm sorry but like it's a virus, I get it, like I respect it, but at the same time, like, even if everybody gets it, like, yeah, people are going to die, which is terrible, but like… inevitable?"
OOOOOH BOY, this is gonna be FUN. *cracks knuckles*
Let's deal with the July bit before we get into the real heavy stuff. Let's be real—Vanessa knows nothing about what's going to happen in the next few months, and honestly, neither do I! None of us do for sure! We are not scientists, and none of us have ever experienced anything like this before. Will we be stuck inside until July? I sure hope not (my birthday is in May, and I have PLANS), but I'm also not gonna go on IG Live and pretend I have answers. Right now is all about staying inside, washing your hands, and keeping it positive. Let's all just take this one day at a time, and not act like experts.
But yeah, the real problem here is obviously the second portion of what she said. Lmao, guess some folks will die, who cares! That's show biz, baby! Like, Vanessa, NO!!! Baby, what is you doing?! Like, what is her point, even? We shouldn't cancel Coachella because people are going to die anyway? Even if this is actually how you feel (which is f*cked up), why on earth would you say it publicly for your millions of followers? Right now, the entire world is doing what they can—drastically changing their entire lives—to minimize the spread of coronavirus. So it's a pretty horrible attitude to be like "yeah, oh well, we all might get it, ¯\_(ツ)_/¯." Vanessa, read the f*cking room!!!
Yesterday, she clearly realized her mistake, and she addressed her comments in an Instagram story. In the video, she said that her words were "taken out of context", and that she's obviously taking the situation seriously, because she's at home right now. She urged her followers to stay inside, which is great, but let's get back to that "out of context" part."
Miss Vanessa. Sweetie. I watched the video, we all watched the video, and the context was crystal clear. This isn't a reality show where you can blame the editors for making you look like a monster. You literally said that people will die like it was no big deal! The whole context was just you live streaming. We took it precisely in context. I get that we're all going through it right now, but you can miss me with this non-apology.
We'll see if Vanessa's publicist tells her to make a better apology, because I have a feeling that's coming sooner or later. As of right now, her career could be seriously on the rocks due to these horrifyingly insensitive comments. I mean, Netflix might not even want to make Princess Switch 3, and I know that Vanessa wants that sweet Netflix money. Hopefully Vanessa gets her sh*t together and apologizes for real, but she should probably stay off Instagram Live for the foreseeable future.
Images: Featureflash Photo Agency/Shutterstock.com; evanrosskatz / Instagram
5 Childhood Crushes Who Turned Out To Be Complete Trash
Cancel culture is by far the best thing to come out of the last decade. Sure, in some cases it can be hurtful and uncalled for, but so is polishing off an entire box of wine over the course of 72 hours. What's your point? I, for one, am living for cancel culture, and not just because it speaks to the blackest, pettiest parts of my heart (though that is certainly a plus). There's something to be said for holding people accountable for their actions, for holding a mirror up to all of their wrongs and saying "you know why, YOU KNOW WHY." And in the past decade, no one has been called out more for their bullsh*t than powerful men, especially in Hollywood. Canceling sexy, powerful men (aside from being a sexual fetish of mine) feels like a long time coming and a necessary part of moving forward as a society. My vote has always been to isolate the men in an underground bunker and only let them out for breeding purposes or until they've learned to behave themselves, but my therapist calls this plan "troubling" and "something to discuss in our next session." For now, I suppose, I'll just have to settle for tarnishing their reputations and banishing their names and negative energy from the mainstream media. Sighs.
So, as we approach a new year and a new decade, let's take a look at all of the men we need to cancel forever and finally leave behind (to hopefully eat sh*t and die):
James Franco

Talk about a 10 year challenge. No one has aged less well than James Franco. I'm not gonna lie, but back in the day I was a huge fan of Franco's, and that had everything to do with his role as tortured (but sexy) knight in the romantic drama Tristian & Isolde. But little did I know that while I was swooning over hot beach sex and painful British accents, our boy James was out here allegedly manipulating and sexually exploiting the struggling, young actresses of LA. This is why we can't have nice things, James!! 
Back in 2018, and in the wake of #MeToo, several women from James' acting school, Studio 4, came forward and alleged that this highly esteemed "school" was actually just an elaborate ploy to take advantage of young women. Furthermore, the $300 highly sought after "classes" taught at his "school" allegedly involved women disrobing in front of James and his pals. Hmm. This feels less like honing one's craft and more like a page out of Harvey Weinstein's playbook, but okay. Recently, two of the five women who came forward filed a lawsuit against James and I'm really hoping they take him for everything he's worth. I always say, there's no better way to start a new year than by watching a man be financially ruined. Cheers!
Nate Parker

I was today years old when I found out that Nate Parker, actor and former man of my dreams, is actually a flaming piece of sh*t. For those of you who don't know, Nate Parker rose to fame after his role in The Great Debaters and, more recently, The Birth of a Nation. But I know him from Beyond the Lights, an OSCAR WORTHY movie, about hip-hop artist Noni who doesn't want to be anyone's music video hoe, she just wants to get back to making real music, and the sexy but sensitive cop who helps her find herself. So, as I'm sitting here WEEPING at the scene where Nate Parker whispers "I see you" to Noni, I find out that in real life Nate Parker has a very dark and troubling past that involves allegedly sexually assaulting a woman in college. 
While attending Penn State in the late 1990s, Parker and his wrestling buddy were accused, and actually tried in a court of law, of raping a female student. Parker was found not guilty while his pal was found guilty, only to have his conviction overturned. With all the hype surrounding Parker's new movie, The Birth of a Nation, the case has come back into the spotlight with renewed interest, and the information surrounding the case is… troubling to say the least. The victim alleged that she was too drunk to consent to sex, and that after she accused Parker and his friend of rape, she was harassed on campus by Parker and his friends so much so that she "feared for her life." I'm not going to get into the full story here, but if you'd like to read more about the case (and you absolutely should) then this Vulture article is a great read. Now, if you'll excuse me, I'm just going to go quietly weep for Noni and her monster of a prince charming.
Brad Pitt

First of all, I'd just like to say that I was never a fan of Brad's. Not only do I think his acting is subpar (I said what I said!), but it goes against every bone of my deeply feminist body to support a philanderer like him. I have to save that kind of compassion and forgiveness for my own romantic relationships with cheating assholes, obviously. That said, he is good-looking, and in the last 10 years he has done nothing but further sully his own reputation so, congratulations Brad, you made my hit list. Bravo. 
I think by now we all remember the infamous plane incident of 2016 that resulted in Brad Pitt and Angelina Jolie getting a divorce after nearly 12 years together and Brad being investigated by the FBI for child abuse. But just in case you need a refresher, in 2016 Brad allegedly got into a drunken fight with Angelina (he was drunk; she was not) on the family's private plane on the way home from France. An anonymous person then reported Brad to Los Angeles DCFS and claimed that Brad "attacked" their 15-year-old son Maddox during said fight. Apparently, Maddox jumped into the fight to verbally defend his mom when Brad "lunged at the boy." Brad has vehemently denied hitting his son, though he does admit to being drunk and yelling at people. Since the incident, Brad has undergone a stint in rehab while Angelina has pushed for full custody of their kids in the divorce. Yikes. And to think I thought his low as a human being was when he copied his girlfriend Gwyneth's haircut that one time, but it's good to know I can still be proven wrong. 
Ed Westwick

Chuck Bass is the reason I, a grown-ass woman in her late 20s, still consistently match with 23-year-olds in polo shirts on Hinge. So, it shocked me to find out that the man who plays a borderline sociopathic asshole who likes to intimidate and force himself upon unsuspecting women was allegedly, in real life, a borderline sociopathic asshole who likes to intimidate and force himself upon unsuspecting women. What is that saying about art imitating life? In 2018, actress Katrina Cohen came forward on Facebook and alleged that Westwick had raped her in 2015. In the Facebook post she says that the reason she didn't come forward until after #MeToo was because she was persuaded into believing she was somehow complicit in her attack and that making accusations against the actor would kill her own career. No charges were ever filed due to "insufficient evidence" but the accusation itself is upsetting and troubling and reason enough for all of us to stop incorporating a whispered "I'm Chuck Bass" into foreplay (or is that just me?). Hey, Ed? You can go Chuck yourself now, mmkay?
Chris Soules

Remember when the Bachelor was actually America's most eligible man and not just a flaming piece of garbage masquerading as a very attractive human man? No? Me either. Chris Soules was the Bachelor back in 2014 but his most recent claim to fame is that he accidentally ran someone over—and killed him!—as a result of drinking and driving. Wow, do we think Becca Tilley is feeling blessed that she never received that final rose, or what? Chris, always the gentleman, took responsibility for his actions by evading charges at all costs. At one point his lawyers even claimed that the law he violated (leaving the scene of a hit and run) was actually unconstitutional because it, like, got him in trouble. Look, this is a thing I say when my barista f*cks up my order and puts three pumps instead of two pumps into my peppermint mocha, and in that instance, is totally valid. When it's not valid? Manslaughter. Here's hoping that in the new year he's properly banished back to the Iowa cornfield from whence he crawled out of. 
Sadly, I'm sure there are many more Hollywood hotties who could have made this list, but truthfully I'm afraid if I include any more I'll slip into another rage blackout and accidentally burn this entire world to the ground. Anyway, can't wait to see what the new decade brings! Hopefully it's a continuance of believing women and holding men accountable for their disgusting, damaging, and just, like, really illegal behavior. Cheers to the new year!!
Images: Shutterstock.com (5)
The Most Dramatic Celebrity Scandals Of 2018
Celebrity scandals are what I live for. Okay, that is a slight exaggeration. But I love the thrill of knowing a new piece of gossip that lowers the level of perfection my fav celebrities have and makes them seem more human. 2017 was a pretty good year for celebrity scandals, but the celebrity scandals of 2018 did not disappoint. From feuds with the President to cheating scandals, 2018 was a dramatic AF year. Personally, I'm just glad it's almost over. Then again, I said that about 2017, and 2018 turned out to be a way worse year. Well, whatever. I guess I have no way of knowing. Anyway, in no particular order, here were the biggest celebrity scandals of 2018.
1. Stormy Daniels Vs. Donald Trump
The year started off with a BANG. On January 12, the Wall Street Journal disclosed that Trump's lawyer paid Stormy $130,000 of hush money a month before the 2016 elections. After this was publicized, it snowballed into a major scandal, as it always does when Trump is involved. In October, Stormy appeared on Jimmy Kimmel Live and disclosed some juicy gossip. If you want to know what the President's penis looks like, I highly recommend watching it (if you haven't already), or you can read this article where we broke it down. Or—and this is what I recommend—you could do neither and live your life in a relative state of bliss, never knowing the details of our president's penis.

2. Tristan Thompson Cheatin
In April, a day before Khloé Kardashian gave birth to their daughter True, TMZ released videos of Tristan cheating on Koko. There had been rumors in the past of Tristan cheating, but it takes a real a**hole to cheat on his girlfriend WHILE SHE IS IN LABOR. While the couple has stayed rather hush-hush about the major scandal, Kim Kardashian (thank god) couldn't keep her opinions to herself. She said, "I hate him. Sorry not sorry." You bet I'm watching this season of KUWTK to see all the drama unfold.
3. Allison Mack Sex Trafficking Scandal
WTF. Former Smallville actress Allison Mack was charged with sex trafficking, sex trafficking conspiracy, and forced labor conspiracy for her involvement with the organization NXIVM. Women were recruited to join the alleged sex cult that was branded as "a female mentorship group that addressed their weaknesses." Well, that's one way to put it. She is currently out on a $5 million bond and under house arrest in her parents' California home. And my parents wouldn't even let me come home if I got a public urination ticket.
Every family has their fair share of drama when it comes time for a wedding. But Meghan and Harry's wedding had a unique set of dramatic events. First, Meghan's half-sister, Samantha Markle, started commenting on multiple "mistakes" she believes Meghan has been making. Rightfully so, Meghan decided the only family members to be invited to her wedding would be her father and mother. But wait, there's more (obvs). After news broke that Meghan's father staged photos for the paparazzi to take of him and earned some money, he decided he would not be attending the wedding "because he was getting heart surgery that same day". I guess becoming a princess really isn't as glamorous as I thought.
5. Kylie Jenner's Secret Pregnancy 
This list wouldn't be complete without the most ULTIMATE secret celebrity pregnancy of all time. Although rumors started circulating in September 2017, Kylie's pregnancy was not *officially* revealed until the birth of her daughter, Stormi, in February through an incredible video. But that didn't stop fans from coming up with the most absurd theories for her pregnancy, including that she was Kim's surrogate or her baby daddy was actually her bodyguard. Nonetheless, this was one of the biggest celebrity scandals of the year.

6. Nicki Minaj and Cardi B… Still
The drama between Cardi B and Nicki Minaj has been brewing since early 2017, but the real tea spilled at the Harper's Bazaar ICONS party on September 7, 2018. A physical fight broke out at New York Fashion Week, where Cardi threw her heel at Nicki, but ended up with a bruise on her own face. Like, LMK how that happens. The feud is never-ending. It even led Cardi to post some nasty words about Nicki on Instagram. The timeline of their fight is too exhausting to even think about so read all the details here.

Twitter tends to be the source of many large scandals these days, and TBH, I'm not mad about it. But the glory of the internet is that even though something may be deleted, we can always find it. On May 28th, Roseanne took to Twitter to address Valerie Jarett, Barack Obama's adviser, and wrote "Muslim brotherhood & planet of the apes had a baby = vj." ABC worked fast and canceled her show revival immediately and released a statement explaining that her views do not align with theirs. She then got dropped by her talent agent and Roseanne reruns were no longer showed on Viacom channels. What did Roseanne have to say about this? She blames the tweets on the Ambien she had taken. Which literally nobody believed, and even the creators of Ambien clarified is not a real side effect.
People of all races, religions and nationalities work at Sanofi every day to improve the lives of people around the world. While all pharmaceutical treatments have side effects, racism is not a known side effect of any Sanofi medication.

— Sanofi US (@SanofiUS) May 30, 2018

When you get burned by a pharmaceutical company, take every seat.
Images: Giphy (2); @iamcardib / Instagram ; SanofiUS / Twitter
G-Eazy Got Arrested For Exactly What You'd Think
Back in college, I used to get wasted on Wednesday nights, but now my typical hump day evening consists of watching The Real Housewives of New York City before being in bed promptly by 11. Apparently, G-Eazy and I have very different lives. G-Eazy got arrested for assault and cocaine possession in Sweden on Wednesday night, which is crazy but also not that surprising at the same time. He was partying after the first European show of his Beautiful & Damned Tour, and things obviously got a little out of hand. There aren't a lot of details yet, but let's go over what we know about this Swedish train wreck.
First of all, just a reminder that G-Eazy's name is Gerald. Sorry, I just still think it's really funny. Anyway, he's in the middle of his big fancy world tour, and Stockholm was the first stop, so naturally it was time to get fucked up. There was an afterparty, and the guests included a lot of Swedish people, G-Eazy's girlfriend/overgrown scene kid Halsey, and Sean Kingston. Yes, Sean Kingston of "Beautiful Girls" fame. Honestly, Sean Kingston randomly being at this party is my favorite part of this whole story. I'm just glad he's fully recovered from that tragic jet ski accident, bless up.
God bless the G-Eazy stan account on Instagram for somehow having video of him fucked up at his afterparty, and also for posting concert photos today like nothing happened. You da realest. According to sources at the party, G-Eazy was having a really great time (read: on a lot of drugs) and started acting belligerent. So glad that's never happened to me. When security tried to get him to calm down, he started swinging, and allegedly hit one guard in the face several times. Oops!
G-Eazy got arrested and was taken into custody on suspicion of assault, and then the cops also found coke in his pocket (oops again!), so he also got charged with both possession and use of narcotics. He's reportedly still in custody, but I'm sure Halsey is planning an elaborate scheme to break him out of jail before his next tour date. Imagine the Lady Gaga/Beyoncé "Telephone" video, but grainier and taken in the Perpetua filter. Before you go berating me in the comments section, just look at his last posted Instagram and tell me I'm not right.
Ah, look how pensive G-Eazy looks in his artsy Instagram photo, posted just hours before he would be passing out shots and doing bumps off of Halsey's finger (I imagine). Simpler times, truly. There hasn't been any sort of statement from G-Eazy or his team, but I'm sure there'll be something dramatic as soon as he gets out of prison. Halsey will probably like, release 1,000 white doves into the sky to signal his innocence while they ride off into the distance on a motorcycle. Their entire lives are like that one week in your 2008 emo phase where you thought you were like, a very good poet.
While it seems like a cocaine arrest would finally give G-Eazy some much-needed street cred, it really just adds to his reputation as a glorified frat rapper. Seriously, punching a security guard in a drunken coke rage is behavior that matches 85% of the dudes in any fraternity. So if you have tickets to G-Eazy's show on Sunday in Copenhagen, you might want to make other plans. Gerald is a little busy, that is unless the Swedish police are big fans of "Me Myself & I" and decide to go easy on him. I have a feeling he'll be okay.
Images: @the.gerald.updates, @g_eazy / Instagram
How The Kardashians Are Responding To Tristan Cheating On Khloé
Last week news broke that men are scum Tristan Thompson probs cheated on nine-month-pregnant Khloé Kardashian with some hoe at a club. Is this the part where we corral up all of the men and set fire to everything they know and love? Cause I've been ready and waiting for that shit since 1992. Just saying. Anyway, while I've been at home sharpening my pitchfork gleefully following this scandal from afar, the Kardashians have been "rallying" around Khloé in her time of need. Cosmo.com recently reported that the Khloé's family has been trying to help her concentrate on her newborn daughter and keep her away from the news, which, like, would be super sweet of them if I wasn't seeing their barely clothed bodies all over my damn Instagram feed. I guess some families show their love and support with cards and flowers, while others take selfies of their asses. To each their own. So here's how all of the Kardashians are responding to the Tristan Thompson cheating scandal, may God have mercy on their souls:
EXHIBIT A: The Kardashians Break Their Silence
Kylie was the first to break the Kardashian/Jenner silence pact after the cheating scandal broke. This picture was posted just hours after her sister's personal life went up in literal flames, and as you can see, Kylie (and her ass) are clearly distraught over the whole thing. Kylie posted not one, not two, but a whole damn series of photos that not only showed off her post pregnancy body unwavering support, but also helped promote an old lip kit. Because nothing says "thinking of you, sis" like an aptly timed promotion. Kris Jenner would be so proud. 
EXHIBIT B: Green Is The New Grief
Kourtney was the second member of the Kardashian fam to break their silence, and she did so with a casual reminder that while sources say Khloé is "devastated" and trying to "get the hell out of Cleveland," Kourt and Kim are living their best lives on vacation. So sweet! I literally can not think of one single other way to send thoughts and prayers to a family member going through something than with a photo-shoot in between Mai Thais by the pool. What I find most interesting here is Kim and Kourtney's choice of wardrobe. They both chose to wear green, which I can only assume is a subtle way of saying they're green with envy at all the press Khloé's been getting from her obliterated relationship. Like, no one even seems to give a shit that they're in Turks & Caicos for adult spring break. I mean, what has the world come to??
EXHIBIT C: Nothing Says Support Like A Selfie
Then we have Kim, from whom I honestly expected nothing less. If you'll recall from early episodes of Keeping Up With The Kardashians, Kim has always handled painful, traumatic family moments by taking fire selfies. To be fair, this pic was taken a whole day after Khloé's world imploded. Who knew Kim would be the most sensitive out of all the siblings? Perhaps motherhood has changed her? Lol, I know. I crack myself up. Let's just hope that Kim doesn't keep the picture that captured Khloé's emotional devastation at finding out the father of her child blatantly cheated on her with another woman on the mantel in her and Kanye's mansion like she did Khloe's DUI mugshot. Never change, Kim!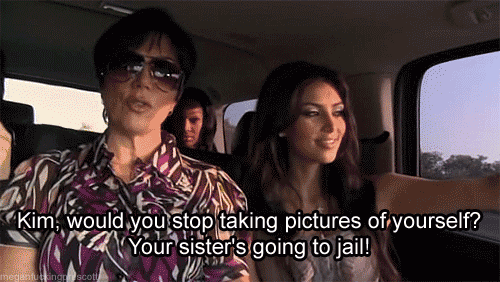 EXHIBIT D: This Is Really Necessary
And finally, my favorite show of support, here we have half of the Kardashian fam (and friends!) dancing on the metaphorical grave of Tristan and Khloé's relationship. This photo was taken just days after Khloé gave birth to little baby True and her sisters rushed to her side in the delivery room. Based on the time stamp, I'm assuming this was taken sometime after Khloé pushed a human being out of her body and in the next breath had to call her lawyer to see if they got that video of Tristan taken off of TMZ yet. While this may not have been taken at the Cleveland airport (though several paps caught similar footage of Kim and Kourtney leaving said airport) this photo shoot is still a little too close for comfort. And by "comfort" I mean common human decency.
Well, as you can see, with sisters like these how can you not want to kill yourself feel loved and supported during your most vulnerable moments? I'll keep these shows of support in mind for the next time my sister calls me to cry about her ex-boyfriend. Thanks for the tips, ladies!!
Images: @kourtneykardash /Instagram (1); @kyliejenner /Instagram (2); @kimkardashian /Instagram (1); Giphy (1)