Adele And Her Husband Are Getting A Divorce
Grab your Airpods and your tissues, because we're soon going to have one of the best breakup albums of all time. I say that because news broke on Friday that Adele and her husband Simon Konecki have separated. Adele's representatives confirmed the news to the Associated Press.
"Adele and her partner have separated," the statement said. "They are committed to raising their son together lovingly. As always they ask for privacy. There will be no further comment."
First of all, big freaking ups to Adele for simply referring to Simon in the media as "her partner". That is serious BDE in action. He's the father of her child, and she didn't even refer to him by name! I stan.
Second of all, this statement is the publicist equivalent of saying we will never know what happened or why Adele and Simon separated. It makes sense, given that the couple has been very private about their relationship this entire time, but it sucks for me personally because I want to know the tea. Gosh, it's just so rude when celebrities end their relationships and don't personally tell me the reason why. So if you'll excuse me, I will be stalking Crazy Days and Nights for the next 48 hours.
Me, trying to think of theories behind Adele's divorce:

Adele and Simon were together since 2011, and Adele had their son Angelo in 2012. That's a pretty long time to be together in the celebrity-verse, even if they were only actually married for two years.
I'm sure that this is a tough time for Adele, and I am very sad for her and her son. However, I can't help but think that this timing is crazy given that Beyoncé just released the Homecoming documentary and visual album. And I can't help but wonder… if we are going to get a repeat of the 2017 Grammys in 2020.
Kidding! Adele, honey, you take all the time you need in penning a gorgeous and emotionally devastating divorce album. We'll be here patiently waiting.
Images: Shutterstock; Giphy
Ben Affleck And Jennifer Garner Are Getting Divorced For Realsies
It's the end of an era. After almost 12 years of marriage, Ben Affleck and Jennifer Garner have officially filed for divorce. If this feels like déjà vu, you're not wrong: Bennifer 2.0 first announced their plans to split up way back in June 2015, but have spent the past two years sending a shitload of mixed signals about what would really happen.
Just last month, there were major reconciliation rumors (which we fell for) because they were hanging out together like 24/7, but it looks like they were just doing it for attention. Or because marriage is complicated especially with kids involved. One of those two. Unfortunately for those of us who love drama, they're going with the most amicable kind of divorce, where you don't even hire a lawyer, which is boring for us but probably best for everyone involved. They've always been super conscious of what will be best for the kids, and after dealing with Ben fucking the nanny they just really need this to go smoothly.

Even though we've known they were splitting up for literally 22 months, this still feels like a big moment in Hollywood-land. Like, we remember way back in the day when the original Bennifer was a thing, but J.Lo just wasn't the right girl named Jennifer for him. Bennifer 2.0 always seemed like a pretty perfect couple, mainly because Jennifer Garner is basically an angel sent from heaven and anything she is involved in just naturally seems correct. Like, somehow she manages to be so cool but also so perfect? We don't understand but we love her for it.
So what's next for the ex-couple? Ben has the Justice League movie coming out later this year, which should be awesome because he did suuuuch a great job in his first Batman movie. Jen just has one movie coming out later this year, but she also makes bank doing credit card commercials so she should really be fine. In the mean time, we'll be waiting patiently for a 13 Going on 30 sequel, because that's what she's always deserved.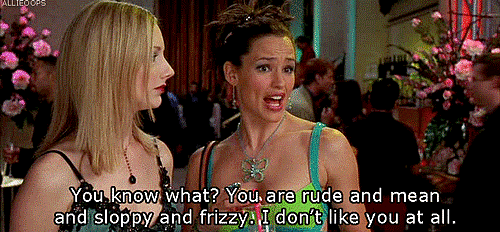 In terms of love, there's no telling what will come next for these two, but we have a feeling Jen's next man will be super fucking classy, and Ben's next girl will be a solid 15 years younger than him. Idk, just a feeling.
Ben Affleck & Jennifer Garner Are Back Together & It's The Ray Of Hope We Need Now
Close your eyes and think back with us to early 2015. It was a gentler time in the world. Crop tops weren't played out. We thought Jeb(!) Bush might be the next President. And Taylor Swift still seemed like kind of a cool person (emphasis on the kind of.) Then one of our fav couples, Ben Affleck and Jennifer Garner, announced they were divorcing and we were all like, "There's nothing that could be worse than this. Not even Donald Trump being president, which would never happen anyway. Now please excuse my while I enroll in Obamacare." 
If, for some reason, you don't already have every detail of the Ben Affleck-Jennifer Garner relationship memorized, here's a refesher: Jen and Ben got together in 2004. They were both fresh out of long-term relationships. Jen had broken things off with the dude who plays Jake Ballard on Scandal, and Ben had ended a v high-profile engagement with J Lo, probably after discovering that she was going to use the giant engagement ring he bought her as the cornerstone of a spell to stay young forever. Which totally worked, BTW. While immediately trading one Jennifer for another is kind of a shady move, they were a great couple together. It seemed like happily ever after, with three beautiful children and a fairly low-key life. Kind of boring, but aren't all healthy relationships? Sadly, in 2015, everything fell apart. The divorce went public, and before long Ben was fucking nannies on TMZ.

Only thing is, it never really seemed that over. Any betch whose ever been in an on-again-off-again thing could spot all the telltale signs of not really being broken up. First off, they never stopped spending time together, always saying that they were doing what was" best for the kids." Because living in a big-ass house and going on lavish vacations with someone who you publicly claim you're not into anymore is a totally standard environement for children. #RichPeopleThings.

Now reports are surfacing that the divorce has been called off, and that Bennifer 2.0 are trying to work through their issues. Honestly, we're just exhausted at this point. Like, I already spent the last year and a half going over on data trying to get my sister and her ex to admit they're still together. I can't go through that all over again with celebs. And while we obviously hope for their sake they can work things out, how does it take two years to get to this point? Hollywood divorces usually take a long time, but really? Whatever happens, Jennifer definitely won't let Ben get anywhere near a hot nanny this time. That's for fucking sure. 

So, what do we think? In a world of celebrity divorces, will this one just be a false alarm? Maybe, maybe not. But if Beyoncé and Jay Z made it through whatever she was singing about on Lemonade, Ben and Jen should be fine.