North West Attended JoJo Siwa's Sweet 16 & We Have A Lot Of Questions
Guys, I have a very pressing matter to discuss, and no, it's not how I'll watch Noah Centineo's new Netflix movie today while at work. I'm going to stream it on my phone, duh. I'm talking about the budding friendship that's happening between JoJo Siwa and North West because, y'all, I'm alarmed.
For those of you who don't spend their time IG stalking the famous friendships of celebrity spawn and therefore have no idea what I'm talking about, congratulations. You're not better than me. For those of you who do know what I'm talking about, then you know that North West, coming off the high of her first magazine cover, recently did a collab with YouTube personality, and the human embodiment of a Limited Too explosion, JoJo Siwa. Well, it was less of a collaboration and more of just JoJo showing North her room, which includes a bedazzled slide and a giant furry sign that reads "JoJo's Juice," and me weighing the pros and cons of calling child protective services. I guess the two of them really hit it off though, because North AND her cousin Penelope both attended JoJo's sweet 16 on Tuesday, and honestly we have a lot of questions.
Before we start speculating as to why a sixteen-year-old would invite a horde of kindergarteners to her birthday party, I think we need to analyze this photo from said party:
First of all, Penelope is looking at the camera like she thinks she's better than this, and she is right. North, take note. Second of all, why do the girls who don't even have their grown-up teeth yet look more mature than the one who is turning 16? Hmm? ANSWER ME THAT. Overall, I find this picture very unsettling, and not just because JoJo is dressed like an extra on the set of The Wiggles. On your 16th birthday you should be sneaking cigarettes in a Wawa parking lot, not entertaining six-year-olds! It's just not right! Like, does anyone else feel like something a little dark is happening behind the scenes here? There were far too many children at that party for an almost-adult to invite, and I was getting some distinct Leaving Neverland vibes from this whole thing.
This became increasingly apparent when I saw a photo of JoJo Siwa with her former cast-mates of Dance Moms. Fun fact: back when JoJo was an actual child, she was one of Abby Lee Miller's elite dancers on Dance Moms. Post-show, most of those girls have tried to shed their child-star images by testing Instagram's nudity policy one thirst trap at a time, and I know this because I follow each and every one of them (and am an active member in Chloe's virtual book club). This is not so for JoJo Siwa! While her friends, who, I remind you, are the same age as her, are literally dressed like Merriam Webster's definition of "jailbait," JoJo is posing next to them like their clown-obsessed acquaintance they were forced to hang out with because their moms still think they're friends.
Holly, you are proving my point for me.
I just sincerely hope that this entire persona was crafted by her mother as a marketing ploy for her to stay relevant. That is the only excuse I'm willing to accept for why she would behave this way, and I'm not just saying that because I've been binge watching The Act, and now want to call the police on every overbearing mother I see. I, mean, are we truly to believe that JoJo's aesthetic is a Lisa Frank wet dream? That instead of trying to guilt her mother into letting her get her belly button pierced like normal girls her age, she'd rather guilt her mother into letting her invite one more five-year-old to her party so they can turn up together on the dance floor? Nah. I'm not buying it. 
Also, North, let's take a page out of P's book and start evaluating who your true friends are here before I write a VERY strongly worded DM to your mother. You might think it's cool now to say you have older friends, but when those friends are 16 and still playing with slime, I think it's time to have a stern conversation with your publicist to see if there are any cooler friends she can dig up for you. And that's your one piece of free advice from me, kid! The next time, I'm charging.
However alarmed I am by the party itself, I gotta hand it to Little Miss 'I Wish I Was 13,' because JoJo Siwa turned that freak show into a lucrative business deal. Footage from the party will air as a Nickelodeon special called JoJo's Dream Birthday on May 18th. Stay tuned for more updates on my rage blackouts thoughts and feelings, as I will certainly be having more of those as more disturbing footage from this party drops.
Images: @dancemomholly /Instagram (1); @aliyah_minisiwanator /Instagram (1)
All Of Arie Luyendyk Jr's Cringiest Moments In Honor Of His Birthday
Today is a very special day, people! And, no, I'm not just saying that because this morning my barista told me I was "glowing" when, in fact, I looked more like a drowned street rat who had just crawled its way out of the subway. No, today is Arie Luyendyk Jr's birthday! For those of you who aren't familiar with who Arie is, congratulations on the full and happy life you're living you're not better than me. If you'll recall, Arie was the down-on-his-luck runner-up from Emily Maynard's season of The Bachelorette who landed his own season of The Bachelor last year. And by "down on his luck" I mean clearly dating someone right before he was chosen to be the Bachelor. But, hey, everybody deserves a second chance at love! And since I can't burn ABC studios to the ground for their choice in Bachelors like I'd like to, I guess I'll just have to settle for roasting tf out of Arie for his bday. So here's a little tribute to the guy who disgusts me so much that I'm happy to never interact with the male species again spend my Friday nights heating up mac n cheese for one. Happy birthday, Arie!
When He Dubbed Himself "The Kissing Bandit"
Boy, would I have loved to have been a fly on the wall during this marketing meeting. ABC casually asks Arie what his best traits are, and the best thing he can come up with is using the right amount of tongue. You've got a real winner on your hands, Mike Fleiss! So basically we knew Arie's season of The Bachelor  would be more disappointing than my Hinge matches when the first teaser they released of the season involved their bachelor dressed like the Hamburglar and suggestively puckering his lips at the camera. I think a yeast infection might be sexier than watching that on my TV screen, but to each their own.
When He Thought He Had Dance Moves
There's literally nothing that could dry me up faster than watching this dude figure out how to do the cupid shuffle during the commercial breaks of How To Get Away With Murder, and yet, here we f*cking are. Look, I know ABC had a real uphill battle trying to make a man who's old enough to be the adoptive father of several of the female contests *cough* Baby Bekah *cough, cough* seem like a genuine catch and not just the catch on To Catch A Predator, but MY GOD ABC this was not the way to do it.
Jesus.

When He Made The Women On His Season Drink Pee
It was a dark day in history when we watched beautiful, successful grown-ass women willingly down what they thought was urine like free shots of tequila so a man ON A DATE WITH TWELVE OTHER WOMEN might kind of like them. Ladies, we did not march for this! 
When He Stuck His Entire Fist Through Bekah M's Hoop
I don't even have anything to say here other than that watching Arie capitalize off of Bekah's daddy issues by thrusting one feminine hand through her hoop earring on live television, is the reason I deleted all my dating apps for a week. Just saying.

When His Ideal Woman Turned Out To Be A Robot
Every year ABC feeds us a lot of bullsh*t about how the man they've picked to be the Bachelor is the cream of the crop: a hot, stand-up dude looking for a smart, driven, beautiful woman to spend forever with. Now, I'm not saying that Arie didn't choose a great girl, but I'm also not not saying that that great girl wasn't forged in a lab by ABC interns who googled "perfect lady traits" and came up with Lauren B. I guess things worked out for them, though, because they're getting married this January in a private ceremony. And by "private" I mean 100 of their closest friends, family, ABC producers, and every major media outlet whose DMs Arie was able to slide into (not us, because we got blocked). But, you know, ever happiness to you both!
When He Filmed His Breakup On Live Television
Remember when Arie chose Becca and promised to choose her everyday for the rest of their lives together? And then the rest of their lives together was like three more days before he dumped her on a romantic getaway and filmed it? Ah, yes, good times let's burn his house to the ground. 
So I guess what I'm saying here is happy birthday to everyone but Arie Luyendyk Jr. I hope you get a paper cut on your tongue! Bye!
IMAGES: ABC (2); Giphy (2)
The Evolution Of Sofia Richie And Scott Disick's Relationship
Today is Sofia Richie's birthday, which means now she only has one more year until she can legally drink. Yes, she's literally just turning 20. How does real life feel like it's going ridiculously fast, but Sofia is still basically a fetus? Seems unfair. But yeah, our favorite famous child-turned-Instagram model-turned-Kardashian satellite person is one year older, so let's celebrate. How? By reminiscing on all the twists and turns in her relationship with Scott Disick, which still confuses me. Let's dive in.
We first learned about Scott and Sofia hanging out last year at Cannes, where hot rich people go to hang out every May. This would seem like the perfect location for a first hookup, but things are pretty unclear. If you recall, this is also the exact time and place where Scott was spotted hanging out with Bella Thorne. This feels like approximately seven lifetimes ago. Whatever was going on between Scott and Sofia at this point, they were playing it cool. Sofia even said on Twitter that she and Scott were "just homies."
We first really knew that Sofia Richie was dating Scott Disick last September, so it's been almost a year. While they were in Miami together, they posted Instagram stories together, and they also posed with a cake that said "Congratulations Scott & Sophia" (yes, with her name spelled wrong). The cake was really a confusing factor in the narrative, because it's still unclear what they were being congratulated for. At this point, we would definitely know if they were either pregnant or engaged, so it seems like…a random congratulations cake? Actually, you know what, when I finally get a boyfriend I will celebrate with approximately 10 congratulations cakes, so I get it.
At first, the main issue everyone had with Scott and Sofia dating was their age difference. Okay, that's still the main issue people have with this relationship. Scott was 34 and Sofia was 19 when they got together, which means he could legally drive a car before she was even born. Sorry, not trying to sound judgmental, it's just a fact. A lot of people (myself included), questioned how real their relationship was. At first, based mostly on social media, it definitely seemed like Sofia was a lot more into it than Scott. Note, the trip to Venice when they posted the exact same Instagram, except hers was a couple pic and his was solo. Classic Scott.
By the time spring rolled around, we hadn't heard much more from Sofia and Scott. They were definitely still together, but it was tough to tell how serious things were. There were rumors about them moving in together, but there were rumors about Kendall Jenner moving in with Ben Simmons like a week after they started dating. Basically, no one knew wtf was going on with Sofia and Scott.
Then, in June, we were slammed with breakup rumors. The details around the reported breakup were actually pretty crazy. First, there were allegations that Scott was seen making out with a random woman at Kanye's listening party in Wyoming. How did all of this happen less than three months ago? On top of that, people were saying that Lionel Richie had threatened to write Sofia out of his will if she didn't dump Scott. This sounds like something straight out of a soap opera, which makes sense because it turned out not to be true.
Scott quickly killed the rumors by posting a TMZ screenshot on his Instagram story clarifying that Sofia is still his girlfriend. He also posted a picture of them together at Nobu, which is a sure sign that things are okay in the world of Scott Disick. So yeah, things seem to be good. Sofia hasn't been on the new season of Keeping Up With The Kardashians yet, but Scott still talks about her. In one awkward moment, Khloé asked Scott if he sees himself getting back with Kourtney, and he's basically like "ummmm no and also I have a girlfriend? Khloé, you know this." Gotta love Khloé trying to make drama.
So happy birthday to Sofia Richie! Enjoy your special day, and make sure Scott buys you something really nice. And just to be safe, don't let him go to any more listening parties in Wyoming. You'll thank me later.
Images: @sofiarichie / Instagram; @letthelordbewithyou / Instagram (2)
Regina George's 10 Most Iconic Quotes In Honor Of Rachel McAdams' Birthday
It's been 13 years since Rachel McAdams blessed us with Regina George, and while she may have moved on to Oscar-winning movies and a season of True Detective that never should have happened, we are still upset that she isn't married to Ryan Gosling IRL obsessed with her role as the most iconic member of Mean Girls.
So in honor of McAdams' 38th birthday (she looks better at 39 than you ever will, get over it) let's remember all the times that Regina George said exactly what she wanted to say when she wanted to say it and was literally us without a filter. One day I hope I am as brave as Regina—and that I'll just order cheese fries if I want some fucking cheese fries.
1. When you remember that Donald Trump is President AND Peter isn't Bachelor

2. When your Grandma gives you clothes for Christmas

3. When your Bumble date texts you the next day

4. When you think you might have a gluten allergy

5. When your girl refuses to get blackout with you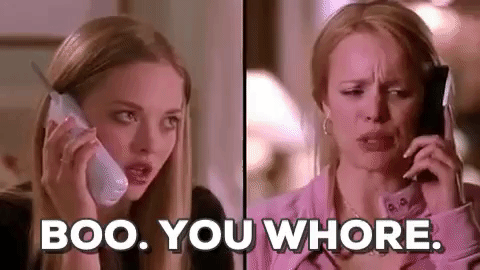 6. When your Lyft is arriving in 1 minute and your friends go to the bathroom

7. When you eat pizza for dinner

8. When your mom gives you wise, thoughtful, and reasonable advice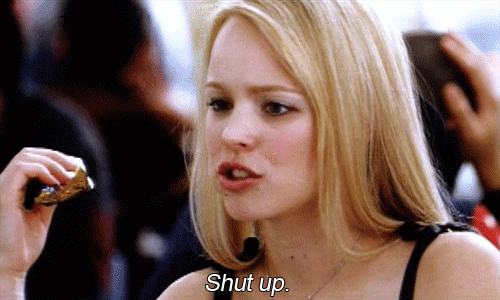 9. When everyone at group dinner orders a salad

10. When your friend says she's trying to save money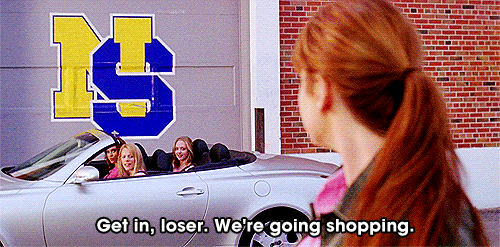 Happy Birthday Rachel—you're a true queen.